141 New Comics on Wednesday, July 26th, 2017
Go Go Power Rangers #1 with about 6 covers leads off the highlights for the week. If you love Saga, Lumberjanes, Outcast, or Shirtless Bear Fighter, you'll want to come on in. Also Action, All-Star Batman plus 4 more Bats, 2 Captain Americas, Deadpool, Gwenpool, Punisher, Image 25th Anniversary Savage Dragon #225 (out of 300 months) and Spawn #276 (same 300 months), Star Wars Doctor Aphra, Wonder Woman and about 130 more.
As always,  we owe a thanks to GoCollect.com for putting out their mostly accurate list of comics and covers every week. If you so desire, Click here to see their whole list. They may have elected to use a variant that we may not carry, or used pre-release art to represent a title, or listed things we don't buy at all. Or they may get a few from next week in there, OR catch up with ones they missed last week – so the covers you see here may not be the ones you see on our shelf this week. Our list is usually late enough that it reflects only what we got,  but not late enough to eliminate sellouts that might have happened by the time you see this. Also, we reserve the right to make mistakes and forget to list things, or forget to delete them when they don't show up like we thought they would.
ACTION COMICS #984 $ 2.99
ACTION COMICS #984 VAR ED $ 2.99
ALL NEW CLASSIC ARCHIE YOUR PAL ARCHIE #1 CVR A DAN PARENT $ 3.99
ALL NEW CLASSIC ARCHIE YOUR PAL ARCHIE #1 CVR B LES MCCLAINE $ 3.99
ALL STAR BATMAN #12 $ 4.99
ALL STAR BATMAN #12 ALBUQUERQUE VAR ED $ 4.99
ALL STAR BATMAN #12 FIUMARA VAR ED $ 4.99
ARCHIE 75TH ANNIV DIGEST #12 $ 6.99
BACK TO THE FUTURE BIFF TO THE FUTURE #6 (OF 6) $ 3.99
BANKSHOT #2 $ 3.99
BATGIRL #13 $ 3.99
BATGIRL #13 VAR ED $ 3.99
BATMAN BEYOND #10 $ 3.99
BATMAN BEYOND #10 VAR ED $ 3.99
BATMAN THE SHADOW #4 (OF 6) $ 3.99
BATMAN THE SHADOW #4 (OF 6) EPTING VAR ED $ 3.99
BATMAN THE SHADOW #4 (OF 6) SALE VAR ED $ 3.99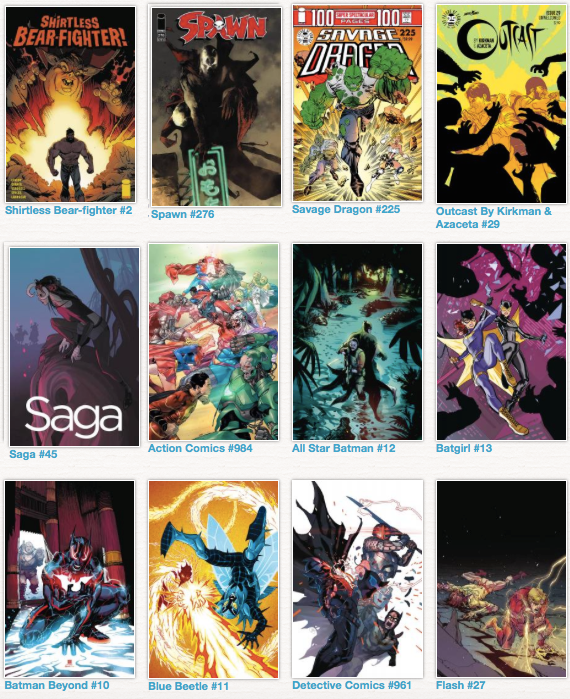 BEN REILLY SCARLET SPIDER #5 $ 3.99
BETTIE PAGE #1 BLACK BAG ED (MR) $ 10
BETTY & VERONICA JUMBO COMICS DIGEST #255 (RES) $ 6.99
BLACK HAMMER #11 MAIN ORMSTON CVR $ 3.99
BLACK HAMMER #11 VAR LEMIRE $ 3.99
BLACK PANTHER #16 $ 3.99
BLOODSTRIKE #1 REMASTERED ED CVR B LIEFELD $ 3.99
BLUE BEETLE #11 $ 3.99
BLUE BEETLE #11 VAR ED $ 3.99
BPRD DEVIL YOU KNOW #1 $ 3.99
CABLE #3 $ 3.99
CANNIBAL #7 (MR) $ 3.99
CAPTAIN AMERICA SAM WILSON #24 SE $ 3.99
CAPTAIN AMERICA STEVE ROGERS #19 SE $ 3.99
CAPTAIN AMERICA STEVE ROGERS #19 X-MEN CARD VAR SE $ 3.99
CONAN THE SLAYER #11 $ 3.99
CROSSWIND #2 CVR A STAGGS (MR) $ 3.99
CROSSWIND #2 CVR B STAGGS (MR) $ 3.99
DAMNED #3 (MR) $ 3.99
DEADPOOL #34 SE $ 3.99
DETECTIVE COMICS #961 $ 2.99
DETECTIVE COMICS #961 VAR ED $ 2.99
DOLLFACE #7 CVR A MENDOZA (MR) $ 4.99
DOLLFACE #7 CVR C MACCAGNI PIN UP (MR) $ 4.99
DOLLFACE #7 CVR E TURNER PIN UP (MR) $ 4.99
DOOM PATROL #7 (RES) (MR) $ 3.99
DOOM PATROL #7 VAR ED (RES) (MR) $ 3.99
EDGE OF VENOMVERSE #3 (OF 5) $ 3.99
EDGE OF VENOMVERSE #3 (OF 5) LIM VAR $ 3.99
FAITH AND THE FUTURE FORCE #1 (OF 4) CVR A DJURDJEVIC $ 3.99
FLASH #27 $ 2.99
FLASH #27 VAR ED $ 2.99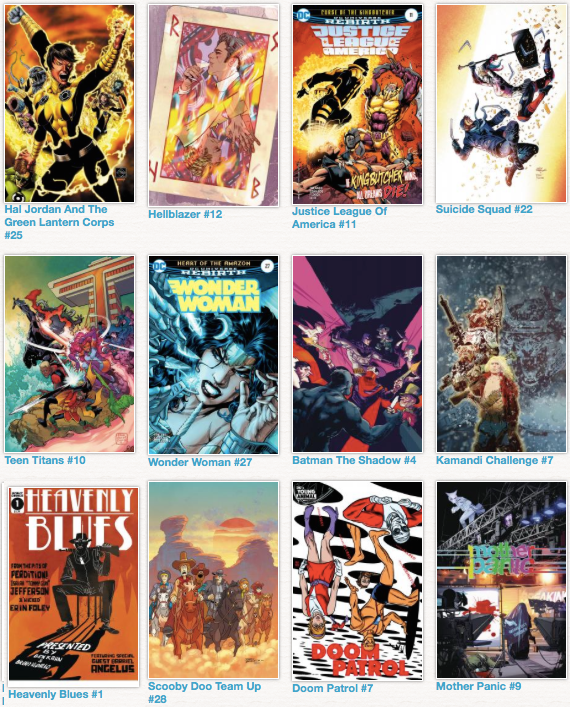 GO GO POWER RANGERS #1 $ 3.99
GO GO POWER RANGERS #1 15 COPY INCV WONG VAR $ ???
GO GO POWER RANGERS #1 25 COPY INCV BUSTOS VAR $ ???
GO GO POWER RANGERS #1 FOC INCV TEDESCO VAR $ 3.99
GO GO POWER RANGERS #1 UNLOCK BLANK SKETCH VAR (maybe next week?) $ 3.99
GO GO POWER RANGERS #1 UNLOCK PAPER DOLL VAR $ 3.99
GUARDIANS OF GALAXY TELLTALE SERIES #1 (OF 5) (maybe next week?) $ 3.99
GWENPOOL #18 $ 3.99
GWENPOOL #18 X-MEN CARD VAR $ 3.99
HAL JORDAN AND THE GREEN LANTERN CORPS #25 $ 3.99
HAL JORDAN AND THE GREEN LANTERN CORPS #25 VAR ED $ 3.99
IMAGE PLUS #16 (WALKING DEAD HERES NEGAN PT 16) $ 1.99
MARVEL PREVIEWS VOL 04 #1 AUGUST 2017 $ ???
PREVIEWS #347 AUGUST 2017 (NET) $ 3.99
HEAVENLY BLUES #1 $ 3.99
HELLBLAZER #12 $ 3.99
HELLBLAZER #12 VAR ED $ 3.99
I AM GROOT #3 $ 3.99
ICEMAN #3 $ 3.99
INFAMOUS IRON MAN #10 $ 3.99
JIM HENSON POWER OF DARK CRYSTAL #5 (OF 12) $ 3.99
JIM HENSON POWER OF DARK CRYSTAL #5 (OF 12) SUBSCRIPTION TAK $ 3.99
JOE GOLEM OCCULT DETECTIVE OUTER DARK #3 $ 3.99
JUSTICE LEAGUE OF AMERICA #11 $ 2.99
JUSTICE LEAGUE OF AMERICA #11 VAR ED $ 2.99
KAMANDI CHALLENGE #7 (OF 12) $ 3.99
KAMANDI CHALLENGE #7 (OF 12) VAR ED $ 3.99
LOONEY TUNES #238 $ 2.99
LUMBERJANES #40 $ 3.99
MIGHTY CAPTAIN MARVEL #7 SE $ 3.99
MILLENNIUM GIRL WITH THE DRAGON TATTOO #2 CVR A IANNICELLO $ 5.99
MOON GIRL AND DEVIL DINOSAUR #21 $ 3.99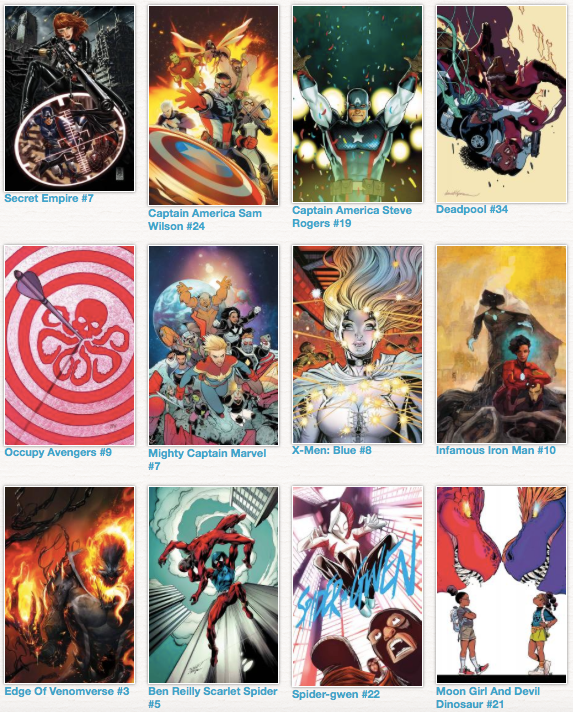 MOTHER PANIC #9 (MR) $ 3.99
MOTHER PANIC #9 VAR ED (MR) $ 3.99
MY LITTLE PONY MOVIE PREQUEL #2 VAR $ ???
MY LITTLE PONY MOVIE PREQUEL #2 CVR A PRICE $ 3.99
NAMWOLF #4 $ 3.99
NANCY DREW HARDY BOYS #5 CVR A DALTON $ 3.99
NORMALS #3 $ 3.99
OCCUPY AVENGERS #9 SE $ 3.99
OUTCAST BY KIRKMAN & AZACETA #29 (MR) $ 2.99
OVER GARDEN WALL ONGOING #16 $ 3.99
OVER GARDEN WALL ONGOING #16 SUBSCRIPTION MAQUILLING VAR $ 3.99
PAKLIS #3 (MR) $ 3.99
PLASTIC #4 (OF 5) CVR A ROBINSON (MR) $ 3.99
PLASTIC #4 (OF 5) CVR B HILLYARD (MR) $ 3.99
POSTAL #21 (MR) $ 3.99
PROJECT SUPERPOWERS HERO KILLERS #3 CVR A WOODS $ 3.99
PUNISHER #14 $ 3.99
PUNISHER #14 X-MEN CARD VAR $ 3.99
REBELS THESE FREE & INDEPENDENT STATES #5 (OF 8) $ 3.99
REDNECK #3 2ND PTG (MR) $ 3.99
REDNECK #4 (MR) $ 3.99
REDNECK #4 CVR B IMAGE OF TOMORROW VAR (MR) $ 3.99
REVOLUTIONARIES #6 $ 3.99
RICK & MORTY #28 $ 3.99
RICK & MORTY #28 INCV VAR ST ONGE $ 3.99
ROBOTECH #1 CVR B KERSCHL $ 3.99
ROUGH RIDERS RIDERS ON THE STORM #5 $ 3.99
SAGA #45 (MR) $ 2.99
SAVAGE DRAGON #225 25TH ANNIVERSARY CVR A LARSEN (MR) $ 9.99
SAVAGE DRAGON #225 25TH ANNIVERSARY CVR B FOSCO (MR) $ 9.99
SAVAGE DRAGON #225 25TH ANNIVERSARY CVR C LARSEN (MR) $ 9.99
SAVAGE DRAGON #225 25TH ANNIVERSARY CVR D XXX KRASH (MR) $ 11.99

SCOOBY DOO TEAM UP #28 $ 2.99
SDCC 2017 ALL NEW GUARDIANS OF GALAXY #5 B&W VAR $ ???
SDCC 2017 DEADPOOL KILLS MARVEL UNIVERSE AGAIN #1 MINIMATES VAR $ ???
SDCC 2017 MIGHTY MORPHIN POWER RANGERS #17 VAR $ ???
SDCC 2017 MOONSTRUCK #1 $ ???
SDCC 2017 PETER PARKER SPECTACULAR SPIDER-MAN #1 MINIMATES VAR $ ???
SDCC 2017 SECRET EMPIRE #5 (OF 10) MINIMATES VAR $ ???
SDCC 2017 STAR WARS #33 B&W VAR $ ???
SECRET EMPIRE #7 (OF 10) $ 3.99
SHIRTLESS BEAR-FIGHTER #1 (OF 5) 2ND PTG (MR) $ 3.99
SHIRTLESS BEAR-FIGHTER #2 (OF 5) CVR A ROBINSON (MR) $ 3.99
SHIRTLESS BEAR-FIGHTER #2 (OF 5) CVR B FOX (MR) $ 3.99
SHIRTLESS BEAR-FIGHTER #2 (OF 5) CVR C MACLEAN (MR) $ 3.99
SPAWN #276 CVR A ALEXANDER (MR) $ 2.99
SPAWN #276 CVR B MCFARLANE (MR) $ 2.99
SPAWN #276 CVR C IMAGES OF TOMORROW VAR (MR) $ 2.99
SPIDER-GWEN #22 $ 3.99
STAR TREK BOLDLY GO #10 CVR A CALTSOUDAS $ 3.99
STAR TREK BOLDLY GO #10 CVR B BADOWER $ 3.99
STAR WARS DOCTOR APHRA #10 $ 3.99
STAR WARS DOCTOR APHRA #10 STAR WARS 40TH ANNIV $ 3.99
STEVEN UNIVERSE ONGOING #6 $ 3.99
SUICIDE SQUAD #22 $ 2.99
SUICIDE SQUAD #22 VAR ED $ 2.99
TEEN TITANS #10 $ 3.99
TEEN TITANS #10 VAR ED $ 3.99
THANOS #9 $ 3.99
THANOS #9 X-MEN CARD VAR $ 3.99
TMNT ONGOING #72 CVR A WACHTER $ 3.99
TMNT USAGI YOJIMBO CVR A SAKAI $ 7.99
TMNT USAGI YOJIMBO CVR B ARAGONES $ 7.99
TRANSFORMERS LOST LIGHT #8 CVR A LAWRENCE $ 3.99
VAMPBLADE SEASON TWO #5 CVR A WINSTON YOUNG (MR) $ 4.99
VAMPBLADE SEASON TWO #5 CVR C ARTIST (MR) $ 4.99
VAMPBLADE SEASON TWO #5 CVR E 90S VAR (MR) $ 4.99
VAN HELSING VS THE WEREWOLF #1 CVR A JOHNSON $ 3.99
WAYWARD #22 CVR A CUMMINGS & BONVILLAIN (MR) $ 3.99
WAYWARD #22 CVR B SEJIC (MR) $ 3.99
WEAPON X #6 WMD $ 3.99
WONDER WOMAN #27 $ 2.99
WONDER WOMAN #27 VAR ED $ 2.99
X-MEN BLUE #8 SE $ 3.99
X-O MANOWAR (2017) #5 CVR A LAROSA $ 3.99
AQUAMAN KINGDOM LOST TP $ 16.99
ART OF MAGIC THE GATHERING HC AMONKHET $ 39.99
AVENGERS EPIC COLLECTION OPERATION GALACTIC STORM TP $ 39.99
BATMAN SUPERMAN WONDER WOMAN TRINITY TP NEW EDITION $ 19.99
BLACK ROAD TP VOL 02 A PAGAN DEATH (MR) $ 16.99
BLEACH GN VOL 70 $ 9.99
BLUE EXORCIST GN VOL 17 $ 9.99
BY CHANCE OR PROVIDENCE TP $ 16.99
CASE CLOSED GN VOL 63 $ 9.99
DISNEY ROSA DUCK LIBRARY HC VOL 07 TREASURE 10 AVATARS $ 29.99
EXTRAORDINARY X-MEN TP VOL 04 IVX $ 16.99
FAIRY TAIL GN VOL 61 $ 10.99
FLASH REBIRTH DLX COLL HC BOOK 01 $ 34.99
FLASH TP VOL 03 ROGUES RELOADED (REBIRTH) $ 16.99
FROSTBITE TP (MR) $ 16.99
HARVEY PEKAR CLEVELAND HC $ 21.99
DARK CRYSTAL TALES HC $ 16.99
LEGEND OF KORRA TP VOL 01 TURF WARS PT 1 $ 10.99
LEGEND OF ZELDA LEGENDARY ED GN VOL 04 MINISH CAP & PHANTOM $ 17.99
LEGEND OF ZELDA LEGENDARY ED GN VOL 05 FOUR SWORDS $ 17.99
MIGHTY THOR LITTLE GOLDEN BOOK THUNDER STRIKE $ 4.99
MIGHTY THOR TP VOL 02 LORDS OF MIDGARD $ 19.99
NOVA RESURRECTION TP $ 19.99
ORESAMA TEACHER GN VOL 22 $ 9.99
POKEMON OMEGA RUBY ALPHA SAPPHIRE GN VOL 04 $ 4.99
POKEMON XY GN VOL 11 $ 4.99
RIN-NE GN VOL 24 $ 9.99
SERENITY HC VOL 05 NO POWER IN THE VERSE $ 19.99
SPIDER MAN NIGHT OF VULTURE LITTLE GOLDEN BK $ 4.99
SPIDER-MAN COMPLETE CLONE SAGA EPIC TP VOL 05 NEW PTG $ 39.99
STAR WARS BIG GOLDEN BOOK STARSHIPS SPEEDERS SPACE STATIONS $ 10.99
STAR WARS JEDI ACADEMY YR HC VOL 05 FORCE OVERSLEEPS $ 12.99
SUPERMAN SAVAGE DAWN TP $ 24.99
UNCANNY AVENGERS UNITY TP VOL 04 RED SKULL $ 17.99
UNCANNY X-MEN SUPERIOR TP VOL 04 IVX $ 16.99
USAGI YOJIMBO SAGA LEGENDS TP $ 24.99
ZOMBIE TRAMP TP VOL 10 SKANKS SHANKS AND SHACKLES (MR) $ 14.99
SPIDER-GWEN WALL CLING PX WHITE T/S XXL $ 20.99
DC DESIGNER SER WONDER WOMAN BY ADAM HUGHES STATUE (RES) $ 130
HGUC GUNDAM TWILIGHT AXIS AN-01 TRISTAN 1/144 MDL KIT $ ???
MARVEL GALLERY GWENPOOL PVC FIG $ 44.99
MARVEL GALLERY JEAN GREY PVC FIG $ 44.99
NIGHTMARE ON ELM STREET PART 3 FREDDY 1/4 SCALE AF $ ???
SDCC 2017 MARVEL GALLERY DEADPOOL VARIANT PVC FIG $ 49.99
SDCC 2017 POP POWER RANGERS MEGAZORD 6IN VINYL FIG $ 69.99
COMIC SHOP NEWS #1571 $ FREE
DC PROMO COMICS PEOPLE OF EARTH $ FREE