Robotech is back on Wednesday, August 2nd, 2017
That seems to be the most newsworthy #1 for the week. Marvel's nominee for the most unwieldy title of the year is "Generations Banner Hulk & Totally Awesome Hulk" #1. Actually, the only other #1 is the Turok re-boot. I'm running late, so my "summary" stops here. The complete list is below.
As always,  we owe a bit of gratitude to GoCollect.com for putting out their mostly accurate list of comics and covers every week. If you so desire, Click here to see their whole list. They may have elected to use a variant that we may not carry, or used pre-release art to represent a title, or listed things we don't buy at all. Or they may get a few from next week in there, OR catch up with ones they missed last week – so the covers you see here may not be the ones you see on our shelf this week. Our list is usually late enough that it reflects only what we got,  but not late enough to eliminate sellouts that might have happened by the time you see this. Also, we reserve the right to make mistakes and forget to list things, or forget to delete them when they don't show up like we thought they would.
ADVENTURE TIME REGULAR SHOW #1 MAIN & MIX $ 3.99
ALL NEW GUARDIANS OF GALAXY #7 $ 3.99
ALL NEW GUARDIANS OF GALAXY #7 HUANG MARVEL VS CAPCOM VAR $ 3.99
AMORY WARS GOOD APOLLO #5 (OF 12) (MR) $ 3.99
ARCHANGEL #5 (OF 5) $ 3.99
ASH VS AOD #2 CVR A SCHOONOVER $ 3.99
AVENGERS #10 SE $ 3.99
BANE CONQUEST #4 (OF 12) $ 3.99
BATMAN #28 $ 2.99
BATMAN #28 VAR ED $ 2.99
BATMAN ELMER FUDD SPECIAL #1 2ND PTG $ 4.99
BLACK BOLT #4 $ 3.99
CHAMPIONS #11 CHAMBA MARVEL VS CAPCOM VAR SE $ 3.99
CHAMPIONS #11 SE $ 3.99
Clue #2 $ 3.99
CYBORG #15 $ 3.99
CYBORG #15 VAR ED $ 3.99
DC COMICS BOMBSHELLS #32 $ 3.99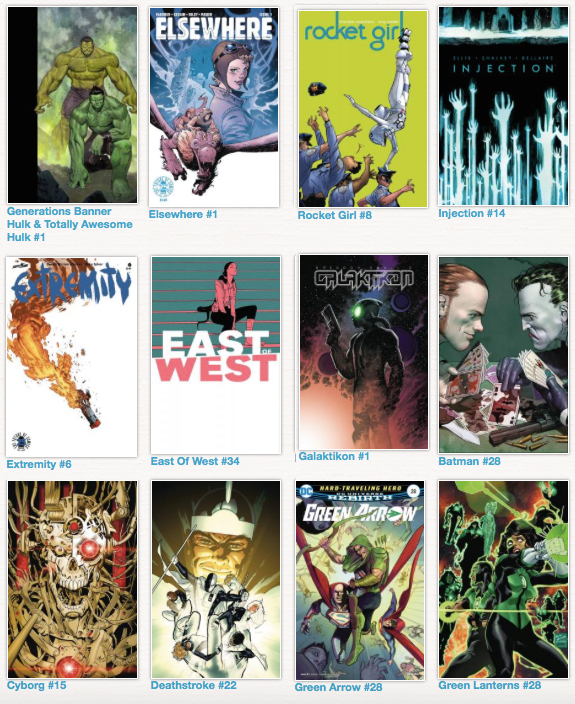 DEATHSTROKE #22 $ 3.99
DEATHSTROKE #22 VAR ED $ 3.99
EAST OF WEST #34 $ 3.99
EAST OF WEST #34 CVR B HICKMAN CVR MONTH $ 3.99
ELSEWHERE #1 CVR A KESGIN & RILEY $ 3.99
EVERAFTER FROM THE PAGES OF FABLES #12 (MR) $ 3.99
EXTREMITY #6 $ 3.99
GALAKTIKON #1 $ 3.99
GHOST STATION ZERO #1 (OF 4) CVR A CHANKHAMMA $ 3.99
GHOST STATION ZERO #1 (OF 4) CVR B CLOONAN $ 3.99
GENERATIONS BANNER HULK & TOTALLY AWESOME HULK #1 $ 4.99
GENERATIONS BANNER HULK & TOTALLY AWESOME HULK #1 BUFFAGNI (Maybe Next Week) $ ???
GENERATIONS BANNER HULK & TOTALLY AWESOME HULK #1 KEOWN VAR $ 4.99
GENERATIONS BANNER HULK & TOTALLY AWESOME HULK #1 MARVEL VS $ 4.99
GIANT DAYS #29 $ 3.99
GREEN ARROW #28 $ 2.99
GREEN ARROW #28 VAR ED $ 2.99
GREEN HORNET 66 MEETS SPIRIT #2 (OF 5) CVR A TEMPLETON $ 3.99
GREEN LANTERNS #28 $ 2.99
GREEN LANTERNS #28 VAR ED $ 2.99
GRUMPY CAT GARFIELD #1 (OF 3) CVR A HIRSCH $ 3.99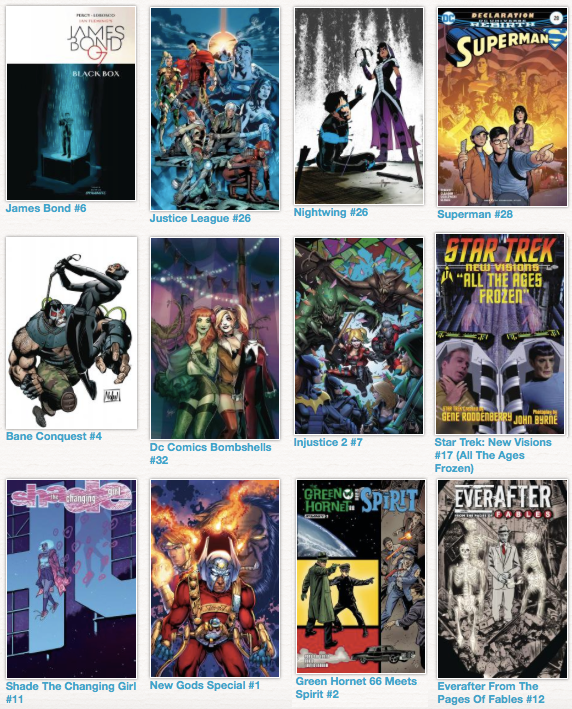 HADRIANS WALL #8 (OF 8) (MR) $ 3.99
HASBRO HEROES SOURCEBOOK #2 (OF 3) $ 4.99
HAWKEYE #9 $ 3.99
HAWKEYE #9 PORTER MARVEL VS CAPCOM VAR $ 3.99
INJECTION #14 CVR A SHALVEY & BELLAIRE (MR) $ 3.99
INJECTION #14 CVR B SHALVEY & BELLAIRE (MR) $ 3.99
INJUSTICE 2 #7 $ 2.99
IRON FIST #6 $ 3.99
JAMES BOND #6 CVR A REARDON $ 3.99
JESSICA JONES #11 (Maybe Next Week) $ 3.99
JUSTICE LEAGUE #26 $ 2.99
JUSTICE LEAGUE #26 VAR ED $ 2.99
KISS #10 (OF 10) CVR C PHOTO $ 3.99
LOBSTER JOHNSON MANGEKYO ONE SHOT $ 3.99
LOVE & ROCKETS MAGAZINE #3 (MR) $ 4.99
MARVEL COMICS DIGEST #2 THE AVENGERS $ 6.99
MARVELS THOR RAGNAROK PRELUDE #3 (OF 4) $ 3.99
MECH CADET YU #1 (OF 4) CVR A MAIN MIYAZAWA $ 3.99
NEW GODS SPECIAL #1 $ 4.99
NICK FURY #5 $ 3.99
NIGHTWING #26 $ 2.99
NIGHTWING #26 VAR ED $ 2.99
PREDATOR HUNTERS #4 $ 3.99
PREDATOR HUNTERS #4 VELASCO VAR $ 3.99
ROBOTECH #1 BLUE LINE SKETCH VAR $ 3.99
ROBOTECH #1 COSPLAY VAR $ 3.99
ROBOTECH #1 CVR A LAU $ ???
ROBOTECH #1 CVR C SHEDD ACTION FIGURE VAR $ 3.99
ROBOTECH #1 CVR D DIALYNAS $ 3.99
ROBOTECH #1 CVR E WALTRIP BROS RETRO VAR $ 3.99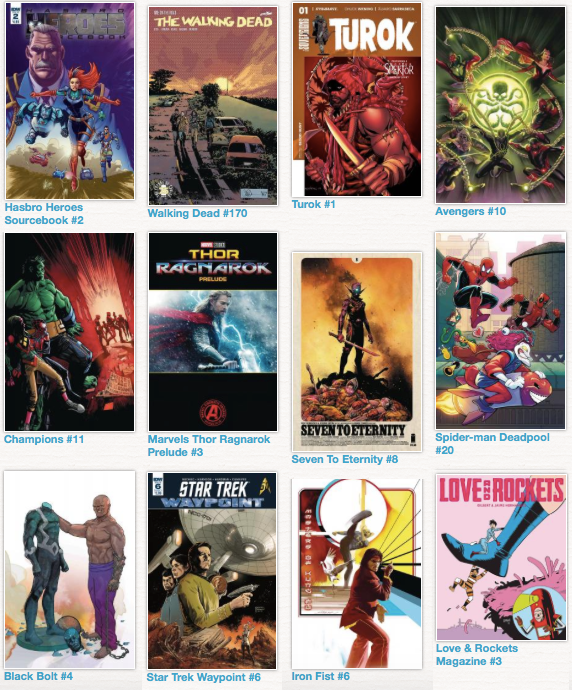 ROCKET GIRL #8 $ 3.99
SAVAGE THINGS #6 (OF 8) (MR) $ 3.99
SEVEN TO ETERNITY #8 CVR A OPENA & HOLLINGSWORTH $ 3.99
SEVEN TO ETERNITY #8 CVR B HARREN & HOLLINGSWORTH $ 3.99
SEX CRIMINALS #20 (MR) $ 3.99
SEX CRIMINALS #20 XXX JOE QUINONES VAR (MR) $ 4.69
SHADE THE CHANGING GIRL #11 (MR) $ 3.99
SHADE THE CHANGING GIRL #11 VAR ED (MR) $ 3.99
SKYLANDERS SPYRO & FRIENDS QUARTERLY FULL BLAST CVR A BALDEO $ 4.99
SPIDER-MAN #19 $ 3.99
SPIDER-MAN #19 BROWN GRACIA MARVEL VS CAPCOM VAR $ 3.99
SPIDER-MAN DEADPOOL #20 $ 3.99
SPIDER-MAN DEADPOOL #20 GENZOMAN MARVEL VS CAPCOM VAR $ 3.99
STAR TREK NEW VISIONS ALL THE AGES FROZEN $ 7.99
STAR TREK WAYPOINT #6 CVR A HARDMAN $ 3.99
STAR WARS DARTH VADER #4 $ 3.99
STAR WARS DARTH VADER #4 ALBUQUERQUE VAR $ ???
STAR WARS ROGUE ONE ADAPTATION #5 (OF 6) $ 3.99
SUPERMAN #28 $ 2.99
SUPERMAN #28 VAR ED $ 2.99
TMNT DIMENSION X #1 CVR A PITARRA $ 3.99
TMNT ONGOING #73 CVR A SMITH $ 3.99
TRUE BELIEVERS KIRBY 100TH BLACK PANTHER #1 $ 1
TRUE BELIEVERS KIRBY 100TH CAPTAIN AMERICA LIVES AGAIN #1 $ 1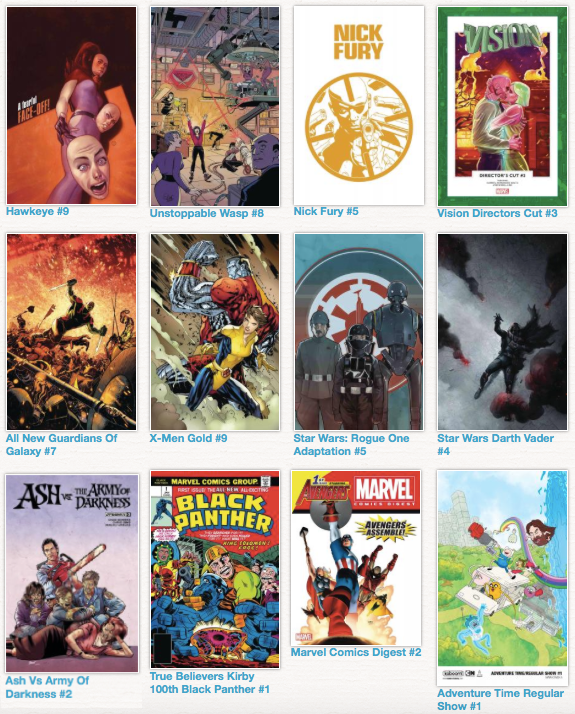 TUROK #1 CVR A LOPRESTI $ 3.99
UNSTOPPABLE WASP #8 $ 3.99
VISION DIRECTORS CUT #3 (OF 6) $ 6.99
WALKING DEAD #170 (MR) $ 2.99
WOODS #34 $ 3.99
WORLD READER #5 $ 3.99
X-MEN GOLD #9 $ 3.99
ZOMBIE TRAMP ORIGINS #2 CVR A MENDOZA (MR) $ 4.99
ZOMBIE TRAMP ORIGINS #2 CVR C SEXY (MR) $ 4.99
ZOMBIE TRAMP ORIGINS #2 CVR E GORY (MR) $ 4.99
ZOMBIE TRAMP ORIGINS #2 CVR G REPLICA (MR) $ 4.99
ALL NEW ALL DIFFERENT AVENGERS HC VOL 01 (RES) $ 34.99
BIG NATE REVENGE OF CREAM PUFFS TP $ 9.99
BIG NATE SAY GOOD BYE TO DORK CITY TP $ 9.99
BIG NATE THUNKA THUNKA THUNKA TP (Maybe Next Week) $ 9.99
BLACK PANTHER HC VOL 01 A NATION UNDER OUR FEET $ 34.99
BTVS SEASON 11 TP VOL 01 SPREAD OF EVIL $ 19.99
CAPTAIN AMERICA STEVE ROGERS TP VOL 03 EMPIRE BUILDING $ 19.99
COLOR YOUR OWN MARVEL MASTERS TP $ 9.99
CONAN OMNIBUS TP VOL 03 ANCIENT GODS AND SORCERERS $ 24.99
GOD COUNTRY TP (MR) $ 16.99
GREEN ARROW TP VOL 03 EMERALD OUTLAW (REBIRTH) $ 16.99
GRENDEL TALES OMNIBUS TP VOL 01 $ 24.99
HARLEYS LITTLE BLACK BOOK HC $ 29.99
INVADER ZIM TP VOL 04 $ 19.99
JERRY & JOKER ADVENTURES & COMIC ART HC $ 34.99
LEGION OF SUPER HEROES SILVER AGE OMNIBUS HC VOL 01 $ 75
LOCKJAW DOG DAYS TP $ 7.99
LOKI JOURNEY INTO MYSTERY BY KIERON GILLEN OMNIBUS HC $ 100
MONSTERS HC VOL 02 MARVEL MONSTERBUS BY LEE LIEBER KIRBY $ 100
NEWSBOY LEGION BY SIMON AND KIRBY HC VOL 02 $ 49.99
PAPER GIRLS TP VOL 03 $ 12.99
REBORN HC (MR) $ 24.99
SUPERMAN TP VOL 03 MULTIPLICITY (REBIRTH) $ 16.99
SURFSIDE GIRLS GN VOL 01 SECRET OF DANGER POINT $ 19.99
THOR EPIC COLLECTION TP IN MORTAL FLESH $ 39.99
UNFOLLOW TP VOL 03 TURN IT OFF (MR) $ 16.99
SPIDER-GWEN WALL CLING PX WHITE T/S Sm-Med-Lg-XL $ 18.99
SPIDER-GWEN WALL CLING PX WHITE T/S 2XL $ 20.99
BEATLES YELLOW SUBMARINE SERIES 2 TITANS Blind Box Figures $ ???
FUNKO PLUSH SPIDER-MAN HOMECOMING 6PC PLUSH $ ???
POP DC BATMAN 66 RIDDLER VINYL FIG $ 10.99
POP STAR WARS 6IN RANCOR W/LUKE & SLAVE OOLA PX VIN FIG 3PK $ 39.99
POP WAR FOR THE PLANET OF THE APES CAESAR VINYL FIG $ 10.99
POP WAR FOR THE PLANET OF THE APES MAURICE VINYL FIG $ 10.99
SAILOR MOON PETIT CHARA SAILOR MOON FIG DARK KINGDOM VER $ 88.99
SDCC 2017 DC REBIRTH HARLEY QUINN BOOMBOX PX STATUE $ 49.99
SW BLACK DIE-CAST FIG ASST 201701 $ 18.99
COMIC SHOP NEWS #1572 $ FREE