Summer's almost over but first…New Comics on Wednesday, August 30th, 2017
This week really IS a small week! Only 84 slots on the wall. It's a 5th Wednesday, so it tends to be smaller than the other 4. All star Batman, Generations Hawkeye & Hawkeye #1, Black Panther, BP Crew, GOTG, Star Wars, Jedi Republic Mace Windu and Wonder Top my short list.
There is a long list below…
BTW, to the 0-3 people who might actually see this, we'll be having our annual Labor Day Sale this Sunday and Monday. You SHOULD have gotten an email. If you didn't, sign up here to get our email news. We'll send one more this Friday.
As always,  thanks to GoCollect.com for putting out their mostly accurate list of comics and covers every week. If you so desire, Click here to see their whole list. They may have elected to use a variant that we may not carry, or used pre-release art to represent a title, or listed things we don't buy at all. Or they may get a few from next week in there, OR catch up with ones they missed last week – so the covers you see here may not be the ones you see on our shelf this week. Our list is usually late enough that it reflects only what we got,  but not late enough to eliminate sellouts that might have happened by the time you see this. Also, we reserve the right to make mistakes and forget to list things, or forget to delete them when they don't show up like we thought they would.
ALL STAR BATMAN #13 $ $4.99
ALL STAR BATMAN #13 ALBUQUERQUE VAR ED $ $4.99
ALL STAR BATMAN #13 FIUMARA VAR ED $ $4.99
AMAZING WORLD OF GUMBALL 2017 GRAB BAG #1 (OF 1) $ $7.99
ANGEL SEASON 11 #8 $ $3.99
ANIMOSITY #9 (MR) $ $3.99
BANKSHOT #3 $ $3.99
BLACK MAGICK #7 CVR A SCOTT (MR) $ $3.99
BLACK MAGICK #7 CVR B LARK (MR) $ $3.99
BLACK PANTHER #17 $ $3.99
BLACK PANTHER CREW #6 $ $3.99
BLACK RACER & SHILO NORMAN SPECIAL #1 $ $4.99
BPRD DEVIL YOU KNOW #2 $ $3.99
BTVS SEASON 11 #10 $ $3.99
CROSSWIND #3 CVR A STAGGS (MR) $ $3.99
DARKSEID SPECIAL #1 $ $4.99
DEADLY CLASS #30 CVR A CRAIG & BOYD (MR) $ $3.99
DEADLY CLASS #30 CVR B JOHNSON (MR) $ $3.99
DEADPOOL #35 SE $ $3.99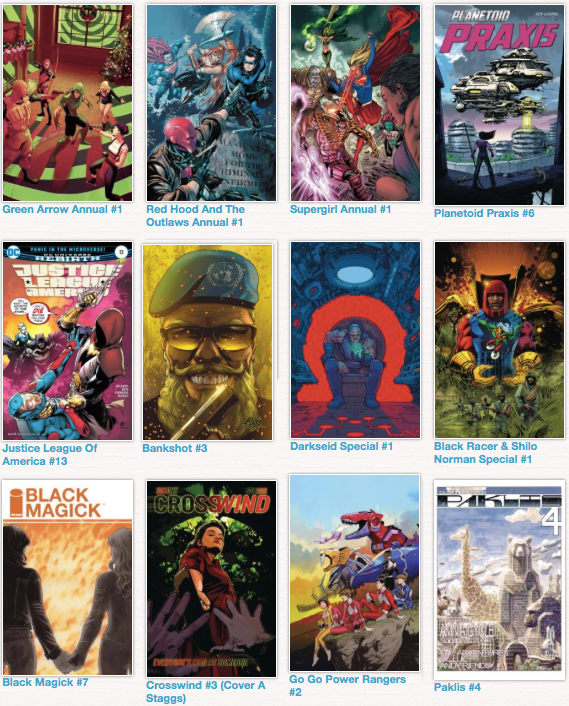 DOCTOR STRANGE SORCERERS SUPREME #11 $ $3.99
FAITH AND THE FUTURE FORCE #2 (OF 4) CVR A DJURDJEVIC $ $3.99
GENERATIONS HAWKEYE & HAWKEYE #1 $ $4.99
GENERATIONS HAWKEYE & HAWKEYE #1 TORQUE VAR $ $4.99
GO GO POWER RANGERS #2 MAIN & MIX $ $3.99
GUARDIANS OF GALAXY TELLTALE SERIES #2 (OF 5) $ $3.99
HALO RISE OF ATRIOX #1 $ $3.99
HASBRO HEROES SOURCEBOOK #3 (OF 3) CVR A OSSIO $ $4.99
INFAMOUS IRON MAN #11 $ $3.99
JAMES BOND MONEYPENNY ONE SHOT $ $4.99
JEAN GREY #6 $ $3.99
JIMMYS BASTARDS #3 (MR) $ $3.99
JUGHEAD & ARCHIE FALL ANNUAL DIGEST #27 $ $5.99
JUSTICE LEAGUE OF AMERICA #13 $ $2.99
JUSTICE LEAGUE OF AMERICA #13 VAR ED $ $2.99
LADY KILLER 2 #5 $ $3.99
LADY MECHANIKA CLOCKWORK ASSASSIN #2 (OF 3) $ $3.99
MIGHTY CAPTAIN MARVEL #8 SE $ $3.99
MIGHTY CAPTAIN MARVEL #8 SE MARVEL VS CAPCOM VAR SE $ $3.99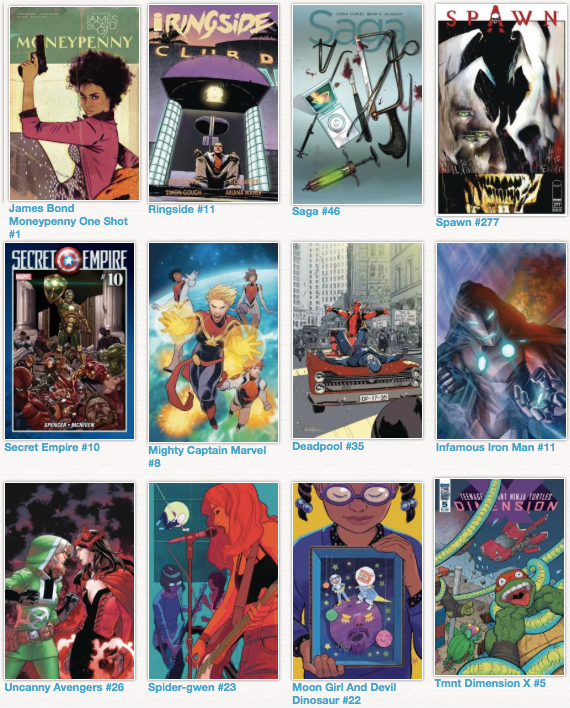 MOON GIRL AND DEVIL DINOSAUR #22 $ $3.99
ORPHAN BLACK DEVIATIONS #4 (OF 6) $ $3.99
PAKLIS #4 (MR) $ $4.99
PLANETOID PRAXIS #6 (OF 6) (MR) $ $3.99
RAPTURE #4 CVR A SUAYAN $ $3.99
REBELS THESE FREE & INDEPENDENT STATES #6 (OF 8) $ $3.99
RED HOOD AND THE OUTLAWS ANNUAL #1 $ $4.99
RINGSIDE #11 (MR) $ $3.99
ROBOTECH #2 CVR A ROCHE $ $3.99
ROBOTECH #2 CVR B KERSCHL $ $3.99
ROBOTECH #2 CVR C ACTION FIGURE VAR $ $3.99
ROBOTECH #2 CVR D MILOGIANNIS $ $3.99
SAGA #46 (MR) $ $2.99
IMAGE PLUS #1 (WYTCHES THE BAD EGG PT 1) $ $1.99
PREVIEWS #348 SEPTEMBER 2017 $ $3.95
SAVAGE DRAGON #226 (MR) $ $3.99
SECRET EMPIRE #10 (OF 10) DELLOTTO CIVIL WARRIOR VAR SE $ $4.99
SECRET EMPIRE #10 (OF 10) KIRBY 100 VAR SE $ ???
SECRET EMPIRE #10 (OF 10) SE $ $4.99
SECRET EMPIRE #10 (OF 10) SHIELD VAR SE $ $4.99
SECRET EMPIRE #10 (OF 10) SORRENTINO HYDRA HEROES VAR SE $ $4.99
SPAWN #277 CVR A ALEXANDER $ $2.99
SPAWN #277 CVR B B&W ALEXANDER $ $2.99
SPAWN #277 CVR C HICKMAN CVR MONTH $ $2.99
SPIDER-GWEN #23 $ $3.99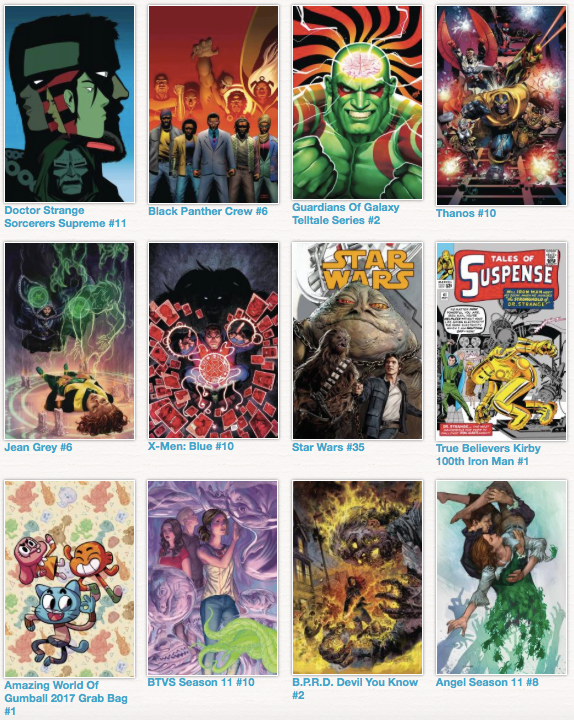 STAR WARS #35 $ $3.99
STAR WARS #35 CHRISTOPHER ACTION FIGURE VAR $ $3.99
STAR WARS #35 REEDER STAR WARS 40TH ANNIV VAR $ $3.99
STAR WARS JEDI REPUBLIC MACE WINDU #1 (OF 5) $ $3.99
STAR WARS JEDI REPUBLIC MACE WINDU #1 (OF 5) HOMAGE VAR $ ???
STAR WARS JEDI REPUBLIC MACE WINDU #1 (OF 5) MOVIE VAR $ ???
STAR WARS JEDI REPUBLIC MACE WINDU #1 (OF 5) RAHZZAH VAR $ ???
STEVEN UNIVERSE ONGOING #7 $ $3.99
STEVEN UNIVERSE ONGOING #7 15 COPY INCV TALMADGE VAR $ ???
SUPERGIRL ANNUAL #1 $ $4.99
THANOS #10 $ $3.99
THANOS #10 LIM MARVEL VS CAPCOM VAR $ $3.99
TMNT DIMENSION X #5 CVR A PITARRA $ $3.99
TRUE BELIEVERS KIRBY 100TH ANTMAN & THE WASP #1 $ $1.00
TRUE BELIEVERS KIRBY 100TH IRON MAN #1 $ $1.00
UNCANNY AVENGERS #26 $ $3.99
VAMPBLADE SEASON TWO #6 CVR A WINSTON YOUNG (MR) $ $4.99
VAMPBLADE SEASON TWO #6 CVR C ARTIST (MR) $ $4.99
VAMPBLADE SEASON TWO #6 CVR E 90S VAR (MR) $ $4.99
VAMPIRELLA #6 CVR A TAN $ $3.99
VAMPIRELLA #6 CVR C COSPLAY $ $3.99
WONDER WOMAN #29 $ $2.99
WONDER WOMAN #29 VAR ED $ $2.99
X-MEN BLUE #10 $ $3.99
AQUAMAN TP VOL 03 CROWN OF ATLANTIS (REBIRTH) $ $19.99
BATMAN REBIRTH DLX COLL HC BOOK 01 $ $34.99
BATMAN SHADOW OF THE BAT TP VOL 02 $ $29.99
BATMAN THE GOLDEN AGE TP VOL 03 $ $29.99
BATMAN TP VOL 03 I AM BANE (REBIRTH) $ $16.99
BIG NATE A GOOD OLD FASHIONED WEDGIE TP (C: 0-1-0) $ $9.99
BTVS BIG BADS & MONSTERS ADULT COLORING BOOK TP (C: 0-1-2) $ $14.99
BULLSEYE COLUMBIAN CONNECTION TP $ $15.99
COMIC BOOK HISTORY OF COMICS TP BIRTH OF A MEDIUM $ $19.99
COPPERHEAD TP VOL 03 (MR) $ $16.99
DEADMAN BY KELLEY JONES COMPLETE COLL TP $ $24.99
DEADPOOL VS PUNISHER TP $ $15.99
DEFENDERS EPIC COLLECTION TP ASHES ASHES $ $39.99
DISNEY MANGA TANGLED GN (C: 0-1-2) $ $10.99
DOCTOR STRANGE/PUNISHER TP MAGIC BULLETS $ $15.99
JUPITERS LEGACY TP VOL 02 (MR) $ $16.99
MIGHTY MORPHIN POWER RANGERS ADULT COLORING BOOK TP $ $16.99
MILLENNIUM GIRL WITH THE DRAGON TATTOO TP $ $19.99
MY LITTLE PONY MOVIE PREQUEL TP $ $9.99
NEW TEEN TITANS OMNIBUS HC VOL 01 NEW EDITION $ $75.00
OLD GUARD TP BOOK 01 OPENING FIRE (MR) $ $16.99
OTHER SIDE SPECIAL ED HC (MR) $ $19.99
SPIDER-MAN 2099 TP VOL 06 APOCALYPSE SOON $ $15.99
STAR WARS THE FORCE AWAKENS GN $ $9.99
UNSTOPPABLE WASP TP VOL 01 UNSTOPPABLE $ $12.99
WONDER GIRL ADVENTURES OF A TEEN TITAN TP $ $14.99
BATMAN KILLING JOKE BY BOLLAND T/S Lg-Med-XL $ $19.99
BATMAN KILLING JOKE BY BOLLAND T/S XXL $ $22.99
KINGDOM HEARTS KINGDOM ROCKS BLACK T/S Sm-Med-Lg-XL $ $18.99
KINGDOM HEARTS KINGDOM ROCKS T/S BLACK XXL $ $20.99
FNAF FIGURE HANGERS 24PC BMB DS SERIES 1 $ $6.99
FNAF FIGURE HANGERS 24PC BMB DS SERIES 2 $ $6.99
FUNKO STRANGER THINGS SET 1 ACTION FIGURE 3PK $ $19.99
FUNKO STRANGER THINGS SET 2 ACTION FIGURE 3PK $ $19.99
GOTG BUILDABLE FIGURES 24PC BMB DS $ $4.99
KINGDOM HEARTS DOMEZ 24PC BMB DS $ $4.99
LIVING DEAD DOLLS DC CLASSIC HARLEY QUINN DOLL $ $49.99
MYSTERY MINIS STAR WARS CLASSIC SERIES 1 12PC BMB DISP $ $7.99
PINT SIZED HEROES HORROR 24PC BMB DISP $ $4.49
TRANSFORMERS GEN TITANS RETURN DLX AF ASST 201702 $ $19.99
TRANSFORMERS GEN TITANS RETURN DLX AF ASST 201703 $ $19.99
TRANSFORMERS GEN TITANS RETURN DLX AF ASST 201704 $ $19.99
COMIC SHOP NEWS #1576 $ Free