Wednesday, November 29th, 2017 – a very small week for comics, but…
This week is the smallest week for new comics that I can remember – only 68. We have made up for that by making several extractions from the warehouse, and placed holiday orders with our distributors, and somehow managed to squeeze it all in – so far! If you haven't been here in a while, it's time to get in here and start shopping.
Here's  a start on what we have tons of:
Funko Pops, Mystery Minis, other "blind boxes" and bags, DC and Marvel Action Figures, Walking Dead, Minecraft, Five Nights, etc.
Pokemon packs and gift boxes, Yu Gi Oh and Magic the Gathering in all kinds of packages for gifts.
Huge selection of Japanese Manga (in English, but reading backwards),
About 100 different Superhero and Cartoon-y themed T-Shirts (sorry, no kids sizes) and tote bags, including Masked Character Hoodies.
Supplies for game and sports cards, comics, and even box protectors for Pops.
Dozens of the best Young Reader and Young Adult graphics novels, like Babysitters Club, Drama, Smile, Sisters, Avatar, Jedi Academy, Vader's Son & Daughter, and 30 Little Golden Books from Star Wars and the Marvel Universe. Lots of reprint books from your favorite animated shows like Rick & Morty, Simpsons, Steven Universe, My Little Pony, and on and on.
What else? Hmmm. Oh, yeah, comics and graphic novels and reprints by the thousands.
This is not even close to a complete list. If you've never been here, you will not believe how much there is. It's pretty overwhelming.
You WILL find something.
And, there will be new announcements between now and the end of the year, regarding hours, new merchandise, and maybe a special sale. And you can get them – Click Here.
Complete list of this week's comics and some pics below.
As always,  thanks to GoCollect.com for putting out their mostly accurate list of comics and covers every week. If you so desire, Click here to see their whole list. They may have elected to use a variant that we may not carry, or used pre-release art to represent a title, or listed things we don't buy at all. Or they may get a few from next week in there, OR catch up with ones they missed last week – so the covers you see here may not be the ones you see on our shelf this week. Our list is usually late enough that it reflects only what we got,  but not late enough to eliminate sellouts that might have happened by the time you see this. Also, we reserve the right to make mistakes and forget to list things, or forget to delete them when they don't show up like we thought they would.
AMERICA #9 LEG $ 3.99
AQUAMAN ANNUAL #1 $ 4.99
ARCHIE COMICS DOUBLE DIGEST #284 $ 5.99
BATMAN ANNUAL #2 $ 4.99
BATMAN CREATURE OF THE NIGHT #1 (OF 4) $ 5.99
BATMAN THE RED DEATH #1 METAL 3RD PTG $ 3.99
BEAUTY #17 CVR A HAUN & FILDARI (MR) $ 3.99
BETTIE PAGE #5 CVR A LINSNER $ 3.99
BETTIE PAGE #5 CVR B BONE $ 3.99
BETTIE PAGE #5 CVR C PHOTO $ 3.99
BETTIE PAGE #5 CVR D BONE B&W VAR (1/10) $ ???
BLACK MAGICK #9 CVR A SCOTT (MR) $ 3.99
BPRD DEVIL YOU KNOW #4 $ 3.99
CATALYST PRIME KINO #1 MAIN CVR $ 3.99
DARK DAYS THE FORGE & THE CASTING DIRECTORS CUT #1 $ 7.99
DARKHAWK #51 LEG $ 3.99
ETERNITY #2 CVR A DJURDJEVIC $ 3.99
GIANTKILLERS #0 CVR A SEARS $ 3.99
GIANTKILLERS #0 CVR B SEARS & SMITH $ 3.99
GREEN ARROW ANNUAL #1 (RES) $ 4.99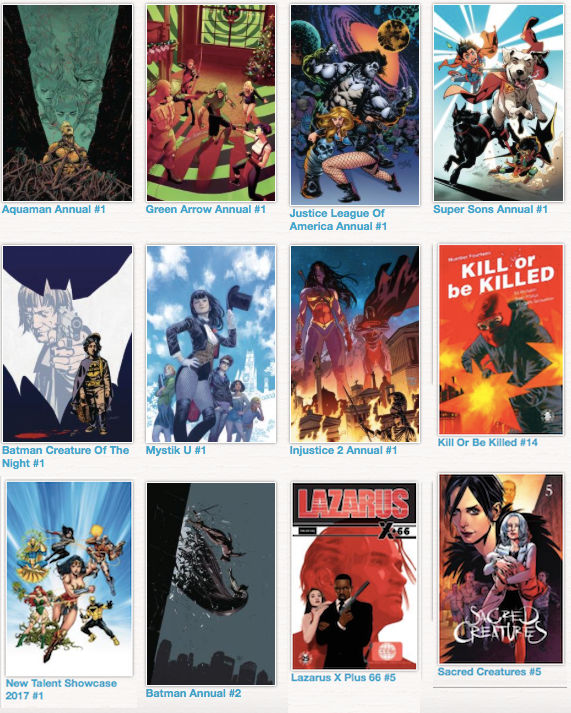 HAL JORDAN AND THE GREEN LANTERN CORPS #33 $ 2.99
HAL JORDAN AND THE GREEN LANTERN CORPS #33 VAR ED $ 2.99
INJUSTICE 2 ANNUAL #1 $ 4.99
JEAN GREY #9 LEG $ 3.99
JOHN WICK #1 CVR A VALLETTA $ 3.99
JOHN WICK #1 CVR B COWAN SIENKIEWICZ $ 3.99
JOHN WICK #1 CVR C PHOTO $ 3.99
JOHN WICK #1 CVR D CASSADAY EXC SUBSCRIPTION VAR $ 3.99
JUSTICE INC FACES OF JUSTICE #4 (OF 4) $ 3.99
JUSTICE LEAGUE OF AMERICA ANNUAL #1 $ 4.99
KILL OR BE KILLED #14 (MR) $ 3.99
LABYRINTH 2017 SPECIAL #1 $ 7.99
LABYRINTH 2017 SPECIAL #1 SUBSCRIPTION STOKELY VA $ 7.99
LAZARUS X PLUS 66 #5 (OF 6) (MR) $ 3.99
MANIFEST DESTINY #32 CVR A ROBERTS & GIENI (MR) $ 3.99
MANIFEST DESTINY #32 CVR B WALKING DEAD #19 TRIBUTE VAR (MR) $ 3.99
MOON KNIGHT #189 LEG $ 3.99
MOTOR CRUSH #8 CVR A TARR $ 3.99
MYSTIK U #1 (OF 3) $ 5.99
NEW TALENT SHOWCASE 2017 #1 $ 7.99
RENATO JONES SEASON TWO #5 (OF 5) (MR) $ 3.99
RICK & MORTY #32 $ 3.99
RICK & MORTY #32 INCV VAR BLAS $ 3.99
ROM VS TRANSFORMERS SHINING ARMOR #5 CVR A MILNE $ 3.99
SACRED CREATURES #5 CVR A RAIMONDI (MR) $ 4.99
SECRET WARRIORS #9 LEG $ 3.99
SPAWN #280 CVR A ALEXANDER & WALCOTT $ 2.99
SPAWN #280 CVR B B&W ALEXANDER & WALCOTT $ 2.99
SPIDER-GWEN #26 LEG $ 3.99
SPY SEAL #4 $ 3.99
STAR TREK BOLDLY GO #14 CVR A SHASTEEN $ 3.99
STAR TREK BOLDLY GO #14 CVR B KOWALSKI $ 3.99
STAR TREK DISCOVERY #1 CVR A SHASTEEN $ 3.99
STAR TREK DISCOVERY #1 CVR B PHOTO $ 3.99
STAR WARS ADVENTURES #4 VAR (1/10) $ ???
STAR WARS ADVENTURES #4 CVR A JONES $ 3.99
STAR WARS ADVENTURES #4 CVR B GRENO $ 3.99
STAR WARS JEDI REPUBLIC MACE WINDU #4 (OF 5) $ 3.99
STAR WARS JEDI REPUBLIC MACE WINDU #4 (OF 5) SHALVEY VAR (1/25) $ ???
STAR WARS POE DAMERON #21 $ 3.99
STAR WARS POE DAMERON #21 WITTER 40TH ANNIV VAR $ 3.99 (Maybe Next Week)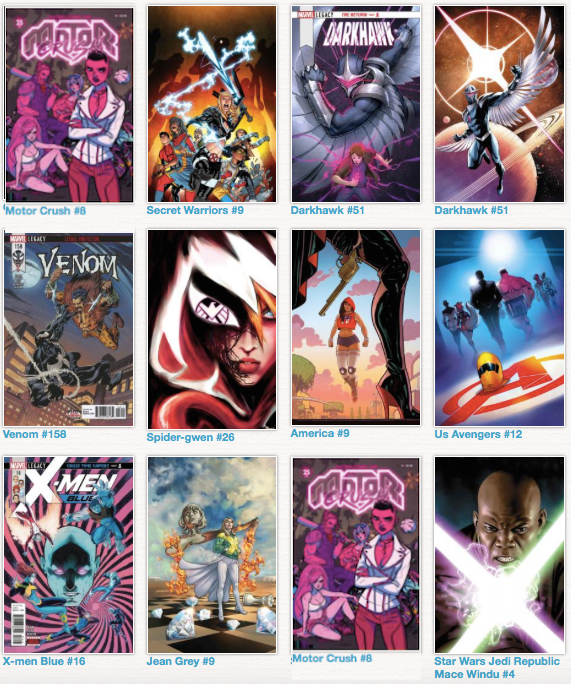 SUPER SONS ANNUAL #1 $ 4.99
SWORD OF AGES #1 CVR A RODRIGUEZ $ 3.99
TMNT GHOSTBUSTERS II #5 CVR A SHOENING $ 3.99
TRANSFORMERS LOST LIGHT #11 CVR A LAWRENCE $ 3.99
UNCLE SCROOGE #32 CVR A FECCHI $ 3.99
UNCLE SCROOGE #32 CVR B JIPPES & SCHROEDER $ 3.99
US AVENGERS #12 LEG $ 3.99
VAMPBLADE SEASON TWO #9 CVR A WINSTON YOUNG (MR) $ 4.99
VAMPBLADE SEASON TWO #9 CVR C STANLEY (MR) $ 4.99
VAMPIRELLA #8 CVR A TAN $ 3.99
VAMPIRELLA #8 CVR C COSPLAY $ 3.99
VENOM #158 LEG $ 3.99
WAR MOTHER #4 CVR A MACK $ 3.99
X-MEN BLUE #16 LEG $ 3.99
ALL NEW WOLVERINE TP VOL 04 IMMUNE $ 17.99
AMAZING SPIDER-MAN RENEW YOUR VOWS TP VOL 02 VENOM EXPERIMEN $ 19.99
ASSASSINATION CLASSROOM GN VOL 19 $ 9.99
ASTRA LOST IN SPACE GN VOL 01 $ 9.99
CANNIBAL TP VOL 02 (MR) $ 16.99
CAPTAIN HARLOCK DIMENSIONAL VOYAGE GN VOL 02 $ 12.99
CONAN THE SLAYER TP VOL 02 $ 19.99 (Maybe Next Week)
DAREDEVIL BACK IN BLACK TP VOL 05 SUPREME $ 19.99 (Maybe Next Week)
DRAGON BALL SUPER GN VOL 02 $ 9.99
FAIRY TAIL S GN VOL 01 (OF 2) TALES FROM FAIRY TAIL $ 10.99
FLASH BY GEOFF JOHNS TP BOOK 04 $ 29.99
GHOST FLEET WHOLE GODDAMNED THING TP (MR) $ 19.99
GOTHAM ACADEMY SECOND SEMESTER VOL 02 BALLAD OF OLIVE $ 14.99
HAPPY DLX ED TP (MR) $ 14.99
INJECTION TP VOL 03 (MR) $ 16.99
INVISIBLES TP BOOK 02 (MR) $ 24.99
JESSICA JONES TP VOL 02 SECRETS OF MARIA HILL $ 17.99
MAGI GN VOL 27 $ 9.99
MONSTERS UNLEASHED TP VOL 01 MONSTER MASH $ 15.99
MY LITTLE PONY FRIENDSHIP IS MAGIC TP VOL 13 $ 17.99
ODYSSEY OF THE AMAZONS TP $ 16.99
ONE PIECE 3IN1 TP VOL 22 $ 14.99
PROMISED NEVERLAND GN VOL 01 $ 9.99
SECRET EMPIRE TP BRAVE NEW WORLD $ 15.99
SILVER SURFER TP VOL 05 POWER GREATER THAN COSMIC $ 19.99
SPLATOON MANGA GN VOL 01 $ 9.99
STAR WARS LEGENDS EPIC COLLECTION RISE OF SITH TP VOL 02 $ 39.99 (Maybe Next Week)
STAR WARS ROGUE ONE ADAPTATION TP $ 19.99
SUPERMAN TP VOL 04 BLACK DAWN (REBIRTH) $ 16.99
SUPERWOMAN TP VOL 02 REDISCOVERY (REBIRTH) $ 14.99
WONDER WOMAN THE GOLDEN AGE TP VOL 01 $ 24.99
X-MEN AGE OF APOCALYPSE TP TERMINATION $ 34.99
X-MEN EPIC COLLECTION TP MUTANT GENESIS $ 34.99
POKEMON PIKACHU & POKEBAL PACKABLE TOTE $ 22.99
SAGA LYING CAT UNISEX SM, MED, LG $ 19.99 (X-Large delayed)
SAGA LYING CAT UNISEX XXL T/S $ 22.99
BATMAN TAS 25TH ANNIV HARLEY QUINN DLX PVC FIG $ 59.99
MARVEL GALLERY NETFLIX ELEKTRA PVC FIG $ 44.99
POP MARVEL VS CAPCOM CAPT MARVEL VS CHUN-LI VINYL FIGURE $ 19.99
POP MARVEL VS CAPCOM ROCKET VS MEGAMAN VINYL FIGURE $ 19.99
POP MARVEL VS CAPCOM ULTRON VS SIGMA VINYL FIGURE 2PK $ 19.99
POP MORTAL KOMBAT KITANA VINYL FIGURE $ 10.99
POP MORTAL KOMBAT LIU KANG VINYL FIGURE $ 10.99
POP MORTAL KOMBAT RAIDEN VINYL FIGURE $ 10.99
POP NFL LEGENDS BO JACKSON (RAIDERS HOME) VIN FIG $ 10.99
POP NFL TOM BRADY PATRIOTS COLOR RUSH VINYL FIG $ 10.99
POP NHL SERIES 2 BRENT BURNS HOME JERSEY VINYL FIGURE $ 10.99
ROCK CANDY DISNEY CRUELLA DE VIL FIG $ 10.99
ROCK CANDY DISNEY JESSICA RABBIT FIG $ 10.99
COMIC SHOP NEWS #1589 $ FREE
IMAGE PLUS #4 (WYTCHES THE BAD EGG PT 4) $ 1.99
LEGACY FREE DECEMBER PREVIEWS SPOTLIGHT $ FREE
MARVEL PREVIEWS VOL 04 #5 DECEMBER 2017 $ FREE
PREVIEWS #351 DECEMBER 2017 $ 3.99