Twelve Days to Christmas – Wednesday, December 13th, 2017
We got lots of comics this week, including Star Wars 40 and the Coc movie adaptation, and that's all I'm going to feature. Let the list below speak for itself.
I started this list 2 weeks ago, and I'm going to keep adding to it for the next 2 weeks – what we have tons of:
Funko Pops, Mystery Minis, other "blind boxes" and bags, DC and Marvel Action Figures, Walking Dead, Minecraft, Five Nights, etc.
Pokemon packs and gift boxes, Yu Gi Oh and Magic the Gathering in all kinds of packages for gifts.
Star Wars Episode 8 comes out tomorrow, and we have hundreds of 3-inch and 6-inch action figures, books, comics, and about 60 "common" and another 30 or so "rare or "chase" Funko Star Wars Pops.
Huge selection of Japanese Manga (in English, but reading backwards), and 100's for half off!
About 100 different Superhero and Cartoon-y themed T-Shirts (sorry, no kids sizes) and tote bags, including Masked Character Hoodies (the hood is a mask!)
Dozens of the best Young Reader and Young Adult graphics novels, like Babysitters Club, Drama, Smile, Sisters, Avatar, Jedi Academy, Vader's Son & Daughter, and 30 Little Golden Books from Star Wars and the Marvel Universe. Lots of reprint books from your favorite animated shows like Rick & Morty, Simpsons, Steven Universe, My Little Pony, and on and on.
Supplies for game and sports cards, comics, and even box protectors for Funko Pops.
What else? Hmmm. Oh, yeah, comics and graphic novels and reprints by the thousands, including all those heavy Omni's.
This is not even close to a complete list. If you've never been here, you will not believe how much there is. It's pretty overwhelming.
You WILL find something.
And, there will be new announcements between now and the end of the year, regarding hours, new merchandise, and maybe a special sale. And you can get them – Click Here.
As always,  thanks to GoCollect.com for putting out their mostly accurate list of comics and covers every week. If you so desire, Click here to see their whole list. They may have elected to use a variant that we may not carry, or used pre-release art to represent a title, or listed things we don't buy at all. Or they may get a few from next week in there, OR catch up with ones they missed last week – so the covers you see here may not be the ones you see on our shelf this week. Our list is usually late enough that it reflects only what we got,  but not late enough to eliminate sellouts that might have happened by the time you see this. Also, we reserve the right to make mistakes and forget to list things, or forget to delete them when they don't show up like we thought they would.
ACTION COMICS #993 $ 2.99
ACTION COMICS #993 VAR ED $ 2.99
ADVENTURE TIME REGULAR SHOW #5 MAIN & MIX $ 3.99
ALIENS DEAD ORBIT #4 $ 3.99
ALL NEW WOLVERINE #28 LEG $ 3.99
AMAZING SPIDER-MAN #792 LEG $ 3.99
ANGRY BIRDS COMICS QUARTERLY CVR A RODRIQUES $ 5.99
ANIMOSITY #11 (MR) $ 3.99
ARCHIE CHRISTMAS SPECTACULAR #1 $ 2.99
ARCHIES #3 CVR A REG SMALLWOOD $ 3.99
BACK TO THE FUTURE #25 CVR A FERREIRA $ 4.99
BATGIRL AND THE BIRDS OF PREY #17 $ 3.99
BATGIRL AND THE BIRDS OF PREY #17 VAR ED $ 3.99
BEN REILLY SCARLET SPIDER #11 LEG $ 3.99
BLOODSHOT SALVATION #4 CVR A SUAYAN $ 3.99
BRILLIANT TRASH #2 CVR A MIKE NORTON $ 3.99
BUG THE ADVENTURES OF FORAGER #6 (OF 6) (RES) (MR) $ 3.99
CABLE #152 LEG $ 3.99
CATALYST PRIME ASTONISHER #3 $ 3.99
COYOTES #2 (MR) $ 3.99
DAMNED #6 (MR) $ 3.99
DAREDEVIL #596 LEG $ 3.99
DEPT H #21 $ 3.99
DESPICABLE DEADPOOL #290 LEG $ 3.99
DETECTIVE COMICS #970 $ 2.99
DETECTIVE COMICS #970 VAR ED $ 2.99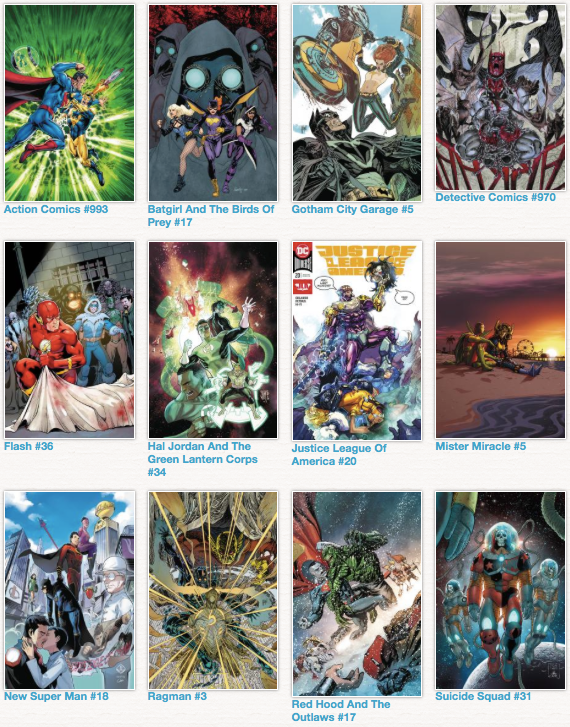 DISNEY PRINCESS #16 $ 3.99
DUCKTALES #4 10 COPY INCV (NET) (1/10) $ ???
DUCKTALES #4 CVR A GHIGLIONE $ 3.99
DUCKTALES #4 CVR B GHIGLIONE $ 3.99
FALCON #3 LEG $ 3.99
FIGHTING AMERICAN #3 CVR C KIRBY VAR $ 3.99
FLASH #36 $ 2.99
FLASH #36 VAR ED $ 2.99 (Maybe next week)
GHOST MONEY #5 $ 3.99
GIANTS #1 $ 3.99
GOTHAM CITY GARAGE #5 $ 2.99
GRASS KINGS #10 MAIN & MIX $ 3.99
GUMBALLS #4 CVR A NATIONS $ 3.99
HACK SLASH VS VAMPIRELLA #3 (OF 5) CVR A VAUGHN $ 3.99
HAL JORDAN AND THE GREEN LANTERN CORPS #34 $ 2.99
HAL JORDAN AND THE GREEN LANTERN CORPS #34 VAR ED $ 2.99
HALO RISE OF ATRIOX #4 (OF 5) $ 3.99
HARROW COUNTY #28 $ 3.99
INVADER ZIM #26 $ 3.99
INVADER ZIM #26 TROUSSELLIER VAR $ 3.99
JEAN GREY #10 LEG $ 3.99
JENNY FINN #2 (OF 4) $ 3.99
JUDAS #1 (OF 4) $ 3.99
JUDAS #1 (OF 4) FOC INCV BASTIAN VAR $ 3.99
JUGHEAD THE HUNGER #2 CVR A GORHAM (MR) $ 3.99
JUGHEAD THE HUNGER #2 CVR B T REX (MR) $ 3.99
JUSTICE LEAGUE OF AMERICA #20 $ 2.99
JUSTICE LEAGUE OF AMERICA #20 VAR ED $ 2.99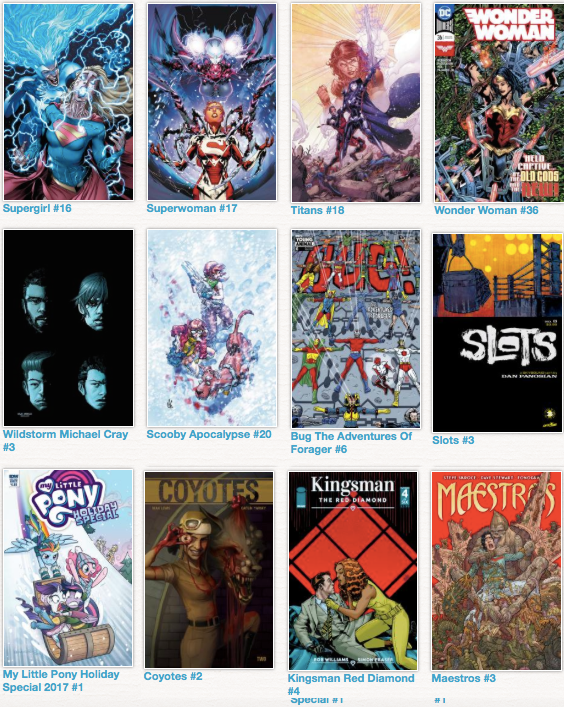 KID LOBOTOMY #3 CVR A FOWLER (MR) $ 3.99
KID LOBOTOMY #3 CVR B WILLIAMS III (MR) $ 3.99
KINGSMAN RED DIAMOND #4 (OF 6) CVR A HAMNER (MR) $ 3.99
MAESTROS #3 (MR) $ 3.99
MILLENNIUM GIRL WHO KICKED THE HORNETS NEST #1 CVR A IANNICI $ 5.99
MARVEL TWO-IN-ONE #1 – Rescheduled to Next Week
MISTER MIRACLE #5 (OF 12) VAR ED (MR) $ 3.99
MONSTERS UNLEASHED #8 LEG $ 3.99
MONSTRO MECHANICA #1 CVR A CHRIS EVENHUIS $ 3.99
MONSTRO MECHANICA #1 CVR B ARIELA KRISTANTINA $ 3.99
MY LITTLE PONY HOLIDAY SPECIAL 2017 10 COPY INCV (NET) (1/10) $ ???
MY LITTLE PONY HOLIDAY SPECIAL 2017 CVR A HICKEY $ 4.99
NEW SUPER MAN #18 $ 3.99
NEW SUPER MAN #18 VAR ED $ 3.99
PORT OF EARTH #2 $ 3.99
PORT OF EARTH #2 CVR B TIMPANO $ 3.99
PUNISHER #219 LEG $ 3.99
RAGMAN #3 (OF 6) $ 2.99
RED HOOD AND THE OUTLAWS #17 $ 3.99
RED HOOD AND THE OUTLAWS #17 VAR ED $ 3.99
RETCON #4 (OF 4) (MR) $ 3.99
RIVERS OF LONDON CRY FOX #2 $ 3.99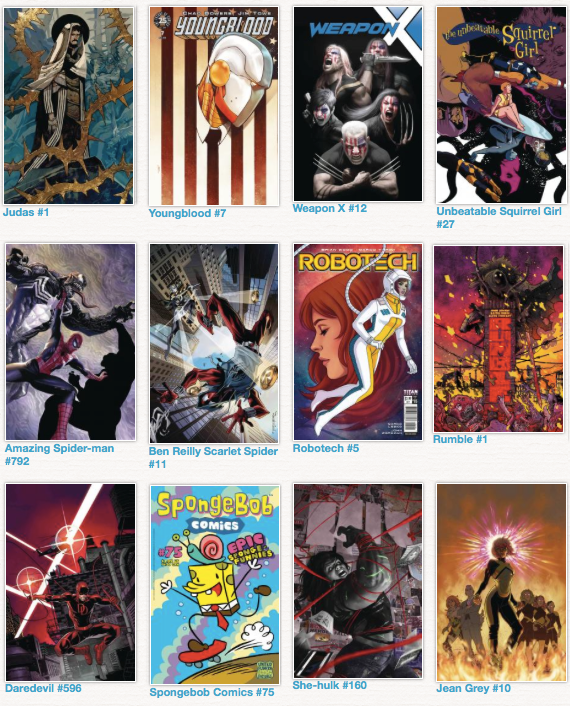 ROBOTECH #5 CVR A BARTEL $ 3.99
ROBOTECH #5 CVR B COSPLAY VAR $ 3.99
ROBOTECH #5 CVR C ACTION FIGURE VAR $ 3.99
ROBOTECH #5 CVR D SHEDD $ 3.99
ROBOTECH #5 CVR E FUNERAL VAR $ 3.99
ROCKY & BULLWINKLE SHOW #2 HOMAGE ROPP CVR $ 3.99
ROYAL CITY #8 CVR A LEMIRE (MR) $ 3.99
ROYAL CITY #8 CVR B 90S ALBUM HOMAGE VAR (MR) $ 3.99
ROYALS #12 LEG $ 3.99
RUMBLE #1 CVR A RUBIN & STEWART (MR) $ 3.99
RUMBLE #1 CVR B MIGNOLA & STEWART (MR) $ 3.99
RUNAWAYS #4 $ 3.99
SAMURAI JACK QUANTUM JACK #3 (OF 5) CVR A OEMING $ 3.99
SCOOBY APOCALYPSE #20 $ 3.99
SCOOBY APOCALYPSE #20 VAR ED $ 3.99
SECRET WARRIORS #10 LEG $ 3.99
SHEENA #4 CVR D COSPLAY $ 3.99
SHE-HULK #160 LEG $ 3.99
SHERLOCK THE GREAT GAME #5 (OF 6) CVR B PHOTO $ 4.99
SKIN & EARTH #6 (OF 6) CVR A FLOWER (MR) $ 7.99
SKIN & EARTH #6 (OF 6) CVR B MASK (MR) $ 7.99
SLOTS #3 (MR) $ 3.99
SPONGEBOB COMICS #75 $ 3.99
STAR WARS #40 $ 3.99
STAR WARS #40 JOHNSON 40TH ANNIV VAR $ 3.99
SUICIDE SQUAD #31 $ 2.99
SUICIDE SQUAD #31 VAR ED $ 2.99
SUPERGIRL #16 $ 3.99
SUPERGIRL #16 VAR ED $ 3.99
SUPERWOMAN #17 $ 3.99
SUPERWOMAN #17 VAR ED $ 3.99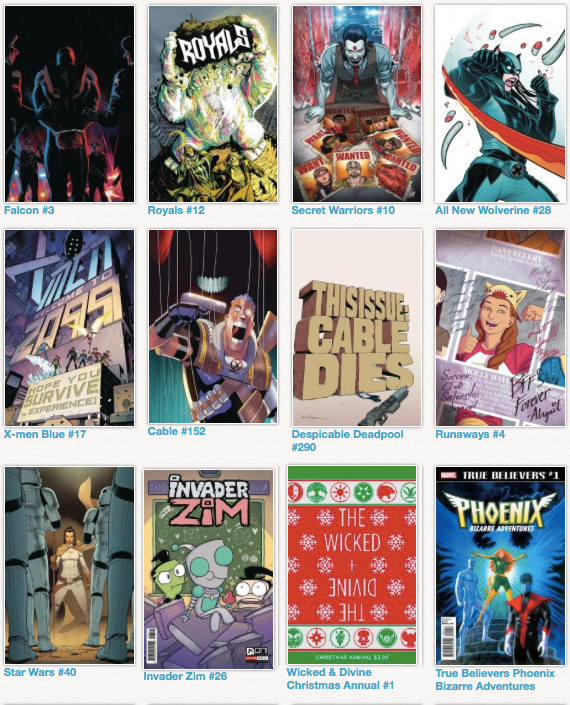 TITANS #18 $ 3.99
TITANS #18 VAR ED $ 3.99
TRUE BELIEVERS PHOENIX BIZARRE ADVENTURES $ 1
VOLTRON LEGENDARY DEFENDER VOL 2 #5 (RES) $ 3.99
UNBEATABLE SQUIRREL GIRL #27 ALLRED VAR LEG (1/25) $ ???
UNBEATABLE SQUIRREL GIRL #27 CHRISTOPHER TRADING CARD VAR LE $ 3.99
UNBEATABLE SQUIRREL GIRL #27 FISH LH VAR LEG $ 3.99
UNBEATABLE SQUIRREL GIRL #27 LEG $ 3.99
UNBEATABLE SQUIRREL GIRL #27 MCKONE LEGACY HEADSHOT VAR LEG (1/10) $ ???
WEAPON X #12 CHRISTOPHER TRADING CARD VAR LEG $ 3.99
WEAPON X #12 LAMING LH VAR LEG $ 3.99
WEAPON X #12 LEG $ 3.99
WEAPON X #12 MCKONE LEGACY HEADSHOT VAR LEG (1/10) $ ???
WEAPON X #12 SORRENTINO VAR LEG (1/25) $ ???
WICKED & DIVINE CHRISTMAS ANNUAL #1 CVR A MCKELVIE & WILSON $ 3.99
WICKED & DIVINE CHRISTMAS ANNUAL #1 CVR B ANKA (ONE SHOT) (M $ 3.99
WILDSTORM MICHAEL CRAY #3 $ 3.99
WILDSTORM MICHAEL CRAY #3 VAR ED $ 3.99
WONDER WOMAN #36 $ 2.99
WONDER WOMAN #36 VAR ED $ 2.99
X-MEN BLUE #17 LEG $ 3.99
YOUNGBLOOD #7 CVR A TOWE $ 3.99
YOUNGBLOOD #7 CVR B LIEFELD $ 3.99
AMAZING SPIDER-MAN CLONE CONSPIRACY TP $ 39.99
ASTRO CITY ORDINARY HEROES HC $ 24.99
ASTRO CITY REFLECTIONS TP $ 16.99
BATMAN TP VOL 04 THE WAR OF JOKES & RIDDLES (REBIRTH) $ 19.99
BATMAN UNWRAPPED DEATH OF THE FAMILY HC $ 29.99
BITCH PLANET TRIPLE FEATURE TP VOL 01 (MR) $ 16.99
BLACK SCIENCE PREMIERE HC VOL 02 TRANSCENDENTALISM (MR) $ 49.99
CHAMPIONS TP VOL 02 FREELANCER LIFESTYLE $ 19.99
DARK AVENGERS BY BENDIS TP COMPLETE COLLECTION $ 34.99
DC UNIVERSE BY JOHN BYRNE HC $ 39.99
DEFENDERS TP VOL 01 DIAMONDS ARE FOREVER $ 15.99
GRUMPY CAT GARFIELD HC $ 12.99
GUARDIANS OF GALAXY HC VOL 04 $ 34.99
JSA BY GEOFF JOHNS TP BOOK 01 $ 34.99
JUDGE DREDD BLESSED EARTH TP VOL 01 $ 17.99
LADY KILLER TP VOL 02 $ 17.99
LITTLE BOOK OF AVENGERS FLEXICOVER $ 9.99
LITTLE BOOK OF CAPTAIN AMERICA FLEXICOVER $ 9.99
LITTLE BOOK OF FANTASTIC FOUR FLEXICOVER $ 9.99
LOBSTER JOHNSON TP VOL 05 PIRATES GHOST $ 19.99
MARVEL CINEMATIC UNIVERSE GUIDEBOOK GOOD BAD GUARDIANS HC $ 34.99
MS MARVEL TP VOL 08 MECCA $ 17.99
MY LITTLE PONY FRIENDS FOREVER OMNIBUS TP VOL 03 $ 24.99
NGE SHINJI IKARI RAISING PROJECT OMNIBUS TP VOL 05 $ 19.99
PETER PARKER SPECTACULAR SPIDER-MAN TP VOL 01 INTO TWILIGHT $ 17.99
PRINCESS JELLYFISH GN VOL 07 $ 19.99
ROCKET TP VOL 01 BLUE RIVER SCORE $ 17.99
SONS OF ANARCHY REDWOOD TP VOL 02 (MR) $ 16.99
STAR WARS ROGUE ONE GN $ 9.99
SUICIDE SQUAD TP VOL 04 EARTHLINGS ON FIRE (REBIRTH) $ 14.99
THOR BY JASON AARON & RUSSELL DAUTERMAN HC VOL 02 $ 34.99
TOKYO GHOUL RE GN VOL 02 $ 12.99
TRINITY TP VOL 01 BETTER TOGETHER (REBIRTH) $ 16.99
X-MEN PHOENIX ENDSONG TP NEW PTG $ 14.99
JUSTICE LEAGUE MOVIE AQUAMAN PINT GLASS $ 10.99
JUSTICE LEAGUE MOVIE BATMAN PINT GLASS $ 10.99
JUSTICE LEAGUE MOVIE FLASH PINT GLASS $ 10.99
JUSTICE LEAGUE MOVIE SUPERMAN PINT GLASS $ 10.99
JUSTICE LEAGUE MOVIE WONDER WOMAN PINT GLASS $ 10.99
GUNDAM BUILD FIGHTERS REVERSIBLE GUNDAM 1/144 MDL KIT $ ???
GUNDAM THE ORIGIN ZAKU I KYCILIA FORCERS HG 1/144 MDL KIT $ ???
MARVEL GALLERY GOTG 2 DRAX & BABY GROOT PVC FIG $ 44.99
MARVEL GALLERY THOR RAGNAROK HULK PVC FIG $ 49.99
MG GUNDAM SEED JUSTICE GUNDAM 1/100 MDL KIT $ ???
MINECRAFT ACTION FIGURE HANGER 24PC BMB DS SERIES 1 $ ???
POP HEROES BOOSTER GOLD & BLUE BEETLE PX VIN FIG METALLIC 2P $ 22.99
POP RICK & MORTY SUMMER VINYL FIGURE $ 11.99
COMIC SHOP NEWS #1591 $ FREE
COMIC SHOP NEWS WINTER 2018 PREVIEW $ FREE
MARVEL 2018 CALENDAR $ FREE