Warming up with These Hot Sellers Wednesday, Jan 10, 2018
The east is back above zero, and we finally got a strong winter rain, Santa Rosa held its ground, but down south where it all burned to the ground, they are now washing out to sea.  What a warmer and unstable world.
Avengers #675 (Legacy #) has a beautiful lenticular 3-D-ish cover. The other "big" news, I guess, is Dynamic's three-boot of Dejah Thoris (from the John Carter stories) with a twenty-five cent cover price! (and 3 variants at a higher price – much higher).  So for .000017259 of a Bitcoin, you can get one new comic! All the others cost at least .00020642 bitcoin or more. Wait – Bob just told me we don't take ANY cryptocurrency yet. What a luddite!
Also out there this morning: Barbarella #2, Harley Quinn Be Careful…, Mister Miracle, Ninjak vs Valiant Universe, Star Wars Adventures and Darth Vader, Phoenix #3 already, and Old Man Hawkeye joins Old Man Logan.
See the complete list below.
As always,  thanks to GoCollect.com for putting out their mostly accurate list of comics and covers every week. If you so desire, Click here to see their whole list. They may have elected to use a variant that we may not carry, or used pre-release art to represent a title, or listed things we don't buy at all. Or they may get a few from next week in there, OR catch up with ones they missed last week – so the covers you see here may not be the ones you see on our shelf this week. Our list is usually late enough that it reflects only what we got,  but not late enough to eliminate sellouts that might have happened by the time you see this. Also, we reserve the right to make mistakes and forget to list things, or forget to delete them when they don't show up like we thought they would.
ACTION COMICS #995 $ $2.99
ACTION COMICS #995 VAR ED $ $2.99
ADVENTURE TIME REGULAR SHOW #6 MAIN & MIX $ $3.99
ARCHIE #27 CVR A MOK $ $3.99
ARCHIES #4 CVR A REG SMALLWOOD $ $3.99
ATLAS AND AXIS (STATIX) #1 (OF 4) CVR A DIRGE $ $5.99
ATLAS AND AXIS (STATIX) #1 (OF 4) CVR B PAU $ $5.99
AVENGERS #675 ACUNA PARTY VAR LEG $ $4.99
AVENGERS #675 AVENGERS VAR LEG $ $4.99
AVENGERS #675 PREMIERE VAR LEG (max 2) $ ???
AVENGERS #675 TEDESCO CONNECTING VAR LEG (1/25) $ ???
AVENGERS #675 TRADING CARD VAR LEG $ $4.99
AVENGERS #675 YOUNG VAR LEG $ $4.99
AVENGERS LH #675 LEG $ $4.99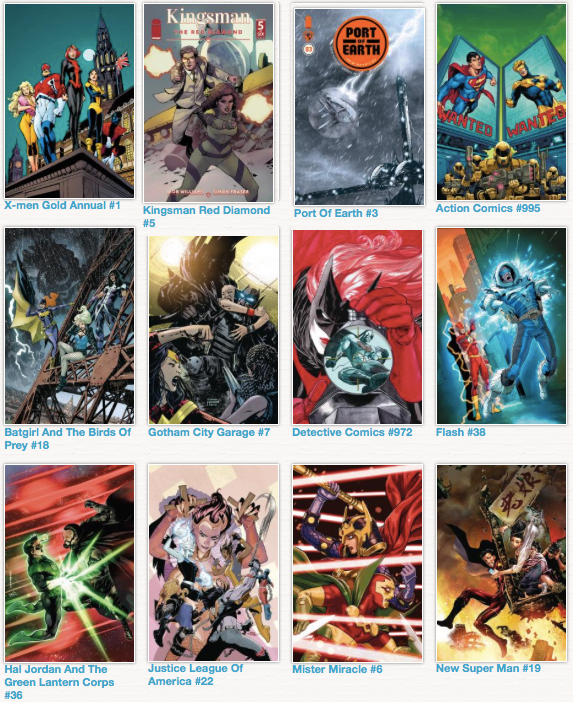 BARBARELLA #2 CVR A MARTIN (MR) $ $3.99
BARBARELLA #2 CVR B POPE (MR) $ $3.99
BARBARELLA #2 CVR C SEGOVIA (MR) $ $3.99
BARBARELLA #2 CVR D DALTON (MR) $ $3.99
BARBARELLA #2 CVR E SUBSCRIPTION YARAR (MR) $ $3.99
BATGIRL AND THE BIRDS OF PREY #18 $ $3.99
BATGIRL AND THE BIRDS OF PREY #18 VAR ED $ $3.99
BLOODSHOT SALVATION #5 CVR A ROCAFORT $ $3.99
BSG VS BSG #1 (OF 6) CVR A CASSADAY $ $3.99
CABLE #153 LEG $ $3.99
CAPTAIN AMERICA #697 LEG WW (from last week- whoops – didn't make it!) $ $3.99
COYOTES #3 (MR) $ $3.99
DAMNED #7 (MR) $ $3.99
DAREDEVIL #597 LEG $ $3.99
DAREDEVIL #597 YU AVENGERS VAR LEG $ $3.99
DEADMAN #3 (OF 6) $ $3.99
DEJAH THORIS #0 CVR A ANACLETO $ $0.25
DEJAH THORIS #0 CVR B 25 COPY ANACLETO B&W INCV (1/25) $ ???
DEJAH THORIS #0 CVR C 50 COPY DAVILA INCV (1/50) $ ???
DEJAH THORIS #0 CVR D 100 COPY CAMPBELL INCV (1/100) $ ???
DESPICABLE DEADPOOL #292 LEG $ $3.99
DETECTIVE COMICS #972 $ $2.99
DETECTIVE COMICS #972 VAR ED $ $2.99
ETERNAL EMPIRE #6 $ $3.99
FIGHTING AMERICAN #4 CVR B KIRBY $ $3.99
FLASH #38 $ $2.99
FLASH #38 VAR ED $ $2.99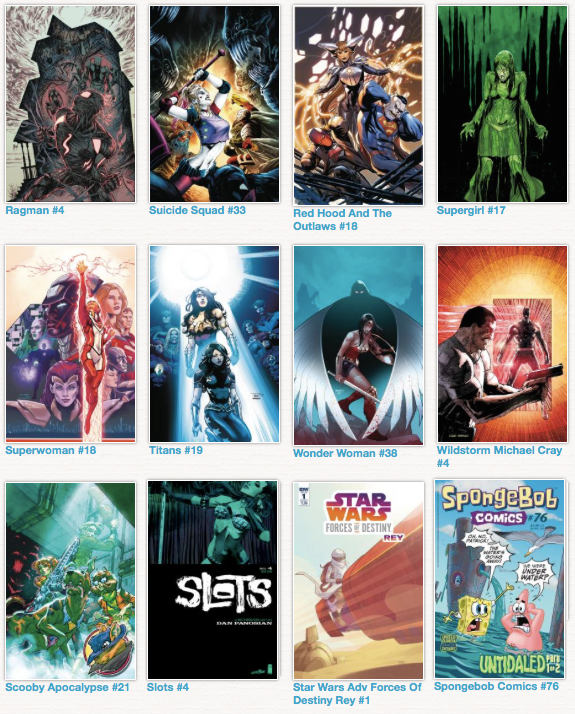 GHOST MONEY #6 (OF 10) $ $3.99
GOTHAM CITY GARAGE #7 $ $2.99
GRASS KINGS #11 MAIN & MIX $ $3.99
GWENPOOL #24 LEG $ $3.99
HACK SLASH VS VAMPIRELLA #4 (OF 5) CVR A STRAHM $ $3.99
HAL JORDAN AND THE GREEN LANTERN CORPS #36 $ $2.99
HAL JORDAN AND THE GREEN LANTERN CORPS #36 VAR ED $ $2.99
HARLEY QUINN #34 $ $2.99
HARLEY QUINN #34 VAR ED $ $2.99
HARLEY QUINN BE CAREFUL WHAT YOU WISH FOR #1 SPC $ $4.99
HARLEY QUINN BE CAREFUL WHAT YOU WISH FOR #1 SPC VAR ED $ $4.99
HEAD LOPPER #8 CVR B KINNER & ZIRITT (replacement-credit $ $5.99
JIM HENSON POWER OF DARK CRYSTAL #10 (OF 12) $ $3.99
JIM HENSON POWER OF DARK CRYSTAL #10 (OF 12) SUBSCRIPTION TA $ $3.99
JUDAS #2 (OF 4) $ $3.99
JUDAS #2 (OF 4) FOC BASTIAN VAR $ $3.99
JUSTICE LEAGUE OF AMERICA #22 $ $2.99
JUSTICE LEAGUE OF AMERICA #22 VAR ED $ $2.99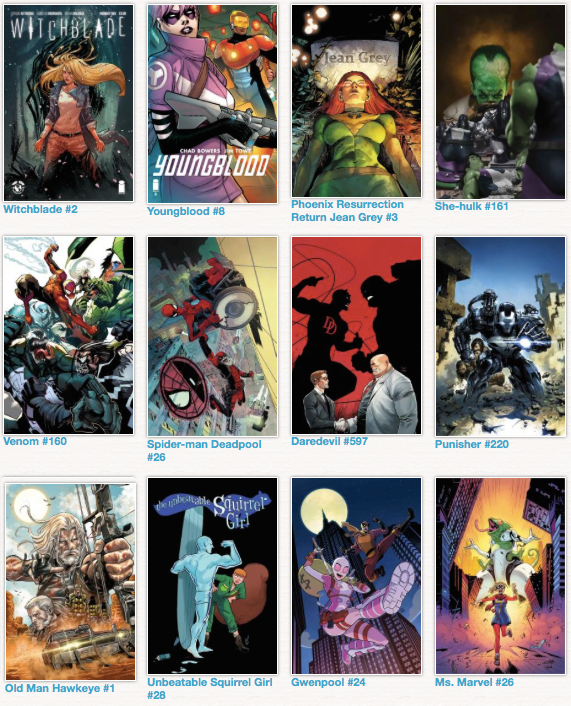 KINGSMAN RED DIAMOND #5 (OF 6) CVR A YU (MR) $ $3.99
MECH CADET YU #5 $ $3.99
MECH CADET YU #5 FOC INCV MORA VAR $ $3.99
MECH CADET YU #5 SUBSCRIPTION TO VAR $ $3.99
MIGHTY CRUSADERS #2 CVR A SHANNON $ $3.99
MILLENNIUM GIRL WHO KICKED THE HORNETS NEST #2 CVR B HOMS $ $5.99
MISTER MIRACLE #6 (OF 12) (MR) $ $3.99
MISTER MIRACLE #6 (OF 12) VAR ED (MR) $ $3.99
MONSTRO MECHANICA #2 $ $3.99
MS MARVEL #26 LEG $ $3.99
NEW SUPER MAN #19 $ $3.99
NEW SUPER MAN #19 VAR ED $ $3.99
NIGHTWING THE NEW ORDER #5 (OF 6) $ 3.99 (finally here -missing 2 weeks ago)
NINJAK VS VU #1 (OF 4) CVR A SUAYAN $ $3.99
NINJAK VS VU #1 (OF 4) CVR B CAFU $ $3.99
NINJAK VS VU #1 (OF 4) CVR C PHOTO $ $3.99
OLD MAN HAWKEYE #1 (OF 12) KITSON AVENGERS VAR LEG $ $3.99
OLD MAN HAWKEYE #1 (OF 12) LEG $ $3.99
OLD MAN LOGAN #33 LEG $ $3.99
PARADISO #2 CVR A PRAMANIK & KELLY (MR) $ $3.99
PESTILENCE #6 $ $3.99
PHOENIX RESURRECTION RETURN JEAN GREY #3 (OF 5) HUGO CONNECT $ $3.99
PHOENIX RESURRECTION RETURN JEAN GREY #3 (OF 5) LEE JEAN GRE $ $3.99
PHOENIX RESURRECTION RETURN JEAN GREY #3 (OF 5) LEG $ $3.99
PORT OF EARTH #3 $ $3.99
PUNISHER #220 LEG $ $3.99
RAGMAN #4 (OF 6) $ $2.99
RED HOOD AND THE OUTLAWS #18 $ $3.99
RED HOOD AND THE OUTLAWS #18 VAR ED $ $3.99
ROCKOS MODERN LIFE #2 $ $3.99
ROSE #7 CVR A GUARA $ $3.99
ROYAL CITY #9 CVR A LEMIRE (MR) $ $3.99
ROYAL CITY #9 CVR B 90S ALBUM HOMAGE VAR (MR) $ $3.99
RUNAWAYS #5 $ $3.99
SAUCER STATE #6 (OF 6) CVR A KELLY $ $3.99
SCOOBY APOCALYPSE #21 $ $3.99
SCOOBY APOCALYPSE #21 VAR ED $ $3.99
SECRET WARRIORS #12 LEG $ $3.99
SHE-HULK #161 LEG $ $3.99
SHE-HULK #161 PERKINS AVENGERS VAR LEG $ $3.99
SLEEPLESS #2 CVR A DEL DUCA & SALLAH $ $3.99
SLOTS #4 (MR) $ $3.99
SPIDER-MAN DEADPOOL #26 LEG $ $3.99
SPIDER-MEN II #5 (OF 5) $ 3.99 (finally here -missing 2 weeks ago)
SPONGEBOB COMICS #76 $ $3.99
STAR WARS ADV FORCES OF DESTINY REY CVR A $ $3.99
STAR WARS ADV FORCES OF DESTINY REY CVR B $ $3.99
STAR WARS DARTH VADER #10 $ $3.99
STAR WARS DARTH VADER #10 REIS GALACTIC ICON VAR $ $3.99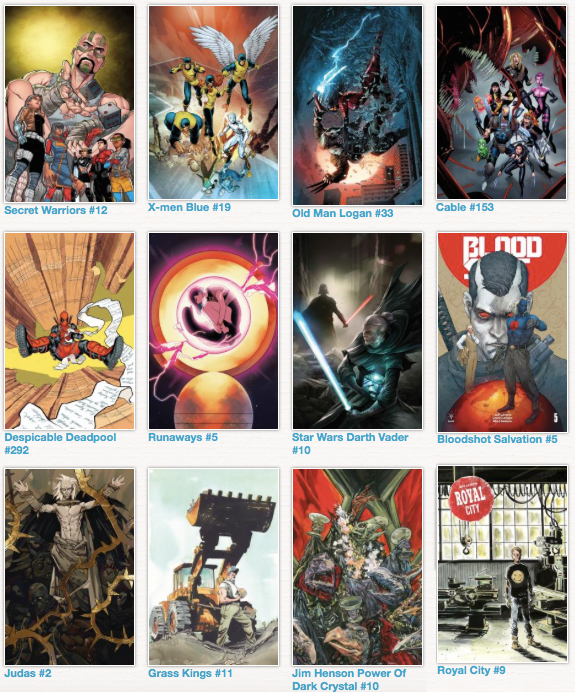 STEVEN UNIVERSE ONGOING #11 $ 3.99 (finally here -missing 2 weeks ago)
SUICIDE SQUAD #33 $ $2.99
SUICIDE SQUAD #33 VAR ED $ $2.99
SUPERGIRL #17 $ $3.99
SUPERGIRL #17 VAR ED $ $3.99
SUPERWOMAN #18 $ $3.99
SUPERWOMAN #18 VAR ED (maybe next week?) $ $3.99
SWORD OF AGES #2 CVR A RODRIGUEZ $ $3.99
TITANS #19 $ $3.99
TITANS #19 VAR ED $ $3.99
TMNT ONGOING #78 CVR A COUCEIRO $ $3.99
UNBEATABLE SQUIRREL GIRL #28 LEG $ $3.99
VENOM #160 INHYUK LEE AVENGERS VAR LEG $ $3.99
VENOM #160 LEG $ $3.99
WILDSTORM MICHAEL CRAY #4 $ $3.99
WILDSTORM MICHAEL CRAY #4 VAR ED $ $3.99
WITCHBLADE #2 (MR) $ $3.99
WONDER WOMAN #38 $ $2.99
WONDER WOMAN #38 VAR ED $ $2.99
X-MEN BLUE #19 LEG $ $3.99
X-MEN GOLD ANNUAL #1 LEG $ $4.99
YOUNGBLOOD #8 CVR A TOWE $ $3.99
YOUNGBLOOD #8 CVR B LIEFELD $ $3.99
BATMAN BEYOND TP VOL 02 RISE OF THE DEMON (REBIRTH) $ $16.99
BATMAN SHADOW OF THE BAT TP VOL 03 $ $24.99
BLACK LIGHTNING YEAR ONE TP NEW ED $ $14.99
CABLE NEMESIS CONTRACT TP $ $34.99
COWBOY NINJA VIKING DLX ED TP (MR) $ $19.99
CURSE WORDS TP VOL 02 EXPLOSIONTOWN (MR) $ $16.99
DEADPOOL BY POSEHN & DUGGAN TP VOL 01 COMPLETE COLLECTION $ $34.99
DESCENDER TP VOL 05 RISE OF THE ROBOTS $ $16.99
DIVIDED STATES OF HYSTERIA TP (MR) $ $16.99
DOCTOR STRANGE TP VOL 05 SECRET EMPIRE $ $17.99
FIRE PUNCH GN VOL 01 (MR) $ $12.99
HARLEY QUINN TP VOL 04 SURPRISE SURPRISE (REBIRTH) $ $16.99
HELLBOY AND THE BPRD 1954 TP $ $19.99
I AM A HERO OMNIBUS TP VOL 05 $ $19.99
INCREDIBLE HULK EPIC COLLECTION TP FALL OF PANTHEON $ $39.99
INJUSTICE GODS AMONG US YEAR THREE COMP COLL TP $ $24.99
MAGE TP BOOK 02 HERO DEFINED VOL 03 $ $19.99
MARVELS BLACK PANTHER PRELUDE TP $ $15.99
MECH CADET YU TP VOL 01 DISCOVER NOW PX $ $14.99
OVER GARDEN WALL ONGOING TP VOL 03 $ $14.99
POSTAL TP VOL 06 (MR) $ $16.99
SHE-HULK TP VOL 02 LET THEM EAT CAKE $ $15.99
SUPERGIRL TP VOL 04 DAUGHTER OF NEW KRYPTON $ $19.99
THOR BY WALTER SIMONSON TP VOL 02 NEW PTG $ $24.99
VISION HC $ $39.99
WICKED & DIVINE TP VOL 06 IMPERIAL PHASE PART 2 (MR) $ $16.99
POP HOME NIGHTMARE BEFORE XMAS JACK HEAD MUG $ $11.99
POP HOME NIGHTMARE BEFORE XMAS SALLY HEAD MUG $ $11.99
DC DESIGNER SER SUPERMAN BY NEAL ADAMS STATUE $ $150.00
MOBILE SUIT GUNDAM RX-78-1 PROTOTYPE ROBOT SPIRITS FIG $ $82.99
MSG BLUE DESTINY UNIT 2 EXAM HG 1/144 MDL KIT $ $22.99
STAR WARS SNOWSPEEDER SET 1/48 & 1/144 MDL KIT $ $34.99
SW E8 LAST JEDI BLUE SQUADRON RESISTANCE X-WING 1/72 MDL KIT $ $31.99
SW E8 POE BOOSTED X-WING 1/72 PLASTIC MDL KIT $ $32.99