Doomsday Clock Strikes 3 –  Wednesday, Jan 24, 2018
The "Watchmen Crossover" is turning out to be one of the hits of the winter. Flash reaches "#700". (Both Marvel and DC, addicted to the allure of the #1 issue for decades are now both desperate to have LARGE numbers on their older flagships reach ever higher milestones. Action is only months away from the Big 1000!) I'm under the weather with, have you heard this one before?, the Flu. So I'm going to quit making things up and just copy the list from the invoice.
See the complete list below.
As always,  thanks to GoCollect.com for putting out their mostly accurate list of comics and covers every week. If you so desire, Click here to see their whole list. They may have elected to use a variant that we may not carry, or used pre-release art to represent a title, or listed things we don't buy at all. Or they may get a few from next week in there, OR catch up with ones they missed last week – so the covers you see here may not be the ones you see on our shelf this week. Our list is usually late enough that it reflects only what we got,  but not late enough to eliminate sellouts that might have happened by the time you see this. Also, we reserve the right to make mistakes and forget to list things, or forget to delete them when they don't show up like we thought they would.
30 DAYS OF NIGHT #2 (OF 6) CVR A TEMPLESMITH $ 3.99
ACTION COMICS #996 $ 2.99
ACTION COMICS #996 VAR ED $ 2.99
AMAZING SPIDER-MAN #794 LEG WW $ 3.99
AMAZING SPIDER-MAN #794 NAUCK AVENGERS VAR LEG $ 3.99
AVENGERS #677 LEG $ 3.99
BACKWAYS #2 CVR A CARLINI $ 3.99
BATGIRL #19 $ 3.99
BATGIRL #19 VAR ED $ 3.99
BATMAN BEYOND #16 $ 3.99
BATMAN BEYOND #16 VAR ED $ 3.99
BETTIE PAGE #7 CVR A LINSNER $ 3.99
BETTIE PAGE #7 CVR C PHOTO $ 3.99
BETTY AND VERONICA VIXENS #3 CVR A EVA CABRERA $ 3.99
BLACK CLOUD #7 (MR) $ 3.99
BLACK MAGICK #10 CVR A SCOTT (MR) $ 3.99
BLACK MAGICK #10 CVR B LOTAY (MR) $ 3.99
BLACK PANTHER #169 LEG $ 3.99
BLACK PANTHER #169 MARTIN AVENGERS VAR LEG $ 3.99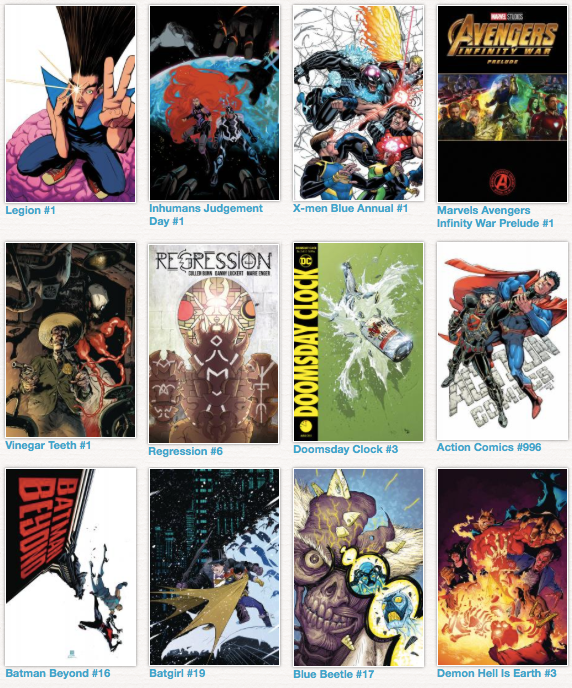 BLACK SCIENCE #34 CVR A SCALERA & DINISIO (MR) $ 4.99
BLACK SCIENCE #34 CVR B TAKARA (MR) $ 4.99
BLUE BEETLE #17 $ 3.99
BLUE BEETLE #17 VAR ED $ 3.99
COMIC BOOK HISTORY OF COMICS COMICS FOR ALL #2 CVR A $ 3.99
DEMON HELL IS EARTH #3 (OF 6) $ 2.99
DEPT H #22 $ 3.99
DETECTIVE COMICS #973 $ 2.99
DETECTIVE COMICS #973 VAR ED $ 2.99
DISSONANCE #1 (MR) $ 3.99
DOLLFACE #12 CVR A MENDOZA (MR) $ 4.99
DOLLFACE #12 CVR C GRANSAULL PIN UP (MR) $ 4.99
DOLLFACE #12 CVR E CICCONI PIN UP (MR) $ 4.99
DOOM PATROL #10 (MR) $ 3.99
DOOM PATROL #10 VAR ED (MR) $ 3.99
DOOMSDAY CLOCK #3 (OF 12) $ 4.99
DOOMSDAY CLOCK #3 (OF 12) VAR ED $ 4.99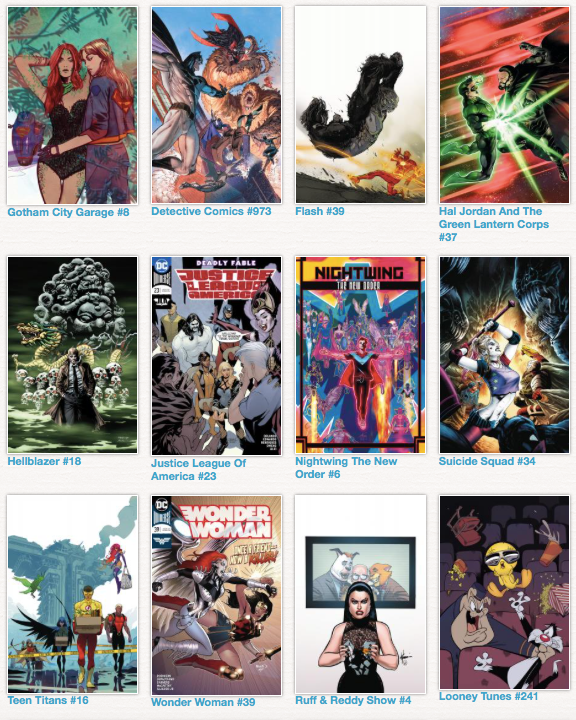 DUCKTALES #5 10 Variant (1/10) $ 9
DUCKTALES #5 CVR A GHIGLIONE $ 3.99
EMPOWERED & SISTAH SPOOKYS HIGH SCHOOL HELL #2 $ 3.99
FLASH #39 $ 2.99
FLASH #39 VAR ED $ 2.99
FRANKENSTEIN ALIVE TRIO $ 7.99
GASOLINA #5 (MR) $ 3.99
GEARS OF WAR RISE OF RAAM #1 CVR A BROWN $ 3.99
GO GO POWER RANGERS #6 MAIN & MIX $ 3.99
GO GO POWER RANGERS #6 UNLOCKABLE MOK VAR $ 3.99
GOTHAM CITY GARAGE #8 $ 2.99
HAL JORDAN AND THE GREEN LANTERN CORPS #37 $ 2.99
HAL JORDAN AND THE GREEN LANTERN CORPS #37 VAR ED $ 2.99
HELLBLAZER #18 $ 3.99
HELLBLAZER #18 VAR ED $ 3.99
IMAGINARY FIENDS #3 (OF 6) (MR) $ 3.99
INHUMANS JUDGMENHT DAY #1 (OF 1) JAE LEE WRAPAROUND TV VAR L $ 4.99
INHUMANS JUDGMENT DAY #1 (OF 1) LEG $ 4.99
INHUMANS JUDGMENT DAY #1 (OF 1) MARTIN VAR LEG $ 4.99
INVADER ZIM #27 $ 3.99
INVADER ZIM #27 INCV VAR RAUSCH $ 3.99
JUDGE DREDD BLESSED EARTH #8 CVR A FARINAS $ 3.99
JUGHEAD THE HUNGER #3 CVR A GORHAM (MR) $ 3.99
JUSTICE LEAGUE OF AMERICA #23 $ 2.99
JUSTICE LEAGUE OF AMERICA #23 VAR ED $ 2.99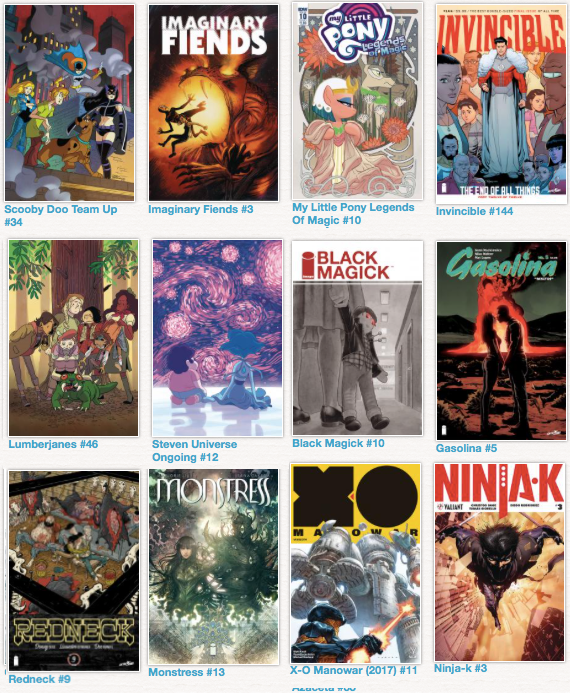 KID LOBOTOMY #4 CVR A FOWLER (MR) $ 3.99
LOONEY TUNES #241 $ 2.99
LEGION #1 (OF 5) LEG $ 3.99
LEGION #1 (OF 5) TV VAR LEG (1/10) $ 12
LUKE CAGE #169 LEG $ 3.99
LUMBERJANES #46 $ 3.99
MAESTROS #4 (MR) $ 3.99
MANIFEST DESTINY #33 (MR) $ 3.99
MARVEL TWO-IN-ONE #2 DELLOTTO AVENGERS VAR LEG $ 3.99
MARVEL TWO-IN-ONE #2 LEG $ 3.99
MARVELS AVENGERS INFINITY WAR PRELUDE #1 (OF 2) $ 3.99
MEGA MAN MASTERMIX #1 CVR A ARIGA $ 7.99
MEGA MAN MASTERMIX #1 CVR B CRUZ $ 7.99
MONSTRESS #13 (MR) $ 4.99
MOONSTRUCK #5 $ 3.99
MY LITTLE PONY LEGENDS OF MAGIC #10 Variant (1/10) $ 8
MY LITTLE PONY LEGENDS OF MAGIC #10 CVR A FLEECS $ 3.99
NIGHTWING THE NEW ORDER #6 (OF 6) $ 3.99
NINJA-K #3 CVR A HAIRSINE $ 3.99
PHOENIX RESURRECTION RETURN JEAN GREY #4 (OF 5) HUGO CONNECT $ 3.99
PHOENIX RESURRECTION RETURN JEAN GREY #4 (OF 5) LEE JEAN GRE $ 3.99
PHOENIX RESURRECTION RETURN JEAN GREY #4 (OF 5) LEG $ 3.99
POSTAL #25 (MR) $ 5.99
RAVEN DAUGHTER OF DARKNESS #1 (OF 12) $ 3.99
RAVEN DAUGHTER OF DARKNESS #1 (OF 12) VAR ED $ 3.99
REDNECK #9 (MR) $ 3.99
REGRESSION #6 (MR) $ 3.99
RINGSIDE #14 (MR) $ 3.99
ROM & THE MICRONAUTS #2 (OF 5) CVR A SAMU $ 3.99 (maybe next week?)
RUFF & REDDY SHOW #4 (OF 6) $ 3.99
RUFF & REDDY SHOW #4 (OF 6) VAR ED $ 3.99
SCOOBY DOO TEAM UP #34 $ 2.99
SEX CRIMINALS #21 (MR) $ 3.99
SEX CRIMINALS #21 XXX KRIS ANKA VAR (MR) $ 4.69
SHADOW #6 CVR A JONES $ 3.99
SHERLOCK FRANKENSTEIN & LEGION OF EVIL #4 (OF 4) $ 3.99
SOUTHERN BASTARDS #19 CVR A LATOUR (MR) $ 3.99
SOUTHERN BASTARDS #19 CVR B ZDARSKY (MR) $ 3.99
STAR TREK DISCOVERY #2 CVR A SHASTEEN $ 3.99
STAR TREK DISCOVERY #2 CVR B PHOTO $ 3.99
STAR WARS ADV FORCES OF DESTINY AHSOKA & PADME CVR A $ 3.99
STAR WARS ADV FORCES OF DESTINY AHSOKA & PADME CVR B $ 3.99
STAR WARS POE DAMERON #23 $ 3.99
STEVEN UNIVERSE ONGOING #12 $ 3.99
SUICIDE SQUAD #34 $ 2.99
SUICIDE SQUAD #34 VAR ED $ 2.99
TEEN TITANS #16 $ 3.99
TEEN TITANS #16 VAR ED $ 3.99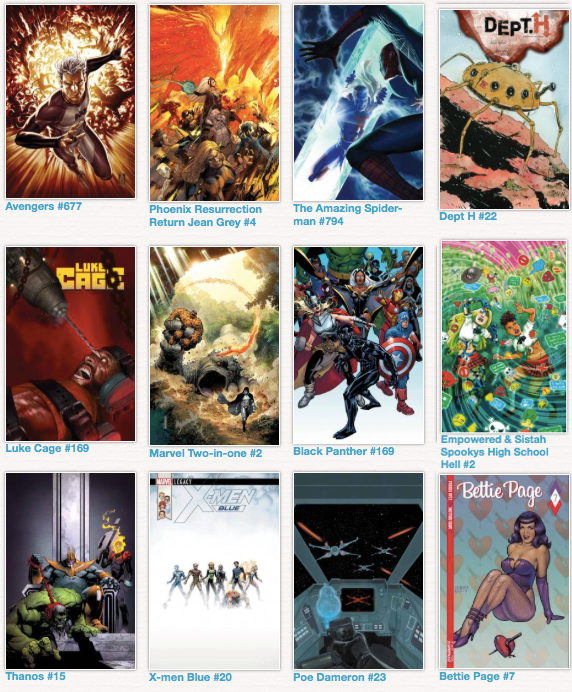 THANOS #15 LEG $ 3.99
TRANSFORMERS LOST LIGHT #13 CVR A LAWRENCE $ 3.99
VINEGAR TEETH #1 (OF 4) $ 3.99
WARFRAME #3 $ 3.99
WILD STORM #11 $ 3.99
WILD STORM #11 HITCH VAR ED $ 3.99
WILD STORM #11 LEE VAR ED $ 3.99
WONDER WOMAN #39 $ 2.99
WONDER WOMAN #39 VAR ED $ 2.99
X-MEN BLUE #20 LEG $ 3.99
X-MEN BLUE ANNUAL #1 HAWTHORNE POISON X VAR LEG $ 4.99
X-MEN BLUE ANNUAL #1 LEG $ 4.99
X-MEN BLUE ANNUAL #1 VENOMIZED VAR LEG $ 4.99
X-O MANOWAR (2017) #11 CVR A LAROSA (NEW ARC) $ 3.99
ZODIAC STARFORCE CRIES OF FIRE PRINCE #3 $ 3.99
AMAZING SPIDER-MAN WORLDWIDE TP VOL 07 $ 19.99
AQUAMAN TP VOL 04 UNDERWORLD (REBIRTH) $ 16.99
CHECKMATE BY GREG RUCKA TP VOL 02 $ 24.99
DOCTOR STRANGE TP VOL 05 SECRET EMPIRE $ 17.99 (maybe next week?)
FAIRY TAIL GN VOL 63 $ 10.99
GREEN ARROW THE ARCHERS QUEST TP NEW ED $ 16.99
HELLBLAZER TP VOL 18 THE GIFT (MR) $ 29.99
IRON MAN EPIC COLLECTION TP DOOM $ 39.99
LOBO BY KEITH GIFFEN & ALAN GRANT TP VOL 01 $ 24.99
MINE CELEBRATION OF LIBERTY & FREEDOM FOR ALL GN (MR) $ 24.95
NEW MUTANTS COMPLETE COLLECTION TP BACK TO SCHOOL $ 34.99
OLYMPIANS GN VOL 10 HERMES TALES OF TRICKSTER $ 10.99
ONLY END OF THE WORLD AGAIN HC $ 19.99
PREDATOR HUNTERS TP $ 19.99
PUNISHER TP VOL 03 KING OF NEW YORK STREETS $ 15.99
RENATO JONES TP SEASON 02 (MR) $ 16.99
SAVAGE THINGS TP (MR) $ 19.99
SPY SEAL TP VOL 01 CORTEN-STEEL PHOENIX $ 12.99
SUPERMAN THE GOLDEN AGE OMNIBUS HC VOL 05 $ 125
WOLVERINE OLD MAN LOGAN TP VOL 06 DAYS OF ANGER $ 17.99
X-MEN GOLD TP VOL 03 MOJO WORLDWIDE $ 17.99
WONDER WOMAN RED & BLUE T/S SM, MED, LG $ 19.99
WONDER WOMAN RED & BLUE T/S XXL $ 22.99
MARVEL GALLERY SPIDER-WOMAN PVC FIG $ 44.99
MOBILE SUIT GUNDAM CROSSBONE PHANTOM GUNDAM NXEDGE $ 39.99
MUPPETS SELECT AF SER 2 STATLER & WALDORF AF $ 24.99
PINT SIZED HEROES RICK & MORTY 24PC BMB DISP $ 3.49
POP DISNEY ALADDIN ABU VINYL FIGURE $ 11.99
POP DISNEY ALADDIN ALADDIN VINYL FIGURE $ 11.99
POP DISNEY ALADDIN RAJAH VINYL FIGURE $ 11.99
POP HELLO NEIGHBOR NEIGHBOR VINYL FIGURE $ 11.99
POP NBA KEVIN DURANT VIN FIG $ 11.99
POP ROCKS ELTON JOHN GREATEST HITS VINYL FIGURE $ 11.99
POP ROCKS ELTON JOHN RED WHITE BLUE VINYL FIGURE $ 11.99
POP ROCKS JERRY GARCIA VINYL FIGURE $ 11.99
POP SONIC THE HEDGEHOG SHADOW VINYL FIGURE $ 11.99
POP SONIC THE HEDGEHOG SONIC W/EMERALD VINYL FIGURE $ 11.99
TRANSFORMERS GEN POWER O/T PRIMES DLX AF $ 19.99
TRANSFORMERS GEN POWER O/T PRIMES LEADER AF $ 61.99
TRANSFORMERS GEN POWER O/T PRIMES VOYAGER AF $ 37.99
TRANSFORMERS TITANS RETURN LEADER $ 54.99
VYNL RICK & MORTY RICK & MORTY VINYL FIGURE 2PK $ 14.99
COMIC SHOP NEWS #1597 $ FREE