A Super/Blue/Lunar Eclipse AND a 5th  Wednesday, Jan 31, 2018
I woke up  at 5:30 to see the Biggest Red moon I'll ever see. It was quite pleasant and warm, and it was probably an hour away from setting over San Francisco. I wished I had the time to travel a bit, set up a lawn chair with a blanket and a Mimosa to watch it set and slowly disappear while the sky gradually lightened behind me into the morning twilight, and then go back to bed and get some good sleep. But I looked at it for about 5 seconds, and went back to bed. New comics today and I have to leave at 8:30.
Small week, with a bunch of DC annuals, Dark Nights Metal #5, Phoenix Resurrection #5, Spawn, Star Wars Dr Aphra & Last Jedi #1, some Pops and Previews, for those who want to see the future.
See the complete list below.
As always,  thanks to GoCollect.com for putting out their mostly accurate list of comics and covers every week. If you so desire, Click here to see their whole list. They may have elected to use a variant that we may not carry, or used pre-release art to represent a title, or listed things we don't buy at all. Or they may get a few from next week in there, OR catch up with ones they missed last week – so the covers you see here may not be the ones you see on our shelf this week. Our list is usually late enough that it reflects only what we got,  but not late enough to eliminate sellouts that might have happened by the time you see this. Also, we reserve the right to make mistakes and forget to list things, or forget to delete them when they don't show up like we thought they would.
ALL NEW WOLVERINE #30 LEG $ 3.99
AMAZING SPIDER-MAN RENEW YOUR VOWS #15 LEG $ 3.99
AMORY WARS GOOD APOLLO #10 (OF 12) (MR) $ 3.99
ANIMOSITY #12 (MR) $ 3.99
ARCHIE AND ME COMICS DIGEST #4 $ 6.99
ASTRO CITY #50 $ 3.99
ATOMIC ROBO SPECTRE OF TOMORROW #4 CVR A WEGENER $ 3.99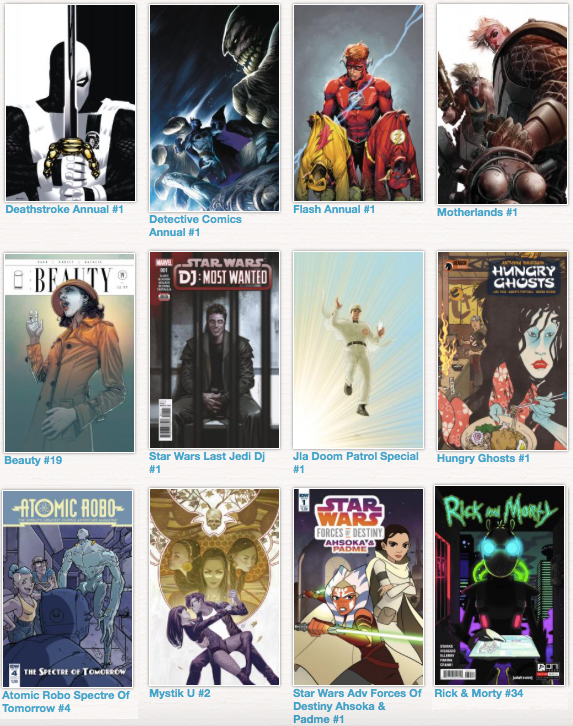 AVENGERS #678 LEG $ 3.99
B & V FRIENDS JUMBO COMICS DIGEST #258 $ 6.99
BEAUTY #19 CVR A HAUN & FILARDI (MR) $ 3.99
BEN REILLY SCARLET SPIDER #13 LEG $ 3.99
BETTY & VERONICA JUMBO COMICS DIGEST #260 $ 6.99
BIG TROUBLE IN LITTLE CHINA OLD MAN JACK #5 $ 3.99
BLACK CROWN QUARTERLY #2 WINTER 2018 $ 6.99
BONEHEAD #2 $ 3.99
CAPTAIN MARVEL #128 LEG $ 3.99
DARK ARK #5 $ 3.99
DARK NIGHTS METAL #5 (OF 6) $ 3.99
DARK NIGHTS METAL #5 (OF 6) DANIEL VAR ED $ 3.99
DARK NIGHTS METAL #5 (OF 6) KUBERT VAR ED $ 3.99
DARK NIGHTS METAL #5 (OF 6) LEE VAR ED $ 3.99
DEATHSTROKE ANNUAL #1 $ 4.99
DEFENDERS #9 LEG $ 3.99
DESPICABLE DEADPOOL #293 KOBLISH SECRET COMIC VAR LEG $ 3.99
DESPICABLE DEADPOOL #293 LEG $ 3.99
DETECTIVE COMICS ANNUAL #1 $ 4.99
ETERNITY #4 CVR A DJURDJEVIC $ 3.99
ETERNITY #4 CVR B MULLER $ 3.99
FALCON #4 LEG $ 3.99
FLASH ANNUAL #1 $ 4.99
GOD COMPLEX #4 (MR) $ 3.99
HUNGRY GHOSTS #1 (OF 4) $ 3.99
HARLEY QUINN #36 $ 2.99
HARLEY QUINN #36 VAR ED $ 2.99
INCREDIBLE HULK #712 GRANOV AVENGERS VAR LEG $ 3.99
INCREDIBLE HULK #712 LEG $ 3.99
INVINCIBLE IRON MAN #596 LEG $ 3.99
INVINCIBLE IRON MAN #596 STEVENS AVENGERS VAR LEG $ 3.99
JEAN GREY #11 LEG $ 4.99
JESSICA JONES #16 LEG $ 3.99
JLA DOOM PATROL SPECIAL #1 $ 4.99
JOE GOLEM OCCULT DETECTIVE OUTER DARK #5 (OF 5) F & B PT 2 $ 3.99
MOON GIRL AND DEVIL DINOSAUR #27 LEG $ 3.99
MOON KNIGHT #191 LEG $ 3.99
MOTHERLANDS #1 (OF 6) (MR) $ 3.99
MOTHERLANDS #1 (OF 6) VAR ED (MR) $ 3.99
MY LITTLE PONY FRIENDSHIP IS MAGIC #62 Variant (1/10) $ ???
MY LITTLE PONY FRIENDSHIP IS MAGIC #62 CVR A PRICE $ 3.99
MY LITTLE PONY FRIENDSHIP IS MAGIC #62 CVR B RICHARD $ 3.99
MYSTIK U #2 (OF 3) $ 5.99
OLD MAN LOGAN #34 LEG $ 3.99
OUTCAST BY KIRKMAN & AZACETA #33 (MR) $ 3.99
PENNY DREADFUL #8 CVR B PHOTO $ 3.99
PHOENIX RESURRECTION RETURN JEAN GREY #5 (OF 5) HUGO CONNECT $ 4.99
PHOENIX RESURRECTION RETURN JEAN GREY #5 (OF 5) LEE JEAN GRE $ 4.99
PHOENIX RESURRECTION RETURN JEAN GREY #5 (OF 5) LEG $ 4.99
POWERPUFF GIRLS BUREAU OF BAD #3 (OF 3) CVR A MURPHY $ 3.99
PUNISHER PLATOON #5 (OF 6) (MR) $ 3.99
IMAGE PLUS #6 (WYTCHES THE BAD EGG PT 6) (NET) $ 1.99
MARVEL PREVIEWS VOL 04 #7 FEBRUARY 2018 EXTRAS (NET) $ 1.99
PREVIEWS #353 FEBRUARY 2018 $ 3.95
QUANTUM & WOODY (2017) #2 CVR B ULTRA FOIL SHAW (NET) $ 3.99
QUANTUM & WOODY (2017) #2 CVR C BLANK CVR (NET) $ 3.99
REALM #5 CVR A HAUN & FILARDI (MR) $ 3.99
REALM #5 CVR B FRISON (MR) $ 3.99
RICK & MORTY #34) $ 3.99
RICK & MORTY #34 INCV VAR SCHWEIZER) $ 3.99
SAMURAI JACK QUANTUM JACK #4 (OF 5) CVR A OEMING $ 3.99
SILENCER #1 $ 2.99
SPAWN #282 CVR A ALEXANDER $ 2.99
SPAWN #282 CVR B B&W ALEXANDER $ 2.99
SPIDER-GWEN #28 LEG $ 3.99
STAR TREK BOLDLY GO #16 CVR A HERNANDEZ $ 3.99
STAR TREK BOLDLY GO #16 CVR B FUNKO MARTIN $ 3.99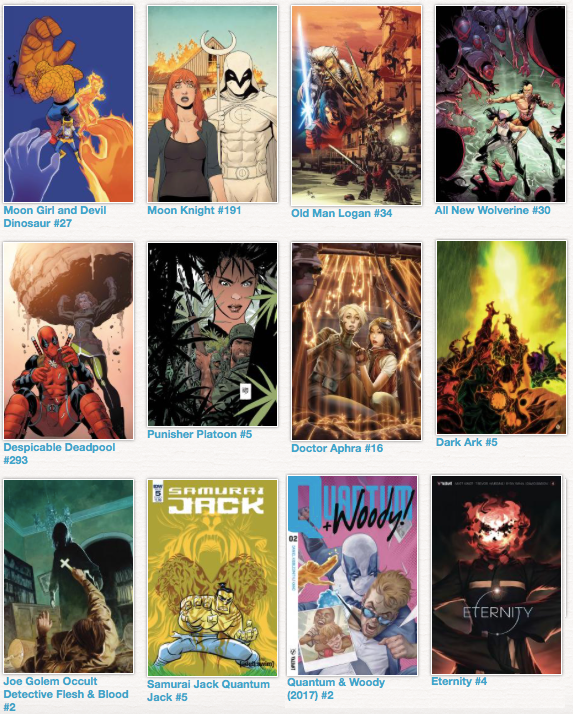 STAR WARS ADV FORCES OF DESTINY ROSE & PAIGE CVR A $ 3.99
STAR WARS ADV FORCES OF DESTINY ROSE & PAIGE CVR B $ 3.99
STAR WARS DOCTOR APHRA #16 $ 3.99
STAR WARS DOCTOR APHRA #16 REIS GALACTIC ICON VAR $ 3.99
STAR WARS LAST JEDI DJ #1 $ 4.99
STAR WARS LAST JEDI DJ #1 JOHNSON VAR $ 4.99
STAR WARS LAST JEDI DJ #1 MOVIE VAR $ 4.99
STAR WARS LAST JEDI DJ #1 REIS VAR $ 4.99
TALES OF SUSPENSE #101 (OF 5) LEG $ 3.99
TALES OF SUSPENSE #101 (OF 5) PACHECO AVENGERS VAR LEG $ 3.99
VOID TRIP #3 (OF 5) (MR) $ 3.99
WALT DISNEY COMICS & STORIES #741 CVR A KELLY $ 5.99
BEN REILLY SCARLET SPIDER TP VOL 02 DEATHS STING $ 15.99
BRIGGS LAND TP VOL 02 LONE WOLVES $ 19.99
DC SUPER HERO GIRLS DATE WITH DISASTER TP $ 9.99
INHUMANS VS X-MEN TP $ 34.99
JOJOS BIZARRE ADV 3 STARDUST CRUSADERS HC VOL 06 $ 19.99
KILL THE MINOTAUR TP (MR) $ 19.99
LEGION SON OF X TP VOL 01 PRODIGAL $ 15.99
MAGI GN VOL 28 $ 9.99
MATT WAGNER GRENDEL TALES OMNIBUS TP VOL 02 $ 24.99
MY HERO ACADEMIA GN VOL 11 $ 9.99
NEW TEEN TITANS THE JUDAS CONTRACT DLX ED HC $ 29.99
ORESAMA TEACHER GN VOL 23 $ 9.99
REDLINE TP VOL 01 $ 19.99
REGULAR SHOW TP VOL 10 $ 14.99
RICHARD STARKS PARKER SLAYGROUND TP $ 14.99
ROYALS TP VOL 02 JUDGEMENT DAY $ 19.99
SAUCER STATE TP $ 19.99
SHADE THE CHANGING GIRL TP VOL 02 LITTLE RUNAWAY (MR) $ 16.99
SUPERMAN THE COMING OF THE SUPERMEN TP $ 16.99
TORIKO GN VOL 41 $ 9.99
US AVENGERS TP VOL 02 STARS AND GARTERS $ 17.99
VENOM TP LETHAL PROTECTOR NEW PTG $ 16.99
VENOM TP VOL 03 LETHAL PROTECTOR BLOOD IN THE WATER $ 15.99
VIGILANTE SOUTHLAND TP $ 16.99
VIOLENT LOVE TP VOL 02 HEARTS ON FIRE (MR) $ 16.99
VOLTRON LEGENDARY DEFENDER TP VOL 02 PILGRIMAGE $ 14.99
WAYWARD TP VOL 05 TETHERED SOULS (MR) $ 17.99
WEREWOLF BY NIGHT COMPLETE COLLECTION TP VOL 02 $ 39.99
ZOMBIES ASSEMBLE MANGA TP VOL 02 $ 14.99
WALKING DEAD 2017 ENSEMBLE SM-XL T/S $ 24.99
WALKING DEAD 2017 ENSEMBLE XXL T/S $ 24.99
FUNKO MORTAL KOMBAT KITANA AF $ 14.99
FUNKO MORTAL KOMBAT LIU KANG AF $ 14.99
FUNKO MORTAL KOMBAT RAIDEN AF $ 14.99
FUNKO MORTAL KOMBAT SCORPION AF $ 14.99
FUNKO MORTAL KOMBAT SUB-ZERO AF $ 14.99
NBX GALLERY JACK PVC FIGURE $ 45
POP BLACK PANTHER BLACK PANTHER VINYL FIGURE $ 11.99
POP BLACK PANTHER BLACK PANTHER WATERFALL VINYL FIGURE $ 11.99
POP BLACK PANTHER ERIK KILLMONGER VINYL FIGURE $ 11.99
POP BLACK PANTHER NAKIA VINYL FIGURE $ 11.99
POP BLACK PANTHER SHURI VINYL FIGURE $ 11.99
POP BUFFY THE VAMPIRE SLAYER 25TH XANDER VINYL FIGURE $ 11.99
POP DRAGON BALL SUPER FUTURE TRUNKS VINYL FIGURE $ 11.99
POP DRAGON BALL SUPER GOKU BLACK VINYL FIGURE $ 11.99
POP FRAGGLE ROCK BOOBER W/DOOZER VINYL FIGURE $ 11.99
POP FRAGGLE ROCK GOBO W/DOOZER VINYL FIGURE $ 11.99
POP FRAGGLE ROCK MOKEY W/DOOZER VINYL FIGURE $ 11.99
POP FRAGGLE ROCK RED W/DOOZER VINYL FIGURE $ 11.99
POP FRAGGLE ROCK WEMBLEY W/DOOZER VINYL FIGURE $ 11.99
POP HEROES LOBO PX VINYL FIGURE $ 11.99
POP HEROES LOBO PX VINYL FIGURE BLOODY $ 11.99
POP IT MOVIE PENNYWISE W/BOAT VINYL FIG $ 11.99
POP RIDES MARVEL CLASSIC GHOST RIDER W/BIKE PX VIN FIG GLOW $ 29.99
POP STRANGER THINGS MIKE GHOSTBUSTERS VINYL FIGURE $ 11.99
POP TICK TV TICK VINYL FIGURE $ 11.99
COMIC SHOP NEWS #1598 $ FREE