All I can think of for a headline is…X-Men Red #1 – Wednesday, Feb 7, 2018
I just read a feature on the upcoming Action #1000 and it sounds like they have figured out how to do it right. April 11 will see a 384-page hardcover with articles, reprints, previously unpublished stories, and all the contents of the 80 – page comic that will follow on April 18th with a variant cover for each decade. April is the 80th anniversary of Action #1, the first appearance of the most popular superhero in the world (for at least 60 years, anyway) and the beginning of the comic book superhero as we have come to know it. They were going to print a poster with all 1000 covers (really small!) along with the book, but they decided to release it separately later. (…and unfolded, I hope!) Come and get a free Comic Shop News this week and read for yourself. Or get Previews next month. Come to think of it, if you want the 384 page book for $29.99, it would be good to tell Bob ahead of time, because I don't think he will be ordering 300 of them, unless you all ask for it!
For this week, we have Batman, White Knight, Black Lightning, Dastardly, Snagglepuss, Dejah Thoris, the Greens, the Harleys, Fairyland, Jetsons, Mother Panic/Batman, Rise of Black Panther, Shadow/Batman, Star Wars, Superman, Transformers, Venom, Walking Dead, X-Men Gold, and the new X-Men Red #1. We also have a giant Venom Statue for $150 and a giant Gundam Figure for $195, among other 3-D items.
See the complete list below.
As always,  thanks to GoCollect.com for putting out their mostly accurate list of comics and covers every week. If you so desire, Click here to see their whole list. They may have elected to use a variant that we may not carry, or used pre-release art to represent a title, or listed things we don't buy at all. Or they may get a few from next week in there, OR catch up with ones they missed last week – so the covers you see here may not be the ones you see on our shelf this week. Our list is usually late enough that it reflects only what we got,  but not late enough to eliminate sellouts that might have happened by the time you see this. Also, we reserve the right to make mistakes and forget to list things, or forget to delete them when they don't show up like we thought they would.
30 DAYS OF NIGHT #3 (OF 6) CVR A TEMPLESMITH $ 3.99
ADVENTURE TIME #73 $ 3.99
AMAZING SPIDER-MAN #795 LEG $ 3.99
ARMSTRONG & THE VAULT OF SPIRITS #1 CVR A ANDRASOFSZKY (ONE $ 3.99
AVENGERS #679 LEG $ 3.99
BACK TO THE FUTURE TIME TRAIN #2 CVR A LEVENS $ 3.99
BANE CONQUEST #9 (OF 12) $ 3.99
BATMAN #40 $ 2.99
BATMAN #40 VAR ED $ 2.99
BATMAN WHITE KNIGHT #5 (OF 8) $ 3.99
BATMAN WHITE KNIGHT #5 (OF 8) VAR ED $ 3.99
BLACK BOLT #10 LEG $ 3.99
BLACK LIGHTNING COLD DEAD HANDS #4 (OF 6) $ 3.99
BLACK PANTHER SOUND AND FURY #1 LEG (missing – maybe next week) $ 3.99
BLACK PANTHER SOUND AND FURY #1 LIM VAR LEG (missing – maybe next week) $ 3.99
BOMBSHELLS UNITED #11 $ 2.99
COSMO #2 CVR A YARDLEY $ 3.99
COYOTES #4 (MR) $ 3.99
DAMNED #8 (MR) $ 3.99
DAREDEVIL #598 LEG $ 3.99
DASTARDLY AND MUTTLEY #6 (OF 6) $ 3.99
DASTARDLY AND MUTTLEY #6 (OF 6) VAR ED $ 3.99
DEATHSTROKE #28 $ 3.99
DEATHSTROKE #28 VAR ED $ 3.99
DEJAH THORIS #1 CVR A CAMPBELL $ 3.99
DEJAH THORIS #1 CVR E VAR MCKONE B&W VAR $ ???
EXIT STAGE LEFT THE SNAGGLEPUSS CHRONICLES #2 (OF 6) $ 3.99
EXIT STAGE LEFT THE SNAGGLEPUSS CHRONICLES #2 (OF 6) VAR ED $ 3.99
EXTREMITY #11 $ 3.99
GAME OF THRONES CLASH OF KINGS #8 CVR A MILLER (MR) $ 3.99
GIANT DAYS #35 $ 3.99
GRAVEDIGGERS UNION #4 (MR) $ 3.99
GREATEST ADVENTURE #9 (OF 9) CVR A NORD $ 3.99
GREEN ARROW #37 $ 3.99
GREEN ARROW #37 VAR ED $ 3.99
GREEN LANTERNS #40 $ 2.99
GREEN LANTERNS #40 VAR ED $ 2.99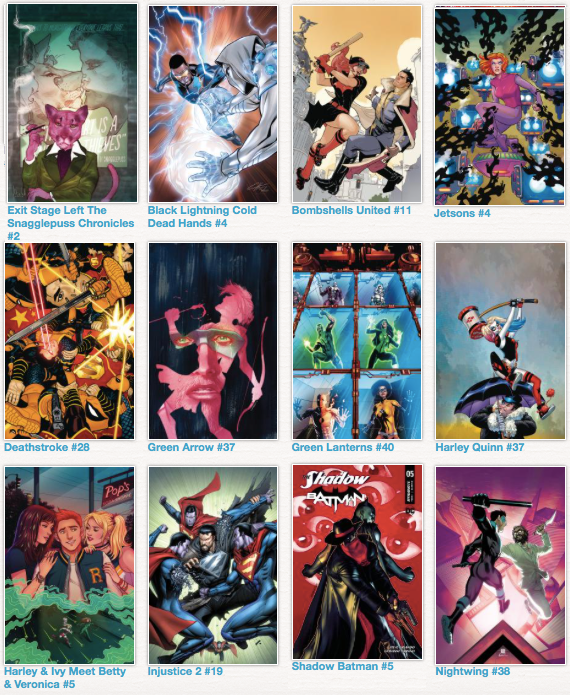 HALF PAST DANGER II DEAD TO REICHS #5 (OF 5) CVR A MOONEY $ 3.99
HALO RISE OF ATRIOX #5 (OF 5) $ 3.99
HARLEY & IVY MEET BETTY & VERONICA #5 (OF 6) $ 3.99
HARLEY & IVY MEET BETTY & VERONICA #5 (OF 6) VAR ED $ 3.99
HARLEY QUINN #37 $ 2.99
HARLEY QUINN #37 VAR ED $ 2.99
HAWKEYE #15 LEG $ 3.99
I HATE FAIRYLAND #16 CVR A YOUNG (MR) $ 3.99
I HATE FAIRYLAND #16 F*CK (UNCENSORED) FAIRYLAND VAR (MR) $ 3.99
ICEMAN #10 LEG $ 3.99
INCOGNEGRO RENAISSANCE #1 $ 3.99
INFINITY COUNTDOWN ADAM WARLOCK #1 ALLRED VAR LEG $ 4.99
INFINITY COUNTDOWN ADAM WARLOCK #1 LEG $ 4.99
INJUSTICE 2 #19 $ 2.99
IRON FIST #77 LEG $ 3.99
JEM & THE HOLOGRAMS DIMENSIONS #3 CVR A STOTT $ 3.99
JETSONS #4 (OF 6) $ 3.99
JETSONS #4 (OF 6) VAR ED $ 3.99
JUSTICE LEAGUE #38 $ 2.99
JUSTICE LEAGUE #38 VAR ED $ 2.99
KINGSMAN RED DIAMOND #6 (OF 6) CVR A PARLOV (MR) $ 3.99
LEGENDERRY RED SONJA #1 (OF 5) CVR A BENITEZ $ 3.99
MECH CADET YU #6 $ 3.99
MONSTRO MECHANICA #3 $ 3.99
MOTHER PANIC BATMAN SPECIAL #1 $ 4.99
NIGHTWING #38 $ 2.99
NIGHTWING #38 VAR ED $ 2.99
NO 1 WITH A BULLET #4 $ 3.99
PACIFIC RIM AFTERMATH #2 (OF 6) $ 3.99
PAPER GIRLS #20 $ 2.99
RASPUTIN VOICE OF DRAGON #4 (OF 5) $ 3.99
RASPUTIN VOICE OF DRAGON #4 (OF 5) DEL RAY VAR $ 3.99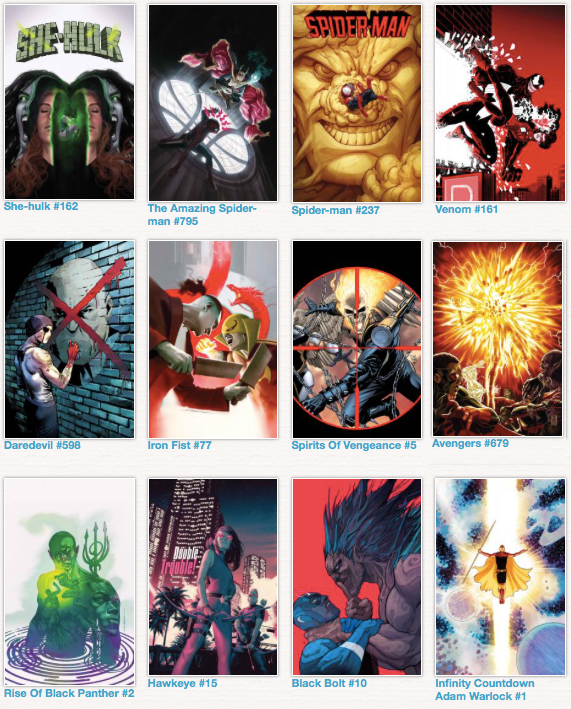 RISE OF BLACK PANTHER #2 (OF 6) LEG $ 3.99
RISE OF BLACK PANTHER #2 (OF 6) MOVIE VAR LEG $ 3.99
ROCK CANDY MOUNTAIN #8 (OF 8) (MR) $ 3.99
ROGUE & GAMBIT #2 (OF 5) LEG $ 3.99
ROSE #8 CVR A GUARA $ 3.99
RUNAWAYS #6 $ 3.99
SAVAGE DRAGON #231 (MR) $ 3.99
SCALES & SCOUNDRELS #6 $ 3.99
SHADOW BATMAN #5 (OF 6) CVR A PETERSON $ 3.99
SHADOW BATMAN #5 (OF 6) CVR B TAN $ 3.99
SHADOW BATMAN #5 (OF 6) CVR C CHARM $ 3.99
SHADOW BATMAN #5 (OF 6) CVR D CAREY $ 3.99
SHADOW BATMAN #5 (OF 6) CVR E EXC SUBSCRIPTION VAR $ 3.99
SHE-HULK #162 LEG $ 3.99
SNOTGIRL #9 $ 2.99
SPIDER-MAN #237 LEG $ 3.99
SPIDER-MAN DEADPOOL #27 LEG $ 3.99
SPIRITS OF VENGEANCE #5 (OF 5) LEG $ 3.99
STAR TREK NEW VISIONS ISOLATION $ 7.99
STAR WARS #43 $ 3.99
STAR WARS #43 CHRISTOPHER ACTION FIGURE VAR $ 3.99
STAR WARS #43 REIS GALACTIC ICON POE VAR $ 3.99
SUPERMAN #40 $ 2.99
SUPERMAN #40 VAR ED $ 2.99
SWAMP THING WINTER SPECIAL #1 $ 7.99
TMNT UNIVERSE #19 CVR A WILLIAMS II $ 4.99
TOMB RAIDER SURVIVORS CRUSADE #3 (OF 4) $ 3.99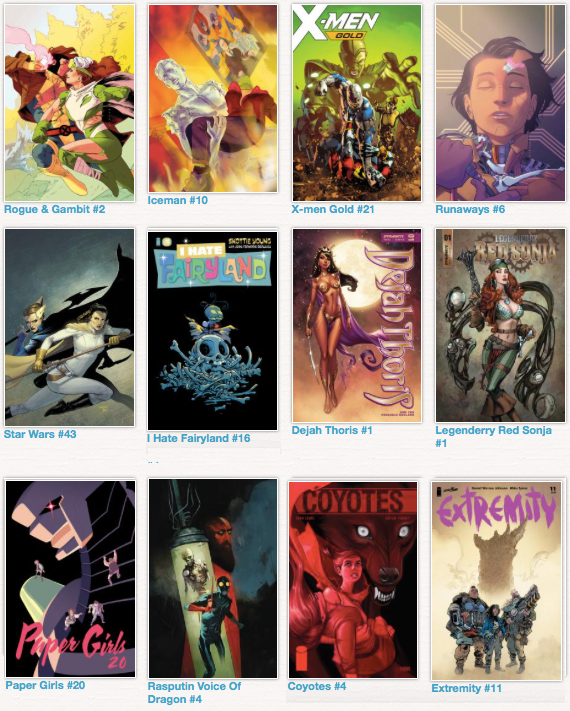 TRANSFORMERS LOST LIGHT #14 CVR A LAWRENCE $ 3.99
TRANSFORMERS VS VISIONARIES #2 (OF 5) CVR A OSSIO $ 3.99
TWISTED ROMANCE #1 (OF 4) (MR) $ 3.99
VAMPBLADE SEASON TWO #11 CVR A WINSTON YOUNG (MR) $ 4.99
VAMPBLADE SEASON TWO #11 CVR C FEDERHENN (MR) $ 4.99
VAMPBLADE SEASON TWO #11 CVR E 90S VAR (MR) $ 4.99
VENOM #161 LEG $ 3.99
VS #1 CVR A RIBIC (MR) $ 3.99
VS #1 CVR B RIBIC & MULLER (MR) $ 3.99
WALKING DEAD #176 CVR A ADLARD & STEWART (MR) $ 3.99
WALKING DEAD #176 CVR B SIENKIEWICZ (MR) $ 3.99
WALT DISNEY SHOWCASE #1 DONALD DUCK CVR A $ 3.99
WICKED & DIVINE 1923 CVR A MCKELVIE & WILSON (ONE-SHOT) (MR) $ 4.99
WICKED & DIVINE 1923 CVR B KOCH (ONE-SHOT) (MR) $ 4.99
WITCHBLADE #3 (MR) $ 3.99
WONDERFUL WORLD OF TANK GIRL #3 CVR A PARSON $ 3.99
WONDERFUL WORLD OF TANK GIRL #3 CVR B WAHL $ 3.99
X-MEN GOLD #21 LEG $ 3.99
X-MEN RED #1 ASRAR VAR LEG (1/25) $ ???
X-MEN RED #1 BLANK VAR LEG $ 4.99
X-MEN RED #1 CHAREST LEGACY HEADSHOT VAR LEG (1/10) $ ???
X-MEN RED #1 CHRISTOPHER TRADING CARD VAR LEG $ 4.99
X-MEN RED #1 LEG $ 4.99
X-MEN RED #1 LIEFELD VAR LEG (1/50) $ ???
YOUNG MONSTERS IN LOVE #1 $ 9.99
ZOMBIE TRAMP ONGOING #43 CVR A CELOR (MR) $ 4.99
ZOMBIE TRAMP ONGOING #43 CVR C FEDERHENN (MR) $ 4.99
ZOMBIE TRAMP ONGOING #43 CVR E MENDOZA (MR) $ 4.99
NON SPORT UPDATE VOL 29 #1 $ 5.99
AQUAMAN BY PETER DAVID TP BOOK 01 $ 29.99
ASSASSINATION CLASSROOM GN VOL 20 $ 9.99
AVENGERS & CHAMPIONS TP WORLDS COLLIDE $ 17.99
BLACK LIGHTNING TP VOL 02 $ 19.99
BLACK PANTHER BY HUDLIN TP VOL 03 COMPLETE COLLECTION $ 39.99
BTVS SEASON 11 TP VOL 02 ONE GIRL IN ALL WORLD $ 19.99
CAVE CARSON HAS A CYBERNETIC EYE TP VOL 02 (MR) $ 16.99
ELSEWORLDS SUPERMAN TP VOL 01 $ 34.99
GROO PLAY OF THE GODS TP $ 17.99
HOUSE OF SECRETS THE BRONZE AGE OMNIBUS HC $ 125
INHUMANS ONCE AND FUTURE KING TP $ 15.99
KILLING & DYING GN TOMINE (MR) $ 19.95
MOEBIUS LIBRARY INSIDE MOEBIUS HC VOL 01 $ 39.99
PRINCELESS RAVEN PIRATE PRINCESS TP VOL 04 TWO SHIPS IN NIGH $ 14.99
ROBOTECH TP VOL 01 $ 16.99
SCALES & SCOUNDRELS TP VOL 01 INTO THE DRAGONS MAW $ 9.99
SCOOBY APOCALYPSE TP VOL 03 $ 16.99
STAR WARS DOCTOR APHRA TP VOL 02 DOCTOR APHRA ENORMOUS PROFI $ 17.99
TEEN TITANS BY GEOFF JOHNS TP BOOK 02 $ 29.99
WYNONNA EARP SEASON ZERO TP $ 17.99
STRANGER THINGS SCREEN TEST GAME CS (NET) $ 24.99
DC TV THE FLASH REVERSE FLASH ARTFX+ STATUE $ 69.99
GUNDAM 00 GUNDAM EXIA PERFECT GRADE MDL KIT $ 195
JUSTICE LEAGUE MOVIE CYBORG ARTFX+ STATUE $ 79.99
JUSTICE LEAGUE MOVIE THE FLASH ARTFX+ STATUE $ 79.99
MARVEL PREMIER COLL VENOM STATUE $ 150
MYSTERY MINIS KINGDOM HEARTS 12PC BMB DISP $ 8.99
MYSTERY MINIS WB SATURDAY MORNING CARTOONS 12PC BMB DISP $ 8.99
NIGHTMARE ON ELM ST II ULTIMATE FREDDY 7IN AF $ 26.99
POP BUFFY THE VAMPIRE SLAYER 25TH FAITH VINYL FIGURE $ 11.99
POP BUFFY THE VAMPIRE SLAYER 25TH GILES VINYL FIGURE $ 11.99
POP DISNEY ALADDIN JASMINE (RED) VINYL FIGURE $ 11.99
POP DRAGON BALL SUPER WHIS VINYL FIGURE $ 11.99
POP DRAGON BALL SUPER ZAMASU VINYL FIGURE $ 11.99
POP HELLBOY HELLBOY VINYL FIGURE $ 11.99
POP RIDES MARVEL CLASSIC GHOST RIDER W/BIKE PX VIN FIG GLOW $ 29.99
POP STAR WARS E8 VICE ADMIRAL HOLDO VINYL FIGURE $ 11.99
ROCK CANDY DC BOMBSHELLS BATGIRL FIG $ 11.99
ROCK CANDY DC BOMBSHELLS WONDER WOMAN FIG $ 11.99
SW ELITE COLLECTION JANGO FETT RESIN STATUE (RES) $ 124.99
VYNL DC HARLEY QUINN & JOKER VINYL FIGURE 2PK $ 14.99
COMIC SHOP NEWS #1599 $ FREE