Wow, it happened again – New comics showed up – Wednesday, Feb 21, 2018.
Two weeks ago, I talked about the Action 80-year Anniversary hardcover book followed by Action #1000 a week later, both in April.  If you want the 384 page book for $29.99, it would be good to tell Bob ahead of time, because I don't think he will be ordering 300 of them, unless you all ask him for it!
What happened? Last week, our distributor "lost" about 20 comics and books that we were supposed to get, and we still haven't gotten replacements yet. This week, they were almost perfect, which is rare. The only thing missing is Hellboy (as noted in the list below).
We sold out of Kick Ass #1 with 5 covers last week, probably because they didn't send us one of them. This week Hit Girl #1 is here and we got all 7 different covers. Amazing Spiderman #796 is in limited supply – ask Bob at the counter. There are four Batmans and 1 Batwoman, 2 James Bonds, and 1 King Kong, and about 110 more.
See the complete list below.
As always,  thanks to GoCollect.com for putting out their mostly accurate list of comics and covers every week. If you so desire, Click here to see their whole list. They may have elected to use a variant that we may not carry, or used pre-release art to represent a title, or listed things we don't buy at all. Or they may get a few from next week in there, OR catch up with ones they missed last week – so the covers you see here may not be the ones you see on our shelf this week. Our list is usually late enough that it reflects only what we got,  but not late enough to eliminate sellouts that might have happened by the time you see this. Also, we reserve the right to make mistakes and forget to list things, or forget to delete them when they don't show up like we thought they would.
ADVENTURE TIME COMICS #20 $ 3.99
AMERICAN WAY THOSE ABOVE AND BELOW #6 (OF 6) (MR) $ 3.99
AQUAMAN #33 $ 3.99
AQUAMAN #33 VAR ED $ 3.99
ASTONISHING X-MEN #8 LEG $ 3.99
AVENGERS #681 BRADSHAW CONNECTING VAR LEG (1/25) $ ???
AVENGERS #681 LEG $ 3.99
BATMAN #41 $ 2.99
BATMAN #41 VAR ED $ 2.99
BATMAN AND THE SIGNAL #2 (OF 3) (RES) $ 3.99
BATMAN SINS OF THE FATHER #1 (OF 6) $ 2.99
BATMAN SINS OF THE FATHER #1 (OF 6) VAR ED $ 2.99
BATMAN TEENAGE MUTANT NINJA TURTLES II #4 (OF 6) $ 3.99
BATMAN TEENAGE MUTANT NINJA TURTLES II #4 (OF 6) VAR ED $ 3.99
BATWOMAN #12 $ 3.99
BATWOMAN #12 VAR ED $ 3.99
BIRTHRIGHT #30 $ 3.99
BLACK PANTHER ANNUAL #1 LEG $ 4.99
BLACK PANTHER ANNUAL #1 STELFREEZE VAR LEG $ 4.99
BOMBSHELLS UNITED #12 $ 2.99
BRAVE & THE BOLD BATMAN & WONDER WOMAN #1 (OF 6) $ 3.99
BRILLIANT TRASH #4 $ 3.99
BSG VS BSG #2 (OF 6) CVR A LOPRESTI $ 3.99
CAVE CARSON SWAMP THING SPECIAL #1 $ 4.99
COMIC BOOK HISTORY OF COMICS COMICS FOR ALL #3 CVR A $ 3.99
DAMAGE #1 2ND PTG $ 2.99
DAMAGE #2 (RES) $ 2.99
DAREDEVIL #599 LEG $ 3.99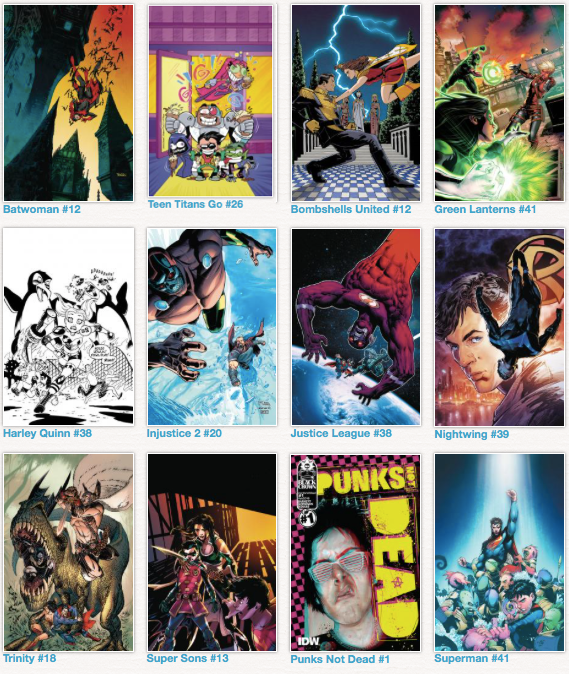 DEADPOOL VS OLD MAN LOGAN #5 (OF 5) $ 3.99
DEADPOOL VS OLD MAN LOGAN #5 (OF 5) LIM VAR $ 3.99
DEATHBED #1 (OF 6) (MR) $ 3.99
DEFENDERS #10 HULK VAR LEG $ 3.99
DEFENDERS #10 LEG $ 3.99
DEPT H #23 $ 3.99
DESCENDER #27 CVR A NGUYEN $ 3.99
DESCENDER #27 CVR B LIL ROBOT VAR NGUYEN $ 3.99
DOCTOR STRANGE DAMNATION #1 (OF 4) LEG $ 4.99
DOCTOR STRANGE DAMNATION #1 (OF 4) LIM VAR LEG $ 4.99
EMPOWERED & SISTAH SPOOKYS HIGH SCHOOL HELL #3 $ 3.99
ETERNAL EMPIRE #7 $ 3.99
FAMILY TRADE #5 $ 3.99
FENCE #4 $ 3.99
FURTHER ADV OF NICK WILSON #2 (OF 5) CVR A WOODS (MR) $ 3.99
FURTHER ADV OF NICK WILSON #2 (OF 5) CVR B CHURCHILL (MR) $ 3.99
FUTURE QUEST PRESENTS #7 $ 3.99
FUTURE QUEST PRESENTS #7 VAR ED $ 3.99
GEARS OF WAR RISE OF RAAM #2 CVR A BROWN $ 3.99
GEARS OF WAR RISE OF RAAM #2 CVR B PORTACIO $ 3.99
GENERATION X #87 LEG $ 3.99
GREEN LANTERNS #41 $ 2.99
GREEN LANTERNS #41 VAR ED $ 2.99
HARLEY QUINN #38 $ 2.99
HARLEY QUINN #38 VAR ED $ 2.99
HELLBOY & BPRD 1955 BURNING SEASON ONE SHOT (Maybe next week?) $ 3.99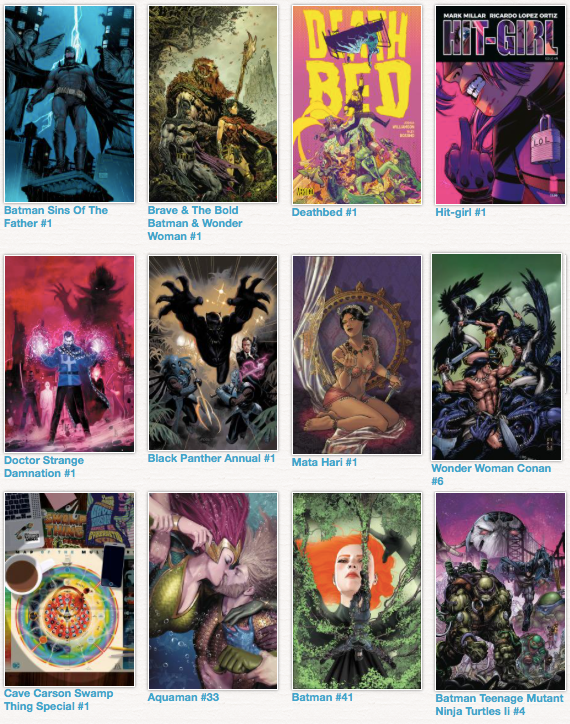 HIT-GIRL #1 CVR A REEDER (MR) $ 3.99
HIT-GIRL #1 CVR B B&W REEDER (MR) $ 3.99
HIT-GIRL #1 CVR C GI (MR) $ 3.99
HIT-GIRL #1 CVR D ALBUQUERQUE (MR) $ 3.99
HIT-GIRL #1 CVR E BLANK CVR (MR) $ 3.99
HIT-GIRL #1 CVR F DOYLE (MR) $ 3.99
HIT-GIRL #1 CVR G ROMITA JR (MR) $ 3.99
HORIZON #18 (MR) $ 3.99
ICE CREAM MAN #2 CVR A MORAZZO & OHALLORAN (MR) $ 3.99
ICE CREAM MAN #2 CVR B MALAVIA (MR) $ 3.99
INCREDIBLE HULK #713 JTC HULK VAR LEG $ 3.99
INCREDIBLE HULK #713 LEG $ 3.99
INFINITY COUNTDOWN PRIME #1 LEG $ 4.99
INFINITY COUNTDOWN PRIME #1 LOGAN HOLDS INFINITY VAR LEG $ 4.99
INJUSTICE 2 #20 $ 2.99
JAMES BOND M ONE SHOT SPECIAL $ 4.99
JAMES BOND THE BODY #2 CVR A CASALANGUIDA $ 3.99
JIM HENSON STORYTELLER FAIRIES #3 (OF 4) $ 3.99
JIM HENSON STORYTELLER FAIRIES #3 (OF 4) SUBSCRIPTION MILLED $ 3.99
JUSTICE LEAGUE #39 $ 2.99
JUSTICE LEAGUE #39 VAR ED $ 2.99
KID LOBOTOMY #5 CVR A FOWLER (MR) $ 3.99
KID LOBOTOMY #5 CVR B GRAHAM (MR) $ 3.99
KONG ON PLANET OF APES #4 $ 3.99
KONG ON PLANET OF APES #4 CLASSIC PULP WOODY VAR $ 3.99
KRUSTY THE CLOWN (ONE SHOT) $ 3.99
LAZARUS SOURCEBOOK #3 VASSALOVKA (MR) $ 3.99
LUCAS STAND INNER DEMONS #1 (OF 4) (MR) $ 3.99
LUCAS STAND INNER DEMONS #1 (OF 4) (MR) $ 3.99
LUKE CAGE #170 LEG $ 3.99
MAESTROS #5 (MR) $ 3.99
MATA HARI #1 (MR) $ 3.99
MIGHTY MORPHIN POWER RANGERS #24 $ 3.99
MIGHTY MORPHIN POWER RANGERS #24 ACTION FIGURE VAR  $ 3.99
MIGHTY THOR #704 LEG $ 3.99
MONSTERS UNLEASHED #11 LEG $ 3.99
MONSTRESS #14 (MR) $ 3.99
MOONSHINE #7 CVR A RISSO (MR) $ 3.99
MOONSHINE #7 CVR B BA (MR) $ 3.99
MULTIPLE WARHEADS GHOST THRONE (ONE-SHOT) (MR) $ 4.99
MUSKETEERS #1 (OF 5) CVR A RIVEIRO $ 3.99
MY LITTLE PONY FRIENDSHIP IS MAGIC #63 variant (1/10) $ ???
MY LITTLE PONY FRIENDSHIP IS MAGIC #63 CVR A HICKEY $ 3.99
NIGHTWING #39 $ 2.99
NIGHTWING #39 VAR ED $ 2.99
NINJAK VS VU #2 (OF 4) CVR A WADA $ 3.99
POSTAL MARK #1 (ONE SHOT) (MR) $ 3.99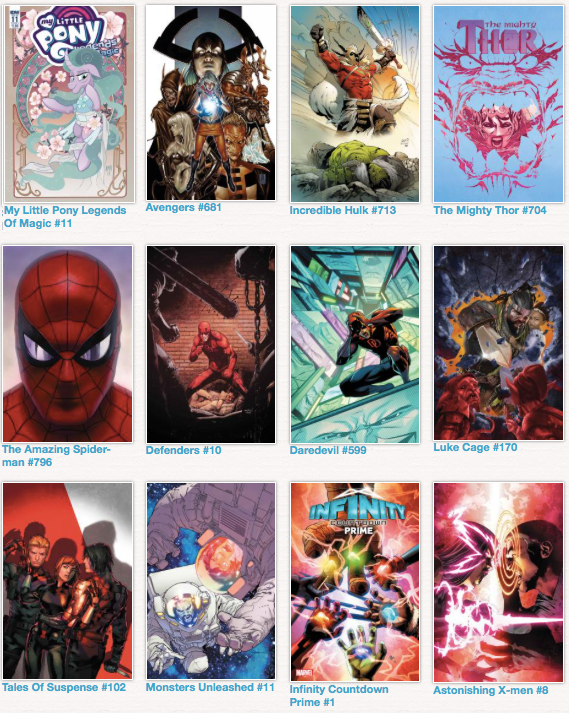 PUMPKINHEAD #1 (OF 5) CVR A JONES $ 3.99
PUMPKINHEAD #1 (OF 5) CVR B PHOTO $ 3.99
PUMPKINHEAD #1 (OF 5) CVR D JONES variant (1/10) $ ???
PUNISHER PLATOON #6 (OF 6) (MR) $ 3.99
PUNKS NOT DEAD #1 CVR A SIMMONDS $ 3.99
PUNKS NOT DEAD #1 CVR B SIENKIEWICZ $ 3.99
QUANTUM & WOODY (2017) #3 CVR A TEDESCO $ 3.99
QUANTUM & WOODY (2017) #3 CVR B ULTRA FOIL SHAW $ 3.99
RED SONJA #13 CVR A CALDWELL $ 3.99
RED SONJA #13 CVR D COSPLAY $ 3.99
REDLANDS #6 (MR) $ 3.99
REGRESSION #7 (MR) $ 3.99
RIVERS OF LONDON CRY FOX #4 (OF 4) $ 3.99
RUGRATS #5 $ 3.99
SEX CRIMINALS #22 (MR) $ 3.99
SEX CRIMINALS #22 XXX HANNAH BLUMENREICH VAR (MR) $ 4.69
SONGS FOR THE DEAD #1 (OF 4) CVR A FOWLER $ 3.99
SONGS FOR THE DEAD #1 (OF 4) CVR B ROBLES $ 3.99
STAR WARS DOCTOR APHRA #17 $ 3.99
STAR WARS DOCTOR APHRA #17 REIS GALACTIC ICON LUKE VAR $ 3.99
SUPER SONS #13 $ 3.99
SUPER SONS #13 VAR ED $ 3.99
SUPERMAN #41 $ 2.99
SUPERMAN #41 VAR ED $ 2.99
TALES OF SUSPENSE #102 (OF 5) LEG $ 3.99
TANGLED #1 (OF 3) CVR A SAITO $ 3.99
TEEN TITANS GO #26 $ 2.99
TRINITY #18 $ 3.99
TRINITY #18 VAR ED $ 3.99
TWISTED ROMANCE #3 (OF 4) (MR) $ 3.99
VAMPBLADE SEASON TWO #12 CVR A WINSTON YOUNG (MR) $ 4.99
VAMPBLADE SEASON TWO #12 CVR C GARCIA (MR) $ 4.99
VAMPBLADE SEASON TWO #12 CVR E MENDOZA VAR (MR) $ 4.99
VAMPIRELLA #10 CVR A TAN $ 3.99
VAMPIRELLA #10 CVR C COSPLAY $ 3.99
VENOM #162 LEG $ 3.99
VINEGAR TEETH #2 (OF 4) $ 3.99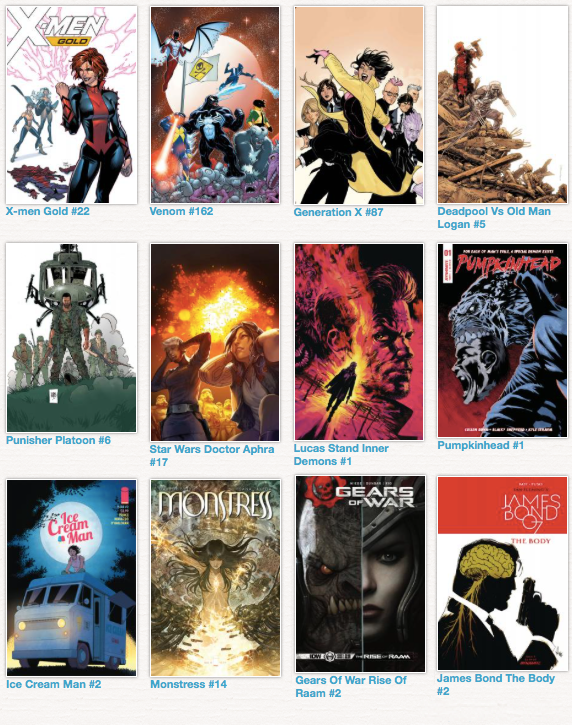 WONDER WOMAN CONAN #6 (OF 6) $ 3.99
WONDER WOMAN CONAN #6 (OF 6) LOPRESTI VAR ED $ 3.99
WONDER WOMAN CONAN #6 (OF 6) REIS VAR ED $ 3.99
WORLD OF ARCHIE JUMBO COMICS DIGEST #76 $ 6.99
X-MEN GOLD #22 LEG $ 3.99
MAD MAGAZINE #550 $ 5.99
ALL NEW WOLVERINE TP VOL 05 ORPHANS OF X $ 17.99
ASTONISHING X-MEN BY CHARLES SOULE TP VOL 01 LIFE OF X $ 17.99
BLACK PANTHER OFF MOVIE SPECIAL HC $ 19.99
CABLE & X-FORCE TP ONSLAUGHT RISING $ 34.99
DC UNIVERSE BY NEIL GAIMAN TP $ 19.99
EXCALIBUR EPIC COLLECTION TP CROSS-TIME CAPER $ 39.99
FLASHPOINT UNWRAPPED HC $ 29.99
INVADER ZIM TP VOL 05 $ 19.99
INVINCIBLE IRON MAN IRONHEART TP VOL 01 RIRI WILLIAMS $ 19.99
JOYRIDE TP VOL 03 $ 14.99
MOTHER PANIC TP VOL 02 UNDER HER SKIN (MR) $ 16.99
NEW TEEN TITANS OMNIBUS HC VOL 02 NEW ED $ 75
ONE PIECE GN VOL 85 $ 9.99
ROBIN YEAR ONE DELUXE EDITION HC $ 34.99
RUNAWAYS TP VOL 09 DEAD WRONG NEW PTG $ 14.99
SECRET WARRIORS TP VOL 02 IF TROUBLE MUST COME $ 19.99
SUPERMAN PRESIDENT LUTHOR TP NEW ED $ 29.99
TOKYO GHOUL RE GN VOL 03 $ 12.99
YOUNG JUSTICE TP BOOK 02 $ 29.99
MARVEL SPIDEY THINK RED FOIL PX BLACK T/S XL $ 19.99
GUNDAM 0080 GM COMMAND COLONY TYPE MG 1/100 MDL KIT $ 42.99
MARVEL GALLERY HOMECOMING SPIDER-MAN PVC FIG $ 44.99
MARVEL GALLERY MARVEL NOW CAPTAIN AMERICA PVC FIG $ 44.99
POP EMPERORS NEW GROOVE KUZCO VINYL FIGURE $ 11.99
POP EMPERORS NEW GROOVE PACHA VINYL FIGURE $ 11.99
POP MINECRAFT ALEX VINYL FIGURE $ 11.99
POP MINECRAFT CREEPER VINYL FIGURE $ 11.99
POP MINECRAFT OCELOT VINYL FIGURE $ 11.99
POP MINECRAFT SKELETON VINYL FIGURE $ 11.99
POP MINECRAFT STEVE VINYL FIGURE $ 11.99
RICK & MORTY SNOWBALL MED CONSTRUCTION SET $ 24.99
SW BLACK SERIES 6IN AF ASST $ 24.99
COMIC SHOP NEWS #1601 $ FREE