New Comics, Books, Toys on … Wednesday, Mar 21,  2018.
Too late. No description. Watching first season Rick & Morty. Wowser. Like the Simpsons crossed with Blade Runner.
See the complete list below.
As always,  thanks to GoCollect.com for putting out their mostly accurate list of comics and covers every week. If you so desire, Click here to see their whole list. They may have elected to use a variant that we may not carry, or used pre-release art to represent a title, or listed things we don't buy at all. Or they may get a few from next week in there, OR catch up with ones they missed last week – so the covers you see here may not be the ones you see on our shelf this week. Our list is usually late enough that it reflects only what we got,  but not late enough to eliminate sellouts that might have happened by the time you see this. Also, we reserve the right to make mistakes and forget to list things, or forget to delete them when they don't show up like we thought they would.
30 DAYS OF NIGHT #4 (OF 6) CVR A TEMPLESMITH $ 3.99
ADVENTURE TIME COMICS #21 $ 3.99
AMAZING SPIDER-MAN #796 2ND PTG HAWTHORNE VAR LEG (ask Bob) $ ???
AMAZING SPIDER-MAN RENEW YOUR VOWS #17 LEG $ 3.99
AQUAMAN #34 $ 3.99
AQUAMAN #34 VAR ED $ 3.99
ARCHIE #29 CVR B WOODS MILKSHAKES $ 3.99
AVENGERS #685 DODSON NEW MUTANTS VAR LEG $ 3.99
AVENGERS #685 LEG $ 3.99
BABYTEETH #9 (MR) $ 3.99
BATMAN #43 $ 2.99
BATMAN #43 VAR ED $ 2.99
BATMAN SINS OF THE FATHER #2 (OF 6) $ 2.99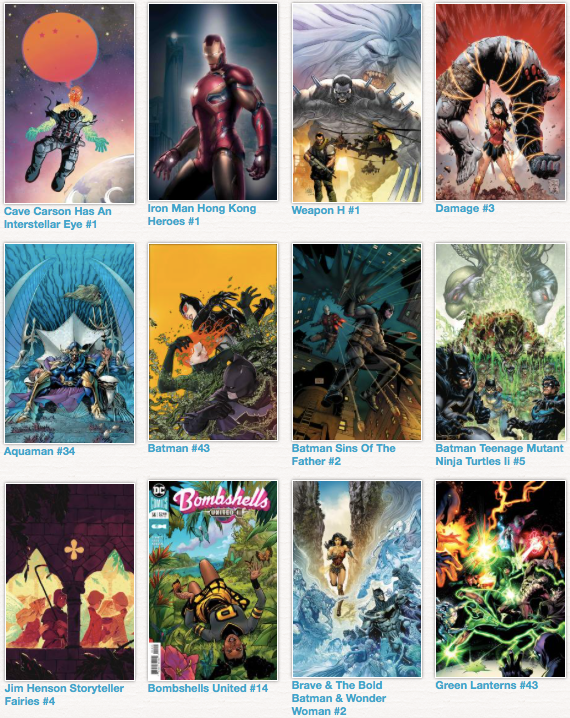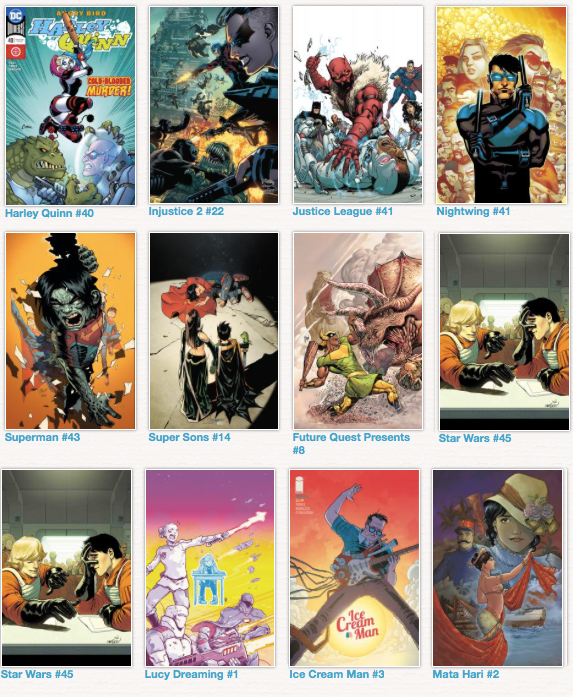 BATMAN TEENAGE MUTANT NINJA TURTLES II #5 (OF 6) $ 3.99
BATMAN TEENAGE MUTANT NINJA TURTLES II #5 (OF 6) VAR ED $ 3.99
BATWOMAN #13 $ 3.99
BATWOMAN #13 VAR ED $ 3.99
BIG TROUBLE IN LITTLE CHINA OLD MAN JACK #7 $ 3.99
BOMBSHELLS UNITED #14 $ 2.99
BRAVE & THE BOLD BATMAN & WONDER WOMAN #2 (OF 6) $ 3.99
CABLE #155 KIRKHAM NEW MUTANTS VAR LEG $ 3.99
CABLE #155 LEG $ 3.99
CAVE CARSON HAS AN INTERSTELLAR EYE #1 (MR) $ 3.99
CAVE CARSON HAS AN INTERSTELLAR EYE #1 VAR ED (MR) $ 3.99
COMIC BOOK HISTORY OF COMICS COMICS FOR ALL #4 CVR A $ 3.99
DAMAGE #3 $ 2.99
DEADMAN #5 (OF 6) $ 3.99
DEATH OF LOVE #2 (OF 5) (MR) $ 3.99
DEATHBED #2 (OF 6) (MR) $ 3.99
DEPT H #24 $ 3.99
DESCENDER #28 CVR A NGUYEN $ 3.99
DESCENDER #28 CVR B LIL ROBOT VAR NGUYEN $ 3.99
DISSONANCE #2 (MR) $ 3.99
DOCTOR STRANGE DAMNATION #3 (OF 4) LEG $ 3.99
DOCTOR STRANGE DAMNATION #3 (OF 4) LIM VAR LEG $ 3.99
DOCTOR STRANGE DAMNATION #3 (OF 4) SMALLWOOD CONNECTING VAR $ 3.99
FURTHER ADV OF NICK WILSON #3 (OF 5) CVR A WOODS (MR) $ 3.99
FUTURE QUEST PRESENTS #8 $ 3.99
FUTURE QUEST PRESENTS #8 VAR ED $ 3.99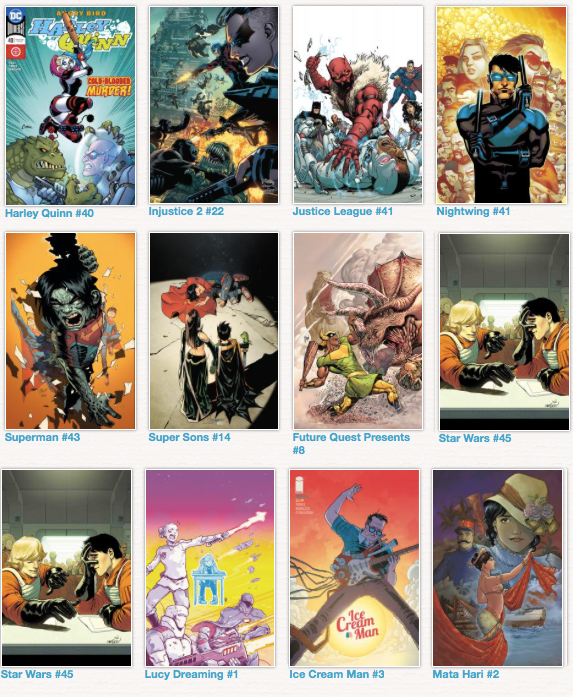 GEARS OF WAR RISE OF RAAM #3 CVR A BROWN $ 3.99
GO GO POWER RANGERS #8 MAIN & MIX SG $ 3.99
GO GO POWER RANGERS #8 UNLOCKABLE MOK VAR SG $ 3.99
GREEN LANTERNS #43 $ 2.99
GREEN LANTERNS #43 VAR ED $ 2.99
HARLEY QUINN #40 $ 2.99
HARLEY QUINN #40 VAR ED $ 2.99
HARROW COUNTY #29 $ 3.99
ICE CREAM MAN #2 2ND PTG (MR) $ 3.99
ICE CREAM MAN #3 CVR A MORAZZO & OHALLORAN (MR) $ 3.99
INCREDIBLE HULK #714 LEG WW $ 3.99
INFINITY 8 #1 $ 3.99
INJUSTICE 2 #22 $ 2.99
IRON FIST #78 LEG $ 3.99
IRON MAN HONG KONG HEROES #1 (OF 1) CROSBY VAR LEG $ 3.99
IRON MAN HONG KONG HEROES #1 (OF 1) GANG HYUK LIM VAR LEG $ 3.99
IRON MAN HONG KONG HEROES #1 (OF 1) LEG $ 3.99
JAMES BOND THE BODY #3 (OF 6) CVR A CASALANGUIDA $ 3.99
JIM HENSON STORYTELLER FAIRIES #4 (OF 4) $ 3.99
JIM HENSON STORYTELLER FAIRIES #4 (OF 4) SUBSCRIPTION MILLED $ 3.99
JUSTICE LEAGUE #41 $ 2.99
JUSTICE LEAGUE #41 VAR ED $ 2.99
KICK-ASS #2 CVR A ROMITA JR (MR) $ 3.99
KICK-ASS #2 CVR B B&W ROMITA JR (MR) $ 3.99
KICK-ASS #2 CVR C FRANCAVILLA (MR) $ 3.99
KILL OR BE KILLED #17 CVR A PHILLIPS (MR) $ 3.99
KILL OR BE KILLED #17 CVR B VIRGIN WRAPAROUND (MR) $ 3.99
LAND TIME FORGOT SEE-TA SAVAGE #1 (OF 2) MAIN CVR $ 3.99
LUCY DREAMING #1 $ 3.99
MATA HARI #2 (MR) $ 3.99
MIGHTY CRUSADERS #4 CVR A SHANNON $ 3.99
MIGHTY THOR #705 ARTGERM VAR LEG $ 3.99
MIGHTY THOR #705 LEG $ 3.99
MIGHTY THOR #705 RIBIC MIGHTY THOR VAR LEG $ 3.99
MONSTERS UNLEASHED #12 LEG $ 3.99
MONSTRESS #15 CVR A TAKEDA (MR) $ 3.99
MONSTRESS #15 CVR B VIRGIN WRAPAROUND (MR) $ 3.99
MOONSHINE #8 CVR A RISSO (MR) $ 3.99
MOONSHINE #8 CVR B ALBUQUERQUE (MR) $ 3.99
MS MARVEL #28 LEG $ 3.99
MUSKETEERS #2 (OF 5) CVR A VITORINO $ 3.99
MY LITTLE PONY FRIENDSHIP IS MAGIC #64 (1/10) $ ???
MY LITTLE PONY FRIENDSHIP IS MAGIC #64 CVR A PRICE $ 3.99
NIGHTWING #41 $ 2.99
NIGHTWING #41 VAR ED $ 2.99
NINJA-K #5 CVR A HAIRSINE $ 3.99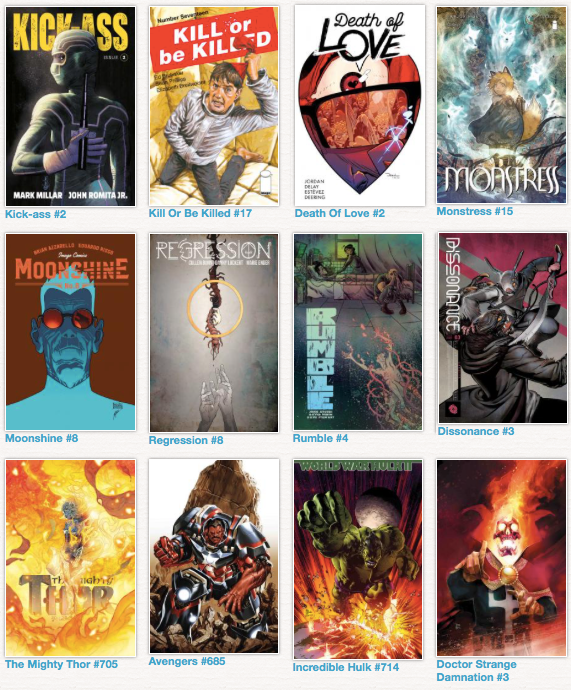 OUTCAST BY KIRKMAN & AZACETA #34 (MR) $ 3.99
PACIFIC RIM AFTERMATH #3 (OF 6) $ 3.99
PUNKS NOT DEAD #2 CVR A SIMMONDS $ 3.99
QUANTUM & WOODY (2017) #4 CVR B ULTRA FOIL SHAW $ 3.99
REGRESSION #8 (MR) $ 3.99
RIVERDALE DIGEST #7 $ 6.99
ROBOTECH #8 CVR A ROY $ 3.99
ROBOTECH #8 CVR B ACTION FIGURE VAR $ 3.99
ROBOTECH #8 CVR C IANNICIELLO $ 3.99
ROBYN HOOD THE CURSE #3 (OF 6) CVR A RIVIERO $ 3.99
RUMBLE #4 CVR A RUBIN (MR) $ 3.99
RUNAWAYS #7 $ 3.99
SAMURAI JACK QUANTUM JACK #5 (OF 5) CVR A OEMING $ 3.99
SOUTHERN CROSS #14 (MR) $ 3.99
SPIDER KING #2 CVR A DARMINI $ 3.99
SPIDER-GWEN #30 LEG $ 3.99
STAR WARS #45 $ 3.99
STAR WARS #45 CHRISTOPHER ACTION FIGURE VAR $ 3.99
STAR WARS POE DAMERON #25 $ 3.99
STEVEN UNIVERSE ONGOING #14 $ 3.99
SUPER SONS #14 $ 3.99
SUPER SONS #14 VAR ED $ 3.99
SUPERMAN #43 $ 2.99
SUPERMAN #43 VAR ED $ 2.99
SWAMP THING WINTER SPECIAL #1 2ND PTG $ 7.99
TALES OF SUSPENSE #103 (OF 5) LEG $ 3.99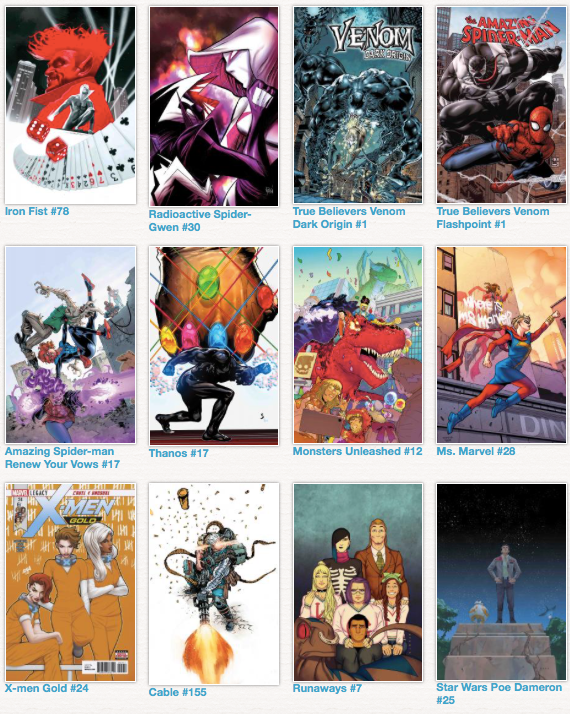 THANOS #17 LEG $ 3.99
THANOS #17 WARD VAR LEG $ 3.99
TMNT UNIVERSE #20 CVR A WILLIAMS II $ 4.99
TRUE BELIEVERS VENOM DARK ORIGIN #1 $ 1
TRUE BELIEVERS VENOM FLASHPOINT #1 $ 1
USAGI YOJIMBO #1 (OF 7) THE HIDDEN $ 3.99
VAMPIRELLA #11 (OF 11) CVR C COSPLAY $ 3.99
VINEGAR TEETH #3 (OF 4) $ 3.99
WEAPON H #1 CHRISTOPHER TRADING CARD VAR LEG $ 4.99
WEAPON H #1 DUARTE VAR LEG (1/25) $ ???
WEAPON H #1 KEOWN HULK HOMAGE VAR LEG $ 4.99
WEAPON H #1 KUBERT WOLVERINE HOMAGE VAR LEG $ 4.99
WEAPON H #1 LEG $ 4.99
WEAPON H #1 SKAN VAR LEG (1/10) $ ???
WITCHBLADE #4 CVR A INGRANATA (MR) $ 3.99
WITCHBLADE #4 CVR B VIRGIN WRAPAROUND (MR) $ 3.99
X-MEN GOLD #24 LEG $ 3.99
YOUNGBLOOD #10 CVR A TOWE $ 3.99
YOUNGBLOOD #10 CVR B LIEFELD $ 3.99
ALIENS DEAD ORBIT TP $ 17.99
AMAZING WORLD GUMBALL ORIGINAL GN VOL 04 SCRIMMAGE SCRAMBLE $ 14.99
ANGRY BIRDS FURIOUS FOWL HC $ 12.99
AQUAMAN THE LEGEND OF AQUAMAN TP $ 19.99
ASTRA LOST IN SPACE GN VOL 02 (C: 1-0-1) $ 9.99
BART SIMPSON BUST UP GN $ 16.99
BATMAN NEW GOTHAM TP VOL 02 $ 24.99
BLACK SCIENCE TP VOL 07 EXTINCTION IS THE RULE (MR) $ 16.99
BLEACH GN VOL 72 (C: 1-0-1) $ 9.99
BORUTO GN VOL 03 NARUTO NEXT GENERATIONS (C: 1-0-1) $ 9.99
COMPLETE CARL BARKS INDEX SC $ 34.95
DISNEY PRINCESS COMICS COLL DREAM BIG PRINCESS ED TP (C: 0-1 $ 19.99
FLASH TP VOL 05 NEGATIVE REBIRTH $ 14.99
GENERATION X TP VOL 02 SURVIVAL OF THE FITTEST $ 19.99
GIANT DAYS TP VOL 07 (C: 0-0-1) $ 14.99
HARROW COUNTY TP VOL 07 DARK TIMES A COMING $ 17.99
HIP HOP FAMILY TREE GN VOL 02 $ 27.99
HIP HOP FAMILY TREE GN VOL 03 $ 27.99
HIP HOP FAMILY TREE GN VOL 04 1984-1985 $ 27.99
HUNTER X HUNTER GN VOL 34 (C: 1-0-1) $ 9.99
IRON FIST TP VOL 02 SABRETOOTH ROUND TWO $ 17.99
JUSTICE LEAGUE TASK FORCE TP VOL 01 PURIFICATION PLAGUE $ 29.99
MARVELS AVENGERS INFINITY WAR PRELUDE TP $ 15.99
MILLENNIUM GIRL WHO KICKED THE HORNETS NEST TP #0 (MR) $ 19.99
MOONSTRUCK TP VOL 01 $ 9.99
ONE PUNCH MAN GN VOL 13 (C: 1-0-1) $ 9.99
PLANETARY TP BOOK 02 $ 24.99
RICK & MORTY POCKET LIKE YOU STOLE IT TP $ 19.99
SKIP BEAT GN VOL 40 (C: 1-0-1) $ 9.99
SPIDER-MEN II TP $ 17.99
STAR WARS LEGENDS EPIC COLLECTION CLONE WARS TP VOL 02 $ 39.99
SUPERMAN ACTION COMICS DLX ED MR OZ HC REBIRTH $ 29.99
WAY OF TANK GIRL HC $ 14.99
WE SPOKE OUT COMIC BOOKS & THE HOLOCAUST HC $ 49.99
WONDER WOMAN FORGOTTEN LEGENDS TP $ 16.99
X-MEN BLUE TP VOL 00 REUNION $ 34.99
X-MEN BLUE TP VOL 03 CROSS TIME CAPERS $ 15.99
BATMAN ANIMATED JOKER EXPRESSIONS PACK 49.99
LYNDA CARTER AS WONDER WOMAN 7IN VINYL FIG 29.99
METALS BATMAN 66 TV CLASSIC BATMOBILE 1/24 VEHICLE & Figure 29.99
POP CUPHEAD CUPHEAD VINYL FIGURE 11.99
POP CUPHEAD LEGENDARY CHALICE VINYL FIGURE 11.99
POP CUPHEAD MUGMAN VINYL FIGURE 11.99
POP LORD OF THE RINGS GOLLUM VINYL FIGURE 11.99
POP RICK & MORTY SENTINENT ARM MORTY VINYL FIGURE 11.99
POP RICK & MORTY WARRIOR SUMMER VINYL FIGURE 11.99
POP ROYAL FAMILY PRINCE HARRY VINYL FIGURE 11.99
POP ROYAL FAMILY PRINCE WILLIAM VINYL FIGURE 11.99
POP SAGA MARCO W/SWORD VINYL FIGURE 11.99
POP SAGA PRINCE ROBOT IV VINYL FIGURE 11.99
POP TEEN TITANS GO NIGHT BEGINS TO SHINE BEAR VIN FIG 11.99
POP TEEN TITANS GO NIGHT BEGINS TO SHINE ROBIN VIN FIG 11.99
POP TOMMY BOY TOMMY VIN FIG 11.99
SAGA HAZEL & IZABEL AF 2-PACK 49.99
STRANGER THINGS 7IN SER2 DUSTIN AF 21.99
STRANGER THINGS 7IN SER2 LUCAS AF 21.99