New Metal, Doomsday Clock on Wednesday, Mar 28,  2018.
Just finished the season of the Detour. Clever, sublimely absurd and riotously funny. And the Americans? Haven't felt like this Breaking Bad's 4th season.
Dark Nights Metal, Doomsday Clock #4, Detective, Daredevil 600, Black Panther, Damnation Jonny Blaze, Star Wars Adventures and Dr Aphra, Wonder Woman, and Care Bears and Avengers Infinity War Pops.
See the complete list below.
As always,  thanks to GoCollect.com for putting out their mostly accurate list of comics and covers every week. If you so desire, Click here to see their whole list. They may have elected to use a variant that we may not carry, or used pre-release art to represent a title, or listed things we don't buy at all. Or they may get a few from next week in there, OR catch up with ones they missed last week – so the covers you see here may not be the ones you see on our shelf this week. Our list is usually late enough that it reflects only what we got,  but not late enough to eliminate sellouts that might have happened by the time you see this. Also, we reserve the right to make mistakes and forget to list things, or forget to delete them when they don't show up like we thought they would.
ABBOTT #3 (OF 5) ZYX 3.99
ADVENTURE TIME BMO BONANZA #1 ZYX 7.99
ALISIK FALL #2 (OF 2) CVR A STAFFORD ZYX 5.99
ALISIK FALL #2 (OF 2) CVR B HARDING ZYX 5.99
AMAZING SPIDER-MAN #794 IMMONEN 3RD PTG VAR LEG (Limited – ask Bob) ZYX 3.99
AMAZING SPIDER-MAN #796 2ND PTG HAWTHORNE VAR LEG (Limited – ask Bob) ZYX 3.99
ANIMOSITY #13 (MR) ZYX 3.99
AVENGERS #686 KEOWN AGENTS OF SHIELD ROAD TO 100 VAR LEG (1/10) ZYX ???
AVENGERS #686 LEG ZYX 3.99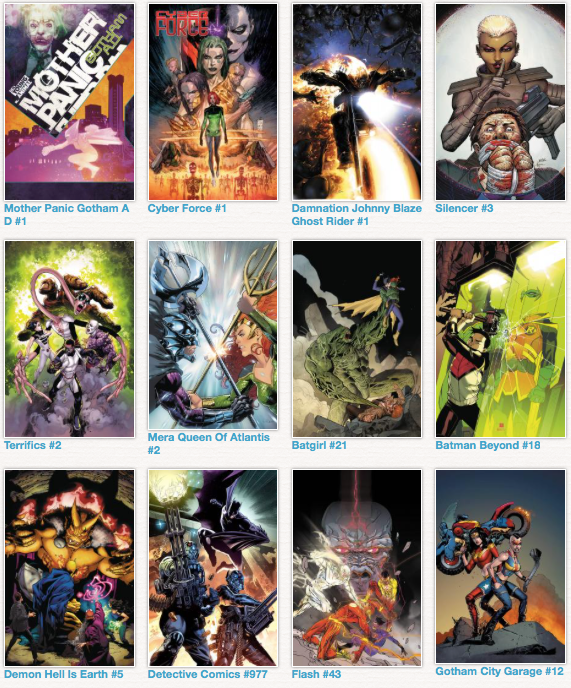 BATGIRL #21 ZYX 3.99
BATGIRL #21 VAR ED ZYX 3.99
BATMAN BEYOND #18 ZYX 3.99
BATMAN BEYOND #18 VAR ED ZYX 3.99
BEEF #2 (OF 5) (MR) ZYX 3.99
BEN REILLY SCARLET SPIDER #16 LEG ZYX 3.99
BLACK MAGICK #11 CVR A SCOTT (MR) ZYX 3.99
BLACK PANTHER #171 BRADSHAW MIGHTY THOR VAR LEG ZYX 3.99
BLACK PANTHER #171 LEG ZYX 3.99
BLACK SABLE #5 (OF 6) CVR A JOHNSON ZYX 3.99
BREATHLESS #1 CVR A (MR) ZYX 3.99
BREATHLESS #1 CVR B (MR) ZYX 3.99
BRUCE LEE WALK OF THE DRAGON ONE SHOT ZYX 3.99
BSG VS BSG #3 (OF 6) CVR A LEBOWITZ ZYX 3.99
BSG VS BSG #3 (OF 6) CVR B DESJARDINS ZYX 3.99
BTVS SEASON 11 GILES #2 MAIN ZYX 3.99
CHAMPIONS #18 LEG ZYX 3.99
CROW MEMENTO MORI #1 CVR A DELLEDERA ZYX 3.99
CROW MEMENTO MORI #1 CVR B FURNO ZYX 3.99
CYBER FORCE #1 CVR A SILVESTRI (MR) ZYX 3.99
DAMNATION JOHNNY BLAZE GHOST RIDER #1 AGENTS OF SHIELD ROAD (1/10) ZYX ???
DAMNATION JOHNNY BLAZE GHOST RIDER #1 LEG ZYX 3.99
DAREDEVIL #600 AGENTS OF SHIELD ROAD TO 100 VAR LEG (1/10) ZYX ???
DAREDEVIL #600 AJA VAR LEG (1/25) ZYX ???
DAREDEVIL #600 BLANK VAR LEG ZYX 5.99
DAREDEVIL #600 CHRISTOPHER TRADING CARD VAR LEG ZYX 5.99
DAREDEVIL #600 LEG ZYX 5.99
DAREDEVIL #600 YU MIGHTY THOR VAR LEG ZYX 5.99
DARK NIGHTS METAL #6 (OF 6) ZYX 4.99
DARK NIGHTS METAL #6 (OF 6) DANIEL VAR ED ZYX 4.99
DARK NIGHTS METAL #6 (OF 6) KUBERT VAR ED ZYX 4.99
DARK NIGHTS METAL #6 (OF 6) LEE VAR ED ZYX 4.99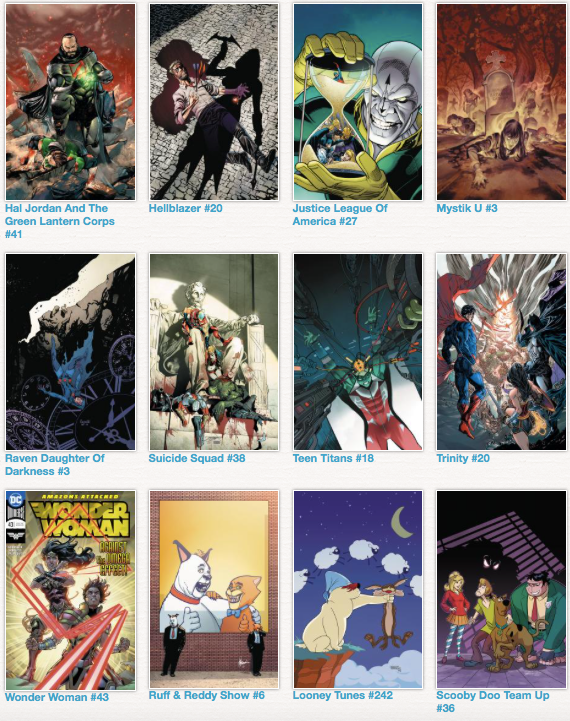 DAYS OF HATE #3 (OF 12) (MR) ZYX 3.99
DEMON HELL IS EARTH #5 (OF 6) ZYX 2.99
DESPICABLE DEADPOOL #297 LEG ZYX 3.99
DETECTIVE COMICS #977 ZYX 2.99
DETECTIVE COMICS #977 VAR ED ZYX 2.99
DOOMSDAY CLOCK #4 (OF 12) ZYX 4.99
DOOMSDAY CLOCK #4 (OF 12) VAR ED ZYX 4.99
FACTORY #1 CVR A BISLEY (MR) ZYX 4.99
FLASH #43 ZYX 2.99
FLASH #43 VAR ED ZYX 2.99
GALAKTIKON #6 (OF 6) ZYX 3.99
GAME OF THRONES CLASH OF KINGS #9 CVR A MILLER (MR) ZYX 3.99
GI JOE VS SIX MILLION DOLLAR MAN #2 CVR A SAYGER ZYX 3.99
GOTHAM CITY GARAGE #12 ZYX 2.99
HAL JORDAN AND THE GREEN LANTERN CORPS #41 ZYX 2.99
HAL JORDAN AND THE GREEN LANTERN CORPS #41 VAR ED ZYX 2.99
HELLBLAZER #20 ZYX 3.99
HELLBLAZER #20 VAR ED ZYX 3.99
HIGHEST HOUSE #2 ZYX 4.99
HIT-GIRL #2 CVR A REEDER (MR) ZYX 3.99
HIT-GIRL #2 CVR B B&W REEDER (MR) ZYX 3.99
HIT-GIRL #2 CVR C NGUYEN (MR) ZYX 3.99
HUNGRY GHOSTS #3 (OF 4) (MR) ZYX 3.99
IMAGINARY FIENDS #5 (OF 6) (MR) ZYX 3.99
INVINCIBLE IRON MAN #598 KEOWN MIGHTY THOR VAR LEG WW ZYX 3.99
INVINCIBLE IRON MAN #598 LEG WW ZYX 3.99
JESSICA JONES #18 LEG ZYX 3.99
JIM HENSON LABYRINTH CORONATION #2 (OF 12) ZYX 3.99
JIM HENSON LABYRINTH CORONATION #2 (OF 12) SUBSCRIPTION ISAA ZYX 3.99
JIMMYS BASTARDS #7 (MR) ZYX 3.99
JUSTICE LEAGUE OF AMERICA #27 ZYX 2.99
JUSTICE LEAGUE OF AMERICA #27 VAR ED ZYX 2.99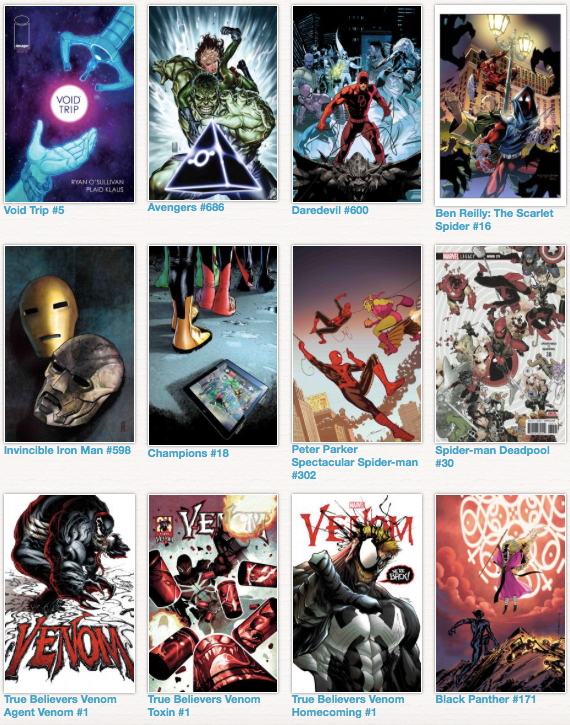 KID LOBOTOMY #6 CVR A ROBLES (MR) ZYX 3.99
KISS AOD #2 (OF 5) CVR A STRAHM ZYX 3.99
LEGION #3 (OF 5) LEG ZYX 3.99
LOCKJAW #2 (OF 4) LEG ZYX 3.99
LOONEY TUNES #242 ZYX 2.99
LUCAS STAND INNER DEMONS #2 (OF 4) (MR) ZYX 3.99
LUMBERJANES #48 ZYX 3.99
MANIFEST DESTINY #34 (MR) ZYX 3.99
MERA QUEEN OF ATLANTIS #2 (OF 6) ZYX 3.99
MIGHTY MORPHIN POWER RANGERS #25 25 COPY KOBLISH VARIANT ZYX ???
MIGHTY MORPHIN POWER RANGERS #25 ONE PER STORE VAR SG ZYX ???
MIGHTY MORPHIN POWER RANGERS #25 POLYBAG MIX SG ZYX 4.99
MIGHTY MORPHIN POWER RANGERS #25 SUBSCRIPTION GIBSON VAR SG ZYX 4.99
MIGHTY MORPHIN POWER RANGERS #25 UNLOCKABLE MATCH TO VAR SG ZYX 1
MOON GIRL AND DEVIL DINOSAUR #29 LEG ZYX 3.99
MOON KNIGHT #193 LEG ZYX 3.99
MOTHER PANIC GOTHAM A D #1 (MR) ZYX 3.99
MOTHER PANIC GOTHAM A D #1 VAR ED (MR) ZYX 3.99
MOTHERLANDS #3 (OF 6) (MR) ZYX 3.99
MOTHERLANDS #3 (OF 6) VAR ED (MR) ZYX 3.99
PREVIEWS #355 APRIL 2018 (NET) ZYX 3.99
IMAGE PLUS #8 (WYTCHES THE BAD EGG PT 8 ZYX 1.99
MARVEL PREVIEWS VOL 04 #9 APRIL 2018 ZYX ???
MY LITTLE PONY LEGENDS OF MAGIC #12 Variant ZYX ???
MY LITTLE PONY LEGENDS OF MAGIC #12 CVR A FLEECS ZYX 3.99
MYSTIK U #3 (OF 3) ZYX 5.99
OLD MAN HAWKEYE #3 (OF 12) LEG ZYX 3.99
OLD MAN LOGAN #37 LEG ZYX 3.99
PEEK A BOO #1 (OF 5) CVR A RIVERIRO ZYX 3.99
PETER PARKER SPECTACULAR SPIDER-MAN #302 LEG ZYX 3.99
PLANET OF THE APES URSUS #3 MAIN & MIX ZYX 3.99
RAVEN DAUGHTER OF DARKNESS #3 (OF 12) ZYX 3.99
REDNECK #11 (MR) ZYX 3.99
RICK & MORTY #36 CVR A ZYX 3.99
RICK & MORTY #36 CVR B ZYX 3.99
ROUGH RIDERS RIDE OR DIE #2 (MR) ZYX 3.99
RUFF & REDDY SHOW #6 (OF 6) ZYX 3.99
RUFF & REDDY SHOW #6 (OF 6) VAR ED ZYX 3.99
RUGRATS #6 ZYX 3.99
SAGA #50 CVR A STAPLES (MR) ZYX 2.99
SAGA #50 CVR B VIRGIN CVR (MR) ZYX 2.99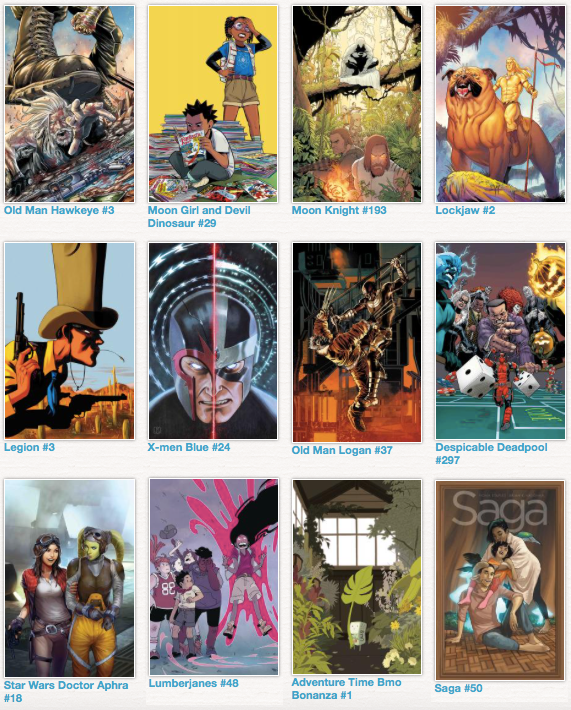 SCOOBY DOO TEAM UP #36 ZYX 2.99
SHADOWMAN (2018) #1 CVR A ZONJIC ZYX 3.99
SHADOWMAN (2018) #1 CVR B GUEDES ZYX 3.99
SHEENA #7 CVR A SANAPO ZYX 3.99
SHEENA #7 CVR D COSPLAY ZYX 3.99
SILENCER #3 ZYX 2.99
SPIDER-MAN DEADPOOL #30 LEG ZYX 3.99
STAR WARS ADVENTURES #8 Variant ZYX ???
STAR WARS ADVENTURES #8 CVR A GALLOWAY ZYX 3.99
STAR WARS ADVENTURES #8 CVR B SOMMARIVA ZYX 3.99
STAR WARS DOCTOR APHRA #18 ZYX 3.99
STAR WARS DOCTOR APHRA #18 REIS GALACTIC ICON VAR ZYX 3.99
SUICIDE SQUAD #38 ZYX 2.99
SUICIDE SQUAD #38 VAR ED ZYX 2.99
TEEN TITANS #18 ZYX 3.99
TEEN TITANS #18 VAR ED ZYX 3.99
TERRIFICS #2 ZYX 2.99
TMNT ONGOING #80 CVR A COUCEIRO ZYX 3.99
TMNT ONGOING #80 CVR B EASTMAN ZYX 3.99
TRANSFORMERS VS VISIONARIES #4 (OF 5) CVR A OSSIO ZYX 3.99
TRINITY #20 ZYX 3.99
TRINITY #20 VAR ED ZYX 3.99
TRUE BELIEVERS VENOM AGENT VENOM #1 ZYX 1
TRUE BELIEVERS VENOM HOMECOMING #1 ZYX 1
TRUE BELIEVERS VENOM TOXIN #1 ZYX 1
VOID TRIP #5 (OF 5) (MR) ZYX 3.99
WONDER WOMAN #43 ZYX 2.99
WONDER WOMAN #43 VAR ED ZYX 2.99
X-MEN BLUE #24 LEG ZYX 3.99
X-O MANOWAR (2017) #13 CVR A LAROSA ZYX 3.99
X-O MANOWAR (2017) #13 CVR B CAMUNCOLI ZYX 3.99
ANNIHILATION TP VOL 01 COMPLETE COLLECTION ZYX 34.99
BATGIRL TP VOL 03 SUMMER OF LIES REBIRTH ZYX 16.99
BATMAN 66 MEETS WONDER WOMAN 77 TP ZYX 16.99
BATMAN GOTHIC TP NEW EDITION ZYX 16.99
BATMAN NOIR THE DARK KNIGHT STRIKES AGAIN HC ZYX 39.99
BATMAN TALES OF THE MAN BAT TP ZYX 19.99
CAPTAIN MARVEL CAROL DANVERS TP VOL 01 MS MARVEL YEARS ZYX 34.99
COPPERHEAD TP VOL 04 ZYX 16.99
DC COMICS BOMBSHELLS TP VOL 06 WAR STORIES ZYX 16.99
DC SUPER HERO GIRLS BOXED SET ZYX 34.99
GREEN LANTERN THE SILVER AGE OMNIBUS HC VOL 02 ZYX 125
GREEN LANTERNS TP VOL 05 OUT OF TIME REBIRTH ZYX 16.99
HAWK AND DOVE THE SILVER AGE TP ZYX 24.99
INVINCIBLE TP VOL 25 END OF ALL THINGS PART 2 (MR) ZYX 16.99
LUMBERJANES BONUS TRACKS TP ZYX 14.99
MIGHTY THOR TP VOL 03 ASGARD SHIAR WAR ZYX 19.99
MR WORMWOOD GOES TO WASHINGTON HC ZYX 19.99
NEW MUTANTS TP DEMON BEAR ZYX 19.99
REALM SPEC ED HC VOL 01 (MR) ZYX 39.99
REALM TP VOL 01 (MR) ZYX 9.99
RETCON TP VOL 01 REVERSE ENGINEERED (MR) ZYX 9.99
RIN-NE GN VOL 26 ZYX 9.99
ROSS ANDRU AMAZING SPIDER-MAN ARTIST ED HC ZYX 125
STAR WARS ADVENTURES FORCES OF DESTINY TP ZYX 12.99
STEVEN UNIVERSE ONGOING TP VOL 02 PUNCHING UP ZYX 14.99
THOR VS HULK TP CHAMPIONS OF UNIVERSE ZYX $
WALT DISNEY DONALD DUCK HC VOL 11 LOST PEG LEG MINE ZYX 29.99
WOLVERINE EPIC COLLECTION TP BLOOD DEBT ZYX 39.99
X-MEN GOLD TP VOL 00 HOMECOMING ZYX 34.99
X-MEN GOLD TP VOL 04 NEGATIVE WAR ZONE ZYX 15.99
AVENGERS LEGENDS 6IN ULTIMATE AF ZYX 49.99
POP DC BOMBSHELLS PEN TOPPERS ZYX 4.99
POP DELUXE STAR WARS AT-ST W/CHEWBACCA VINYL FIG ZYX 29.99
POP LORD OF THE RINGS ARAGORN VINYL FIGURE ZYX 11.99
POP LORD OF THE RINGS LURTZ VINYL FIGURE ZYX 11.99
POP LORD OF THE RINGS MERRY BRANDYBUCK VINYL FIGURE (C: 1-1- ZYX 11.99
POP SAGA ALANA W/GUN VINYL FIGURE ZYX 11.99
TOKIDOKI MERMICORNOS SERIES 2 16PC BMB DS ZYX 8.99
TOKIDOKI UNICORNO SERIES 5 24PC BMB DS ZYX 8.99