Action Comics 80th Anniversary HC, Domino #1,  and Cap #700 on Wednesday, Apr 11,  2018
I've been hyping Action #1000 for weeks, and next week is the week Meanwhile, THIS week gives us the $35 HC Action Comics-80 years of Superman. Great reprints and essays about the impact the Man of Steel has had for 8 decades! We were also graced with the re-booted Mad #1, Captain America #700, Domino #1, Venomized #2, Star Wars Darth Vader #14 and Thrawn #3.
FREE COMIC BOOK DAY is Saturday, May 5th!
See the complete list below.
As always,  thanks to GoCollect.com for putting out their mostly accurate list of comics and covers every week. If you so desire, Click here to see their whole list. They may have elected to use a variant that we may not carry, or used pre-release art to represent a title, or listed things we don't buy at all. Or they may get a few from next week in there, OR catch up with ones they missed last week – so the covers you see here may not be the ones you see on our shelf this week. Our list is usually late enough that it reflects only what we got,  but not late enough to eliminate sellouts that might have happened by the time you see this. Also, we reserve the right to make mistakes and forget to list things, or forget to delete them when they don't show up like we thought they would.
ADVENTURE TIME COMICS #22 $ 3.99
AMERICAN GODS MY AINSEL #2 MAIN CVR $ 3.99
AMERICAN GODS MY AINSEL #2 VAR DAVID MACK CVR  $ 3.99
ANIMOSITY EVOLUTION #5 (MR) $ 3.99
ARCHIE AND ME COMICS DIGEST #6 $ 6.99
AVENGERS #688 LEG $ 3.99
AVENGERS #688 SPROUSE END OF AN ERA VAR LEG $ 3.99
BACK TO THE FUTURE TIME TRAIN #4 CVR A LEVENS $ 3.99
BARBARELLA #5 CVR A WOODS (MR) $ 3.99
BARBARELLA #5 CVR C KALUTA (MR) $ 3.99
BARBARELLA #5 CVR D SANAPO (MR) $ 3.99
BARBARELLA #5 CVR E YARAR EXC SUBSCRIPTION VAR (MR) $ 3.99
BATGIRL AND THE BIRDS OF PREY #21 $ 3.99
BATGIRL AND THE BIRDS OF PREY #21 VAR ED $ 3.99
BEAUTY #21 CVR A HAUN & FILARDI (MR) $ 3.99
BEAUTY #21 CVR B MCCAIG (MR) $ 3.99
BEN REILLY SCARLET SPIDER #17 LEG $ 3.99
BETTY & VERONICA JUMBO COMICS DIGEST #262 $ 6.99
BLOODSHOT SALVATION #8 CVR A ROCAFORT $ 3.99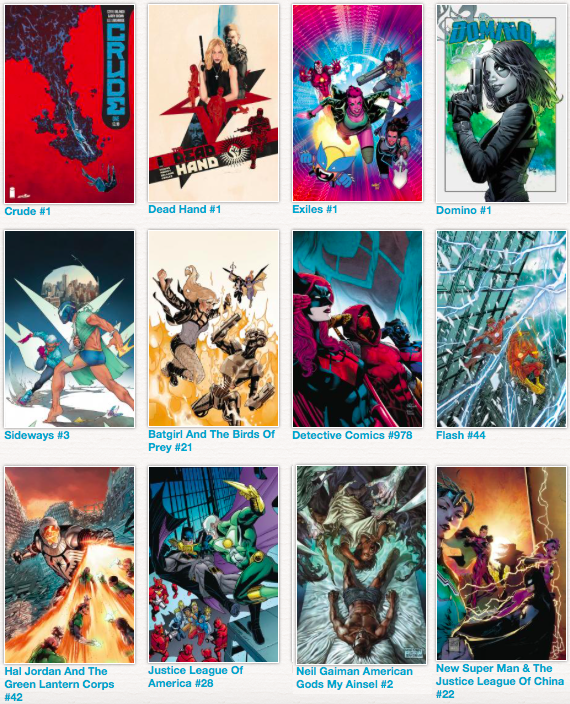 CAPTAIN AMERICA #700 BAGLEY VENOM 30TH VAR LEG $ 5.99
CAPTAIN AMERICA #700 BLANK VAR LEG $ 5.99
CAPTAIN AMERICA #700 CASSADAY VAR LEG (1/25) $ ???
CAPTAIN AMERICA #700 LEG $ 5.99
CAPTAIN AMERICA #700 STERANKO B&W VAR LEG $ 5.99
CAPTAIN AMERICA #700 2018 Retailer Summit SAMNEE VAR LEG  $ ???
CHAMPIONS #19 LEG $ 3.99
CRUDE #1 (MR) $ 3.99
DEAD HAND #1 (MR) $ 3.99
DEADLY CLASS #33 CVR A CRAIG (MR) $ 3.99
DEADLY CLASS #33 CVR B STOKELY (MR) $ 3.99
DESPICABLE DEADPOOL #298 LEG $ 3.99
DETECTIVE COMICS #978 $ 2.99
DETECTIVE COMICS #978 VAR ED $ 2.99
DOCTOR STRANGE #388 LEG $ 3.99
DOCTOR STRANGE #388 STEVENS VENOM 30TH VAR LEG $ 3.99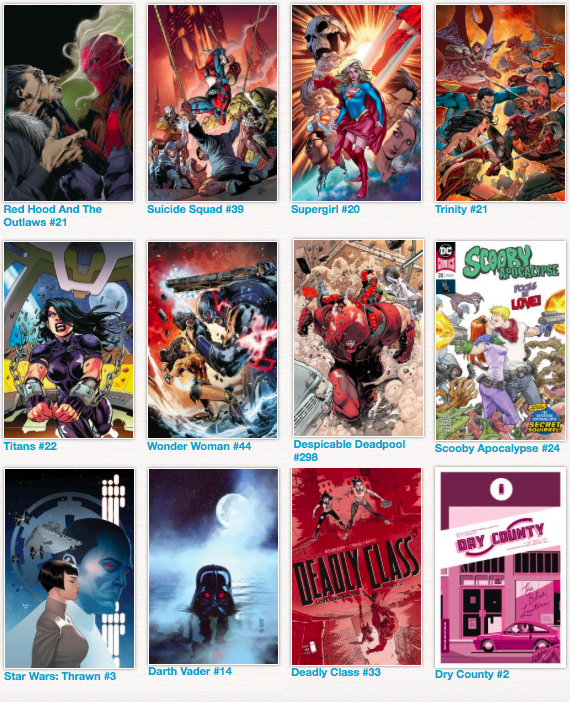 DOMINO #1 $ 3.99
DOMINO #1 BALDEON VAR (1/25) $ ???
DOMINO #1 CHARRETIER VAR $ 3.99
DOMINO #1 CHRISTOPHER ACTION FIGURE VAR $ 3.99
DOMINO #1 LIEFELD VAR (1/25) $ ???
DOMINO #1 2018 Retailer Summit LAND VAR $ ???
DRY COUNTY #2 (MR) $ 3.99
DUCKTALES #8 CVR A GHIGLIONE $ 3.99
ETERNAL EMPIRE #8 $ 3.99
ETERNITY GIRL #2 (OF 6) (MR) (Maybe next week?) $ 3.99
EXILES #1 $ 3.99
EXILES #1 RODRIGUEZ DESIGN VAR (1/10) $ ???
EXILES #1 RODRIGUEZ VAR (1/10) $ ???
FALCON #7 LEG $ 3.99
FLASH #44 $ 2.99
FLASH #44 VAR ED $ 2.99
GEARS OF WAR RISE OF RAAM #4 CVR A BROWN $ 3.99
GIRL WHO HANDCUFFED HOUDINI #4 (OF 4) CVR B V $ 3.99
GHOST MONEY #9 (OF 10) (MR) $ 3.99
GIDEON FALLS #2 CVR A SORRENTINO (MR) $ 3.99
GIDEON FALLS #2 CVR B CHIANG (MR) $ 3.99
HAL JORDAN AND THE GREEN LANTERN CORPS #42 $ 2.99
HAL JORDAN AND THE GREEN LANTERN CORPS #42 VAR ED $ 2.99
IMMORTAL MEN #1 (RES) $ 2.99
JUSTICE LEAGUE OF AMERICA #28 $ 2.99
JUSTICE LEAGUE OF AMERICA #28 VAR ED $ 2.99
LEGENDERRY RED SONJA #3 (OF 5) CVR A BENITEZ $ 3.99
NEW SUPER MAN & THE JUSTICE LEAGUE OF CHINA #22 $ 3.99
NEW SUPER MAN & THE JUSTICE LEAGUE OF CHINA #22 VAR ED $ 3.99
NINJA-K #6 (NEW ARC) CVR A ZONJIC $ 3.99
NO 1 WITH A BULLET #6 (OF 6) $ 3.99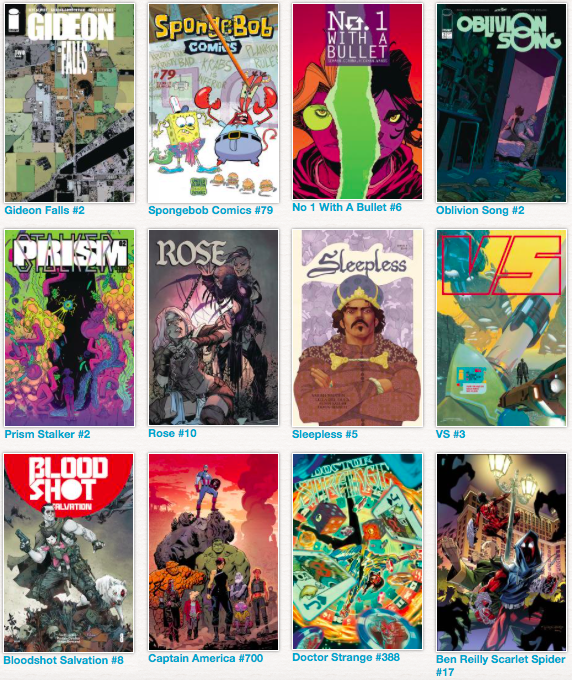 OBLIVION SONG BY KIRKMAN & DE FELICI #2 $ 3.99
OCTOBER FACTION SUPERNATURAL DREAMS #2 CVR A WORM $ 3.99
OLD MAN LOGAN #38 LEG $ 3.99
OLD MAN LOGAN #38 SMALLWOOD VENOM 30TH VAR LEG $ 3.99
PLANET OF THE APES URSUS #4 MAIN & MIX $ 3.99
PRISM STALKER #2 $ 3.99
RED HOOD AND THE OUTLAWS #21 $ 3.99
RED HOOD AND THE OUTLAWS #21 VAR ED $ 3.99
RESIDENT ALIEN #1 (OF 4) ALIEN IN NEW YORK $ 3.99
RICK & MORTY PRESENTS THE VINDICATORS #1 (2ND PTG) $ 4.99
ROBOCOP CITIZENS ARREST #1 $ 3.99
ROSE #10 CVR A GUARA $ 3.99
SCOOBY APOCALYPSE #24 $ 3.99
SCOOBY APOCALYPSE #24 VAR ED $ 3.99
SIDEWAYS #3 $ 2.99
SLEEPLESS #5 CVR A DEL DUCA & SALLAH $ 3.99
SLEEPLESS #5 CVR B REEDER $ 3.99
SONIC THE HEDGEHOG #2 VAR (1/10) $ ???
SONIC THE HEDGEHOG #2 CVR A HESSE $ 3.99
SONIC THE HEDGEHOG #2 CVR B THOMAS $ 3.99
SPIDER-MAN DEADPOOL #31 LEG $ 3.99
SPONGEBOB COMICS #79 $ 3.99
STAR TREK NEW VISIONS ENEMY OF MY ENEMY $ 7.99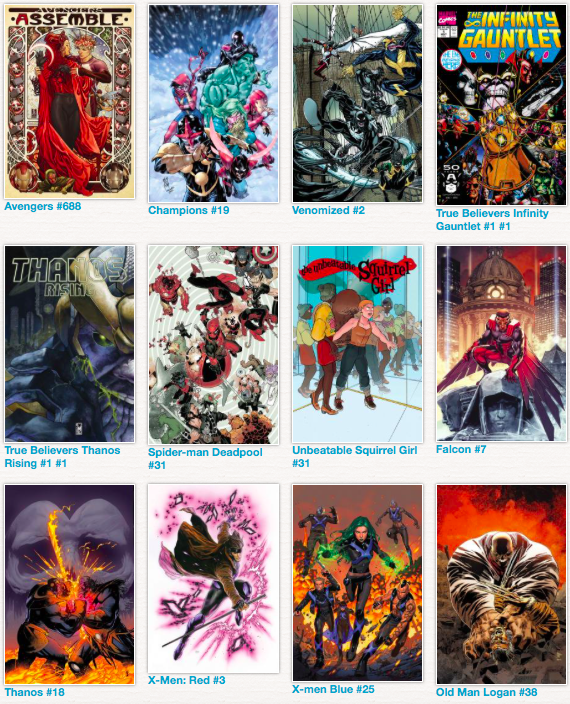 STAR WARS DARTH VADER #14 $ 3.99
STAR WARS DARTH VADER #14 REIS GALACTIC ICON VAR $ 3.99
STAR WARS THRAWN #3 (OF 6) $ 3.99
STAR WARS THRAWN #3 (OF 6) RAHZZAH VAR (1/25) $ ???
SUICIDE SQUAD #39 $ 2.99
SUICIDE SQUAD #39 VAR ED $ 2.99
SUPERGIRL #20 $ 3.99
SUPERGIRL #20 VAR ED $ 3.99
SWORD OF AGES #3 CVR A RODRIGUEZ $ 3.99
THANOS #18 LEG $ 3.99
THANOS #18 PERKINS VENOM 30TH VAR LEG $ 3.99
TITANS #22 $ 3.99
TITANS #22 VAR ED $ 3.99
TMNT ONGOING #81 CVR A WACHTER $ 3.99
TOMB RAIDER SURVIVORS CRUSADE #4 (OF 4) $ 3.99
TRINITY #21 $ 3.99
TRINITY #21 VAR ED $ 3.99
TRUE BELIEVERS INFINITY GAUNTLET #1 $ 1
TRUE BELIEVERS THANOS RISING #1 $ 1
UNBEATABLE SQUIRREL GIRL #31 LEG $ 3.99
VENOMIZED #2 (OF 5) $ 3.99
VENOMIZED #2 (OF 5) BAGLEY CONNECTING VAR $ 3.99
VENOMIZED #2 (OF 5) BAGLEY VAR (1/25) $ ???
VS #3 CVR A RIBIC (MR) $ 3.99
VS #3 CVR B RIBIC & MULLER (MR) $ 3.99
VS #3 CVR C VIRGIN CVR (MR) $ 3.99
WONDER WOMAN #44 $ 2.99
WONDER WOMAN #44 VAR ED $ 2.99
X-MEN BLUE #25 FRANCAVILLA VENOM 30TH VAR LEG $ 4.99
X-MEN BLUE #25 LEG $ 4.99
X-MEN RED #3 CHAREST HEADSHOT VAR LEG (1/10) $ ???
X-MEN RED #3 LEG $ 3.99
MAD MAGAZINE #1 $ 5.99
NON SPORT UPDATE VOL 29 #2 $ 5.99
ACTION COMICS 80 YEARS OF SUPERMAN HC $ 29.99
ADVENTURE TIME TP VOL 14 $ 14.99
AFTERSHOCK SHOCK HC $ 34.99
ALGERIA IS BEAUTIFUL LIKE AMERICA HC $ 24.99
ALIENS PREDATOR PROMETHEUS FIRE AND STONE TP $ 24.99
AMERICA TP VOL 02 FAST AND FUERTONA $ 17.99
ATTACK ON TITAN GN VOL 24 (MR) $ 10.99
AVENGERS EPIC COLLECTION TP AVENGERS DEFENDERS WAR $ 39.99
AVENGERS VS THANOS DIGEST TP $ 9.99
BPRD DEVIL YOU KNOW TP VOL 01 $ 19.99
CABLE TP VOL 02 NEWER MUTANTS $ 15.99
CASE CLOSED GN VOL 66 $ 9.99
CLOVER HONEY SPEC ED TP (MR) $ 12.99
DC UNIVERSE BY BRIAN K VAUGHAN TP $ 19.99
DEADPOOL VS OLD MAN LOGAN TP $ 15.99
DUCKTALES MYSTERIES & MALLARDS TP $ 9.99
FAMILY TRADE TP VOL 01 $ 16.99
HAWKMAN BY GEOFF JOHNS TP BOOK 02 $ 29.99
JAMES BOND CASINO ROYALE HC $ 24.99
JAMES BOND KILL CHAIN HC $ 24.99
JEAN GREY TP VOL 02 FINAL FIGHT $ 15.99
JUSTICE LEAGUE REBIRTH DLX COLL HC BOOK 02 $ 34.99
LAZARUS X PLUS 66 TP (MR) $ 16.99
MAGI GN VOL 29 $ 9.99
MOEBIUS LIBRARY ART OF EDENA HC $ 34.99
PETER PARKER SPECTACULAR SPIDER-MAN TP VOL 02 MOST WANTED $ 17.99
POKEMON SEEK & FIND HC LEGENDARY POKEMON $ 9.99
PRINCESS JELLYFISH GN VOL 08 $ 19.99
ROBOTECH ARCHIVE OMNIBUS VOL 01 (OF 3) $ 24.99
SPIDER-MAN DEADPOOL TP VOL 05 ARMS RACE $ 17.99
STAR TREK LIGHT & SOUND BORG CUBE KIT $ 12.95
SUICIDE SQUAD TP VOL 05 KILL YOUR DARLINGS REBIRTH $ 14.99
SUPERMAN EXILE AND OTHER STORIES OMNIBUS HC $ 125
SUPERMAN TP VOL 05 HOPES AND FEARS REBIRTH $ 16.99
UNBELIEVABLE GWENPOOL TP VOL 05 LOST IN THE PLOT $ 15.99
WONDER WOMAN BY GEORGE PEREZ TP VOL 03 $ 29.99
LOZ KEYCHAIN BACK PACK BUDDIES 24PC BMB DS SER 2 $ 7.99
POP STRANGER THINGS DART DEMOGORGON VINYL FIGURE $ 11.99
POP STRANGER THINGS WILL GHOSTBUSTERS VINYL FIGURE $ 11.99
SPIDER-MAN LEGENDS 6IN AF $ 24.99
AVENGERS LEGENDS 6IN AF $ 122
TMP NBA SERIES 32 STEPHEN CURRY AF $ 19.99