Wednesday, Apr 25,  2018 – Ten Days to Free Comic Book Day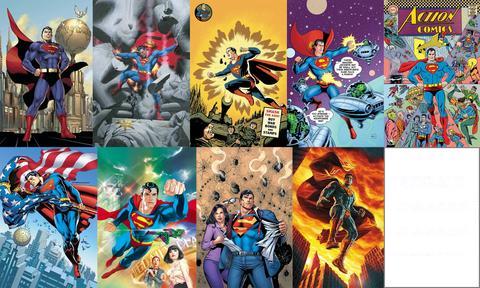 Action #1000 came here last week, and we still have plenty of all 10 covers shown above.
THIS WEEK, we have Avengers, Batgirl,  Batman the Signal and Beyond, Detective, Doctor Strange and Damnation, Hal Jordan, JLA, Peter Parker, Rick and Morty, Venom and -ized, Wonder Woman and the Hunt for Wolverine, plus a lot more, and 10 new Star Wars Funko Pops from the upcoming movie "Solo".
Watch this space for more info about our FREE COMIC BOOK DAY on Saturday, May 5th! In a day or 2, I'll make another Non-Wednesday Post with a list of most of what we will have available, and a run-down on other great deals and surprises waiting for you. The best way to get updates is to sign up for emails or Like our Facebook page.
See the complete list from today below.
As always,  thanks to GoCollect.com for putting out their mostly accurate list of comics and covers every week. If you so desire, Click here to see their whole list. They may have elected to use a variant that we may not carry, or used pre-release art to represent a title, or listed things we don't buy at all. Or they may get a few from next week in there, OR catch up with ones they missed last week – so the covers you see here may not be the ones you see on our shelf this week. Our list is usually late enough that it reflects only what we got,  but not late enough to eliminate sellouts that might have happened by the time you see this. Also, we reserve the right to make mistakes and forget to list things, or forget to delete them when they don't show up like we thought they would.
ABBOTT #4 (OF 5) $ 3.99
ADVENTURE TIME #75 MAIN WRAPAROUND CVR $ 4.99
ALIENS DUST TO DUST #1 (OF 4) MAIN CVR (MR) $ 3.99
ALIENS DUST TO DUST #1 (OF 4) VAR D ANDA CVR (MR) $ 3.99
ALL NEW WOLVERINE #34 LEG $ 3.99
AMAZING SPIDER-MAN #794 4TH PTG IMMONEN VAR LEG $ 3.99
AMAZING SPIDER-MAN #798 2ND PTG IMMONEN VAR LEG $ 3.99
ARCHIE #30 CVR A MOK $ 3.99
ARCHIE JUMBO COMICS DIGEST #288 $ 6.99
AVENGERS #690 INHYUK LEE VAR LEG $ 3.99
AVENGERS #690 LEG $ 3.99
AVENGERS #690 SPROUSE END OF AN ERA VAR LEG $ 3.99
BABYTEETH #10 (MR) $ 3.99
BATGIRL #22 $ 3.99
BATGIRL #22 VAR ED $ 3.99
BATMAN AND THE SIGNAL #3 (OF 3) $ 3.99
BATMAN BEYOND #19 $ 3.99
BATMAN BEYOND #19 VAR ED $ 3.99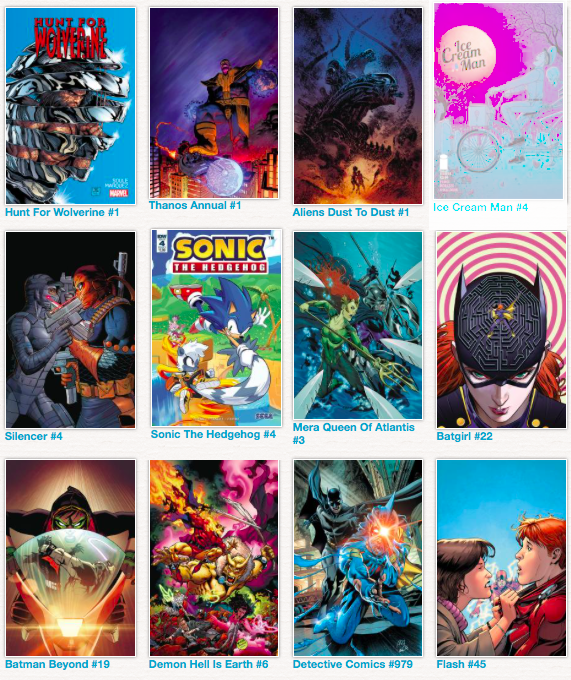 BEEF #3 (OF 5) (MR) $ 3.99
BIG TROUBLE IN LITTLE CHINA OLD MAN JACK #8 $ 3.99
BSG VS BSG #4 (OF 6) CVR A LEBOWITZ $ 3.99
BTVS SEASON 11 GILES #3 MAIN CVR $ 3.99
CYBER FORCE #2 (MR) $ 3.99
DAYS OF HATE #4 (OF 12) (MR) $ 3.99
DEMON HELL IS EARTH #6 (OF 6) $ 2.99
DESPICABLE DEADPOOL #299 LEG $ 3.99
DETECTIVE COMICS #979 $ 2.99
DETECTIVE COMICS #979 VAR ED $ 2.99
DOCTOR STRANGE #389 LEG $ 3.99
DOCTOR STRANGE DAMNATION #4 (OF 4) LEG $ 4.99
DOCTOR STRANGE DAMNATION #4 (OF 4) LIM VAR LEG $ 4.99
DOCTOR STRANGE DAMNATION #4 (OF 4) SMALLWOOD CONNECTING VAR $ 4.99
DOCTOR STRANGE DAMNATION #4 (OF 4) TARNATION VAR LEG $ 4.99
DOLLFACE #14 CVR A MENDOZA (MR) $ 4.99
DOLLFACE #14 CVR C GRANSAULL PIN UP (MR) $ 4.99
DOLLFACE #14 CVR E MENDOZA REAL GIRL (MR) $ 4.99
DOOM PATROL #11 (MR) $ 3.99
DOOM PATROL #11 VAR ED (MR) $ 3.99
DUNGEONS & DRAGONS EVIL AT BALDURS GATE #1 CVR A DUNBAR $ 3.99
DUNGEONS & DRAGONS EVIL AT BALDURS GATE #1 CVR B KOTZ $ 3.99
EXILES #2 $ 3.99
EXILES #2 RODRIGUEZ VAR (1/10) $ 3.99
FLASH #45 $ 2.99
FLASH #45 VAR ED $ 2.99
GASOLINA #7 (MR) $ 3.99
GRASS KINGS #14 MAIN & MIX $ 3.99
HAL JORDAN AND THE GREEN LANTERN CORPS #43 $ 2.99
HAL JORDAN AND THE GREEN LANTERN CORPS #43 VAR ED $ 2.99
HARROW COUNTY #30 $ 3.99
HELLBLAZER #21 $ 3.99
HELLBLAZER #21 VAR ED $ 3.99
HIT-GIRL #3 CVR A REEDER (MR) $ 3.99
HIT-GIRL #3 CVR B B&W REEDER (MR) $ 3.99
HIT-GIRL #3 CVR C HAMNER (MR) $ 3.99
HUNT FOR WOLVERINE #1 $ 5.99
HUNT FOR WOLVERINE #1 BLANK VAR $ 5.99
HUNT FOR WOLVERINE #1 CHECCHETTO YOUNG GUNS VAR $ 5.99
HUNT FOR WOLVERINE #1 KUBERT TEASER VAR $ 5.99
HUNT FOR WOLVERINE #1 TORQUE VAR (1/25) $ 5.99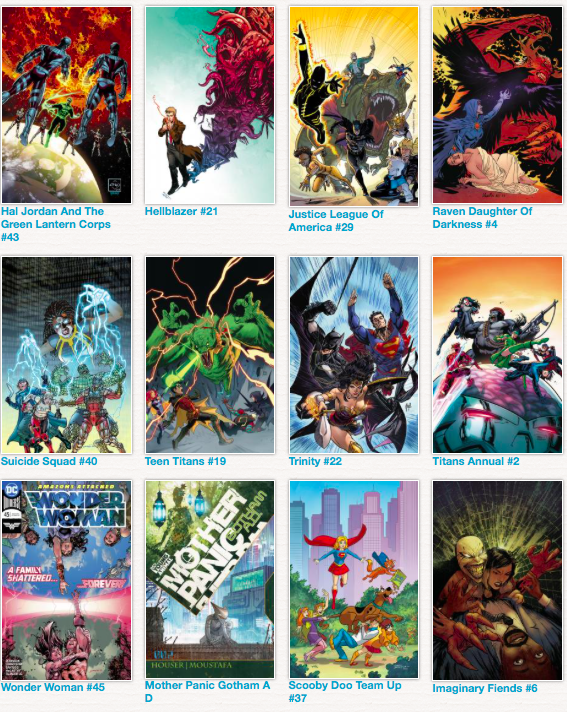 ICE CREAM MAN #4 CVR A MORAZZO & OHALLORAN (MR) $ 3.99
ICE CREAM MAN #4 CVR B SCURFIELD (MR) $ 3.99
ICE CREAM MAN #4 CVR C VIRGIN CVR (MR) $ 3.99
IMAGINARY FIENDS #6 (OF 6) (MR) $ 3.99
INVINCIBLE IRON MAN #599 LEG $ 3.99
J SCOTT CAMPBELL DANGER GIRL 20TH ANNIV $ 9.99
J SCOTT CAMPBELL DANGER GIRL 20TH ANNIV 5 COPY INCV (1/5) $ 0
JEEPERS CREEPERS #1 CVR A JONES $ 3.99
JEEPERS CREEPERS #1 CVR B BAAL $ 3.99
JEEPERS CREEPERS #1 CVR C PHOTO $ 3.99
JIM HENSON LABYRINTH CORONATION #3 (OF 12) $ 3.99
JIM HENSON LABYRINTH CORONATION #3 (OF 12) SUBSCRIPTION ISAA $ 3.99
JUSTICE LEAGUE OF AMERICA #29 $ 2.99
JUSTICE LEAGUE OF AMERICA #29 VAR ED $ 2.99
KILL OR BE KILLED #18 (MR) $ 3.99
KISS AOD #3 (OF 5) CVR B MONTES $ 3.99
LEGION #4 (OF 5) LEG $ 3.99
LOCKJAW #3 (OF 4) LEG $ 3.99
LUCAS STAND INNER DEMONS #3 (OF 4) (MR) $ 3.99
LUMBERJANES #49 $ 3.99
MERA QUEEN OF ATLANTIS #3 (OF 6) $ 3.99
MIGHTY MORPHIN POWER RANGERS #25 (2ND PTG) $ 4.99
MIGHTY MORPHIN POWER RANGERS 2018 ANNUAL #1 SG $ 7.99
MIGHTY THOR #706 LEG $ 3.99
MIGHTY THOR #706 SIMONSON VAR LEG $ 3.99
MOON GIRL AND DEVIL DINOSAUR #30 LEG $ 3.99
MOON KNIGHT #194 LEG $ 3.99
MOTHER PANIC GOTHAM A D #2 (MR) $ 3.99
MOTHERLANDS #4 (OF 6) (MR) $ 3.99
MOTHERLANDS #4 (OF 6) VAR ED (MR) $ 3.99
OLD MAN HAWKEYE #4 (OF 12) LEG $ 3.99
PACIFIC RIM AFTERMATH #4 (OF 6) $ 3.99
PETER PARKER SPECTACULAR SPIDER-MAN #303 LEG $ 3.99
PETER PARKER SPECTACULAR SPIDER-MAN #303 VENOM 30TH VAR LEG $ 3.99
PRISONER #1 CVR A ALLRED $ 3.99
PRISONER #1 CVR B PHOTO $ 3.99
PRISONER #1 CVR C KIRBY ALLRED $ 3.99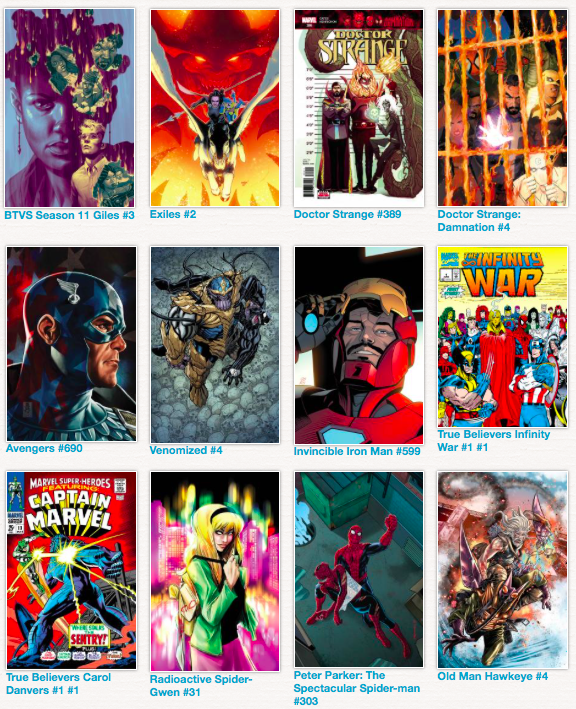 RAVEN DAUGHTER OF DARKNESS #4 (OF 12) $ 3.99
REDNECK #12 CVR A (MR) $ 3.99
REDNECK #12 CVR B APRIL FOOLS VAR (MR) $ 3.99
REGRESSION #9 (MR) $ 3.99
RICK & MORTY #37 CVR A $ 3.99
RICK & MORTY #37 CVR B VASQUEZ VAR $ 3.99
ROBYN HOOD THE CURSE #4 (OF 6) CVR A DAVILA $ 3.99
RUGRATS #7 $ 3.99
SACRED CREATURES #6 CVR A RAIMONDI (MR) $ 4.99
SAGA #51 (MR) $ 2.99
SAVAGE DRAGON #233 (MR) $ 3.99
SCOOBY DOO TEAM UP #37 $ 2.99
SHADOWMAN (2018) #1 2ND PTG $ 3.99
SHADOWMAN (2018) #2 CVR A ZONJIC $ 3.99
SHADOWMAN (2018) #2 CVR B GUEDES $ 3.99
SHEENA #8 CVR A SANAPO $ 3.99
SHEENA #8 CVR D COSPLAY $ 3.99
SILENCER #4 $ 2.99
SONIC THE HEDGEHOG #4 10 (1/10) $ ???
SONIC THE HEDGEHOG #4 CVR A HESSE $ 3.99
SONIC THE HEDGEHOG #4 CVR B STANLEY $ 3.99
SPIDER-GWEN #31 LEG $ 3.99
STABBITY BUNNY #4 (MR) $ 3.99
STAR WARS DARTH VADER #15 $ 3.99
STAR WARS DOCTOR APHRA #19 $ 3.99
SUICIDE SQUAD #40 $ 2.99
SUICIDE SQUAD #40 VAR ED $ 2.99
TEEN TITANS #19 $ 3.99
TEEN TITANS #19 VAR ED $ 3.99
TERRIFICS #3 $ 2.99
THANOS #13 4TH PTG SHAW VAR LEG $ 3.99
THANOS #14 4TH PTG SHAW VAR LEG $ 3.99
THANOS ANNUAL #1 $ 4.99
THANOS ANNUAL #1 DEODATO VAR $ 4.99
TITANS ANNUAL #2 $ 4.99
TRINITY #22 $ 3.99
TRINITY #22 VAR ED $ 3.99
TRUE BELIEVERS CAROL DANVERS #1 $ 1
TRUE BELIEVERS INFINITY WAR #1 $ 1
UNDERDOG #3 CVR B CLASSIC ACTION $ 3.99
UNDERDOG #3 CVR C GORILLA GRIN $ 3.99
VENOM #165 DEODATO VAR LEG $ 3.99
VENOM #165 LEG $ 3.99
VENOMIZED #4 (OF 5) $ 3.99
VENOMIZED #4 (OF 5) BAGLEY CONNECTING VAR $ 3.99
VENOMIZED #4 (OF 5) DEODATO VAR (1/25) $ ???
WITCHBLADE #5 (MR) $ 3.99
WONDER WOMAN #45 $ 2.99
WONDER WOMAN #45 VAR ED $ 2.99
X-MEN BLUE #26 LEG $ 3.99
X-O MANOWAR (2017) #14 CVR A ANDREWS $ 3.99
AKAME GA KILL GN VOL 14 $ 13
ANNIHILATION TP VOL 02 COMPLETE COLLECTION $ 34.99
AVENGERS ACADEMY TP VOL 02 COMPLETE COLLECTION $ 34.99
BATMAN TP VOL 05 RULES OF ENGAGEMENT REBIRTH $ 16.99
BATTLE ANGEL ALITA MARS CHRONICLE GN VOL 02 $ 10.99
BUG THE ADVENTURE OF FORAGER TP (MR) $ 16.99
CABLE REVOLUTION TP $ 39.99
CABLE TP VOL 01 LAST HOPE $ 39.99
CAPTAIN AMERICA EPIC COLLECTION TP BLOODSTONE HUNT $ 39.99
CARNAGE OMNIBUS HC $ 125
CROSSROAD BLUES OGN (MR) $ 14.99
FEAR AGENT FINAL ED TP VOL 01 (MR) $ 19.99
FLASH REBIRTH DLX COLL HC BOOK 02 $ 34.99
GARFIELD ORIGINAL GN VOL 03 THING IN FRIDGE $ 9.99
GARFIELD ORIGINAL GN VOL 04 SEARCH FOR POOKY $ 9.99
ICEMAN TP VOL 02 ABSOLUTE ZERO $ 17.99
INJUSTICE 2 HC VOL 02 $ 24.99
INJUSTICE 2 TP VOL 01 $ 16.99
JESSICA JONES TP VOL 03 RETURN OF THE PURPLE MAN $ 17.99
JSA THE GOLDEN AGE TP NEW ED $ 19.99
LAZARUS SOURCEBOOK COLLECTION TP VOL 01 (MR) $ 16.99
LEGION SON OF X TP VOL 03 REVENANTS $ 15.99
MIGHTY MORPHIN POWER RANGERS TP VOL 05 $ 16.99
NIGHTWING TP VOL 05 RAPTORS REVENGE REBIRTH $ 14.99
PERVERT OGN (MR) $ 17.99
ROAD TO MARVELS AVENGERS INFINITY WAR ART SLIPCASE HC VOL 02 $ 50
SHADOW BATMAN HC $ 24.99
SLEEPER TP BOOK 01 (MR) $ 29.99
SPIRITS OF VENGEANCE WAR AT GATES OF HELL TP $ 15.99
STAR TREK LIGHT & SOUND TRICORDER KIT (C: 0-1-0) $ 12.95
STAR WARS DARTH VADER DARK LORD SITH TP VOL 02 LEGACYS END $ 17.99
SUPERIOR SPIDER-MAN TP VOL 01 COMPLETE COLLECTION $ 39.99
X-MEN DOMINO TP $ 29.99
BATMAN ANIMATED SERIES ARKHAM PINT GLASS $ 10.99
BATMAN ANIMATED SERIES BATMAN PINT GLASS $ 10.99
BATMAN ANIMATED SERIES CHRISTMAS PINT GLASS $ 10.99
STEVEN UNIVERSE FIGURE HANGERS $ 6.99
DEADPOOL LEGENDS 6IN AF ASST $ 24.99
GUNDAM UC UNICORN GUNDAM 02 BANSHEE MG 1/100 MDL KIT KA VER $ 62.99
INVADER ZIM BUILDABLE FIGURES $ 4.99
METALS BATMAN ARKHAM KNIGHT BATMOBILE 1/24 VEHICLE $ 27.99
METALS BVS BATWING W/FIG VEHICLE $ 56.99
POP AVENGERS INFINITY WAR BLACK WIDOW VINYL FIG $ 11.99
POP AVENGERS INFINITY WAR CAPTAIN AMERICA VINYL FIG $ 11.99
POP AVENGERS INFINITY WAR CORVUS GLAIVE VINYL FIG $ 11.99
POP AVENGERS INFINITY WAR EBONY MAW VINYL FIG $ 11.99
POP AVENGERS INFINITY WAR IRON MAN VINYL FIG $ 11.99
POP AVENGERS INFINITY WAR IRON SPIDER VINYL FIG $ 11.99
POP AVENGERS INFINITY WAR PROXIMA MIDNIGHT VINYL FIG $ 11.99
POP GOD OF WAR KRATOS VINYL FIGURE $ 11.99
COMIC SHOP NEWS #1608 $ FREE
COMIC SHOP NEWS #1610 $ FREE
MARVEL RISING #0 $ FREE
IMAGE PLUS #9 (WYTCHES THE BAD EGG PT 9) (NET) $ FREE*
MARVEL PREVIEWS VOL 04 #10 MAY 2018 EXTRAS (NET) $ FREE*
PREVIEWS #356 MAY 2018 $ 3.99
DC PREVIEWS #1 $ FREE*
PREVIEWS #356 MAY 2018 CUSTOMER ORDER FORM $ FREE*
* Free with purchase of the big Previews Magazine