Wednesday, May 9,  2018 – Venom Is Here – Marvel Published a Comic about it
Venom is the big comic for the day. Hunt for Wolverine #1 is back in stock. But at this writing, we are sold out of several of today's title. We'll try to get more. We were short-handed so I didn't have time to do any of this until early Thursday. See the complete list from today below.
FREE COMIC BOOK DAY was a rousing success on the Saturday in May! We're sorry if you missed it. If you didn't know, you should get on our email list so next time you'll know.
I've been "borrowing" images for this week's comics from GoCollect.com for 3 years now, and last week they changed their format so much I can't use them. Last week, I used images from Time-Warp comics. NOW, thanks go to Friendly Neighborhood Comics for this week's images.
ADVENTURE TIME COMICS #23 $ 3.99
ANALOG #2 CVR A SULLIVAN & BELLAIRE (MR) $ 3.99
B & V FRIENDS JUMBO COMICS DIGEST #261 $ 6.99
BACK TO THE FUTURE TIME TRAIN #5 CVR A LEVENS $ 3.99
BACKWAYS #5 $ 3.99
BARRIER #1 (OF 5) COLLECTORS ED (MR) $ 4.99
BARRIER #2 (OF 5) (MR) $ 3.99
BATGIRL AND THE BIRDS OF PREY #22 $ 3.99
BATGIRL AND THE BIRDS OF PREY #22 VAR ED $ 3.99
BATMAN WHITE KNIGHT #8 (OF 8) $ 4.99
BATMAN WHITE KNIGHT #8 (OF 8) VAR ED $ 4.99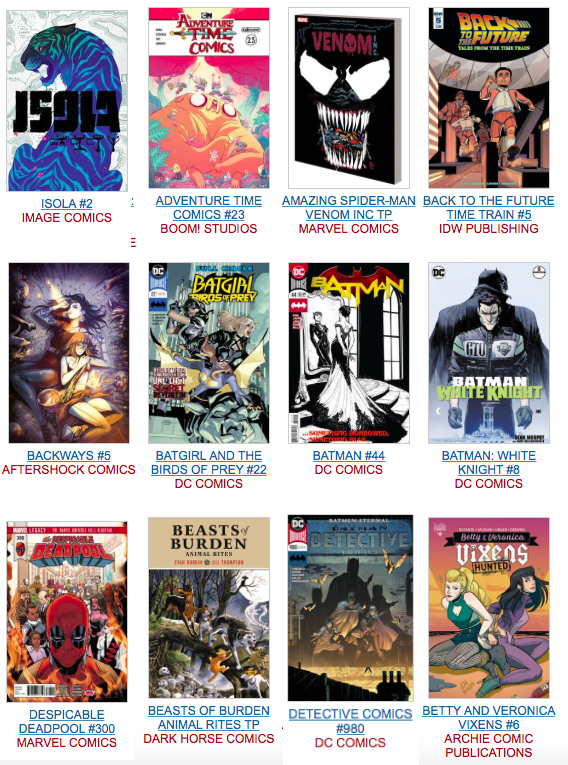 BLACK CLOUD #9 (MR) $ 3.99
CALEXIT #3 (MR) $ 3.99
DESPICABLE DEADPOOL #300 BLANK VAR $ 5.99
DESPICABLE DEADPOOL #300 KOBLISH 300 DEADPOOLS WRAPAROUND VA $ 5.99
DESPICABLE DEADPOOL #300 LEG $ 5.99
DESPICABLE DEADPOOL #300 MOORE VAR (1/25) $ 5.99
DETECTIVE COMICS #980 $ 2.99
DETECTIVE COMICS #980 VAR ED $ 2.99
DISSONANCE #3 (MR) $ 3.99
DOMINO #2 $ 3.99
ETERNITY GIRL #3 (OF 6) (MR) $ 3.99
EXILES #3 $ 3.99
EXILES #3 GAME VAR (1/10) $ 3.99
FIGHTING AMERICAN TIES THAT BIND #3 (OF 4) CVR B KIRBY (MR) $ 3.99
FLASH #46 $ 2.99
FLASH #46 VAR ED $ 2.99
GHOST MONEY #10 (OF 10) (MR) $ 3.99
HAL JORDAN AND THE GREEN LANTERN CORPS #44 $ 2.99
HAL JORDAN AND THE GREEN LANTERN CORPS #44 VAR ED $ 2.99
HIGHEST HOUSE #4 CVR A SHIMIZU $ 4.99
HUNT FOR WOLVERINE ADAMANTIUM AGENDA #1 (OF 4) $ 3.99
HUNT FOR WOLVERINE ADAMANTIUM AGENDA #1 (OF 4) SILVA VAR $ 3.99
HUNT FOR WOLVERINE ADAMANTIUM AGENDA #1 (OF 4) WHERES WOLVER $ 3.99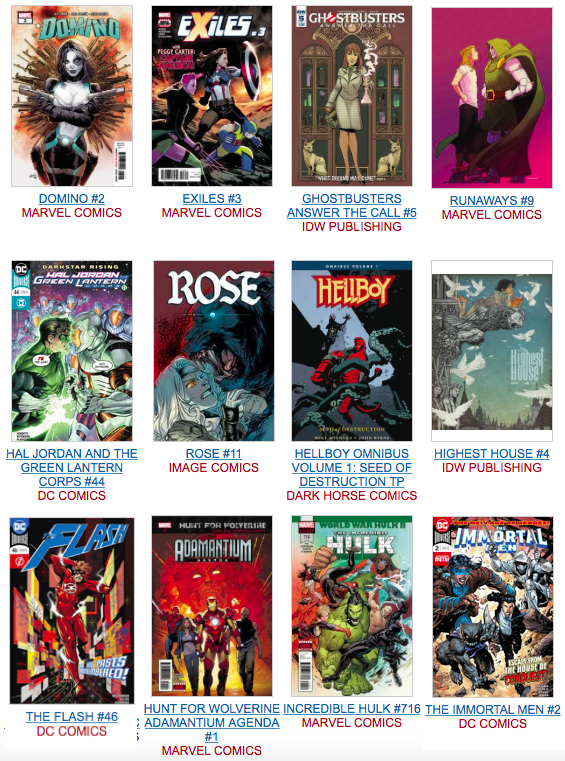 IMMORTAL MEN #2 (RES) $ 2.99
INCREDIBLE HULK #716 LEG $ 3.99
ISOLA #2 CVR A KERSCHL $ 3.99
ISOLA #2 CVR B KERSCHL $ 3.99
ISOLA #2 CVR C WE BELIEVE VIRGIN $ 3.99
JIM HENSON FRAGGLE ROCK #1 MAIN $ 3.99
JIM HENSON FRAGGLE ROCK #1 SUBSCRIPTION MYLER CONNECTING CVR $ 3.99
JUSTICE LEAGUE NO JUSTICE #1 (OF 4) $ 3.99
JUSTICE LEAGUE NO JUSTICE #1 (OF 4) BLANK VAR ED $ 3.99
MAESTROS #6 CVR A SKROCE (MR) $ 3.99
MAESTROS #6 CVR B VIRGIN WRAPAROUND (MR) $ 3.99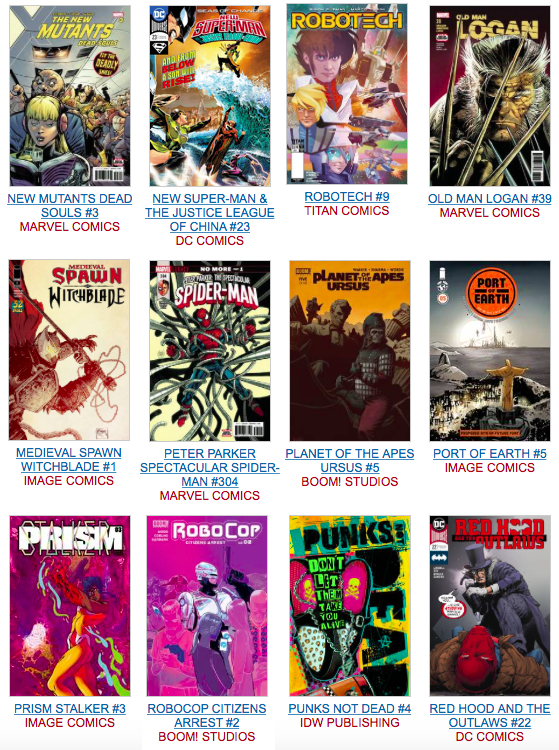 MEDIEVAL SPAWN WITCHBLADE #1 (OF 4) CVR A HABERLIN $ 2.99
MEDIEVAL SPAWN WITCHBLADE #1 (OF 4) CVR B MCFARLANE $ 2.99
MEDIEVAL SPAWN WITCHBLADE #1 (OF 4) CVR C B&W MCFARLANE $ 2.99
MONSTRESS #16 (MR) $ 3.99
NEW MUTANTS DEAD SOULS #3 (OF 6) LEG $ 3.99
NEW SUPER MAN & THE JUSTICE LEAGUE OF CHINA #23 $ 3.99
NEW SUPER MAN & THE JUSTICE LEAGUE OF CHINA #23 VAR ED $ 3.99
OBLIVION SONG BY KIRKMAN & DE FELICI #3 (MR) $ 3.99
OLD MAN LOGAN #39 LEG $ 3.99
OUTCAST BY KIRKMAN & AZACETA #35 (MR) $ 3.99
PETER PARKER SPECTACULAR SPIDER-MAN #304 LEG $ 3.99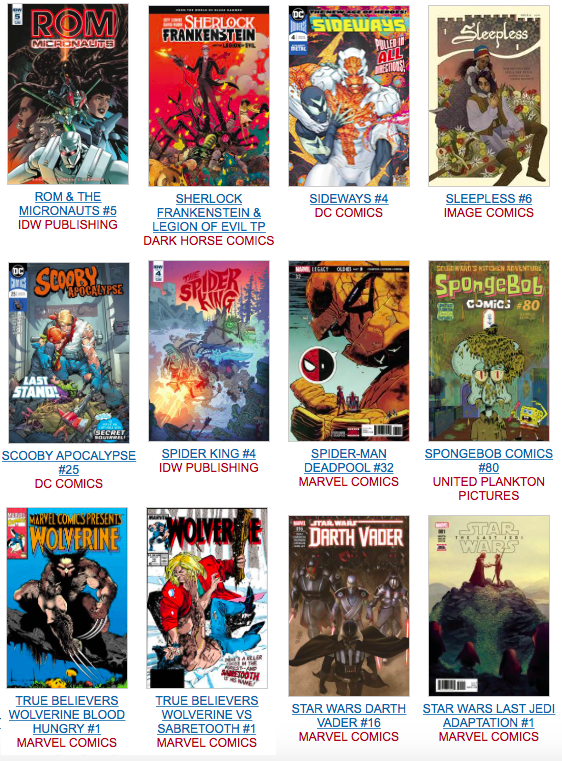 PLANET OF THE APES URSUS #5 MAIN & MIX $ 3.99
PORT OF EARTH #5 $ 3.99
PRISM STALKER #3 $ 3.99
PUNKS NOT DEAD #4 CVR A SIMMONDS $ 3.99
RED HOOD AND THE OUTLAWS #22 $ 3.99
RED HOOD AND THE OUTLAWS #22 VAR ED $ 3.99
ROBOCOP CITIZENS ARREST #2 $ 3.99
ROBOTECH #9 CVR A EDWARDS $ 3.99
ROBOTECH #9 CVR B ACTION FIGURE VAR $ 3.99
ROM & THE MICRONAUTS #5 (OF 5) CVR A VILLANELLI $ 3.99
ROSE #11 CVR A GUARA $ 3.99
ROUGH RIDERS RIDE OR DIE #4 (MR) $ 3.99
RUNAWAYS #9 $ 3.99
Saga #51 $ 3.99
SCOOBY APOCALYPSE #25 $ 3.99
SCOOBY APOCALYPSE #25 VAR ED $ 3.99
SIDEWAYS #4 $ 2.99
SLEEPLESS #6 $ 3.99
SOUTHERN BASTARDS #20 CVR A LATOUR (MR) $ 3.99
SOUTHERN BASTARDS #20 CVR B HENDERSON (MR) $ 3.99
SPIDER KING #4 CVR A DARMINI $ 3.99
SPIDER-MAN DEADPOOL #32 LEG $ 3.99
SPONGEBOB COMICS #80 $ 3.99
STAR WARS DARTH VADER #16 $ 3.99
STAR WARS DARTH VADER #16 REIS GALACTIC ICON VAR $ 3.99
STAR WARS LAST JEDI ADAPTATION #1 (OF 6) $ 4.99
STAR WARS LAST JEDI ADAPTATION #1 (OF 6) MOVIE VAR (1/10) $ 4.99
STAR WARS THRAWN #4 (OF 6) $ 3.99
STAR WARS THRAWN #4 (OF 6) WIJINGAARD VAR (1/25) $ 3.99
SUICIDE SQUAD #41 $ 2.99
SUICIDE SQUAD #41 VAR ED $ 2.99
TANK GIRL FULL COLOR CLASSICS 1988-1989 #1 CVR A HEWLETT $ 6.99
TANK GIRL FULL COLOR CLASSICS 1988-1989 #1 CVR B HEWLETT $ 6.99
TANK GIRL FULL COLOR CLASSICS 1988-1989 #1 CVR C HEWLETT $ 6.99
Terrifics #3 $ 2.99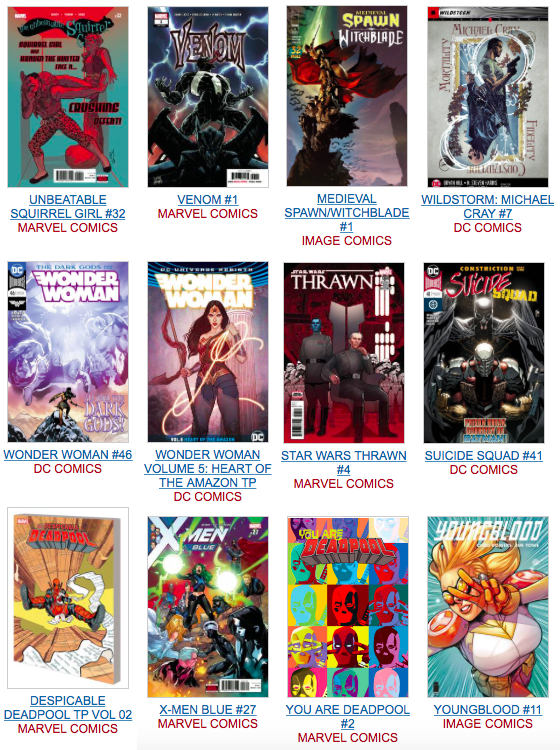 TRUE BELIEVERS WOLVERINE BLOOD HUNGRY #1 $ 1
TRUE BELIEVERS WOLVERINE VS SABRETOOTH #1 $ 1
UNBEATABLE SQUIRREL GIRL #32 LEG $ 3.99
VENOM #1 $ 4.99
VENOM #1 BLANK VAR $ 4.99
VENOM #1 J SCOTT CAMPBELL VAR (1/50) $ 4.99
VENOM #1 KUDER YOUNG GUNS VAR $ 4.99
VENOM #1 RIVERA VAR (1/25) $ 4.99
VENOM #1 STEGMAN VIRGIN VAR (1/100) $ 4.99
WILDSTORM MICHAEL CRAY #7 $ 3.99
WILDSTORM MICHAEL CRAY #7 VAR ED $ 3.99
WONDER WOMAN #46 $ 2.99
WONDER WOMAN #46 VAR ED $ 2.99
X-MEN BLUE #27 LEG $ 3.99
YOU ARE DEADPOOL #2 (OF 5) $ 3.99
YOU ARE DEADPOOL #2 (OF 5) ESPIN RPG VAR $ 3.99
YOUNGBLOOD #11 CVR B LIEFELD $ 3.99
AMAZING SPIDER-MAN VENOM INC TP $ 19.99
BEASTS OF BURDEN ANIMAL RITES TP $ 19.99
CYBORG TP VOL 03 SINGULARITY REBIRTH $ 16.99
DASTARDLY & MUTTLEY TP $ 16.99
DEATH OF WOLVERINE COMPLETE COLLECTION TP $ 39.99
DESPICABLE DEADPOOL TP VOL 02 BUCKET LIST $ 15.99
DISNEY MASTERS HC VOL 01 SCARPA MICKEY MOUSE DELTA DIMENSION $ 29.99
HAWKEYE KATE BISHOP TP VOL 03 FAMILY REUNION $ 15.99
HELLBOY OMNIBUS TP VOL 01 SEED OF DESTRUCTION $ 24.99
JEM AND THE HOLOGRAMS DIMENSIONS TP $ 15.99
LADY MECHANIKA OVERSIZED HC VOL 02 $ 28.99
MY LITTLE PONY FRIENDSHIP IS MAGIC TP VOL 14 $ 17.99
PEANUTS TP VOL 09 $ 13.99
SHERLOCK FRANKENSTEIN LEGION OF EVIL FROM BLACK HAMMER TP $ 17.99
WONDER WOMAN TP VOL 05 HEART OF THE AMAZON TP REBIRTH $ 16.99
DC DESIGNER SERIES METAL BATMAN STATUE BY CAPULLO $ 150
POCKET POP AVENGERS INFINITY WAR HULKBUSTER FIG KEYCHAIN (C: $ 5.99
POCKET POP AVENGERS INFINITY WAR IRON MAN FIG KEYCHAIN $ 5.99
POCKET POP AVENGERS INFINITY WAR IRON SPIDER FIG KEYCHAIN (C $ 5.99
POCKET POP AVENGERS INFINITY WAR THANOS FIG KEYCHAIN $ 5.99
POP AVENGERS INFINITY WAR THOR VINYL FIG $ 11.99
POP WWE S7 JAKE THE SNAKE VINYL FIG $ 11.99
POP WWE S7 SHAWN MICHAELS VINYL FIG $ 11.99
STRANGER THINGS DEMOGORGON DLX AF $ 69.99