Wednesday, June 13,  2018 – Thor #1, Venom #2, Darth Vader #17, Thrawn #5, Man of Steel #2, and Plastic Man #1
Super late and have to get up early, so just read the list below.
Oh, BTW, Dubs are Champs! Again!
If you missed our giant Memorial DaySidewalk Sale, don't miss the next one: Sign up now to get updates and a last minute reminder in your inbox. (Psst, it might happen again on Labor Day!)
Thanks go to Friendly Neighborhood Comics for this week's images, which include many of the comics and a few of the books we received today.
30 DAYS OF NIGHT #6 (OF 6) CVR A TEMPLESMITH $ 3.99
ADVENTURE TIME COMICS #24 $ 3.99
AMAZING SPIDER-MAN #797 3RD PTG IMMONEN VAR $ 3.99
AMAZING SPIDER-MAN #800 2ND PTG ARTIST VAR LEG $ 9.99
AMERICAN GODS MY AINSEL #4 MAIN CVR $ 3.99
AMERICAN GODS MY AINSEL #4 VAR DAVID MACK CVR (C $ 3.99
ANALOG #3 CVR B MCREA & SPICER (MR) $ 3.99
ANIMOSITY EVOLUTION #6 (MR) $ 3.99
ARCHIE AND ME COMICS DIGEST #8 $ 6.99
B & V FRIENDS JUMBO COMICS DIGEST #262 $ 6.99
BABYTEETH #11 (MR) $ 3.99
BACK TO THE FUTURE TIME TRAIN #6 CVR A LEVENS $ 3.99
BATMAN PRELUDE TO THE WEDDING BATGIRL VS RIDDLER #1 $ 3.99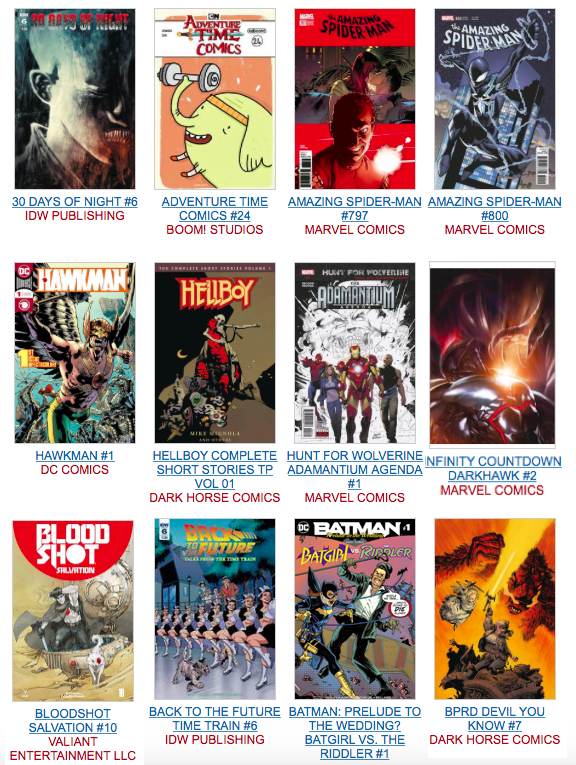 BETTY AND VERONICA VIXENS #7 (OF 10) CVR A JEN VAUGHN $ 3.99
BETTY AND VERONICA VIXENS #7 (OF 10) CVR B ANWAR $ 3.99
BLOODSHOT SALVATION #10 (NEW ARC) CVR A ROCAFORT (NET) $ 1.7
BLOODSTRIKE #0 CVR A FIFFE (MR) $ 3.99
BLOODSTRIKE #0 CVR B LIEFELD (MR) $ 3.99
BLOODSTRIKE #0 CVR C FRAGA (MR) $ 3.99
BPRD DEVIL YOU KNOW #7 $ 3.99
BY NIGHT #1 (OF 12) $ 3.99
CODA #1 (OF 12) 2ND PTG $ 3.99
CODA #2 (OF 12) MAIN & MIX $ 3.99
COPPERHEAD #19 (MR) $ 3.99
DAMNED #10 (MR) $ 3.99
DEAD HAND #3 (MR) $ 3.99
DEADPOOL ASSASSIN #1 (OF 6) $ 4.99
DEADPOOL ASSASSIN #1 (OF 6) SIENKIEWICZ VAR $ 4.99
DEATH OF LOVE #5 (OF 5) (MR) $ 3.99
DEJAH THORIS #5 CVR B CHEN $ 3.99
DEMI-GOD #2 CVR A SMITH $ 3.99
DEMI-GOD #2 CVR B LEONARDI $ 3.99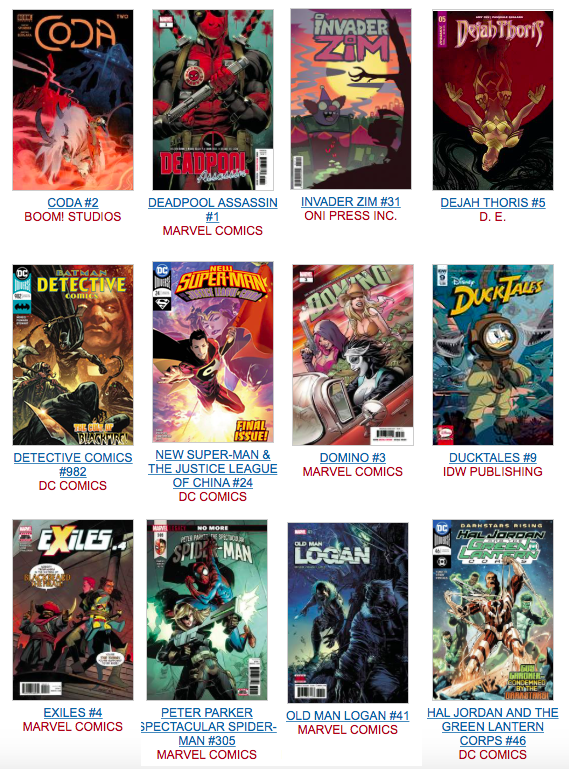 DETECTIVE COMICS #982 $ 2.99
DETECTIVE COMICS #982 VAR ED $ 2.99
DOCTOR STAR & KINGDOM LOST TOMORROWS #4 MAIN CVR $ 3.99
DOCTOR STAR & KINGDOM LOST TOMORROWS #4 VAR WU CVR $ 3.99
DOMINO #3 $ 3.99
DRY COUNTY #4 (MR) $ 3.99
DUCKTALES #9 CVR A GHIGLIONE $ 3.99
ETERNITY GIRL #4 (OF 6) (MR) $ 3.99
EXILES #4 $ 3.99
FIX #12 (MR) $ 3.99
FLASH #48 $ 2.99
FLASH #48 VAR ED $ 2.99
HAL JORDAN AND THE GREEN LANTERN CORPS #46 $ 2.99
HAL JORDAN AND THE GREEN LANTERN CORPS #46 VAR ED $ 2.99
HAWKMAN #1 $ 3.99
HAWKMAN #1 VAR ED $ 3.99
HUNT FOR WOLVERINE ADAMANTIUM AGENDA #1 (OF 4) 2ND PTG SILVA $ 3.99
HUNT FOR WOLVERINE ADAMANTIUM AGENDA #2 (OF 4) $ 3.99
HUNT FOR WOLVERINE ADAMANTIUM AGENDA #2 (OF 4) SILVA VAR $ 3.99
I HATE FAIRYLAND #19 CVR A YOUNG (MR) $ 3.99
I HATE FAIRYLAND #19 CVR B F*CK (UNCENSORED) FAIRYLAND VAR ( $ 3.99
I HATE FAIRYLAND #19 CVR C AARON (MR) $ 3.99
IMMORTAL MEN #3 $ 2.99
INFINITY COUNTDOWN DARKHAWK #2 (OF 4) $ 3.99
INFINITY COUNTDOWN DARKHAWK #2 (OF 4) MCKONE HEADSHOT VAR $ 3.99
INVADER ZIM #31 CVR A $ 3.99
INVADER ZIM #31 CVR B COUSIN VAR $ 3.99
KICK-ASS #5 CVR A ROMITA JR (MR) $ 3.99
KICK-ASS #5 CVR B B&W ROMITA JR (MR) $ 3.99
KICK-ASS #5 CVR C YILDIRIM (MR) $ 3.99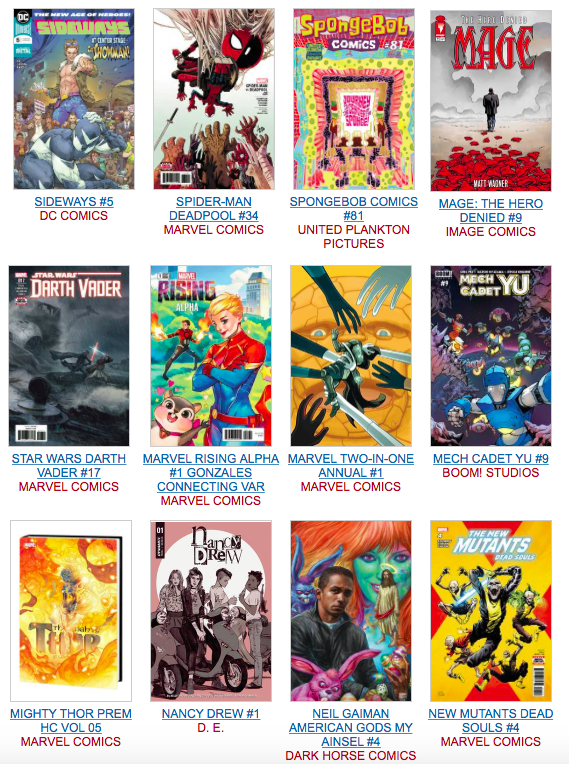 MAGE HERO DENIED #9 (OF 15) $ 3.99
MAGIC ORDER #1 (OF 6) CVR A COIPEL (MR) $ 3.99
MAGIC ORDER #1 (OF 6) CVR B B&W COIPEL (MR) $ 3.99
MAGIC ORDER #1 (OF 6) CVR C HUGHES (MR) $ 3.99
MAGIC ORDER #1 (OF 6) CVR D BLANK VAR (MR) $ 3.99
MAN OF STEEL #3 (OF 6) $ 3.99
MARVEL RISING ALPHA #1 $ 4.99
MARVEL RISING ALPHA #1 GONZALES CONNECTING VAR $ 4.99
MARVEL RISING ALPHA #1 STACY LEE VAR (1/25) $ ???
MARVEL TWO-IN-ONE ANNUAL #1 $ 4.99
MARVEL TWO-IN-ONE ANNUAL #1 PARK VAR $ 4.99
MECH CADET YU #9 $ 3.99
MIGHTY MORPHIN POWER RANGERS DF #1 RED HIGGINS SGN (C: 0-1-2 $ ???
MISTER MIRACLE #9 (OF 12) (MR) $ 3.99
MISTER MIRACLE #9 (OF 12) VAR ED (MR) $ 3.99
MONSTRESS #17 (MR) $ 3.99
MY LITTLE PONY PONYVILLE MYSTERIES #1 10 COPY INCV (1/10) $ ???
NANCY DREW #1 CVR A LOTAY $ 3.99
NEW MUTANTS DEAD SOULS #4 (OF 6) $ 3.99
NEW SUPER MAN & THE JUSTICE LEAGUE OF CHINA #24 $ 3.99
NEW SUPER MAN & THE JUSTICE LEAGUE OF CHINA #24 VAR ED $ 3.99
OBLIVION SONG BY KIRKMAN & DE FELICI #4 (MR) (missing) $ 3.99
OLD MAN LOGAN #41 $ 3.99
PETER PARKER SPECTACULAR SPIDER-MAN #305 $ 3.99
PLASTIC MAN #1 (OF 6) $ 3.99
PLASTIC MAN #1 (OF 6) VAR ED $ 3.99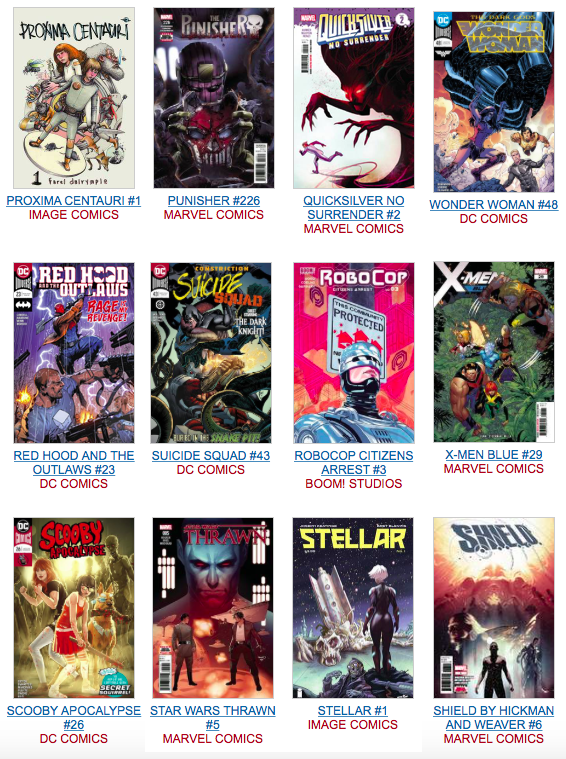 PORT OF EARTH #6 $ 3.99
PROXIMA CENTAURI #1 (OF 6) $ 3.99
PUNISHER #226 $ 3.99
QUICKSILVER NO SURRENDER #2 (OF 5) $ 3.99
RED HOOD AND THE OUTLAWS #23 $ 3.99
RED HOOD AND THE OUTLAWS #23 VAR ED $ 3.99
RESIDENT ALIEN #3 (OF 4) ALIEN IN NEW YORK $ 3.99
ROBOCOP CITIZENS ARREST #3 $ 3.99
ROSE #12 CVR A GUARA $ 3.99
SCOOBY APOCALYPSE #26 $ 3.99
SCOOBY APOCALYPSE #26 VAR ED $ 3.99
SHIELD BY HICKMAN AND WEAVER #6 (OF 6) $ 3.99
SIDEWAYS #5 $ 2.99
SPIDER-MAN DEADPOOL #34 $ 3.99
SPONGEBOB COMICS #81 $ 3.99
STAR WARS ADVENTURES #11 VAR (1/10) $ ???
STAR WARS ADVENTURES #11 CVR A CHARM $ 3.99
STAR WARS ADVENTURES #11 CVR B CHARRETIER $ 3.99
STAR WARS DARTH VADER #17 $ 3.99
STAR WARS DARTH VADER #17 REIS GALACTIC ICON VAR $ 3.99
STAR WARS THRAWN #5 (OF 6) $ 3.99
STAR WARS THRAWN #5 (OF 6) ALBUQUERQUE VAR (1/25) $ ???
STELLAR #1 $ 3.99
SUICIDE SQUAD #43 $ 3.99
SUICIDE SQUAD #43 VAR ED $ 3.99
TANGLED #2 (OF 3) CVR A SAITO $ 3.99 (missing)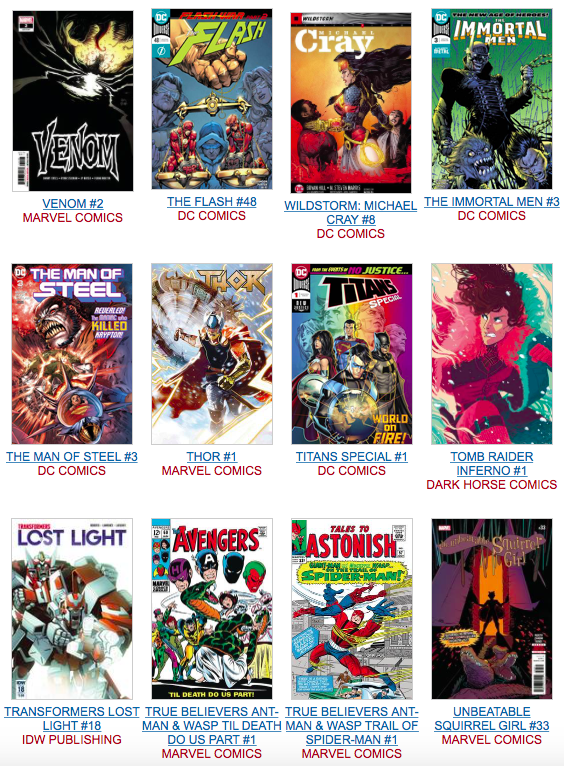 THOR #1 $ 5.99
THOR #1 ANDREWS CONNECTING PARTY VAR $ 5.99
THOR #1 BLANK VAR $ 5.99
THOR #1 DAUTERMAN DESIGN VAR (1/10) $ ???
THOR #1 HARREN CONNECTING HAMMER VAR (1/10) $ ???
THOR #1 WARD VAR (1/25) $ ???
TICK 2017 #4 $ 3.99
TITANS SPECIAL #1 $ 4.99
TMNT ONGOING #83 CVR A WACHTER $ 3.99
TMNT ONGOING #83 CVR B EASTMAN $ 3.99
TOMB RAIDER INFERNO #1 (OF 4) $ 3.99
TRANSFORMERS LOST LIGHT #18 CVR A LAWRENCE $ 3.99
TRANSFORMERS LOST LIGHT #18 CVR B MILNE $ 3.99
TRUE BELIEVERS ANT-MAN & WASP TIL DEATH DO US PART #1 $ 1
TRUE BELIEVERS ANT-MAN & WASP TRAIL OF SPIDER-MAN #1 $ 1
UNBEATABLE SQUIRREL GIRL #33 $ 3.99
VENOM #2 $ 3.99
VENOM #2 DEL MUNDO YOUNG GUNS VAR $ 3.99
VENOM #2 KIETH VAR (1/25) $ ???
WALK THROUGH HELL #2 $ 3.99
WEATHERMAN #1 CVR A FOX (MR) $ 3.99
WEATHERMAN #1 CVR B MARTIN (MR) $ 3.99
WEEKND PRESENTS STARBOY #1 (MR) $ 3.99
WILDSTORM MICHAEL CRAY #8 $ 3.99
WITCHBLADE #6 (MR) $ 3.99
WONDER WOMAN #48 $ 2.99
WONDER WOMAN #48 VAR ED $ 2.99
WORLD OF TANKS CITADEL #2 (OF 5) (MR) $ 3.99
XENA #5 (OF 5) CVR A DAVILA $ 3.99
X-MEN BLUE #29 $ 3.99
ADVENTURE TIME ORIGINAL GN VOL 12 THUNDER ROAD $ 14.99
ASTONISHING ANT-MAN COMPLETE COLLECTION TP $ 34.99
BABYTEETH TP VOL 02 $ 14.99
BEAUTY TP VOL 04 (MR) $ 16.99
DC YOUNG ANIMAL MILK WARS TP (MR) $ 19.99
DEFENDERS TP VOL 02 KINGPINS OF NEW YORK $ 15.99
DISNEY MASTERS HC VOL 02 BOTTARO DONALD DUCK MONEY ROCKET $ 29.99
DISNEY PIXAR INCREDIBLES 2 HEROES AT HOME HC $ 7.99
ELSEWORLDS BATMAN TP VOL 03 $ 34.99
FLASH TP VOL 06 COLD DAY IN HELL REBIRTH $ 16.99
GANTZ G TP VOL 01 (MR) $ 13.99
GIRL GENIUS SECOND JOURNEY GN VOL 04 KINGS AND WIZARDS $ 25
HELLBOY COMPLETE SHORT STORIES TP VOL 01 $ 24.99
INFINITE CRISIS OMNIBUS HC NEW ED $ 150
INVINCIBLE IRON MAN IRONHEART TP VOL 02 CHOICES $ 19.99
LADY MECHANIKA TP VOL 04 CLOCKWORK ASSASSIN $ 9.99
MAGI GN VOL 30 $ 9.99
MARVEL SUPERHERO ADV BUGGIN OUT YR SC $ 4.99
MIGHTY THOR PREM HC VOL 05 DEATH OF MIGHTY THOR $ 34.99
MS MARVEL HC VOL 04 $ 34.99
MY LITTLE PONY CUTIE RE-MARK TP $ 7.99
NEW SUPER MAN TP VOL 03 EQUILIBRIUM REBIRTH $ 16.99
PLANTS VS ZOMBIES RUMBLE AT LAKE GUMBO HC $ 9.99
QUICK & EASY GUIDE TO THEY THEM PRONOUNS GN $ 7.99
RUMBLE TP VOL 04 SOUL WITHOUT PITY (MR) $ 16.99
SIMPSONS COMICS COLOSSAL COMPENDIUM TP VOL 06 $ 18.99
SLEEPY PRINCESS IN DEMON CASTLE GN VOL 01 $ 9.99
SLOTS TP VOL 01 (MR) $ 16.99
SPLATOON MANGA GN VOL 03 $ 9.99
SWEET TOOTH TP BOOK 02 (MR) $ 24.99
TEEN TITANS GO THIER GREATEST HIJINKS TP $ 9.99
THOR EPIC COLLECTION TP WORLDENGINE $ 39.99
WONDER WOMAN CONAN HC $ 24.99
BATMAN BLACK AND WHITE AF 1ST APPEARANCE BOB KANE $ 29.99
BATMAN BLACK AND WHITE AF BATMAN BY GREG CAPULLO $ 29.99
BATMAN BLACK AND WHITE AF HUSH BY JIM LEE $ 29.99
DC COMICS REBIRTH BATMAN ARTFX+ STATUE $ 64.99
FUNKO SUPERCUTE MARVEL DEADPOOL PLUSH $ 12.99
MYSTERY MINIS STAR WARS E8 18PC BMB PLUSH DISP $ 4.49
MYSTERY MINIS STAR WARS SOLO 12PC BMB DISP $ 8.99
MYSTERY MINIS STAR WARS SOLO 18PC BMB PLUSH DISP $ 4.49
POP DISNEY INCREDIBLES 2 ELASTIGIRL VINYL FIGURE $ 11.99
POP DISNEY INCREDIBLES 2 JACK-JACK VINYL FIGURE $ 11.99
POP DOUG S1 DOUG FUNNIE VINYL FIG $ 11.99
POP IT S2 BEVERLY MARSH W/ KEY NECKLACE VIN FIG $ 11.99
POP MLB S3 ANTHONY RIZZO VINYL FIG $ 11.99
POP MLB S3 CLAYTON KERSHAW VINYL FIG $ 11.99
POP MLB S3 MAX SCHERZER VINYL FIG $ 11.99
POP MLB S3 MIKE TROUT VINYL FIG $ 11.99
POP MOANA MOANA CEREMONY VINYL FIG $ 11.99
POP MOANA TE FITI VINYL FIG $ 11.99
POP ROCKS MOTLEY CRUE MICK MARS VINYL FIGURE $ 11.99
POP ROCKS MOTLEY CRUE NIKKI SIXX VINYL FIGURE $ 11.99
POP STRANGER THINGS ELEVEN ELEVATED VINYL FIGURE $ 11.99
POP STRANGER THINGS HOPPER W/VINES VINYL FIGURE $ 11.99
STAR WARS DARTH VADER 1/12 MDL KIT $ 31.99
SW E6 LUKE SKYWALKER ARTFX+ STATUE $ 79.99
TRANSFORMERS GEN STUDIO SER LEADER AF ASST of 2 $ 59.99
TRANSFORMERS MOVIE ED TINY TURBO BMB DIS $ 3.99