We Plead Guilty…to 100 counts of having great new comics – Wednesday, August 21st,  2018
Back to school week apparently means some of the publishers have slowed down a bit and the new comic total for the week is the lowest of the summer, which is winding down, innit?  You want Action? You got #1002. Amazing Spider-Man is all the way up to #4! Avengers is up to #6.  Batman goes Beyond to meet the Kings of Fear. Detective is 13 away from 1000, the Hunt for Wolverine is almost over, with Madripoor #4. Punisher starts over with #1. Star Wars shows up with Darth and Dr Aphra. Black Panther #3 is joined by Wakanda Forever #1, and the West Coast branch of the Avengers is back in business.
Have I mentioned this week that we have the Valley's largest selection of Funko Pops? We have 7 different Disney Gargoyles, and 5 different My Hero Academia and over 1000 different all over the store. Remember the Tribbles?
Upcoming Sale notice. Sign in here to get an email reminder.
Thanks to Friendly Neighborhood Comics for this week's images, which include many of the comics and a few of the books we received today.
ACTION COMICS #1002 $ 3.99
ACTION COMICS #1002 MACK VAR ED $ 3.99
ACTION COMICS #1002 MANAPUL VAR ED $ 3.99
AMAZING SPIDER-MAN #1 2ND PTG OTTLEY VAR $ 5.99
AMAZING SPIDER-MAN #4 $ 3.99
AMAZING SPIDER-MAN #4 SPROUSE RETURN OF FANTASTIC FOUR VAR $ 3.99
AMAZING WORLD OF GUMBALL GRAB BAG 2018 $ 7.99
APHRODITE V #2 (MR) $ 3.99
AVENGERS #6 $ 3.99
AVENGERS #6 CASSADAY RETURN OF FANTASTIC FOUR VAR $ 3.99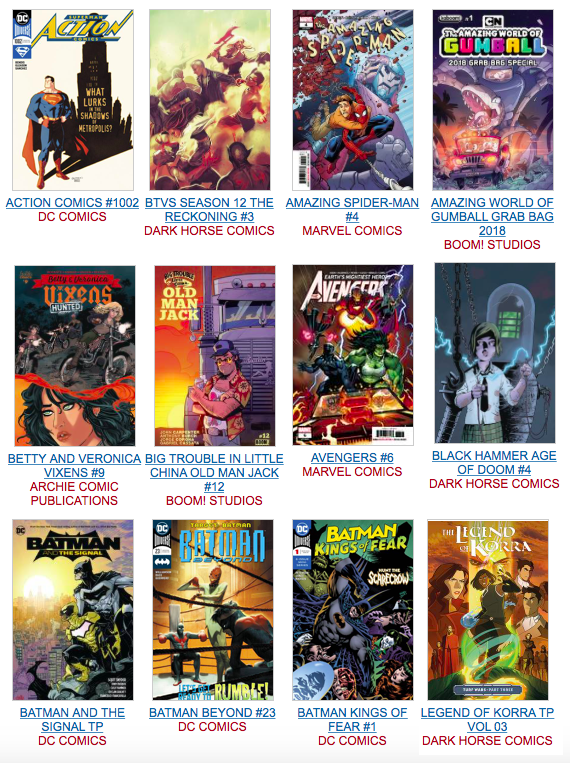 BARBARELLA #9 CVR A BULLOCK (MR) $ 3.99
BARBARELLA #9 CVR D MARQUES (MR) $ 3.99
BARBARELLA #9 CVR E YARAR EXC SUBSCRIPTION VAR (MR) $ 3.99
BATMAN BEYOND #23 $ 3.99
BATMAN BEYOND #23 VAR ED $ 3.99
BATMAN KINGS OF FEAR #1 (OF 6) $ 3.99
BATMAN KINGS OF FEAR #1 (OF 6) VAR ED $ 3.99
BEDTIME GAMES #3 (OF 4) $ 3.99
BETTY AND VERONICA VIXENS #9 (OF 10) CVR B GANUCHEAU $ 3.99
BIG TROUBLE IN LITTLE CHINA OLD MAN JACK #12 $ 3.99
BLACK HAMMER AGE OF DOOM #4 $ 3.99
BLACK HAMMER AGE OF DOOM #4 HARREN CVR $ 3.99
BLACK PANTHER #3 $ 3.99
BRITANNIA LOST EAGLES OF ROME #2 (OF 4) CVR A NORD $ 3.99
BTVS SEASON 12 THE RECKONING #3 (OF 4) $ 3.99
COLD SPOTS #1 (OF 5) (MR) $ 3.99
CURSE WORDS SUMMER SPECIAL #1 CVR A BROWNE (ONE-SHOT) (MR) $ 3.99
DAMAGE ANNUAL #1 $ 4.99
DAREDEVIL #607 $ 3.99
DAYS OF HATE #7 (OF 12) (MR) $ 3.99
DETECTIVE COMICS #987 $ 2.99
DETECTIVE COMICS #987 VAR ED $ 2.99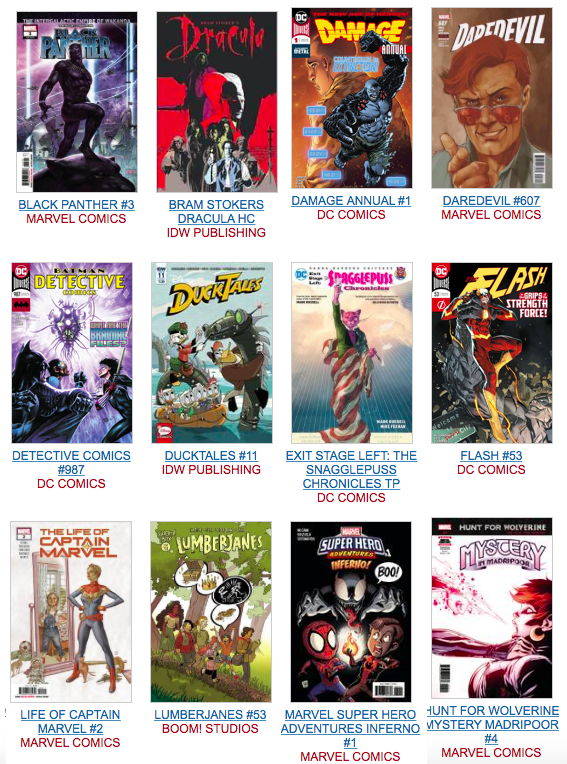 DIE DIE DIE #2 (MR) $ 3.99
DUCKTALES #11 CVR A GHIGLIONE $ 3.99
FLASH #53 $ 3.99
FLASH #53 VAR ED $ 3.99
GASOLINA #11 (MR) $ 3.99
HIT-GIRL #7 CVR A RISSO (MR) $ 3.99
HIT-GIRL #7 CVR B RISSO (MR) $ 3.99
HIT-GIRL #7 CVR C YOUNG (MR) $ 3.99
HUNT FOR WOLVERINE MYSTERY MADRIPOOR #4 (OF 4) $ 3.99
HUNT FOR WOLVERINE MYSTERY MADRIPOOR #4 (OF 4) BACHALO VAR $ 3.99
HUNT FOR WOLVERINE MYSTERY MADRIPOOR #4 (OF 4) SPOILER VAR $ 3.99
JIM HENSON LABYRINTH CORONATION #6 (OF 12) $ 3.99
JIM HENSON LABYRINTH CORONATION #6 (OF 12) SUBSCRIPTION TAKE $ 3.99
JUGHEAD THE HUNGER #8 CVR B MORRISSETTE PHAN (MR) $ 3.99
JUGHEAD THE HUNGER #8 CVR C NORD (MR) $ 3.99
JUSTICE LEAGUE DARK #2 $ 3.99
JUSTICE LEAGUE DARK #2 VAR ED $ 3.99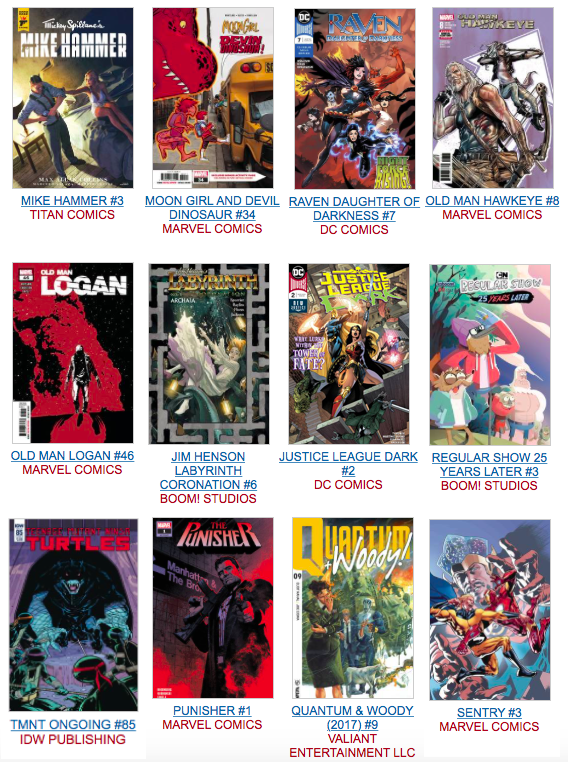 LIFE OF CAPTAIN MARVEL #2 (OF 5) $ 3.99
LIFE OF CAPTAIN MARVEL #2 (OF 5) RAMOS RETURN OF FANTASTIC 4 $ 3.99
LUMBERJANES #53 $ 3.99
MARVEL SUPER HERO ADVENTURES INFERNO #1 $ 3.99
MIKE HAMMER #3 CVR A RONALD $ 3.99
MOON GIRL AND DEVIL DINOSAUR #34 $ 3.99
MOTHER PANIC GOTHAM A D #6 (MR) $ 3.99
MR AND MRS X #2 $ 3.99
OLD MAN HAWKEYE #8 (OF 12) $ 3.99
OLD MAN LOGAN #46 $ 3.99
PUNISHER #1 $ 4.99
PUNISHER #1 BLANK VAR $ 4.99
PUNISHER #1 CRAIN VAR (1/25) $ 4.99
PUNISHER #1 LARROCA RETURN OF FANTASTIC FOUR VAR $ 4.99
QUANTUM & WOODY (2017) #9 CVR A FOWLER $ 3.99
RAVEN DAUGHTER OF DARKNESS #7 (OF 12) $ 3.99
RED SONJA TARZAN #4 CVR A LOPRESTI $ 3.99
RED SONJA TARZAN #4 CVR D CASTRO SUBSCRIPTION $ 3.99
REDNECK #14 CVR A ESTHERREN & CUNNIFFE (MR) $ 3.99
REDNECK #14 CVR B ESTHERREN VIRGIN (MR) $ 3.99
REGULAR SHOW 25 YEARS LATER #3 $ 3.99
ROYAL CITY #14 CVR A LEMIRE (MR) $ 3.99
ROYAL CITY #14 CVR B LENOX (MR) $ 3.99
ROYAL CITY #14 CVR C FAWKES (MR) $ 3.99
SCOOBY DOO TEAM UP #41 $ 2.99
SENTRY #3 $ 3.99
SENTRY #3 NOTO RETURN OF FANTASTIC FOUR VAR $ 3.99
SHADOWMAN (2018) #6 CVR A ZONJIC $ 3.99
SHANGHAI RED #3 CVR A HIXSON $ 3.99
SHANGHAI RED #3 CVR B FOWLER $ 3.99
SILENCER #8 $ 2.99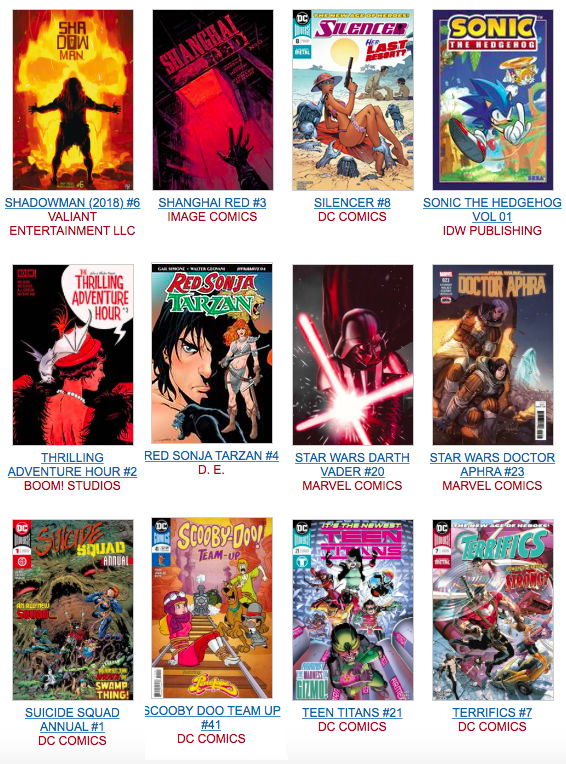 STAR WARS DARTH VADER #20 $ 3.99
STAR WARS DOCTOR APHRA #23 $ 3.99
STAR WARS DOCTOR APHRA #23 REIS GALACTIC ICON VAR $ 3.99
SUICIDE SQUAD ANNUAL #1 $ 4.99
TEEN TITANS #21 $ 3.99
TEEN TITANS #21 VAR ED $ 3.99
TERRIFICS #7 $ 2.99
THRILLING ADVENTURE HOUR #2 (OF 4) CVR A CASE $ 3.99
TMNT BEBOP ROCKSTEADY HIT THE ROAD #4 (OF 5) CVR A PITARRA $ 3.99
TMNT BEBOP ROCKSTEADY HIT THE ROAD #4 (OF 5) CVR B STRAHM $ 3.99
TMNT ONGOING #85 CVR A REVEL $ 3.99
TMNT ONGOING #85 CVR B EASTMAN $ 3.99
VENOM #5 $ 3.99
VENOM #5 ZAFFINO RETURN OF FANTASTIC FOUR VAR $ 3.99
WAKANDA FOREVER AVENGERS #1 $ 4.99
WAKANDA FOREVER AVENGERS #1 DEL RAY VAR $ 4.99
WAKANDA FOREVER AVENGERS #1 PUTRI CONNECTING VAR $ 4.99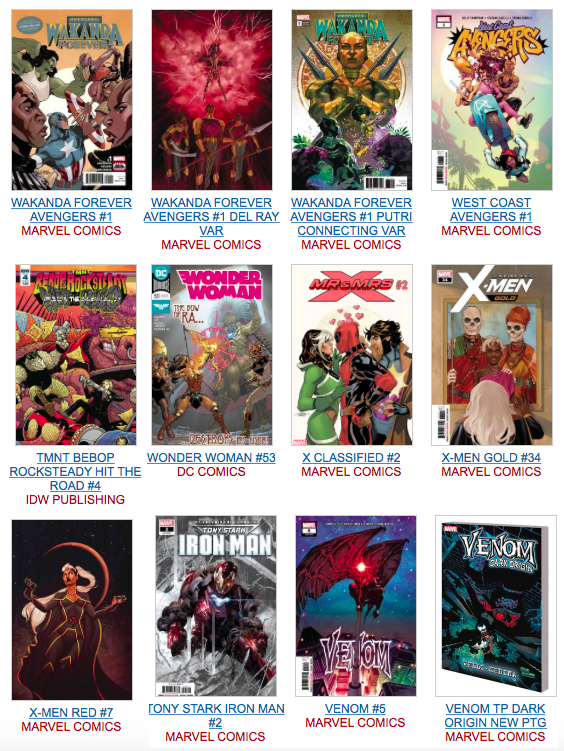 WEST COAST AVENGERS #1 $ 4.99
WEST COAST AVENGERS #1 TSAI VAR (1/10) (Maybe next week) $ 4.99
WITCHBLADE #7 (MR) $ 3.99
WONDER WOMAN #53 $ 3.99
WONDER WOMAN #53 VAR ED $ 3.99
WORLD OF ARCHIE JUMBO COMICS DIGEST #81 $ 6.99
X-MEN GOLD #34 $ 3.99
X-MEN RED #7 $ 3.99
X-MEN RED #7 CHAREST HEADSHOT VAR (1/10) $ 3.99
X-MEN RED #7 MARQUEZ RETURN OF FANTASTIC FOUR VAR $ 3.99
COMIC SHOP NEWS #1627 $ FREE
ATTACK ON TITAN BEFORE THE FALL GN VOL 14 (MR) $ 10.99
ATTACK ON TITAN COLOSSAL ED TP VOL 04 (RES) (MR) $ 49.99
AVENGERS BACK TO BASICS MPGN TP $ 14.99
BATMAN AND THE SIGNAL TP (RES) $ 16.99
BEATLES YELLOW SUBMARINE HC $ 29.99
BLACK BUTLER GN VOL 26 $ 13.00
BRAM STOKERS DRACULA HC $ 29.99
CLOAK AND DAGGER TP PREDATOR AND PREY $ 39.99
DEADLY CLASS TP VOL 07 LOVE LIKE BLOOD (MR) $ 16.99
DEATH OF LOVE TP (MR) $ 16.99
EXIT STAGE LEFT THE SNAGGLEPUSS CHRONICLES TP $ 16.99
FANTASTIC FOUR BY HICKMAN COMPLETE COLLECTION TP VOL 01 $ 34.99
FANTASTIC FOUR TP WORLDS GREATEST COMICS MAGAZINE $ 24.99
FLASH ROGUES CAPTAIN COLD TP $ 16.99
GANTZ OMNIBUS TP VOL 01 (MR) $ 24.99
GIANT DAYS TP VOL 08 $ 14.99
GUARDIANS OF GALAXY HC VOL 05 $ 34.99
HOW TO TRAIN YOUR DRAGON DRAGONVINE TP $ 10.99
HULK BY WAID AND DUGGAN TP COMPLETE COLLECTION $ 39.99
JIMMYS BASTARDS TP VOL 02 (MR) $ 14.99
LEGEND OF KORRA TP VOL 03 TURF WARS PT 3 $ 10.99
LEGION OF SUPER HEROES THE SILVER AGE TP VOL 01 $ 24.99
LOCKJAW TP WHOS A GOOD BOY $ 15.99
LUMBERJANES COLORING BOOK TP $ 16.99
PEANUTS TP VOL 10 $ 13.99
PLANET OF APES VISIONARIES ROD SERLING ORIGINAL HC $ 19.99
POSTAL TP VOL 07 (MR) $ 16.99
RWBY OFFICIAL MANGA ANTHOLOGY GN VOL 02 MIRROR MIRROR $ 12.99
SEX CRIMINALS TP VOL 05 FIVE-FINGERED DISCOUNT (MR) $ 16.99
SONIC THE HEDGEHOG VOL 01 FALLOUT TP $ 15.99
SUPERMAN ACTION COMICS TP VOL 05 BOOSTER SHOT REBIRTH $ 19.99
VENOM TP ALONG CAME A SPIDER $ 39.99
VENOM TP DARK ORIGIN NEW PTG $ 14.99
WARLOCK TP SECOND COMING $ 17.99
BATMAN TAS RAS AL GHUL BUST $ 59.99
FUNKO IT ACTION FIGURE 3PK SET 1 $ 19.99
FUNKO IT ACTION FIGURE 3PK SET 2 $ 19.99
FUNKO IT ACTION FIGURE 3PK SET 3 $ 19.99
GUNDAM BUILD DIVERS GEARA GHIRARGA HGBC 1/144 MDL KIT $ 23.99
HALO 12IN DLX AF ASST $ 24.99
JURASSIC WORLD MINI DINO FIG BMB $ 4.99
MARVEL MCU 10TH ANN CAP AMERICA 1 ASST $ 24.99
MARVEL MCU 10TH ANN THOR 2 AF SET of 2 $ 49.99
POCKET POP LOTR HOBBIT SER 3 ARAGORN VIN FIG KEYCHAIN $ 5.99
POCKET POP MONSTERS INC SULLEY VIN FIG KEYCHAIN $ 5.99
POP ANIMATION MHA ALL MIGHT WEAKENED VINYL FIG $ 11.99
POP ANIMATION MHA DEKU TRAINING VINYL FIG $ 11.99
POP ANIMATION MHA W2 SHOTA AIZAWA VINYL FIG $ 11.99
POP ANIMATION MHA W2 TODOROKI VINYL FIG $ 11.99
POP ANIMATION MHA W2 TSUYU VINYL FIG $ 11.99
POP BIG MOUTH ANDREW VINYL FIG $ 11.99
POP DISNEY GARGOYLES BROADWAY VINYL FIGURE $ 11.99
POP DISNEY GARGOYLES BRONX VINYL FIGURE $ 11.99
POP DISNEY GARGOYLES BROOKLYN VINYL FIGURE $ 11.99
POP DISNEY GARGOYLES DEMONA VINYL FIGURE $ 11.99
POP DISNEY GARGOYLES GOLIATH VINYL FIGURE $ 11.99
POP DISNEY GARGOYLES LEXINGTON VINYL FIGURE $ 11.99
POP DISNEY INCREDIBLES 2 UNDERMINER VINYL FIGURE $ 11.99
POP HORROR PANS LABYRINTH FAUNO VINYL FIGURE $ 11.99
POP HORROR PANS LABYRINTH PALE MAN VINYL FIGURE $ 11.99
POP TV CARMEN SANDIEGO CARMEN SANDIEGO VINYL FIG $ 11.99
ROBOTECH 4IN POSEABLE AF ASST $ 13.99
SPIDER-MAN 6IN QUICK SHOT AF ASST $ 11.99
STAR WARS BB-8 & R2-D2 1/12 MDL KIT $ 31.99
STAR WARS C-3PO & R2-D2 1/12 MDL KIT $ 67.99
STAR WARS LUKE SKYWALKER STORMTROOPER 1/12 MDL KIT $ 38.99