Can't We all Just Get Along on Wednesday, October 24th,  2018
Hard to think positive, but a bunch of comics, books and Funko Pops came in today, including 6 Brady Bunch, Fantastic Beasts, gold chrome Marvels, and others not on the list below,. plus the list below!
Sign in here to get an email reminder for ALL sales and other events. Also, you can go to fb.fantasybooksandgames.com and you'll be taken to our Facebook page. We do expect to use the Rewards system to make similar announcements, but it pays to be covered, right?
Thanks to Friendly Neighborhood Comics for this week's images, which include many of the comics and a few of the books we received today.
ACTION COMICS #1004 FOIL $ $3.99
ACTION COMICS #1004 VAR ED $ $3.99
ALIENS DUST TO DUST #3 (OF 4) MAIN CVR (MR) $ $3.99
ALIENS DUST TO DUST #3 (OF 4) VAR D ANDA CVR (MR) $ $3.99
AMAZING SPIDER-MAN #8 $ $3.99
AMAZING SPIDER-MAN #8 JG JONES BLACK CAT VAR $ $3.99
AMAZING SPIDER-MAN #8 YOON LEE MARVEL BATTLE LINES VAR $ $3.99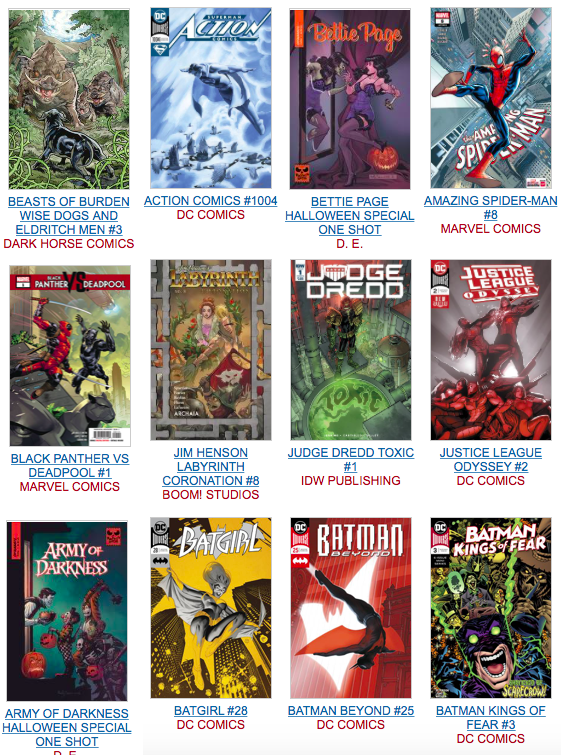 ARCHIE JUMBO COMICS DIGEST #293 $ $6.99
ARMY OF DARKNESS HALLOWEEN SPECIAL ONE SHOT $ $4.99
BABYTEETH #13 (MR) $ $3.99
BATGIRL #28 FOIL $ $3.99
BATGIRL #28 VAR ED $ $3.99
BATMAN BEYOND #25 FOIL $ $4.99
BATMAN BEYOND #25 VAR ED $ $4.99
BATMAN KINGS OF FEAR #3 (OF 6) $ $3.99
BEASTS OF BURDEN WISE DOGS AND ELDRITCH MEN #3 (OF 4) CVR A $ $3.99
BEASTS OF BURDEN WISE DOGS AND ELDRITCH MEN #3 (OF 4) CVR B $ $3.99
BETTIE PAGE HALLOWEEN SPECIAL ONE SHOT $ $4.99
BLACK PANTHER VS DEADPOOL #1 (OF 5) $ $3.99
BLACK PANTHER VS DEADPOOL #1 (OF 5) HAMNER VAR $ $3.99
BLOODBORNE #6 HEALING THIRST CVR A JESKE (MR) $ $3.99
BLOODBORNE #6 HEALING THIRST CVR C WORM (MR) $ $3.99
BOOKS OF MAGIC #1 (MR) $ $3.99
BOOKS OF MAGIC #1 BLANK VAR ED (MR) $ $3.99
BOOKS OF MAGIC #1 VAR ED (MR) $ $3.99
CODA #6 (OF 12) MAIN & MIX $ $3.99
COLD SPOTS #3 (OF 5) CVR A TORRES (MR) $ $3.99
DAYS OF HATE #9 (OF 12) (MR) $ $3.99
DEAD KINGS #1 CVR B GAYDOS $ $3.99
DETECTIVE COMICS #991 $ $3.99
DETECTIVE COMICS #991 VAR ED $ $3.99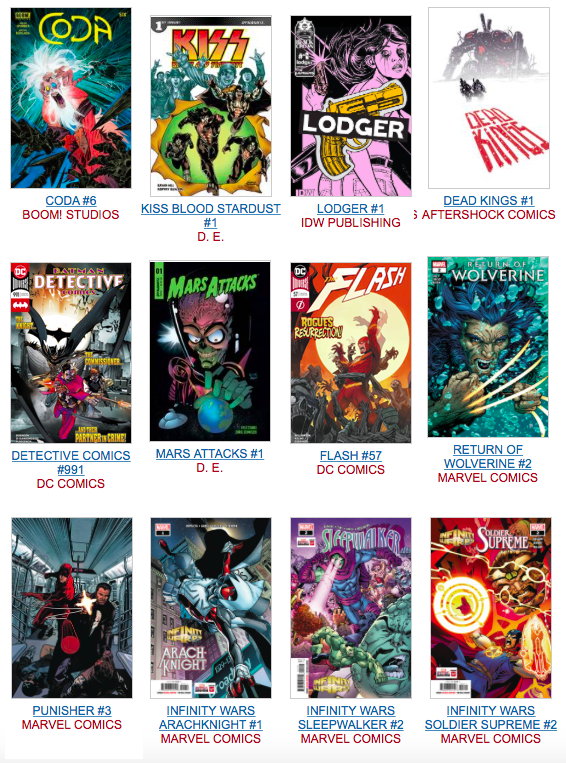 DIE DIE DIE #4 (MR) $ $3.99
FLASH #57 $ $3.99
FLASH #57 VAR ED $ $3.99
INFINITY WARS ARACHKNIGHT #1 (OF 2) $ $3.99
INFINITY WARS ARACHKNIGHT #1 (OF 2) KUBERT CONNECTING VAR $ $3.99
INFINITY WARS ARACHKNIGHT #1 (OF 2) RAMOS DESIGN VAR (1/10) $ ???
INFINITY WARS SLEEPWALKER #2 (OF 4) $ $3.99
INFINITY WARS SOLDIER SUPREME #2 (OF 2) $ $3.99
JIM HENSON LABYRINTH CORONATION #8 (OF 12) $ $3.99
JIM HENSON LABYRINTH CORONATION #8 (OF 12) SUBSCRIPTION TAKE $ $3.99
JUDGE DREDD TOXIC #1 CVR A BUCKINGHAM $ $3.99
JUSTICE LEAGUE ODYSSEY #2 FOIL (RES) $ $3.99
JUSTICE LEAGUE ODYSSEY #2 VAR ED (RES) $ $3.99
KISS BLOOD STARDUST #1 CVR G PHOTO $ $3.99
LODGER #1 CVR A LAPHAM $ $3.99
MARS ATTACKS #1 CVR A MANDRAKE $ $3.99
MARS ATTACKS #1 CVR B COLEMAN $ $3.99
MIGHTY MORPHIN POWER RANGERS #32 25 COPY LITHEN INCV SG (1/25) $ ???
MIGHTY MORPHIN POWER RANGERS #32 FOC MERCADO INCV $ $3.99
MIGHTY MORPHIN POWER RANGERS #32 MAIN SG $ $3.99
MIGHTY MORPHIN POWER RANGERS #32 SUBSCRIPTION GIBSON VAR SG $ $3.99
MOON GIRL AND DEVIL DINOSAUR #36 $ $3.99
MOON KNIGHT #200 $ $4.99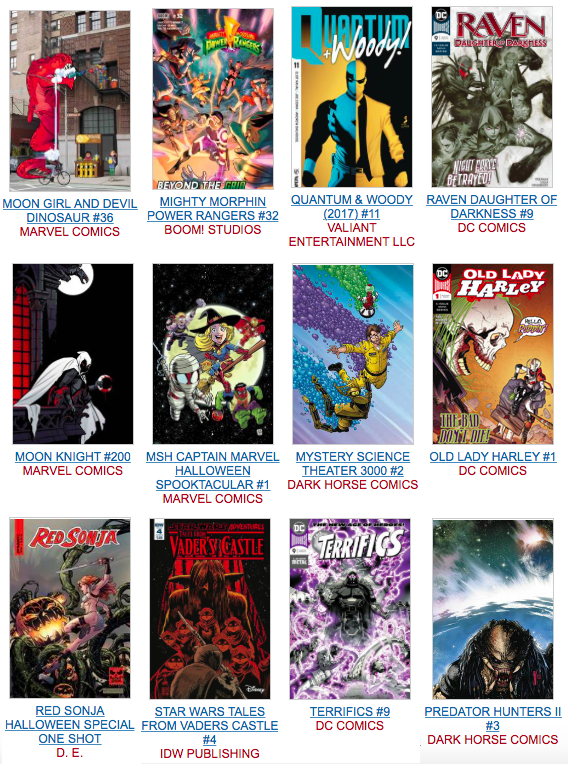 MSH CAPTAIN MARVEL HALLOWEEN SPOOKTACULAR #1 $ $3.99
MYSTERY SCIENCE THEATER 3000 #2 CVR A NAUCK $ $3.99
OLD LADY HARLEY #1 (OF 5) $ $3.99 (Maybe Next Week?)
OLD LADY HARLEY #1 (OF 5) BLANK VAR ED $ $3.99
OLD LADY HARLEY #1 (OF 5) VAR ED $ $3.99
OLIVIA TWIST #2 (MR) $ $4.99
OVER GARDEN WALL HOLLOW TOWN #2 MAIN $ $3.99
PREVIEWS $ 3.95
Marvel Previews $ FREE
PREDATOR HUNTERS II #3 $ $3.99
PUNISHER #3 $ $3.99
QUANTUM & WOODY (2017) #11 CVR B ULTRA FOIL SHAW $ $3.99
RAT QUEENS #12 CVR A GIENI (MR) $ $3.99
RAVEN DAUGHTER OF DARKNESS #9 (OF 12) $ $3.99
RED SONJA HALLOWEEN SPECIAL ONE SHOT $ $4.99
REDNECK #16 (MR) $ $3.99
REGRESSION #12 (MR) $ $3.99
REGULAR SHOW 25 YEARS LATER #5 (OF 6) $ $3.99
RETURN OF WOLVERINE #1 (OF 5) 2ND PTG MCNIVEN VAR $ $4.99
RETURN OF WOLVERINE #2 (OF 5) $ $3.99
RETURN OF WOLVERINE #2 (OF 5) MARQUEZ VAR (1/25) $ ???
RETURN OF WOLVERINE #2 (OF 5) SHALVEY VAR $ $3.99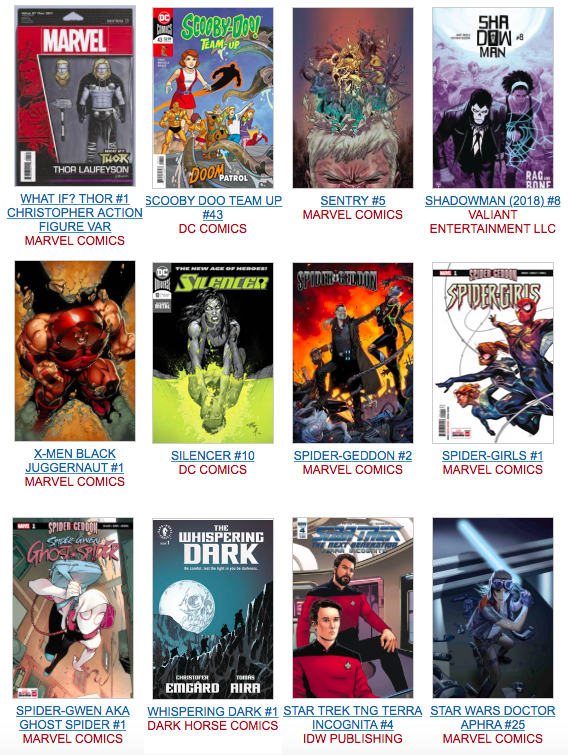 SCARLET #3 (OF 5) (MR) $ $3.99
SCOOBY DOO TEAM UP #43 $ $2.99
SENTRY #5 $ $3.99
SENTRY #5 HEEJIN JEON MARVEL BATTLE LINES VAR $ $3.99
SHADOWMAN (2018) #8 (NEW ARC) CVR A ZONJIC $ $3.99
SILENCER #10 FOIL $ $2.99
SPIDER-GEDDON #2 (OF 5) $ $3.99
SPIDER-GEDDON #2 (OF 5) BRADSHAW VAR (1/50) $ ???
SPIDER-GEDDON #2 (OF 5) IN HYUK LEE CONNECTING VAR $ $3.99
SPIDER-GEDDON #2 (OF 5) SHAVRIN VAR (1/25) $ ???
NYCC 2018 SPIDER-GEDDON #1 (OF 5) NYCC 2018 MOLINA VAR $ ???
SPIDER-GIRLS #1 (OF 3) NYCC 2018 PUTRI VAR $ ???
SPIDER-GIRLS #1 (OF 3) REEDER VAR (1/25) $ ???
SPIDER-GIRLS #1 (OF 3) SG $ $3.99
STAR TREK TNG TERRA INCOGNITA #4 CVR A SHASTEEN $ $3.99
STAR TREK TNG TERRA INCOGNITA #4 CVR B PHOTO $ $3.99
SPIDER-GWEN GHOST SPIDER #1 ANIMATION VAR (1/10) $ ???
SPIDER-GWEN GHOST SPIDER #1 ARTGERM VAR $ $3.99
SPIDER-GWEN GHOST SPIDER #1 BLANK VAR $ $3.99
SPIDER-GWEN GHOST SPIDER #1 ROBINSON VAR (1/25) $ ???
SPIDER-GWEN GHOST SPIDER #1 SUJIN JO MARVEL BATTLE LINES VAR $ $3.99
SPIDER-GWEN GHOST-SPIDER #1 SG $ $3.99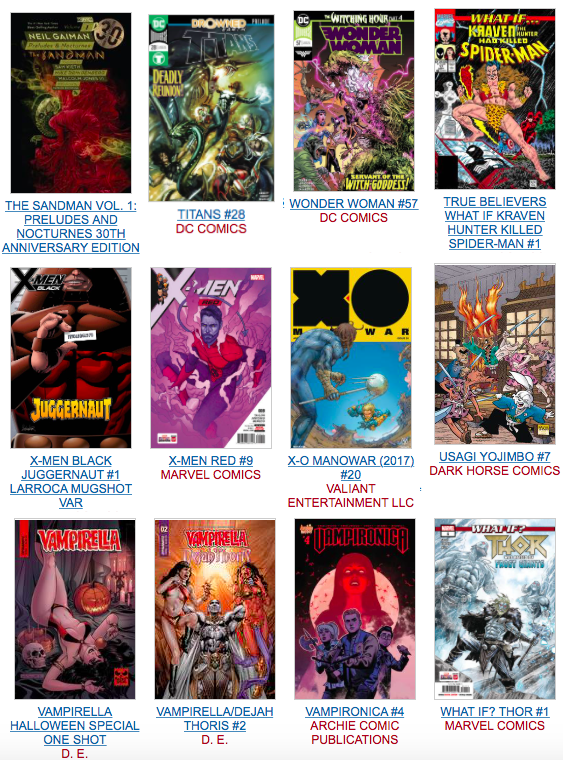 STAR WARS DOCTOR APHRA #25 $ $4.99
STAR WARS DOCTOR APHRA #25 REIS GALACTIC ICON VAR $ $4.99
STAR WARS TALES FROM VADERS CASTLE #4 (OF 5) (1/10) $ ???
STAR WARS TALES FROM VADERS CASTLE #4 (OF 5) CVR A FRANCAVIL $ $3.99
STAR WARS TALES FROM VADERS CASTLE #4 (OF 5) CVR B HACK $ $3.99
STARGATE ATLANTIS SINGULARITY #3 PHOTO CVR $ $3.99
TERRIFICS #9 FOIL $ $2.99
TITANS #28 (DROWNED EARTH) $ $3.99
TITANS #28 VAR ED (DROWNED EARTH) $ $3.99
TMNT MACROSERIES #2 MICHELANGELO CVR A PETERSEN $ $7.99
TMNT MACROSERIES #2 MICHELANGELO CVR B DIALYNAS $ $7.99
TMNT URBAN LEGENDS #6 CVR A FOSCO $ $3.99
TRUE BELIEVERS WHAT IF KRAVEN HUNTER KILLED SPIDER-MAN #1 $ $1
TRUE BELIEVERS WHAT IF SILVER SURFER POSSESSED GAUNTLET #1 $ $1
USAGI YOJIMBO #7 (OF 7) THE HIDDEN $ $3.99
VAMPIRELLA DEJAH THORIS #2 CVR A ANACLETO $ $3.99
VAMPIRELLA DEJAH THORIS #2 CVR D JUSKO $ $3.99
VAMPIRELLA DEJAH THORIS #2 CVR E VAMPIRELLA COSPLAY $ $3.99
VAMPIRELLA DEJAH THORIS #2 CVR F DEJAH THORIS COSPLAY $ $3.99
VAMPIRELLA HALLOWEEN SPECIAL ONE SHOT $ $4.99
VAMPIRELLA ROSES FOR DEAD #2 (OF 4) CVR A LINSNER (MR) $ $3.99
VAMPIRELLA ROSES FOR DEAD #2 (OF 4) CVR B TUCCI (MR) $ $3.99
VAMPIRONICA #4 CVR B FRANCAVILLA (RES) $ $3.99
VAMPIRONICA #4 CVR C STAPLES (RES) $ $3.99
WALKING DEAD #92 15TH ANNV BLIND BAG WALKER VAR (MR) $ $3.99
WHAT IF? THOR #1 $ $3.99
WHAT IF? THOR #1 CHRISTOPHER ACTION FIGURE VAR $ $3.99
WHISPERING DARK #1 $ $3.99
WONDER WOMAN #57 (WITCHING HOUR) $ $3.99
WONDER WOMAN #57 VAR ED (WITCHING HOUR) $ $3.99
X-MEN BLACK JUGGERNAUT #1 $ $4.99
X-MEN BLACK JUGGERNAUT #1 LARROCA MUGSHOT VAR $ $4.99
X-MEN RED #9 $ $3.99
X-MEN RED #9 MAXX LIM KIM MARVEL BATTLE LINES VAR $ $3.99
X-O MANOWAR (2017) #20 CVR A ROCAFORT $ $3.99
COMIC SHOP NEWS #1636 $ FREE
ABBOTT TP $ $17.99
ALIENS ESSENTIAL COMICS TP VOL 01 $ $24.99
BATMAN TP VOL 07 THE WEDDING REBIRTH $ $16.99
CABLE SOLDIER X HC $ $75
CRUMB COMPENDIUM TP $ $30
DC BIG BOOK OF SUPER VILLAINS HC $ $16.99
DEADPOOL ASSASSIN TP $ $17.99
FLASH STARTING LINE ESSENTIAL EDITION TP $ $24.99
GASOLINA TP VOL 02 (MR) $ $16.99
HUNT FOR WOLVERINE HC $ $50
ISOLA TP VOL 01 $ $9.99
JAMES BOND THE BODY HC $ $24.99
LADY MECHANIKA OVERSIZED HC VOL 03 $ $28.99
MARVEL SUPERHERO ADVENTURES GN TP TO WAKANDA AND BEYOND $ $9.99
MOB PSYCHO 100 TP VOL 01 $ $11.99
NATHAN HALES HAZARDOUS TALES HC VOL 08 LAFAYETTE $ $13.99
SANDMAN TP VOL 01 PRELUDES & NOCTURNES 30TH ANNIV ED $ $19.99
SCARLET TP BOOK 01 (MR) $ $14.99
STAR WARS DARTH VADER DARK LORD SITH HC VOL 01 $ $34.99
SUPER MARIO ENCYCLOPEDIA HC (FEB188398) $ $39.99
SUPER MARIO ENCYCLOPEDIA LTD ED HC $ $79.99
UNCLE SCROOGE TP VOL 11 WHOM THE GODS WOULD DESTROY $ $12.99
UNITED STATES OF MURDER INC TP VOL 01 TRUTH (MR) $ $16.99
WAKANDA FOREVER TP $ $15.99
IT 2017 PENNYWISE BODY KNOCKER $ $12.99
MG MOBILE SUIT GUNDAM 00V FULL SABER 1/100 MDL KIT $ ???
MISS MINDY NBX JACK VINYL FIGURE $ $29.99
MISS MINDY NBX SALLY VINYL FIGURE $ $29.99
MOON GUNDAM 215 MOON GUNDAM HGUC 1/144 MDL KIT $ ???
MS GUNDAM CHARS COUNTER GYUNEI GUSS JAGD DOGA RE/100 MDL KIT $ ???
POP DC HEROES MERA VINYL FIG $ $11.99
POP DC HEROES ORM VINYL FIG $ $11.99
POP DISNEY NBX DR FINKELSTEIN $ $11.99
POP DISNEY NBX HARLEQUIN DEMON $ $11.99
POP MARVEL STUDIOS 10 BLACK WIDOW VINYL FIG $ $13.99
POP MARVEL STUDIOS 10 HULK VINYL FIG $ $13.99
POP NBX CLOWN $ $11.99
POP NFL COWBOYS DAK PRESCOTT VINYL FIGURE $ $11.99
POP NFL COWBOYS EZEKIEL ELLIOTT (AWAY) VINYL FIGURE $ $11.99
POP NFL FALCONS MATT RYAN VINYL FIGURE $ $11.99
POP NFL NINERS RICHARD SHERMAN (RED) VINYL FIGURE $ $11.99
POP NFL PATRIOTS ROB GRONKOWSKI (COLOR RUSH) VINYL FIGURE $ $11.99
POP NFL RAIDERS MARSHAWN LYNCH (COLOR RUSH) VINYL FIGURE $ $11.99
POP RIDE KNIGHT RIDER MICHAEL KNIGHT WITH KIT VIN FIG $ $29.99
STRANGER THINGS 7IN SER3 AF ASST (NET) $ $21.99
TOKIDOKI MERMICORNOS SERIES 2 16PC BMB DS $ $12.99
TOKIDOKI MOOFIA BREAKFAST BESTIES 24PC BMB DS $ $12.99
TOKIDOKI UNICORNO SERIES 6 24PC BMB DS $ $12.99