Firefly Returns and X-Men are Uncanny Again on Wednesday, November 14th,  2018
How can each week be weirder than the last – EVERY week. FOREVER!
New Uncanny #1, plus Amazing Spider-Man, Avengers, Cosmic GR, Fantastic Four, Thor, Venom and Squirrel Girl from Marvel. DC brings Catwoman, Detective, Hawkman, Mister Miracle, Super-Girl and -Man, Titans, and Wonder Woman. Everyone else brings a bunch of stuff including Hit-Girl, Star Trek vs Transformers and Joss Whedon brings Dr Horrible and Firefly! Note: the most common, regular cover of Firefly did not arrive – several other covers did make it, and at least 2 at original cover price of $3.99. Full list below.
Sign in here to get an email reminder for ALL sales and other events. Also, you can go to fb.fantasybooksandgames.com and you'll be taken to our Facebook page. We do expect to use the Rewards system to make similar announcements, but it pays to be covered, right?
Thanks to Friendly Neighborhood Comics for this week's images, which include many of the comics and a few of the books we received today.
ADVENTURE TIME SEASON 11 #2 MAIN $ $3.99
ALIEN 3 #1 William Gibson CVR A CHRISTMAS $ $3.99
ALIEN 3 #1 William Gibson CVR B RIVERA $ $3.99
AMAZING SPIDER-MAN #9 $ $3.99
AMAZING SPIDER-MAN #9 CRAIN UNCANNY X-MEN VAR $ $3.99
AMAZING SPIDER-MAN #9 WEIRINGO BLACK CAT VAR $ $3.99
AMERICAN GODS MY AINSEL #8 CVR A FABRY (MR) $ $3.99
AMERICAN GODS MY AINSEL #8 CVR B MACK (MR) $ $3.99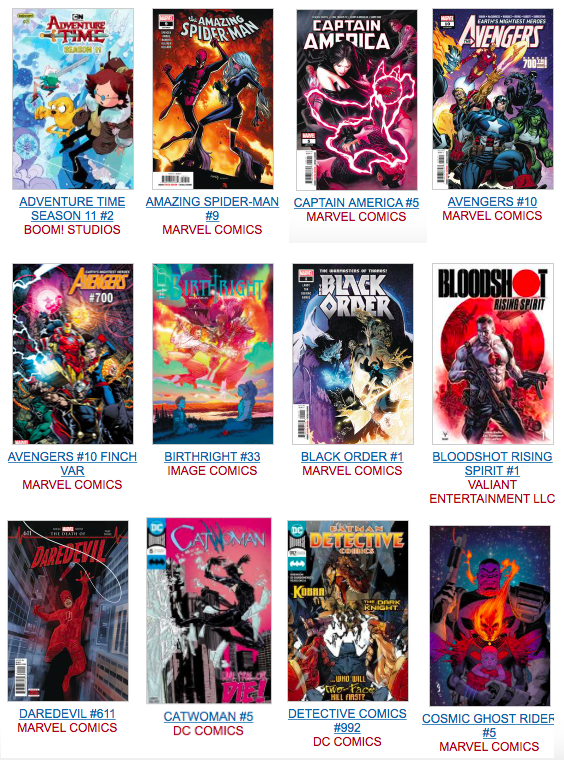 AVENGERS #10 $ $5.99
AVENGERS #10 ARTHUR ADAMS VAR (1/50) $ ???
AVENGERS #10 DAVIS UNCANNY X-MEN VAR $ $5.99
AVENGERS #10 FINCH VAR $ $5.99
AVENGERS #10 LIM VAR $ $5.99
AVENGERS #10 MARQUEZ VAR (1/25) $ ???
AVENGERS #10 MCGUINNESS VAR (1/10) $ ???
BEAUTY #25 CVR A HAUN & FILARDI (MR) $ $3.99
BETTY & VERONICA JUMBO COMICS DIGEST #268 $ $6.99
BIRTHRIGHT #33 $ $3.99
BITTER ROOT #1 CVR A GREENE (MR) $ $3.99
BITTER ROOT #1 CVR B MIGNOLA (MR) $ $3.99
BLACK ORDER #1 (OF 5) $ $3.99
BLACK ORDER #1 (OF 5) CHRISTOPHER VAR $ $3.99
BLOODSHOT RISING SPIRIT #1 CVR A MASSAFERA $ $3.99
BY NIGHT #5 (OF 12) $ $3.99
CAPTAIN AMERICA #5 $ $3.99
CAPTAIN AMERICA #5 TORQUE UNCANNY X-MEN VAR $ $3.99
CATWOMAN #5 $ $3.99
CATWOMAN #5 VAR ED $ $3.99
CEMETERY BEACH #3 (OF 7) (MR) $ $3.99
CEMETERY BEACH #3 (OF 7) CVR B IMPACT VAR (MR) $ $3.99
CYBER FORCE #7 CVR A ROJO (MR) $ $3.99
COSMIC GHOST RIDER #5 (OF 5) $ $3.99
COSMIC GHOST RIDER #5 (OF 5) JS CAMPBELL VAR (1/50) $ ???
COSMIC GHOST RIDER #5 (OF 5) LIM VAR $ $3.99
COSMIC GHOST RIDER #5 (OF 5) SHAVRIN VAR $ $3.99
COSMIC GHOST RIDER #5 (OF 5) SUPERLOG VAR $ $3.99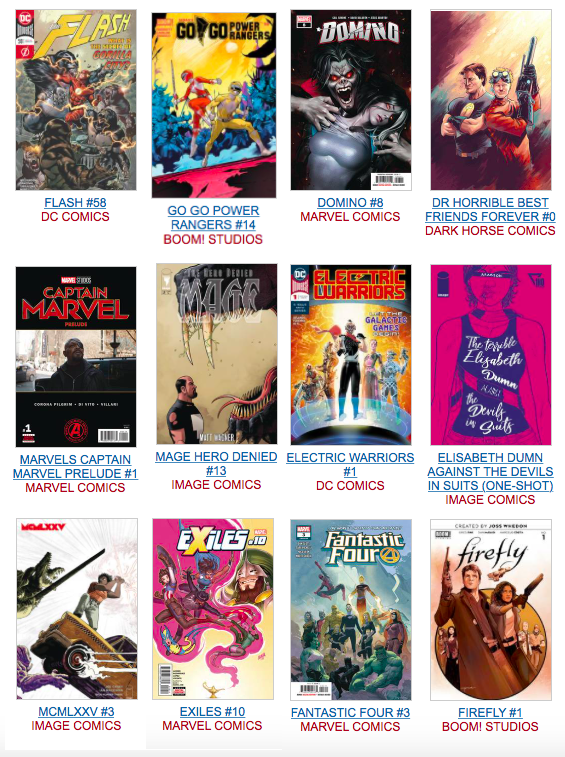 DAREDEVIL #611 $ $3.99
DETECTIVE COMICS #992 $ $3.99
DETECTIVE COMICS #992 VAR ED $ $3.99
DISNEYS TSUM TSUM KINGDOM $ $7.99
DOMINO #8 $ $3.99
DR HORRIBLE BEST FRIENDS FOREVER #0 CVR A MOON $ $3.99
DR HORRIBLE BEST FRIENDS FOREVER #0 CVR B FRANCAVILLA $ $3.99
DRAGON AGE DECEPTION #2 $ $3.99
ELECTRIC WARRIORS #1 (OF 6) $ $3.99
ELECTRIC WARRIORS #1 (OF 6) VAR ED $ $3.99
ELISABETH DUMN AGAINST THE DEVILS IN SUITS (ONE-SHOT) $ $5.99
EUTHANAUTS #4 CVR A ROBLES $ $3.99
EXILES #10 $ $3.99
FANTASTIC FOUR #3 $ $3.99
FANTASTIC FOUR #3 JONG JU KIM MARVEL BATTLE LINES VAR $ $3.99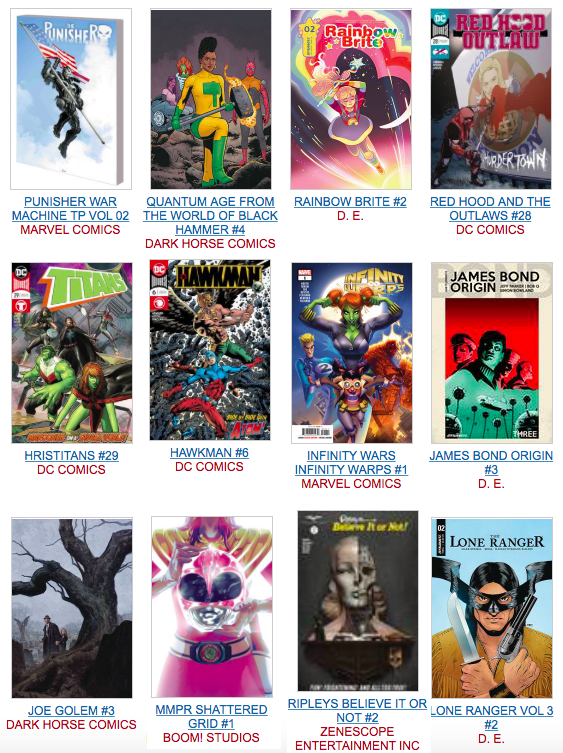 FIREFLY #1 15 COPY JONES VAR (1/15) $ ???
FIREFLY #1 25 COPY QUINONES VAR (1/25) $ ???
FIREFLY #1 50 COPY GARBETT VAR (1/50) $ ???
FIREFLY #1 BLANK VAR $ $3.99
FIREFLY #1 FOC JOCK INCV $ $3.99
FIREFLY #1 MAIN (Did not receive – maybe next week.) $ $3.99
FIREFLY #1 PREORDER QUINONES VAR $ $3.99
FLASH #58 $ $3.99
FLASH #58 VAR ED $ $3.99
GIDEON FALLS #8 CVR A SORRENTINO & STEWART (MR) $ $3.99
GIDEON FALLS #8 CVR B LEMIRE (MR) $ $3.99
GO GO POWER RANGERS #14 25 COPY BUSTOS SG VAR (1/25) $ ???
GO GO POWER RANGERS #14 MAIN & MIX SG $ $3.99
GO GO POWER RANGERS #14 PREORDER MOK VAR SG $ $3.99
HAWKMAN #6 $ $3.99
HAWKMAN #6 VAR ED $ $3.99
HEY KIDS COMICS #4 (MR) $ $3.99
HIT-GIRL #10 CVR A ALBUQUERQUE (MR) $ $3.99
HIT-GIRL #10 CVR B ALBUQUERQUE (MR) $ $3.99
HIT-GIRL #10 CVR C BURNHAM (MR) $ $3.99
HOUSE OF WHISPERS #3 (MR) $ $3.99
INFINITE DARK #2 $ $3.99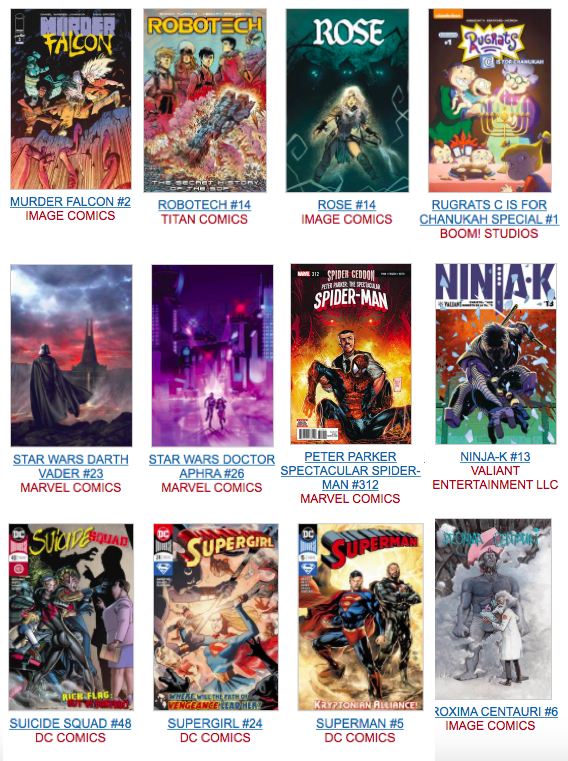 INFINITY WARS INFINITY WARPS #1 (OF 2) $ $3.99
INFINITY WARS INFINITY WARPS #1 (OF 2) HERRERA DESIGN VAR (1/10) $ ???
INFINITY WARS INFINITY WARPS #1 (OF 2) KUBERT CONNECTING VAR $ $3.99
JAMES BOND ORIGIN #3 CVR A CASSADAY $ $3.99
JOE GOLEM #3 (OF 5) THE DROWNING CITY $ $3.99
JOOK JOINT #2 (OF 5) (MR) $ $3.99
LONE RANGER VOL 3 #2 CVR A CASSADAY $ $3.99
MAGE HERO DENIED #13 (OF 15) $ $3.99
MARVELS CAPTAIN MARVEL PRELUDE #1 $ $3.99
MCMLXXV #3 $ $3.99
MISTER MIRACLE #12 (OF 12) (MR) $ $3.99
MISTER MIRACLE #12 (OF 12) VAR ED (MR) $ $3.99
MMPR SHATTERED GRID #1 CVR K GONI EXCLUSIVE $ ???
MURDER FALCON #1 2ND PTG $ $3.99
MURDER FALCON #2 CVR B HEAVY METAL VAR $ $3.99
NIGHTMARE BEFORE CHRISTMAS ZEROS JOURNEY #5 $ $3.99
NINJA-K #13 CVR A KANO $ $3.99
OBLIVION SONG BY KIRKMAN & DE FELICI #9 (MR) $ $3.99
PETER PARKER SPECTACULAR SPIDER-MAN #312 SG $ $3.99
PLASTIC MAN #6 (OF 6) (Did not receive – maybe next week.) $ $3.99
PROXIMA CENTAURI #6 (OF 6) $ $3.99
QUANTUM AGE FROM THE WORLD OF BLACK HAMMER #4 CVR A TORRES $ $3.99
QUANTUM AGE FROM THE WORLD OF BLACK HAMMER #4 CVR B $ $3.99
RAINBOW BRITE #2 GANUCHEAU VIRGIN VAR (1/10) $ ???
RAINBOW BRITE #2 CVR B CLASSIC $ $3.99
RED HOOD OUTLAW #28 $ $3.99
RED HOOD OUTLAW #28 VAR ED $ $3.99
RIPLEYS BELIEVE IT OR NOT #2 $ $5.99
RISE OF THE TMNT #2 CVR A SURIANO $ $3.99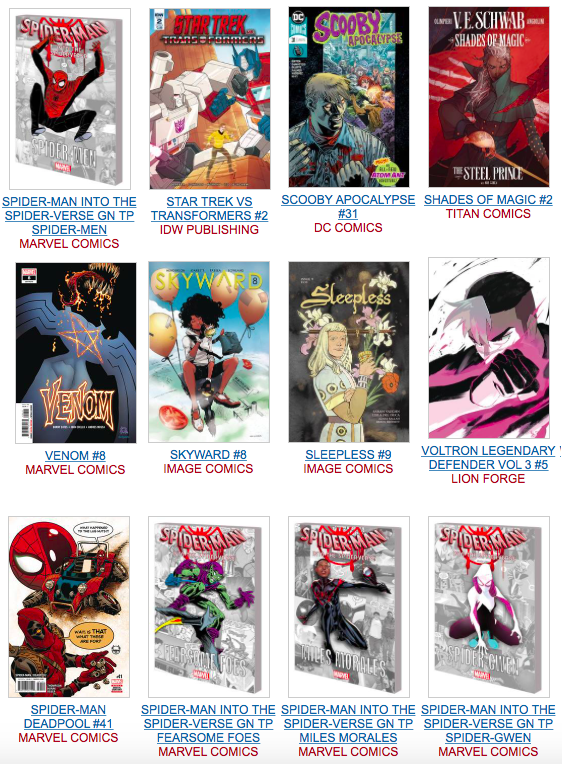 ROBOTECH #14 CVR A STOKOE $ $3.99
ROBOTECH #14 CVR B ACTION FIGURE VAR $ $3.99
ROBOTECH #14 CVR C G $ $3.99
ROSE #14 CVR A GUARA $ $3.99
RUGRATS C IS FOR CHANUKAH SPECIAL #1 $ $7.99
SCOOBY APOCALYPSE #31 $ $3.99
SECRETS OF UNCANNY X-MEN (Did not receive – maybe next week.) $ ???
SHADES OF MAGIC #2 (OF 4) STEEL PRINCE CVR A SIMECKOVA $ $3.99
SKYWARD #8 $ $3.99
SLEEPLESS #9 $ $3.99
SPIDER-MAN DEADPOOL #41 $ $3.99
STAR TREK VS TRANSFORMERS #2 (OF 4) CHARM VAR (1/10) $ ???
STAR TREK VS TRANSFORMERS #2 (OF 4) CVR A MURPHY $ $3.99
STAR TREK VS TRANSFORMERS #2 (OF 4) CVR B FERREIRA $ $3.99
STAR WARS DARTH VADER #23 $ $3.99
STAR WARS DARTH VADER #23 REIS GALACTIC ICON VAR $ $3.99
STAR WARS DOCTOR APHRA #26 $ $3.99
SUICIDE SQUAD #48 $ $3.99
SUICIDE SQUAD #48 VAR ED $ $3.99
SUPERGIRL #24 $ $3.99
SUPERGIRL #24 VAR ED $ $3.99
SUPERMAN #5 $ $3.99
SUPERMAN #5 VAR ED $ $3.99
THIEF OF THIEVES #42 (MR) $ $3.99
THOR #7 $ $3.99
THOR #7 LAND UNCANNY X-MEN VAR $ $3.99
TITANS #29 $ $3.99
TITANS #29 VAR ED $ $3.99
TRANSFORMERS UNICRON #6 (OF 6) SU VAR (1/10) $ ???
TRANSFORMERS UNICRON #6 (OF 6) CVR A MILNE $ $7.99
TRANSFORMERS UNICRON #6 (OF 6) CVR B RAIZ $ $7.99
UNBEATABLE SQUIRREL GIRL #38 $ $3.99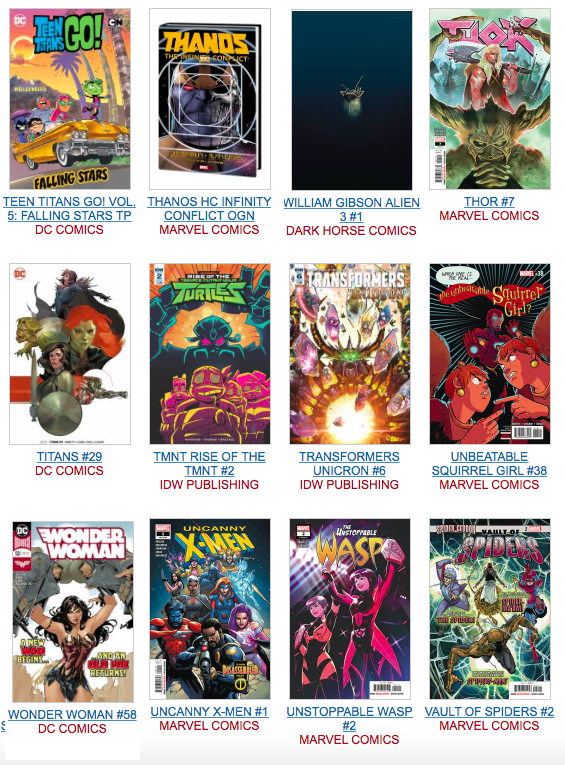 UNCANNY X-MEN #1 $ $7.99
UNCANNY X-MEN #1 BARTEL VAR (1/50) (Did not receive – maybe next week.) $ ???
UNCANNY X-MEN #1 CHEUNG VAR (1/50) (Did not receive – maybe next week.) $ ???
UNCANNY X-MEN #1 CHIANG VAR (1/25) $ ???
UNCANNY X-MEN #1 COCKRUM HIDDEN GEM WRAPAROUND VAR $ $7.99
UNCANNY X-MEN #1 FINCH VAR $ $7.99
UNCANNY X-MEN #1 LIEFELD VAR $ $7.99
UNCANNY X-MEN #1 PACHECO VAR (1/25) $ ???
UNCANNY X-MEN #1 WILLIAMS VAR $ $7.99
UNSTOPPABLE WASP #2 $ $3.99
VAULT OF SPIDERS #2 (OF 2) SG $ $3.99
VENOM #8 $ $3.99
VENOM #8 JS CAMPBELL UNCANNY X-MEN VAR $ $3.99
VENOM ANNUAL #1 2ND PTG STOKOE VAR $ $4.99
VOLTRON LEGENDARY DEFENDER VOL 3 #5 CVR A YAMASHIN $ $3.99
WEATHERMAN #6 CVR A FOX (MR) $ $3.99
WEATHERMAN #6 CVR B MARTIN (MR) $ $3.99
WONDER WOMAN #58 $ $3.99
WONDER WOMAN #58 BLANK VAR ED $ $3.99
WONDER WOMAN #58 VAR ED $ $3.99
COMIC SHOP NEWS #1639 $ FREE
ADVENTURE TIME COMICS TP VOL 06 $ $14.99
BLACK PANTHER HC VOL 02 AVENGERS OF NEW WORLD $ $34.99
BLADE OF IMMORTAL OMNIBUS TP VOL 07 $ $21.99
COMPLETE ELFQUEST TP VOL 05 $ $24.99
DOCTOR STRANGE HC VOL 02 $ $34.99
ENOLA HOLMES HC VOL 01 CASE OF THE MISSING MARQUESS $ $14.99
FADE OUT TP (MR) $ $24.99
GOTHAM CITY GARAGE TP VOL 02 $ $16.99
HEDY LAMARR AN INCREDIBLE LIFE GN (MR) $ $19.95
MARVELS TP REMASTERED ED $ $24.99
NIGHTWING TP VOL 08 LETHAL FORCE $ $24.99
POKEMON HORIZON SUN & MOON GN VOL 02 $ $9.99
POKEMON POCKET COMICS CLASSIC GN $ $10.99
PRISONER TP VOL 01 UNCERTAINTY MACHINE $ $16.99
PUNISHER WAR MACHINE TP VOL 02 $ $15.99
RADIANT GN VOL 02 $ $9.99
RECORD OF GRANCREST WAR GN VOL 01 (MR) $ $9.99
RIN-NE GN VOL 28 $ $9.99
ROBOTECH ARCHIVES MACROSS SAGA TP VOL 03 (OF 3) $ $24.99
SANDMAN TP VOL 02 THE DOLLS HOUSE 30TH ANNIV ED (MR) $ $19.99
SPIDER-MAN SPIDER-VERSE GN TP FEARSOME FOES $ $9.99
SPIDER-MAN SPIDER-VERSE GN TP MILES MORALES $ $9.99
SPIDER-MAN SPIDER-VERSE GN TP SPIDER-GWEN $ $9.99
SPIDER-MAN SPIDER-VERSE GN TP SPIDER-MEN $ $9.99
TEEN TITANS GO TP VOL 05 FALLING STARS $ $12.99
THANOS HC INFINITY CONFLICT OGN $ $24.99
V FOR VENDETTA 30TH ANNIVERSARY EDITION HC (MR) $ $49.99
AVENGERS LEGENDS AIM TROOP BUILDER 6IN AF 2PK CS $ $49.99
BUILD DIVERS DIVER NAMI FIGURE-RISE MDL $ $36.99
DC CORE BATGIRL PVC STATUE $ $49.99
DC CORE WONDER WOMAN PVC STATUE $ $49.99
DOOMSDAY CLOCK COMEDIAN MARIONETTE AF 2 PACK $ $49.99
FRIDAY THE 13TH JASON VOORHEES 6IN DELUXE STYLIZED ROTO FIG $ $28.99
LIVING DEAD DOLLS HALLOWEEN MICHAEL MYERS DOLL $ $49.99
MARVEL COMICS EAA-065 DEADPOOL PX AF $ $79.99
MARVEL GALLERY BLACK PANTHER MOVIE V2 PVC FIGURE $ $44.99
MARVEL GALLERY VENOM COMIC PVC FIGURE $ $44.99
MARVEL UNIVERSE BLACK PANTHER ARTFX+ STATUE $ $79.99
NBX CAULDRON SALLY DLX COFFIN DOLL $ $74.99
NBX PODIUM JACK DLX COFFIN DOLL $ $74.99
PACIFIC RIM 2 D-FORMZ BMB PVC 12CT DISPLAY $ $8.99
POP WONDER WOMAN MOVIE SEPIA CLOAK VINYL FIG $ $11.99
RISE OF THE TMNT BASIC AF ASST $ $13.99
RISE OF TMNT GIANT AF ASST $ $31.99
ROBOTECH 1/100 SCALE MICRONIAN MAX STERLING VERITECH AF $ $41.99
ROBOTECH 1/100 SCALE MICRONIAN MIRIYA STERLING VERITECH AF $ $41.99
ROBOTECH 1/100 SCALE MICRONIAN RICK HUNTER VERITECH AF $ $41.99
ROBOTECH 1/100 SCALE MICRONIAN ROY FOKKER VERITECH AF $ $41.99
STAR WARS EPISODE V EAA-020 BOBA FETT PX AF $ $79.99
TOON TUMBLERS MARVEL COMIC BLACK PANTHER PINT GLASS $ $10.99
TOON TUMBLERS MARVEL COMIC MAXIMUM CARNAGE PINT GLASS $ $10.99