Comics, Books, Toys, and Statues on Wednesday, November 28th,  2018
Hope you had a Happy Thanksgiving and are not sick of carols already! Incredibly, KKIQ has NOT started the Christmas Song onslaught, so I feel lucky.
[ I wrote the next sentence Thanksgiving week, but I'm going to just assume it's relevant this week also. Sad. ]  Our packers in Mississippi started their vacation early and forgot to pack a few titles, or variant covers for us this week. Actually, almost every week! But NOT. THIS. ONE! Miraculously, they only missed 1 title out of 112! A couple of books and stuff, but otherwise Amazing!
Wolverine has returned, but Logan is a Dead Man, Harley Quinn is an Old Lady,  Black Panther has got a beef with Deadpool (who doesn't?), or reverse, Fantastic Four is 4 months old, Riri Williams figured out how Iron Man works and made her own flying armor in the garage in Ironheart, DC heroes are in Crisis, again, and we also got Power Rangers, Darth Vader, Wonder Woman, and Rick & Morty.
In Funko Pop news, we recently got Austin Powers, Dr Evil, Battle Angel Alita, Spiderverse, and a bunch of of NFL greats from thep, including Jerry Rice, and I heard Steph Curry is on his way to Pop-dom! (But not yet.)
Sign in here to get an email reminder for ALL sales and other events. Also, you can go to fb.fantasybooksandgames.com and you'll be taken to our Facebook page. We do expect to use the Rewards system to make similar announcements, but it pays to be covered, right?
Thanks to Friendly Neighborhood Comics for this week's images, which include many of the comics and a few of the books we received today.
ACTION COMICS #1005 $ 3.99
ACTION COMICS #1005 VAR ED $ 3.99
AMAZING SPIDER-MAN #10 $ 3.99
AMAZING SPIDER-MAN #10 JIMINEZ UNCANNY X-MEN VAR $ 3.99
AMAZING SPIDER-MAN #10 JSC BLACK CAT VAR $ 3.99
AQUAMAN JUSTICE LEAGUE DROWNED EARTH #1 $ 4.99
AQUAMAN JUSTICE LEAGUE DROWNED EARTH #1 VAR ED $ 4.99
ARCHIE JUMBO COMICS DIGEST #294 $ 6.99
BARBARELLA #12 CVR D SHANOWAR (MR) $ 3.99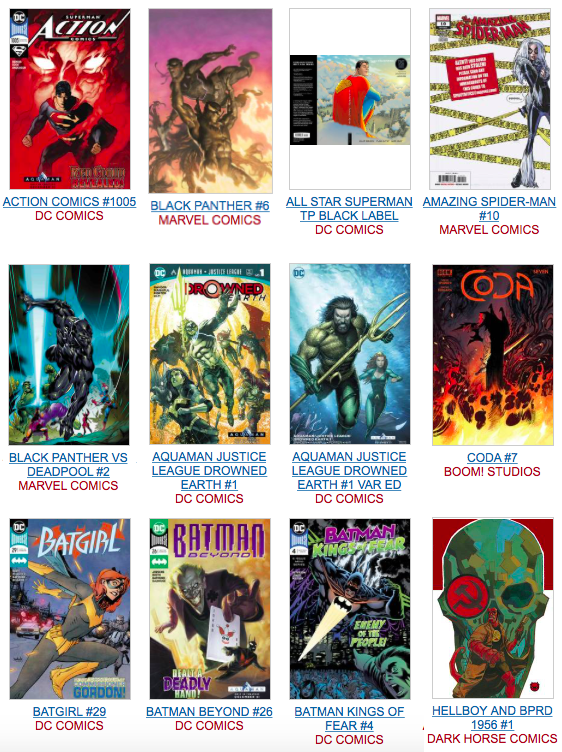 BATGIRL #29 $ 3.99
BATGIRL #29 VAR ED $ 3.99
BATMAN BEYOND #26 $ 3.99
BATMAN KINGS OF FEAR #4 (OF 6) $ 3.99
BLACK PANTHER #6 $ 3.99
BLACK PANTHER #6 UNCANNY X-MEN VAR $ 3.99
BLACK PANTHER VS DEADPOOL #2 (OF 5) $ 3.99
BLACK PANTHER VS DEADPOOL #2 (OF 5) SKROCE VAR $ 3.99
BOOKS OF MAGIC #2 (MR) $ 3.99
CODA #7 (OF 12) MAIN & MIX $ 3.99
DAREDEVIL #612 $ 4.99
DAREDEVIL #612 HOTZ VAR $ 4.99
DAREDEVIL #612 TEASER VAR $ 4.99
DAREDEVIL #612 TV VAR (1/10) $ ? ??
DC NUCLEAR WINTER SPECIAL #1 $ 9.99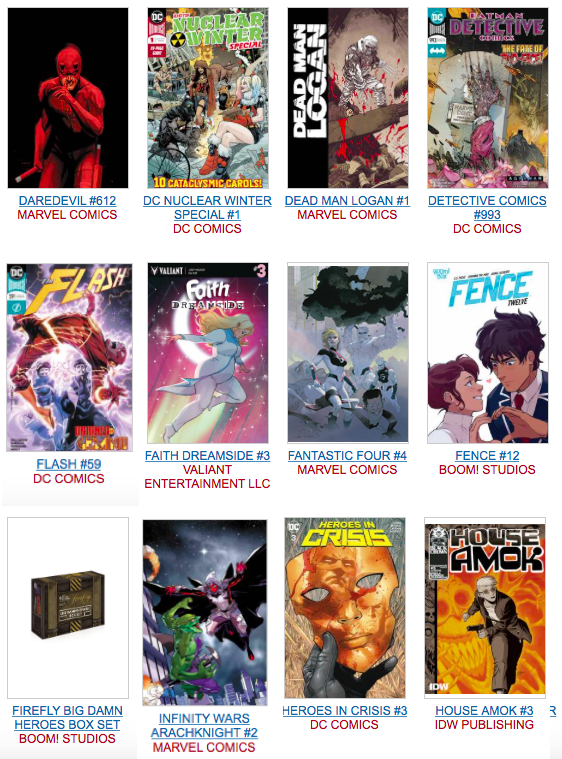 DEAD MAN LOGAN #1 (OF 12) $ 4.99
DEAD MAN LOGAN #1 (OF 12) HILDEBRANDT VAR (1/50) $ ? ??
DEAD MAN LOGAN #1 (OF 12) MOORE VAR (1/25) $ ? ??
DEAD MAN LOGAN #1 (OF 12) SUPERLOG VAR (1/10) $ ? ??
DEAD MAN LOGAN #1 (OF 12) YOUNG VAR $ 4.99
DETECTIVE COMICS #993 $ 3.99
DETECTIVE COMICS #993 VAR ED $ 3.99
DIE DIE DIE #5 (MR) $ 3.99
FAITH DREAMSIDE #3 (OF 4) CVR A SAUVAGE $ 3.99
FANTASTIC FOUR #4 $ 3.99
FANTASTIC FOUR #4 RANEY UNCANNY X-MEN VAR $ 3.99
FANTASTIC FOUR #4 YANCY STREET VAR $ 3.99
FENCE #12 $ 3.99
FLASH #59 $ 3.99
FLASH #59 VAR ED $ 3.99
HELLBOY AND BPRD 1956 #1 (OF 5) $ 3.99
HEROES IN CRISIS #3 (OF 9) $ 3.99
HEROES IN CRISIS #3 (OF 9) VAR ED $ 3.99
HEX WIVES #2 (MR) (did not show – maybe net week) $ 3.99
HOUSE AMOK #3 CVR A MCMANUS $ 3.99
INFINITY WARS ARACHKNIGHT #2 (OF 2) $ 3.99
INFINITY WARS WEAPON HEX #2 (OF 2) $ 3.99
INJUSTICE VS THE MASTERS OF THE UNIVERSE #5 (OF 6) $ 3.99
INVADER ZIM #37 CVR A $ 3.99
INVADER ZIM #37 CVR B STRESING VAR $ 3.99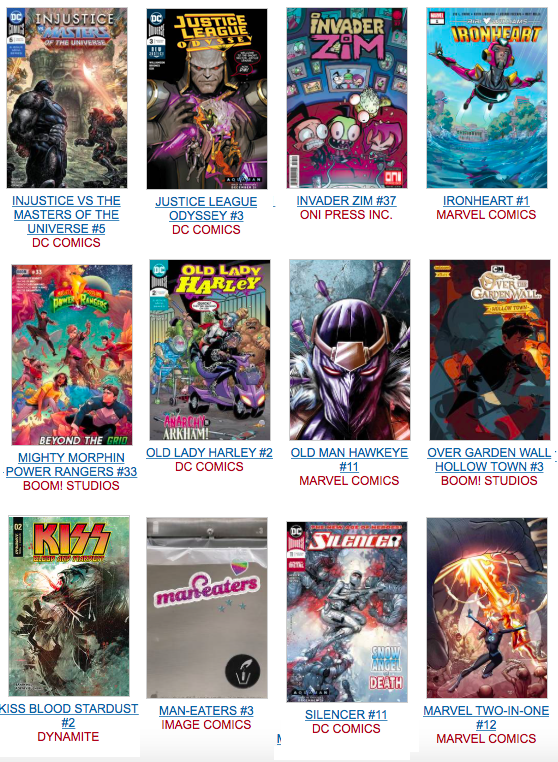 IRONHEART #1 $ 4.99
IRONHEART #1 BARTEL VAR (1/50) $ ? ??
IRONHEART #1 HANS VAR (1/50) $ ? ??
IRONHEART #1 JAMAL CAMPBELL VAR (1/25) $ ???
IRONHEART #1 RAMOS VAR $ 4.99
IRONHEART #1 VECCHIO VAR (1/10) $ ? ??
IRONHEART #1 YOUNG VAR $ 4.99
JIM HENSON LABYRINTH UNDER SPELL #1 MAIN $ 7.99
JIM HENSON LABYRINTH UNDER SPELL #1 PREORDER BECKETT VAR $ 7.99
JUSTICE LEAGUE ODYSSEY #3 (RES) $ 3.99
JUSTICE LEAGUE ODYSSEY #3 VAR ED (RES) $ 3.99
KISS BLOOD STARDUST #2 CVR D PHOTO $ 3.99
LOONEY TUNES #246 $ 2.99
MAN-EATERS #3 CVR A MITERNIQUE $ 3.99
MARVEL ACTION SPIDER-MAN #1 $ 3.99
MARVEL ACTION SPIDER-MAN #1 (1/10) $ ? ??
MARVEL ACTION SPIDER-MAN #1 (1/25) $ ? ??
MARVEL ACTION SPIDER-MAN #1 (1/50) $ ? ??
MARVEL TWO-IN-ONE #12 $ 3.99
MARVEL TWO-IN-ONE #12 BRADSHAW VAR $ 3.99
MARVEL TWO-IN-ONE #12 TAN VAR $ 3.99
MIGHTY MORPHIN POWER RANGERS #33 FOC MERCADO VR $ 3.99
MIGHTY MORPHIN POWER RANGERS #33 MAIN $ 3.99
MIGHTY MORPHIN POWER RANGERS #33 PREORDER GIBSON VAR $ 3.99
OLD LADY HARLEY #2 (OF 5) $ 3.99
OLD MAN HAWKEYE #11 (OF 12) $ 3.99
OVER GARDEN WALL HOLLOW TOWN #3 MAIN $ 3.99
RAVEN DAUGHTER OF DARKNESS #10 (OF 12) $ 3.99
RED SONJA #23 CVR A CALDWELL $ 3.99
RED SONJA #23 CVR B WILLIAMS $ 3.99
RED SONJA #23 CVR C MANDRAKE $ 3.99
RED SONJA #23 CVR D GOMEZ $ 3.99
RED SONJA #23 CVR E COSPLAY SUB VAR $ 3.99
REDNECK #17 (MR) $ 3.99
REGRESSION #13 (MR) $ 3.99
REGULAR SHOW 25 YEARS LATER #6 (OF 6) $ 3.99
RETURN OF WOLVERINE #3 (OF 5) $ 3.99
RETURN OF WOLVERINE #3 (OF 5) SHALVEY VAR $ 3.99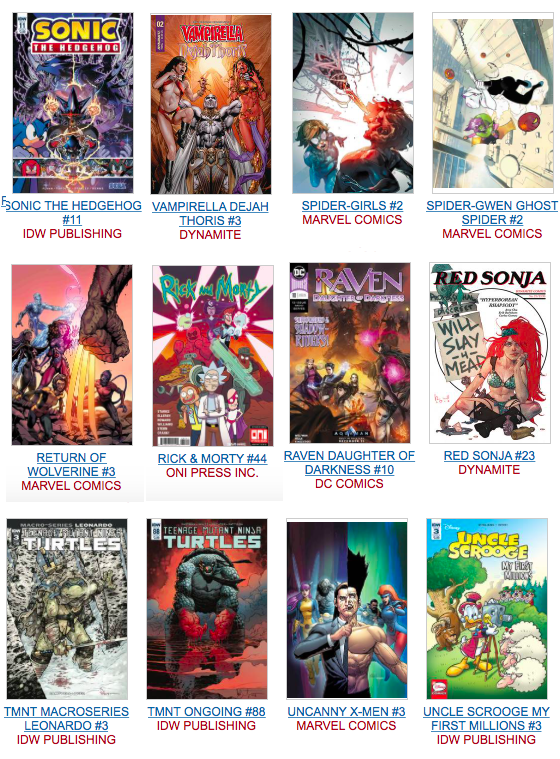 RICK & MORTY #44 CVR A $ 3.99
RICK & MORTY #44 CVR B SCOTT VAR $ 3.99
PREVIEWS #363 DECEMBER 2018 (NET) $ 3.99
MARVEL PREVIEWS VOL 04 #17 DECEMBER 2018 zyx FREE (w/ Big Previews)
SCARLET #4 (OF 5) (MR) $ 3.99
SILENCER #11 $ 2.99
SONIC THE HEDGEHOG #11 FOURDRAINE VAR (1/10) $ ? ??
SONIC THE HEDGEHOG #11 CVR A GRAY $ 3.99
SONIC THE HEDGEHOG #11 CVR B YARDLEY $ 3.99
SPIDER-GIRLS #2 (OF 3) SG $ 3.99
SPIDER-GWEN GHOST SPIDER #2 SG $ 3.99
SPIDER-GWEN GHOST SPIDER #2 TAN UNCANNY X-MEN VAR $ 3.99
SPIDER-MAN DEADPOOL #42 $ 3.99
STAR WARS DARTH VADER #24 $ 3.99
STRANGER THINGS #3 CVR A BRICLOT $ 3.99
STRANGER THINGS #3 CVR B DOMARDZKI $ 3.99
STRANGER THINGS #3 CVR C TAYLOR $ 3.99
STRANGER THINGS #3 CVR D SATTERFIELD PHOTO VAR $ 3.99
TERRIFICS #10 $ 2.99
TITANS #30 $ 3.99
TITANS #30 VAR ED $ 3.99
TMNT MACROSERIES #3 LEONARDO CVR A PETERSEN $ 7.99
TMNT ONGOING #88 CVR A WACHTER $ 3.99
UNCANNY X-MEN #3 $ 3.99
UNCANNY X-MEN #3 CHRISTOPHER ACTION FIGURE VAR $ 3.99
UNCLE SCROOGE MY FIRST MILLIONS #3 (OF 4) CVR A GERVASIO $ 5.99
VAMPIRELLA DEJAH THORIS #3 CVR A ANACLETO $ 3.99
VAMPIRELLA DEJAH THORIS #3 CVR B SEGOVIA $ 3.99
VAMPIRELLA DEJAH THORIS #3 CVR D JUSKO $ 3.99
VAMPIRELLA DEJAH THORIS #3 CVR E VAMPIRELLA COSPLAY $ 3.99
VAMPIRELLA DEJAH THORIS #3 CVR F DEJAH THORIS COSPLAY $ 3.99
WARNING #1 (MR) $ 3.99
WONDER WOMAN #59 $ 3.99
WONDER WOMAN #59 VAR ED $ 3.99
X-O MANOWAR (2017) #21 CVR A ROCAFORT $ 3.99
COMIC SHOP NEWS #1641 zyx FREE
ALL STAR SUPERMAN TP BLACK LABEL $ 29.99
AMAZING SPIDER-MAN BY NICK SPENCER TP VOL 01 BACK BASICS $ 15.99
BATMAN KNIGHTSEND TP $ 19.99
ETERNITY GIRL TP (MR) $ 16.99
FIREFLY BIG DAMN HEROES BOX SET $ 150
FIREFLY LEGACY EDITION TP VOL 01 $ 29.99
FUTURE QUEST PRESENTS TP VOL 02 $ 16.99
GREEN ARROW TP VOL 06 TRIAL OF TWO CITIES REBIRTH (RES) $ 16.99
HALO OMNIBUS TP VOL 01 $ 24.99
HIGHEST HOUSE TP $ 24.99
IMMORTAL MEN TP THE END OF FOREVER $ 16.99
INVISIBLES BOOK 04 (MR) $ 24.99
MARVEL KNIGHTS MARVEL BOY BY MORRISON & JONES TP $ 17.99
MIGHTY THOR TP VOL 05 DEATH OF THE MIGHTY THOR $ 24.99
MOON GIRL AND MARVEL UNIVERSE TP $ 15.99
QUICKSILVER TP NO SURRENDER $ 15.99
REALM TP VOL 02 (MR) $ 16.99
ROBOTECH TP VOL 03 BLIND GAME $ 16.99
SPIDER-MAN DEADPOOL TP VOL 07 MY TWO DADS $ 17.99
SUPERMAN TP VOL 07 BIZARROVERSE REBIRTH $ 16.99
TEEN TITANS THE SILVER AGE TP VOL 02 $ 34.99
THE ONCE AND FUTURE TARZAN TP $ 17.99
X-FACTOR EPIC COLLECTION TP ALL-NEW ALL-DIFFERENT X-FACTOR $ 39.99
X-MEN CLASSIC COMPLETE COLLECTION TP VOL 01 $ 39.99
X-MEN GOLD TP VOL 07 GODWAR $ 17.99
X-MEN MARAUDERS TP $ 39.99
YOUNG JUSTICE TP BOOK 03 $ 29.99
DC ARTIST ALLEY CATWOMAN SHO MURASE PVC FIG $ 39.99
DC ARTISTS ALLEY HARLEY SHO MURASE HOLIDAY PVC FIG $ 39.99
DC ARTISTS ALLEY POISON IVY SHO MURASE PVC FIG $ 39.99
DC COMICS BOMBSHELLS BATMAN & CATWOMAN STATUE $ 250
DC GALLERY CATWOMAN COMIC PVC FIGURE $ 44.99
MARVEL GALLERY ANT-MAN & THE WASP MOVIE ANT-MAN PVC FIGURE $ 44.99
MUPPETS SWEDISH CHEF DLX FIG SET $ 29.99
PINT SIZED HEROES MARVEL HOLIDAY 24PC BMB DISP $ 4.49
POP MARVEL SPIDER-MAN S1 MARY JANE VINYL FIG (did not show – maybe next week) $ 11.99
POP MARVEL SPIDER-MAN S1 MISTER NEGATIVE VINYL FIG $ 11.99
POP MARVEL SPIDER-MAN S1 VINYL FIG $ 11.99
POP NFL LEGENDS BART STARR BLACK & WHITE VINYL FIGURE $ 11.99
POP NFL LEGENDS BART STARR VINYL FIGURE $ 11.99
POP NFL LEGENDS BRETT FAVRE VINYL FIGURE $ 11.99
POP NFL LEGENDS DEION SANDERS VINYL FIGURE $ 11.99
POP NFL LEGENDS JERRY RICE VINYL FIGURE $ 11.99
POP NFL LEGENDS TERRY BRADSHAW VINYL FIGURE $ 11.99
POP NFL LEGENDS TROY AIKMAN VINYL FIGURE $ 11.99
POP NFL LEGENDS WALTER PAYTON VINYL FIGURE $ 11.99
POP ROCKS NOTORIOUS BIG W/CROWN VINYL FIGURE $ 11.99
POP ROCKS NOTORIOUS BIG W/JERSEY VINYL FIGURE $ 11.99
TRANSFORMERS GEN POWER O/T PRIMES LEADER AF ASST $ 61.99
TRANSFORMERS STUDIO SER BUMBLEBEE VW BUG RETRO POP AF $ 74.99