Lucky 13 days left – Wednesday, December 12th,  2018
13 Days to go. Now 12. I had a little problem with the latest WordPress version update last night, and tonight I figured out how to go back to Classic. Classic!
I spent so much time fighting with WP ,I didn't have time to write anything, but I'm sure you'll all survive.
In Funko Pop news, we recently got about 30 new ones, including Mickey's 90th Anniversary, SpiderVerse, Lord of the Rings, and FortNites, whatever they/that is, plus a lot more.
Sign in here to get an email reminder for ALL sales and other events. Also, you can go to fb.fantasybooksandgames.com and you'll be taken to our Facebook page. We do expect to use the Rewards system to make similar announcements, but it pays to be covered, right?
Thanks to Friendly Neighborhood Comics for this week's images, which include many of the comics and a few of the books we received today.
ADVENTURE TIME SEASON 11 #3 MAIN $ 3.99
ALIEN 3 #2 CVR A CHRISTMAS $ 3.99
ALIEN 3 #2 CVR B HARREN $ 3.99
AMAZING SPIDER-MAN #11 $ 3.99
AMAZING SPIDER-MAN #11 ANIMATION VAR (1/10) $ ???
AMAZING SPIDER-MAN #11 CAMUNCOLI CONAN VS MARVEL VAR $ 3.99
AMAZING SPIDER-MAN #11 DELLOTTO FANTASTIC FOUR VILLAINS VAR $ 3.99
ANIMOSITY EVOLUTION #9 (MR) $ 3.99
ASGARDIANS OF THE GALAXY #4 $ 3.99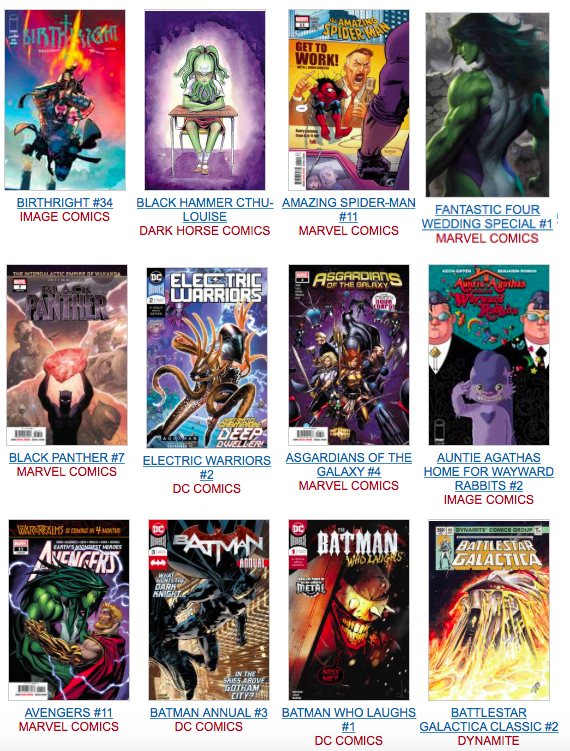 AUNTIE AGATHAS HOME FOR WAYWARD RABBITS #2 (OF 6) CVR B HERO $ 3.99
AVENGERS #11 $ 3.99
AVENGERS #11 DAVIS FANTASTIC FOUR VILLAINS VAR $ 3.99
AVENGERS #11 PACHECO CONAN VS MARVEL VAR $ 3.99
BATMAN ANNUAL #3 $ 4.99
BATMAN DAMNED #2 (OF 3) (MR) $ 6.99
BATMAN DAMNED #2 (OF 3) VAR ED (MR) $ 6.99
BATMAN WHO LAUGHS #1 (OF 6) $ 4.99
BATMAN WHO LAUGHS #1 (OF 6) BLANK VAR ED $ 4.99
BATMAN WHO LAUGHS #1 (OF 6) VAR ED $ 4.99
BATTLESTAR GALACTICA CLASSIC #2 CVR A RUDY $ 3.99
BIRTHRIGHT #34 CVR A BRESSAN & LUCAS $ 3.99
BITTER ROOT #2 CVR A GREENE (MR) $ 3.99
BITTER ROOT #2 CVR B SIENKIEWICZ (MR) $ 3.99
BITTER ROOT #2 CVR C CHO (MR) $ 3.99
BITTER ROOT #2 CVR D WOODS (MR) $ 3.99
BLACK HAMMER CTHU-LOUISE CVR A LENOX $ 3.99
BLACK HAMMER CTHU-LOUISE CVR B THOMPSON $ 3.99
BLACK ORDER #2 (OF 5) $ 3.99
BLACK ORDER #2 (OF 5) CHRISTOPHER VAR $ 3.99
BLACK PANTHER #7 $ 3.99
BLACK PANTHER #7 DJURDJEVIC FANTASTIC FOUR VILLAINS VAR $ 3.99
BY NIGHT #6 (OF 12) $ 3.99
CEMETERY BEACH #4 (OF 7) CVR A HOWARD (MR) $ 3.99
CHAMPIONS #27 $ 3.99
CHAMPIONS #27 DJURDJEVIC FANTASTIC FOUR VILLAINS VAR $ 3.99
CHAMPIONS #27 MARVEL RISING ACTION DOLL HOMAGE VAR $ 3.99
DEAD KINGS #2 $ 3.99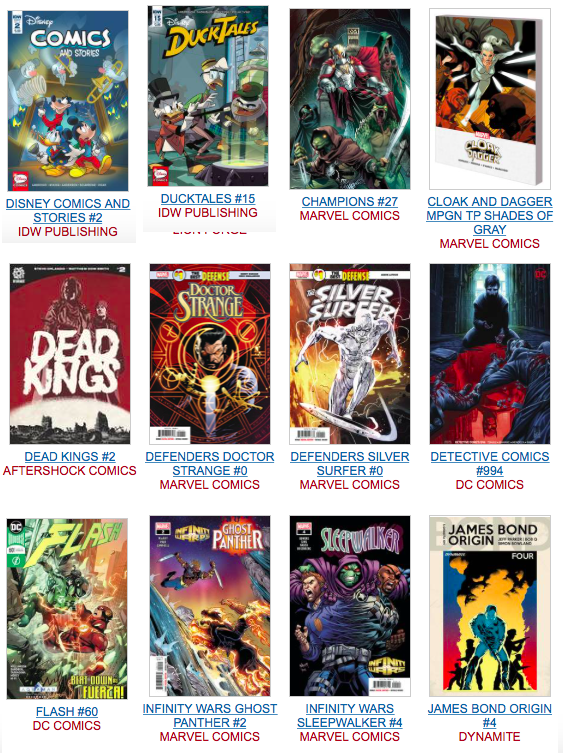 DEFENDERS DOCTOR STRANGE #1 $ 4.99
DEFENDERS DOCTOR STRANGE #1 YOUNG VAR $ 4.99
DEFENDERS SILVER SURFER #1 $ 4.99
DEFENDERS SILVER SURFER #1 YOUNG VAR $ 4.99
DETECTIVE COMICS #994 $ 3.99
DETECTIVE COMICS #994 VAR ED $ 3.99
DISNEY COMICS AND STORIES #2 CVR A CAMPINOTI $ 5.99
DOLLMAN KILLS THE FULL MOON UNIVERSE #5 (OF 6) CVR A STRUTZ $ 3.99
DRAGON AGE DECEPTION #3 $ 3.99
DUCKTALES #15 CVR A GHIGLIONE $ 3.99
ELECTRIC WARRIORS #2 (OF 6) $ 3.99
EMPTY MAN #2 MAIN $ 3.99
FANTASTIC FOUR WEDDING SPECIAL #1 $ 4.99
FANTASTIC FOUR WEDDING SPECIAL #1 ARTGERM VAR $ 4.99
FANTASTIC FOUR WEDDING SPECIAL #1 FERRY VAR $ 4.99
FANTASTIC FOUR WEDDING SPECIAL #1 MARTIN FF VILLAINS VAR $ 4.99
FANTASTIC FOUR WEDDING SPECIAL #1 MCKONE VAR $ 4.99
FIREFLY #1 2ND PTG $ 3.99
FLASH #60 $ 3.99
FLASH #60 VAR ED $ 3.99
FROM HELL MASTER EDITION #2 (MR) $ 7.99
GIANT DAYS #45 $ 3.99
GO GO POWER RANGERS #15 MAIN & MIX SG $ 3.99
GO GO POWER RANGERS #15 PREORDER MOK VAR SG $ 3.99
GOD OF WAR #2 (OF 4) $ 3.99
GODDESS MODE #1 (MR) $ 3.99
GODDESS MODE #1 VAR ED (MR) $ 3.99
HAWKMAN #7 $ 3.99
HAWKMAN #7 VAR ED $ 3.99
HEAD LOPPER #10 CVR A MACLEAN (MR) $ 5.99
HELLBOY WINTER SPECIAL 2018 CVR A MIGNOLA $ 3.99
HELLBOY WINTER SPECIAL 2018 CVR B MOON $ 3.99
HELLBOY WINTER SPECIAL 2018 CVR C BA $ 3.99
HEY KIDS COMICS #5 (OF 5) CVR A CAMERON (MR) $ 3.99
HIT-GIRL #11 CVR A ALBUQUERQUE (MR) $ 3.99
HIT-GIRL #11 CVR C FRANCAVILLA (MR) $ 3.99
HOUSE OF WHISPERS #4 (MR) $ 3.99
INFINITE DARK #3 $ 3.99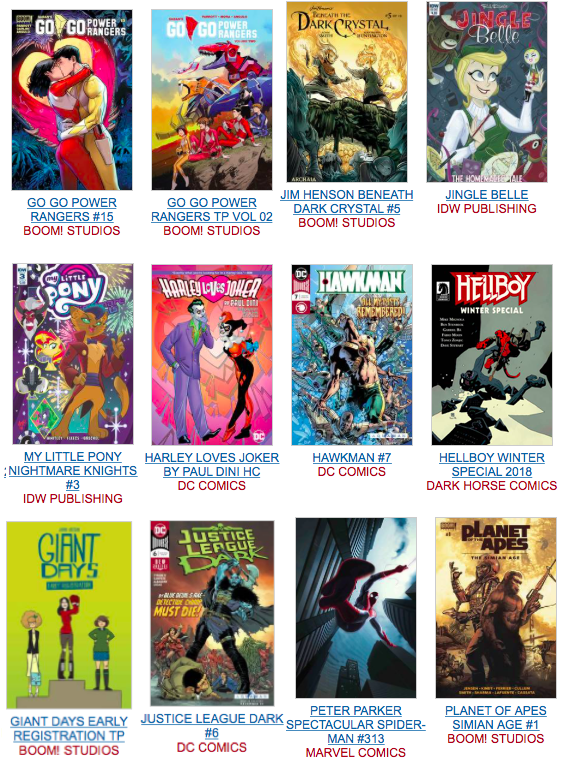 INFINITY WARS GHOST PANTHER #2 (OF 2) $ 3.99
INFINITY WARS SLEEPWALKER #4 (OF 4) $ 3.99
JAMES BOND ORIGIN #4 CVR A CASSADAY $ 3.99
JIM HENSON BENEATH DARK CRYSTAL #5 (OF 12) MAIN CVR DEWEY $ 3.99
JIM HENSON BENEATH DARK CRYSTAL #5 (OF 12) PREORDER PETERSEN $ 3.99
JINGLE BELLE HOMEMADES TALE $ 4.99
JOE GOLEM #4 (OF 5) THE DROWNING CITY $ 3.99
JUSTICE LEAGUE DARK #6 $ 3.99
JUSTICE LEAGUE DARK #6 VAR ED $ 3.99
LAND THAT TIME FORGOT #1 FEAR ON FOUR WORLDS WOLFER MAIN CVR $ 3.99
LONE RANGER VOL 3 #3 CVR A CASSADAY $ 3.99
MAGIC ORDER #5 (OF 6) CVR A COIPEL (MR) $ 3.99
MAGIC ORDER #5 (OF 6) CVR C LARSEN (MR) $ 3.99
MAGIC ORDER #5 (OF 6) CVR D BENGAL (MR) $ 3.99
MAGIC THE GATHERING CHANDRA #1 CVR A LASHLEY $ 3.99
MICKEY AND DONALD CHRISTMAS PARADE #4 $ 6.99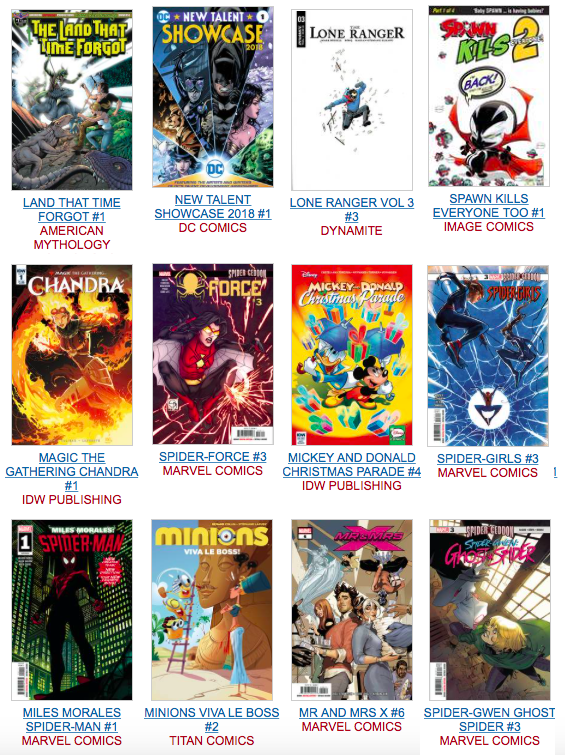 MILES MORALES SPIDER-MAN #1 $ 3.99
MILES MORALES SPIDER-MAN #1 ANIMATION VAR (1/10) $ ???
MILES MORALES SPIDER-MAN #1 DJURDJEVIC FANTASTIC FOUR VILLAI $ 3.99
MINIONS VIVA LE BOSS #2 CVR A COLLIN $ 3.99
MR AND MRS X #6 $ 3.99
MURDER FALCON #3 CVR A $ 3.99
MURDER FALCON #3 CVR B HEAVY METAL VAR $ 3.99
MY LITTLE PONY NIGHTMARE KNIGHTS #3 10 COPY INCV MEYER $ ???
MY LITTLE PONY NIGHTMARE KNIGHTS #3 CVR A FLEECS $ 3.99
MYSTERY SCIENCE THEATER 3000 #3 CVR A NAUCK $ 3.99
NEW TALENT SHOWCASE 2018 #1 $ 7.99
OBLIVION SONG BY KIRKMAN & DE FELICI #10 (MR) $ 3.99
OUTER DARKNESS #2 (MR) $ 3.99
PETER PARKER SPECTACULAR SPIDER-MAN #313 SG $ 3.99
PLANET OF APES SIMIAN AGE #1 ALLRED VAR $ 7.99
PLANET OF APES SIMIAN AGE #1 MAIN $ 7.99
QUANTUM AGE FROM THE WORLD OF BLACK HAMMER #5 CVR A TORRES $ 3.99
QUANTUM AGE FROM THE WORLD OF BLACK HAMMER #5 CVR B LOTAY $ 3.99
RED SONJA HOLIDAY SPECIAL $ 4.99
RED SONJA TARZAN #6 CVR A GEOVANI $ 3.99
RED SONJA TARZAN #6 CVR B DAVILA $ 3.99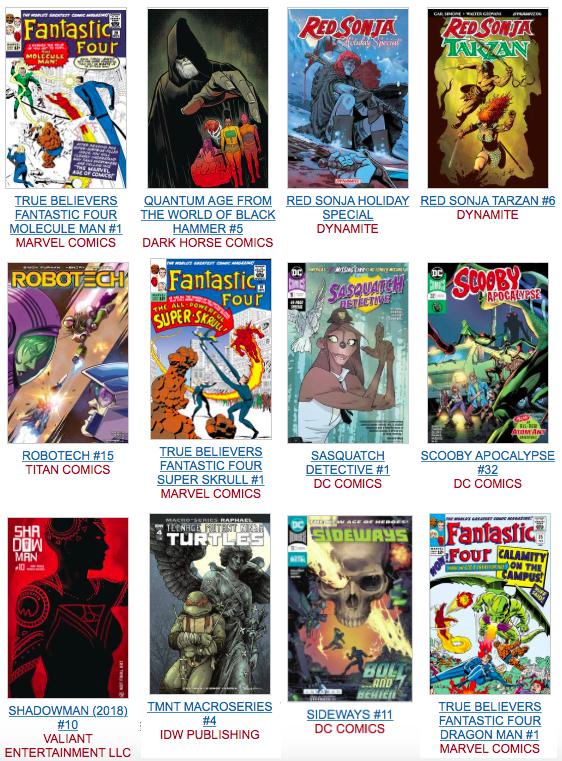 REDLANDS #9 (MR) $ 3.99
ROBOTECH #15 CVR A ROCHE $ 3.99
ROBOTECH #15 CVR B ACTION FIGURE VAR $ 3.99
ROBOTECH #15 CVR C BROKENSHIRE $ 3.99
ROSE #15 CVR A GUARA $ 3.99
SASQUATCH DETECTIVE #1 $ 7.99
SCOOBY APOCALYPSE #32 $ 3.99
SHADOWMAN (2018) #10 CVR A ZONJIC $ 3.99
SIDEWAYS #11 $ 2.99
SLEEPLESS #10 $ 3.99
SPAWN KILLS EVERYONE TOO #1 (OF 4) CVR A CLEAN MCFARLANE $ 3.99
SPAWN KILLS EVERYONE TOO #1 (OF 4) CVR B BLOODY MCFARLANE $ 3.99
SPAWN KILLS EVERYONE TOO #1 (OF 4) CVR C SKETCH MCFARLANE $ 3.99
SPIDER-FORCE #3 (OF 3) SG $ 3.99
SPIDER-GIRLS #3 (OF 3) SG $ 3.99
SPIDER-GWEN GHOST SPIDER #3 PACHECO FANTASTIC FOUR VILLAINS $ 3.99
SPIDER-GWEN GHOST SPIDER #3 SG $ 3.99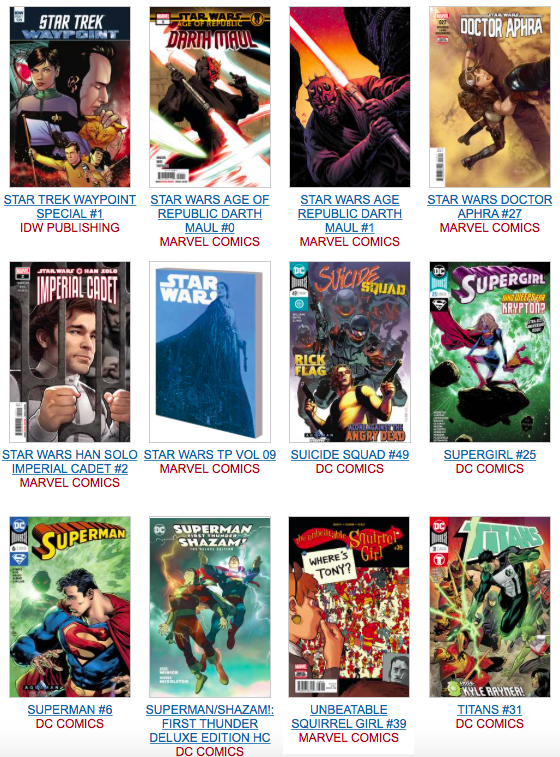 STAR TREK WAYPOINT SPECIAL #1 $ 7.99
STAR WARS AGE REPUBLIC DARTH MAUL #1 $ 3.99
STAR WARS AGE REPUBLIC DARTH MAUL #1 LUKE ROSS VAR $ 3.99
STAR WARS AGE REPUBLIC DARTH MAUL #1 MCCAIG DESIGN VAR $ 3.99
STAR WARS AGE REPUBLIC DARTH MAUL #1 MOVIE VAR (1/10) $ ???
STAR WARS DOCTOR APHRA #27 $ 3.99
STAR WARS HAN SOLO IMPERIAL CADET #2 (OF 5) $ 3.99
STAR WARS HAN SOLO IMPERIAL CADET #2 (OF 5) MARTIN VAR (1/25) $ ???
SUICIDE SQUAD #49 $ 3.99
SUICIDE SQUAD #49 VAR ED $ 3.99
SUPERGIRL #25 $ 4.99
SUPERGIRL #25 VAR ED $ 4.99
SUPERMAN #6 $ 3.99
SUPERMAN #6 VAR ED $ 3.99
TITANS #31 $ 3.99
TITANS #31 VAR ED $ 3.99
TMNT MACROSERIES #4 RAPHAEL CVR A PETERSEN $ 7.99
TRUE BELIEVERS FANTASTIC FOUR DRAGON MAN #1 $ 1
TRUE BELIEVERS FANTASTIC FOUR MOLECULE MAN #1 $ 1
TRUE BELIEVERS FANTASTIC FOUR SUPER SKRULL #1 $ 1
TYPHOID FEVER IRON FIST #1 $ 4.99
TYPHOID FEVER IRON FIST #1 SANDOVAL CONNECTING VAR $ 4.99
UNBEATABLE SQUIRREL GIRL #39 $ 3.99
UNBEATABLE SQUIRREL GIRL #39 MARVEL RISING ACTION DOLL HOMAG $ 3.99
UNCANNY X-MEN #5 $ 3.99
UNCANNY X-MEN #5 CHRISTOPHER ACTION FIGURE VAR $ 3.99
UNSTOPPABLE WASP #3 $ 3.99
VAMPIRELLA REANIMATOR #1 CVR A DESJARDINS $ 3.99
VAMPIRELLA REANIMATOR #1 CVR B SAYGER $ 3.99
VAMPIRELLA REANIMATOR #1 CVR D COSPLAY $ 3.99
VAMPIRONICA #5 CVR B FRANCAVILLA $ 3.99
VAMPIRONICA #5 CVR C TAYLOR $ 3.99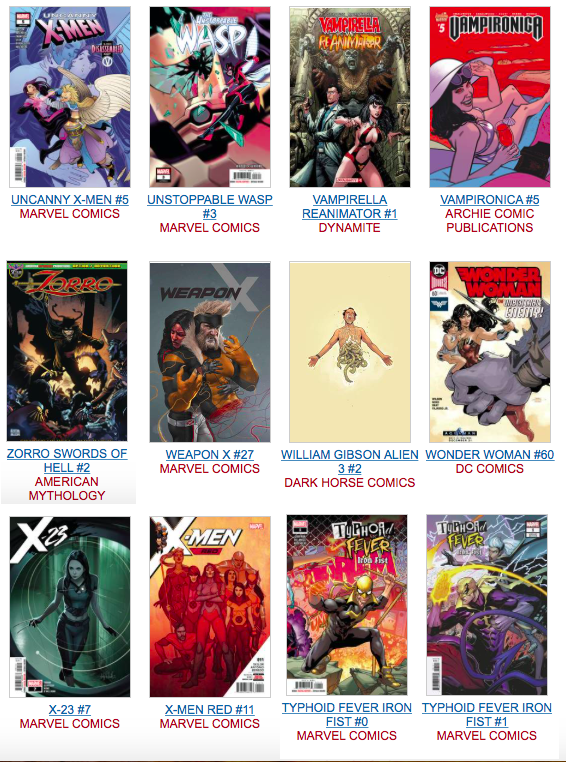 WEAPON X #27 $ 3.99
WONDER WOMAN #60 $ 3.99
WONDER WOMAN #60 VAR ED $ 3.99
X-23 #7 $ 3.99
X-23 #7 DEODATO VAR $ 3.99
X-MEN RED #11 $ 3.99
ZORRO SWORDS OF HELL #2 MARTINEZ MAIN CVR $ 3.99

AMAZING SPIDER-MAN TP WORLDWIDE VOL 09 $ 19.99
ANIMAL MAN BY GRANT MORRISON HC BOOK 01 30TH ANNIV DLX ED $ 34.99
AQUAMAN BY GEOFF JOHNS OMNIBUS HC $ 75
AQUAMAN TP VOL 06 KINGSLAYER $ 14.99
ATTACK ON TITAN GN VOL 26 (MR) $ 10.99
BLACKWOOD TP $ 17.99
BTVS SEASON 12 TP THE RECKONING $ 19.99
CABLE TP VOL 02 LAST HOPE $ 39.99
CAVE CARSON HAS AN INTERSTELLAR EYE TP (MR) $ 16.99
CLOAK AND DAGGER MPGN TP SHADES OF GREY $ 19.99
CURSE OF BRIMSTONE TP VOL 01 INFERNO $ 16.99
FLASH TP VOL 08 FLASH WAR $ 16.99
GIANT DAYS EARLY REGISTRATION TP $ 14.99
GO GO POWER RANGERS TP VOL 02 $ 16.99
HARLEY LOVES JOKER BY PAUL DINI HC $ 24.99
HILLBILLY TP VOL 03 $ 17.99
ICE CREAM MAN TP VOL 02 STRANGE NEAPOLITAN (MR) $ 16.99
JUDGE DREDD UNDER SIEGE TP $ 15.99
MARVEL KNIGHTS PUNISHER BY ENNIS COMPLETE COLLECTION TP VOL $ 34.99
PREDATOR TP ESSENTIAL COMICS $ 24.99
PUNISHER EPIC COLLECTION TP CIRCLE OF BLOOD $ 39.99
SANDMAN TP VOL 03 DREAM COUNTRY 30TH ANNIV ED (MR) $ 19.99
SCARLET TP BOOK 02 (MR) $ 14.99
SONS OF EL TOPO ORIGINAL GN HC VOL 01 CAIN $ 19.99
SPIDER-MAN DEMOLITION DAYS DIGEST TP $ 9.99
STAR WARS TP VOL 09 HOPE DIES $ 19.99
SUPERMAN SHAZAM FIRST THUNDER DLX ED HC $ 29.99
SWORD ART ONLINE PROGRESSIVE GN VOL 07 $ 13
TANK GIRL COLOR CLASSICS HC VOL 01 1988-1990 $ 24.99
WONDER WOMAN THE GOLDEN AGE TP VOL 02 $ 29.99
X-MEN GAMBIT COMPLETE COLLECTION TP VOL 02 $ 34.99

TOPPS FINEST 2018 STAR WARS T/C BOX $ ???

DC ARTISTS ALLEY BATGIRL BY MURASE VINYL FIG $ 39.99
DC ARTISTS ALLEY FLASH BY UMINGA VINYL FIG $ 39.99
HARRY POTTER 3D PLUSH KEYRING $ 6.99
MERMICORNO FRENZIES $ ???
PACIFIC RIM 2 SELECT AF SERIES 3 $ 24.99
SPIDER-MAN SPIDER-VERSE 6IN AF $ 11.99
TRANSFORMERS BUMBLEBEE DJ BUMBLEBEE AF CS $ ???
TRANSFORMERS BUMBLEBEE IGNITERS NITRO SER AF ASST 201801 $ ???
TRANSFORMERS BUMBLEBEE IGNITERS POWER SER AF ASST 201801 $ ???
TRANSFORMERS GEN STUDIO SER VOYAGER AF ASST 201802 $ ???
TRANSFORMERS GEN STUDIO SER VOYAGER AF ASST 201803 $ ???
UNICORNO AND FRIENDS 24PC BMB DS $ 9.99