Wednesday, December 26th,  2018 – Hardly Any New Comics, and Very late!
Taking this opportunity to wish all of you a Merry Christmas (again) and Happy New Year. I was away for Christmas Eve and Day and sort of forgot about this until Friday! So, for the sake of the archive of incoming (which I used today for about the third time this year), I will list the tiny little list of comics that came in 2 days ago and 1 lonely picture..
Sign in here to get an email reminder for ALL sales and other events. Also, you can go to fb.fantasybooksandgames.com and you'll be taken to our Facebook page. We do expect to use the Rewards system to make similar announcements, but it pays to be covered, right?
Thanks to Friendly Neighborhood Comics for this week's images, which include many of the comics and a few of the books we received today. 
BONE PARISH #5 $ 3.99
DIE DIE DIE #6 (MR) $ 3.99
FANTASTIC FOUR #5 $ 7.99
FANTASTIC FOUR #5 BROOKS VAR $ 7.99
FANTASTIC FOUR #5 MCKONE PARTY VAR $ 7.99
FANTASTIC FOUR #5 PAREL CONAN VAR $ 7.99
GO-BOTS #2 CVR A SCIOLI $ 3.99
GO-BOTS #2 CVR B SHAW $ 3.99
HELLBOY AND BPRD 1956 #2 (OF 5) $ 3.99
MAN-EATERS #4 $ 3.99
MARS ATTACKS #3 CVR A FRANCAVILLA $ 3.99
MARVEL ACTION AVENGERS #1 10 COPY INCV PITRE-DUROCHER (1/10) $ ???
MARVEL ACTION AVENGERS #1 SOMMARIVA $ 3.99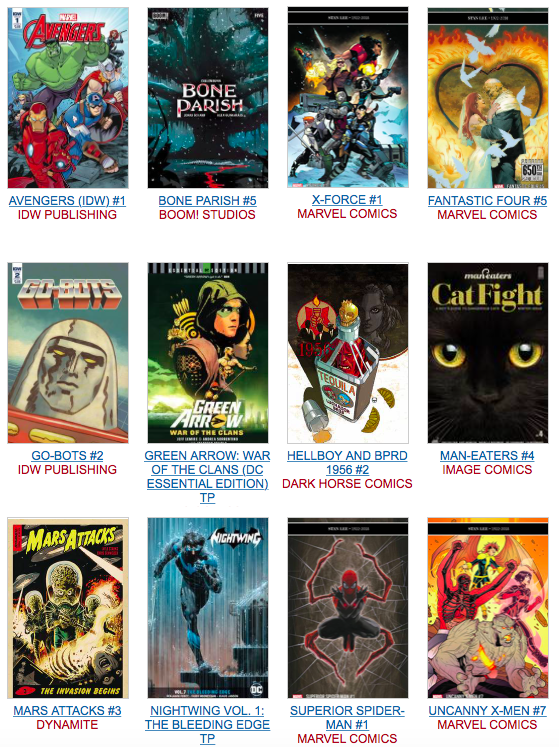 SUPERIOR SPIDER-MAN #1 DJURDJEVIC FANTASTIC FOUR VILLAINS VA $ 3.99
SUPERIOR SPIDER-MAN #1 SG $ 3.99
UNCANNY X-MEN #7 $ 3.99
UNCANNY X-MEN #7 CHRISTOPHER ACTION FIGURE VAR $ 3.99
X-FORCE #1 $ 4.99
X-FORCE #1 BLANK VAR $ 4.99
X-FORCE #1 DJURDJEVIC FANTASTIC FOUR VILLAINS VAR $ 4.99
X-FORCE #1 LIEFELD VAR (1/25) $ ???
X-FORCE #1 YOUNG VAR $ 4.99
X-FORCE #1 ZAFFINO VAR (1/10) $ ???

BATMAN BEYOND TP VOL 04 TARGET BATMAN $ 14.99
GREEN ARROW WAR OF THE CLANS ESSENTIAL EDITION TP $ 29.99
NIGHTWING TP VOL 07 THE BLEEDING EDGE $ 19.99