Wednesday, January 2nd,  2019 – Happy New Year
I hope you all had wonderful Christmas, Hannukah, or Festivus and have a safe and Happy New Year! This marks perhaps the only time I've EVER done this New Releases page early. Maybe I was early once a long time ago. I just finished the 12/26 list 2 days late, so I'm making up for that for next week. We already received next Tuesday's shipment,  Everything from section 2 down will be on sale as soon as I finish counting, but we have to hold on to the weekly comics until 1/2. (Don't even ask!)
Conan is back.  And Marvel has him, with a new #1, along with Champions, Immortal Hulk, Marvel Knights, Star Wars AOR Obi-Wan #1, Uncanny X-Men and Deadpool.  DC brings Action, Batgirl Detective, Flash and Wonder Woman. Stranger Things, Power Rangers and Walking Dead round out the highlights.
Sign in here to get an email reminder for ALL sales and other events. Also, you can go to fb.fantasybooksandgames.com and you'll be taken to our Facebook page. We do expect to use the Rewards system to make similar announcements, but it pays to be covered, right?
Thanks to Friendly Neighborhood Comics for this week's images, which include many of the comics and a few of the books we received today.  
ACTION COMICS #1006 $ 3.99
ACTION COMICS #1006 VAR ED $ 3.99
AMAZING SPIDER-MAN #9 2ND PTG RAMOS VAR $ 3.99
ANIMOSITY #18 (MR) $ 3.99
AVENGERS #10 2ND PTG MCGUINNESS VAR $ 5.99
BATGIRL #30 $ 3.99
BATGIRL #30 VAR ED $ 3.99
BATMAN BEYOND #27 $ 3.99
BATMAN BEYOND #27 VAR ED $ 3.99
BETTY & VERONICA JUMBO COMICS DIGEST #269 $ 6.99
BOOKS OF MAGIC #3 (MR) $ 3.99
BPRD DEVIL YOU KNOW #12 $ 3.99
CARSON OF VENUS #2 PIRATES OF VENUS MAIN CVR $ 3.99
CHAMPIONS #1 $ 3.99
CHAMPIONS #1 NOTO MARVEL 80TH VAR $ 3.99
CODA #8 (OF 12) MAIN & MIX $ 3.99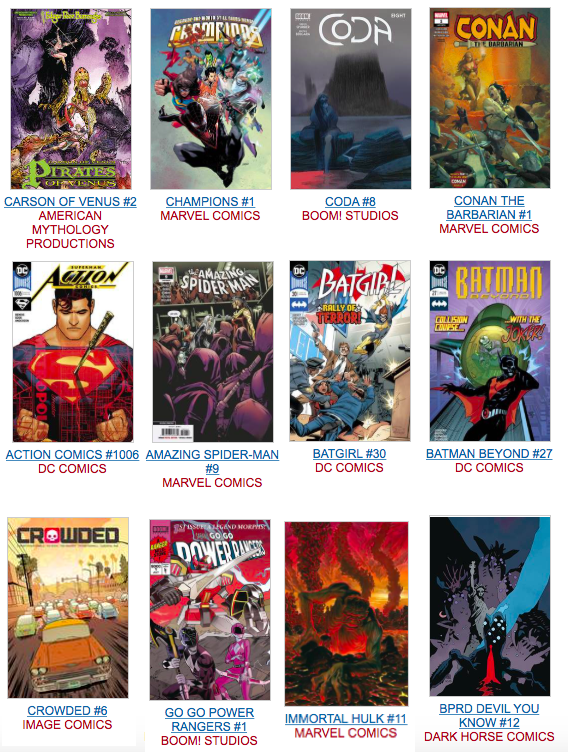 CONAN THE BARBARIAN #1 $ 4.99
CONAN THE BARBARIAN #1 CASSADAY VAR (1/10) $ ???
CONAN THE BARBARIAN #1 FAGAN VAR $ 4.99
CONAN THE BARBARIAN #1 RIBIC TEASER VAR $ 4.99
CONAN THE BARBARIAN #1 SAIZ VAR $ 4.99
CROWDED #6 CVR A STEIN BRANDT & FARRELL $ 3.99
DAREDEVIL #609 2ND PTG NOTO VAR $ 3.99
DAREDEVIL #610 2ND PTG NOTO VAR $ 3.99
DAREDEVIL #611 2ND PTG NOTO VAR $ 3.99
DEADPOOL #8 $ 3.99
DEADPOOL #8 JAMAL CAMPBELL GOTG VAR $ 3.99
DETECTIVE COMICS #995 $ 3.99
DETECTIVE COMICS #995 VAR ED $ 3.99
EMPTY MAN #3 MAIN $ 3.99
FANTASTIC FOUR #3 2ND PTG PICHELLI VAR $ 3.99
FLASH #61 $ 3.99
FLASH #61 VAR ED $ 3.99
GASOLINA #14 (MR) $ 3.99
GIANT DAYS #46 $ 3.99
GO GO POWER RANGERS #1 MORA SDCC CONNECTING CVR A $ 19.99
HALO LONE WOLF #1 (OF 4) $ 3.99
HEROES IN CRISIS #4 (OF 9) $ 3.99
HEROES IN CRISIS #4 (OF 9) VAR ED $ 3.99
HEX WIVES #3 (MR) $ 3.99
IMMORTAL HULK #11 $ 3.99
IMMORTAL HULK #11 NOTO MARVEL 80TH VAR $ 3.99
INFINITY WARS INFINITY #1 $ 3.99
INJUSTICE VS THE MASTERS OF THE UNIVERSE #6 (OF 6) $ 3.99
INVADER ZIM #38 CVR A $ 3.99
INVADER ZIM #38 CVR B MADDIE C VAR $ 3.99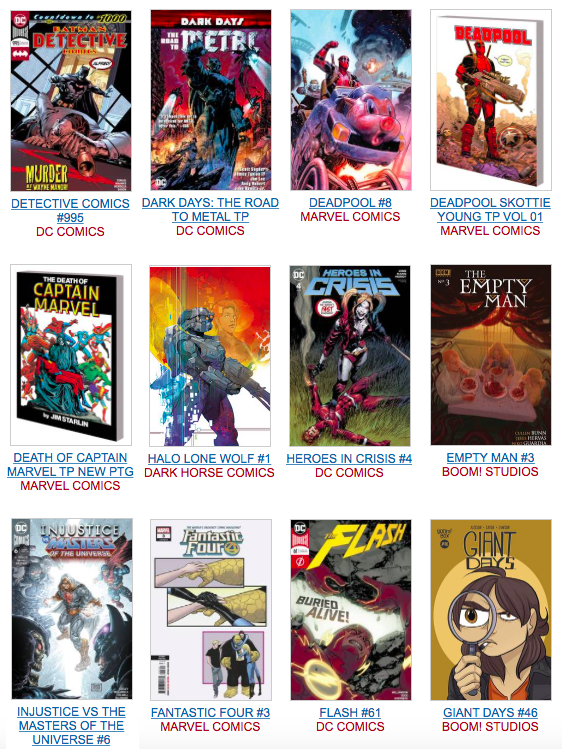 JUGHEAD THE HUNGER #11 CVR A GORHAM (MR) $ 3.99
JUSTICE LEAGUE ODYSSEY #4 $ 3.99
JUSTICE LEAGUE ODYSSEY #4 VAR ED $ 3.99
KILLMONGER #3 (OF 5) $ 3.99
LOW #20 CVR A TOCCHINI (MR) $ 3.99
LOW #20 CVR B SCALERA (MR) $ 3.99
LOW #20 CVR C TOCCHINI (MR) $ 3.99
MARVEL KNIGHTS 20TH #5 (OF 6) $ 3.99
MARVEL KNIGHTS 20TH #5 (OF 6) ANDREWS CONNECTING VAR $ 3.99
MARVEL TALES FANTASTIC FOUR #1 $ 7.99
MIDDLEWEST #1 2ND PTG (MR) $ 3.99
MIGHTY MORPHIN POWER RANGERS #17 MORA SDCC EXCL VAR $ ???
MIGHTY MORPHIN POWER RANGERS 2017 ANNUAL #1 MORA SDCC VAR $ ???
MR AND MRS X #7 $ 3.99
MSH ADVENTURES SPIDER-MAN ACROSS SPIDER-VERSE #1 $ 3.99
OLD LADY HARLEY #3 (OF 5) $ 3.99
OLIVIA TWIST #4 (MR) $ 4.99
PROJECT SUPERPOWERS #5 CVR A MATTINA $ 3.99
MARVEL PREVIEWS VOL 04 #18 JANUARY 2019 $ ???
PREVIEWS #364 JANUARY 2019 $ 3.95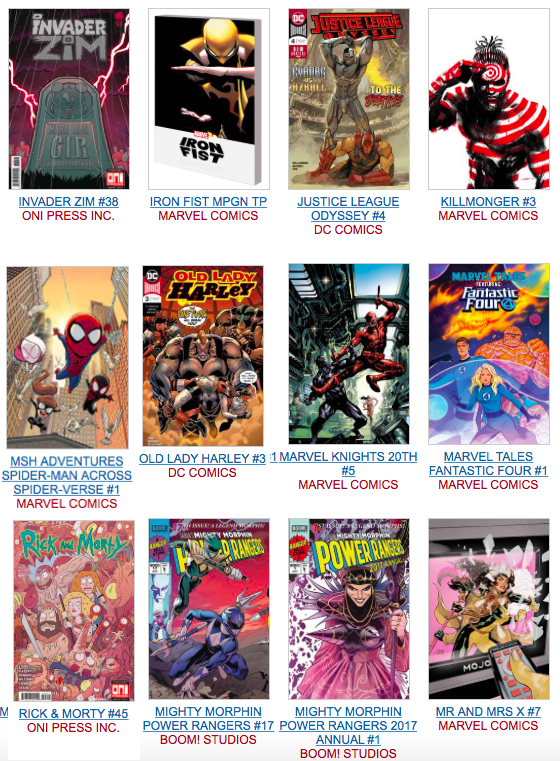 RAGS #2 2ND PTG (MR) $ 3.99
RAINBOW BRITE #3 CVR B CLASSIC $ 3.99
RAVEN DAUGHTER OF DARKNESS #11 (OF 12) $ 3.99
REDNECK #18 (MR) $ 3.99
RETURN OF WOLVERINE #2 (OF 5) 2ND PTG SHALVEY VAR $ 3.99
RICK & MORTY #45 CVR A $ 3.99
RICK & MORTY #45 CVR B HARVEY VAR $ 3.99
RUNAWAYS #17 $ 3.99
SAVAGE DRAGON #241 (MR) $ 3.99
SCARLET #5 (OF 5) (MR) $ 3.99
SCOOBY DOO TEAM UP #45 $ 2.99
SHATTERSTAR #4 (OF 5) $ 3.99
SILENCER #12 $ 2.99
SPIDER-GEDDON #3 (OF 5) 2ND PTG BARBERI VAR $ 3.99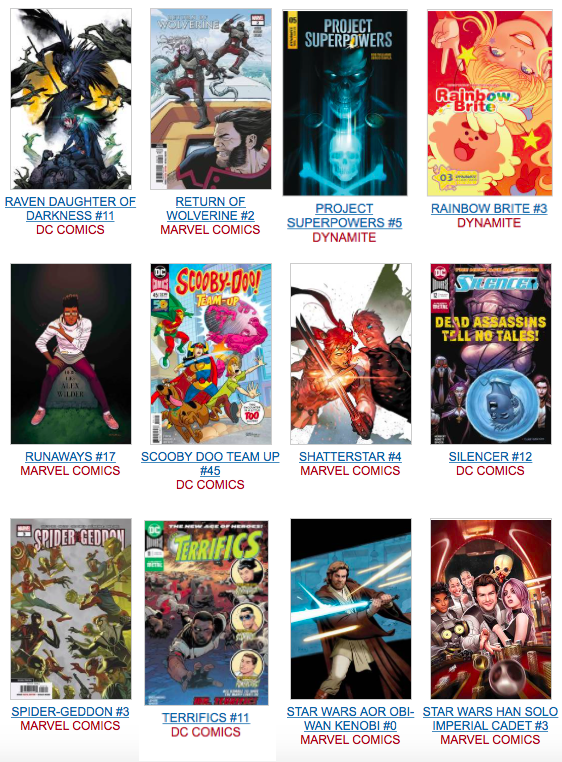 STAR WARS AOR OBI-WAN KENOBI #1 $ 3.99
STAR WARS AOR OBI-WAN KENOBI #1 MCCAIG CONCEPT VAR $ 3.99
STAR WARS AOR OBI-WAN KENOBI #1 MOVIE VAR (1/10) $ ???
STAR WARS AOR OBI-WAN KENOBI #1 RAHZZAH VAR $ 3.99
STAR WARS AOR OBI-WAN KENOBI #1 YU HEROES VAR $ 3.99
STAR WARS HAN SOLO IMPERIAL CADET #3 (OF 5) $ 3.99
STAR WARS HAN SOLO IMPERIAL CADET #3 (OF 5) NAUCK VAR (1/25) $ ???
STRANGER THINGS #4 CVR A BRICLOT $ 3.99
STRANGER THINGS #4 CVR B BARTEL $ 3.99
STRANGER THINGS #4 CVR C YOUNG $ 3.99
STRANGER THINGS #4 CVR D SATTERFIELD PHOTO VAR $ 3.99
TERRIFICS #11 $ 2.99
TITANS #32 $ 3.99
TITANS #32 VAR ED $ 3.99
TONY STARK IRON MAN #7 $ 3.99
TONY STARK IRON MAN #7 UNCANNY X-MEN VAR $ 3.99
TRUE BELIEVERS CONAN THE BARBARIAN #1 $ 1
TRUE BELIEVERS CONAN TOWER OF ELEPHANT #1 $ 1
UMBRELLA ACADEMY HOTEL OBLIVION #4 CVR A BA $ 3.99
UMBRELLA ACADEMY HOTEL OBLIVION #4 CVR B BA $ 3.99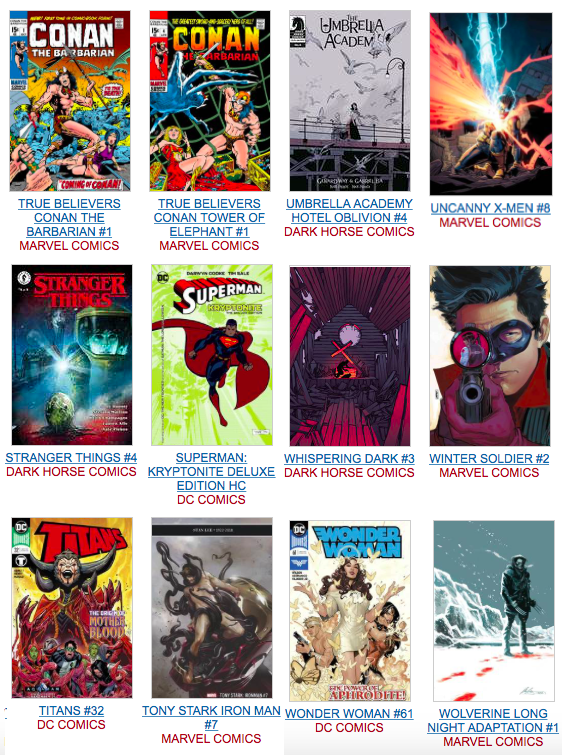 UNCANNY X-MEN #8 $ 3.99
UNCANNY X-MEN #8 CHRISTOPHER ACTION FIGURE VAR $ 3.99
UNCANNY X-MEN #8 MARQUEZ GOTG VAR $ 3.99
UNNATURAL #6 (OF 12) CVR A ANDOLFO (MR) $ 3.99
UNNATURAL #6 (OF 12) CVR B TARR (MR) $ 3.99
WALKING DEAD #187 (MR) $ 3.99
WHISPERING DARK #3 $ 3.99
WINTER SOLDIER #2 $ 3.99
WOLVERINE LONG NIGHT ADAPTATION #1 (OF 5) $ 4.99
WONDER WOMAN #61 $ 3.99
WONDER WOMAN #61 VAR ED $ 3.99

AVENGERS TP KREE SKRULL WAR NEW PTG $ 24.99
BATMAN BY NEAL ADAMS TP BOOK 02 $ 24.99
BATMAN PRODIGAL TP NEW ED $ 24.99
BATMAN SHADOW THE MURDER GENIUSES TP $ 16.99
BLACK HAMMER TP VOL 03 AGE OF DOOM PART I $ 19.99
DARK DAYS ROAD TO METAL TP $ 19.99
DEADPOOL SKOTTIE YOUNG TP VOL 01 MERCIN HARD FOR MONEY $ 17.99
DEATH OF CAPTAIN MARVEL TP NEW PTG $ 19.99
DEATH OF INHUMANS TP $ 15.99
GANTZ OMNIBUS TP VOL 02 $ 24.99
GUARDIANS OF THE GALAXY TOMORROWS HEROES OMNIBUS HC $ 100
HAL JORDAN & THE GLC TP VOL 07 DARKSTARS RISING $ 19.99
HOUSE OF MYSTERY THE BRONZE AGE OMNIBUS HC VOL 01 $ 99.99
IRON FIST MPGN TP $ 19.99
JIM HENSON POWER OF DARK CRYSTAL TP VOL 01 $ 16.99
JINX TP NEW ED (MR) $ 29.99
MY LITTLE PONY PONYVILLE MYSTERIES TP VOL 01 $ 17.99
RING OF NIBELUNG TP $ 24.99
SPIDER-GEDDON TP EDGE OF SPIDER-GEDDON $ 15.99
SPIDER-MAN BEN REILLY OMNIBUS HC VOL 01 $ 125
SUPERMAN KRYPTONITE DELUXE ED HC $ 29.99
SWEET TOOTH TP BOOK 03 (MR) $ 24.99
SWORD ART ONLINE PROGRESSIVE GN VOL 07 $ 13
TONY STARK IRON MAN TP VOL 01 SELF MADE MAN $ 15.99
WILDSTORM MICHAEL CRAY TP VOL 02 $ 16.99

BOWMAN 2018 DRAFT BASEBALL T/C BOX $ ???
BOWMAN 2018 DRAFT BASEBALL T/C JUMBO BOX $ ???

GUNDAM ASTRAY REDFRAME HIGH RES 1/100 MODEL $ ???
GUNDAM BUILD DIVERS GBN GUARD FRAME HGBD 1/144 MDL KIT $ ???
GUNDAM MSV-R 23 GM INTERCEPT CUSTOM 1/144 MDL KIT $ ???
MECHA COLL STAR BLAZERS ANDROMEDA CLASS SET MDL KIT $ ???
POP JURASSIC PARK NEDRY/DILOPOSAURUS FIG 2PK $ ???
POP POWER RANGERS LORD DRAKKON PX VINYL FIGURE $ 11.99
SPECIALTY SERIES MYSTERY MINIS SAILOR MOON S1 12PC BMB DISP $ 8.99


DC PREVIEWS #9 JANUARY 2019 $ ???
PREVIEWS #364 JANUARY 2019 CUSTOMER ORDER FORM EXTRAS $ ???

CAPTAIN MARVEL #1 BY ALEX ROSS POSTER $ 8.99