Guardians Return to Guard the Galaxy  on Wednesday, January 23rd,  2019
Perhaps in an attempt to appeal to older collectors, Marvel made the # 1 abnormally large on GOTG #1. The rest of their numbers are normally small on Immortal Hulk, Man without Fear, Moon Girl, Superior Spider-Man, and Uncanny X-Men Annual. DC presents Aquaman, Batman, Damage, Freedom Fighters, Justice League, Sideways, Shazam #2, Teen Titans, and a new character called Naomi (#1). The rest of the universe contains Aliens Resistance #1, Blossoms 666 #1, Monstress, My Little Pony, NBX Zero's Journey, TMNT, Wild Storm and X-O Manowar.  Of course, the complete list is much longer –   Check it out below.
Sign in here to get an email reminder for ALL sales and other events. Also, you can go to fb.fantasybooksandgames.com and you'll be taken to our Facebook page. We do expect to use the Rewards system to make similar announcements, but it pays to be covered, right?
Thanks to Friendly Neighborhood Comics for this week's images, which include many of the comics and a few of the books we received today.  
ALIENS RESISTANCE #1 CVR A LA TORRE $ 3.99
ALIENS RESISTANCE #1 CVR B JONES $ 3.99
AMERICAN CARNAGE #3 (MR) $ 3.99
AQUAMAN #44 $ 3.99
AQUAMAN #44 VAR ED $ 3.99
AVENGERS #13 $ 3.99
AVENGERS #13 ZIRCHER GOTG VAR $ 3.99
BATMAN #63 $ 3.99
BATMAN #63 VAR ED $ 3.99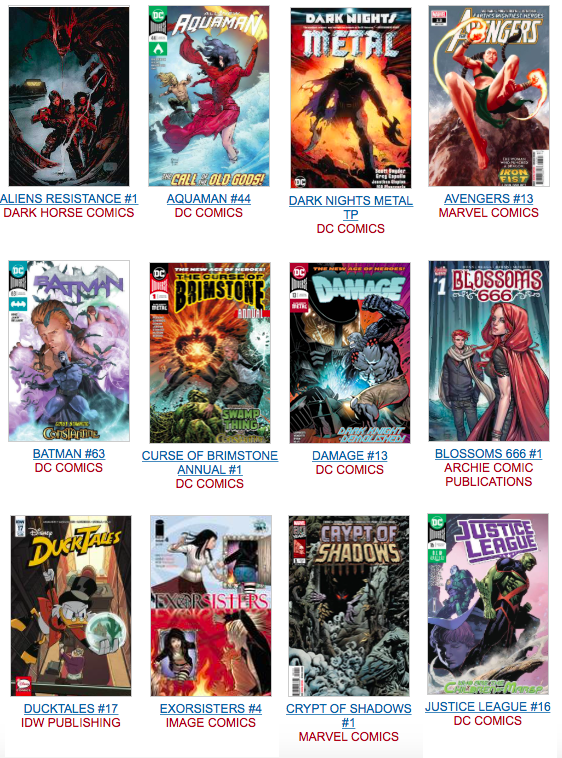 BEAUTY #26 CVR A HAUN & FILARDI (MR) $ 3.99
BLOSSOMS 666 #1 CVR A BRAGA $ 3.99
BLOSSOMS 666 #1 CVR B EISMA $ 3.99
BLOSSOMS 666 #1 CVR C FRANCAVILLA $ 3.99
BLOSSOMS 666 #1 CVR D HACK $ 3.99
BLOSSOMS 666 #1 CVR E MALHOTRA $ 3.99
COVER #5 (OF 6) (MR) $ 3.99
CRYPT OF SHADOWS #1 $ 3.99
CRYPT OF SHADOWS #1 CHRISTOPHER VAR $ 3.99
CURSE OF BRIMSTONE ANNUAL #1 $ 4.99
DAMAGE #13 $ 3.99
DIE DIE DIE #7 (MR) $ 3.99
DUCKTALES #17 $ 3.99
EXORSISTERS #4 CVR A LAGACE & PANTAZIS $ 3.99
EXORSISTERS #4 CVR B TEMPLETON $ 3.99
FREEDOM FIGHTERS #2 (OF 12) $ 3.99
FRIENDLY NEIGHBORHOOD SPIDER-MAN #2 $ 3.99
GAME OF THRONES CLASH OF KINGS #15 CVR B RUBI (MR) $ 3.99
GI JOE A REAL AMERICAN HERO SILENT OPTION #3 (OF 4) CVR A DI $ 4.99
GO-BOTS #3 CVR A SCIOLI $ 3.99
GO-BOTS #3 CVR B SHAW $ 3.99
GUARDIANS OF THE GALAXY #1 $ 4.99
GUARDIANS OF THE GALAXY #1 BLANK VAR $ 4.99
GUARDIANS OF THE GALAXY #1 DEODATO PARTY VAR $ 4.99
GUARDIANS OF THE GALAXY #1 LIM VAR $ 4.99
GUARDIANS OF THE GALAXY #1 PAREL VAR (1/25) $ ???
GUARDIANS OF THE GALAXY #1 RIBIC VAR (1/50) $ ???
GUARDIANS OF THE GALAXY #1 SHAW WRAPAROUND VAR $ 4.99
GUARDIANS OF THE GALAXY #1 SKROCE VAR (1/10) $ ???
GUARDIANS OF THE GALAXY #1 WRIGHTSON HIDDEN GEM VAR $ 4.99
GUARDIANS OF THE GALAXY #1 YOUNG VAR $ 4.99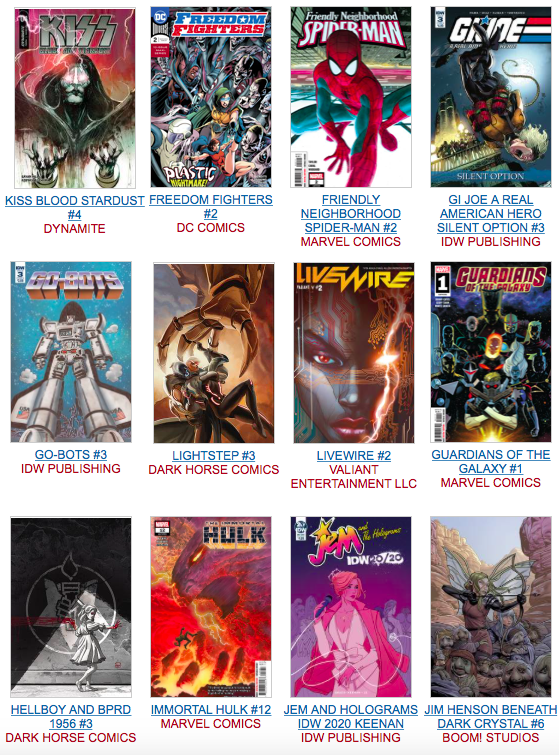 HARDCORE #2 (MR) $ 3.99
HELLBOY AND BPRD 1956 #3 (OF 5) $ 3.99
IMMORTAL HULK #12 $ 3.99
IMMORTAL HULK #12 SHAW GOTG VAR $ 3.99
IMMORTAL HULK #12 SLINEY CONAN VAR $ 3.99
JEM AND HOLOGRAMS IDW 2020 KEENAN $ 4.99
JIM HENSON BENEATH DARK CRYSTAL #6 (OF 12) MAIN CVR DEWEY $ 3.99
JUSTICE LEAGUE #16 $ 3.99
JUSTICE LEAGUE #16 VAR ED $ 3.99
KISS BLOOD STARDUST #4 CVR D PHOTO SUB VAR $ 3.99
LIGHTSTEP #3 (OF 5) $ 3.99
LIVEWIRE #2 CVR A POLLINA $ 3.99
LIVEWIRE #2 CVR B HUTCHISON $ 3.99
LUCIFER #4 (MR) $ 3.99
MAN WITHOUT FEAR #4 $ 3.99
MAN WITHOUT FEAR #4 CAMUNCOLI CONNECTING VAR $ 3.99
MARS ATTACKS #4 CVR D HACK $ 3.99
MARVEL TALES FANTASTIC FOUR #1 $ 7.99
MARVELS AVENGERS UNTITLED ENDGAME PRELUDE #2 (OF 3) (missing – maybe next week) $ 3.99
MONSTRESS #19 (MR) $ 3.99
MOON GIRL AND DEVIL DINOSAUR #39 $ 3.99
MY LITTLE PONY FRIENDSHIP IS MAGIC #74 SOUVANNY VAR (1/10) $ ???
MY LITTLE PONY FRIENDSHIP IS MAGIC #74 CVR A SHERRON $ 3.99
MY LITTLE PONY IDW 2020 FLEECS VAR (1/10) $ ???
MY LITTLE PONY IDW 2020 KUUSISTO $ 4.99
NAOMI #1 $ 3.99
NAOMI #1 VAR ED $ 3.99
NIGHTMARE BEFORE CHRISTMAS ZEROS JOURNEY #6 $ 3.99
OLIVER #1 CVR A ROBERTSON $ 3.99
OLIVER #1 CVR B FABRY $ 3.99
OUTCAST BY KIRKMAN & AZACETA #38 (MR) $ 3.99
PEARL #6 (MR) $ 3.99
PUNCHLINE #3 $ ???
REGRESSION #15 (MR) $ 3.99
RISE OF THE TMNT #4 SURIANO CVR $ 3.99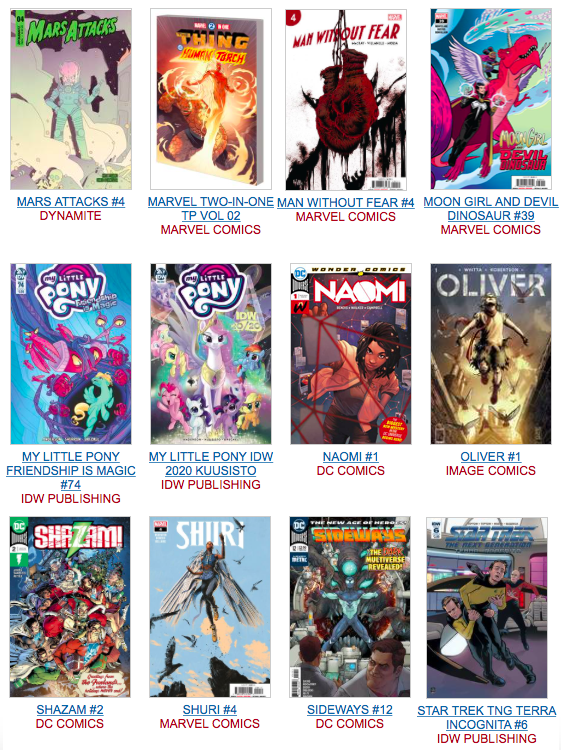 SHAZAM #2 $ 3.99
SHAZAM #2 VAR ED $ 3.99
SHURI #4 $ 3.99
SIDEWAYS #12 $ 2.99
SILVER SURFER #14 FACSIMILE EDITION (missing – maybe next week) $ 3.99
STAR TREK TNG TERRA INCOGNITA #6 CVR B PHOTO $ 3.99
STAR WARS #60 $ 3.99
STAR WARS #60 CHRISTOPHER ACTION FIGURE $ 3.99
STARGATE ATLANTIS UNIVERSE ANTHOLOGY ONGOING #3 SGA PHOTO CV $ 3.99
SUPERIOR SPIDER-MAN #2 $ 3.99
SUPERIOR SPIDER-MAN #2 MCKONE GOTG VAR $ 3.99
TANK GIRL ACTION ALLEY #2 CVR A PARSON $ 3.99
TANK GIRL ACTION ALLEY #2 CVR B ACTION FIGURE $ 3.99
TANK GIRL ACTION ALLEY #2 CVR C ARTIST ED $ 3.99
TEEN TITANS #26 $ 3.99
TEEN TITANS #26 VAR ED $ 3.99
TEEN TITANS GO #32 $ 2.99
TMNT ONGOING #90 CVR A DIALYNAS $ 3.99
TMNT ONGOING #90 CVR B EASTMAN $ 3.99
TRUE BELIEVERS CONAN SECRET OF SKULL RIVER #1 $ 1
TRUE BELIEVERS KING CONAN #1 $ 1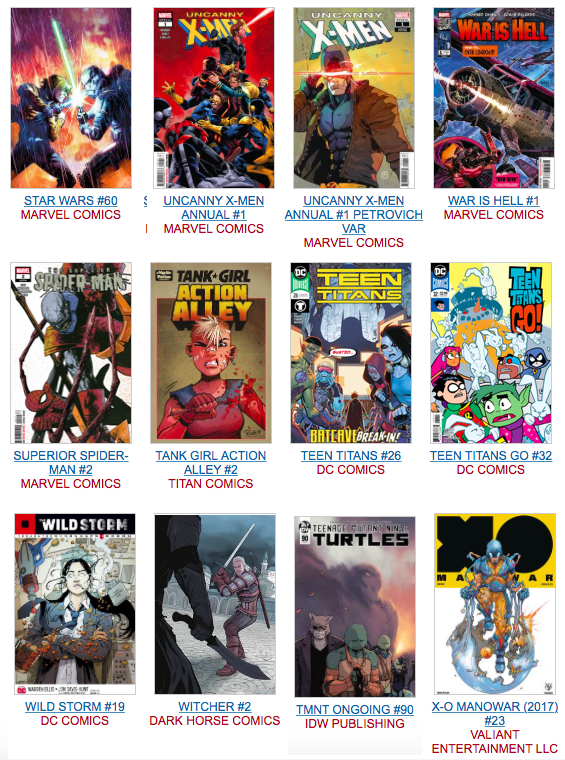 UNCANNY X-MEN ANNUAL #1 $ 4.99
UNCANNY X-MEN ANNUAL #1 PETROVICH VAR $ 4.99
WAR IS HELL #1 $ 3.99
WAR IS HELL #1 LAND VAR $ 3.99
WHITE WIDOW #1 MAIN CVR $ ???
WILD STORM #19 $ 3.99
WILD STORM #19 VAR ED $ 3.99
WITCHER #2 OF FLESH & FLAME $ 3.99
X-O MANOWAR (2017) #23 CVR A ROCAFORT (NEW ARC) $ 3.99

COMIC SHOP NEWS #1649 zyx FREE

ABSOLUTE FLASHPOINT HC $ 75
BATMAN BRAVE & BOLD BRONZE AGE OMNIBUS TP VOL 02 $ 34.99
BATTLE ANGEL ALITA MARS CHRONICLE GN VOL 05 $ 10.99
BEN REILLY SCARLET SPIDER TP VOL 05 $ 17.99
BLACK BUTLER GN VOL 27 $ 13
BLACK PANTHER TP BOOK 06 INTERG EMPIRE WAKANDA PT 01 $ 17.99
COSMIC GHOST RIDER TP BABY THANOS MUST DIE $ 15.99
DAREDEVIL BACK IN BLACK TP VOL 08 DEATH OF DAREDEVIL $ 19.99
DARK NIGHTS METAL TP $ 19.99
EXTERMINATION TP $ 17.99
JUGHEAD HUNGER TP VOL 02 (MR) $ 17.99
LOBO BY KEITH GIFFEN & ALAN GRANT TP VOL 02 $ 24.99
MARVEL TWO-IN-ONE TP VOL 02 NEXT OF KIN $ 17.99
NEW MUTANTS ABNETT LANNING TP VOL 01 COMPLETE COLLECTION $ 34.99
OLYMPIANS GN VOL 11 HEPHAISTOS GOD OF FIRE $ 10.99
PROBLEM OF SUSAN AND OTHER STORIES HC $ 17.99
PROXIMA CENTAURI TP (MR) $ 16.99
UNBEATABLE SQUIRREL GIRL HC VOL 04 $ 34.99
WITCH PT 5 BOOK OF ELEMENTS GN VOL 01 $ 15
WITCH PT 5 BOOK OF ELEMENTS GN VOL 02 $ 15

BRIDE OF CHUCKY ULTIMATE CHUCKY & TIFFANY 7IN SCALE AF 2PK ( $ 58.99
MY HERO ACADEMIA 3D FIGURAL KEYRING 24PC BMB DIS $ 6.99
MYSTERY MINIS ONE PIECE 12PC BMB DISP $ 8.99
PANS LABYRINTH PALE MAN 7IN AF $ 35.99
POP DISNEY NUTCRACKER CLARA VINYL FIG $ 11.99
POP DOCTOR WHO TARDIS CLARA MEMORIAL 6IN VINYL FIG $ 16.99
POP GAMES SPIDER-MAN S1 SPIDER-MAN VINYL FIG $ 11.99
POP MARVEL STUDIOS 10 THOR VINYL FIG $ 13.99
POP MOVIES GRINCH MOVIE GRINCH VINYL FIG $ 11.99
POP SPECIALTY SERIES SOUTH PARK MR GARRISON VINYL FIG (C: 1- $ 11.99
POP STAR WARS HOLIDAY CHEWBACCA VINYL FIG $ 11.99
POP STAR WARS HOLIDAY DARTH VADER VINYL FIG $ 11.99
POP STAR WARS HOLIDAY R2D2 VINYL FIG $ 11.99
POP STAR WARS HOLIDAY YODA VINYL FIG $ 11.99
POP TV SOUTH PARK W2 MR HANKEY VINYL FIG $ 11.99