Detective 998! And a lot more to read on Wednesday, Feb 13th, 2019
I know, it's kind of like celebrating your Silver Anniversary a year early. But, DC is going to celebrate their Second #1000 milestone in as many years, and they always ramp it up ahead of time, so you'll want to start catching up now before #1000 hits the racks in 2 months, right? They're also bringing Flash, Batman Who Laughs, Hawkman, Detective, Justice League Dark, Red Hood, Supergirl, Superman, Titans, Wonder Twins and Wonder Woman. Marvel shows up with Amazing Spider-Man, Avengers No Road Home #1, Dead Man Logan, Immortal Hulk, Ms Marvel, Mr & Mrs X, Punisher, Spider-Man Deadpool, Thor, Spider-Gwen Ghost, Star Wars Han Solo, SW AOR  Count Dooku #1, a couple of True Believer Captain Marvels for $1, and Savage Sword of Conan #1. Other notables this week include Blackbird, and Avatar Tsu Teys Path.  Oh, and there's that giant 15-inch (is that "life" size?) talking Chucky doll. And Vampirella fans, we have 2 special Roses for the Dead #1 signature set, with a really fancy magnetic hasp box. Nine variant #1's, with 2 of them signed by Linsner and Tucci and 2 mini-prints also signed by the same artists. And we're marking it down from $200 to $100.
Of course, the complete list is much longer –   Check it out below. If you are in the intersection of the set of readers of this blog and the set of those that order from us through the Previews catalog (what's the smallest number that is NOT negative), you should know that they forgot to pack it for us and we'll all have to wait for at least a week.
Sign in here to get an email reminder for ALL sales and other events. Also, you can go to fb.fantasybooksandgames.com and you'll be taken to our Facebook page. We do expect to use the Rewards system to make similar announcements, but it pays to be covered, right?
Thanks to Friendly Neighborhood Comics for this week's images, which include many of the comics and a few of the books we received today.  
ADVENTURE TIME SEASON 11 #5 MAIN $3.99
AGE OF X-MAN NEXTGEN #1 (OF 5) $3.99
AGE OF X-MAN NEXTGEN #1 (OF 5) INHYUK LEE CONNECTING VAR $3.99
ALIEN 3 #4 CVR A CHRISTMAS $3.99
ALIEN 3 #4 CVR B MOORE $3.99
AMAZING SPIDER-MAN #15 $3.99
AMAZING SPIDER-MAN #15 GARBETT SKRULLS VAR $3.99
AMAZING WORLD GUMBALL SPRING BREAK SMASH #1 MAIN $7.99
ARMY OF DARKNESS BUBBA HOTEP #1 CVR C HACK $3.99
ARMY OF DARKNESS BUBBA HOTEP #1 CVR D GALINDO $3.99
ARMY OF DARKNESS BUBBA HOTEP #1 CVR E KUBERT $3.99
AUNTIE AGATHAS HOME FOR WAYWARD RABBITS #4 (OF 6) $3.99
AVATAR TSU TEYS PATH #2 CVR A WHEATLEY $3.99
AVATAR TSU TEYS PATH #2 CVR B STANDERFER $3.99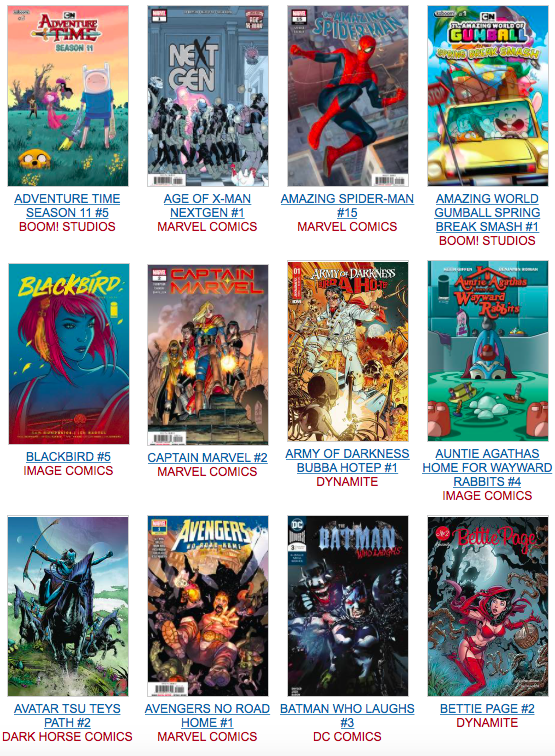 AVENGERS NO ROAD HOME #1 (OF 10) $4.99
AVENGERS NO ROAD HOME #1 (OF 10) FERREYRA VAR $4.99
AVENGERS NO ROAD HOME #1 (OF 10) SUAYAN CONNECTING VAR $4.99
BATMAN WHO LAUGHS #3 (OF 6) $4.99
BATMAN WHO LAUGHS #3 (OF 6) VAR ED $4.99
BETTIE PAGE #2 CVR A ROYLE $3.99
BETTIE PAGE #2 CVR E PHOTO $3.99
BLACKBIRD #5 CVR A BARTEL $3.99
BLACKBIRD #5 CVR B FRISON $3.99
BY NIGHT #8 (OF 12) MAIN CVR LARSEN $3.99
CAPTAIN MARVEL #1 2ND PTG CAMERO VAR $4.99
CAPTAIN MARVEL #2 $3.99
CAPTAIN MARVEL #2 CARNERO DESIGN WRAPAROUND VAR (1/10) $3.99
CAPTAIN MARVEL #2 MOVIE VAR $3.99
CARSON OF VENUS FLAMES BEYOND #2 MESARCIA MAIN CVR $3.99
CRIMINAL #2 (MR) $3.99
DEAD KINGS #3 $3.99
DEAD MAN LOGAN #4 (OF 12) $3.99
DETECTIVE COMICS #994 2ND PTG $3.99
DETECTIVE COMICS #995 2ND PTG $3.99
DETECTIVE COMICS #996 2ND PTG $3.99
DETECTIVE COMICS #998 $3.99
DETECTIVE COMICS #998 VAR ED $3.99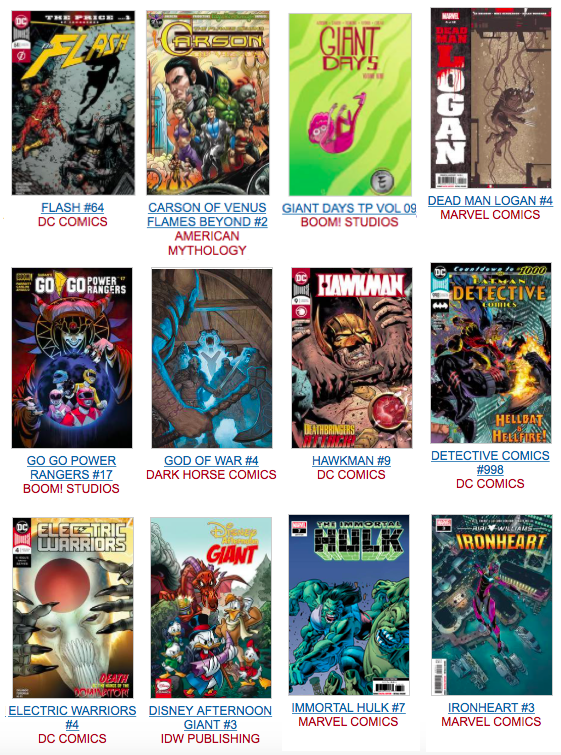 DICK TRACY DEAD OR ALIVE #4 (OF 4) CVR A ALLRED $3.99
DISNEY AFTERNOON GIANT #3 $5.99
ELECTRIC WARRIORS #4 (OF 6) $3.99
FLASH #64 BLANK VAR ED THE PRICE $3.99
FLASH #64 THE PRICE $3.99
FLASH #64 VAR ED THE PRICE $3.99
GIDEON FALLS #11 CVR A SORRENTINO (MR) $3.99
GIDEON FALLS #11 CVR B SUAYAN (MR) $3.99
GO GO POWER RANGERS #17 MAIN & MIX $3.99
GO GO POWER RANGERS #17 PREORDER MOK VAR $3.99
GOD OF WAR #4 (OF 4) $3.99
GODDESS MODE #3 (MR) $3.99
GUNNING FOR HITS #2 (MR) $3.99
HAWKMAN #9 $3.99
HAWKMAN #9 VAR ED $3.99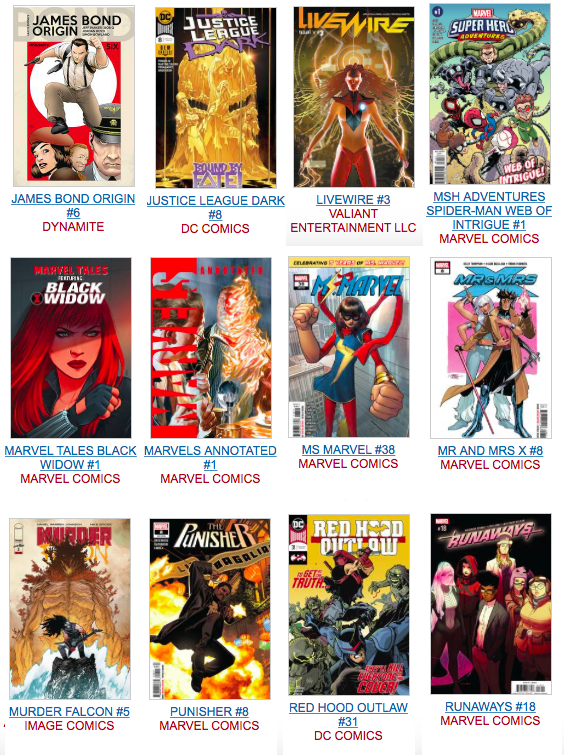 HIT-GIRL SEASON TWO #1 CVR A FRANCAVILLA (MR) $3.99
HIT-GIRL SEASON TWO #1 CVR B B&W FRANCAVILLA (MR) $3.99
HIT-GIRL SEASON TWO #1 CVR C CONNER (MR) $3.99
HOUSE OF WHISPERS #6 (MR) $3.99
IMMORTAL HULK #2 3RD PTG BENNETT VAR $3.99
IMMORTAL HULK #3 3RD PTG BROWN VAR $3.99
IMMORTAL HULK #7 2ND PTG BENNETT VAR $3.99
IRONHEART #3 $3.99
JAMES BOND ORIGIN #6 CVR A CASSADAY $3.99
JUSTICE LEAGUE DARK #8 $3.99
JUSTICE LEAGUE DARK #8 VAR ED $3.99
KICK-ASS #12 CVR A FRUSIN (MR) $3.99
KICK-ASS #12 CVR B FRUSIN (MR) $3.99
KICK-ASS #12 CVR C ARAUJO (MR) $3.99
KICK-ASS #12 CVR D ROMITA JR (MR) $3.99
LIVEWIRE #3 CVR A POLLINA $3.99
MAGIC ORDER #6 (OF 6) CVR A COIPEL (MR) $3.99
MAGIC ORDER #6 (OF 6) CVR B B&W COIPEL (MR) $3.99
MAGIC ORDER #6 (OF 6) CVR C KERSCHL (MR) $3.99
MARVEL TALES BLACK WIDOW #1 $7.99
MR AND MRS X #8 $3.99
MARVELS ANNOTATED #1 (OF 4) $7.99
MARVELS ANNOTATED #1 (OF 4) ALEX ROSS VIRGIN VAR $7.99
MARVELS ANNOTATED #1 (OF 4) RIVERA VAR $7.99
MS MARVEL #38 $3.99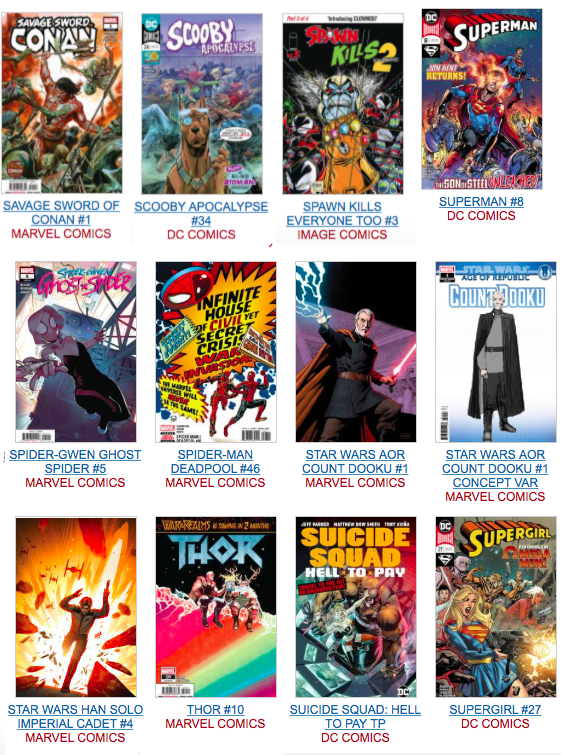 MSH ADVENTURES SPIDER-MAN WEB OF INTRIGUE #1 $3.99
MURDER FALCON #5 CVR A JOHNSON & SPICER $3.99
MURDER FALCON #5 CVR B HEAVY METAL VAR $3.99
OBLIVION SONG BY KIRKMAN & DE FELICI #12 (MR) $3.99
OUTER DARKNESS #4 (MR) $3.99
PUNISHER #8 $3.99
RAT QUEENS #14 CVR A GIENI (MR) $3.99
RED HOOD OUTLAW #31 $3.99
RED HOOD OUTLAW #31 VAR ED $3.99
RUNAWAYS #18 $3.99
SAVAGE SWORD OF CONAN #1 $4.99
SAVAGE SWORD OF CONAN #1 EASTMAN VAR (1/25) $4.99
SCOOBY APOCALYPSE #34 $3.99
SCOOBY APOCALYPSE #34 VAR ED $3.99
SHATTERSTAR #5 (OF 5) $3.99
SPAWN KILLS EVERYONE TOO #3 (OF 4) CVR A MCFARLANE $3.99
SPAWN KILLS EVERYONE TOO #3 (OF 4) CVR B B&W VIRGIN MCFARLAN $3.99
SPAWN KILLS EVERYONE TOO #3 (OF 4) CVR C MCFARLANE SKETCH CV $3.99
SPIDER-GWEN GHOST SPIDER #5 $3.99
SPIDER-GWEN GHOST SPIDER #5 FERRY SKRULLS VAR $3.99
SPIDER-MAN DEADPOOL #46 $3.99
STAR WARS AOR COUNT DOOKU #1 $3.99
STAR WARS AOR COUNT DOOKU #1 CONCEPT VAR $3.99
STAR WARS AOR COUNT DOOKU #1 MOVIE VAR (1/10) $3.99
STAR WARS HAN SOLO IMPERIAL CADET #4 (OF 5) $3.99
STAR WARS HAN SOLO IMPERIAL CADET #4 (OF 5) WIJNGAARD VAR (1/25) $3.99
STAR WARS SOLO ADAPTATION #4 (OF 7) PUTRI VAR (1/25) $3.99
SUPERGIRL #27 $3.99
SUPERGIRL #27 VAR ED $3.99
SUPERMAN #8 $3.99
SUPERMAN #8 VAR ED $3.99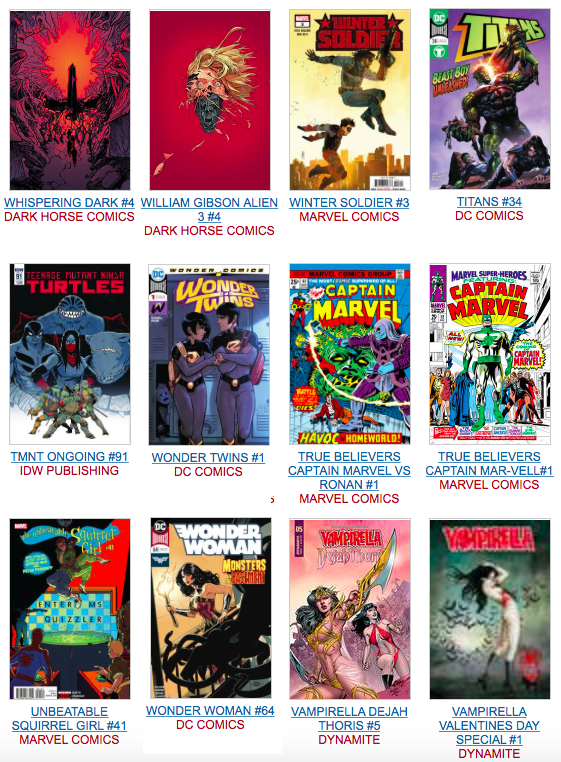 THOR #10 $3.99
THOR #10 RANDOLPH SKRULLS VAR $3.99
TITANS #34 $3.99
TITANS #34 VAR ED $3.99
TMNT ONGOING #91 CVR A DIALYNAS $3.99
TMNT ONGOING #91 CVR B EASTMAN $3.99
TRUE BELIEVERS CAPTAIN MARVEL VS RONAN #1 $1
TRUE BELIEVERS CAPTAIN MAR-VELL#1 $1
UNBEATABLE SQUIRREL GIRL #41 $3.99
VAMPIRELLA DEJAH THORIS #5 CVR B ANACLETO $3.99
VAMPIRELLA DEJAH THORIS #5 CVR C SEGOVIA $3.99
VAMPIRELLA DEJAH THORIS #5 CVR D JUSKO $3.99
VAMPIRELLA DEJAH THORIS #5 CVR E VAMPIRELLA COSPLAY $3.99
VAMPIRELLA DEJAH THORIS #5 CVR F DEJAH THORIS COSPLAY $3.99
WARNING #4 (MR) $3.99
WHISPERING DARK #4 $3.99
WINTER SOLDIER #3 (OF 5) $3.99
WONDER TWINS #1 (OF 6) $3.99
WONDER TWINS #1 (OF 6) VAR ED $3.99
WONDER WOMAN #64 $3.99
WONDER WOMAN #64 VAR ED $3.99

COMIC SHOP NEWS #1652 $FREE
NON SPORT UPDATE VOL 30 #1 $5.99

BATMAN THE CAPED CRUSADER TP VOL 02 $29.99
BEAUTY & BEAST GIRL GN (MR) $13.99
BIRTHRIGHT TP VOL 07 $14.99
DAUGHTERS OF DRAGON MPGN TP $19.99
DC THE NEW FRONTIER TP NEW ED BLACK LABEL $34.99
DECADES MARVEL 50S TP CAPTAIN AMERICA STRIKES $24.99
DISNEY MASTERS HC VOL 06 CARPI SCROOGE GOLDEN RIVER $29.99
EXCALIBUR EPIC COLLECTION TP GIRLS SCHOOL HECK $39.99
GIANT DAYS TP VOL 09 $14.99
HIT-GIRL TP VOL 03 ROME (MR) $14.99
HULK HC DOGS OF WAR $100
IMMORTAL HULK TP VOL 02 GREEN DOOR $15.99
INFINITY WARPS TP TWO-IN-ONE $29.99
INFINITY WARS TP $34.99
MAGI GN VOL 34 $9.99
MISTER MIRACLE TP (RES) (MR) $24.99
PETER PARKER SPECTACULAR SPIDER-MAN TP VOL 05 $15.99
PLANTS VS ZOMBIES HC DINO-MIGHT $9.99
RUMBLE TP VOL 05 THINGS REMOTE (MR) $16.99
SPIDER-GEDDON TP $24.99
STARDUST TP NEW ED (MR) $19.99
SUICIDE SQUAD HELL TO PAY TP $14.99
TITANS TP VOL 05 THE SPARK $19.99
TOMB RAIDER COLORING BOOK TP $14.99
VAMPIRELLA ROSES FOR DEAD #1 (OF 5) DELUXE COLLECTORS BOX $200 but 1/2 OFF! so $100
WONDER WOMAN BY PHIL JIMINEZ OMNIBUS HC $75

CHILDS PLAY TALKING PIZZA FACE CHUCKY 15IN MEGA SCALE FIG $89.99
DC GALLERY METAL WONDER WOMAN PVC FIGURE $44.99
FORTNITE CUDDLE TEAM LEADER 7IN PREMIUM AF $31.99
FORTNITE SKULL TROOPER 7IN PREMIUM AF $31.99
GO-SAURER HG ELDORAN 1/300 PLASTIC MDL KIT $66.99
LOZ BREATH OF THE WILD SUNSET 11 OZ MUG $6.99
MARVEL GALLERY SQUIRREL GIRL COMIC PVC FIGURE $44.99
MSG RX-0 UNICORN GUNDAM 03 PHENEX ROBOT SPIRITS AF NARR VER $109
POP MOVIES FORTNITE S1A DARK VOYAGER VINYL FIGURE $11.99
POP MOVIES LORD OF THE RINGS S4 BOROMIR VINYL FIG $11.99
POP PEZ DOCTOR WHO ELEVENTH DOCTOR $5.99
POP ROCKS PRINCE PURPLE RAIN VINYL FIGURE $11.99
STAR WARS CAPTAIN PHASMA 1/12 MDL KIT $51.99
STAR WARS DEATH TROOPER 1/12 MDL KIT $34.99
VICTORY GUNDAM GUN-EZ RE-100 SERIES MDL KIT $42.99