Some Kind of Wolverine Day on Wednesday, Feb 20th, 2019
I don't think it's official, but there are more Wolv's than any other character today – 4 to be approximate.
Marvel brings out several #1's today, including Wolverine Infinity Watch, Age of X-Man Amazing Nightcrawler, Hulkverines, and Love Romances, plus ongoing Return of Wolverine and Uncanny X-Men, Avengers and Avengers No Road Home, Black Widow, Black Order, Shuri, Doctor Strange, Guardians, Old Man Quill, Miles Morales, Star Wars Adventures, Solo, Venom, Wasp, 3x Captain Marvel True Believer reprints, and an Avengers Endgame Prelude #3. DC brings us Aquaman, Batman, Catwoman, Damage, Justice League, Nightwing, Teen Titans. Other notables from the rest of the universes include Turok and X-O Manowar, Lumberjanes, Seven to Eternity, Albert Einstein Time Mason, High Level #1, and Sharkey #1.
Of course, the complete list is much longer –   Check it out below. If you are in the intersection of the set of readers of this blog and the set of those that order from us through the Previews catalog (what's the smallest number that is NOT negative), you should know that they forgot to pack it for us and we'll all have to wait for at least a week.
Sign in here to get an email reminder for ALL sales and other events. Also, you can go to fb.fantasybooksandgames.com and you'll be taken to our Facebook page. We do expect to use the Rewards system to make similar announcements, but it pays to be covered, right?
Thanks to Friendly Neighborhood Comics for this week's images, which include many of the comics and a few of the books we received today.
ADVENTURE TIME MARCY & SIMON #2 (OF 6) MAIN $ 3.99
AGE OF X-MAN AMAZING NIGHTCRAWLER #1 (OF 5) $ 3.99
AGE OF X-MAN AMAZING NIGHTCRAWLER #1 (OF 5) INHYUK LEE CONNE $ 3.99
ALBERT EINSTEIN TIME MASON #1 CVR A JOHNSON $ 3.99
ALBERT EINSTEIN TIME MASON #2 $ 3.99
ALBERT EINSTEIN TIME MASON #3 CVR A PANOSIAN $ 3.99
ALBERT EINSTEIN TIME MASON #4 CVR A HUDDLESTON $ 3.99
AMERICAN CARNAGE #4 (MR) $ 3.99
AQUAMAN #45 $ 3.99
AQUAMAN #45 VAR ED $ 3.99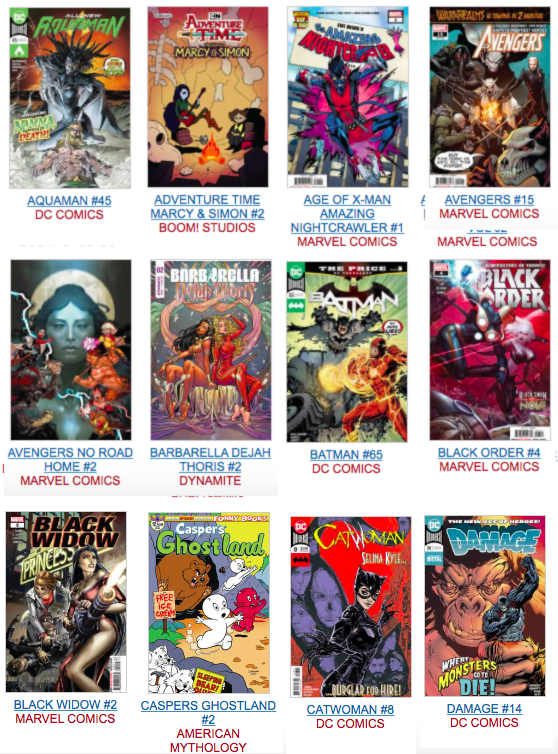 ARCHIE MILESTONES DIGEST #1 $ 6.99
AVENGERS #15 $ 3.99
AVENGERS #15 PAREL CAPTAIN MARVEL VAR $ 3.99
AVENGERS NO ROAD HOME #2 (OF 10) $ 3.99
AVENGERS NO ROAD HOME #2 (OF 10) SUAYAN CONNECTING VAR $ 3.99
BARBARELLA DEJAH THORIS #2 CVR C BROXTON $ 3.99
BARBARELLA DEJAH THORIS #2 CVR D GARCIA $ 3.99
BARBARELLA DEJAH THORIS #2 CVR E COSPLAY $ 3.99
BATMAN #65 THE PRICE $ 3.99
BATMAN #65 VAR ED THE PRICE $ 3.99
BITTER ROOT #4 CVR A GREENE (MR) $ 3.99
BLACK ORDER #4 (OF 5) $ 3.99
BLACK ORDER #4 (OF 5) CHRISTOPHER VAR $ 3.99
BLACK WIDOW #2 $ 3.99
BLOODBORNE #9 SONG OF CROWS CVR A STOKELY (MR) $ 3.99
CASPERS GHOSTLAND #2 MAIN CVR $ 3.99
CATWOMAN #8 $ 3.99
CATWOMAN #8 VAR ED $ 3.99
CODA #9 (OF 12) MAIN & MIX $ 3.99
DAMAGE #14 $ 3.99
DAZZLER #1 FACSIMILE EDITION $ 3.99
DOCTOR STRANGE #11 $ 3.99
DUCKTALES #18 CVR A GHIGLIONE STELLA $ 3.99
EAST OF WEST #41 $ 3.99
EVOLUTION #14 (MR) $ 3.99
EXORSISTERS #5 CVR A LAGACE & PANTAZIS $ 3.99
FRIENDLY NEIGHBORHOOD SPIDER-MAN #3 $ 3.99
GO-BOTS #4 CVR A SCIOLI $ 3.99
GO-BOTS #4 CVR B SHAW $ 3.99
GRUMBLE #4 CVR A MIKE NORTON $ 3.99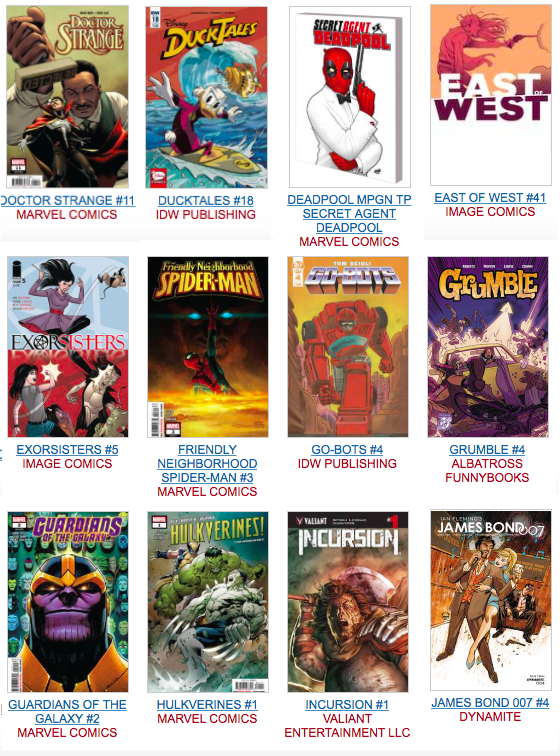 GUARDIANS OF THE GALAXY #2 $ 3.99
GUARDIANS OF THE GALAXY #2 SCALERA VAR (1/25) $ ???
HIGH LEVEL #1 (MR) $ 3.99
HIGH LEVEL #1 VAR ED (MR) $ 3.99
HULKVERINES #1 (OF 3) $ 4.99
HULKVERINES #1 (OF 3) KEOWN SKRULLS VAR $ 4.99
HULKVERINES #1 (OF 3) SMITH VAR (1/25) $ ???
INCURSION #1 CVR A BRAITHWAITE $ 3.99
JAMES BOND 007 #4 CVR A JOHNSON $ 3.99
JIM HENSON BENEATH DARK CRYSTAL #7 (OF 12) MAIN CVR DEWEY $ 3.99
JIM HENSON BENEATH DARK CRYSTAL #7 (OF 12) PREORDER PETERSEN $ 3.99
JUDGE DREDD TOXIC #4 CVR A BUCKINGHAM $ 3.99
JUGHEAD THE HUNGER #12 CVR A GORHAM (MR) $ 3.99
JUSTICE LEAGUE #18 $ 3.99
JUSTICE LEAGUE #18 VAR ED $ 3.99
LIGHTSTEP #4 (OF 5) $ 3.99
LONE RANGER VOL 3 #5 CVR A CASSADAY (missing: maybe next week) $ 3.99
LOVE ROMANCES #1 $ 3.99
LOVE ROMANCES #1 ANNIE WU SKRULLS VAR $ 3.99
LOVE ROMANCES #1 DAUTERMAN YOUNG GUNS VAR $ 3.99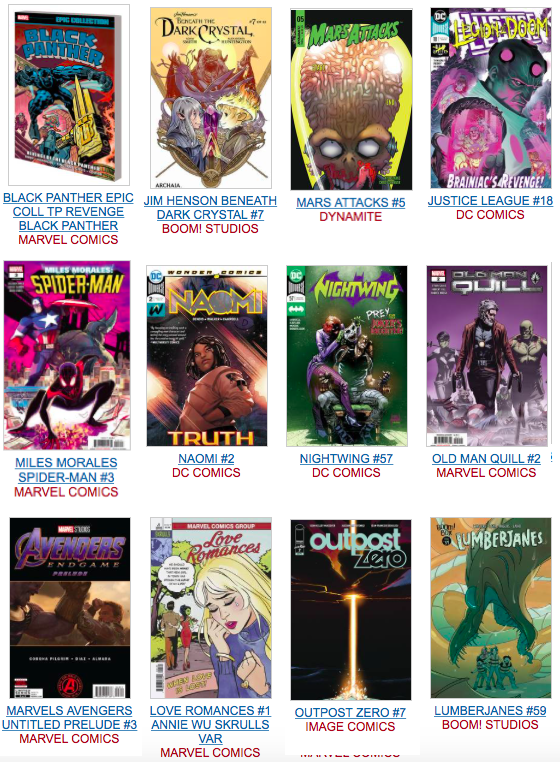 LUCIFER #5 (MR) $ 3.99
LUMBERJANES #59 MAIN $ 3.99
MARS ATTACKS #5 CVR D HACK $ 3.99
MARVELS AVENGERS ENDGAME PRELUDE #3 (OF 3) $ 3.99
MIDDLEWEST #4 (MR) $ 3.99
MILES MORALES SPIDER-MAN #3 $ 3.99
MILES MORALES SPIDER-MAN #3 MOVIE VAR (1/10) $ ???
MONSTRESS #20 (MR) $ 3.99
NAOMI #2 $ 3.99
NIGHTWING #57 $ 3.99
NIGHTWING #57 VAR ED $ 3.99
OLD MAN QUILL #2 (OF 12) $ 3.99
OUTPOST ZERO #7 $ 3.99
PUNCHLINE #4 $ ???
RAINBOW BRITE #4 CVR A GANUCHEAU $ 3.99
RAINBOW BRITE #4 CVR B CLASSIC $ 3.99
RETURN OF WOLVERINE #5 (OF 5) $ 4.99
RETURN OF WOLVERINE #5 (OF 5) GRANOV VAR (1/25) $ ???
RETURN OF WOLVERINE #5 (OF 5) KUBERT VAR $ 4.99
SAVAGE DRAGON #242 (MR) $ 3.99
SCOOBY DOO WHERE ARE YOU #97 $ 2.99
SEVEN TO ETERNITY #13 CVR A OPENA & HOLLINGSWORTH $ 3.99
SEVEN TO ETERNITY #13 CVR B EDWARDS $ 3.99

SHARKEY BOUNTY HUNTER #1 (OF 6) CVR A BIANCHI (MR) $ 3.99
SHARKEY BOUNTY HUNTER #1 (OF 6) CVR B SKETCH BIANCHI (MR) $ 3.99
SHARKEY BOUNTY HUNTER #1 (OF 6) CVR C QUITELY (MR) $ 3.99
SHARKEY BOUNTY HUNTER #1 (OF 6) CVR D SCALERA (MR) $ 3.99
SHARKEY BOUNTY HUNTER #1 (OF 6) CVR E YILDIRIM (MR) $ 3.99
SHARKEY BOUNTY HUNTER #1 (OF 6) CVR F BLANK VAR (MR) $ 3.99
SHARKEY BOUNTY HUNTER #1 (OF 6) CVR G KERSCHL (MR) $ 3.99
SHURI #5 $ 3.99
STAR WARS ADVENTURES #18 10 COPY INCV PINTO (1/10) $ ???
STAR WARS ADVENTURES #18 CVR A CHARM $ 3.99
STAR WARS ADVENTURES #18 CVR B FLOREAN $ 3.99
STAR WARS AOR ANAKIN SKYWALKER #1 (missing: maybe next week) $ 3.99
STAR WARS SOLO ADAPTATION #5 (OF 7) $ 3.99
STAR WARS SOLO ADAPTATION #5 (OF 7) FORBES VAR (1/25) $ ???
STRONGHOLD #1 $ 3.99
TEEN TITANS #27 $ 3.99
TEEN TITANS #27 VAR ED $ 3.99
TERMINATOR SECTOR WAR #3 (OF 4) CVR A SAMMELIN $ 3.99
TERMINATOR SECTOR WAR #3 (OF 4) CVR B LOTAY $ 3.99
TMNT URBAN LEGENDS #10 CVR A FOSCO $ 3.99
TRUE BELIEVERS CAPTAIN MARVEL BINARY #1 $ 1
TRUE BELIEVERS CAPTAIN MARVEL EARTHS MIGHTIEST HERO #1 $ 1
TRUE BELIEVERS CAPTAIN MARVEL KREE SKRULL WAR #1 $ 1
TUROK #2 CVR A SEARS $ 3.99
TUROK #2 CVR B GUICE $ 3.99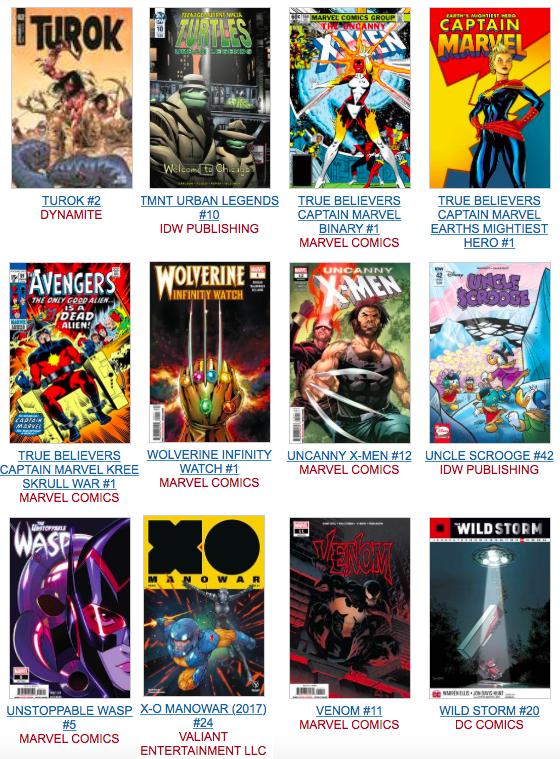 UNCANNY X-MEN #12 $ 3.99
UNCANNY X-MEN #12 SUPERLOG CHARACTER VAR $ 3.99
UNCLE SCROOGE #42 MAZZARELLO $ 3.99
UNSTOPPABLE WASP #5 $ 3.99
VENOM #11 $ 3.99
VENOM #11 GIBBONS VAR $ 3.99
VENOM #11 JTC SKRULLS VAR $ 3.99
WHITE WIDOW #1 RED FOIL CVR $ ???
WILD STORM #20 $ 3.99
WITCHER #3 OF FLESH & FLAME $ 3.99
WOLVERINE INFINITY WATCH #1 (OF 5) $ 3.99
WOLVERINE INFINITY WATCH #1 (OF 5) JEE HYUNG LEE SKRULLS VAR $ 3.99
WOLVERINE INFINITY WATCH #1 (OF 5) MCKONE VAR (1/25) $ ???
WOLVERINE INFINITY WATCH #1 (OF 5) PEREZ VAR $ 3.99
X-O MANOWAR (2017) #24 CVR A ROCAFORT $ 3.99

COMIC SHOP NEWS #1653 (missing: maybe next week) $ FREE
MAD MAGAZINE #6 $ 5.99

ADVENTURE TIME MARCELINE PIRATE QUEEN ORIGINAL GN $ 14.99
AMAZING SPIDER-MAN BY NICK SPENCER TP VOL 02 $ 15.99
BARAKAMON GN VOL 17 $ 15
BEAUTY TP VOL 05 (MR) $ 16.99
BLACK LIGHTNING BRICK CITY BLUES TP $ 19.99
BLACK PANTHER EPIC COLL TP REVENGE BLACK PANTHER $ 39.99
BULLY WARS TP VOL 01 $ 12.99
CABLE & X-FORCE TP ONSLAUGHT $ 39.99
CAPTAIN HARLOCK CLASSIC COLLECTION GN VOL 03 $ 27.99
DAYS OF HATE TP VOL 02 (MR) $ 17.99
DEADPOOL MPGN TP SECRET AGENT DEADPOOL $ 14.99
DISNEY PIXARS INCREDIBLES 2 TP VOL 01 CRISIS MIDLIFE & OTHER $ 10.99
ELSEWORLDS JUSTICE LEAGUE TP VOL 03 $ 34.99
GHOST RIDER TP BOOK 01 WAR FOR HEAVEN $ 34.99
KAKEGURUI TWIN GN VOL 01 (MR) $ 15
KIM POSSIBLE ADVENTURES MOZZARELLO $ 9.99
OLD MAN HAWKEYE TP VOL 02 WHOLE WORLD BLIND $ 17.99
PUNISHER TP VOL 01 WORLD WAR FRANK $ 15.99
RWBY OFFICIAL MANGA ANTHOLOGY GN VOL 04 $ 12.99
SONIC THE HEDGEHOG TP VOL 02 FATE DR EGGMAN $ 15.99
SWORD ART ONLINE HOLLOW REALIZATION GN VOL 02 $ 13
TOKYO GHOUL RE GN VOL 09 $ 12.99
UNCANNY X-MEN BY GILLEN COMPLETE COLLECTION TP VOL 01 $ 39.99
URUSEI YATSURA GN VOL 01 $ 19.99
WEST COAST AVENGERS TP VOL 01 BEST COAST $ 17.99
JIM HENSON LABYRINTH DISCOVERY ADVENTURE HC $ 14.99

UMBRELLA ACADEMY COASTER SET $ 9.99
UMBRELLA ACADEMY ENAMEL PIN SET $ 14.99

GUNDAM BUILD DIVERS 25 GBN-BASE GUNDAM HGBD MDL KIT $ 20.99
GUNDAM NT SINANJU STEIN 1/100 MDL KIT NARRATIVE VER $ 91.99
MARVEL MINI HEROES ANIMATED DEADPOOL PVC STATUE $ 17.99
MARVEL MINI HEROES ANIMATED IRON-MAN PVC STATUE $ 17.99
MARVEL MINI HEROES ANIMATED SPIDER-GWEN PVC STATUE $ 17.99
MARVEL MINI HEROES ANIMATED THANOS PVC STATUE $ 17.99
POP DC HEROES BATMAN WHO LAUGHS PX VINYL FIGURE $ 14.99
TRANSFORMERS GEN STUDIO SER DLX AF ASST 201802 $ 24.99