I Swear to Tell the Truth About These Comics on Wednesday, Feb 27th, 2019
Remember the Date. Your Grandkids will be asking about this day. Assuming anyone's breathing above water by then. Buffy the Vampire Slayer is back with #2.  DC has Action, Detective #999 (! only 2 more weeks!), Batman Beyond, Batgirl, Flash, Heroes in Crisis, Justice League Odyssey, Martian Manhunter, Old Lady Harley, Shazam, Sideways, and Wonder Woman. Marvel has Amazing Spider-Man, Avengers: No Road Home, Age of X-Man: Extremists, Black Panther and BP  vs Deadpool, Captain America, Daredevil, Fantastic Four, Star Wars Dr Aphra, and X-Force. And the others brought us Rick and Morty, Firefly, Sonic, Outcast, Power Rangers, Man Eaters, INvader Zim, Fight Club, Aliens Resistance, Ice Cream Man, Spawn, Star Trek Q & vs Transformers, and Wicked and Divine. Of course, the complete list is much longer –  Check it out below.  And Previews and all the attendant order forms came in this week.
Sign in here to get an email reminder for ALL sales and other events. Also, you can go to fb.fantasybooksandgames.com and you'll be taken to our Facebook page. We do expect to use the Rewards system to make similar announcements, but it pays to be covered, right?
Thanks to Friendly Neighborhood Comics for this week's images, which include many of the comics and a few of the books we received today.  
ACTION COMICS #1008 $ 3.99
ACTION COMICS #1008 VAR ED $ 3.99
AGE OF X-MAN X-TREMISTS #1 (OF 5) $ 3.99
AGE OF X-MAN X-TREMISTS #1 (OF 5) INHYUK LEE CONNECTING VAR $ 3.99
ALBERT EINSTEIN TIME MASON #5 $ 3.99
ALIENS RESISTANCE #2 CVR A LA TORRE $ 3.99
ALIENS RESISTANCE #2 CVR B JONES $ 3.99
AMAZING SPIDER-MAN #16 $ 4.99
AMAZING SPIDER-MAN #16 HAWTHORNE CAPTAIN MARVEL VAR $ 4.99
AVENGERS NO ROAD HOME #3 (OF 10) $ 3.99
AVENGERS NO ROAD HOME #3 (OF 10) SUAYAN CONNECTING VAR $ 3.99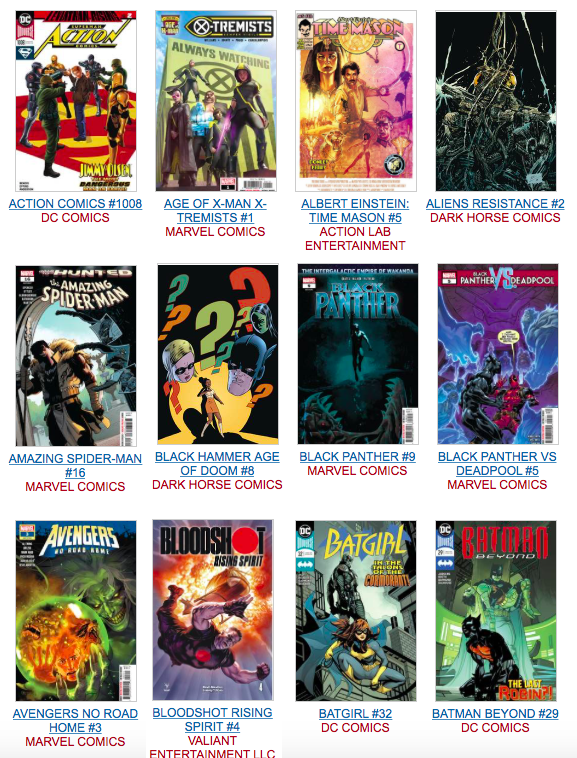 B & V FRIENDS JUMBO COMICS DIGEST #268 $ 6.99
BATGIRL #32 $ 3.99
BATGIRL #32 VAR ED $ 3.99
BATMAN BEYOND #29 $ 3.99
BATMAN BEYOND #29 VAR ED $ 3.99
BLACK HAMMER AGE OF DOOM #8 CVR A ORMSTON $ 3.99
BLACK HAMMER AGE OF DOOM #8 CVR B SIENKIEWICZ $ 3.99
BLACK PANTHER #9 $ 3.99
BLACK PANTHER #9 BENJAMIN SKRULLS VAR $ 3.99
BLACK PANTHER VS DEADPOOL #5 (OF 5) $ 3.99
BLACK PANTHER VS DEADPOOL #5 (OF 5) BAKER VAR $ 3.99
BLOODSHOT RISING SPIRIT #4 CVR A MASSAFERA $ 3.99
BONE PARISH #7 (OF 12) $ 3.99
BOOKS OF MAGIC #5 (MR) $ 3.99
BUFFY THE VAMPIRE SLAYER #2 25 COPY MOK VAR (1/25) $ ???
BUFFY THE VAMPIRE SLAYER #2 CVR A MAIN TAYLOR $ 3.99
BUFFY THE VAMPIRE SLAYER #2 CVR B WADA VAR $ 3.99
BUFFY THE VAMPIRE SLAYER #2 CVR C LOWENTHAL VAR $ 3.99
BUFFY THE VAMPIRE SLAYER #2 FOC SLAYER MERCADO VAR $ 3.99
BUFFY THE VAMPIRE SLAYER #2 FOC VAMPIRE MERCADO VAR $ 3.99
BUFFY THE VAMPIRE SLAYER #2 PREORDER INZANA VAR $ 3.99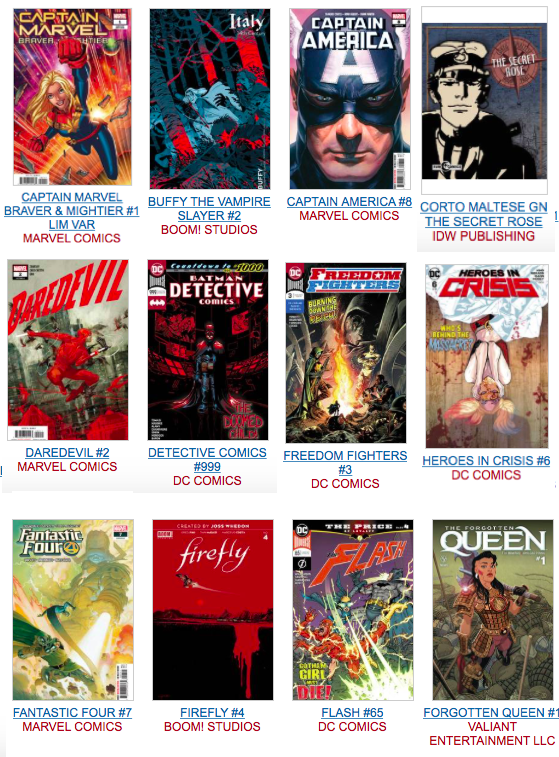 CAPTAIN AMERICA #8 $ 3.99
CAPTAIN AMERICA #8 LARRAZ SKRULLS VAR $ 3.99
CAPTAIN MARVEL BRAVER & MIGHTIER #1 $ 3.99
CAPTAIN MARVEL BRAVER & MIGHTIER #1 LIM VAR $ 3.99
DAREDEVIL #2 $ 3.99
DAREDEVIL #2 SCALERA VAR (1/25) $ ???
DETECTIVE COMICS #999 $ 3.99
DETECTIVE COMICS #999 VAR ED $ 3.99
DIE DIE DIE #8 (MR) $ 3.99
EXCITING COMICS #1 SPEEDWAY VAR CVR (MR) $ 19.99
FANTASTIC FOUR #7 $ 3.99
FANTASTIC FOUR #7 MCKONE SKRULLS VAR $ 3.99
FANTASTIC FOUR #7 YONGHO CHO MYSTERY VAR $ 3.99
FIGHT CLUB 3 #2 CVR A MACK (MR) $ 3.99
FIGHT CLUB 3 #2 CVR B STEWART (MR) $ 3.99
FIGHT CLUB 3 #2 CVR C FRANCAVILLA (MR) $ 3.99
FIREFLY #4 15 COPY SAUVAGE VAR (1/15) $ ???
FIREFLY #4 25 COPY QUINONES VAR (1/25) $ ???
FIREFLY #4 FOC CASE VAR $ 3.99
FIREFLY #4 MAIN $ 3.99
FIREFLY #4 PREORDER QUINONES VAR $ 3.99
FLASH #65 THE PRICE $ 3.99
FLASH #65 VAR ED THE PRICE $ 3.99
FORGOTTEN QUEEN #1 CVR A KANO $ 3.99
FREEDOM FIGHTERS #3 (OF 12) $ 3.99
HACK SLASH VS CHAOS #3 CVR C HOTZ $ 3.99
HARDCORE #3 (MR) $ 3.99
HELLBOY AND BPRD 1956 #4 (OF 5) $ 3.99
HEROES IN CRISIS #6 (OF 9) $ 3.99
HEROES IN CRISIS #6 (OF 9) VAR ED $ 3.99
HEX WIVES #5 (MR) $ 3.99
ICE CREAM MAN #10 CVR A MORAZZO & OHALLORAN (MR) $ 3.99
ICE CREAM MAN #10 CVR B FERREYRA (MR) $ 3.99
INVADER ZIM #40 CVR A $ 3.99
INVADER ZIM #40 CVR B PARK VAR $ 3.99
INVADERS #2 $ 3.99
IRONHEART #2 2ND PTG VECCHIO VAR $ 3.99
JIM HENSON LABYRINTH CORONATION #11 $ 3.99
JOHN WICK #5 (OF 5) CVR B MCWILLIAMS $ 3.99
JOHN WICK #5 (OF 5) CVR C PHOTO $ 3.99
JUSTICE LEAGUE ODYSSEY #6 $ 3.99
JUSTICE LEAGUE ODYSSEY #6 VAR ED $ 3.99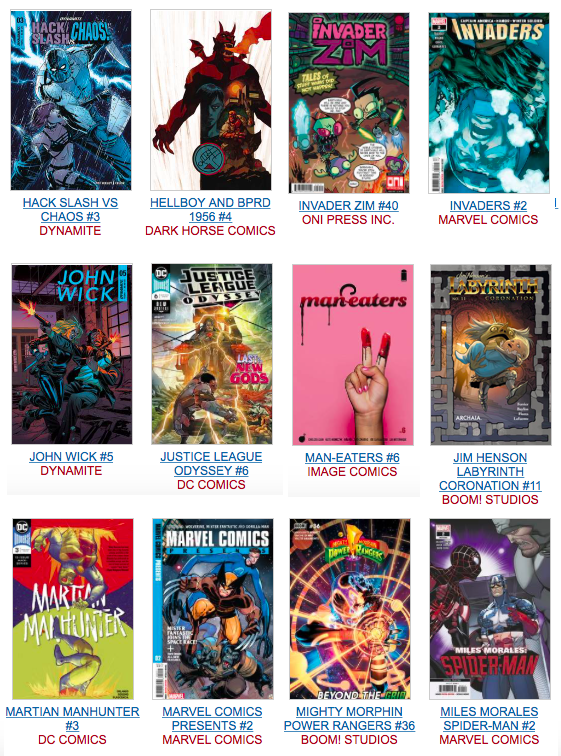 LIFE IS STRANGE #4 CVR A LEONARDI (MR) $ 3.99
MAN-EATERS #6 CVR A MITERNIQUE $ 3.99
MAN-EATERS #6 CVR B MITERNIQUE $ 3.99
MARTIAN MANHUNTER #3 (OF 12) $ 3.99
MARTIAN MANHUNTER #3 (OF 12) VAR ED $ 3.99
MARVEL COMICS PRESENTS #2 $ 4.99
MIGHTY MORPHIN POWER RANGERS #36 FOC MERCADO $ 3.99
MIGHTY MORPHIN POWER RANGERS #36 MAIN $ 3.99
MIGHTY MORPHIN POWER RANGERS #36 PREORDER MURPHY VAR $ 3.99
MILES MORALES SPIDER-MAN #2 2ND PTG GARRON VAR $ 3.99
MOON GIRL AND DEVIL DINOSAUR #40 $ 3.99
OLD LADY HARLEY #5 (OF 5) $ 3.99
OLIVER #2 CVR A ROBERTSON $ 3.99
OUTCAST BY KIRKMAN & AZACETA #39 (MR) $ 3.99
PETER CANNON THUNDERBOLT #2 CVR A ZDARSKY $ 3.99
REALM #11 CVR A HAUN & FILARDI (MR) $ 3.99
REDLANDS #11 (MR) $ 3.99
MARVEL PREVIEWS VOL 04 #20 MARCH 2019 $ Free w/ Big One
DC PREVIEWS #11 MARCH 2019 $ Free w/ Big One
PREVIEWS #366 MARCH 2019 – the Big One $ 3.95
RICK & MORTY #47 CVR A $ 3.99
RICK & MORTY #47 CVR B VAUGHN $ 3.99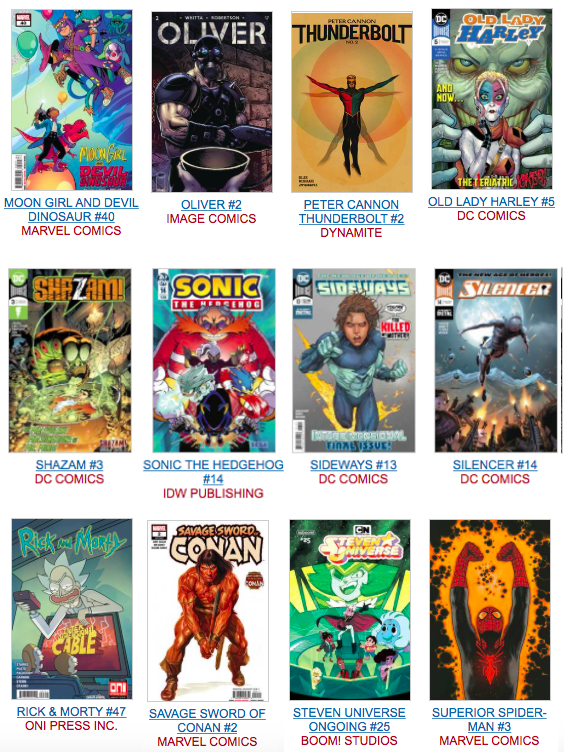 ROSE #17 CVR A GUARA $ 3.99
SAVAGE SWORD OF CONAN #2 $ 3.99
SHAZAM #3 $ 3.99
SHAZAM #3 VAR ED $ 3.99
SIDEWAYS #13 $ 2.99
SILENCER #14 $ 3.99
SONIC THE HEDGEHOG #14 FOURDRAINE VAR (1/10) $ ???
SONIC THE HEDGEHOG #14 CVR A WELLS $ 3.99
SONIC THE HEDGEHOG #14 CVR B GRAY $ 3.99
SPAWN #294 CVR A MATTINA $ 2.99
SPAWN #294 CVR B MATTINA VIRGIN $ 2.99
SPAWN #294 CVR C B&W VAR MCFARLANE & MATTINA $ 2.99
STAR TREK Q CONFLICT #2 (OF 6) CVR A MESSINA $ 3.99
STAR TREK Q CONFLICT #2 (OF 6) CVR B MESSINA $ 3.99
STAR TREK VS TRANSFORMERS #5 (OF 5) CVR A MURPHY $ 3.99
STAR TREK VS TRANSFORMERS #5 (OF 5) CVR B BURCHAM $ 3.99
STAR WARS DOCTOR APHRA #29 $ 3.99
STAR WARS DOCTOR APHRA #29 NOWLAN GREATEST MOMENTS VAR $ 3.99
STEVEN UNIVERSE ONGOING #25 MAIN PENA CVR $ 4.99
SUPERIOR SPIDER-MAN #3 $ 3.99
TERRIFICS #13 $ 2.99
TRUE BELIEVERS CAPTAIN MARVEL AVENGER #1 $ 1
TRUE BELIEVERS CAPTAIN MARVEL BETRAYED #1 $ 1
TRUE BELIEVERS CAPTAIN MARVEL NEW MS MARVEL #1 $ 1
VENOM #10 2ND PTG STEGMAN VAR $ 3.99
WEST COAST AVENGERS #8 $ 3.99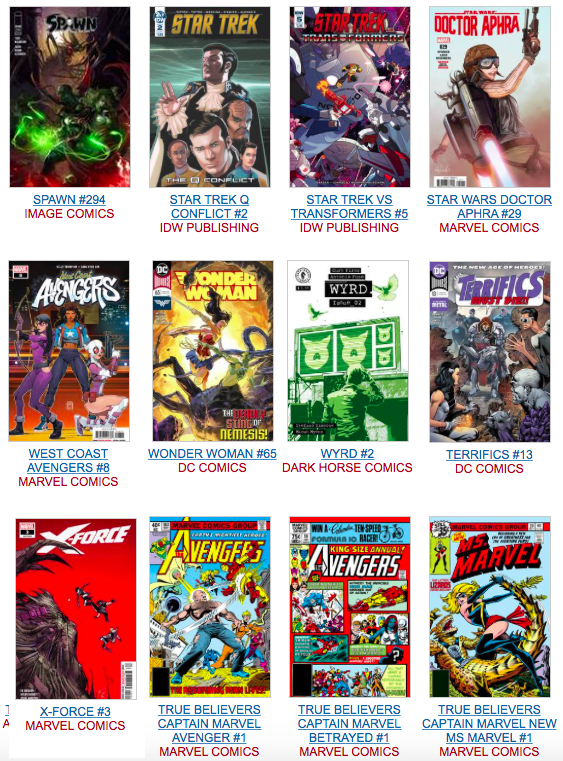 WICKED & DIVINE #42 CVR A MCKELVIE & WILSON (MR) $ 3.99
WICKED & DIVINE #42 CVR B DEL REY (MR) $ 3.99
WONDER WOMAN #65 $ 3.99
WONDER WOMAN #65 VAR ED $ 3.99
WYRD #2 CVR A FUSO $ 3.99
WYRD #2 CVR B ALBUQUERQUE $ 3.99
X-FORCE #3 $ 3.99
X-FORCE #3 GUICE SKRULLS VAR $ 3.99
YOUNG JUSTICE #1 2ND PTG $ 4.99

COMIC SHOP NEWS #1654 $ FREE

BATMAN SHADOW OF THE BAT TP VOL 04 $ 24.99
BERSERK DELUXE EDITION HC VOL 01 (MR) $ 49.99
BOMBSHELLS UNITED TP VOL 03 TAPS $ 16.99
CORTO MALTESE GN THE SECRET ROSE $ 19.99
DEADPOOL CLASSIC TP VOL 23 MERCS FOR MONEY $ 34.99
FIRE TP NEW ED $ 14.99
GARFIELD HOMECOMING TP $ 9.99
GREEN LANTERN BY GEOFF JOHNS TP BOOK 01 $ 24.99
I AM A HERO OMNIBUS TP VOL 09 $ 19.99
INFINITY WARS TP SLEEPWALKER $ 15.99
IRON FIST DEADLY HANDS KUNG FU TP COMPLETE COLLECTION (MR) $ 39.99
MAN-EATERS TP VOL 01 $ 12.99
MARVEL KNIGHTS PUNISHER BY PEYER & GUTIERREZ TP TAXI WARS $ 24.99
MR AND MRS X TP VOL 01 LOVE AND MARRIAGE $ 17.99
REDNECK TP VOL 03 LONGHORNS (MR) $ 16.99
SANDMAN TP VOL 05 A GAME OF YOU 30TH ANNIV ED (MR) $ 19.99
SHAZAM ORIGINS TP NEW ED $ 12.99
SKYWARD TP VOL 02 HERE THERE BE DRAGONFLIES $ 16.99
SPIDER-GEDDON TP COVERT OPS $ 17.99
STEVEN UNIVERSE ONGOING TP VOL 04 JUST RIGHT $ 14.99
SUB-MARINER TP DEPTHS (NEW PTG) $ 17.99
SUPERMAN HC VOL 01 THE UNITY SAGA $ 24.99
TYPHOID FEVER TP $ 12.99
UNEXPECTED CALL OF THE UNKNOWN TP $ 19.99
WEATHERMAN TP VOL 01 (MR) $ 17.99

DC HEROES LAUGHING BATMAN T/S S-M-L-XL $ 19.99
DC HEROES LAUGHING BATMAN T/S XXL $ 22.99

DC ESSENTIALS HARLEY QUINN AF $ 27.99
DC ESSENTIALS NIGHTWING AF $ 27.99
DRAGON BALL SUPER ADVERGE 9 10PC MINI FIG DIS $ 9.99
GODZILLA LARGE VINYL 12IN SCALE FIG CS $ 43.99
MARVEL DEADPOOL CHIMI FIGURES BMB DIS $ 9.99
X-MEN 92 PHOENIX FURIOUS POWER ARTFX+ STATUE $ 79.99
DC DESIGNER SER WONDER WOMAN BY ADAM HUGHES STATUE $ 130
FORTNITE BLACK KNIGHT 7IN PREMIUM AF $ 31.99
FORTNITE RAPTOR 7IN PREMIUM AF CS $ 31.99
METALS MARVEL SPIDER-MAN 2017 FORD GT 1/24 VEHICLE $ 26.99