No One Paid 100k for me to get into College on Wednesday, March 13th, 2019
I passed my own ACT's (back then) and I graduated debt-free in 4 years from a religious Liberal Arts college in Minnesota. I had the best parents. And it was VERY long ago.
The Age of Conan is here, with a possible love interest, no? Belit #1, followed by Amazing Spider-Man,  Asgardians of the Galaxy, Avengers No Road Home, Dead Man Logan, Old Man Quill, Tony Stark, Ms Marvel, Spider-Man Deadpool, Punisher, Unbeatable Squirrel, Uncanny Winters End, X-23, Winter Soldier, Star Wars Han Solo, SW Gen Grievous and Marvel Tales Thor. DC delivers Batman Who Laughs Grim Knight, Catwoman, SuperGirl, SuperMan, Justice League Dark, Red Hood, Flash, Hawkman, Titans, Wonder Twins and Wonder Woman. Other comics today include Transformers (relaunch) !3, TMNT Shredder, Spawn Kills Everyone Too, Rick and Morty's Jerry #1, Prodigy, My Little Pony, and Head Lopper. Plus Pops, Statues, DC Bombshell Rides (very nice cars!) and a million key chains.
Of course, the complete list is much longer –  Check it out below.  And Previews and all the attendant order forms are still here this week.
Sign in here to get an email reminder for ALL sales and other events. Also, you can go to fb.fantasybooksandgames.com and you'll be taken to our Facebook page. We do expect to use the Rewards system to make similar announcements, but it pays to be covered, right?
Thanks to Friendly Neighborhood Comics for this week's images, which include many of the comics and a few of the books we received today.
AGE OF CONAN BELIT #1 (OF 5) $ 3.99
AGE OF CONAN BELIT #1 (OF 5) AFU CHAN VAR (1/10) $ ???
AGE OF CONAN BELIT #1 (OF 5) BLANK VAR $ 3.99
AGE OF CONAN BELIT #1 (OF 5) VATINE VAR (1/25) $ ???
AGE OF X-MAN APOCALYPSE AND X-TRACTS #1 (OF 5) $ 3.99
AGE OF X-MAN APOCALYPSE AND X-TRACTS #1 (OF 5) INHYUK LEE CO $ 3.99
AGE OF X-MAN MARVELOUS X-MEN #2 (OF 5) $ 3.99
AMAZING SPIDER-MAN #17 $ 4.99
AMAZING SPIDER-MAN #17 BLANK VAR $ 4.99
AMAZING SPIDER-MAN #17 SMITH VAR (1/25) $ ???
AMAZING SPIDER-MAN #17 YU CONNECTING VAR $ 4.99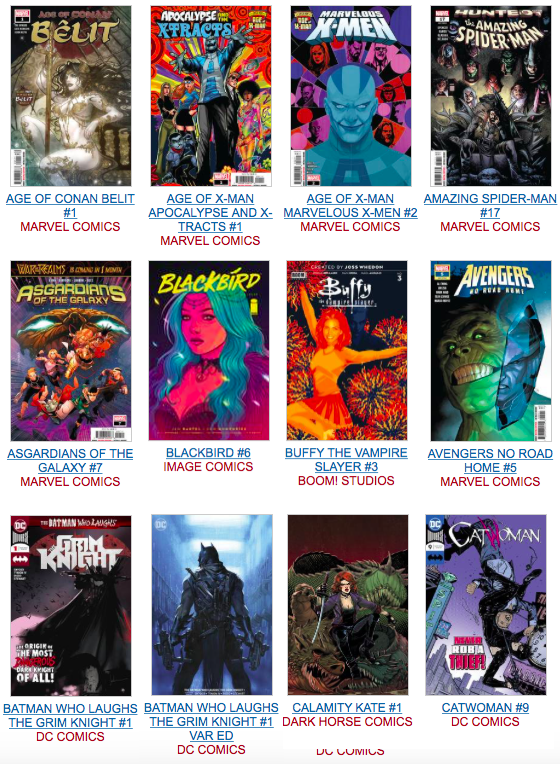 ANIMOSITY #19 (MR) $ 3.99
ASGARDIANS OF THE GALAXY #7 WR $ 3.99
ASSASSIN NATION #1 (MR) $ 3.99
AUNTIE AGATHAS HOME FOR WAYWARD RABBITS #5 (OF 6) $ 3.99
AVENGERS NO ROAD HOME #5 (OF 10) $ 3.99
AVENGERS NO ROAD HOME #5 (OF 10) NOTO CONNECTING VAR $ 3.99
BATMAN WHO LAUGHS THE GRIM KNIGHT #1 $ 4.99
BATMAN WHO LAUGHS THE GRIM KNIGHT #1 BLANK VAR ED $ 4.99
BATMAN WHO LAUGHS THE GRIM KNIGHT #1 VAR ED $ 4.99
BLACKBIRD #6 CVR A BARTEL $ 3.99
BLACKBIRD #6 CVR B LOTAY $ 3.99
BUFFY THE VAMPIRE SLAYER #1 (3RD PTG) $ 3.99
BUFFY THE VAMPIRE SLAYER #3 CARLINI VAR (1/25) $ ???
BUFFY THE VAMPIRE SLAYER #3 CVR A MAIN TAYLOR $ 3.99
BUFFY THE VAMPIRE SLAYER #3 CVR B WADA VAR $ 3.99
BUFFY THE VAMPIRE SLAYER #3 CVR C SMITH VAR $ 3.99
BUFFY THE VAMPIRE SLAYER #3 FOC SLAYER INFANTE VAR $ 3.99
BUFFY THE VAMPIRE SLAYER #3 FOC VAMPIRE INFANTE VAR $ 3.99
BUFFY THE VAMPIRE SLAYER #3 PREORDER BUONCRISTIANO VAR $ 3.99
BY NIGHT #9 (OF 12) MAIN CVR LARSEN $ 3.99
CALAMITY KATE #1 CVR A HOWELL PINTO $ 3.99
CALAMITY KATE #1 CVR B FORD $ 3.99
CATWOMAN #9 $ 3.99
CATWOMAN #9 VAR ED $ 3.99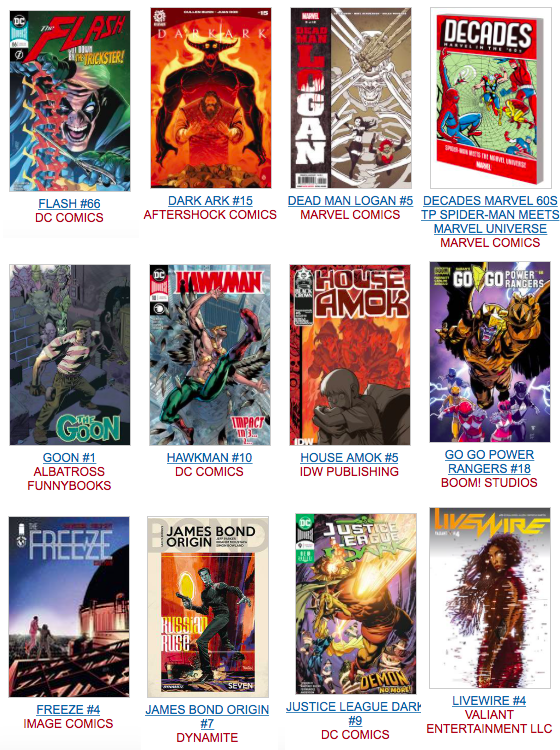 CONAN THE BARBARIAN #3 2ND PTG ASRAR VAR $ 3.99
COVER #6 (OF 6) (MR) $ 3.99
COVER #6 (OF 6) VAR ED (MR) $ 3.99
CYBER FORCE #9 (MR) $ 3.99
DARK ARK #15 $ 3.99
DEAD MAN LOGAN #5 (OF 12) $ 3.99
EMPTY MAN #5 MAIN $ 3.99
FIREFLY #3 (2ND PTG) $ 3.99
FLASH #66 $ 3.99
FLASH #66 VAR ED $ 3.99
FREEZE #4 $ 3.99
GAME OF THRONES CLASH OF KINGS #16 CVR A MILLER (MR) $ 3.99
GO GO POWER RANGERS #18 MAIN & MIX $ 3.99
GO GO POWER RANGERS #18 PREORDER MOK VAR $ 3.99
GOON #1 $ 3.99
GOON #1 KEVIN NOWLAN CARDSTOCK VAR CVR $ 5.99
GUNNING FOR HITS #3 (MR) $ 3.99
HAWKMAN #10 $ 3.99
HAWKMAN #10 VAR ED $ 3.99
HEAD LOPPER #11 CVR A MACLEAN (MR) $ 5.99
HIT-GIRL SEASON TWO #2 CVR A FRANCAVILLA (MR) $ 3.99
HIT-GIRL SEASON TWO #2 CVR B B&W FRANCAVILLA (MR) $ 3.99
HIT-GIRL SEASON TWO #2 CVR C CONNER (MR) $ 3.99
HOUSE AMOK #5 CVR A MCMANUS $ 3.99
HOUSE OF WHISPERS #7 (MR) $ 3.99
IMMORTAL HULK #13 2ND PTG BENNETT VAR $ 3.99
JAMES BOND ORIGIN #7 CVR A PANOSIAN $ 3.99
JUSTICE LEAGUE DARK #9 $ 3.99
JUSTICE LEAGUE DARK #9 VAR ED $ 3.99
LAGUARDIA #4 (MR) $ 4.99
LITTLE BIRD #1 (OF 5) (MR) $ 3.99
LIVEWIRE #4 CVR A POLLINA $ 3.99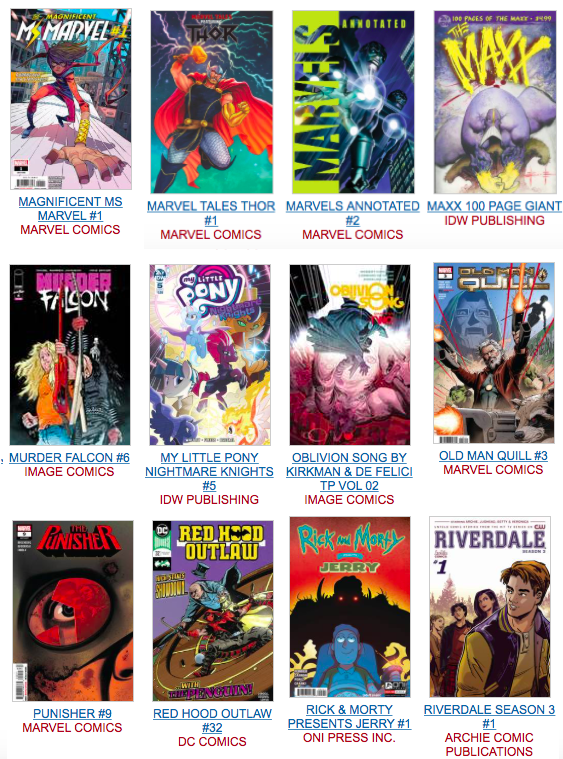 MAGNIFICENT MS MARVEL #1 $ 3.99
MAGNIFICENT MS MARVEL #1 BLANK VAR $ 3.99
MARVEL ACTION SPIDER-MAN #2 $ 3.99
MARVEL ACTION SPIDER-MAN #2 CHARM (1/10) $ ???
MARVEL TALES THOR #1 $ 7.99
MARVELS ANNOTATED #2 (OF 4) $ 7.99
MARVELS ANNOTATED #2 (OF 4) ALEX ROSS VIRGIN VAR $ 7.99
MARVELS ANNOTATED #2 (OF 4) CHO VAR $ 7.99
MAXX 100 PAGE GIANT $ 4.99
MURDER FALCON #6 CVR A JOHNSON & SPICER $ 3.99
MY LITTLE PONY NIGHTMARE KNIGHTS #5 MEYER VAR (1/10) $ ???
MY LITTLE PONY NIGHTMARE KNIGHTS #5 CVR A FLEECS $ 3.99
OBLIVION SONG BY KIRKMAN & DE FELICI #13 (MR) $ 3.99
OLD MAN QUILL #3 (OF 12) $ 3.99
OUTER DARKNESS #5 (MR) $ 3.99
PRODIGY #4 (OF 6) CVR A ALBUQUERQUE (MR) $ 3.99
PRODIGY #4 (OF 6) CVR B ALBUQUERQUE (MR) $ 3.99
PRODIGY #4 (OF 6) CVR C GRAMPA (MR) $ 3.99
PUNISHER #9 $ 3.99
RAT QUEENS #15 CVR A GIENI (MR) $ 3.99
RED HOOD OUTLAW #32 $ 3.99
RED HOOD OUTLAW #32 VAR ED $ 3.99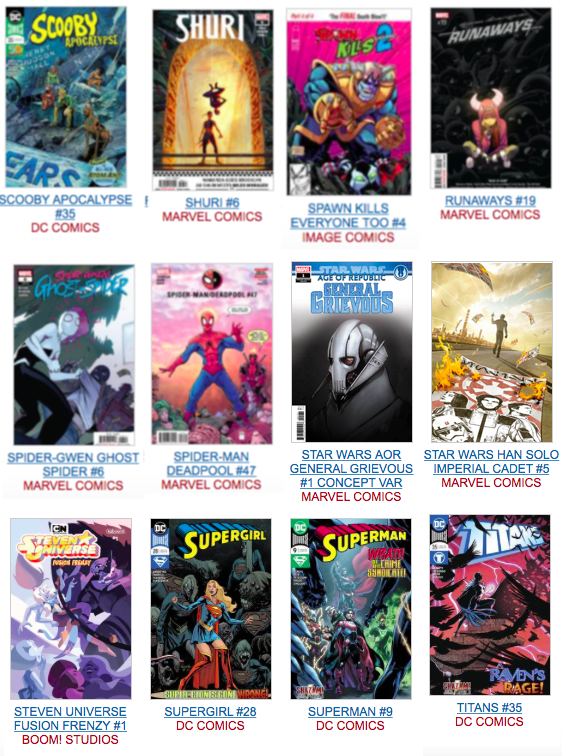 RICK & MORTY PRESENTS JERRY #1 CVR A $ 4.99
RICK & MORTY PRESENTS JERRY #1 CVR B GRACE $ 4.99
RIVERDALE SEASON 3 #1 CVR B EISMA $ 3.99
RUNAWAYS #19 $ 3.99
SCOOBY APOCALYPSE #35 $ 3.99
SHURI #6 $ 3.99
SPAWN KILLS EVERYONE TOO #4 (OF 4) CVR A MCFARLANE $ 3.99
SPAWN KILLS EVERYONE TOO #4 (OF 4) CVR B B&W VIRGIN MCFARLAN $ 3.99
SPAWN KILLS EVERYONE TOO #4 (OF 4) CVR C SKETCH MCFARLANE $ 3.99
SPIDER-GWEN GHOST SPIDER #6 $ 3.99
SPIDER-GWEN GHOST SPIDER #6 MOLINA SPIDER-MAN VILLAINS VAR $ 3.99
SPIDER-MAN DEADPOOL #47 $ 3.99
STAR TREK DISCOVERY CAPTAIN SARU $ 7.99
STAR WARS AOR GENERAL GRIEVOUS #1 $ 3.99
STAR WARS AOR GENERAL GRIEVOUS #1 CONCEPT VAR $ 3.99
STAR WARS AOR GENERAL GRIEVOUS #1 GREATEST HITS VAR $ 3.99
STAR WARS AOR GENERAL GRIEVOUS #1 MCKONE PUZZLE PC VAR $ 3.99
STAR WARS AOR GENERAL GRIEVOUS #1 MOVIE VAR $ 3.99
STAR WARS HAN SOLO IMPERIAL CADET #5 (OF 5) $ 3.99
STAR WARS HAN SOLO IMPERIAL CADET #5 (OF 5) ARTIST VAR (1/25) $ ???
STEVEN UNIVERSE FUSION FRENZY #1 MAIN CVR A CONNECTING $ 7.99
SUPERGIRL #28 $ 3.99
SUPERGIRL #28 VAR ED $ 3.99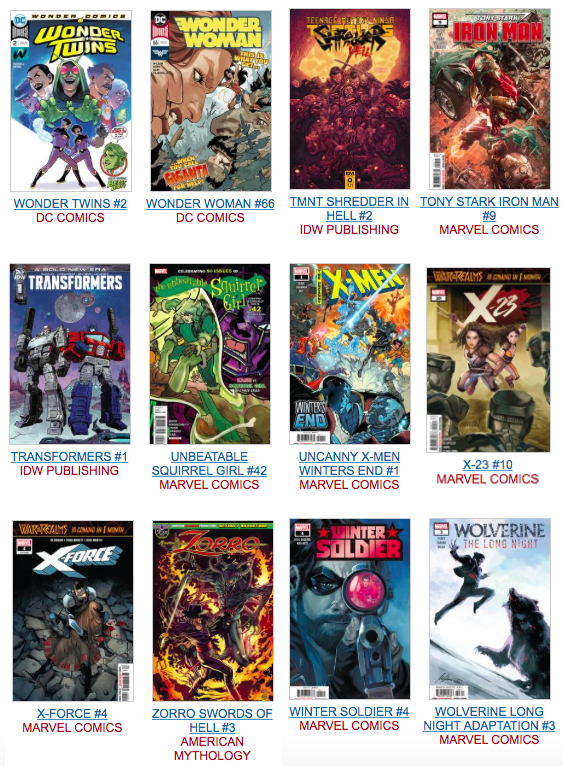 SUPERMAN #9 $ 3.99
SUPERMAN #9 VAR ED $ 3.99
TITANS #35 $ 3.99
TITANS #35 VAR ED $ 3.99
TMNT SHREDDER IN HELL #2 CVR A SANTOLOUCO $ 3.99
TMNT SHREDDER IN HELL #2 CVR B EASTMAN $ 3.99
TONY STARK IRON MAN #9 $ 3.99
TONY STARK IRON MAN #9 PHAM SKRULLS VAR $ 3.99
TRANSFORMERS #1 COLLER (1/10) $ ???
TRANSFORMERS #1 WILLIAMS (1/25) $ ???
TRANSFORMERS #1 WILLIAMS FOIL (1/50) $ ???
TRANSFORMERS #1 CVR A RODRIGUEZ $ 3.99
TRANSFORMERS #1 CVR B HERNANDEZ $ 3.99
UNBEATABLE SQUIRREL GIRL #42 $ 3.99
UNCANNY X-MEN WINTERS END #1 $ 4.99
UNCANNY X-MEN WINTERS END #1 LIM VAR $ 4.99
UNCANNY X-MEN WINTERS END #1 RANEY SKRULLS VAR $ 4.99
WINTER SOLDIER #4 (OF 5) $ 3.99
WOLVERINE LONG NIGHT ADAPTATION #3 (OF 5) $ 3.99
WONDER TWINS #2 (OF 6) $ 3.99
WONDER TWINS #2 (OF 6) VAR ED $ 3.99
WONDER WOMAN #66 $ 3.99
WONDER WOMAN #66 VAR ED $ 3.99
X-23 #10 $ 3.99
X-23 #10 INHYUK LEE SPIDER-MAN VILLAINS VAR $ 3.99
X-FORCE #4 $ 3.99
X-FORCE #4 LIM SPIDER-MAN VILLAINS VAR $ 3.99
ZORRO SWORDS OF HELL #3 PINTO DEVILS BY MOONLIGHT CVR $ 3.99

COMIC SHOP NEWS #1656 $ FREE

AVENGERS BY JASON AARON TP VOL 02 WORLD TOUR $ 17.99
CAPTAIN MARVEL OFF MOVIE SPECIAL HC $ 19.99
DC COMICS ULTIMATE CHARACTER GUIDE HC NEW ED $ 16.99
DEATH OF WOLVERINE COMPANION TP $ 39.99
DECADES MARVEL 60S TP SPIDER-MAN MEETS MARVEL UNIVERSE $ 24.99
DEFENDERS TP BEST DEFENSE $ 19.99
DISNEY ZOOTOPIA FAMILY NIGHT YR HC $ 7.99
DOMINO TP VOL 02 SOLDIER OF FORTUNE $ 15.99
FANTASTIC FOUR COMPLETE COLLECTION TP VOL 01 HEROES RETURN $ 39.99
GAMBIT TP THIEVES WORLD $ 29.99
IRON MAN EPIC COLLECTION TP RETURN OF GHOST $ 39.99
JUDGE DREDD COLD WARS TP $ 19.99
LEGEND OF KORRA TURF WARS LIBRARY ED HC $ 39.99
MR WOLFS CLASS GN VOL 02 MYSTERY CLUB $ 9.99
OBLIVION SONG BY KIRKMAN & DE FELICI TP VOL 02 $ 16.99
PEANUTS TP LUCY SPEAKS OUT $ 9.99
PRISONER TP VOL 02 SHATTERED VISAGE (MR) $ 24.99
RADIANT GN VOL 04 $ 9.99
RICK AND MORTY VS DUNGEONS & DRAGONS TP $ 19.99
RIN-NE GN VOL 29 $ 9.99
ROCKOS MODERN LIFE TP VOL 02 $ 14.99
STAR WARS ADVENTURES TP VOL 05 MECHANICAL MAYHEM $ 9.99
VAMPIRONICA TP VOL 01 $ 17.99
WAR OF REALMS PRELUDE TP $ 34.99

BUILD DIVERS GUNDAM ZERACHIEL 1/144 HGBD MDL KIT $ 31.99
KINOS JOURNERY KINO 1/8 PVC FIG REFINED VER (OOPS) $ 120
MARVEL GALLERY AVENGERS 3 IRON SPIDER-MAN PVC FIGURE $ 44.99
MARVEL PREMIERE BLACK PANTHER MOVIE STATUE $ 150
MARVEL PREMIERE GWENPOOL STATUE $ 150
NBX JACK AND SALLY SUGAR SKULLS 16OZ GLASSWARE SET $ 14.99
PINT SIZED HEROES FORTNITE PATHFINDER/HIGHRISE TROOP FIG 2PK $ 5.99
POCKET POP FORTNITE S2 BURNOUT KEYCHAIN $ 5.99
POCKET POP FORTNITE S2 DARK VANGUARD KEYCHAIN $ 5.99
POCKET POP FORTNITE S2 DRIFT KEYCHAIN $ 5.99
POCKET POP FORTNITE S2 TRICERA OPS KEYCHAIN $ 5.99
POCKET POP FORTNITE S2 VALOR KEYCHAIN $ 5.99
POP GAMES FORTNITE S2 DRIFT VINYL FIG $ 11.99
POP GAMES FORTNITE S2 HAVOC VINYL FIG $ 11.99
POP GAMES FORTNITE S2 SPARKLE SPECIALIST VINYL FIG $ 11.99
POP GAMES FORTNITE S2 VALOR VINYL FIG $ 11.99
POP GAMES FORTNITE S2 ZOEY VINYL FIG $ 11.99
POP KEYCHAIN DISNEY MICKEY & MINNIE 2PK VIN FIG $ 9.99
POP NBA BULLS MICHAEL JORDAN VINYL FIGURE $ 11.99
POP ROCKS PRINCE 3RD EYE GIRL VINYL FIGURE $ 11.99
X-MEN 92 GAMBIT & ROGUE 2PK ARTFX+ STATUE $ 89.99