Detective Comics #1000, breaking new records every month on Wednesday, March 27th, 2019
Back in 1937, National Allied Publlications brought out a new comic ostensibly about Detectives. Within a few years, they introduced the most acclaimed "Super" hero of all time in issue #27, the Batman, which was 80 years ago with a May cover date. The same year, the company's founder started a second company called Detective Comics Inc, which soon purchased National, and  thereafter they introduced the famous "DC" "bullet". Action Comics reached #1000 last year, on the 80th Anniversary of Superman's First appearance, but it went weekly for a while to run the numbers up and move ahead. For Detective #1000, there is a 'standard' cover, one cover for each decade from the 30's to the 2010's, a sketch blank, and the special "Midnight Release" cover, making a total of 12. We also have Action #1009, Batgirl, Dial H for Hero #1 (do the kids know what "Dial" means?), Flash, Heroes in Crisis, Justice League Odyssey, Shazam, Terrifics, and Wonder Woman.
Marvel brought us Amazing Spider-Man, Avengers No Road, Black Panther, Black Widow, Daredevil, Dr Strange, Fantastic Four,  Hulkverines, Hulk #181 reprint, Invaders, Marvel Rising #1, Presents #3, Moon Girl, and Star Wars Dr Aphra, Vader and Adventures.
The rest of the world brought us Alien 3, Black Hammer, Duck Tales, Fight Club, Go-Bots, Invader Zim, Isola, Jim Henson Dark Crystal and Labyrinth, League of Ex. Gentlemen Tempest, Man Eaters, MMPR, Outcast, Rags #1 3rd prt, Sabrina Teenage Witch, Sharkey Bounty Hunter, Spawn, Rick & Morty, Umbrella Academy, and Transformers. 
Of course, the complete list is much longer –  Check it out below.  And Previews and all the attendant order forms are still here this week. I know there are many of you that ignore ahem follow this blog carefully, so I need to say that I lost 3 of the 5 images to go here and it's just too late to start over on the last 2. Sorry to all of you, the thousands of faithful that read these words every week and what you do with it is a mystery to me.
The countdown to Free Comic Book Day begins. IT's only 5.5 weeks away!  Sign in here to get an email reminder for for FCBD and ALL sales and other events. Also, you can go to fb.fantasybooksandgames.com and you'll be taken to our Facebook page. We do expect to use the Rewards system to make similar announcements, but it pays to be covered, right?
Thanks to Friendly Neighborhood Comics for this week's images, which include many of the comics and a few of the books we received today.
ACTION COMICS #1009 $ 3.99
ACTION COMICS #1009 VAR ED $ 3.99
AGE OF X-MAN X-TREMISTS #2 (OF 5) $ 3.99
ALIEN 3 #5 CVR A CHRISTMAS $ 3.99
ALIEN 3 #5 CVR B WARD $ 3.99
AMAZING SPIDER-MAN #18 $ 3.99
AMAZING SPIDER-MAN #18 CONNECTING VAR $ 3.99
AVENGERS NO ROAD HOME #7 (OF 10) $ 3.99
AVENGERS NO ROAD HOME #7 (OF 10) NOTO CONNECTING VAR $ 3.99
BATGIRL #33 $ 3.99
BATGIRL #33 VAR ED $ 3.99
BATMAN BEYOND #30 $ 3.99
BATMAN BEYOND #30 VAR ED $ 3.99
BLACK HAMMER AGE OF DOOM #9 CVR A ORMSTON $ 3.99
BLACK HAMMER AGE OF DOOM #9 CVR B GREENE $ 3.99
BLACK PANTHER #10 $ 3.99
BLACK PANTHER #10 BARTEL SPIDER-MAN VILLAINS VAR $ 3.99
BLACK SCIENCE #39 CVR A SCALERA (MR) $ 3.99
BLACK SCIENCE #39 CVR B MAGUIRE (MR) $ 3.99
BLACK WIDOW #3 $ 3.99
BLOODSHOT RISING SPIRIT #5 CVR A MASSAFERA $ 3.99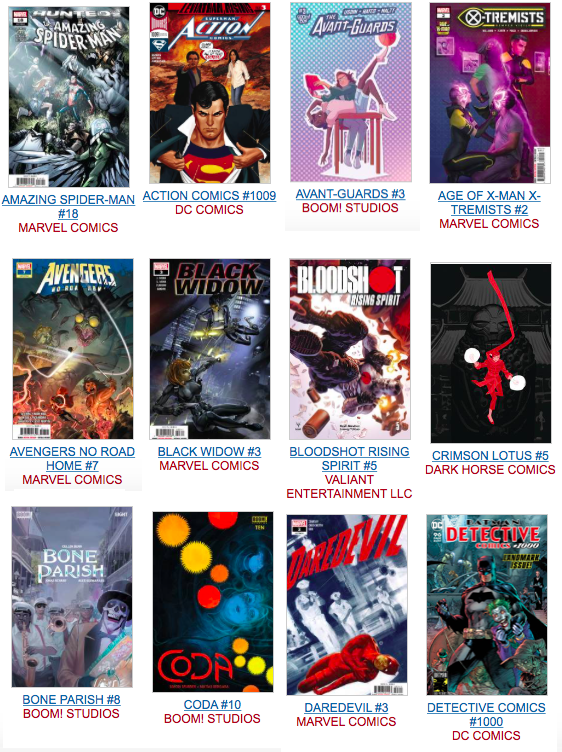 BONE PARISH #8 (OF 12) $ 3.99
BOOKS OF MAGIC #6 (MR) $ 3.99
CODA #10 (OF 12) MAIN & MIX $ 3.99
CRIMSON LOTUS #5 (OF 5) $ 3.99
DAREDEVIL #3 $ 3.99
DAREDEVIL #3 $ 3.99
DAREDEVIL #3 FUJI CAT VAR $ 3.99
DISNEY COMICS AND STORIES #4 CAMPINOTI $ 5.99
DETECTIVE COMICS #1000 1930S VAR ED $ 9.99
DETECTIVE COMICS #1000 1940S VAR ED $ 9.99
DETECTIVE COMICS #1000 1950S VAR ED $ 9.99
DETECTIVE COMICS #1000 1960S VAR ED $ 9.99
DETECTIVE COMICS #1000 1970S VAR ED $ 9.99
DETECTIVE COMICS #1000 1980S VAR ED $ 9.99
DETECTIVE COMICS #1000 1990S VAR ED $ 9.99
DETECTIVE COMICS #1000 2000S VAR ED $ 9.99
DETECTIVE COMICS #1000 2010S VAR ED $ 9.99
DETECTIVE COMICS #1000 BLANK VAR ED $ 9.99
DETECTIVE COMICS #1000 MIDNIGHT RELEASE VAR ED $ 9.99
DIAL H FOR HERO #1 (OF 6) $ 3.99
DIAL H FOR HERO #1 (OF 6) VAR ED $ 3.99
DOCTOR STRANGE #12 $ 3.99
DOCTOR STRANGE #12 LAND SPIDER-MAN VILLAINS VAR $ 3.99
DUCKTALES #19 CVR B $ 3.99
FANTASTIC FOUR #8 $ 3.99
FANTASTIC FOUR #8 RAMOS SPIDER-MAN VILLAINS VAR $ 3.99
FANTASTIC FOUR #8 SIENKIEWICZ VAR (1/25) $ ???
FANTASTIC FOUR #8 YONGHO CHO MYSTERY VAR $ 3.99
FEMME MAGNIFIQUE 10 MAGNIFICENT WOMEN CHANGED WORLD (BLACK C $ 4.99
FIGHT CLUB 3 #3 CVR A MACK (MR) $ 3.99
FIREFLY #2 (3RD PTG) $ 3.99
FLASH #67 $ 3.99
FLASH #67 VAR ED $ 3.99
FORGOTTEN QUEEN #2 (OF 4) CVR B KALVACHEV $ 3.99
GLOW #1 BALDARI VAR (1/10) $ ???
GLOW #1 CVR A TEMPLER $ 3.99
GO-BOTS #5 CVR A SCIOLI $ 3.99
GO-BOTS #5 CVR B SHAW $ 3.99
GODDESS MODE #4 (MR) $ 3.99
HELLBOY AND BPRD 1956 #5 (OF 5) $ 3.99
HEROES IN CRISIS #7 (OF 9) $ 3.99
HEROES IN CRISIS #7 (OF 9) VAR ED $ 3.99
HEX WIVES #6 (MR) $ 3.99
HULKVERINES #2 (OF 3) $ 4.99
HULKVERINES #2 (OF 3) MOORE VAR $ 4.99
ICE CREAM MAN #11 CVR A MORAZZO & OHALLORAN (MR) $ 3.99
ICE CREAM MAN #11 CVR B TARR (MR) $ 3.99
INCREDIBLE HULK #181 FACSIMILE EDITION $ 3.99
INVADER ZIM #41 CVR A $ 3.99
INVADER ZIM #41 CVR B COUSIN VAR $ 3.99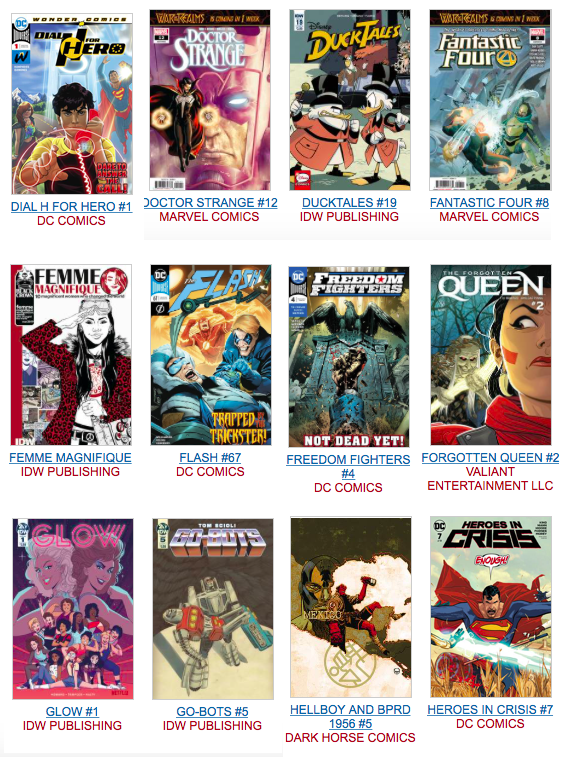 INVADERS #3 $ 3.99
INVADERS #3 $ 3.99
IRONHEART #4 $ 3.99
ISOLA #7 CVR A KERSCHL $ 3.99
ISOLA #7 CVR B STONE $ 3.99
JIM HENSON BENEATH DARK CRYSTAL #8 (OF 12) MAIN CVR DEWEY $ 3.99
JIM HENSON BENEATH DARK CRYSTAL #8 (OF 12) PREORDER PETERSEN $ 3.99
JIM HENSON LABYRINTH CORONATION #12 MAIN $ 3.99
JIM HENSON LABYRINTH CORONATION #12 PREORDER GODBEY VAR $ 3.99
JUGHEAD THE HUNGER #13 CVR A GORHAM (MR) $ 3.99
JUSTICE LEAGUE ODYSSEY #7 $ 3.99
JUSTICE LEAGUE ODYSSEY #7 VAR ED $ 3.99
LOEG TEMPEST #5 ONEILL $ 4.99
LOONEY TUNES #248 $ 2.99
MAN-EATERS #7 CVR A MITERNIQUE $ 3.99
MAN-EATERS #7 CVR B MITERNIQUE $ 3.99
MARTIAN MANHUNTER #4 (OF 12) $ 3.99
MARTIAN MANHUNTER #4 (OF 12) VAR ED $ 3.99
MARVEL COMICS PRESENTS #3 $ 4.99
MARVEL RISING #1 (OF 5) $ 3.99
MIGHTY MORPHIN POWER RANGERS #37 FOC MERCADO VAR $ 3.99
MIGHTY MORPHIN POWER RANGERS #37 MAIN $ 3.99
MOON GIRL AND DEVIL DINOSAUR #41 $ 3.99
MR AND MRS X #9 $ 3.99
OUTCAST BY KIRKMAN & AZACETA #40 (MR) $ 3.99
PETER CANNON THUNDERBOLT #3 CVR A WARD $ 3.99
RAGS #1 3RD PTG $ 3.99
REALM #12 CVR A HAUN & FILARDI (MR) $ 3.99
RICK & MORTY #48 CVR A $ 3.99
RICK & MORTY #48 CVR B TROUSSELLIER $ 3.99
RICK & MORTY VS DUNGEONS & DRAGONS DIR CUT #1 $ 4.99
SABRINA TEENAGE WITCH #1 (OF 5) CVR B BUSCEMA $ 3.99
SABRINA TEENAGE WITCH #1 (OF 5) CVR D IBANEZ $ 3.99
SABRINA TEENAGE WITCH #1 (OF 5) CVR E LANZ $ 3.99
SABRINA TEENAGE WITCH #1 (OF 5) CVR C HUGHES $ 3.99
SAVAGE SWORD OF CONAN #1 2ND PTG GARNEY VAR $ 4.99
SCOOBY DOO TEAM UP #47 $ 2.99
SHARKEY BOUNTY HUNTER #2 (OF 6) CVR A BIANCHI (MR) $ 3.99
SHARKEY BOUNTY HUNTER #2 (OF 6) CVR B SKETCH BIANCHI (MR) $ 3.99
SHARKEY BOUNTY HUNTER #2 (OF 6) CVR C YOUNG (MR) $ 3.99
SHAZAM #4 $ 3.99
SHAZAM #4 VAR ED $ 3.99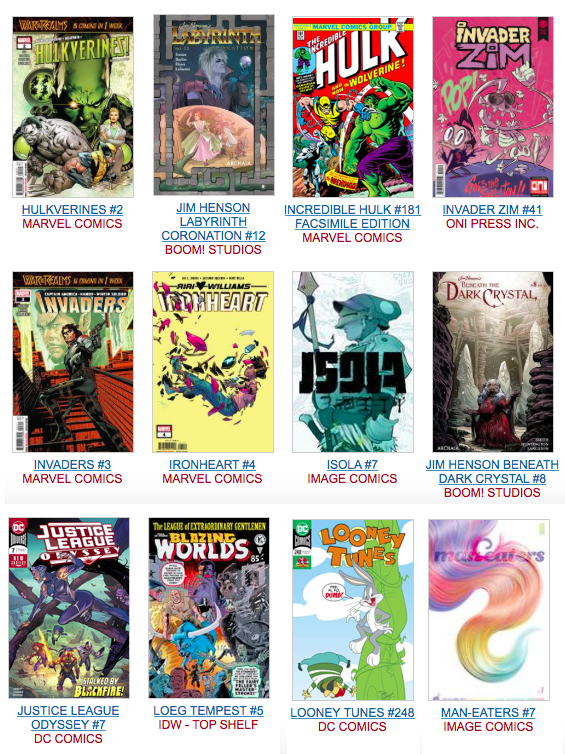 SILENCER #15 $ 3.99
SNOTGIRL #13 CVR B OMALLEY $ 3.99
SPAWN #295 CVR A MATTINA $ 2.99
SPAWN #295 CVR B MATTINA VIRGIN $ 2.99
SPAWN #295 CVR C B&W VAR MCFARLANE & MATTINA $ 2.99
STAR WARS ADVENTURES #19 PINTO VAR (1/10) $ ???
STAR WARS ADVENTURES #19 CVR A MAURICET $ 3.99
STAR WARS ADVENTURES #19 CVR B BROKENSHIRE $ 3.99
STAR WARS DOCTOR APHRA #30 $ 3.99
STAR WARS DOCTOR APHRA #30 HUGHES GREATEST HITS VAR $ 3.99
STAR WARS VADER DARK VISIONS #2 (OF 5) $ 3.99
STAR WARS VADER DARK VISIONS #2 (OF 5) SANDOVAL VAR (1/25) $ ???
SUPERIOR SPIDER-MAN #4 $ 3.99
SUPERIOR SPIDER-MAN #4 COELLO SPIDER-MAN VILLAINS VAR $ 3.99
SYNERGY HASBRO CREATORS SHOWCASE $ 7.99
TERRIFICS #14 $ 2.99
THESE SAVAGE SHORES #1 B&W ED (MR) $ 5.99
TMNT URBAN LEGENDS #11 CVR A FOSCO $ 3.99
TMNT URBAN LEGENDS #11 CVR B FOSCO & LARSEN $ 3.99
TRANSFORMERS #2 VEREGGE VAR (1/10) $ ???
TRANSFORMERS #2 CVR A DANIEL $ 3.99
TRANSFORMERS #2 CVR B JOSEPH $ 3.99
UMBRELLA ACADEMY HOTEL OBLIVION #6 CVR A BA $ 3.99
UMBRELLA ACADEMY HOTEL OBLIVION #6 CVR B BA $ 3.99
WONDER WOMAN #67 $ 3.99
WONDER WOMAN #67 VAR ED $ 3.99
WWE WRESTLEMANIA 2019 SPECIAL #1 MAIN $ 7.99
WWE WRESTLEMANIA 2019 SPECIAL #1 PREORDER XERMANICO VAR $ 7.99
X-FORCE #5 $ 3.99
X-FORCE #5 BROWN SPIDER-MAN VILLAINS VAR $ 3.99

ARCHIE MEETS BATMAN 66 TP $ 17.99
ASGARDIANS OF THE GALAXY TP VOL 01 INFINITY ARMADA $ 15.99
BARRIER LIMITED ED SLIPCASE SET (MR) $ 29.99
BATGIRL THE BRONZE AGE OMNIBUS HC VOL 02 $ 99.99
CATWAD GN VOL 01 ITS ME $ 8.99
CLOAK AND DAGGER MPGN TP NEGATIVE EXPOSURE $ 19.99
COLOR YOUR OWN AVENGERS 2 TP EARTHS MIGHTIEST HEROES $ 9.99
DEADPOOL MINIBUS 3 HC $ 75
FLASH TP VOL 09 RECKONING FORCES $ 16.99
HARLEY QUINN TP VOL 02 HARLEY DESTROYS THE UNIVERSE $ 16.99
JIM HENSON BENEATH DARK CRYSTAL HC VOL 01 $ 24.99
JURASSIC WORLD ADULT COLORING BOOK TP $ 14.99
LUMBERJANES TP VOL 11 $ 14.99
MARVEL KNIGHTS FANTASTIC FOUR TP COMPLETE COLLECTION VOL 01 $ 39.99
MERA TIDEBREAKER TP DC INK $ 16.99
MIDDLE-EARTH HC JOURNEYS IN MYTH AND LEGEND $ 39.99
MIND MGMT OMNIBUS TP VOL 01 MANAGER AND FUTURIST PART 1 $ 24.99
MS MARVEL TP VOL 10 TIME AND AGAIN $ 19.99
NAUSICAA OF VALLEY OF WIND BOX SET (CURR PTG) $ 70
REGRESSION TP VOL 03 (MR) $ 16.99
SANDMAN OMNIBUS HC VOL 03 (RES) (MR) $ 150
SECRET AVENGERS BY REMENDER TP COMPLETE COLLECTION $ 34.99
SGT FURY EPIC COLLECTION TP HOWLING COMMANDOS39.99
SPIDER-MAN TP NEW WAYS TO LIVE $ 39.99
STAR WARS SOLO GN $ 9.99
SUPER SONS THE POLARSHIELD PROJECT TP DC ZOOM $ 9.99
THANOS WARS INFINITY ORIGIN OMNIBUS HC STARLIN DM VAR $ 100
WEAPON H TP VOL 02 WAR FOR WEIRDWORLD $ 17.99
WHAT IF? WITH GREAT POWER TP $ 17.99

DC CORE THE FLASH PVC STATUE $ 49.99
DISNEY SERIES 20 BEST FRIENDS 3D FOAM BAG CLIP 24PC ASST $ 6.99
GUNDAM UNICORN 222 GUSTAV KARL HGUC 1/144 MDL KIT UC VER $ 29.99
MARVEL PREMIERE LADY DEADPOOL STATUE $ 150
MYSTERY MINIS NBX FIG KEYCHAIN 18PC BMB DISP $ 4.49
POCKET POP FORTNITE S1 CUDDLE TEAM LEADER KEYCHAIN $ 5.99
POCKET POP FORTNITE S1 LOVE RANGER KEYCHAIN $ 5.99
POCKET POP FORTNITE S2 RAVEN KEYCHAIN $ 5.99
POCKET POP FORTNITE S2 SPARKLE SPECIALIST KEYCHAIN $ 5.99
POP HORROR 2 PEN TOPPER 16PC ASST $ 4.99

COMIC SHOP NEWS #1653 (FIVE weeks late!) zyx FREE
MARVEL PREVIEWS VOL 04 #21 APRIL 2019 zyx FREE
PREVIEWS #367 APRIL 2019 $ 3.99
DC PREVIEWS #12 zyx FREE (w/ purchase of big Catalog)
WAR OF REALMS MAGAZINE zyx FREE