Symbiote Spider-Man and LeBron James Pop on Wednesday, April 10th, 2019
Symbiote Spider-Man is the big cahuna today, and there are 8 different covers to bring home. More Marvels include Avengers No Road, Amazing Spider-Man, Captain Marvel, Age of Conan Belit and Savage Sword, Spider-Man Deadpool, Star Wars Grand Moff and Princess Leia, 3 True Believers Avengers reprints, X-23 and X-force and many more. DC brought us Batman and Who Laughs, Detective 1001 (order mistake – ask at counter), Catwoman, Wonder Woman and Twins, Hawkman and Justice League Odyssey. Other pubs brought us Bettie Page, Aliens Resistance, Fair Lady, Faithless, Go Go Power Rangers, Hit-Girl, Prodigy, and Live Wire.
Hundreds of Pops arrivals, new and old, including NBA stars LeBron (James) Harden  to join Steph Curry on the Sports shelf.
  Of course, the complete list is much longer –  Check it out below. The countdown to Free Comic Book Day begins. It's only 3.5 weeks away!  Sign in here to get an email reminder for for FCBD and ALL sales and other events. We just got the list of comics we'll be getting and in the next few days, we'll post it on our FCBD page. Also, you can go to fb.fantasybooksandgames.com and you'll be taken to our Facebook page. We do expect to use the Rewards system to make similar announcements, but it pays to be covered, right?
Thanks to Friendly Neighborhood Comics for this week's images, which include many of the comics and a few of the books we received today.  
AGE OF CONAN BELIT #2 (OF 5) $ 3.99
AGE OF CONAN BELIT #2 (OF 5) ISAACS VAR (1/25) $ ???
AGE OF X-MAN APOCALYPSE AND X-TRACTS #2 (OF 5) $ 3.99
AGE OF X-MAN MARVELOUS X-MEN #3 (OF 5) $ 3.99
Alexandria Ocasio Cortez & the Freshman Force – Early Voter Edition $ 3.99
ALIENS RESISTANCE #3 CVR A JONES $ 3.99
ALIENS RESISTANCE #3 CVR B DE LA TORRE $ 3.99
AMAZING SPIDER-MAN #19 $ 3.99
AMAZING SPIDER-MAN #19 HENRICHON VAR (1/25) $ ???
AMAZING SPIDER-MAN #19 YU CONNECTING VAR $ 3.99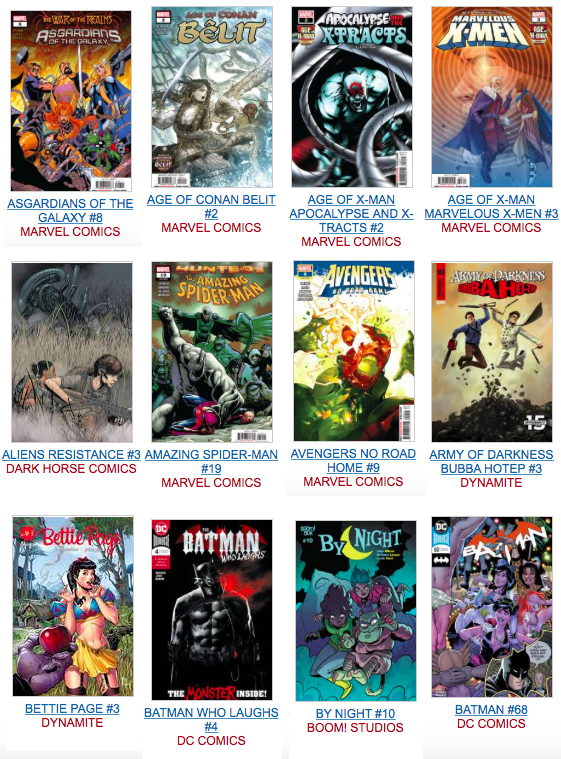 ARMY OF DARKNESS BUBBA HOTEP #3 CVR B MANDRAKE $ 3.99
ARMY OF DARKNESS BUBBA HOTEP #3 CVR C HACK $ 3.99
ASGARDIANS OF THE GALAXY #8 NOTO ASGARDIAN VAR $ 3.99
ASGARDIANS OF THE GALAXY #8 WR $ 3.99
ASTRO HUSTLE #2 (OF 4) $ 3.99
AVENGERS NO ROAD HOME #9 (OF 10) $ 3.99
AVENGERS NO ROAD HOME #9 (OF 10) SCALERA CONNECTING VAR $ 3.99
BATMAN #68 $ 3.99
BATMAN #68 VAR ED $ 3.99
BATMAN WHO LAUGHS #4 (OF 6) $ 4.99
BATMAN WHO LAUGHS #4 (OF 6) VAR ED $ 4.99
BETTIE PAGE #3 CVR A ROYLE $ 3.99
BETTIE PAGE #3 CVR B CHANTLER $ 3.99
BETTIE PAGE #3 CVR C WILLIAMS $ 3.99
BETTIE PAGE #3 CVR D OHTA $ 3.99
BETTIE PAGE #3 CVR E PHOTO $ 3.99
BETTY & VERONICA JUMBO COMICS DIGEST #272 $ 6.99
BY NIGHT #10 (OF 12) MAIN LARSEN CVR $ 3.99
CAPTAIN MARVEL #4 $ 3.99
CAPTAIN MARVEL #4 PAREL ASGARDIAN VAR $ 3.99
CATWOMAN #10 $ 3.99
CATWOMAN #10 VAR ED $ 3.99
COSMIC GHOST RIDER DESTROYS MARVEL HISTORY #1 (OF 6) 2ND PTG $ 3.99
DEAD MAN LOGAN #6 (OF 12) $ 3.99
DETECTIVE COMICS #1001 $ 3.99
DETECTIVE COMICS #1001 VAR ED $ 3.99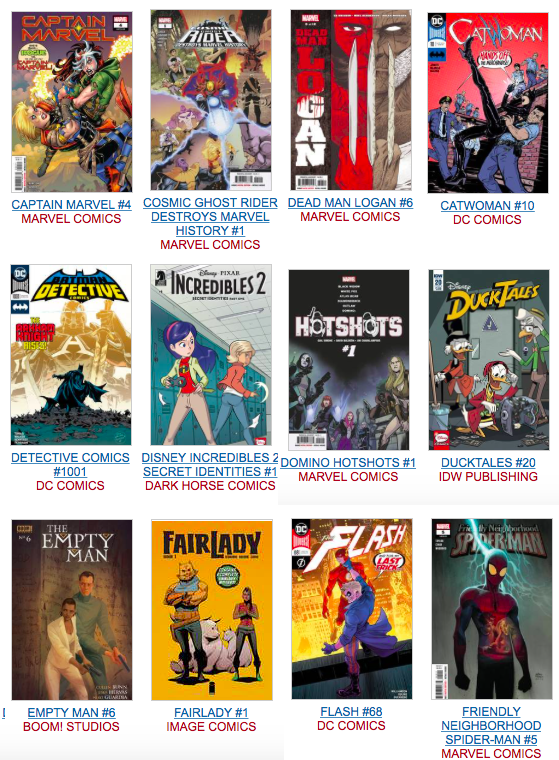 DISNEY INCREDIBLES 2 SECRET IDENTITIES #1 (OF 3) CVR B KAWAI $ 3.99
DOMINO HOTSHOTS #1 (OF 5) 2ND PTG BALDEON VAR $ 3.99
DUCKTALES #20 CVR A DISNEY $ 3.99
EMPTY MAN #6 MAIN $ 3.99
FAIRLADY #1 CVR A BALBONI & LOUISE $ 3.99
FAIRLADY #1 CVR B LOTAY $ 3.99
FAITHLESS #1 (OF 5) CVR B LOTAY EROTICA VAR (MR) $ 4.99
FAITHLESS #1 (OF 5) FOC BERMEJO VAR (MR) $ 3.99
FAITHLESS #1 (OF 5) MAIN CVR POPE (MR) $ 3.99
FIREFLY #3 (3RD PTG) $ 3.99
FLASH #68 $ 3.99
FLASH #68 VAR ED $ 3.99
FRIENDLY NEIGHBORHOOD SPIDER-MAN #5 $ 3.99
GO GO POWER RANGERS #19 MAIN & MIX $ 3.99
GO GO POWER RANGERS #19 PREORDER MOK VAR $ 3.99
GUARDIANS OF THE GALAXY #2 2ND PTG SHAW VAR $ 3.99
GUNNING FOR HITS #4 (MR) $ 3.99
HAWKMAN #11 $ 3.99
HAWKMAN #11 VAR ED $ 3.99
HIT-GIRL SEASON TWO #3 CVR A FRANCAVILLA (MR) $ 3.99
HIT-GIRL SEASON TWO #3 CVR B B&W FRANCAVILLA (MR) $ 3.99
HIT-GIRL SEASON TWO #3 CVR C CONNER (MR) $ 3.99
HOUSE OF WHISPERS #8 (MR) $ 3.99
INFINITE DARK #5 $ 3.99
INVADERS #4 $ 3.99
JAMES BOND ORIGIN #8 CVR A PANOSIAN $ 3.99
JUSTICE LEAGUE ODYSSEY #8 $ 3.99
JUSTICE LEAGUE ODYSSEY #8 VAR ED $ 3.99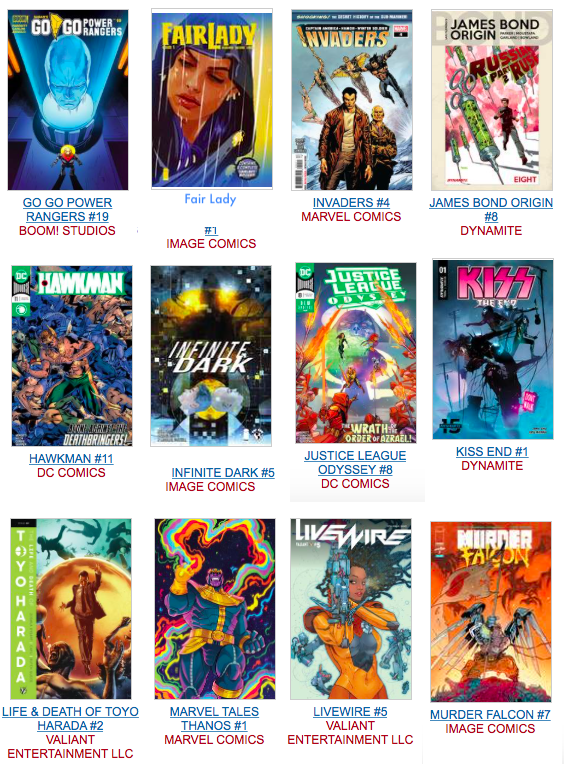 KISS END #1 CVR D PHOTO $ 3.99
KNIGHTS OF THE GOLDEN SUN #2 $ 3.99
KNIGHTS OF THE GOLDEN SUN #3 $ 3.99
KNIGHTS OF THE GOLDEN SUN #5 $ 3.99
LIFE & DEATH OF TOYO HARADA #2 (OF 6) CVR A SUAYAN $ 4.99
LIFE & DEATH OF TOYO HARADA #2 (OF 6) CVR B OLIVETTI $ 4.99
LITTLE BIRD #1 (OF 5) 2ND PTG (MR) $ 3.99
LIVEWIRE #5 CVR A ROCAFORT (NEW ARC) $ 3.99
LOW #21 CVR A TOCCHINI (MR) $ 3.99
MARVEL TALES THANOS #1 $ 7.99
MURDER FALCON #7 CVR A JOHNSON & SPICER $ 3.99
NIGHTMARE BEFORE CHRISTMAS ZEROS JOURNEY #8 $ 3.99
OBLIVION SONG BY KIRKMAN & DE FELICI #14 (MR) $ 3.99
ORPHAN AGE #1 PLATI CVR $ 3.99
PRODIGY #5 (OF 6) CVR A ALBUQUERQUE (MR) $ 3.99
PRODIGY #5 (OF 6) CVR B ALBUQUERQUE (MR) $ 3.99
PRODIGY #5 (OF 6) CVR C MCCARTHY (MR) $ 3.99
PRODIGY #5 (OF 6) CVR D YILDIRIM (MR) $ 3.99
PUNCHLINE #1 2ND PTG $ 3.99
RAT QUEENS SPEC SWAMP ROMP (ONE-SHOT) (MR) $ 3.99
RED HOOD OUTLAW #33 $ 3.99
RED HOOD OUTLAW #33 VAR ED $ 3.99
RONIN ISLAND #2 MAIN $ 3.99
SAVAGE DRAGON #243 (MR) $ 3.99
SAVAGE SWORD OF CONAN #4 $ 3.99
SAVAGE SWORD OF CONAN #4 GRANOV VAR (1/25) $ ???
SCOOBY APOCALYPSE #36 $ 3.99
SCOOBY APOCALYPSE #36 VAR ED $ 3.99
SHE COULD FLY LOST PILOT #1 (OF 5) (MR) $ 3.99
SPIDER-MAN DEADPOOL #49 $ 3.99
STAR WARS AOR GRAND MOFF TARKIN #1 $ 3.99
STAR WARS AOR GRAND MOFF TARKIN #1 CONCEPT VAR $ 3.99
STAR WARS AOR GRAND MOFF TARKIN #1 MOVIE VAR (1/10) $ ???
STAR WARS AOR PRINCESS LEIA #1 $ 3.99
STAR WARS AOR PRINCESS LEIA #1 CAMUNCOLI BONETTI PROMO VAR $ 3.99
STAR WARS AOR PRINCESS LEIA #1 CONCEPT VAR $ 3.99
STAR WARS AOR PRINCESS LEIA #1 MOVIE VAR (1/10) $ ???
SUPERGIRL #29 $ 3.99
SUPERGIRL #29 VAR ED $ 3.99
SUPERMAN #10 $ 3.99
SUPERMAN #10 VAR ED $ 3.99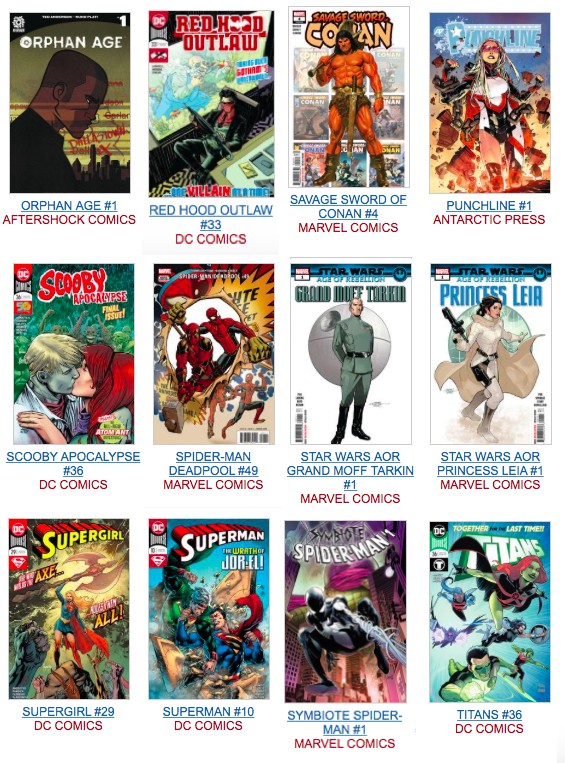 SYMBIOTE SPIDER-MAN #1 $ 4.99
SYMBIOTE SPIDER-MAN #1 (OF 5) BRADSHAW VAR (1/25) $ ???
SYMBIOTE SPIDER-MAN #1 (OF 5) SAVIUK VAR (1/50) $ ???
SYMBIOTE SPIDER-MAN #1 ARTGERM VAR $ 4.99
SYMBIOTE SPIDER-MAN #1 ARTGERM VIRGIN VAR (1/200) $ ???
SYMBIOTE SPIDER-MAN #1 LIM VAR $ 4.99
SYMBIOTE SPIDER-MAN #1 MCFARLANE HIDDEN GEM VAR (1/100) $ ???
SYMBIOTE SPIDER-MAN #1 YOUNG VAR $ 4.99
TITANS #36 $ 3.99
TITANS #36 VAR ED $ 3.99
TRUE BELIEVERS AVENGERS RONIN #1 $ 1
TRUE BELIEVERS AVENGERS STORMBREAKER #1 $ 1
TRUE BELIEVERS AVENGERS THANOS AND GAMORA #1 $ 1
UNBEATABLE SQUIRREL GIRL #43 WR $ 3.99
UNSTOPPABLE WASP #6 $ 3.99
VAMPIRELLA REANIMATOR #4 CVR D COSPLAY $ 3.99
WAR OF REALMS JOURNEY INTO MYSTERY #1 (OF 5) CAMUNCOLI VAR $ 3.99
WAR OF REALMS JOURNEY INTO MYSTERY #1 (OF 5) WR $ 3.99
WEB OF VENOM CULT OF CARNAGE #1 $ 4.99
WEB OF VENOM CULT OF CARNAGE #1 CASSARA VAR $ 4.99
WINTER SOLDIER #5 (OF 5) $ 3.99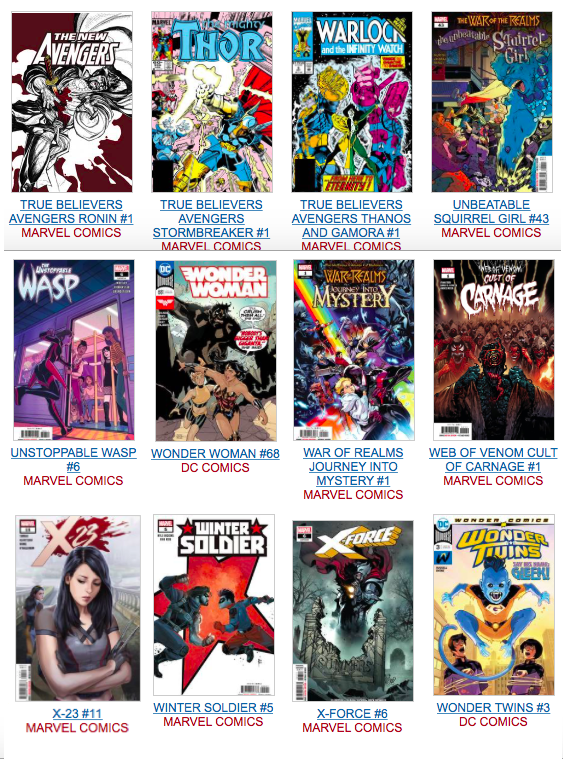 WONDER TWINS #3 (OF 6) $ 3.99
WONDER TWINS #3 (OF 6) VAR ED $ 3.99
WONDER WOMAN #68 $ 3.99
WONDER WOMAN #68 VAR ED $ 3.99
X-23 #11 $ 3.99
X-23 #11 OUM ASGARDIAN VAR $ 3.99
X-FORCE #6 $ 3.99
X-FORCE #6 FEDERICI ASGARDIAN VAR $ 3.99
ZORRO LEGENDARY ADVENTURES BOOK 2 #1 MAIN CVR $ 3.99

COMIC SHOP NEWS #1658 $ FREE
COMIC SHOP NEWS #1659 $ FREE
COMIC SHOP NEWS #1660 $ FREE

ADVENTURES OF THE SUPER SONS TP VOL 01 ACTION DETECTIVE $ 16.99
APOCALYPSE TACO $ 14.99
ATTACK ON TITAN GN VOL 27 (MR) $ 10.99
AVENGERS EPIC COLLECTION TP FEAR THE REAPER $ 39.99
AVENGING SPIDER-MAN TP COMPLETE COLLECTION $ 39.99
CATWOMAN TP VOL 01 COPYCATS $ 16.99
DEATH & RETURN OF SUPERMAN OMNIBUS NEW ED HC $ 150
DECADES MARVEL 70S TP LEGION OF MONSTERS $ 24.99
DISNEY PRINCESS HC ARIEL AND SEA WOLF (YOUNG READERS) $ 7.99
ELSEWORLDS SUPERMAN TP VOL 02 $ 34.99
FINAL CRISIS DC ESSENTIAL EDITION TP $ 24.99
FORTUNE & GLORY A TRUE HOLLYWOOD COMIC BOOK STORY TP $ 14.99
ICEMAN AND HIS AMAZING FRIENDS TP $ 17.99
JIM HENSONS FRAGGLE ROCK ROUGH SIDE OF ROCK HC $ 9.99
KICK-ASS NEW GIRL TP VOL 02 (MR) $ 17.99
MIGHTY AVENGERS BY SLOTT TP COMPLETE COLLECTION $ 39.99
ROSE TP VOL 03 $ 16.99
RUNAWAYS BY ROWELL AND ANKA TP VOL 03 THAT WAS YESTERDAY $ 17.99
SPIDER-MAN DEADPOOL TP VOL 08 ROAD TRIP $ 15.99
STAR WARS TP VOL 10 ESCAPE $ 17.99
SUPERMANS PAL JIMMY OLSEN BY JACK KIRBY TP $ 29.99
UNNATURAL TP VOL 02 (MR) $ 16.99
WITCH HAT ATELIER GN VOL 01 $ 12.99

BATMAN BLACK & WHITE BLIND BAG MINI FIGS W1 $ 3.99
BATMAN BLACK & WHITE STATUE WHITE KNIGHT BY SEAN MURPHY $ 77.99
DC COMICS BOMBSHELLS BATWOMAN AWAY UNIFORM VAR STATUE $ 125
FORTNITE DRIFT 7IN PREMIUM AF CS $ 31.99
FORTNITE REX 7IN PREMIUM AF CS $ 31.99
JOHN WICK 2 GALLERY PVC FIGURE $ 44.99
MARVEL GALLERY AVENGERS 3 IRON MAN MK50 PVC FIGURE $ 44.99
MARVEL GALLERY BLACK CAT COMIC PVC FIGURE $ 44.99
POCKET POP GAME OF THRONES DAVOS FIG KEYCHAIN $ 5.99
POCKET POP GAME OF THRONES RHAEGAL FIG KEYCHAIN $ 5.99
POCKET POP GAME OF THRONES WHITE WALKER FIG KEYCHAIN $ 5.99
POP CHILLING ADVENTURES OF SABRINA SABRINA & SALEM VINYL FIG $ 11.99
POP NBA LAKERS LEBRON JAMES VINYL FIGURE $ 11.99
POP NBA ROCKETS JAMES HARDEN VINYL FIGURE $ 11.99
POP NBA WARRIORS STEPHEN CURRY VINYL FIGURE $ 11.99
POP NHL LOS ANGELES KINGS WAYNE GRETZKY VIN FIG $ 11.99
POP PEZ GOLDEN GIRLS BLANCHE $ 5.99
POP PEZ GOLDEN GIRLS ROSE $ 5.99
POP PEZ GOLDEN GIRLS SOPHIA $ 5.99
POP ROCKS BRITNEY SPEARS VINYL FIGURE $ 11.99
SPIDER-MAN LEGENDS 6IN AF ASST 201901 $ 24.99

THANOS #1 BY DEKAL POSTER $ 8.99