War  of Realms, Spiders, Bats, Vampires, and Heroes – Wednesday, April 17th, 2019
Marvel's War of Realms continues, along with a lot of Spider-titles, Star  Wars, and more. Other publishers released other comics. Y'know, it seems sort of redundant to list them here and then again below. So for this week, I will stop here. Who is going to care, right?
The countdown to Free Comic Book Day begins. It's only 3.5 weeks away!  Sign in here to get an email reminder for for FCBD and ALL sales and other events. We just got the list of comics we'll be getting and in the next few days, we'll post it on our FCBD page. Also, you can go to fb.fantasybooksandgames.com and you'll be taken to our Facebook page. We do expect to use the Rewards system to make similar announcements, but it pays to be covered, right?
Thanks to Friendly Neighborhood Comics for this week's images, which include many of the comics and a few of the books we received today.
ADVENTURE TIME MARCY & SIMON #4 (OF 6) MAIN $ 3.99
AGE OF X-MAN AMAZING NIGHTCRAWLER #3 (OF 5) $ 3.99
AGE OF X-MAN NEXTGEN #3 (OF 5) $ 3.99
AMAZING SPIDER-MAN #16 2ND PTG OTTLEY VAR $ 4.99
AMAZING SPIDER-MAN #16.HU 2ND PTG COELLO VAR $ 3.99
AMAZING SPIDER-MAN #17 2ND PTG RAMOS VAR $ 4.99
AMAZING SPIDER-MAN #19.HU $ 3.99
AMAZING SPIDER-MAN #252 FACSIMILE EDITION $ 3.99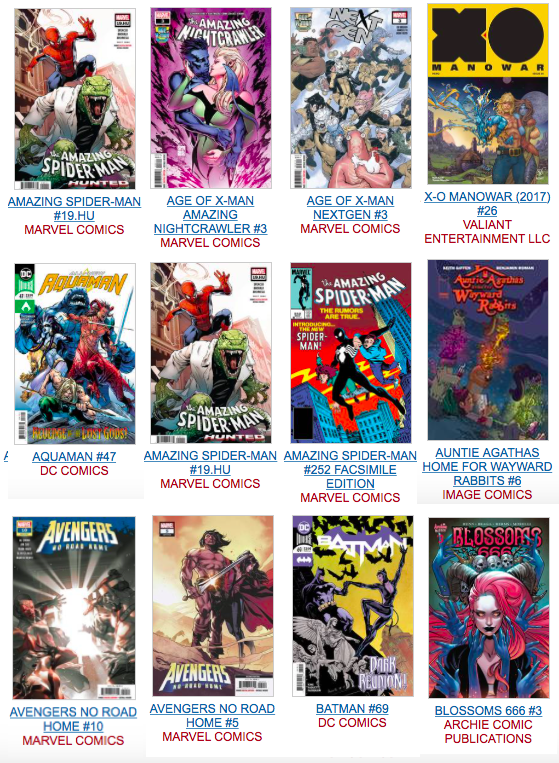 AMERICAN CARNAGE #6 (MR) $ 3.99
ANGEL #0 $ ??? $ ???
ANIMOSITY #20 (MR) $ 3.99
AQUAMAN #47 $ 3.99
AQUAMAN #47 VAR ED $ 3.99
ARCHIE JUMBO COMICS DIGEST #298 $ 6.99
ASSASSIN NATION #2 (MR) $ 3.99
AUNTIE AGATHAS HOME FOR WAYWARD RABBITS #6 (OF 6) $ 3.99
AVENGERS NO ROAD HOME #10 (OF 10) $ 4.99
AVENGERS NO ROAD HOME #10 (OF 10) SCALERA CONNECTING VAR $ 4.99
AVENGERS NO ROAD HOME #4 (OF 10) 2ND PTG IZAAKSE VAR $ 3.99
AVENGERS NO ROAD HOME #5 (OF 10) 2ND PTG IZAAKSE VAR $ 3.99
BATMAN #69 $ 3.99
BATMAN #69 VAR ED $ 3.99
BATMAN WHO LAUGHS #1 (OF 6) FINAL PTG $ 4.99
BATMAN WHO LAUGHS #2 (OF 6) FINAL PTG $ 4.99
BATMAN WHO LAUGHS #3 (OF 6) FINAL PTG $ 4.99
BLOODBORNE #11 CVR A YOSHIOKA (MR) $ 3.99
BLOSSOMS 666 #3 CVR A BRAGA $ 3.99
BLOSSOMS 666 #3 CVR B SAUVAGE $ 3.99
BLOSSOMS 666 #3 CVR C TAYLOR $ 3.99
BPRD DEVIL YOU KNOW #15 $ 3.99
BUFFY THE VAMPIRE SLAYER #4 CVR A MAIN TAYLOR $ 3.99
BUFFY THE VAMPIRE SLAYER #4 CVR B WADA VAR $ 3.99
BUFFY THE VAMPIRE SLAYER #4 CVR C RUAN VAR $ 3.99
BUFFY THE VAMPIRE SLAYER #4 FOC SLAYER MERCADO VAR $ 3.99
BUFFY THE VAMPIRE SLAYER #4 FOC VAMPIRE MERCADO VAR $ 3.99
BUFFY THE VAMPIRE SLAYER #4 PREORDER MANN VAR $ 3.99
CALAMITY KATE #2 CVR A HOWELL PINTO $ 3.99
DAMAGE #16 $ 3.99
DAREDEVIL #1 3RD PTG CHECCHETTO VAR $ 4.99
DAREDEVIL #4 $ 3.99
DIE #1 5TH PTG (MR) $ 3.99
DISNEY AFTERNOON GIANT #4 $ 5.99
DITKO MONSTERS $ 9.99
DOOMSDAY CLOCK #1 (OF 12) FINAL PTG $ 4.99
DOOMSDAY CLOCK #2 (OF 12) FINAL PTG $ 4.99
DOOMSDAY CLOCK #7 (OF 12) FINAL PTG $ 4.99
EAST OF WEST #42 $ 3.99
ELECTRIC WARRIORS #6 (OF 6) $ 3.99
EVOLUTION #16 (MR) $ 3.99
FARMHAND #7 (MR) $ 3.99
FIREFLY #4 (2ND PTG) $ 3.99
GIDEON FALLS #12 CVR A SORRENTINO & STEWART (MR) $ 3.99
GIDEON FALLS #12 CVR B DOYLE (MR) $ 3.99
GO GO POWER RANGERS #19 MAIN & MIX $ 3.99
GUARDIANS OF THE GALAXY #4 $ 3.99
GUARDIANS OF THE GALAXY #4 RANEY ASGARDIAN VAR $ 3.99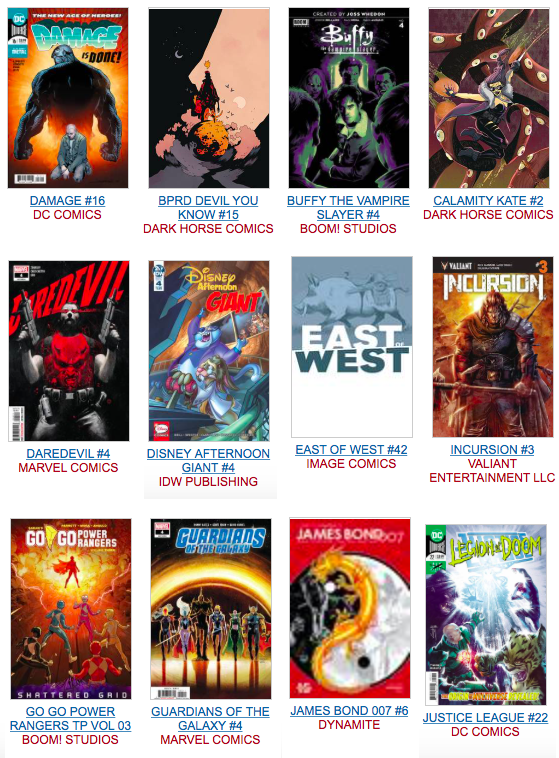 HEROES IN CRISIS #2 (OF 9) FINAL PTG $ 3.99
HEROES IN CRISIS #3 (OF 9) FINAL PTG $ 3.99
HEROES IN CRISIS #4 (OF 9) FINAL PTG $ 3.99
HIGH LEVEL #3 (MR) $ 3.99
IMMORTAL HULK #15 2ND PTG BENNETT VAR $ 3.99
INCURSION #3 (OF 4) CVR A BRAITHWAITE $ 3.99
JAMES BOND 007 #6 CVR D MOONEY $ 3.99
JUSTICE LEAGUE #22 $ 3.99
JUSTICE LEAGUE #22 VAR ED $ 3.99
KICK-ASS #13 CVR A FRUSIN (MR) $ 3.99
KICK-ASS #13 CVR B FRUSIN (MR) $ 3.99
KICK-ASS #13 CVR C MCCARTHY (MR) $ 3.99
KNIGHTS OF THE GOLDEN SUN #1 2ND PTG $ 3.99
KNIGHTS OF THE GOLDEN SUN #4 $ 3.99
KNIGHTS OF THE GOLDEN SUN #6 $ 3.99
LITTLE BIRD #2 (OF 5) (MR) $ 3.99
LUCIFER #7 (MR) $ 3.99
LUMBERJANES #61 MAIN $ 3.99
MAGNIFICENT MS MARVEL #2 $ 3.99
MAGNIFICENT MS MARVEL #2 $ 3.99
MAJOR X #2 (OF 6) $ 3.99
MARVEL COMICS PRESENTS #2 2ND PTG SIQUEIRA VAR $ 4.99
MARY SHELLEY MONSTER HUNTER #1 SHERMAN CVR $ 3.99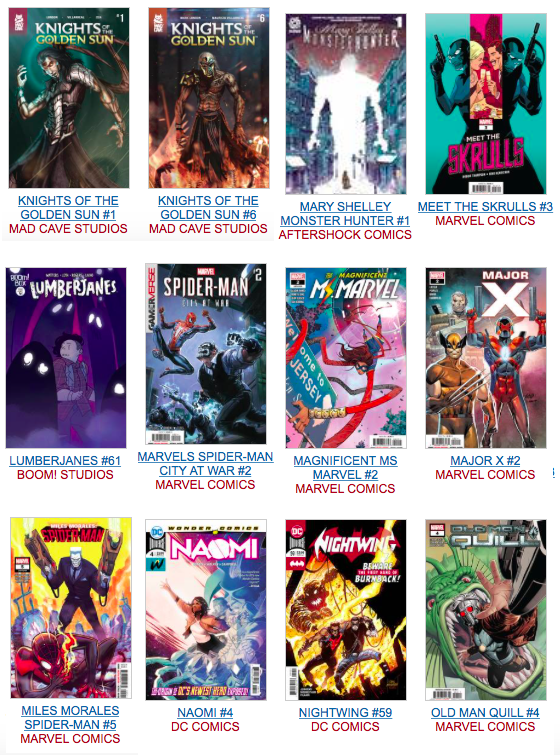 MEET THE SKRULLS #1 (OF 5) 2ND PTG MARTIN VAR $ 3.99
MEET THE SKRULLS #3 (OF 5) $ 3.99
MIDDLEWEST #6 (MR) $ 3.99
MILES MORALES SPIDER-MAN #5 $ 3.99
NAOMI #4 $ 3.99 (Order mistake – ask at counter)
NEIL GAIMAN AMERICAN GODS MOMENT OF STORM #1 CVR A FABRY (MR $ 3.99
NEIL GAIMAN AMERICAN GODS MOMENT OF STORM #1 CVR B MACK (MR) $ 3.99
NIGHTWING #59 $ 3.99
NIGHTWING #59 VAR ED $ 3.99
OLD MAN QUILL #4 (OF 12) $ 3.99
OLIVER #3 CVR A ROBERTSON $ 3.99
OLIVER #3 CVR B MCCREA $ 3.99
OUTPOST ZERO #9 $ 3.99
PEARL #8 (MR) $ 3.99
PETER CANNON THUNDERBOLT #4 CVR A ANKA $ 3.99
PORT OF EARTH #9 CVR A MUTTI $ 3.99
PORT OF EARTH #9 CVR B CAMPBELL $ 3.99
RUMBLE #11 CVR A B&W RUBIN (MR) $ 3.99
RUMBLE #11 CVR B POLLARD NOWLAN & STEWART (MR) $ 3.99
SHAZAM #1 2ND PTG $ 4.99
SHAZAM #2 2ND PTG $ 3.99
SHURI #7 $ 3.99
SPIDER-MAN CITY AT WAR #2 (OF 6) $ 3.99
SPIDER-MAN CITY AT WAR #2 (OF 6) $ 3.99
SPIDER-MAN CITY AT WAR #2 (OF 6) CHECCHETTO VAR (1/25) $ ???
SPIDER-MAN CITY AT WAR #2 (OF 6) NAKAYAMA VAR (1/50) $ ???
SPIDER-MAN LIFE STORY #2 (OF 6) $ 4.99
SPIDER-MAN LIFE STORY #2 (OF 6) MICHAEL CHO VAR (1/25) $ ???
STAR TREK Q CONFLICT #3 (OF 6) CVR A MESSINA $ 3.99
STAR TREK Q CONFLICT #3 (OF 6) CVR B MESSINA $ 3.99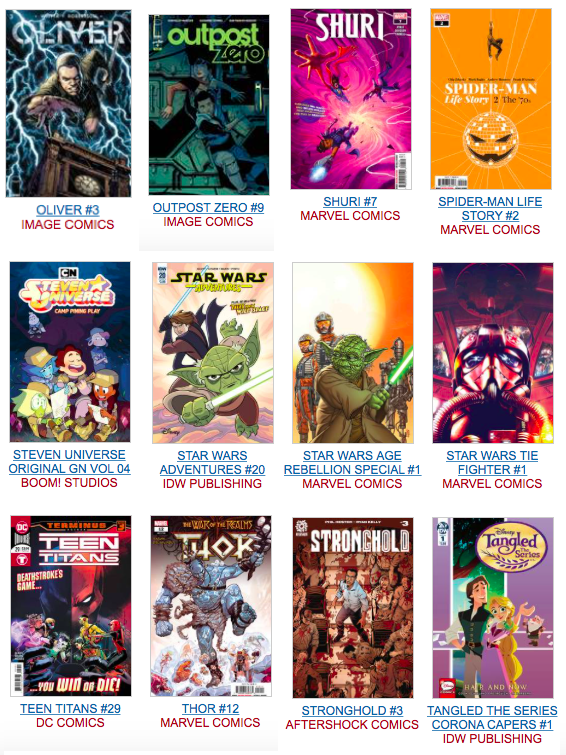 STAR WARS ADVENTURES #20 10 COPY INCV PINTO (1/10) $ ???
STAR WARS ADVENTURES #20 CVR A CHARM $ 3.99
STAR WARS ADVENTURES #20 CVR B TBD $ 3.99
STAR WARS AGE REBELLION SPECIAL #1 $ 4.99
STAR WARS AGE REBELLION SPECIAL #1 CHECCHETTO VAR $ 4.99
STAR WARS TIE FIGHTER #1 (OF 5) $ 3.99
STAR WARS TIE FIGHTER #1 (OF 5) CHRISTOPHER ACTION FIGURE VE $ 3.99
STAR WARS TIE FIGHTER #1 (OF 5) LANGEVIN CHARACTER VAR (1/25) $ ???
STAR WARS TIE FIGHTER #1 (OF 5) MOVIE VAR (1/10) $ ???
STRONGHOLD #3 $ 3.99
SYMBIOTE SPIDER-MAN #1 C2E2 VARIANT (OF 5) LIM VAR $ ???
TANGLED THE SERIES HAIR & NOW #1 ZAPATA VAR (1/10) $ ???
TANGLED THE SERIES HAIR & NOW #1 PETROVICH $ 3.99
TEEN TITANS #29 TERMINUS AGENDA $ 3.99
TEEN TITANS #29 VAR ED TERMINUS AGENDA $ 3.99
THOR #12 COIPEL ASGARDIAN VAR WR $ 3.99
THOR #12 WR $ 3.99
TONY STARK IRON MAN #10 $ 3.99
TONY STARK IRON MAN #10 SPIDER-MAN VILLAINS VAR $ 3.99
TRANSFORMERS #3 GUIDI VAR (1/10) $ ???
TRANSFORMERS #3 CVR A ROCHE $ 3.99
TRANSFORMERS #3 CVR B MALKOVA $ 3.99
TRUE BELIEVERS AVENGERS ENDGAME #1 $ 1
TRUE BELIEVERS AVENGERS GATHERERS SAGA #1 $ 1
TRUE BELIEVERS AVENGERS THANOS FINAL BATTLE #1 $ 1
UNCANNY X-MEN #16 $ 3.99
UNCANNY X-MEN #16 PUTRI CHARACTER VAR $ 3.99
UNCANNY X-MEN #16 SLINEY ASGARDIAN VAR $ 3.99
VENOM #11 2ND PTG STEGMAN VAR $ 3.99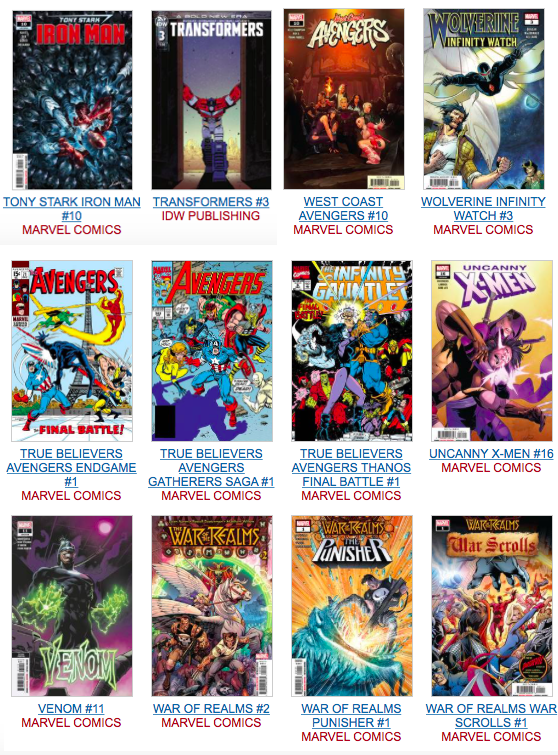 WAR OF REALMS #2 (OF 6) CAMUNCOLI CONNECTING REALM VAR $ 4.99
WAR OF REALMS #2 (OF 6) GARRON YOUNG GUNS VAR WR $ 4.99
WAR OF REALMS #2 (OF 6) HUGO VAR WR (1/25) $ ???
WAR OF REALMS #2 (OF 6) LOPEZ INTERNATIONAL VAR WR $ 4.99
WAR OF REALMS #2 (OF 6) TEDESCO VAR WR (1/50) $ ???
WAR OF REALMS #2 (OF 6) WR $ 4.99
WAR OF REALMS PUNISHER #1 (OF 3) CAMUNCOLI CONNECTING REALM $ 3.99
WAR OF REALMS PUNISHER #1 (OF 3) TEXEIRA VAR WR (1/50) $ ???
WAR OF REALMS PUNISHER #1 (OF 3) WR $ 3.99
WAR OF REALMS PUNISHER #1 (OF 3) ZAFFINO VAR WR (1/25) $ ???
WAR OF REALMS WAR SCROLLS #1 (OF 3) SORRENTINO VAR WR $ 4.99
WAR OF REALMS WAR SCROLLS #1 (OF 3) WR $ 4.99
WEST COAST AVENGERS #10 $ 3.99
WITCHBLADE #13 (MR) $ 3.99
WOLVERINE INFINITY WATCH #3 (OF 5) $ 3.99
XENA WARRIOR PRINCESS #1 CVR A MACK $ 3.99
XENA WARRIOR PRINCESS #1 CVR B LUPACCHINO $ 3.99
X-O MANOWAR (2017) #26 CVR A ROCAFORT $ 3.99
ZORRO SWORDS OF HELL #4 MARTINEZ MAIN CVR $ 3.99

COMIC SHOP NEWS #1661 $ FREE
MAD MAGAZINE #7 $ 5.99

BERSERK TP FLAME DRAGON KNIGHT $ 14.99
CAPTAIN MARVEL OFF MOVIE SPECIAL HC $ 19.99
CLYDE GN $ 9.99
DAMAGE TP VOL 02 SCORCHED EARTH $ 16.99
DOCTOR STRANGE BY DONNY CATES HC $ 34.99
GIDEON FALLS TP VOL 02 ORIGINAL SINS (MR) $ 16.99
GO GO POWER RANGERS TP VOL 03 $ 16.99
INJUSTICE VS MASTERS OF THE UNIVERSE HC $ 24.99
INVADER ZIM TP VOL 07 $ 19.99
IRON MAN EPIC COLLECTION TP MAN WHO KILLED TONY STARK $ 39.99
IRON MAN HEROES RETURN COMPLETE COLLECTION TP VOL 01 $ 39.99
KAMANDI CHALLENGE TP $ 24.99
MAGIC ORDER TP VOL 01 (MR) $ 19.99
PILU OF THE WOODS GN $ 12.99
SANDMAN TP VOL 07 BRIEF LIVES 30TH ANNIV ED (MR) $ 19.99
SHIELD BY HICKMAN & WEAVER TP HUMAN MACHINE $ 24.99
SPAWN DARK HORROR TP $ 16.99
SPIDER-MAN 2099 VS VENOM 2099 TP $ 39.99
STAR WARS ADV TALES FROM VADERS CASTLE TP MAY THE 4TH VAR $ 12.99
STAR WARS ADVENTURES TALES FROM VADERS CASTLE TP $ 12.99
STEVEN UNIVERSE ORIGINAL GN VOL 04 CAMP PINING PLAY $ 14.99
THOR BY GILLEN COMPLETE COLLECTION TP NEW PTG $ 34.99
WONDER WOMAN TP VOL 08 DARK GODS $ 16.99
X-MEN BY MILLIGAN TP VOL 01 DANGEROUS LIAISONS $ 34.99

DC COMICS Q-POSKET HARLEY QUINN FIG $ 24.99
HARRY POTTER SERIES5 3D FOAM BAG CLIP 24PCS BMB DS $ 6.99
MSG 0080 RGM-79SP GM SNIPER II ROBOT SPIRITS AF ANIME VER $ 76.99
MYSTERY MINIS DC BOMBSHELLS 12PC BMB DISP $ 8.99
MYSTERY MINIS WINNIE THE POOH 12PC BMB DISP $ 9.99
POCKET POP LORD OF THE RINGS HOBBIT KEYCHAIN 12PC BMB DISP $ 5.99
TRANSFORMERS GEN STUDIO SER VOYAGER AF ASST 201902 $ 37.99