Three days to Free Comic Book Day – Wednesday, May 1st, 2019
War of Realms is back, along with Deadpool, Marvel Action, Team-Up, and Tales, a bunch of Star Wars, and the title you've been waiting for, Savage Avengers #1. Dc has Batman, Harley, Justice League, and DCeased #1, and DC's Year of the Villain #1. Lots of Variants! And new Lion King, Aladdin, and Warhammer Pops. New Magic on Friday. It's a pretty big week, and we're working overtime to try to get the store ready for the biggest day of the year….
The countdown to Free Comic Book Day begins. It's only 3 days away!  Sign in here to get an email reminder for for FCBD and ALL sales and other events. We just got the list of comics we'll be getting and in the next few days, we'll post it on our FCBD page. Also, you can go to fb.fantasybooksandgames.com and you'll be taken to our Facebook page. We do expect to use the Rewards system to make similar announcements, but it pays to be covered, right?
Thanks to Friendly Neighborhood Comics for this week's images, which include many of the comics and a few of the books we received today.
ADVENTURES OF THE SUPER SONS #10 (OF 12) $3.99
AGE OF X-MAN PRISONER X #3 (OF 5) $3.99
AMAZING SPIDER-MAN #18 2ND PTG RAMOS VAR $3.99
AMAZING SPIDER-MAN #20.HU $3.99
AVATAR TSU TEYS PATH #4 CVR A WHEATLEY $3.99
AVATAR TSU TEYS PATH #4 CVR B STANDEFER $3.99
AVENGERS NO ROAD HOME #7 (OF 10) 2ND PTG MEDINA VAR $3.99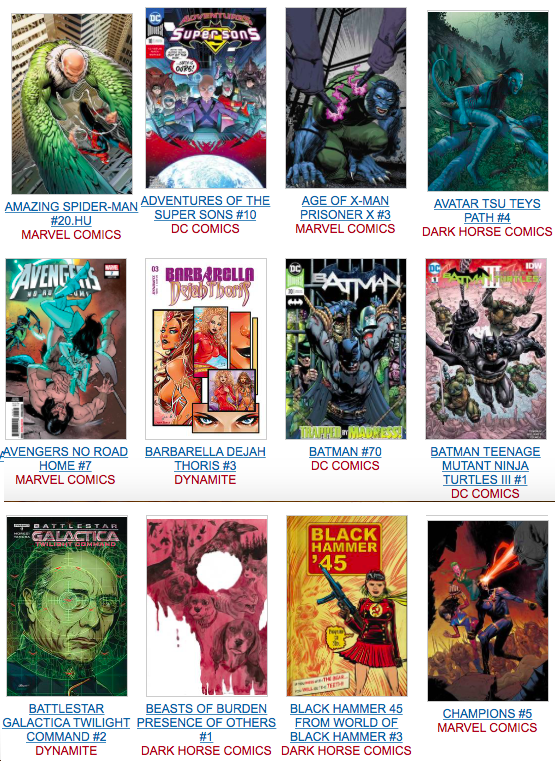 BARBARELLA DEJAH THORIS #3 CVR A BRAGA $3.99
BARBARELLA DEJAH THORIS #3 CVR C OHTA $3.99
BARBARELLA DEJAH THORIS #3 CVR E COSPLAY $3.99
BATMAN #50 MICHAEL TURNER CVR A $19.99
BATMAN #50 MICHAEL TURNER CVR A & B SET $39.99
BATMAN #50 MICHAEL TURNER CVR A B & C SET $64.99
BATMAN #50 MICHAEL TURNER CVR A B C & D SET $99.99
BATMAN #70 $3.99
BATMAN #70 VAR ED $3.99
BATMAN TEENAGE MUTANT NINJA TURTLES III #1 (OF 6) $3.99
BATMAN TEENAGE MUTANT NINJA TURTLES III #1 (OF 6) VAR ED $3.99
BATTLESTAR GALACTICA TWILIGHT COMMAND #2 CVR A SCHOONOVER $3.99
BEASTS OF BURDEN PRESENCE OF OTHERS #1 (OF 2) $3.99
BLACK HAMMER 45 FROM WORLD OF BLACK HAMMER #3 CVR A KINDT $3.99
CHAMPIONS #5 MAXX LIM MARVEL BATTLE LINES VAR WR $3.99
CHAMPIONS #5 WR $3.99
COSMIC GHOST RIDER DESTROYS MARVEL HISTORY #3 (OF 6) $3.99
COSMIC GHOST RIDER DESTROYS MARVEL HISTORY #3 (OF 6) SHALVEY $3.99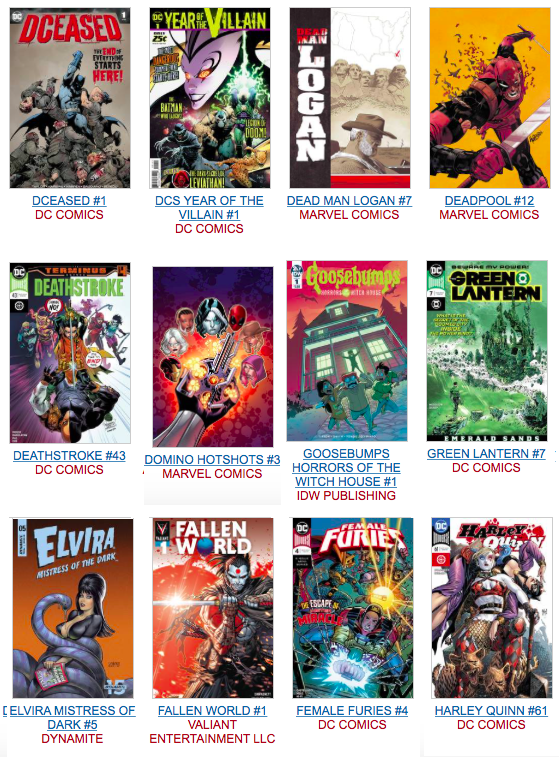 DCEASED #1 (OF 6) $3.99
DCEASED #1 (OF 6) BLANK VAR ED $3.99
DCEASED #1 (OF 6) HORROR VAR ED $3.99
DCEASED #1 (OF 6) VAR ED $3.99
DCS YEAR OF THE VILLAIN #1 $0.25
DCS YEAR OF THE VILLAIN #1 1 IN 100 CHEETAH VAR ED (1/100) $ ???
DCS YEAR OF THE VILLAIN #1 1 IN 250 LEX LUTHOR VAR ED (1/250) $ ???
DCS YEAR OF THE VILLAIN #1 1 IN 500 BATMAN LAUGHS VAR ED (1/500) $ ???
DEAD MAN LOGAN #7 (OF 12) $3.99
DEADPOOL #12 $3.99
DEATHSTROKE #43 TERMINUS AGENDA $3.99
DEATHSTROKE #43 VAR ED TERMINUS AGENDA $3.99
DIE #5 2ND PTG (MR) $3.99
DOMINO HOTSHOTS #3 (OF 5) $3.99
DREAMING #9 (MR) $3.99
ECLIPSE #15 $3.99
ELVIRA MISTRESS OF DARK #5 CVR A LINSNER $3.99
ELVIRA MISTRESS OF DARK #5 CVR B CERMAK $3.99
ELVIRA MISTRESS OF DARK #5 CVR C HACK $3.99
ELVIRA MISTRESS OF DARK #5 CVR D PHOTO SUB VAR $3.99
FALLEN WORLD #1 (OF 5) CVR A MEYERS $3.99
FALLEN WORLD #1 (OF 5) CVR E BLANK $3.99
FEMALE FURIES #4 (OF 6) $3.99
FROM HELL MASTER EDITION #5 (MR) $7.99
GIANT DAYS #50 $4.99
GIRL IN THE BAY #4 (MR) $3.99
GOGOR #1 $3.99
GOOSEBUMPS HORRORS OF THE WITCH HOUSE #1 LEVENS VAR (1/10) $ ???
GOOSEBUMPS HORRORS OF THE WITCH HOUSE #1 FENOGLIO $3.99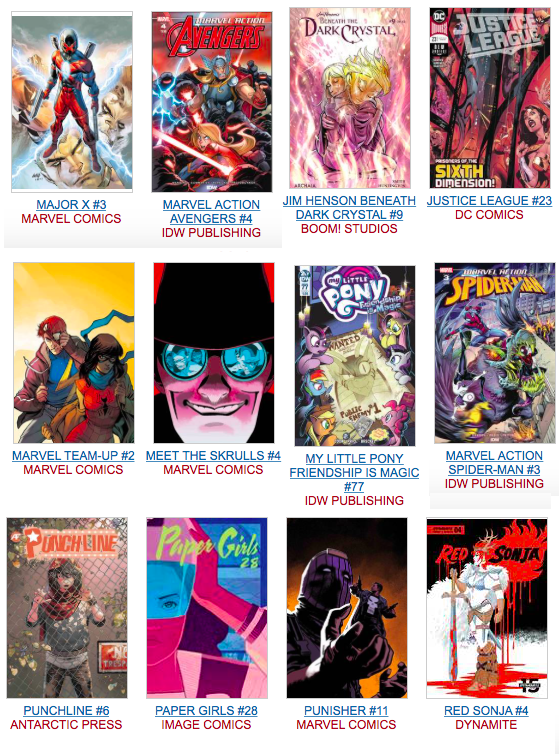 GREEN LANTERN #7 $3.99
GREEN LANTERN #7 VAR ED $3.99
GRUMBLE #6 $3.99
HARLEY QUINN #61 $3.99
HARLEY QUINN #61 VAR ED $3.99
HILLBILLY RED EYED WITCHERY FROM BEYOND #4 (OF 4) (RES) $3.99
IMMORTAL HULK #16 2ND PTG VAR $3.99
JIM HENSON BENEATH DARK CRYSTAL #9 (OF 12) MAIN CVR DEWEY $3.99
JIM HENSON BENEATH DARK CRYSTAL #9 (OF 12) PREORDER PETERSEN $3.99
JUSTICE LEAGUE #23 $3.99
JUSTICE LEAGUE #23 VAR ED $3.99
MAJOR X #1 (OF 6) 2ND PTG LIEFELD VAR $4.99
MAJOR X #3 (OF 6) $3.99
MARVEL ACTION AVENGERS #4 SOMMARIVA $3.99
MARVEL ACTION SPIDER-MAN #3 ROCHE VAR (1/10) $ ???
MARVEL ACTION SPIDER-MAN #3 OSSIO $3.99
MARVEL TEAM-UP #2 $3.99
MARVEL TEAM-UP #2 MOORE VAR (1/25) $ ???
MARVEL TALES AVENGERS #1 $7.99
MEET THE SKRULLS #4 (OF 5) $3.99
MY LITTLE PONY FRIENDSHIP IS MAGIC #77 MURPHY VAR (1/10) $ ???
MY LITTLE PONY FRIENDSHIP IS MAGIC #77 CVR A PRICE $3.99
OUTCAST BY KIRKMAN & AZACETA #41 (MR) $3.99
PAPER GIRLS #28 $3.99
PUNCHLINE #6 $3.99
PUNISHER #11 $3.99
PUNISHER #11 MAXX LIM MARVEL BATTLE LINES VAR $3.99
RED SONJA #4 Q SEDUCTION VAR (1/10 $ ???
RED SONJA #4 CVR A CONNER $3.99
RED SONJA #4 CVR B LINSNER $3.99
RED SONJA #4 CVR D ROCAFORT $3.99
RED SONJA #4 CVR E COSPLAY $3.99
RICK & MORTY VS D&D BOX SET $29.99
ROBOTECH #20 CVR A QUALANO $3.99
ROBOTECH #20 CVR B ACTION FIGURE VAR $3.99
ROBOTECH #20 CVR C WALTRIP BROS $3.99
ROCKOS MODERN AFTERLIFE #2 MAIN CVR $3.99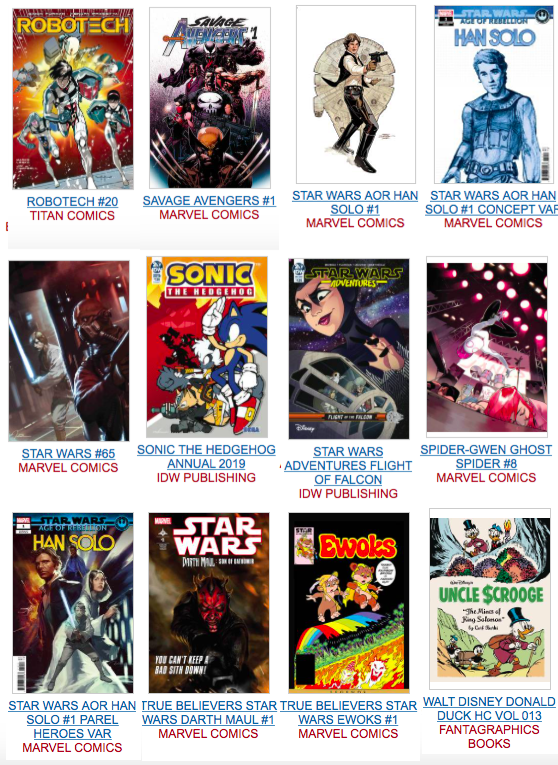 SAVAGE AVENGERS #1 $4.99
SAVAGE AVENGERS #1 BIANCHI VAR (1/25) $ ???
SAVAGE AVENGERS #1 BLANK VAR $4.99
SAVAGE AVENGERS #1 DEODATO TEASER VAR $4.99
SAVAGE AVENGERS #1 JACINTO VAR (1/10) $ ???
SAVAGE AVENGERS #1 YOUNG VAR $4.99
SAVAGE AVENGERS #1 YU VAR (1/50) $ ???
SELF MADE #6 (MR) $3.99
SIX MILLION DOLLAR MAN #3 CVR A WALSH $3.99
SONIC THE HEDGEHOG ANNUAL 2019 FOURDRAINE (1/10) $ ???
SONIC THE HEDGEHOG ANNUAL 2019 CVR A SONIC TEAM $7.99
SONIC THE HEDGEHOG ANNUAL 2019 CVR B HERNANDEZ $7.99
SPIDER-GWEN GHOST SPIDER #8 $3.99
SPIDER-GWEN GHOST SPIDER #8 NEXON MARVEL BATTLE LINES VAR $3.99
STAR WARS #65 $3.99
STAR WARS #65 CHRISTOPHER ACTION FIGURE VAR $3.99
STAR WARS #65 CORY SMITH GREATEST MOMENTS VAR $3.99
STAR WARS ADVENTURES FLIGHT OF FALCON FLOREAN $4.99
STAR WARS AOR HAN SOLO #1 $3.99
STAR WARS AOR HAN SOLO #1 CONCEPT VAR $3.99
STAR WARS AOR HAN SOLO #1 MOVIE VAR (1/10) $ ???
STAR WARS AOR HAN SOLO #1 PAREL HEROES VAR $3.99
STAR WARS ORIGINAL MARVEL YEARS #50 FACSIMILE EDITION $3.99
TANK GIRL #4 CVR A PARSON $3.99
TANK GIRL #4 CVR B SUB GIRL ACTION FIGURE $3.99
TANK GIRL #4 CVR C JET GIRL ACTION FIGURE $3.99
TERMINATOR SECTOR WAR #4 (OF 4) CVR A $3.99
TERMINATOR SECTOR WAR #4 (OF 4) CVR B YOUNG $3.99
TMNT URBAN LEGENDS #12 CVR A FOSCO $3.99
TRANSFORMERS #4 VEREGGE (1/10) $ ???
TRANSFORMERS #4 CVR A PITRE-DUROCHER $3.99
TRANSFORMERS #4 CVR B MIYAO $3.99
TRUE BELIEVERS AVENGERS ORIGIN OF MANTIS #1 $1
TRUE BELIEVERS HULK WEDDING OF RICK JONES #1 $1
TRUE BELIEVERS STAR WARS DARTH MAUL #1 $1
TRUE BELIEVERS STAR WARS EWOKS #1 $1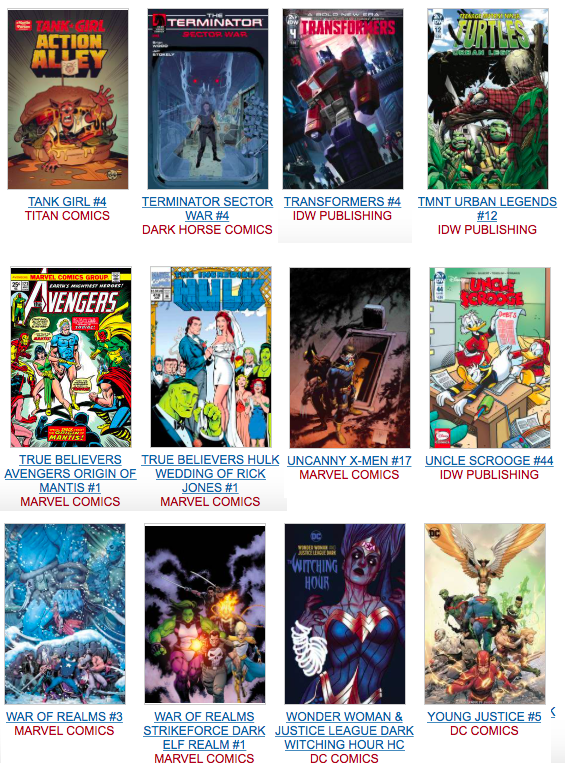 UNCANNY X-MEN #17 $3.99
UNCLE SCROOGE #44 MAZZARELLO $4.99
WALKING DEAD #191 (MR) $3.99
WAR OF REALMS #2 (OF 6) 2ND PTG FERREYRA VAR $4.99
WAR OF REALMS #3 (OF 6) BILLY TAN VAR WR (1/50) $ ???
WAR OF REALMS #3 (OF 6) CAMUNCOLI CONNECTING REALM VAR $4.99
WAR OF REALMS #3 (OF 6) CHECCHETTO YOUNG GUNS VAR WR $4.99
WAR OF REALMS #3 (OF 6) HEEJIN JEON MARVEL BATTLE LINES VAR $4.99
WAR OF REALMS #3 (OF 6) HORN VAN VAR WR (1/10) $ ???
WAR OF REALMS #3 (OF 6) HUGO VAR WR (1/25) $ ???
WAR OF REALMS #3 (OF 6) IZAAKSE INTERNATIONAL VAR WR $4.99
WAR OF REALMS #3 (OF 6) WR $4.99
WAR OF REALMS STRIKEFORCE DARK ELF REALM #1 REIS VAR WR $4.99
WAR OF REALMS STRIKEFORCE DARK ELF REALM #1 WR $4.99
YOUNG JUSTICE #5 $3.99
YOUNG JUSTICE #5 VAR ED $3.99

COMIC SHOP NEWS #1663 FREE
STAR WARS MAY THE 4TH PREVIEWS FREE

AKAME GA KILL ZERO GN VOL 09 $13
ALBERT EINSTEIN TIME MASON GN VOL 01 $14.99
ALIENS TP DUST TO DUST $17.99
AMAZING SPIDER-MAN BY NICK SPENCER TP VOL 03 $15.99
ART OF WAR OF REALMS TP $34.99
AVENGERS ENDGAME OFFICIAL MOVIE SPECIAL ED HC $19.99
BATTLE ANGEL ALITA MARS CHRONICLE GN VOL 06 $10.99
BLACK PANTHER KILLMONGER TP BY ANY MEANS $15.99
BONE PARISH TP VOL 01 $14.99
DOCTOR STRANGE BY DONNY CATES HC (re-CR) $34.99
DOCTOR STRANGE BY MARK WAID TP VOL 02 REMITTANCE $17.99
GAMBIT KING THIEVES COMPLETE COLLECTION TP $34.99
HALO OMNIBUS TP VOL 02 $24.99
JURASSIC WORLD FALLEN KINGDOM COLORING BOOK TP $14.99
KINGDOM COME TP $19.99
MAD ABOUT THE TRUMP ERA TP $12.99
MAN WITHOUT FEAR TP DEATH OF DAREDEVIL $15.99
MIGHTY MORPHIN POWER RANGERS TP VOL 08 SG $16.99
MS MARVEL EPIC COLLECTION TP WOMAN WHO FELL TO EARTH $34.99
QUANTUM AGE TP FROM WORLD OF BLACK HAMMER VOL 01 $19.99
ROBOTECH TP VOL 04 LISAS REPORT $16.99
SILENCER TP VOL 02 HELLIDAY ROAD $16.99
SPAWN ORIGINS TP VOL 01 (NEW PTG) $9.99
STRANGER THINGS TP VOL 01 OTHER SIDE $17.99
TAKIO TP NEW EDITION $16.99
UNCLE SCROOGE MY FIRST MILLIONS TP $17.99
UNDER THE MOON A CATWOMAN TALE TP DC INK $16.99
WALT DISNEY DONALD DUCK HC VOL 13 SCROOGE MINES KING SOLOMON $29.99
WONDER WOMAN & JUSTICE LEAGUE DARK WITCHING HOUR HC $24.99

BOWMAN 2019 BASEBALL T/C BOX $ ???
BOWMAN 2019 BASEBALL T/C JUMBO BOX $ ???

BATMAN 80TH T/S SM (Other sizes came in last week) $19.99
MAD SVS BOOM T/S LG (Other sizes came in last week) $19.99

BEATLES TITANS YELLOW SUBMARINE 3IN GID VIN FIG 4PK $39.99
BEATLES TITANS YELLOW SUBMARINE BLUE MEANIE 4.5IN VIN FIG $14.99
BEATLES TITANS YELLOW SUBMARINE GEORGE 4.5IN VIN FIG $14.99
BEATLES TITANS YELLOW SUBMARINE JOHN 4.5IN VIN FIG $14.99
BEATLES TITANS YELLOW SUBMARINE PAUL 4.5IN VIN FIG $14.99
BEATLES TITANS YELLOW SUBMARINE RINGO 4.5IN VIN FIG $14.99
BEATLES TITANS YELLOW SUBMARINE SMILING SUB 6.5IN VIN FIG $18.99
DC GALLERY BATMAN DARK KNIGHT MOVIE JOKER PVC FIGURE $44.99
DC GALLERY DARK KNIGHT RISES MOVIE BANE PVC FIGURE $44.99
FUNKOS DC TV FLASH CEREAL $8.99
GUNDAM 00 GUNDAM DYNAMES MG MDL KIT $54.99
GUNDAM BUILD DIVERS 28 DIVER AYAME FIGURE-RISE STD MDL KIT $29.99
MAGIC 8-BALL GUDETAMA $14.99
MAGIC 8-BALL HELLO KITTY $17.99
MAGIC 8-BALL SUPER MARIO BROS $17.99
MARVEL GALLERY BLACK PANTHER MOVIE UNMASKED PVC FIGURE $44.99
MARVEL GALLERY SPIDER-MAN COMIC PVC FIGURE $44.99
POCKET POP OVERWATCH ORISA FIG KEYCHAIN $5.99
POKEMON SELECT COLL 2IN FIG W/CASE ASST WAVE 2 $9.99
POP PEZ GOLDEN GIRLS DOROTHY $5.99
TRANSFORMERS GEN WFC DLX AF ASST 201902 $24.99
TRANSFORMERS GEN WFC VOYAGER AF ASST 201902 $37.99