Finally: Jabba and the Giant Mem-Day Sale – Wednesday, May 22th, 2019
DC – Action, Detective, Dial H, Flash, Batgirl, Justice League Dark, Martian Manhunter, Wonder Woman.
Marvel – Age of X-Man Nightcrawler, Alpha Flight Facsimile, Asgardians, Avengers, Doctor Strange, Marvel Comics Presents, Miles Morales, Shuri, Star Wars Jabba & Galaxy's Edge, Tony Stark, Venom, X-Force, and 5 War of Realms: Journey into Mystery, Agents of Atlas, Punisher, Strikeforce Land of Giants, and Uncanny X-Men.
Others – Battlestar, Cyber Force, Elvira, Faithless, Goon, and Monstress. 
Only a few days until our Memorial Day Sale (Sun-Mon)! 
Sign in here to get an email reminder for for ALL sales and other events.  Also, you can go to fb.fantasybooksandgames.com and you'll be taken to our Facebook page. We do expect to use the Rewards system to make similar announcements, but it pays to be covered, right?
Thanks to Friendly Neighborhood Comics for this week's images, which include many of the comics and a few of the books we received today.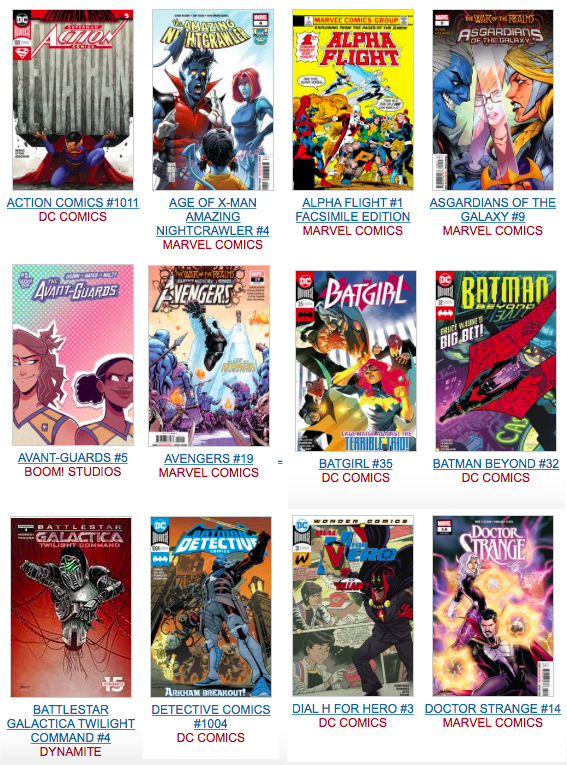 ACTION COMICS #1011 $3.99
ACTION COMICS #1011 VAR ED $3.99
AGE OF X-MAN AMAZING NIGHTCRAWLER #4 (OF 5) $3.99
ALPHA FLIGHT #1 FACSIMILE EDITION $4.99
ANIMOSITY #21 (MR) $3.99
ASGARDIANS OF THE GALAXY #9 MAXX LIM MARVEL BATTLE LINES VAR $3.99
ASGARDIANS OF THE GALAXY #9 WR $3.99
ASSASSIN NATION #3 (MR) $3.99
AVANT-GUARDS #5 (OF 12) MAIN $3.99
AVENGERS #19 $3.99
AVENGERS #19 MAXX LIM MARVEL BATTLE LINES VAR $3.99
BATGIRL #35 $3.99
BATGIRL #35 VAR ED $3.99
BATMAN BEYOND #32 $3.99
BATMAN BEYOND #32 VAR ED $3.99
BATTLESTAR GALACTICA TWILIGHT COMMAND #4 CVR A SCHOONOVER $3.99
BONE PARISH #9 (OF 12) $3.99
BOOKS OF MAGIC #8 (MR) $3.99
CLUE CANDLESTICK #1 CVR A SHAW $4.99
CYBER FORCE #10 (MR) $3.99
DETECTIVE COMICS #1001 2ND PTG $3.99
DETECTIVE COMICS #1003 $3.99
DETECTIVE COMICS #1003 VAR ED $3.99
DETECTIVE COMICS #1004 $3.99
DETECTIVE COMICS #1004 VAR ED $3.99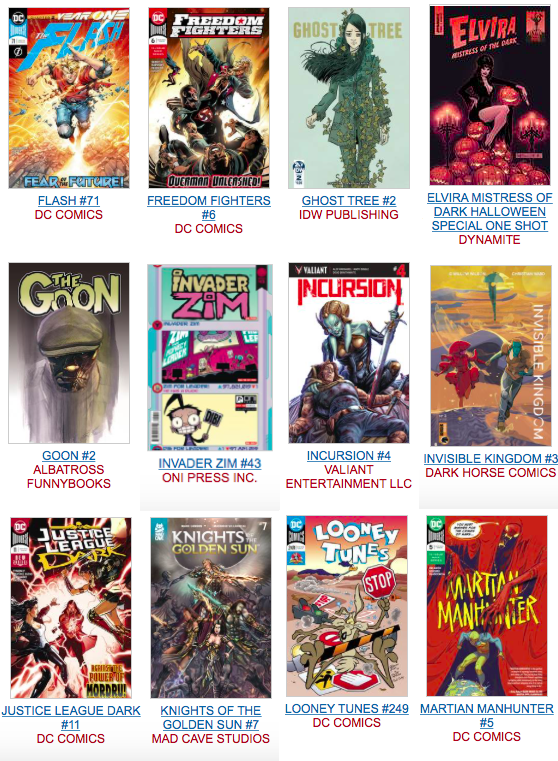 DIAL H FOR HERO #3 (OF 6) $3.99
DIE DIE DIE #6 2ND PTG (MR) $3.99
DIE DIE DIE #8 2ND PTG (MR) $3.99
DOCTOR STRANGE #14 $3.99
DOCTOR STRANGE #14 NEXON MARVEL BATTLE LINES VAR $3.99
ELVIRA MISTRESS OF DARK SPRING SPECIAL ONE SHOT $4.99
FAITHLESS #2 (OF 5) CVR B EROTICA DEL REY VAR (MR) $4.99
FAITHLESS #2 (OF 5) FOC MOON VAR (MR) $3.99
FAITHLESS #2 (OF 5) MAIN CVR POPE (MR) $3.99
FLASH #71 $3.99
FLASH #71 VAR ED $3.99
FREEDOM FIGHTERS #6 (OF 12) $3.99
GASOLINA #18 (MR) $3.99
GHOST TREE #2 $3.99
GOON #2 $3.99
INCURSION #4 (OF 4) CVR A BRAITHWAITE $3.99
INVADER ZIM #43 CVR A $3.99
INVADER ZIM #43 CVR B SMART $3.99
INVISIBLE KINGDOM #3 $3.99
JUSTICE LEAGUE DARK #11 $3.99
JUSTICE LEAGUE DARK #11 VAR ED $3.99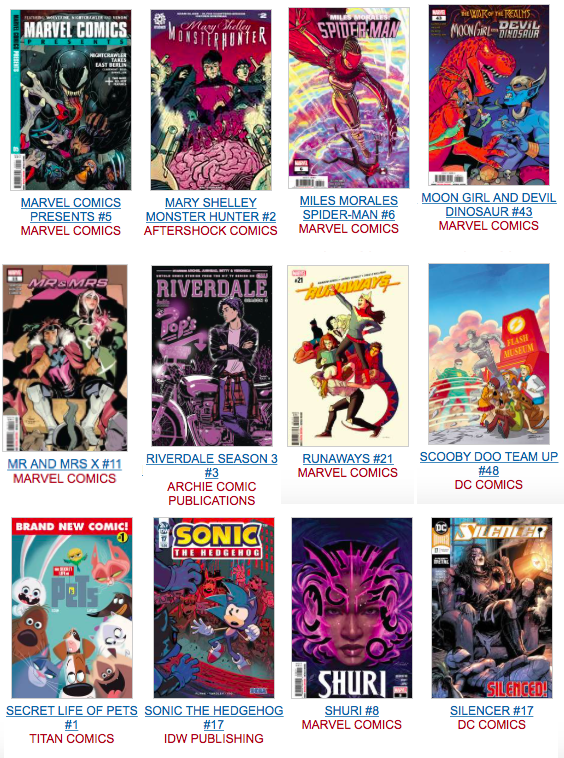 KNIGHTS OF THE GOLDEN SUN #7 $3.99
LOONEY TUNES #249 $2.99
MARTIAN MANHUNTER #5 (OF 12) $3.99
MARTIAN MANHUNTER #5 (OF 12) VAR ED $3.99
MARVEL COMICS PRESENTS #5 $4.99
MARY SHELLEY MONSTER HUNTER #2 $3.99
MIDDLEWEST #7 (MR) $3.99
MILES MORALES SPIDER-MAN #6 $3.99
MILES MORALES SPIDER-MAN #6 YOON LEE MARVEL BATTLE LINES $3.99
MONSTRESS #22 (MR) $3.99
MOON GIRL AND DEVIL DINOSAUR #43 SUJIN JO MARVEL BATTLE LINE $3.99
MOON GIRL AND DEVIL DINOSAUR #43 WR $3.99
MR AND MRS X #11 $3.99
REDNECK #20 (MR) $3.99
RIVERDALE SEASON 3 #3 CVR A PITILLI $3.99
RUMBLE #12 CVR A B&W RUBIN (MR) $3.99
RUNAWAYS #21 $3.99
SAVAGE DRAGON #244 (MR) $3.99
SCOOBY DOO TEAM UP #48 $2.99
SECRET LIFE OF PETS #1 CVR A GOUM $3.99
SHURI #8 $3.99
SHURI #8 HEEJIN JEON MARVEL BATTLE LINES VAR $3.99
SILENCER #17 $3.99
SONIC THE HEDGEHOG #17 FOURDRAINE (1/10) $ ???
SONIC THE HEDGEHOG #17 CVR A LAWRENCE $3.99
SONIC THE HEDGEHOG #17 CVR B PEPPERS $3.99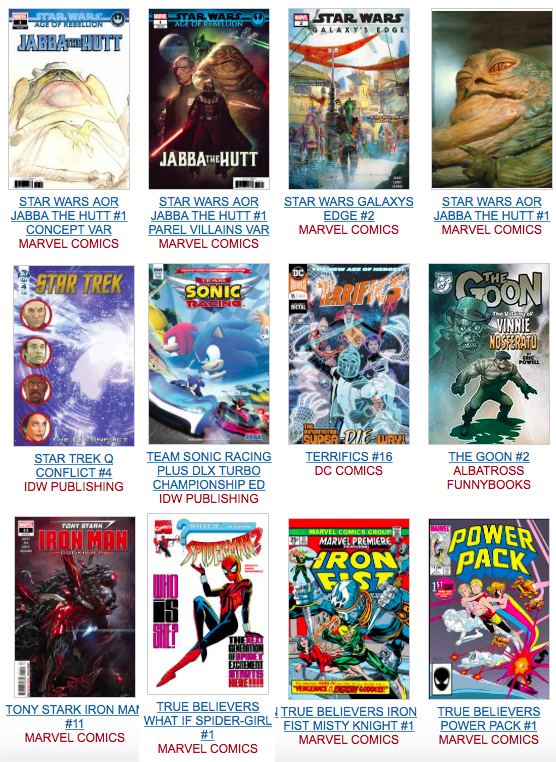 STAR TREK Q CONFLICT #4 (OF 6) CVR A MESSINA $3.99
STAR WARS AOR JABBA THE HUTT #1 $3.99
STAR WARS AOR JABBA THE HUTT #1 CONCEPT VAR $3.99
STAR WARS AOR JABBA THE HUTT #1 MOVIE VAR (1/10) $ ???
STAR WARS AOR JABBA THE HUTT #1 PAREL VILLAINS VAR $3.99
STAR WARS GALAXYS EDGE #2 (OF 5) $3.99
STAR WARS GALAXYS EDGE #2 (OF 5) SLINEY VAR (1/25) $ ???
TEAM SONIC RACING PLUS DLX TURBO CHAMPIONSHIP ED $5.99
TERRIFICS #16 $3.99
THESE SAVAGE SHORES #1 (4TH PTG) (MR) $3.99
THESE SAVAGE SHORES #2 (3RD PTG) (MR) $3.99
THESE SAVAGE SHORES #3 (2ND PTG) (MR) $3.99
TONY STARK IRON MAN #11 $3.99
TONY STARK IRON MAN #11 FERRY ASGARDIAN VAR $3.99
TRUE BELIEVERS IRON FIST MISTY KNIGHT #1 $1
TRUE BELIEVERS POWER PACK #1 $1
TRUE BELIEVERS WHAT IF SPIDER-GIRL #1 $1
UNDERDOG & PALS #1 GALVAN MAIN SELFIE CVR $3.99
UNSTOPPABLE WASP #8 $3.99
VENOM #14 HOTZ VAR 2019 RETAILER SUMMIT $ ???
VENOM #14 MAXX LIM MARVEL BATTLE LINES VAR WR $3.99
VENOM #14 WR $3.99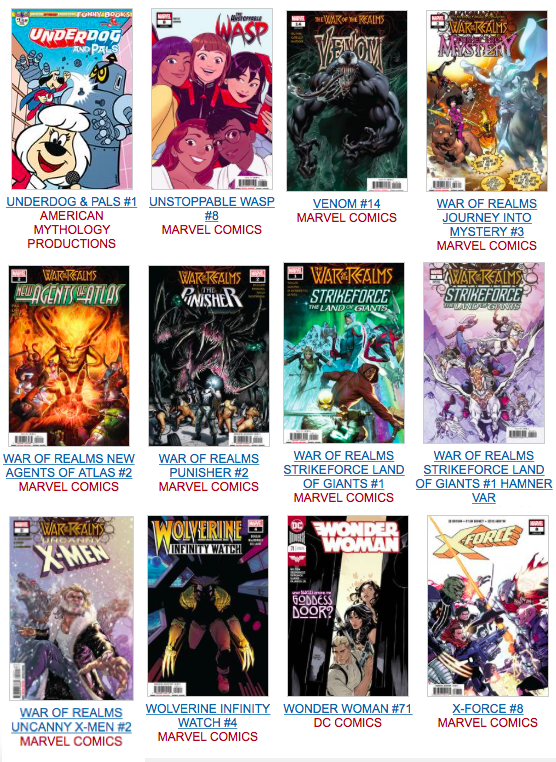 WAR OF REALMS JOURNEY INTO MYSTERY #3 (OF 5) WR $3.99
WAR OF REALMS NEW AGENTS OF ATLAS #2 (OF 4) WR $3.99
WAR OF REALMS PUNISHER #2 (OF 3) WR $3.99
WAR OF REALMS STRIKEFORCE LAND OF GIANTS #1 HAMNER VAR WR $4.99
WAR OF REALMS STRIKEFORCE LAND OF GIANTS #1 WR $4.99
WAR OF REALMS UNCANNY X-MEN #2 (OF 3) WR $3.99
WARNING #7 (MR) $3.99
WOLVERINE INFINITY WATCH #4 (OF 5) $3.99
WONDER WOMAN #71 $3.99
WONDER WOMAN #71 VAR ED $3.99
X-FORCE #8 $3.99

ABSOLUTE BATMAN THE BLACK MIRROR HC $99.99
AMAZING SPIDER-MAN OMNIBUS HC VOL 04 ROMITA DM VAR $125
AMAZING WORLD OF GUMBALL ADVENTURES ELMORE GN $14.99
BUFFY THE VAMPIRE SLAYER TP VOL 01 $14.99
CHAMPIONS GN TP WE STILL NEED HEROES $12.99
COVER TP VOL 01 (MR) $16.99
EAST OF WEST TP VOL 09 $16.99
FANTASTIC FOUR TP BEHOLD GALACTUS $24.99
FANTASTIC FOUR TP VOL 02 MR AND MRS GRIMM $15.99
JAMES BOND BLACKBOX TP $19.99
LEGEND OF KORRA TP PART 01 RUINS OF EMPIRE $10.99
MIDDLEWEST TP BOOK 01 (MR) $9.99
NEIL GAIMAN SLEEPER & THE SPINDLE SC $9.99
OUTSIDERS BY JUDD WINICK TP BOOK 01 $24.99
REDLANDS TP VOL 02 (MR) $16.99
SANDMAN TP VOL 08 WORLDS END 30TH ANNIV ED (MR) $19.99
SCOOBY APOCALYPSE TP VOL 05 $16.99
SILVER SURFER EPIC COLLECTION TP INNER DEMONS $39.99
SPIDER-MAN TP SINISTER SIX $19.99

AVENGERS ENDGAME FIGURAL KEYRING 24PC BMB DS $7.99
DC GALLERY BATWOMAN COMIC PVC FIGURE $44.99
DRAGONBALL SUPER FIGURAL KEYCHAIN SERIES2 24PC BMB DS $7.99
DRAGONBALL Z PLUSH HANGERS 24PC DISPLAY $6.99
GUNDAM ORIGIN ZAKU II TYPE C-6/R6 HG 1/144 MDL KIT $22.99
GUNDAM WING MAGANAC HGAC 1/144 MDL KIT $15.99
POCKET POP ALIEN 40TH XENOMORPH FIG KEYCHAIN $5.99
POP MLB BUSTER POSEY NEW JERSEY VINYL FIG $11.99
VYNL SUICIDE SQUAD THE JOKER & HARLEY QUINN VIN FIG 2PK $14.99
VYNL UP IN SMOKE CHEECH & CHONG 2PK $14.99