Black Cat #1, DCeased #2, and Walking Dead #192 – lots of variant covers  – Wednesday, June 5th, 2019
 Batman, Batman TMNT, DCeased, Green Lantern, Harley, Justice League, Shazam, and Young Justice. Black Cat #`, Captain Marvel, Cosmic Ghost Rider, Deadpool, Guardians Annual, Inc Hulk Last Call, Team-up, Savage Avengers, Star Wars AOR: Luke #1, Tony Stark, and Uncanny X-Men. Bettie Page, Buffy, Elvira, Lady Mechanika Sangre #1, Man-Eaters, Tank Girl, and Walking Dead. That's only the beginning. More Funko Pops every week, including Oakland's Khris Davis. C'mon down and cool off!
Sign in here to get an email reminder for for ALL sales and other events.  Also, you can go to fb.fantasybooksandgames.com and you'll be taken to our Facebook page. We do expect to use the Rewards system to make similar announcements, but it pays to be covered, right?
Thanks to Friendly Neighborhood Comics for this week's images, which include many of the comics and a few of the books we received today.
ADVENTURES OF THE SUPER SONS #11 (OF 12) $ 3.99
AGE OF X-MAN PRISONER X #4 (OF 5) $ 3.99
ARMY OF DARKNESS BUBBA HOTEP #4 CVR A GALINDO $ 3.99
BATMAN #72 $ 3.99
BATMAN #72 VAR ED $ 3.99
BATMAN TEENAGE MUTANT NINJA TURTLES III #2 (OF 6) $ 3.99
BATMAN TEENAGE MUTANT NINJA TURTLES III #2 (OF 6) VAR ED $ 3.99
BEASTS OF BURDEN PRESENCE OF OTHERS #2 (OF 2) $ 3.99
BETTIE PAGE UNBOUND #1 BLACK BAG PHOTO CVR (MR) $ 10
BETTIE PAGE UNBOUND #1 CVR A ROYLE $ 3.99
BETTIE PAGE UNBOUND #1 CVR E PHOTO $ 3.99
BIRTHRIGHT #36 $ 3.99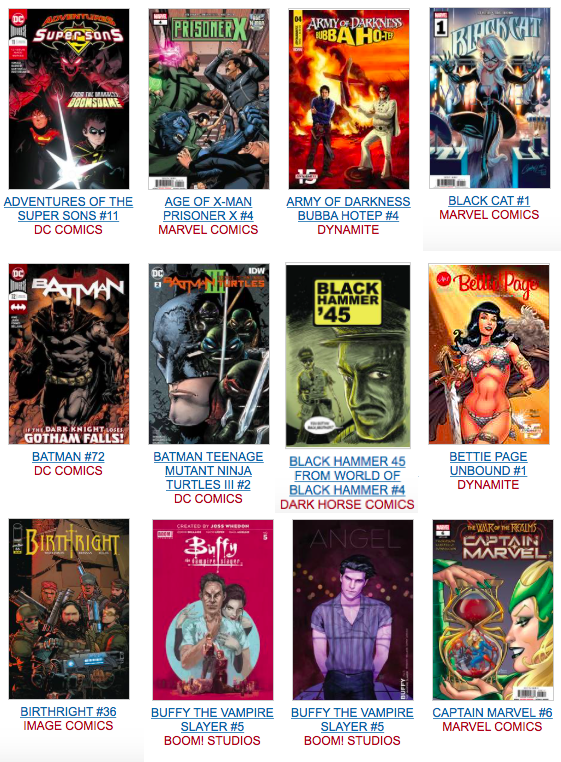 BLACK CAT #1 $ 4.99
BLACK CAT #1 ANKA VAR (1/25) $ ???
BLACK CAT #1 ARTGERM VAR $ 4.99
BLACK CAT #1 BLANK VAR $ 4.99
BLACK CAT #1 DODSON HIDDEN GEM VAR (1/100) $ ???
BLACK CAT #1 FOREMAN VAR $ 4.99
BLACK CAT #1 GAME VAR (1/10) $ ???
BLACK CAT #1 NOTO VAR (1/50) $ ???
BLACK CAT #1 YOUNG VAR $ 4.99
BLACK HAMMER 45 FROM WORLD OF BLACK HAMMER #4 CVR A KINDT $ 3.99
BUFFY THE VAMPIRE SLAYER #5 CVR A ASPINALL $ 3.99
BUFFY THE VAMPIRE SLAYER #5 CVR B WADA VAR $ 3.99
BUFFY THE VAMPIRE SLAYER #5 CVR C BEEM VAR $ 3.99
BUFFY THE VAMPIRE SLAYER #5 FOC INFANTE SLAYER CVR $ 3.99
CAPTAIN MARVEL #6 GRANOV VAR WR (1/50) $ ???
CAPTAIN MARVEL #6 SUAYAN MARVELS 25TH TRIBUTE VAR WR $ 3.99
CAPTAIN MARVEL #6 WR $ 3.99
COSMIC GHOST RIDER DESTROYS MARVEL HISTORY #4 (OF 6) $ 3.99
COSMIC GHOST RIDER DESTROYS MARVEL HISTORY #4 (OF 6) $ 3.99
CRIMINAL #5 (MR) $ 3.99
CRIMINAL #5 (MR) $ 3.99
DCEASED #2 (OF 6) $ 3.99
DCEASED #2 (OF 6) HORROR VAR ED $ 3.99
DCEASED #2 (OF 6) VAR ED $ 3.99
DEAD MAN LOGAN #8 (OF 12) $ 3.99
DEADPOOL #13 GRANOV MARVELS 25TH TRIBUTE VAR WR $ 3.99
DEADPOOL #13 WR $ 3.99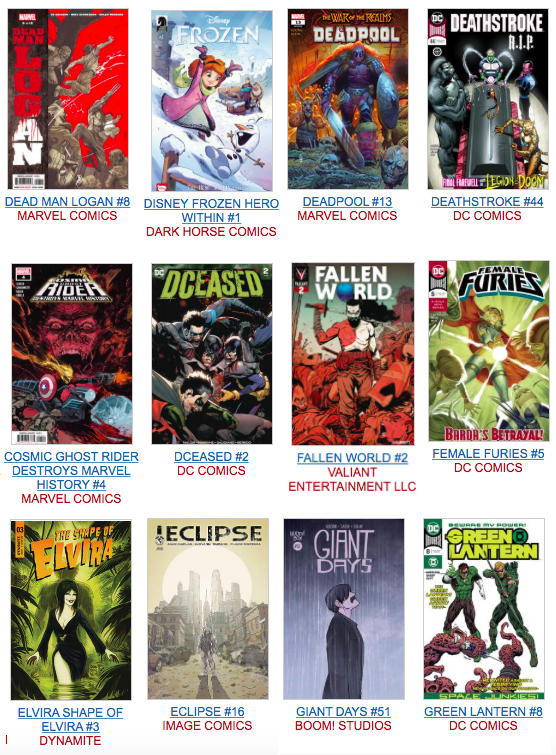 DEATHSTROKE #44 $ 3.99
DEATHSTROKE #44 VAR ED $ 3.99
DISNEY FROZEN HERO WITHIN #1 KAWAII CREATIVE STUDIO $ 3.99
DREAMING #10 (MR) $ 3.99
ECLIPSE #16 $ 3.99
ELVIRA SHAPE OF ELVIRA #3 CVR A FRANCAVILLA $ 3.99
ELVIRA SHAPE OF ELVIRA #3 CVR B J BONE $ 3.99
ELVIRA SHAPE OF ELVIRA #3 CVR C ACOSTA $ 3.99
ELVIRA SHAPE OF ELVIRA #3 CVR D PHOTO $ 3.99
FALLEN WORLD #2 (OF 5) CVR A GREENE $ 3.99
FEMALE FURIES #5 (OF 6) $ 3.99
GIANT DAYS #51 $ 3.99
GREEN LANTERN #8 $ 3.99
GREEN LANTERN #8 VAR ED $ 3.99
GUARDIANS OF THE GALAXY ANNUAL #1 $ 4.99
GUARDIANS OF THE GALAXY ANNUAL #1 LIM VAR $ 4.99
GUARDIANS OF THE GALAXY ANNUAL #1 SMITH VAR $ 4.99
HARLEY QUINN #62 $ 3.99
HARLEY QUINN #62 VAR ED $ 3.99

INCREDIBLE HULK LAST CALL #1 $ 4.99
INCREDIBLE HULK LAST CALL #1 ADAM KUBERT VAR $ 4.99
JIM HENSON BENEATH DARK CRYSTAL #10 (OF 12) MAIN CVR DEWEY $ 3.99
JUGHEAD HUNGER VS VAMPIRONICA #2 CVR A PAT & TIM KENNEDY (MR $ 3.99
JUSTICE LEAGUE #25 VAR ED YEAR OT VILLAIN $ 4.99
JUSTICE LEAGUE #25 YEAR OT VILLAIN $ 4.99
LADY MECHANIKA SANGRE #1 (OF 5) MAIN CVR $ 3.99
MAN-EATERS #9 CVR A MITERNIQUE $ 3.99
MAN-EATERS #9 CVR B MCCALL $ 3.99
MARVEL TEAM-UP #3 $ 3.99
MARVEL TEAM-UP #3 MARTIN MARVELS 25TH TRIBUTE VAR $ 3.99
MEET THE SKRULLS #5 (OF 5) $ 3.99
OLD MAN QUILL #6 (OF 12) $ 3.99
PAPER GIRLS #29 $ 3.99
RED SONJA #5 CVR A CONNER $ 3.99
RED SONJA #5 CVR B LINSNER $ 3.99
RED SONJA #5 CVR C WARD $ 3.99
RED SONJA #5 CVR E COSPLAY $ 3.99
ROCKOS MODERN AFTERLIFE #3 MAIN CVR $ 3.99
RONIN ISLAND #4 MAIN $ 3.99
SAVAGE AVENGERS #1 2ND PTG DEODATO VAR $ 4.99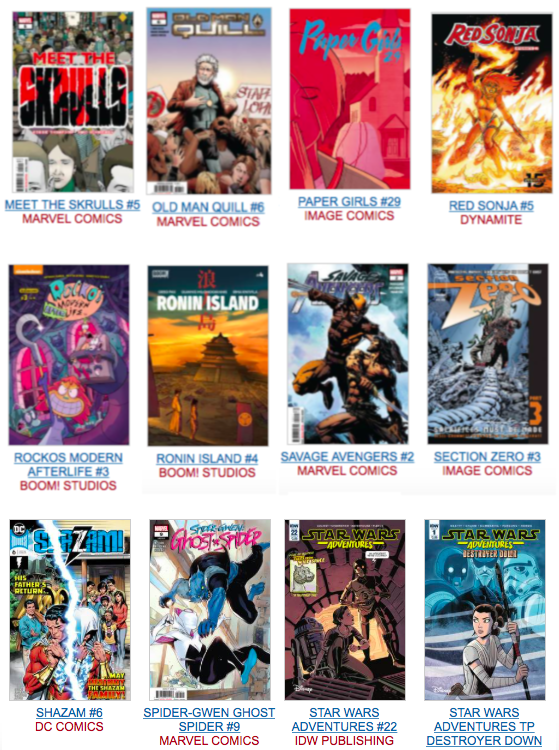 SAVAGE AVENGERS #2 $ 3.99
SAVAGE AVENGERS #2 BIANCHI VAR (1/50) $ ???
SAVAGE AVENGERS #2 BRADSHAW VAR (1/25) $ ???
SAVAGE AVENGERS #2 COKER MARVELS 25TH TRIBUTE VAR $ 3.99
SAVAGE AVENGERS #2 DEODATO VAR $ 3.99
SECTION ZERO #3 (OF 6) CVR A GRUMMETT & KESEL $ 3.99
SHARKEY BOUNTY HUNTER #4 (OF 6) CVR A BIANCHI (MR) $ 3.99
SHAZAM #6 $ 3.99
SHAZAM #6 VAR ED $ 3.99
SIX MILLION DOLLAR MAN #4 CVR A WALSH $ 3.99
SPIDER-GWEN GHOST SPIDER #9 $ 3.99
STAR WARS ADVENTURES #22 10 COPY INCV OEMING (1/10) $ ???
STAR WARS ADVENTURES #22 CVR A CHARRETIER $ 3.99
STAR WARS ADVENTURES #22 CVR B TBD $ 3.99
STAR WARS AOR LUKE SKYWALKER #1 $ 3.99
STAR WARS AOR LUKE SKYWALKER #1 CONCEPT VAR $ 3.99
STAR WARS AOR LUKE SKYWALKER #1 MCKONE PUZZLE PC VAR $ 3.99
STAR WARS AOR LUKE SKYWALKER #1 MOVIE VAR (1/10) $ ???
STAR WARS GALAXYS EDGE #1 (OF 5) 2ND PTG SLINEY VAR $ 3.99
SYMBIOTE SPIDER-MAN #1 (OF 5) 3RD PTG LAND VAR $ 4.99
TANGLED THE SERIES HAIR & NOW #3 $ 3.99
TANK GIRL FULL COLOR CLASSICS #3 1990-91 CVR A HEWLETT (MR) $ 6.99
TANK GIRL FULL COLOR CLASSICS #3 1990-91 CVR B HEWLETT (MR) $ 6.99
TANK GIRL FULL COLOR CLASSICS #3 1990-91 CVR C HEWLETT (MR) $ 6.99
THUMBS #1 (OF 5) (MR) $ 4.99
TONY STARK IRON MAN #12 NEXON MARVEL BATTLE LINES VAR WR $ 3.99
TONY STARK IRON MAN #12 WR $ 3.99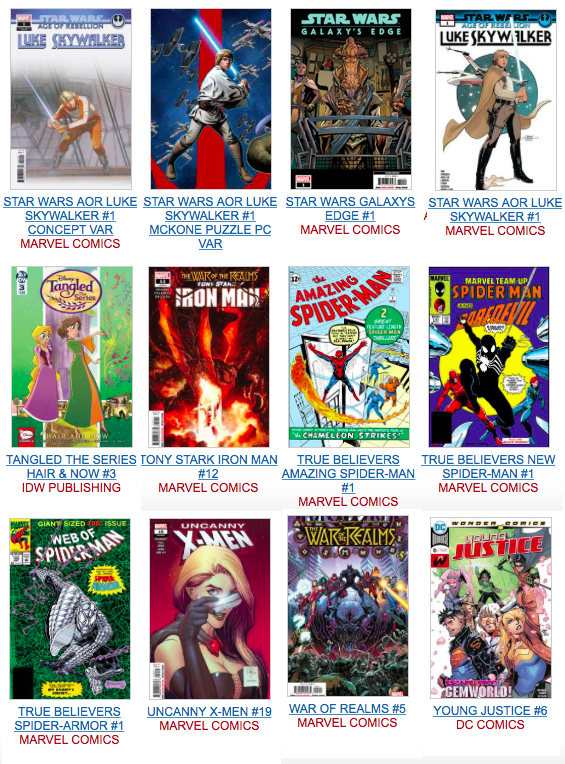 TRUE BELIEVERS AMAZING SPIDER-MAN #1 $ 1
TRUE BELIEVERS NEW SPIDER-MAN #1 $ 1
TRUE BELIEVERS SPIDER-ARMOR #1 $ 1
UNCANNY X-MEN #19 $ 3.99
UNCANNY X-MEN #19 NOTO MARVELS 25TH TRIBUTE VAR $ 3.99
VAMPIRELLA ROSES FOR DEAD #4 (OF 4) CVR A LINSNER (MR) $ 3.99
WALKING DEAD #192 CVR A ADLARD & STEWART (MR) $ 3.99
WALKING DEAD #192 CVR B BLANK CVR (MR) $ 3.99
WAR OF REALMS #5 (OF 6) CAMUNCOLI CONNECTING REALM VAR WR $ 4.99
WAR OF REALMS #5 (OF 6) HUGO VAR WR (1/25) $ ???
WAR OF REALMS #5 (OF 6) LARRAZ YOUNG GUNS VAR WR $ 4.99
WAR OF REALMS #5 (OF 6) TEXEIRA VAR WR (1/50) $ ???
WAR OF REALMS #5 (OF 6) WR $ 4.99
WAR OF REALMS #5 (OF 6) YARDIN INTERNATIONAL VAR WR $ 4.99
WITCHBLADE #14 (MR) $ 3.99
YOUNG JUSTICE #6 $ 3.99
YOUNG JUSTICE #6 VAR ED $ 3.99

AVENGERS BY JASON AARON TP VOL 03 WAR OF VAMPIRE $ 17.99
BLACKEST NIGHT OMNIBUS HC 10TH ANNIV ED $ 150
BORUTO GN VOL 06 NARUTO NEXT GENERATIONS $ 9.99
CLOAK AND DAGGER TP AGONY AND ECSTASY $ 39.99
DAREDEVIL EPIC COLLECTION TP PURGATORY AND PARADISE $ 39.99
DIE TP VOL 01 FANTASY HEARTBREAKER (MR) $ 9.99
DISNEY PIXAR TOY STORY 4 TP $ 10.99
DRAGON BALL COMPLETE SERIES GN 16 VOLS BOX SET $ 139.99
DRAGON BALL Z COMPLETE SERIES GN 26 VOLS BOX SET $ 219.99
DREAMING TP VOL 01 PATHWAYS AND EMANATIONS (MR) $ 16.99
HACK SLASH OMNIBUS TP VOL 06 (MR) $ 34.99
IMAGINARY FIENDS TP (MR) $ 16.99
MAN-EATERS TP VOL 02 $ 16.99
MARVEL ART OF SKOTTIE YOUNG HC $ 50
MARVEL KNIGHTS PUNISHER BY ENNIS COMPLETE COLLECTION TP VOL $ 39.99
MARVEL SUPER HERO ADVENTURES GN TP SPIDER-MAN $ 9.99
MECH CADET YU TP VOL 03 $ 14.99
MIGHTY MORPHIN POWER RANGERS LOST CHRONICLES TP VOL 02 $ 16.99
MINECRAFT TP VOL 01 $ 9.99
MIRACULOUS TALES LADYBUG CAT NOIR TP S2 VOL 07 LOVE COMPASS $ 8.99
MY HERO ACADEMIA GN VOL 19 $ 9.99
NIGHTWING KNIGHT TERRORS TP $ 19.99
POWERS TP BOOK 05 NEW ED (MR) $ 29.99
PROMISED NEVERLAND GN VOL 10 $ 9.99
SOLO TP STAR WARS STORY ADAPTATION $ 19.99
SPIDER-MAN FAR FROM HOME PRELUDE TP $ 15.99
STAR WARS ADVENTURES TP DESTROYER DOWN $ 9.99
TASCHEN GOLDEN AGE OF DC COMICS BIBLIOTHECA ED $ 20

FORTNITE CARBIDE 7IN PREMIUM AF CS (Net) $ 31.99
FORTNITE OMEGA 7IN PREMIUM AF CS (NET) $ 31.99
FUNKO 5 STAR MHA ALL-MIGHT VINYL FIGURE $ 11.99
GODZILLA 2019 GODZILLA 12-IN LONG AF $ 24.99
GUNDAM ORIGIN MS-06S ZAKU II CHAR RED COMET HG 1/144 MDL KIT $ 22.99
INFINITY WAR IRON SPIDER ARTFX+ STATUE (NET) (O/A) $ 145
MARVEL COMICS AVENGERS SERIES VISION ARTFX+ STATUE $ 96.99
POCKET POP ALIEN 40TH XENOMORPH FIG KEYCHAIN (replacement-credit) $ 5.99
POP GAMES POKEMON CHARMANDER VINYL FIG $ 11.99
POP MLB KHRIS DAVIS VINYL FIG $ 11.99
POP RIDES BATMAN 80TH 1950 BATMOBILE VIN FIG $ 31.99
SW VINTAGE 3-3/4IN AF ASST 201902 $ 15.99 
TRANSFORMERS GEN WFC LEADER AF ASST 201902 $ 62.99