Plenty of Daylight to read your comics in the Park – Wednesday, June 19th, 2019
DC highlights: Aquaman, Batman, Justice League, Nightwing, Superman Year 1 (oversized), and Teen Titans. 
Marvel Highlights: Captain America, Captain Marvel, Daredevil, Deadpool, Guardians, Miles Morales, Spider-Man League of Realms & City at War, Star Wars, Dr Aphra, & Tie Fighter, Tony Stark, and War of Realms JIM & War Scrolls.
Other highlights: Firefly, Faithless, Power Rangers, Hit-Girl, Lumberjanes, LiveWire, Psi-Lords, and Usagi Yojimbo returns with #1.
C'mon down and cool off! Sign in here to get an email reminder for for ALL sales and other events.  Also, you can go to fb.fantasybooksandgames.com and you'll be taken to our Facebook page. We do expect to use the Rewards system to make similar announcements, but it pays to be covered, right?
Thanks to Friendly Neighborhood Comics for this week's images, which include many of the comics and a few of the books we received today.  
ADVENTURE TIME MARCY & SIMON #6 (OF 6) MAIN $ 3.99
AGE OF CONAN BELIT #4 (OF 5) $ 3.99
AGE OF X-MAN AMAZING NIGHTCRAWLER #5 (OF 5) $ 3.99
AGE OF X-MAN NEXTGEN #5 (OF 5) $ 3.99
AMAZING SPIDER-MAN #21 2ND PTG SANDOVAL VAR $ 3.99
AMERICAN CARNAGE #8 (MR) $ 3.99
AMERICAN GODS MOMENT OF STORM #3 CVR A FABRY (MR) $ 3.99
AMERICAN GODS MOMENT OF STORM #3 CVR B MACK (MR) $ 3.99
AQUAMAN #49 $ 3.99
AQUAMAN #49 VAR ED $ 3.99
ASSASSIN NATION #4 (MR) $ 3.99
B & V FRIENDS JUMBO COMICS DIGEST #271 $ 6.99
BARBARELLA DEJAH THORIS #4 CVR E COSPLAY $ 3.99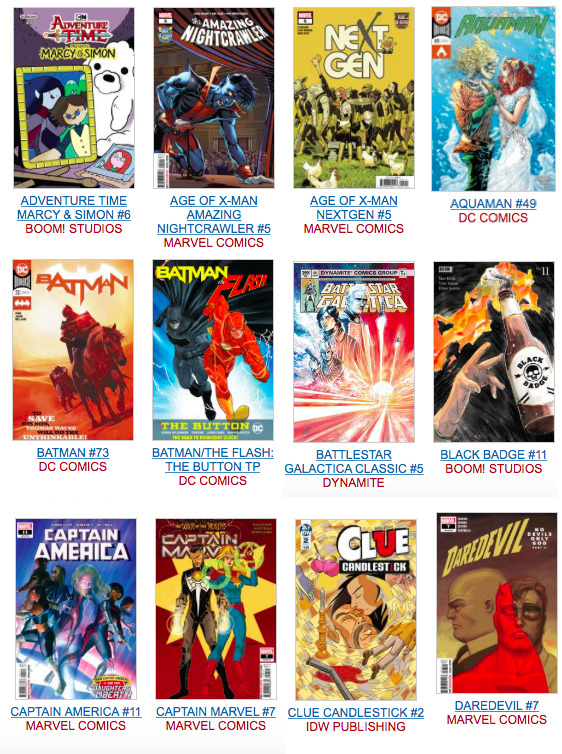 BATMAN #73 $ 3.99
BATMAN #73 VAR ED $ 3.99
BATTLESTAR GALACTICA CLASSIC #5 CVR A RUDY $ 3.99
BETTY & VERONICA JUMBO COMICS DIGEST #274 $ 6.99
BLACK BADGE #11 MAIN & MIX $ 3.99
CAPTAIN AMERICA #11 $ 3.99
CAPTAIN AMERICA #11 YOON LEE MARVEL BATTLE LINES VAR $ 3.99
CAPTAIN MARVEL #7 MCKONE SPIDER-MAN SYMBIOTE SUIT VAR WR $ 3.99
CAPTAIN MARVEL #7 WR $ 3.99
CLUE CANDLESTICK #2 CVR A SHAW $ 4.99
CURSE WORDS #22 CVR A BROWNE (MR) $ 3.99
DAREDEVIL #5 2ND PTG CHECCHETTO VAR $ 3.99
DAREDEVIL #7 $ 3.99
DAREDEVIL #7 YU MARVELS 25TH TRIBUTE VAR $ 3.99
DEADPOOL #14 BROOKS SPIDER-MAN FANTASTIC VAR $ 3.99
DEADPOOL #14 WR $ 3.99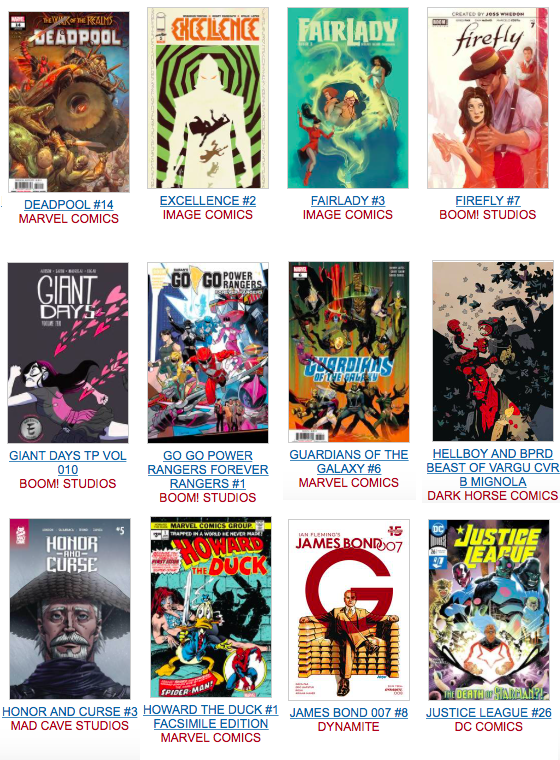 DISNEY SNOW WHITE AND SEVEN DWARFS #1 (OF 3) $ 3.99
EXCELLENCE #2 CVR A RANDOLPH & LOPEZ $ 3.99
EXCELLENCE #2 CVR B VISIONS OF EXCELLENCE VAR GREENE $ 3.99
FAIRLADY #3 CVR A BALBONI & CHANKHAMMA $ 3.99
FAITHLESS #3 (OF 5) CVR B EROTICA STRIPS VAR (MR) $ 4.99
FAITHLESS #3 (OF 5) FOC CHIANG VAR (MR) $ 3.99
FAITHLESS #3 (OF 5) MAIN CVR POPE (MR) $ 3.99
FARMHAND #9 (MR) $ 3.99
FIREFLY #7 VIDAL VAR (1/15) $ ???
FIREFLY #7 FOC SLINEY VAR $ 3.99
FIREFLY #7 MAIN $ 3.99
FIREFLY #7 PREORDER QUINONES VAR $ 3.99
GIDEON FALLS #14 CVR A SORRENTINO (MR) $ 3.99
GO GO POWER RANGERS FOREVER RANGERS #1 FOC PICOLO VAR $ 7.99
GO GO POWER RANGERS FOREVER RANGERS #1 MAIN $ 7.99
GO GO POWER RANGERS FOREVER RANGERS #1 PREORDER ANKA $ 7.99
GODDESS MODE #6 (MR) $ 3.99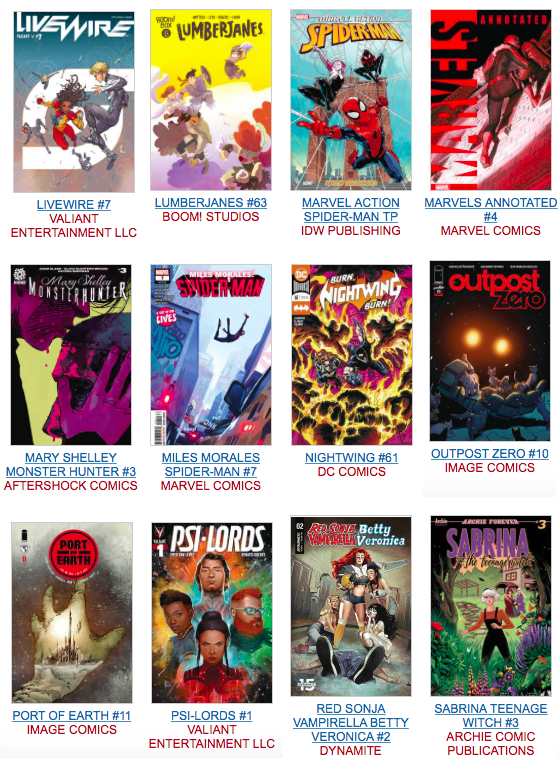 GUARDIANS OF THE GALAXY #5 2ND PTG SHAW VAR $ 3.99
GUARDIANS OF THE GALAXY #6 $ 3.99
GUARDIANS OF THE GALAXY #6 PAREL MARVELS 25TH TRIBUTE VAR $ 3.99
HELLBOY AND BPRD BEAST OF VARGU CVR B MIGNOLA $ 3.99
HIT-GIRL SEASON TWO #5 CVR A PARLOV (MR) $ 3.99
HIT-GIRL SEASON TWO #5 CVR C SCALERA (MR) $ 3.99
HONOR AND CURSE #5 $ 3.99
HOWARD THE DUCK #1 FACSIMILE EDITION $ 3.99
IMMORTAL HULK #17 2ND PTG BENNETT VAR $ 3.99
INVISIBLE KINGDOM #4 (MR) $ 3.99
JAMES BOND 007 #8 CVR A JOHNSON $ 3.99
JUSTICE LEAGUE #26 $ 3.99
JUSTICE LEAGUE #26 VAR ED $ 3.99
LIVEWIRE #7 CVR A ROCAFORT $ 3.99
LUCIFER #9 (MR) $ 3.99
LUMBERJANES #63 MAIN $ 3.99
MARVELS ANNOTATED #4 (OF 4) $ 7.99
MARVELS ANNOTATED #4 (OF 4) ALEX ROSS VIRGIN VAR $ 7.99
MARVELS ANNOTATED #4 (OF 4) HANS VAR $ 7.99
MARY SHELLEY MONSTER HUNTER #3 $ 3.99
MIDDLEWEST #8 (MR) $ 3.99
MILES MORALES SPIDER-MAN #7 $ 3.99
MONSTRESS #23 (MR) $ 3.99

NIGHTWING #61 $ 3.99
NIGHTWING #61 VAR ED $ 3.99
OUTPOST ZERO #10 $ 3.99
PEARL #10 (MR) $ 3.99
PEARL #10 VAR ED (MR) $ 3.99
PORT OF EARTH #11 $ 3.99
PSI-LORDS #1 CVR A REIS $ ???
RAT QUEENS #16 (MR) $ 3.99
RED SONJA VAMPIRELLA BETTY VERONICA #2 CVR C BRAGA $ 3.99
RED SONJA VAMPIRELLA BETTY VERONICA #2 CVR D PARENT $ 3.99
RUMBLE #13 CVR A B&W RUBIN (MR) $ 3.99
SABRINA TEENAGE WITCH #3 (OF 5) CVR B IBANEZ $ 3.99
SABRINA TEENAGE WITCH #3 (OF 5) CVR C ST ONGE $ 3.99
SAMURAI JACK LOST WORLDS #2 CVR A THOMAS $ 3.99
SAVAGE SWORD OF CONAN #6 $ 3.99
SHURI #9 $ 3.99
SILVER SURFER BLACK #1 (OF 5) $ 3.99
SPIDER-MAN & LEAGUE OF REALMS #3 (OF 3) DALFONSO VAR WR $ 3.99
SPIDER-MAN & LEAGUE OF REALMS #3 (OF 3) WR $ 3.99
SPIDER-MAN CITY AT WAR #4 (OF 6) $ 3.99
SPIDER-MAN CITY AT WAR #4 (OF 6) NAKAYAMA VAR (1/50) $ ???
SPIDER-MAN CITY AT WAR #4 (OF 6) PETROVICH VAR (1/25) $ ???
SPIDER-MAN LIFE STORY #4 (OF 6) $ 4.99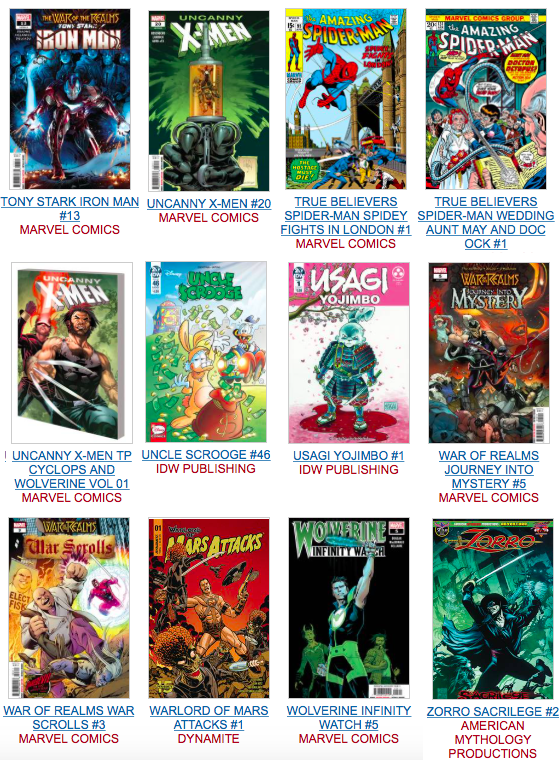 STAR WARS #67 $ 3.99
STAR WARS #67 ALBUQUERQUE GREATEST MOMENTS VAR $ 3.99
STAR WARS #67 CHRISTOPHER ACTION FIGURE VAR $ 3.99
STAR WARS DOCTOR APHRA #33 $ 3.99
STAR WARS DOCTOR APHRA #33 RENAUD GREATEST MOMENTS VAR $ 3.99
STAR WARS TIE FIGHTER #3 (OF 5) $ 3.99
STAR WARS TIE FIGHTER #3 (OF 5) LANGEVIN ALPHABET SQUAD VAR (1/25) $ ???
SUPERMAN YEAR ONE #1 (OF 3) MILLER COVER (MR) $ 7.99
SUPERMAN YEAR ONE #1 (OF 3) ROMITA COVER (MR) $ 7.99
TEEN TITANS #31 $ 3.99
TEEN TITANS #31 VAR ED $ 3.99
TMNT URBAN LEGENDS #14 CVR A FOSCO $ 3.99
TONY STARK IRON MAN #13 CRAIN MARVELS 25TH TRIBUTE VAR WR $ 3.99
TONY STARK IRON MAN #13 WR $ 3.99
TRUE BELIEVERS SPIDER-MAN SPIDEY FIGHTS IN LONDON #1 $ 1
TRUE BELIEVERS SPIDER-MAN WEDDING AUNT MAY AND DOC OCK #1 $ 1
UNCANNY X-MEN #20 $ 3.99
UNCLE SCROOGE #46 CVR A GERVASIO $ 4.99
UNSTOPPABLE WASP #9 $ 3.99
USAGI YOJIMBO #1 25 SIMONSON VAR $ ???
USAGI YOJIMBO #1 50 EASTMAN VAR $ ???
USAGI YOJIMBO #1 CVR A SAKAI $ 3.99
WALK THROUGH HELL #11 (MR) $ 3.99
WAR OF REALMS JOURNEY INTO MYSTERY #5 (OF 5) WR $ 3.99
WAR OF REALMS WAR SCROLLS #3 (OF 3) WR $ 4.99
WARLORD OF MARS ATTACKS #1 CVR B D`ALFONSO $ 3.99
WARNING #8 (MR) $ 3.99
WOLVERINE INFINITY WATCH #5 (OF 5) $ 3.99
ZORRO SACRILEGE #2 MARTINEZ MAIN CVR $ 3.99

SILVER SURFER BLACK #1 (OF 5) 2ND PTG DEODATO SPOILER VAR $ 3.99
PREVIEWS & MARVEL PREVIEWS from 2 weeks ago $ ???

COMIC SHOP NEWS SUMMER 2019 PREVIEW $ FREE
MAD MAGAZINE #8 $5.99

AMAZING SPIDER-MAN EPIC COLLECTION TP GOBLIN LIVES $ 39.99
BATMAN BY GRANT MORRISON OMNIBUS HC VOL 02 $ 75
BATMAN FLASH THE BUTTON TP $ 14.99
BATMAN FLASH THE BUTTON TP INTL ED $ 14.99
DEAD MAN LOGAN TP VOL 01 SINS OF THE FATHER TPB $ 19.99
DECADES MARVEL 90S TP MUTANT X-PLOSION $ 24.99
FANTASTIC FOUR EPIC COLLECTION TP MORE THINGS CHANGE $ 39.99
GIANT DAYS TP VOL 10 $ 14.99
HEAVY LIQUID TP (MR) $ 24.99
HILLBILLY TP VOL 04 RED EYED WITCHERY FROM BEYOND $ 17.99
HIT-GIRL TP VOL 04 (MR) $ 14.99
I AM A HERO OMNIBUS TP VOL 10 $ 19.99
LUCIFER TP VOL 01 THE INFERNAL COMEDY (MR) $ 16.99
MARVEL ACTION SPIDER-MAN TP BOOK 01 NEW BEGINNING $ 9.99
MS MARVEL GN TP METAMORPHOSIS $ 12.99
NEW MUTANTS ABNETT LANNING TP VOL 02 COMPLETE COLLECTION $ 34.99
NEW X-MEN QUEST FOR MAGIK COMPLETE COLLECTION TP $ 39.99
RAINBOW BRITE TP $ 14.99
SECRET LIFE OF PETS TP VOL 01 $ 6.99
SHADOW ROADS TP VOL 01 $ 19.99
SPIDER-MAN GAUNTLET COMPLETE COLLECTION TP VOL 01 $ 39.99
SPOOKHOUSE TP VOL 02 $ 17.99
THOR TP VOL 02 ROAD TO WAR OF REALMS $ 15.99
TITANS TP VOL 06 INTO THE BLEED $ 19.99
TMNT 35TH ANNIVERSARY BOX SET $ 49.99
UNCANNY X-MEN TP VOL 01 CYCLOPS AND WOLVERINE $ 19.99
WINTER SOLDIER TP SECOND CHANCES $ 15.99

CAPTAIN MARVEL LEGENDS 6IN AF ASST 201901 $ 24.99
DC ESSENTIALS SUPERGIRL AF $ 27.99
GODZILLA 2019 MOTHRA 7IN AF $ 24.99
MARVEL 12IN LEGENDS DEADPOOL X-FORCE AF CS $ 65
NBX GLOW IN THE DARK DOMEZ BMB DS $ 5.99
POCKET POP GB SLIMER KEYCHAIN $ 5.99
POCKET POP GB STAY PUFT KEYCHAIN $ 5.99
POCKET POP OVERWATCH DOOMFIST FIG KEYCHAIN $ 5.99
POCKET POP OVERWATCH MCCREE FIG KEYCHAIN $ 5.99
POCKET POP OVERWATCH WIDOWMAKER FIG KEYCHAIN $ 5.99
POCKET POP SPIDER-MAN: FAR FROM HOME MYSTERIO KEYCHAIN $ 5.99
POCKET POP TOY STORY ALIEN FIG KEYCHAIN $ 5.99
POCKET POP TOY STORY BUZZ LIGHTYEAR FIG KEYCHAIN $ 5.99
POP GAMES POKEMON BULBASAUR VINYL FIG $ 11.99
TOY STORY 4 MINI FIG BMB ASST $ 4.99
TRANSFORMERS GEN STUDIO SER DLX AF ASST 201901 $ 24.99
TRANSFORMERS GEN WFC BATTLEMASTER AF ASST 201903 $ 7.99
TRANSFORMERS GEN WFC DLX AF ASST 201903 $ 24.99