I'm tired on Wednesday, September 11th, 2019
I'm not really prepared to say anything profound on the18th anniversary, except that so many lives were lost in the aftermath and we still have troops dying and we lose 100 of us every day to guns, and our country seems to be broken, and no one is going to read this. I'm not going to list highlights. We got around 120 plus other stuff. See the list below, if you want.
If you missed the Labor Day Sale and want to know about the next one. . . Click here. Sign in here to get an email reminder for for ALL sales and other events.  Also, you can go to fb.fantasybooksandgames.com and you'll be taken to our Facebook page. We use ourin-store 5-Star Rewards system to text similar announcements to your phone, but it pays to be covered, right?
Something happened in the Friendly Neighborhood, so we had to search around for pics from today. Thanks to Comics on the Green for this week's images, which include many of the comics and a few of the books and other items we received today.  
ABSOLUTE CARNAGE SYMBIOTE OF VENGEANCE #1 AC $ 4.99
ABSOLUTE CARNAGE SYMBIOTE OF VENGEANCE #1 CODEX VAR AC (1/25) $ ???
ABSOLUTE CARNAGE VS DEADPOOL #2 (OF 3) AC $ 3.99
ABSOLUTE CARNAGE VS DEADPOOL #2 (OF 3) BAGLEY CODEX VAR AC (1/25) $ ???
ABSOLUTE CARNAGE VS DEADPOOL #2 (OF 3) CONNECTING VAR AC $ 3.99
AGE OF CONAN VALERIA #2 (OF 5) $ 3.99
AGENTS OF ATLAS #1 (OF 5) 2ND PTG NEW ART REMENAR VAR $ 4.99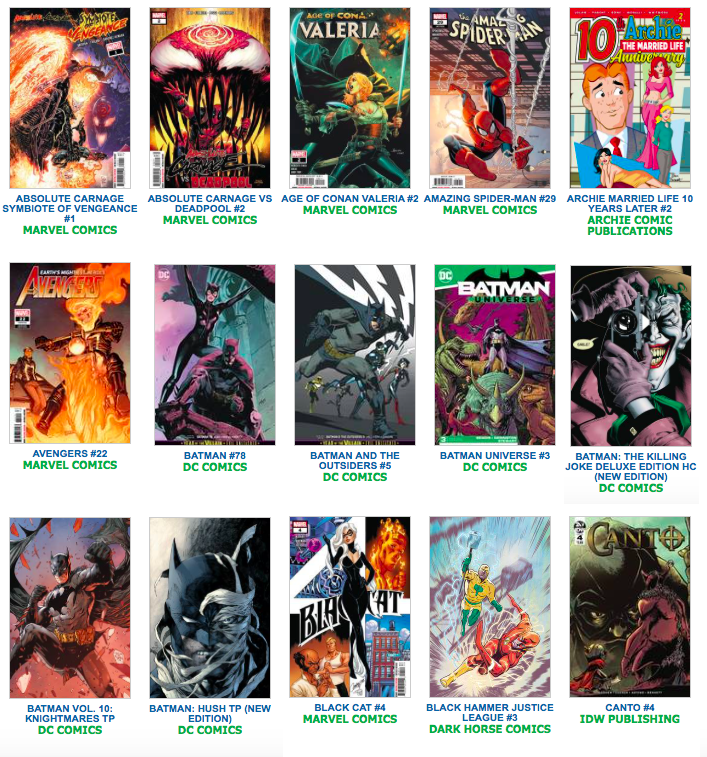 AMAZING SPIDER-MAN #29 $ 3.99
AMAZING SPIDER-MAN #29 BAGLEY IMMORTAL WRPAD VAR $ 3.99
ARCHIE MARRIED LIFE 10 YEARS LATER #2 CVR A PARENT $ 3.99
ARCHIE MARRIED LIFE 10 YEARS LATER #2 CVR B BALENT $ 3.99
ARCHIE MARRIED LIFE 10 YEARS LATER #2 CVR C PEPOY $ 3.99
BABYTEETH #16 (RES) (MR) $ 3.99
BATMAN #77 YOTV DARK GIFTS 2ND PTG $ 3.99
BATMAN #78 VAR ED YOTV $ 3.99
BATMAN #78 YOTV $ 3.99
BATMAN AND THE OUTSIDERS #5 YOTV $ 3.99
BATMAN UNIVERSE #3 (OF 6) $ 4.99
BEAUTY #29 CVR A HAUN & FILARDI (MR) $ 3.99
BLACK CAT #4 $ 3.99
BLACK HAMMER JUSTICE LEAGUE #3 (OF 5) CVR A WALSH $ 3.99
BLACK HAMMER JUSTICE LEAGUE #3 (OF 5) CVR B POWELL $ 3.99
BLACK HAMMER JUSTICE LEAGUE #3 (OF 5) CVR C FAWKES $ 3.99
BLACK HAMMER JUSTICE LEAGUE #3 (OF 5) CVR D MOORE $ 3.99
BLACK HAMMER JUSTICE LEAGUE #3 (OF 5) CVR E SHANER $ 3.99
CANTO #4 (OF 6) 10 COPY INCV SEVY (NET) (1/10) $ ???
CANTO #4 (OF 6) CVR A ZUCKER $ 3.99
CAPTAIN MARVEL #10 $ 3.99
CATWOMAN #15 CARD STOCK VAR ED YOTV $ 4.99
CATWOMAN #15 YOTV $ 3.99
CHASTITY #1 CVR A CRAIN (MR) $ 3.99
CHASTITY #1 CVR B BRADSHAW (MR) $ 3.99
CHASTITY #1 CVR C ANACLETO SURPRISE (MR) $ 3.99
COLLAPSER #3 (OF 6) (MR) $ 3.99
DAREDEVIL #11 $ 3.99
DAREDEVIL #11 PHAM IMMORTAL WRPAD VAR $ 3.99
DETECTIVE COMICS #1011 VAR ED YOTV $ 3.99
DETECTIVE COMICS #1011 YOTV $ 3.99
DOCTOR STRANGE #19 $ 3.99
DOCTOR STRANGE #19 NORDSOL BOBG VAR $ 3.99
DOLLAR COMICS BATMAN #608 $ 1
EVENT LEVIATHAN #4 (OF 6) $ 3.99
EVENT LEVIATHAN #4 (OF 6) CARD STOCK VAR ED $ 4.99
FLASH #78 VAR ED YOTV $ 3.99
FLASH #78 YOTV $ 3.99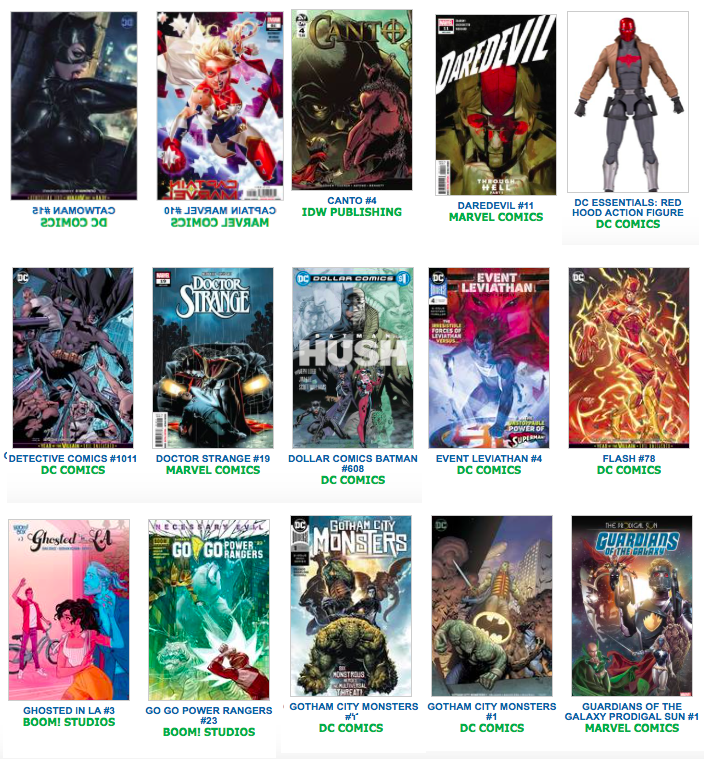 GHOSTED IN LA #3 CVR A KEENAN $ 3.99
GO GO POWER RANGERS #23 CVR A MAIN SHAVRIN $ 3.99
GO GO POWER RANGERS #23 CVR B MERCADO VAR $ 3.99
GO GO POWER RANGERS #23 CVR D FOC MAD VAR $ 3.99
GOTHAM CITY MONSTERS #1 (OF 6) $ 3.99
GOTHAM CITY MONSTERS #1 (OF 6) VAR ED $ 3.99
GUARDIANS OF THE GALAXY PRODIGAL SUN #1 $ 4.99
GUARDIANS OF THE GALAXY PRODIGAL SUN #1 TAN VAR $ 4.99
GWENPOOL STRIKES BACK #2 (OF 5) $ 3.99
HAWKMAN #16 VAR ED YOTV $ 3.99
HAWKMAN #16 YOTV $ 3.99
HIT-GIRL SEASON TWO #8 CVR A PARLOV (MR) $ 3.99
HIT-GIRL SEASON TWO #8 CVR C ROE (MR) $ 3.99
HOUSE OF WHISPERS #13 (MR) $ 3.99
IMMORTAL HULK #20 3RD PTG BENNETT VAR $ 3.99
IMMORTAL HULK #22 2ND PTG BENNETT VAR $ 3.99
IMMORTAL HULK DIRECTORS CUT #3 (OF 6) $ 4.99
INVADERS #9 $ 3.99
INVISIBLE WOMAN #3 (OF 5) $ 3.99
IRONHEART #10 $ 3.99
PREVIEWS & Marvel Previews
ISOLA #9 CVR A KERSCHL $ 3.99
JUSTICE LEAGUE ODYSSEY #13 VAR ED YOTV $ 3.99
JUSTICE LEAGUE ODYSSEY #13 YOTV $ 3.99
KICK-ASS #17 CVR A FRUSIN (MR) $ 3.99
KICK-ASS #17 CVR C ARAUJO (MR) $ 3.99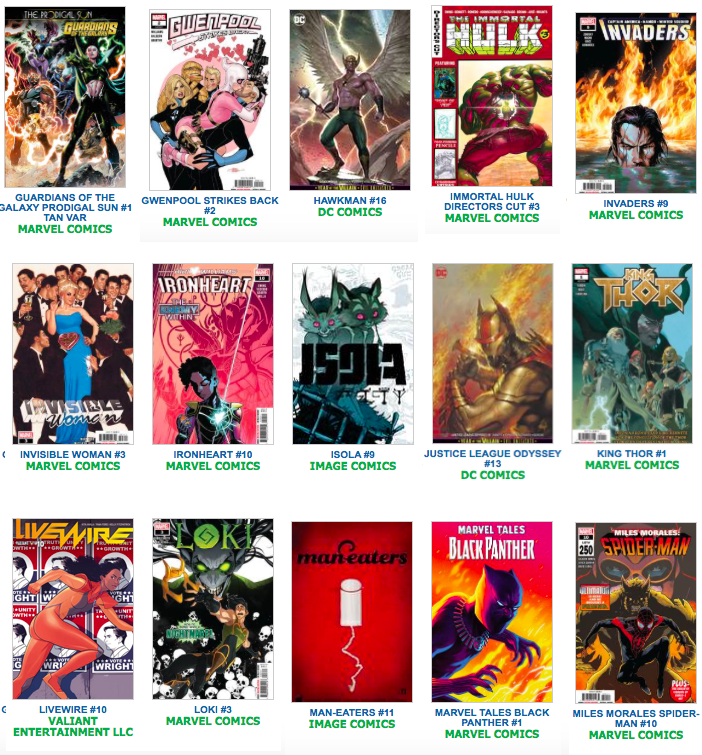 KING THOR #1 (OF 4) $ 3.99
KING THOR #1 (OF 4) ROSS IMMORTAL WRAPAROUND VAR $ 3.99
KING THOR #1 (OF 4) ZAFFINO VAR (1/25) $ ???
LIVEWIRE #10 CVR A LEE $ 3.99
LIVEWIRE #10 CVR B COOK $ 3.99
LOKI #3 $ 3.99
MAN-EATERS #11 CVR A MITERNIQUE $ 3.99
MARVEL COMICS #1000 MCGUINNESS VAR (re-cr) $ 9.99
MARVEL TALES BLACK PANTHER #1 $ 7.99
MILES MORALES SPIDER-MAN #10 $ 4.99
MILES MORALES SPIDER-MAN #10 LUPACCHINO WRAPAROUND VAR $ 4.99
MILES MORALES SPIDER-MAN #10 RAMOS VAR (1/25) $ ???
MOON KNIGHT ANNUAL #1 $ 4.99
MOON KNIGHT ANNUAL #1 CHRISTOPHER CONNECTING VAR $ 4.99
MOON KNIGHT ANNUAL #1 FERRY IMMORTAL WRAPAROUND VAR $ 4.99
OBLIVION SONG BY KIRKMAN & DE FELICI #19 (MR) $ 3.99
ORVILLE #3 WORD OF AVIS (PT 1 OF 2) $ 3.99
OUTER DARKNESS #10 (MR) $ 3.99
PANDEMICA #1 CVR A SANCHEZ $ 3.99
POSTAL DELIVERANCE #3 (MR) $ 3.99
POWERS OF X #4 (OF 6) $ 4.99
POWERS OF X #4 (OF 6) CHRISTOPHER ACTION FIGURE VAR $ 4.99
POWERS OF X #4 (OF 6) HUDDLESTON VAR (1/10) $ ???
POWERS OF X #4 (OF 6) LAND CHARACTER DECADES VAR $ 4.99
POWERS OF X #4 (OF 6) MOLINA CONNECTING VAR $ ???
POWERS OF X #4 (OF 6) SILVA VIRGIN VAR (1/100) $ ???
POWERS OF X #4 (OF 6) WEAVER NEW CHARACTER VAR $ 4.99
POWERS OF X #4 (OF 6) YOUNG VAR $ 4.99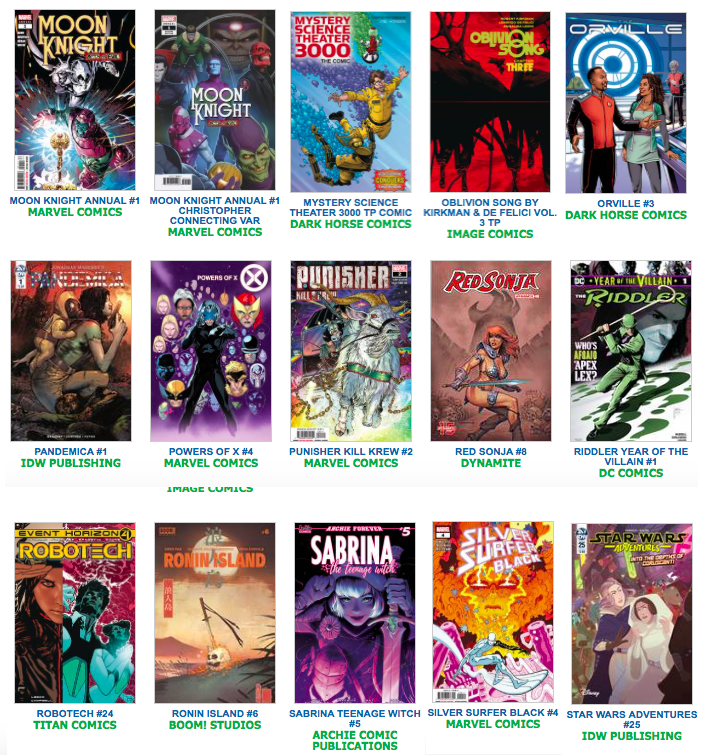 PUNISHER KILL KREW #2 (OF 5) $ 3.99
RAT QUEENS #18 (MR) $ 3.99
REAVER #3 (MR) $ 3.99
RED SONJA #8 CVR A CONNER $ 3.99
RED SONJA #8 CVR B LINSNER $ 3.99
RED SONJA #8 CVR C PHAM $ 3.99
RED SONJA #8 CVR D OMEARA $ 3.99
RED SONJA #8 CVR E COSPLAY $ 3.99
RIDDLER YEAR OF THE VILLAIN #1 $ 4.99
ROBOTECH #24 CVR A SPOKES $ 3.99
RONIN ISLAND #6 CVR A MILONOGIANNIS $ 3.99
SABRINA TEENAGE WITCH #5 (OF 5) CVR A FISH $ 3.99
SILVER SURFER BLACK #4 (OF 5) $ 3.99
SILVER SURFER BLACK #4 (OF 5) GARNER IMMORTAL WRPAD VAR $ 3.99
SILVER SURFER BLACK #4 (OF 5) LIM VAR $ 3.99
SILVER SURFER BLACK #4 (OF 5) MOMOKO VAR (1/25) $ ???
SONATA #4 CVR A HABERLIN & VAN DYKE (MR) $ 3.99
SONATA #4 CVR A HABERLIN & VAN DYKE (MR) $ 3.99
SONATA #4 CVR B HABERLIN & VAN DYKE (MR) $ 3.99
SPAWN #300 CVR G CAMPBELL $ 7.99
SPAWN #300 CVR O OPENA VIRGIN $ 7.99
STAR WARS ADVENTURES #25 CVR A SALTEL $ 3.99
STAR WARS ADVENTURES #25 CVR B LEVENS $ 3.99
STAR WARS AOR SUPREME LEADER SNOKE #1 $ 3.99
STAR WARS AOR SUPREME LEADER SNOKE #1 MCKONE PUZZLE PC VAR $ 3.99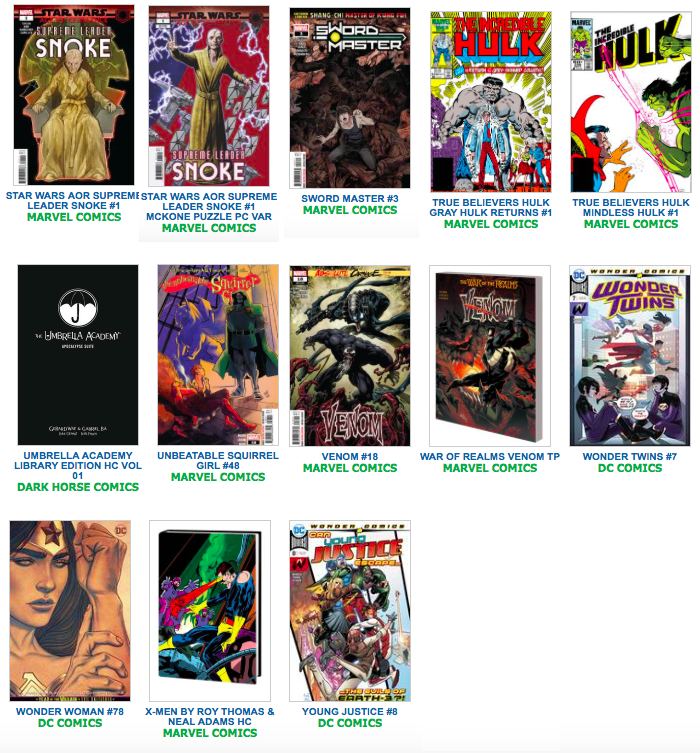 SWORD MASTER #3 $ 3.99
SWORD MASTER #3 $ 3.99
THUMBS #4 (OF 5) (MR) $ 4.99
TREES THREE FATES #1 (OF 5) (MR) $ 3.99
TRUE BELIEVERS HULK GRAY HULK RETURNS #1 $ 1
TRUE BELIEVERS HULK MINDLESS HULK #1 $ 1
UNBEATABLE SQUIRREL GIRL #48 $ 3.99
UNEARTH #3 CVR A RIVAS (MR) $ 3.99
VENOM #17 2ND PTG NEW ART BAGLEY VAR AC $ 3.99
VENOM #18 AC $ 3.99
VENOM #18 SLINEY IMMORTAL WRAPAROUND VAR AC $ 3.99
VENOM #18 ZIRCHER CODEX VAR AC $ 3.99
WATCHER #2 (OF 3) CVR A MASTRAZZO (MR) $ 5.99
WATCHER #2 (OF 3) CVR B ANACLETO (MR) $ 5.99
WONDER TWINS #7 (OF 12) $ 3.99
WONDER WOMAN #78 VAR ED YOTV $ 3.99
WONDER WOMAN #78 YOTV $ 3.99
YOUNG JUSTICE #8 $ 3.99
YOUNG JUSTICE #8 CARD STOCK VAR ED $ 4.99

COMIC SHOP NEWS #1682 $ FREE

AGE OF X-MAN APOCALYPSE & X-TRACTS TP $ 15.99
ANIMAL FARM GN $ 22
BABY SITTERS CLUB COLOR ED GN VOL 07 BOY-CRAZY STACEY- $ 10.99
BATMAN ETERNAL OMNIBUS HC $ 125
BATMAN HUSH TP NEW ED $ 29.99
BATMAN THE KILLING JOKE HC NEW ED $ 17.99
BATMAN THE KILLING JOKE HC NEW ED $ 17.99
BATMAN TP VOL 10 KNIGHTMARES $ 17.99
BONE PARISH TP VOL 02 $ 14.99
DOMINO TP HOTSHOTS $ 15.99
EPIC TALES CAPT UNDERPANTS VOL 01 GEORGE & HAROLDS COMIX $ 9.99
I HATE FAIRYLAND DLX HC VOL 02 (MR) $ 34.99
JIM HENSON LABYRINTH CORONATION HC VOL 03 $ 24.99
MARVEL MONOGRAPH TP ART OF ESAD RIBIC $ 19.99
MARVEL VISIONARIES TP JACK KIRBY $ 34.99
MILES MORALES GN TP WITH GREAT POWER $ 12.99
MR WOLFS CLASS GN VOL 03 LUCKY STARS $ 9.99
MYSTERY SCIENCE THEATER 3000 TP $ 19.99
OBLIVION SONG BY KIRKMAN & DE FELICI TP VOL 01 (MR) $ 9.99
POKEMON SUN & MOON GN VOL 05 $ 4.99
RUGRATS BUILDING BLOCKS GN $ 14.99
SHE-RA REBEL PRINCESS GUIDE HC $ 12.99
SHURI TP VOL 02 24-7 VIBRANIUM $ 15.99
SPIDER-MAN TP MANY HOSTS OF CARNAGE $ 39.99
SPLATOON MANGA GN VOL 07 $ 9.99
STAR WARS JEDI ACADEMY YR HC VOL 08 ATTACK OF FURBALL- $ 12.99
TRANSMETROPOLITAN TP BOOK 02 (MR) $ 29.99
UMBRELLA ACADEMY LIBRARY EDITION HC VOL 01 APOCALYPSE SUITE $ 39.99
UNBEATABLE SQUIRREL GIRL TP VOL 11 CALL YOUR SQUIRRELFRIEND $ 15.99
UNNATURAL TP VOL 03 (MR) $ 16.99
UNSTOPPABLE WASP UNLIMITED TP VOL 02 GIRL VS AIM $ 15.99
VENOM TP WAR OF REALMS $ 15.99
WAR OF REALMS SPIDER-MAN DAREDEVIL TP $ 15.99
X-MEN BY ROY THOMAS & NEAL ADAMS HC GALLERY EDITION $ 39.99
YO-KAI WATCH GN VOL 12 $ 9.99

TOPPS 2019 FIVE STAR BASEBALL T/C BOX $ ???

DC ESSENTIALS RED HOOD ACTION FIGURE $ 29.99
MARVEL ANIMATED STYLE STORM STATUE $ 64.99
OVERWATCH ULTIMATES 6IN AF ASST 201902 $ 24.99
POKEMON PLUSH CLIPS ASST $ 12.99
STAR WARS STAR DESTROYER 1/5000 MDL KIT (NET) $ ???
TRANSFORMERS BOTBOTS MINIFIG BMB DIS 201902 $ 3.49
TRANSFORMERS BOTBOTS MINIFIG BMB DIS 201903 $ 3.49