Unimpeachably good comics just arrived on Wednesday, September 25th, 2019
News just keeps on happening, dunnit? You still need to register to vote, though.
Marvel again succeeds in driving the news cycle, in spite of our best efforts to focus on what is really important in our universe. Nonetheless, Strikeforce #1 makes a big splash, Absolute Carnage continues with Miles Morales, Amazing Spider-Man hits #30, followed by Avengers, Loki, Captain America, Black Panther, Fearless, New Mutants War Children #1, Powers of X #5, Thanos, and Star Wars Kylo, Fallen Order Dark Temple, and Target Vader.
DC weighed in with an over-sized Black Label Harleen (as in H. Quinzel), plus Action, Detective, Batman Curse of the White Knight, Batman-Superman. Flash, Justice League Dark, Shazam, and Wonder Woman, and a few more.
The other pubs brought Bettie Page, Deadly Class, Fight Club, Invader Zim, Rick and Morty, Transformers Galaxies, and dozens more.
If you missed the Labor Day Sale and want to know about the next one. . . Click here. Sign in here to get an email reminder for for ALL sales and other events.  Also, you can go to fb.fantasybooksandgames.com and you'll be taken to our Facebook page. We use ourin-store 5-Star Rewards system to text similar announcements to your phone, but it pays to be covered, right?
Something happened in the Friendly Neighborhood, so we had to search around for pics from today. Thanks to Comics on the Green for this week's images, which include many of the comics and a few of the books and other items we received today.  
ABSOLUTE CARNAGE #1 (OF 5) 4TH PTG BAGLEY NEW ART AC $ 7.99
ABSOLUTE CARNAGE #2 (OF 5) 2ND PTG STEGMAN VAR AC $ 4.99
ABSOLUTE CARNAGE MILES MORALES #2 (OF 3) AC $ 3.99
ABSOLUTE CARNAGE MILES MORALES #2 (OF 3) CONNECTING VAR AC $ 3.99
ABSOLUTE CARNAGE MILES MORALES #2 (OF 3) YU CODEX VAR AC (1/25) $ ???

ACTION COMICS #1015 CARD STOCK VAR ED YOTV $ 4.99
ACTION COMICS #1015 YOTV $ 3.99 Maybe next week!?
ALIENS RESCUE #3 (OF 4) CVR A DE LA TORRE $ 3.99
ALIENS RESCUE #3 (OF 4) CVR B CHATER $ 3.99
AMAZING SPIDER-MAN #30 AC $ 3.99
AMAZING SPIDER-MAN #30 CAMUNCOLI CODEX VAR AC (1/25) $ ???
AMAZING SPIDER-MAN #30 OTTLEY IMMORTAL WRAPAROUND VAR AC $ 3.99
ANGEL #5 CVR A MAIN PANOSIAN $ 3.99
ANGEL #5 CVR B MATTHEWS CONNECTING VAR $ 3.99
AVENGERS #24 $ 3.99
AVENGERS #24 LAND IMMORTAL WRAPAROUND VAR $ 3.99
AVENGERS LOKI UNLEASHED #1 $ 4.99
AVENGERS LOKI UNLEASHED #1 LIM VAR $ 4.99
B & V FRIENDS JUMBO COMICS DIGEST #274 $ 7.99
BATGIRL #39 CARD STOCK VAR ED YOTV $ 4.99
BATGIRL #39 YOTV $ 3.99
BATMAN BEYOND #36 $ 3.99
BATMAN BEYOND #36 VAR ED $ 3.99
BATMAN CURSE OF THE WHITE KNIGHT #3 (OF 8) $ 4.99
BATMAN CURSE OF THE WHITE KNIGHT #3 (OF 8) VAR ED $ 4.99
BATMAN SUPERMAN #2 $ 3.99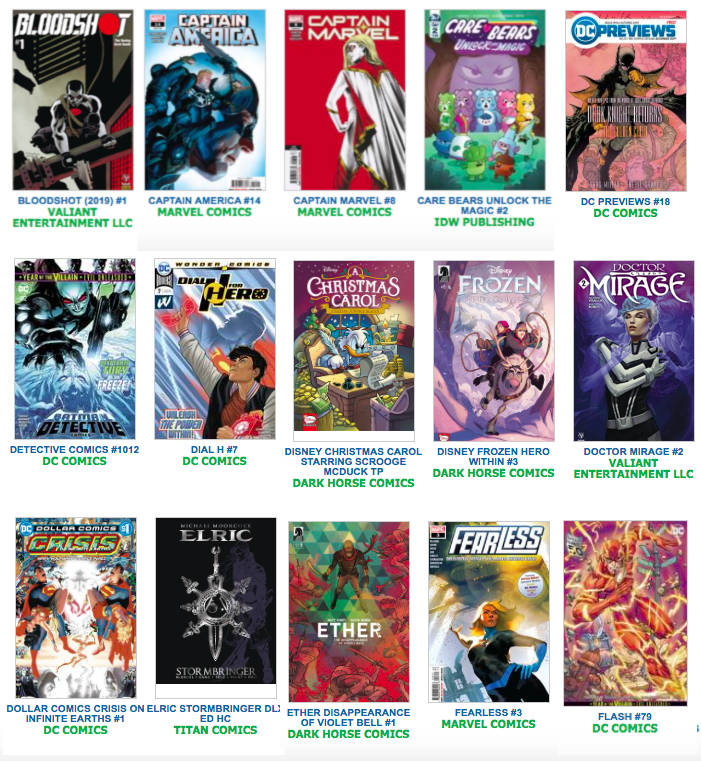 BATMAN SUPERMAN #2 CARD STOCK VAR ED $ 4.99
BETTIE PAGE UNBOUND #4 PHOTO VIRGIN (1/10) $ ???
BETTIE PAGE UNBOUND #4 CVR A ROYLE $ 3.99
BETTIE PAGE UNBOUND #4 CVR D OHTA $ 3.99
BETTIE PAGE UNBOUND #4 CVR E PHOTO $ 3.99
BLACK PANTHER #16 $ 3.99
BLACK SCIENCE #43 CVR A SCALERA (MR) $ 3.99
BLACK SCIENCE #43 CVR B ROBINSON (MR) $ 3.99
BLACK SCIENCE #43 CVR C SCALERA & DINISIO (MR) $ 3.99
BLOODSHOT (2019) #1 CVR A SHALVEY $ 3.99
BOOKS OF MAGIC #12 (MR) $ 3.99
CAPTAIN AMERICA #14 $ 3.99
CAPTAIN AMERICA #14 ZIRCHER IMMORTAL WRAPAROUND VAR $ 3.99
CAPTAIN MARVEL #8 3RD PTG CARNERO VAR $ 3.99
CARE BEARS UNLOCK THE MAGIC #2 (OF 3) PENA (1/10) $ ???
CARE BEARS UNLOCK THE MAGIC #2 (OF 3) CVR A GARBOWSKA $ 3.99
CRIMINAL #8 (MR) $ 3.99
DEADLY CLASS #40 CVR A CRAIG (MR) $ 3.99
DEADLY CLASS #40 CVR B HARREN (MR) $ 3.99
DETECTIVE COMICS #1012 $ 3.99
DETECTIVE COMICS #1012 VAR ED $ 3.99
DIAL H #7 (OF 12) $ 3.99
DISNEY FROZEN HERO WITHIN #3 (OF 3) KAWAII CREATIVE STUDIO $ 3.99
DOCTOR MIRAGE #2 (OF 5) CVR A TAN $ 3.99
DOLLAR COMICS CRISIS ON INFINITE EARTHS #1 $ 1
ETHER DISAPPEARANCE OF VIOLET BELL #1 (OF 5) CVR A RUBIN $ 3.99
ETHER DISAPPEARANCE OF VIOLET BELL #1 (OF 5) CVR B AZACETA $ 3.99
EVOLUTION #18 (MR) $ 3.99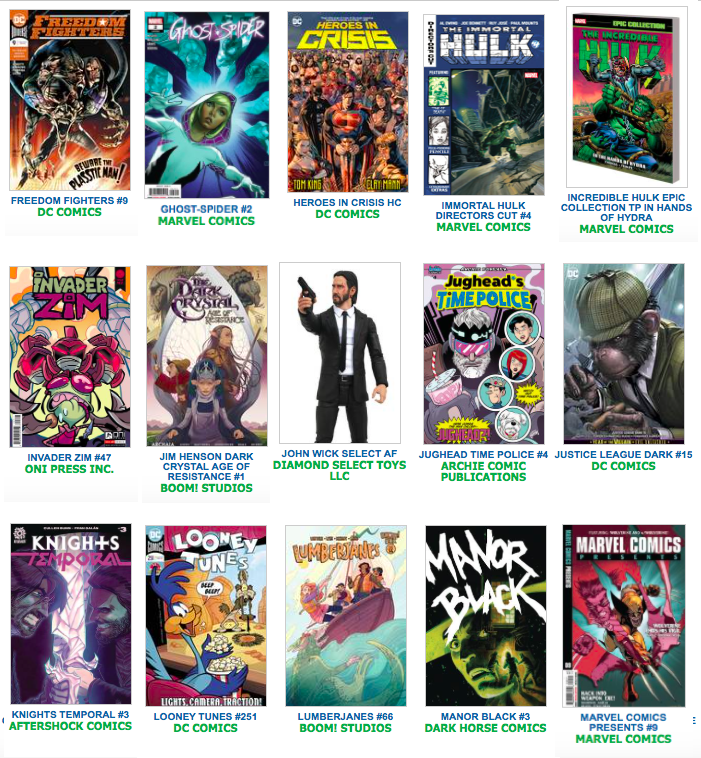 FAITHLESS #6 (OF 6) CVR A POPE (MR) $ 3.99
FAITHLESS #6 (OF 6) CVR B EROTICA LOTAY VAR (MR) $ 4.99
FEARLESS #3 (OF 4) $ 4.99
FEARLESS #3 (OF 4) FRISON CONNECTING VAR $ 4.99
FIGHT CLUB 3 #9 CVR A MACK (MR) $ 3.99
FIGHT CLUB 3 #9 CVR B MORRIS (MR) $ 3.99
FLASH #79 $ 3.99
FLASH #79 VAR ED $ 3.99
FREEDOM FIGHTERS #9 (OF 12) $ 3.99
GHOST-SPIDER #2 $ 3.99
HARLEEN #1 (OF 3) (MR) $ 7.99
HARLEEN #1 (OF 3) VAR ED (MR) $ 7.99
HOUSE OF X #3 (OF 6) 2ND PTG LARRAZ VAR $ 4.99
IMMORTAL HULK DIRECTORS CUT #4 (OF 6) $ 4.99
INVADER ZIM #47 CVR A C $ 3.99
INVADER ZIM #47 CVR B CAB $ 3.99
MARVEL PREVIEWS VOL 04 #27 OCTOBER 2019 $ FREE*
PREVIEWS #373 OCTOBER 2019 $ 3.99
JIM HENSON DARK CRYSTAL AGE RESISTANCE #1 CVR A $ 3.99
JIM HENSON DARK CRYSTAL AGE RESISTANCE #1 CVR B CONNECTING V $ 3.99
JIM HENSON DARK CRYSTAL AGE RESISTANCE #1 FOC WARD VAR $ 3.99
JUGHEAD TIME POLICE #4 (OF 5) CVR A CHARM $ 3.99
JUSTICE LEAGUE DARK #15 VAR ED YOTV $ 3.99
JUSTICE LEAGUE DARK #15 YOTV $ 3.99
KNIGHTS TEMPORAL #3 $ 3.99
LOONEY TUNES #251 $ 2.99
LUMBERJANES #66 CVR A LEYH $ 3.99
MALL #2 (MR) $ 3.99
MANOR BLACK #3 (OF 4) CVR A CROOK $ 3.99
MANOR BLACK #3 (OF 4) CVR B SMALLWOOD $ 3.99
MARVEL COMICS PRESENTS #9 $ 4.99
MARVEL COMICS PRESENTS #9 RAHZZAH VAR $ 4.99
MARVEL TEAM-UP #6 $ 3.99
MIGHTY MORPHIN POWER RANGERS #43 CVR A CAMPBELL $ 3.99
MIGHTY MORPHIN POWER RANGERS #43 FOC MORA VAR $ 3.99
MOON GIRL AND DEVIL DINOSAUR #47 $ 3.99
NEW MUTANTS WAR CHILDREN #1 $ 4.99
NEW MUTANTS WAR CHILDREN #1 MCLEOD VAR $ 4.99
NEW MUTANTS WAR CHILDREN #1 SIMMONDS VAR $ 4.99
PLOT #1 CVR A (MR) $ 3.99
PLOT #1 CVR B (MR) $ 3.99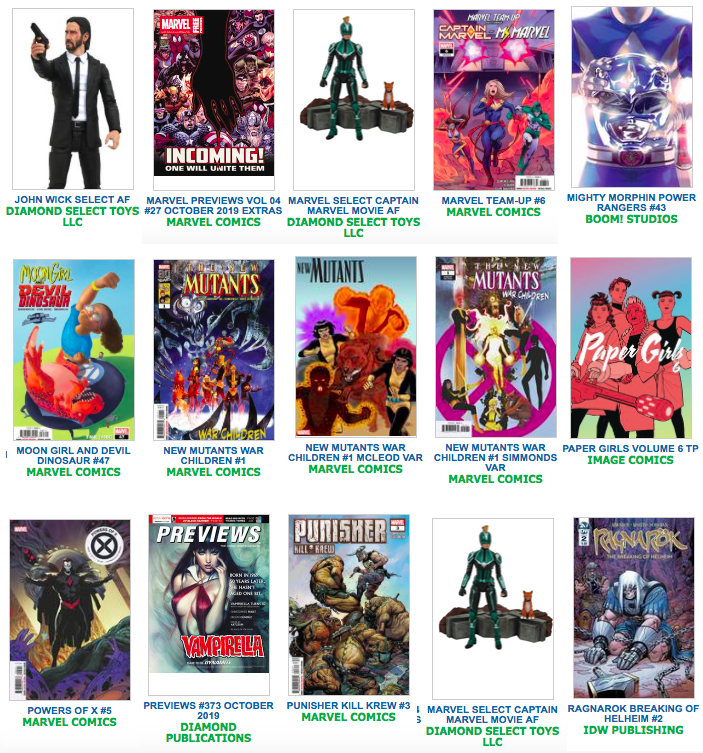 POWERS OF X #2 (OF 6) 3RD PTG SHALVEY VAR $ 4.99
POWERS OF X #5 (OF 6) $ 4.99
POWERS OF X #5 (OF 6) CHRISTOPHER ACTION FIGURE VAR $ 4.99
POWERS OF X #5 (OF 6) HUDDLESTON VAR (1/10) $ ???
POWERS OF X #5 (OF 6) NAKAYAMA CONNECTING VAR $ ???
POWERS OF X #5 (OF 6) SCHITI CHARACTER DECADES VAR $ 4.99
POWERS OF X #5 (OF 6) SILVA VIRGIN VAR (1/100) $ ??? Maybe next week!?
POWERS OF X #5 (OF 6) WEAVER NEW CHARACTER VAR $ 4.99
POWERS OF X #5 (OF 6) YOUNG VAR $ 4.99
PRETTY VIOLENT #2 (MR) $ 3.99
PUNISHER KILL KREW #3 (OF 5) $ 3.99
QUEEN OF BAD DREAMS #4 (MR) $ 3.99
RAGNAROK BREAKING OF HELHEIM #2 (OF 6) CVR A SIMONSON $ 4.99
RED HOOD OUTLAW #38 VAR ED YOTV $ 3.99
RED HOOD OUTLAW #38 YOTV $ 3.99
RED SONJA VAMPIRELLA BETTY VERONICA #5 CVR A DALTON $ 3.99
RED SONJA VAMPIRELLA BETTY VERONICA #5 CVR B HACK $ 3.99
RED SONJA VAMPIRELLA BETTY VERONICA #5 CVR C BRAGA $ 3.99
RED SONJA VAMPIRELLA BETTY VERONICA #5 CVR D PARENT $ 3.99
RESONANT #3 (MR) $ 3.99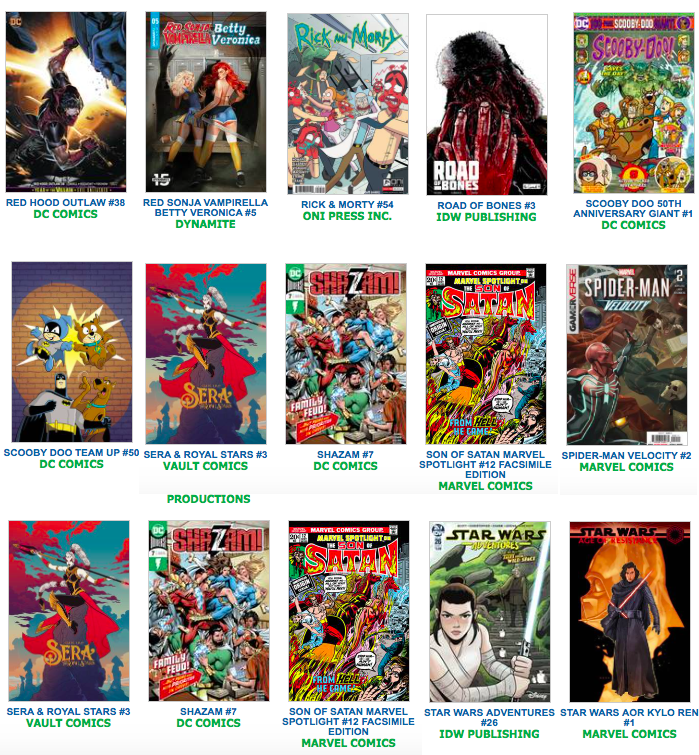 RICK & MORTY #54 CVR A ELLERBY $ 3.99
RICK & MORTY #54 CVR B SEARS $ 3.99
RIDE BURNING DESIRE #4 (OF 5) CVR A COKER (MR) $ 3.99 Maybe next week!?
ROAD OF BONES #3 (OF 4) 2ND PTG $ 3.99
SCOOBY DOO 50TH ANNIVERSARY GIANT #1 $ 4.99
SCOOBY DOO TEAM UP #50 $ 2.99
SERA & ROYAL STARS #3 $ 3.99
SFSX SAFE SEX #1 (MR) $ 3.99
SHAZAM #7 $ 3.99
SHAZAM #7 VAR ED $ 3.99
SON OF SATAN MARVEL SPOTLIGHT #12 FACSIMILE EDITION $ 3.99
SPIDER-MAN VELOCITY #2 (OF 5) $ 3.99
STAR WARS ADVENTURES #26 SIMONE (1/10) $ ??? Maybe next week!?
STAR WARS ADVENTURES #26 CVR A CHARM $ 3.99
STAR WARS ADVENTURES #26 CVR B LEVENS $ 3.99
STAR WARS AOR KYLO REN #1 $ 3.99
STAR WARS AOR KYLO REN #1 GREATEST MOMENTS VAR $ 3.99
STAR WARS AOR KYLO REN #1 MCKONE PUZZLE PC VAR $ 3.99
STAR WARS JEDI FALLEN ORDER DARK TEMPLE #2 (OF 5) $ 3.99
STAR WARS JEDI FALLEN ORDER DARK TEMPLE #2 (OF 5) GAME VAR (1/10) $ ???
STAR WARS TARGET VADER #3 (OF 6) $ 3.99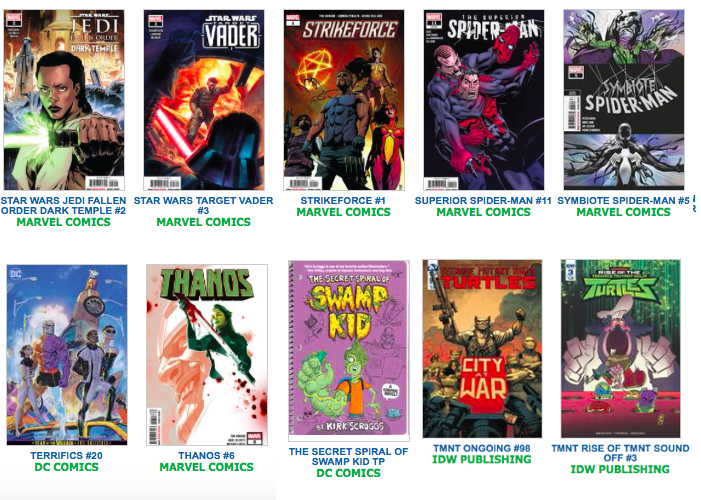 STRIKEFORCE #1 $ 3.99
STRIKEFORCE #1 BENJAMIN VAR (1/50) $ ???
STRIKEFORCE #1 BENNETT VAR (1/25) $ ???
STRIKEFORCE #1 DEODATO VAR $ 3.99
STRIKEFORCE #1 HORN VAN VAR $ 3.99
STRIKEFORCE #1 QUESADA HIDDEN GEM VAR (1/100) $ ??? Maybe next week!?
STRIKEFORCE #1 YARDIN IMMORTAL WRPAD VAR $ 3.99
SUPERIOR SPIDER-MAN #11 $ 3.99
SYMBIOTE SPIDER-MAN #5 (OF 5) 2ND PTG LAND VAR $ 3.99
TERRIFICS #20 VAR ED YOTV $ 3.99
TERRIFICS #20 YOTV $ 3.99
THANOS #6 (OF 6) $ 3.99
TMNT ONGOING #98 CVR A WACHTER $ 3.99
TMNT ONGOING #98 CVR B EASTMAN $ 3.99
TMNT RISE OF TMNT SOUND OFF #3 (OF 3) CVR A THOMAS $ 3.99
TOMMY GUN WIZARDS #2 (OF 4) CVR A WARD $ 3.99
TOMMY GUN WIZARDS #2 (OF 4) CVR B LOTAY $ 3.99
TRANSFORMERS GALAXIES #1 CALTSOUDAS (1/10) $ ???
TRANSFORMERS GALAXIES #1 COLLER (1/25) $ ???
TRANSFORMERS GALAXIES #1 CVR A RAMONDELLI $ 3.99
TRANSFORMERS GALAXIES #1 CVR B ROCHE $ 3.99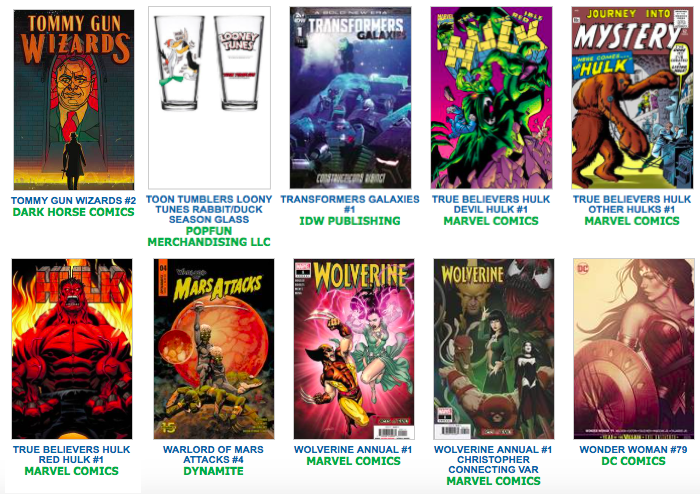 TRUE BELIEVERS HULK DEVIL HULK #1 $ 1
TRUE BELIEVERS HULK OTHER HULKS #1 $ 1
TRUE BELIEVERS HULK RED HULK #1 $ 1
WARLORD OF MARS ATTACKS #4 JOHNSON VIRGIN (1/30) $ ???
WARLORD OF MARS ATTACKS #4 CVR A JOHNSON $ 3.99
WARLORD OF MARS ATTACKS #4 CVR B LAMING $ 3.99
WHITE TREES #2 (OF 2) (MR) $ 4.99
WOLVERINE ANNUAL #1 $ 4.99
WOLVERINE ANNUAL #1 CHRISTOPHER CONNECTING VAR $ 4.99
WONDER WOMAN #79 $ 3.99
WONDER WOMAN #79 VAR ED $ 3.99

ANGEL TP VOL 01 $ 16.99
BATMAN NIGHTWALKER THE GRAPHIC NOVEL DC INK $ 16.99
BATTLE CHASERS ANTHOLOGY TP $ 24.99
BERSERK TP VOL 40 $ 14.99
CAPTAIN AMERICA TP VOL 02 CAPTAIN OF NOTHING $ 17.99
CHRIS WARE RUSTY BROWN HC GN $ 35
DARK CRYSTAL LITTLE GOLDEN BOOK $ 4.99
DC POSTER PORTFOLIO FRANK CHO TP $ 24.99
DEATHSTROKE ARKHAM TP $ 16.99
DISNEY CHRISTMAS CAROL STARRING SCROOGE MCDUCK TP $ 10.99
DISNEY COMICS & STORIES TP VOL 01 FRIENDS FOREVER $ 14.99
ELRIC STORMBRINGER DLX ED HC (RES) $ 29.99
FABULOUS FURRY FREAK BROS COMPENDIUM TP $ 13.99
GOON TP VOL 01 RAGGED RETURN TO LONELY STREET $ 17.99
GREEN LANTERN THE SILVER AGE TP VOL 04 $ 34.99
HEROES IN CRISIS HC $ 29.99
INCREDIBLE HULK EPIC COLLECTION TP IN HANDS OF HYDRA $ 39.99
INJUSTICE GODS AMONG US YEAR TWO DELUXE ED HC $ 49.99
JIM HENSON DARK CRYSTAL CREATION MYTHS COMPLETE HC $ 39.99
MARVEL ILLUSTRATORS SKETCHBOOK TP $ 19.99
MARVEL RISING GN TP HEROES OF ROUND TABLE $ 12.99
MONSTRESS TP VOL 04 (MR) $ 16.99
PAPER GIRLS TP VOL 06 $ 14.99
PLANTS VS ZOMBIES HC VOL 05 BOXED SET $ 29.97
SECRET SPIRAL OF SWAMP KID TP DC ZOOM $ 9.99
SECRET WARPS TP $ 17.99
SPIDER-MAN POSTCARD BOOK HC $ 19.99
TOMB OF DRACULA COMPLETE COLLECTION TP VOL 03 $ 39.99
WYNONNA EARP BAD DAY AT BLACK ROCK TP $ 12.99
X-MEN MILESTONES TP X-TINCTION AGENDA $ 34.99

30 MINUTE MISSION 06 BEXM 15 PORTANOVA RED MDL KIT $ 15.99
JOHN WICK SELECT AF $ 24.99
MARVEL SELECT CAPTAIN MARVEL MOVIE AF $ 29.99
NIGHTMARE ON ELM STREET NEW NIGHTMARE FREDDY 8IN RETRO AF $ 32.99
TOKIDOKI LITTLE TERRORS $ 8.99
TOKIDOKI UNICORNO SERIES 7 $ 8.99
TOON TUMBLERS LOONEY TUNES RABBIT/DUCK SEASON GLASS $ 10.99

COMIC SHOP NEWS #1684 $ FREE
DC PREVIEWS #18 OCTOBER 2019 $ FREE*