Ill Winds are Blowin' and they shut off my Power on Wednesday, October 9th, 2019
EVERY DAY the Lord of Chaos spew bile and muck, and events keep swirling around him in a fog of corruption, greed and incompetence. If you keep accelerating, eventually things start to break apart. And then sparks fly, and things start to get out of hand and everything burns down. So they shut off the power to 800,000 meters (what is that, 2 million, 4-million people?) to prevent another Paradise turning to ashes. But that's a metaphor for our whole country – deferred maintenance and heads in the sand.  Meanwhile, I have to do a bunch of stuff and go out to find a place to work with electricity.
Therefore, I'm so late that therefore I will not try to summarize the full list as found below. The store has power (as of Thurs PM) so come in and see for yourself.
If you missed the Labor Day Sale and want to know about the next one. . . Click here. Sign in here to get an email reminder for for ALL sales and other events.  Also, you can go to fb.fantasybooksandgames.com and you'll be taken to our Facebook page. We use our in-store 5-Star Rewards system to text similar announcements to your phone, but it pays to be covered, right?
Thanks to Comics on the Green for this week's images, which include many of the comics and a few of the books and other items we received today.  
ABSOLUTE CARNAGE MILES MORALES #1 (OF 3) 2ND PTG VICENTINI V $ 3.99
ABSOLUTE CARNAGE MILES MORALES #3 (OF 3) AC $ 3.99
ABSOLUTE CARNAGE MILES MORALES #3 (OF 3) JACINTO CODEX VAR (1/25) $ ???
ABSOLUTE CARNAGE MILES MORALES #3 (OF 3) NAKAYAMA CONNECTING $ 3.99
ABSOLUTE CARNAGE SCREAM #2 (OF 3) 2ND PTG SANDOVAL VAR AC $ 3.99
ABSOLUTE CARNAGE SYMBIOTE SPIDER-MAN #1 2ND PTG MOBILI VAR $ 4.99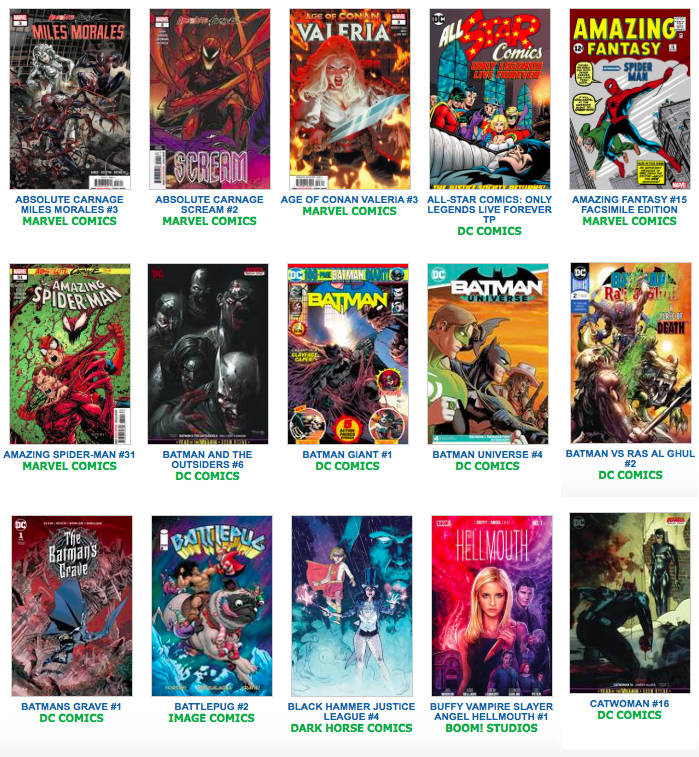 AGE OF CONAN VALERIA #3 (OF 5) $ 3.99
AMAZING FANTASY #15 FACSIMILE EDITION $ 3.99
AMAZING SPIDER-MAN #31 AC $ 3.99
AMAZING SPIDER-MAN #31 DODSON CODEX VAR AC (1/25) $ ???
AMAZING SPIDER-MAN #31 SMALLWOOD MARY JANE VAR AC $ 3.99
ANIMOSITY #24 (MR) $ 3.99
ARCHIE JUMBO COMICS DIGEST #303 $ 7.99
BATMAN AND THE OUTSIDERS #6 VAR ED YOTV $ 3.99
BATMAN AND THE OUTSIDERS #6 YOTV $ 3.99
BATMAN GIANT #1 $ 4.99
BATMAN UNIVERSE #4 (OF 6) $ 4.99
BATMAN VS RAS AL GHUL #2 (OF 6) $ 3.99
BATMANS GRAVE #1 (OF 12) $ 3.99
BATMANS GRAVE #1 (OF 12) BLANK VAR ED $ 3.99
BATMANS GRAVE #1 (OF 12) CARD STOCK VAR ED $ 4.99
BATTLEPUG #2 CVR A NORTON & PASSALAQUA $ 3.99
BLACK HAMMER JUSTICE LEAGUE #4 (OF 5) CVR A WALSH $ 3.99
BLACK HAMMER JUSTICE LEAGUE #4 (OF 5) CVR B ROBINSON $ 3.99
BLACK HAMMER JUSTICE LEAGUE #4 (OF 5) CVR C FRANCAVILLA $ 3.99
BLADE RUNNER 2019 #4 CVR A ALBUQUERQUE (MR) $ 3.99
BUFFY VAMPIRE SLAYER ANGEL HELLMOUTH #1 CVR A FRISON $ 3.99
BUFFY VAMPIRE SLAYER ANGEL HELLMOUTH #1 CVR B LAMBERT $ 3.99
BUFFY VAMPIRE SLAYER ANGEL HELLMOUTH #1 BLANK SKETCH VAR $ 3.99
BUFFY VAMPIRE SLAYER ANGEL HELLMOUTH #1 CONNECTING MATTHEWS $ 3.99
CATWOMAN #16 VAR ED YOTV $ 3.99
CATWOMAN #16 YOTV $ 3.99
COFFIN BOUND #3 (MR) $ 3.99
COLLAPSER #4 (OF 6) (MR) $ 3.99
CONTAGION #2 (OF 5) $ 3.99
CONTAGION #2 (OF 5) BROWNE VAR $ 3.99
DC VILLAINS GIANT #1 $ 4.99
DETECTIVE COMICS #1013 $ 3.99
DETECTIVE COMICS #1013 VAR ED $ 3.99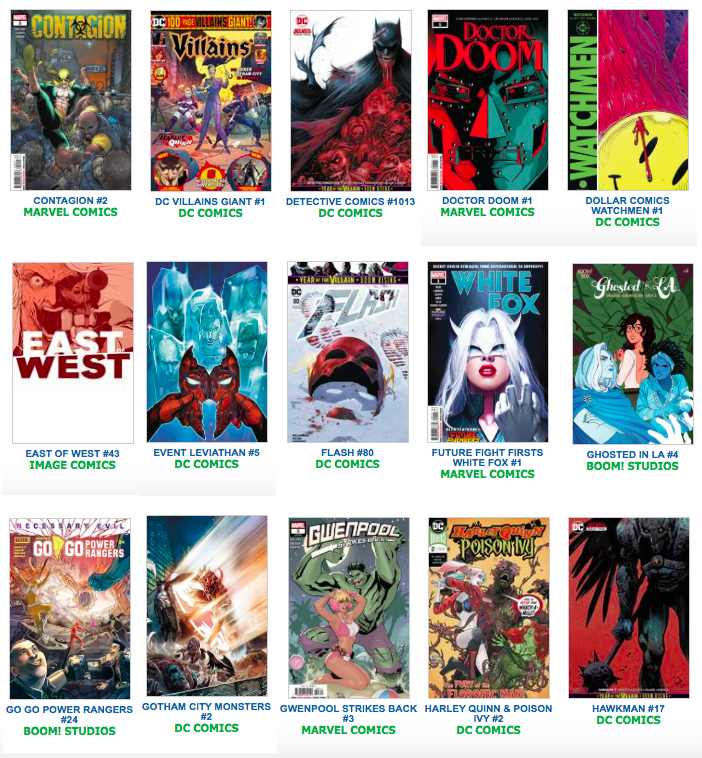 DOCTOR DOOM #1 $ 4.99
DOCTOR DOOM #1 ART ADAMS VAR (1/50) $ ???
DOCTOR DOOM #1 BIANCHI VAR (1/25) $ ???
DOCTOR DOOM #1 CHIANG MARY JANE VAR $ 4.99
DOCTOR DOOM #1 DEODATO VAR (1/10) $ ???
DOCTOR DOOM #1 DITKO HIDDEN GEM VAR (1/100) $ ???
DOLLAR COMICS WATCHMEN #1 $ 1
EAST OF WEST #43 (RES) $ 3.99
EVENT LEVIATHAN #5 (OF 6) $ 3.99
EVENT LEVIATHAN #5 (OF 6) VAR ED $ 3.99
FLASH #80 $ 3.99
FLASH #80 CARD STOCK VAR ED $ 4.99
FUTURE FIGHT FIRSTS WHITE FOX #1 $ 4.99
GHOSTED IN LA #4 CVR A KEENAN $ 3.99
GO GO POWER RANGERS #24 CVR A MAIN SHAVRIN $ 3.99
GO GO POWER RANGERS #24 CVR B MERCADO VAR $ 3.99
GO GO POWER RANGERS #24 FOC MAD VAR $ 3.99
GOTHAM CITY MONSTERS #2 (OF 6) $ 3.99
GWENPOOL STRIKES BACK #3 (OF 5) $ 3.99
HARLEY QUINN & POISON IVY #2 (OF 6) $ 3.99
HARLEY QUINN & POISON IVY #2 (OF 6) HARLEY CARD STOCK VAR ED $ 4.99
HARLEY QUINN & POISON IVY #2 (OF 6) POISON IVY CARD STOCK VA $ 4.99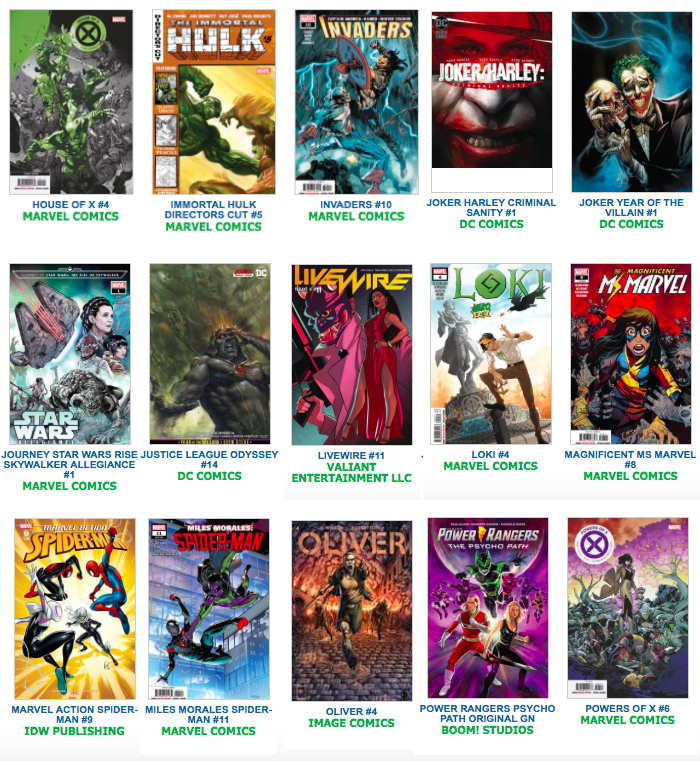 HAWKMAN #17 VAR ED YOTV $ 3.99
HAWKMAN #17 YOTV $ 3.99
HOUSE OF WHISPERS #14 (MR) $ 3.99
HOUSE OF X #4 (OF 6) 2ND PTG LARRAZ VAR $ 4.99
ICE CREAM MAN #15 CVR A MORAZZO & OHALLORAN (MR) $ 3.99
IMMORTAL HULK DIRECTORS CUT #5 (OF 6) $ 4.99
INVADERS #10 $ 3.99
JOKER HARLEY CRIMINAL SANITY #1 (OF 9) $ 5.99
JOKER HARLEY CRIMINAL SANITY #1 (OF 9) MAYHEW VAR ED $ 5.99
JOKER HARLEY CRIMINAL SANITY #1 (OF 9) SUAYAN VAR ED $ 5.99
JOKER YEAR OF THE VILLAIN #1 $ 4.99
JOKER YEAR OF THE VILLAIN #1 BLANK VAR ED $ 4.99
JOURNEY STAR WARS RISE SKYWALKER ALLEGIANCE #1 $ 4.99
JOURNEY STAR WARS RISE SKYWALKER ALLEGIANCE #1 MOVIE VAR (1/10) $ ???
JOURNEY STAR WARS RISE SKYWALKER ALLEGIANCE #1 STELFREEZE VA $ 4.99
JUGHEAD HUNGER VS VAMPIRONICA #5 CVR A PAT & TIM KENNEDY (MR $ 3.99
JUSTICE LEAGUE ODYSSEY #14 VAR ED YOTV $ 3.99
JUSTICE LEAGUE ODYSSEY #14 YOTV $ 3.99
LIVEWIRE #11 CVR A LEE $ 3.99
LIVEWIRE #11 CVR B LOTAY $ 3.99
LOKI #4 $ 3.99
LOKI #4 BARTEL MARY JANE VAR $ 3.99
MAGNIFICENT MS MARVEL #8 $ 3.99
MARVEL ACTION SPIDER-MAN #9 BALDARI (1/10) $ ???
MARVEL ACTION SPIDER-MAN #9 CVR A OSSIO $ 3.99
MARVEL COMICS #1001 NYCC 2019 DEODATO VAR $ ???
MILES MORALES SPIDER-MAN #11 $ 3.99
MILES MORALES SPIDER-MAN #11 ANDOLFO MARY JANE VAR $ 3.99
MILES MORALES SPIDER-MAN #11 HAYHURST FUNKO VAR $ ???
MYSTERE #2 (OF 5) CVR A PASIBE $ 3.99
OBLIVION SONG BY KIRKMAN & DE FELICI #20 (MR) $ 3.99
OLIVER #4 $ 3.99
OUTER DARKNESS #11 (MR) $ 3.99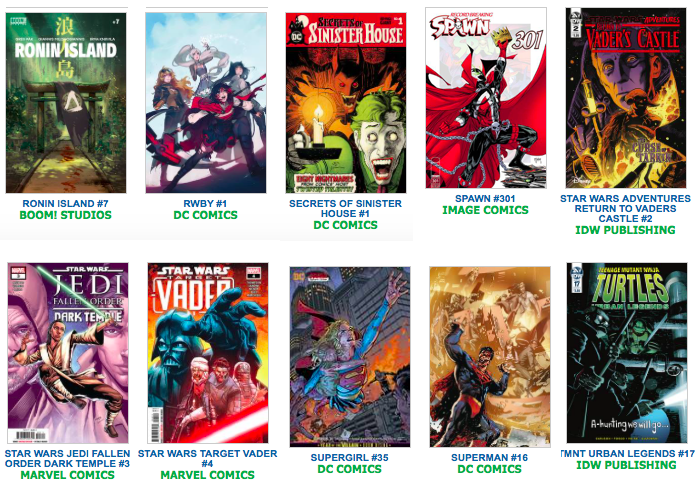 POWERS OF X #6 (OF 6) $ 5.99
POWERS OF X #6 (OF 6) CAFU CHARACTER DECADES VAR $ 5.99
POWERS OF X #6 (OF 6) CAMUNCOLI FORESHADOW VAR $ 5.99
POWERS OF X #6 (OF 6) CHRISTOPHER ACTION FIGURE VAR $ 5.99
POWERS OF X #6 (OF 6) GARRON CONNECTING VAR $ ???
POWERS OF X #6 (OF 6) HUDDLESTON VAR (1/10) $ ???
POWERS OF X #6 (OF 6) SILVA VIRGIN VAR (1/100) $ ???
POWERS OF X #6 (OF 6) WEAVER NEW CHARACTER VAR $ 5.99
POWERS OF X #6 (OF 6) YOUNG VAR $ 5.99
PRETTY DEADLY RAT #2 (OF 5) (MR) $ 3.99
REAVER #4 (MR) $ 3.99
REDNECK #24 (MR) $ 3.99
RONIN ISLAND #7 CVR A MILONOGIANNIS $ 3.99
RWBY #1 (OF 7) $ 3.99
RWBY #1 (OF 7) CARD STOCK VAR ED $ 4.99
SECRETS OF SINISTER HOUSE #1 $ 9.99
SHOWS END #1 (OF 5) 2ND PTG (next $ 3.99
SONATA #5 CVR A HABERLIN & VAN DYKE (MR) $ 3.99
SONATA #5 CVR B HABERLIN & VAN DYKE (MR) $ 3.99
SPAWN #301 CVR A MCFARLANE $ 4.99
SPAWN #301 CVR B CAPULLO $ 4.99
SPAWN #301 CVR C VIRGIN CAPULLO $ 4.99
SPAWN #301 CVR D ALEXANDER $ 4.99
SPAWN #301 CVR E CRAIN $ 4.99
SPAWN #301 CVR F OPENA $ 4.99
SPAWN #301 CVR G VIRGIN MATTINA $ 4.99
SPAWN #301 CVR H PARODY MCFARLANE $ 4.99
SPAWN #301 CVR I B&W MCFARLANE $ 4.99
SPAWN #301 CVR J VIRGIN MCFARLANE (1/25) $ ???
SPAWN #301 CVR K ROSS $ 4.99
SPAWN #301 CVR L VIRGIN ROSS $ 4.99
SPAWN #301 CVR M SIENKIEWICZ $ 4.99
SPAWN #301 CVR N VIRGIN SIENKIEWICZ $ 4.99
SPAWN #301 CVR O CAMPBELL $ 4.99
SPAWN #301 CVR P VIRGIN CAMPBELL $ 4.99
SPAWN #301 CVR Q BLANK SKETCH CVR $ 4.99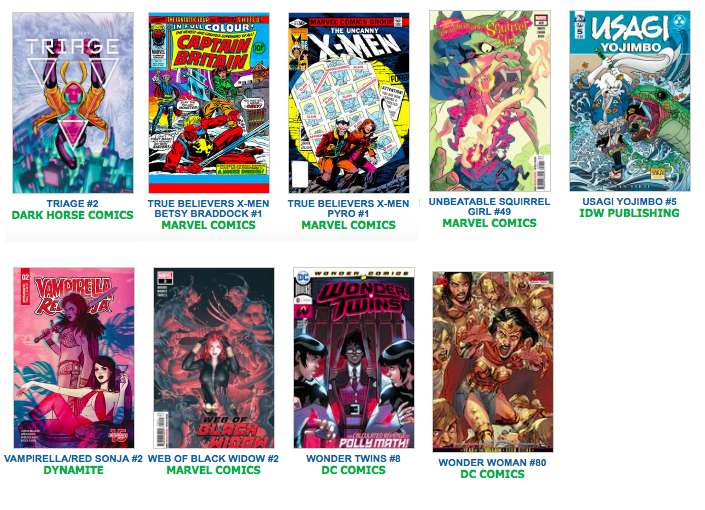 SPIDER-MAN LIFE STORY #6 (OF 6) 2ND PTG ZDARSKY VAR $ 4.99
SPIDER-VERSE #1 NYCC 2019 (OF 6) DALIT VAR $ ???
STAR WARS ADVENTURES RETURN TO VADERS CASTLE #2 (1/10) $ ???
STAR WARS ADVENTURES RETURN TO VADERS CASTLE #2 CVR A FRANCA $ 3.99
STAR WARS ADVENTURES RETURN TO VADERS CASTLE #2 CVR B JONES $ 3.99
STAR WARS JEDI FALLEN ORDER DARK TEMPLE #3 (OF 5) $ 3.99
STAR WARS JEDI FALLEN ORDER DARK TEMPLE #3 (OF 5) VILLANELLI (1/10) $ ???
STAR WARS TARGET VADER #4 (OF 6) $ 3.99
SUPERGIRL #35 VAR ED YOTV $ 3.99
SUPERGIRL #35 YOTV $ 3.99
SUPERMAN #16 VAR ED YOTV $ 3.99
SUPERMAN #16 YOTV $ 3.99
THESE SAVAGE SHORES #5 (MR) $ 3.99
THUMBS #5 (OF 5) (MR) $ 4.99
TMNT URBAN LEGENDS #17 CVR A FOSCO $ 3.99
TRIAGE #2 (OF 5) CVR A SEVY $ 3.99
TRUE BELIEVERS X-MEN BETSY BRADDOCK #1 $ 1
TRUE BELIEVERS X-MEN PYRO #1 $ 1
UNBEATABLE SQUIRREL GIRL #49 $ 3.99
UNEARTH #4 CVR A RIVAS (MR) $ 3.99
USAGI YOJIMBO #5 CVR A SAKAI $ 3.99
VAMPIRELLA RED SONJA #2 CVR A LOTAY $ 3.99
VAMPIRELLA RED SONJA #2 CVR B MACK $ 3.99
WATCHER #3 (OF 3) CVR A MASTRAZZO (MR) $ 5.99
WATCHER #3 (OF 3) CVR B VIGONTE (MR) $ 5.99
WEB OF BLACK WIDOW #2 (OF 5) $ 3.99
WEB OF BLACK WIDOW #2 (OF 5) HANS VAR $ ???
WEB OF BLACK WIDOW #2 (OF 5) OLIVER MARY JANE VAR $ 3.99
WONDER TWINS #8 (OF 12) $ 3.99
WONDER WOMAN #80 $ 3.99
WONDER WOMAN #80 VAR ED $ 3.99

COMIC SHOP NEWS #1686 $ FREE

ALL STAR COMICS ONLY LEGENDS LIVE FOREVER HC $ 49.99
ARE YOU LISTENING GN $ 17.99
BLACK HAMMER 45 WORLD OF BLACK HAMMER TP VOL 01 $ 17.99
BLOSSOMS 666 TP (MR) $ 17.99
CAMP MIDNIGHT GN VOL 02 $ 16.99
CRISIS ON INFINITE EARTHS COMPANION DLX HC VOL 03 $ 75
DC SUPER HERO GIRLS AT METROPOLIS HIGH TP $ 9.99
DISNEY FROZEN 2 LITTLE GOLDEN BOOK $ 4.99
DISNEY ZOOTOPIA SCHOOL DAYS (YA) HC VOL 01 $ 7.99
HARLEY QUINN TP VOL 03 THE TRIALS OF HARLEY QUINN $ 19.99
HEROES IN CRISIS THE PRICE AND OTHER TALES HC $ 29.99
HULK TP INCREDIBLE ORIGINS $ 15.99
MARVEL 80 FOR 80 HC $ 39.99
MARVEL MONOGRAPH TP ART OF SARA PICHELLI $ 19.99
PHOEBE & HER UNICORN GN VOL 10 UNICORN WHISPERER $ 9.99
PLANTS VS ZOMBIES A LITTLE PROBLEM HC $ 9.99
POWER RANGERS PSYCHO PATH ORIGINAL GN $ 19.99
SANDMAN OVERTURE 30TH ANNIVERSARY EDITION TP (MR) $ 19.99
SHIMMERING BOX OF UNICORN SPARKLES BOXED SET $ 39
SILENCER TP VOL 03 UP IN SMOKE $ 16.99
SPIDER-MAN HC ULTIMATE POWER & RESPONSIBILITY MARVEL SELECT $ 24.99
SPIDER-MAN LOVES MARY JANE GN TP UNEXPECTED THING $ 12.99
STAR WARS LITTLE GOLDEN BOOK WE ARE RESISTANCE $ 4.99
WAR OF REALMS TP PUNISHER $ 15.99
WINGS OF FIRE SC GN VOL 03 HIDDEN KINGDOM $ 12.99
WORLD OF WARCRAFT ASHBRINGER HC GN $ 14.95
X-MEN XXL BY JIM LEE HC $ 100

TOPPS 2019 GARBAGE PAIL KIDS SERIES 2 T/C BOX $ ???

DRAGON BALL SUPER ADVERGE 11 10PC MINI FIG DIS $ 9.99
MERMICORNO BMB 4.5IN PLUSH BACKPACK CLIP ASST $ 7.99
TRANSFORMERS CYBERVERSE SCOUT AF ASST $ ???
TRANSFORMERS GEN WFC DLX AF ASST $ 24.99
TRANSFORMERS GEN WFC REFRAKTOR DLX AF 3PK $ 87
TRANSFORMERS MASTERPIECE MP18 PLUS BLUESTREAK AF $ ???
TRANSFORMERS WFC TITAN OMEGA SUPREME AF CS $ 190
UNICORNO BMB 4.5IN PLUSH BACKPACK CLIP ASST $ 7.99

X-MEN #1 YU POSTER $ 8.99