Fall in to Alternate Universes for Respite from the Madness on our Earth One on Wednesday, October 16th, 2019
Absolute Carnage has 4 titles today, followed by Batman, Firefly, Hit-Girl, Journey to Star Wars, Metal Men #1, Rick & Morty D&D, Spider-Man #2, Superman Year One oversized, Superman Smashes the Klan undersized #1 (adaptation of Radio Show Story from the 40's!!!), Wonder Woman, and the start of a blizzard of X-titles starting with X-Men #1. That's all I've got, but the store has about 130 more, plus a ton of new Transformer toys, and 2 tons of new Pops, including a new wave of Holiday Pops from Marvel and Disney.
If you missed the Labor Day Sale and want to know about the next one. . . Click here. Sign in here to get an email reminder for for ALL sales and other events.  Also, you can go to fb.fantasybooksandgames.com and you'll be taken to our Facebook page. We use our in-store 5-Star Rewards system to text similar announcements to your phone, but it pays to be covered, right?
Thanks to Comics on the Green for this week's images, which include many of the comics and a few of the books and other items we received today.
ABSOLUTE CARNAGE #4 (OF 5) AC $ 4.99
ABSOLUTE CARNAGE #4 (OF 5) BRADSHAW CULT OF CARNAGE VAR AC (1/25) $ ???
ABSOLUTE CARNAGE #4 (OF 5) CHRISTOPHER ACTION FIGURE VAR AC $ 4.99
ABSOLUTE CARNAGE #4 (OF 5) DEL MUNDO YOUNG GUNS VAR AC $ 4.99
ABSOLUTE CARNAGE #4 (OF 5) HOTZ CONNECTING VAR AC $ 4.99
ABSOLUTE CARNAGE #4 (OF 5) LIM VAR AC $ 4.99
ABSOLUTE CARNAGE #4 (OF 5) ZAFFINO CODEX VAR AC (1/25) $ ???
ABSOLUTE CARNAGE AVENGERS #1 AC $ 4.99
ABSOLUTE CARNAGE AVENGERS #1 SANDOVAL CODEX VAR AC (1/25) $ ???
ABSOLUTE CARNAGE SCREAM #3 (OF 3) AC $ 3.99
ABSOLUTE CARNAGE SCREAM #3 (OF 3) BAGLEY CONNECTING VAR AC $ 3.99
ABSOLUTE CARNAGE SCREAM #3 (OF 3) SANDOVAL CODEX VAR AC (1/25) $ ???
ABSOLUTE CARNAGE VS DEADPOOL #3 (OF 3) AC $ 3.99
ABSOLUTE CARNAGE VS DEADPOOL #3 (OF 3) BAGLEY CODEX VAR AC (1/25) $ ???
ABSOLUTE CARNAGE VS DEADPOOL #3 (OF 3) LIEFELD CONNECTING VA $ 3.99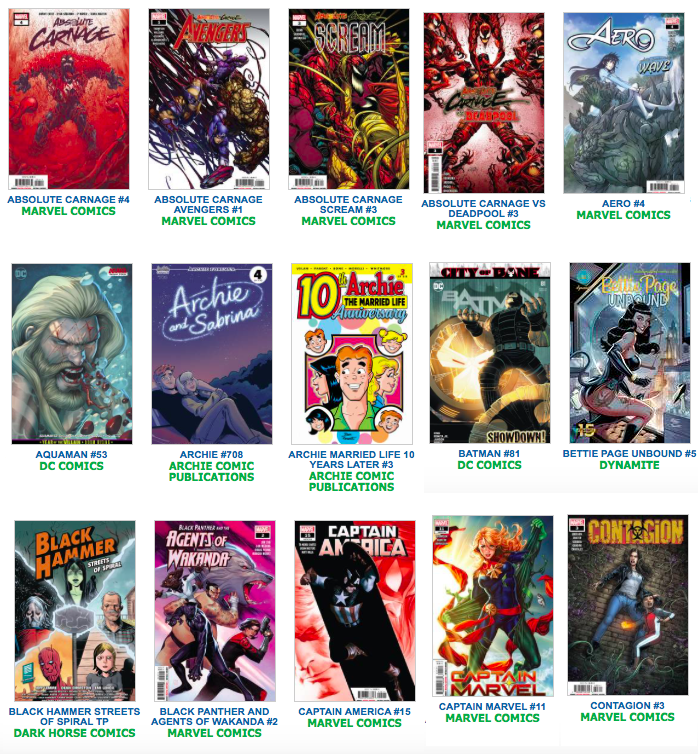 AERO #4 $ 3.99
AERO #4 MOMOKO MARY JANE VAR $ 3.99
AMERICAN GODS MOMENT OF STORM #6 CVR A FABRY (MR $ 3.99
AMERICAN GODS MOMENT OF STORM #6 CVR B MACK (MR) $ 3.99
AQUAMAN #53 VAR ED YOTV $ 3.99
AQUAMAN #53 YOTV $ 3.99
ARCHIE #708 (ARCHIE & SABRINA PT 4) CVR B CABRERA $ 3.99
ARCHIE MARRIED LIFE 10 YEARS LATER #3 CVR A PARENT $ 3.99
BATMAN #81 $ 3.99
BATMAN #81 CARD STOCK VAR ED $ 4.99
BETTIE PAGE UNBOUND #5 CVR C FEDERICI $ 3.99
BETTIE PAGE UNBOUND #5 CVR E PHOTO $ 3.99
BLACK PANTHER AND AGENTS OF WAKANDA #2 $ 3.99
BLACK PANTHER AND AGENTS OF WAKANDA #2 LOPEZ MARY JANE VAR $ 3.99
BLADE RUNNER 2019 #4 CVR B MEAD (MR) $ 3.99
BLADE RUNNER 2019 #4 CVR C GUINALDO (MR) $ 3.99
CAPTAIN AMERICA #15 $ 3.99
CAPTAIN AMERICA #15 HUGHES MARY JANE VAR $ 3.99
CAPTAIN MARVEL #10 2ND PTG CARNERO VAR $ 3.99
CAPTAIN MARVEL #11 $ 3.99
CAPTAIN MARVEL #11 TORQUE MARY JANE VAR $ 3.99
CHASTITY #2 CVR C ANACLETO (MR) $ 3.99
CONTAGION #3 (OF 5) $ 3.99
CONTAGION #3 (OF 5) BROWNE VAR $ 3.99
CRAZY #1 $ 4.99
CRAZY #1 GIST VAR $ 4.99
CULT CLASSIC CREATURE FEATURE #1 CVR A BIVENS (MR) $ 3.99
CULT CLASSIC CREATURE FEATURE #1 CVR B TIM DANIEL (MR) $ 3.99
DARK RED #7 $ 3.99
DEATH-DEFYING DEVIL #3 CVR A LEE $ 3.99
DEATH-DEFYING DEVIL #3 CVR B PARRILLO $ 3.99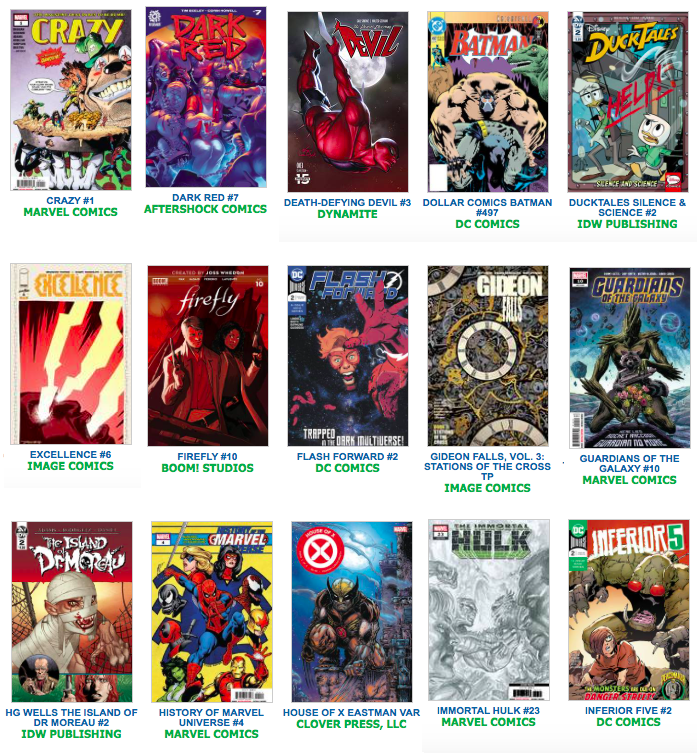 DOLLAR COMICS BATMAN #497 $ 1
DUCKTALES SILENCE & SCIENCE #2 (OF 3) CVR A GHIGLIONE $ 3.99
EXCELLENCE #6 CVR A RANDOLPH & LOPEZ $ 3.99
FIREFLY #10 RAHZZAH VAR (1/15) $ ???
FIREFLY #10 CVR A MAIN GARBETT $ 3.99
FIREFLY #10 CVR B PREORDER QUINONES VAR $ 3.99
FIREFLY #10 FOC SLINEY VAR $ 3.99
FLASH FORWARD #2 (OF 6) $ 3.99
FLASH FORWARD #2 (OF 6) VAR ED $ 3.99
GIDEON FALLS #17 CVR A SORRENTINO (MR) $ 3.99
GIDEON FALLS #17 CVR B MCCREA (MR) $ 3.99
GUARDIANS OF THE GALAXY #10 $ 3.99
GUARDIANS OF THE GALAXY #10 ADAMS MARY JANE VAR $ 3.99
HG WELLS THE ISLAND OF DR MOREAU #2 (OF 2) $ 4.99
HISTORY OF MARVEL UNIVERSE #4 (OF 6) $ 4.99
HISTORY OF MARVEL UNIVERSE #4 (OF 6) RODRIGUEZ VAR $ 4.99
HIT-GIRL SEASON TWO #9 CVR A SHALVEY (MR) $ 3.99
HIT-GIRL SEASON TWO #9 CVR B SHALVEY (MR) $ 3.99
HOUSE OF X EASTMAN VAR $ ???
IMMORTAL HULK #23 2ND PTG ROSS VAR $ 3.99
INFERIOR FIVE #2 (OF 12) $ 3.99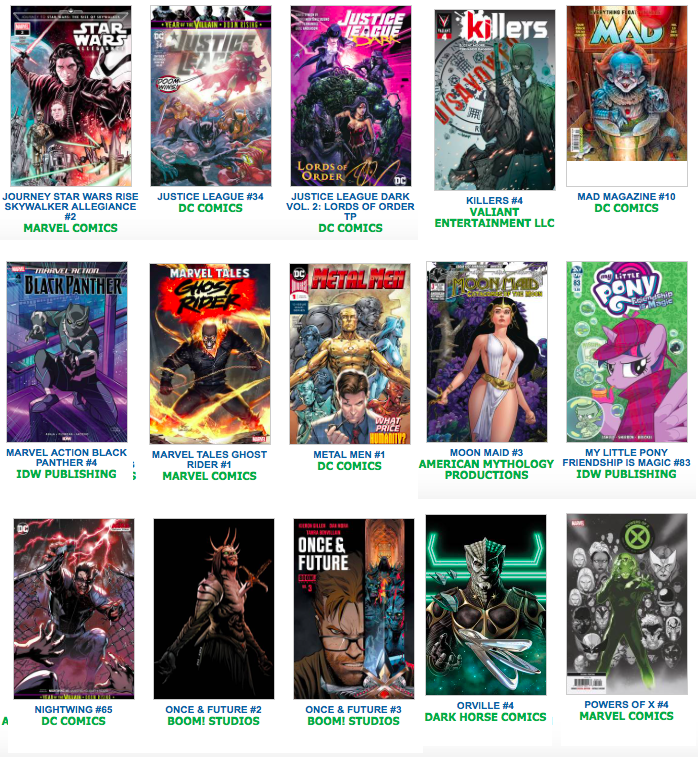 JOURNEY STAR WARS RISE SKYWALKER ALLEGIANCE #2 $ 3.99
JOURNEY STAR WARS RISE SKYWALKER ALLEGIANCE #2 MOVIE VAR (1/10) $ ???
JOURNEY STAR WARS RISE SKYWALKER ALLEGIANCE #2 ROSS VAR $ 3.99
JUSTICE LEAGUE #34 YOTV $ 3.99
JUSTICE LEAGUE #34 CARD STOCK VAR ED YOTV $ 4.99
KILLERS #4 (OF 5) CVR A MEYERS $ 3.99
LIFE IS STRANGE #9 CVR A LEONARDI (MR) $ 3.99
LUCIFER #13 (MR) $ 3.99
MARKED #1 CVR A HABERLIN & VAN DYKE (MR) $ 3.99
MARKED #1 CVR B HABERLIN & VAN DYKE (MR) $ 3.99
MARVEL ACTION BLACK PANTHER #4 FLOREAN $ 3.99
MARVEL TALES GHOST RIDER #1 $ 7.99
MASK I PLEDGE ALLEGIANCE TO THE MASK #1 (OF 4) CVR A REYNOLD $ 3.99
METAL MEN #1 (OF 12) $ 3.99
METAL MEN #1 (OF 12) VAR ED $ 3.99
MY LITTLE PONY FRIENDSHIP IS MAGIC #83 JUSTASUT (1/10) $ ???
MY LITTLE PONY FRIENDSHIP IS MAGIC #83 CVR A SHERRON $ 3.99
NIGHTWING #65 VAR ED YOTV $ 3.99
NIGHTWING #65 YOTV $ 3.99
ONCE & FUTURE #2 (OF 6) (3RD PTG) $ 3.99
ONCE & FUTURE #3 (OF 6) $ 3.99
ORVILLE #4 WORD OF AVIS (PT 2 OF 2) $ 3.99
POWERS OF X #4 (OF 6) 2ND PTG SILVA VAR $ 4.99
PSI-LORDS #5 CVR A TEDESCO $ 3.99
REALM #15 CVR A HAUN & FILARDI (MR) $ 3.99
RICK & MORTY VS D&D II PAINSCAPE #2 CVR A LITTLE (MR) $ 3.99
RICK & MORTY VS D&D II PAINSCAPE #2 CVR B GOUX (MR) $ 3.99
RICK & MORTY VS D&D II PAINSCAPE #2 CVR C LOOK CHARACTER SHE $ 3.99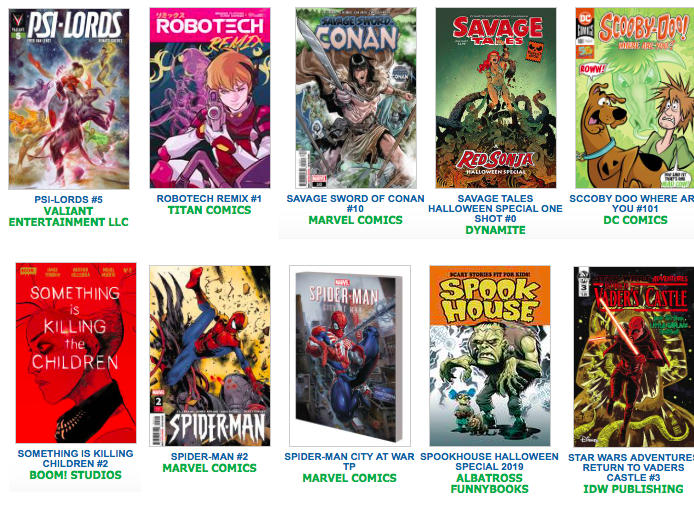 ROBOTECH REMIX #1 CVR A KERSCHL $ 3.99
ROBOTECH REMIX #1 CVR B DAMASO $ 3.99
ROBOTECH REMIX #1 CVR C RENZI $ 3.99
ROBOTECH REMIX #1 CVR D ACTION FIGURE VAR $ 3.99
ROBOTECH REMIX #1 CVR E LAM $ 3.99
ROBOTECH REMIX #1 CVR F BLANK SKETCH $ 3.99
RUMBLE #17 CVR A MACLEAN (MR) $ 3.99
SAVAGE SWORD OF CONAN #10 $ 3.99
SAVAGE TALES HALLOWEEN SPECIAL ONE SHOT #0 CVR A DURSO $ 4.99
SCOOBY DOO WHERE ARE YOU #101 $ 2.99
SILVER SURFER BLACK #1 (OF 5) RODRIGUEZ VAR $ ???
SOMETHING IS KILLING CHILDREN #2 $ 3.99
SOMETHING IS KILLING CHILDREN #2 FOC BERTRAM VAR $ 3.99
SPIDER-MAN #2 (OF 5) $ 3.99
SPIDER-MAN #2 (OF 5) PICHELLI VAR (1/25) $ ???
SPOOKHOUSE HALLOWEEN SPECIAL $ 3.99
STAR WARS ADVENTURES RETURN TO VADERS CASTLE #3 (1/10) $ ???
STAR WARS ADVENTURES RETURN TO VADERS CASTLE #3 CVR A FRANCA $ 3.99
STAR WARS ADVENTURES RETURN TO VADERS CASTLE #3 CVR B BROKEN $ 3.99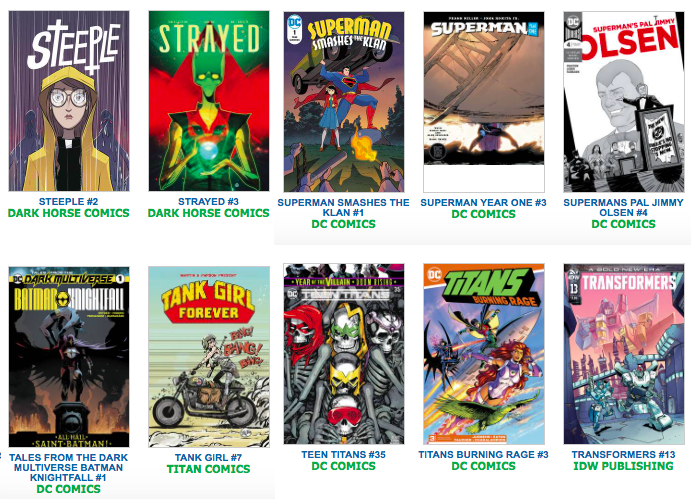 STEEPLE #2 (OF 5) CVR A ALLISON $ 3.99
STRAYED #3 (OF 5) CVR A DOE $ 3.99
SUPERMAN SMASHES THE KLAN #1 (OF 3) $ 7.99
SUPERMAN SMASHES THE KLAN #1 (OF 3) VAR ED $ 7.99
SUPERMAN YEAR ONE #3 (OF 3) MILLER COVER $ 7.99
SUPERMAN YEAR ONE #3 (OF 3) ROMITA COVER $ 7.99
SUPERMANS PAL JIMMY OLSEN #4 (OF 12) $ 3.99
SUPERMANS PAL JIMMY OLSEN #4 (OF 12) VAR ED $ 3.99
TALES FROM THE DARK MULTIVERSE BATMAN KNIGHTFALL #1 $ 5.99
TANK GIRL #7 CVR A PARSON $ 3.99
TANK GIRL #7 CVR B BISHOP $ 3.99
TEEN TITANS #35 VAR ED YOTV $ 3.99
TEEN TITANS #35 YOTV $ 3.99
TITANS BURNING RAGE #3 (OF 7) $ 4.99
TRANSFORMERS #13 SHEPHERD (1/10) $ ???
TRANSFORMERS #13 CVR A CHAN $ 3.99
TRANSFORMERS #13 CVR B UMI MIYAO $ 3.99
TREES THREE FATES #2 (OF 5) (MR) $ 3.99
TRUE BELIEVERS X-MEN JUBILEE #1 $ 1
TRUE BELIEVERS X-MEN RICTOR #1 $ 1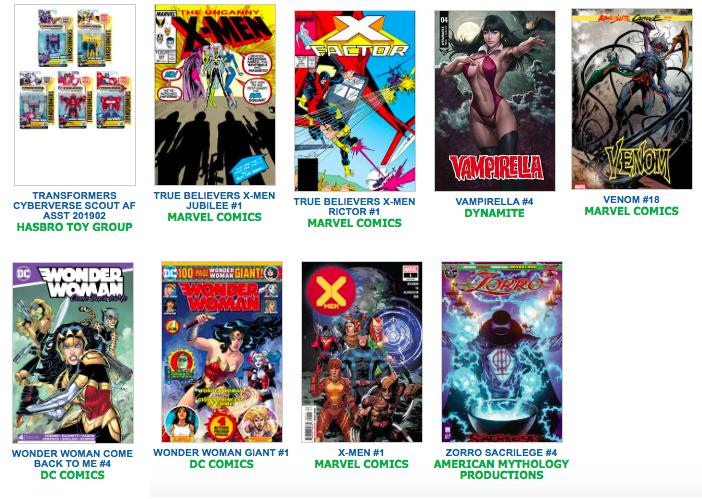 VAMPIRELLA #4 MARCH B&W VIRGIN FOC (1/11) $ ???
VAMPIRELLA #4 CVR A LAU $ 3.99
VAMPIRELLA #4 CVR E COSPLAY $ 3.99
VENOM #18 2ND PTG COELLO VAR AC $ 3.99
VENOM #18 2ND PTG SLINEY IMMORTAL WRPAD VAR AC (1/25) $ ???
WONDER WOMAN COME BACK TO ME #4 (OF 6) $ 4.99
WONDER WOMAN GIANT #1 $ 4.99
X-MEN #1 ARTGERM VAR DX $ 4.99
X-MEN #1 BACHALO HIDDEN GEM VAR DX (1/100) $ ???
X-MEN #1 BAGLEY EVERY MUTANT EVER VAR DX $ 4.99
X-MEN #1 BROOKS PARTY VAR DX $ 4.99
X-MEN #1 CHECCHETTO YOUNG GUNS VAR DX $ 4.99
X-MEN #1 DX $ 4.99
X-MEN #1 MULLER DESIGN VAR DX (1/10) $ ???
X-MEN #1 NYCC 2019 YU VAR DX $ ???
X-MEN #1 PORTACIO VAR DX (1/25) $ ???
ZORRO SACRILEGE #4 HILINSKI POSSESSION CVR $ 3.99

MAD MAGAZINE #10 $ 5.99

ALIENS VS PREDATOR ESSENTIAL COMICS TP VOL 01 (MR) $ 24.99
ANGEL LEGACY ED GN VOL 01 $ 29.99
BLACK HAMMER STREETS OF SPIRAL TP $ 19.99
CASE CLOSED GN VOL 72 $ 9.99
CREATURE GIRLS HANDS ON FIELD JOURNAL WORLD GN VOL 02 (MR) $ 13.99
GIDEON FALLS TP VOL 03 STATIONS OF THE CROSS $ 16.99
GODDESS MODE TP (MR) $ 16.99
GOGOR TP $ 16.99
GRANBLUE FANTASY GN VOL 01 $ 12.99
HIT-MONKEY BY DANIEL WAY TP BULLETS & BANANAS $ 19.99
HOW TO PAINT CHARACTERS MARVEL STUDIOS WAY HC $ 50
IRONHEART GN TP RIRI WILLIAMS $ 12.99
JUSTICE LEAGUE DARK TP VOL 02 LORDS OF ORDER $ 16.99
LEGEND OF ZELDA LINK TO THE PAST GN $ 19.99
MARVEL VISIONARIES TP STEVE DITKO $ 34.99
MINECRAFT STORIES FROM THE OVERWORLD HC $ 14.99
MS MARVEL BY SALADIN AHMED TP VOL 01 $ 17.99
POWERS TP BOOK 07 (MR) $ 39.99
RUNAWAYS BY RAINBOW ROWELL TP VOL 04 BUT YOU CANT HIDE $ 17.99
SPIDER-MAN CITY AT WAR TP $ 19.99
STAR WARS TIE FIGHTER TP $ 15.99
SUPER MARIO ADVENTURES GN $ 14.99
WORLD OF RWBY OFFICIAL COMPANION HC $ 39.99

AVENGERS 4 LEGENDS 6IN AF ASST $ 24.99
DC HEROES BATMAN BATWING POSEABLE DESK LIGHT $ 59.99
MSG RX-78GP02A GUNDAM GP02 ROBOT SPIRITS AF ANIME VER $ 89.99
POCKET POP HARRY POTTER FAWKES KEYCHAIN $ 5.99
POCKET POP HARRY POTTER HERMIONE (YULE) FIG KEYCHAIN $ 5.99
POCKET POP HARRY POTTER RON (YULE) FIG KEYCHAIN $ 5.99
TRANSFORMERS CYBERVERSE SCOUT AF ASST $ 9.99
TRANSFORMERS CYBERVERSE ULTIMATE AF ASST $ 37.99
TRANSFORMERS CYBERVERSE ULTRA AF ASST A $ 24.99
TRANSFORMERS CYBERVERSE ULTRA AF ASST B $ 24.99
TRANSFORMERS CYBERVERSE WARRIOR AF ASST A $ 17.99
TRANSFORMERS CYBERVERSE WARRIOR AF ASST B $ 17.99
TRANSFORMERS WFC TITAN OMEGA SUPREME AF CS $ 190

CARDS OF X promoting upcoming X-titles $ FREE
COMIC SHOP NEWS #1687 $ FREE