Amazing Mary Jane #1 and Immortal Hulk #25 on Wednesday, October 23th, 2019
And they were joined by Amazing Spider-Man, Avengers, Batman Curse of the Dark Knight, Batman Superman, Detective, Flash, JL Dark, Marauders #1 (new X-Book of the week), 3 Star Wars comics, Wonder Woman, Sonic, and Lumberjanes. plus  over 100 more, plus some new PX (Previews eXclusive_) Pops and two new waves of Star Wars figures. What else do you want?
I think our house is going to blow into the canyon, and people are getting electricity cut off again.  Crossing fingers as I pass out onto my keyboard. G'night!
If you missed the Labor Day Sale and want to know about the next one. . . Click here. Sign in here to get an email reminder for for ALL sales and other events.  Also, you can go to fb.fantasybooksandgames.com and you'll be taken to our Facebook page. We use our in-store 5-Star Rewards system to text similar announcements to your phone, but it pays to be covered, right?
Thanks to Comics on the Green for this week's images, which include many of the comics and a few of the books and other items we received today.  
ABSOLUTE CARNAGE #1 (OF 5) 5TH PTG STEGMAN VAR AC $ 7.99
ABSOLUTE CARNAGE #2 (OF 5) 3RD PTG BAGLEY VAR AC $ 4.99
ABSOLUTE CARNAGE #3 (OF 5) 2ND PTG STEGMAN VAR AC $ 4.99
ABSOLUTE CARNAGE LETHAL PROTECTORS #3 (OF 3) AC $ 3.99
ABSOLUTE CARNAGE LETHAL PROTECTORS #3 (OF 3) CODEX VAR AC (1/25) $ ???
ABSOLUTE CARNAGE LETHAL PROTECTORS #3 (OF 3) CONNECTING VAR $ 3.99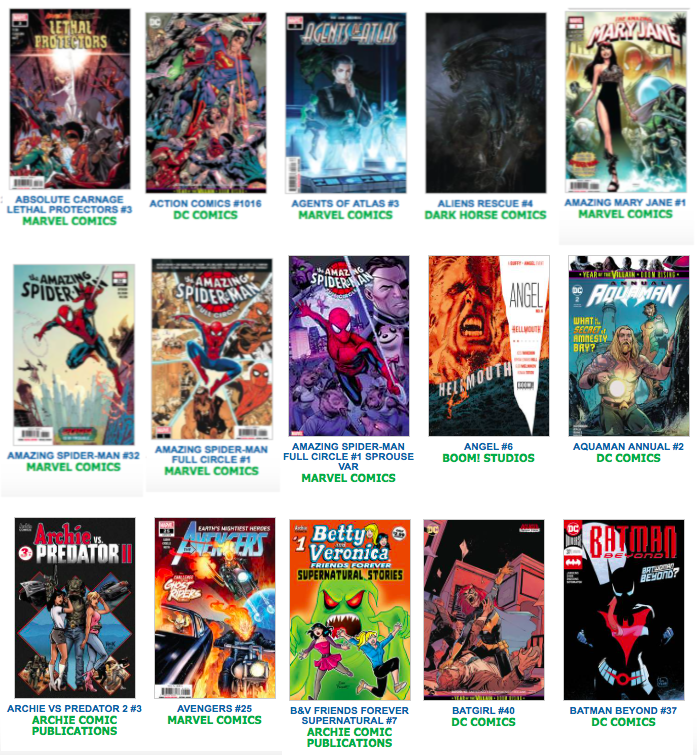 ACTION COMICS #1016 VAR ED YOTV $ 3.99
ACTION COMICS #1016 YOTV $ 3.99
AGENTS OF ATLAS #3 (OF 5) $ 3.99
ALIENS RESCUE #4 (OF 4) CVR A DE LA TORRE $ 3.99
ALIENS RESCUE #4 (OF 4) CVR B CHATER $ 3.99
AMAZING MARY JANE #1 $ 3.99
AMAZING MARY JANE #1 ARTGERM VAR $ 3.99
AMAZING MARY JANE #1 ARTGERM VIRGIN VAR (1/500) $ ???
AMAZING MARY JANE #1 BLANK VAR $ 3.99
AMAZING MARY JANE #1 GOMEZ VAR (1/25) $ ???
AMAZING MARY JANE #1 HIDDEN GEM VAR (1/100) $ ???
AMAZING MARY JANE #1 NYCC 2019 RAMOS VAR (Net) $ ???
AMAZING MARY JANE #1 PAREL VAR (1/50) $ ???
AMAZING MARY JANE #1 RAMOS VIRGIN VAR (1/200) $ ???
AMAZING MARY JANE #1 RUD VAR (1/10) $ ???
AMAZING SPIDER-MAN #32 $ 3.99
AMAZING SPIDER-MAN #32 ART ADAMS 8 PART CONNECTING VAR $ 3.99
AMAZING SPIDER-MAN #32 ASRAR MARY JANE VAR $ 3.99
AMAZING SPIDER-MAN FULL CIRCLE #1 $ 9.99
AMAZING SPIDER-MAN FULL CIRCLE #1 BLANK VAR $ 9.99
AMAZING SPIDER-MAN FULL CIRCLE #1 SPROUSE VAR $ 9.99
ANGEL #6 CVR A MAIN PANOSIAN $ 3.99
AQUAMAN ANNUAL #2 $ 4.99
ARCHIE AND ME JUMBO COMICS DIGEST #22 $ 7.99
ARCHIE MILESTONES DIGEST #5 $ 7.99
ARCHIE VS PREDATOR 2 #3 (OF 5) CVR B BRAGA $ 3.99
ASCENDER #6 (MR) $ 3.99
AVENGERS #25 $ 3.99
AVENGERS #25 ALEX ROSS MARVELS 25TH VAR $ 3.99
AVENGERS #25 ANACLETO MARY JANE VAR $ 3.99
B&V FRIENDS FOREVER SUPERNATURAL #1 $ 2.99
BATGIRL #40 VAR ED YOTV $ 3.99
BATGIRL #40 YOTV $ 3.99
BATMAN BEYOND #37 $ 3.99
BATMAN BEYOND #37 VAR ED $ 3.99
BATMAN CURSE OF THE WHITE KNIGHT #4 (OF 8) $ 4.99
BATMAN CURSE OF THE WHITE KNIGHT #4 (OF 8) VAR ED $ 4.99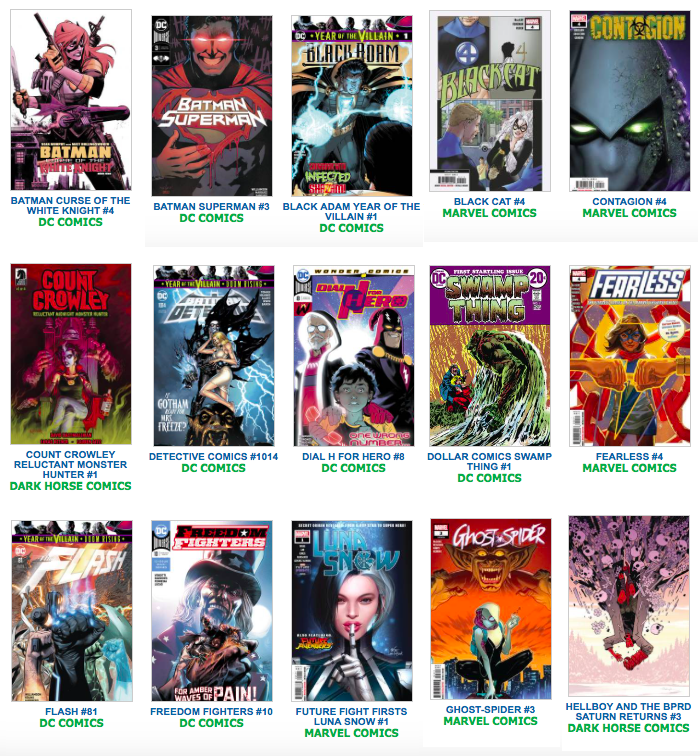 BATMAN SUPERMAN #3 $ 3.99
BATMAN SUPERMAN #3 VAR ED $ 3.99
BLACK ADAM YEAR OF THE VILLAIN #1 $ 4.99
BLACK CAT #4 2ND PTG VAR $ 3.99
BLOODBORNE #16 CVR A MAGILL (MR) $ 3.99
BOOKS OF MAGIC #13 (MR) $ 3.99
CONTAGION #4 (OF 5) $ 3.99
CONTAGION #4 (OF 5) BROWNE VAR $ 3.99
COUNT CROWLEY RELUCTANT MONSTER HUNTER #1 (OF 4) $ 3.99
CRIMINAL #9 (MR) $ 3.99
DETECTIVE COMICS #1014 CARD STOCK VAR ED YOTV $ 4.99
DETECTIVE COMICS #1014 YOTV $ 3.99
DIAL H #8 (OF 12) $ 3.99
DOCTOR MIRAGE #3 (OF 5) CVR A TAN $ 3.99
DOLLAR COMICS SWAMP THING #1 $ 1
FEARLESS #4 (OF 4) $ 4.99
FEARLESS #4 (OF 4) FRISON CONNECTING VAR $ 4.99
FLASH #81 YOTV $ 3.99
FLASH #81 YOTV VAR ED $ 3.99
FREEDOM FIGHTERS #10 (OF 12) $ 3.99
FUTURE FIGHT FIRSTS LUNA SNOW #1 $ 4.99
FUTURE FIGHT FIRSTS LUNA SNOW #1 COAX VAR $ 4.99
FUTURE FIGHT FIRSTS LUNA SNOW #1 TAKEDA AVENGERS VAR $ 4.99
GHOST-SPIDER #3 $ 3.99
GHOST-SPIDER #3 DAUTERMAN MARY JANE VAR $ 3.99
HELLBOY AND THE BPRD SATURN RETURNS #3 (OF 3) $ 3.99
HOUSE OF X #2 (OF 6) 4TH PTG LARRAZ VAR $ 4.99
HOUSE OF X #3 (OF 6) 3RD PTG SHALVEY VAR $ 4.99
HOUSE OF X #5 (OF 6) 2ND PTG LARRAZ VAR $ 4.99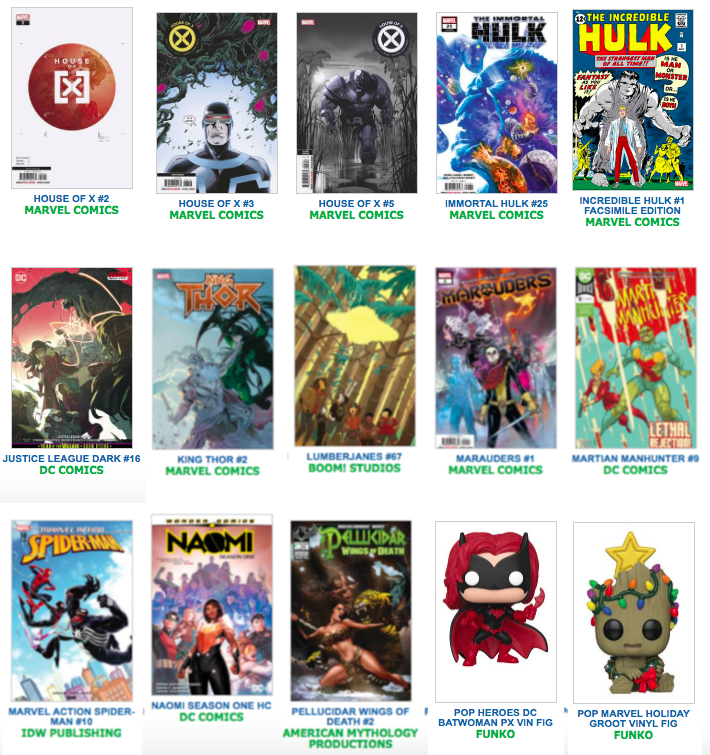 IMMORTAL HULK #25 $ 5.99
IMMORTAL HULK #25 ANKA MARY JANE VAR $ 5.99
IMMORTAL HULK #25 BENNETT VAR $ 5.99
IMMORTAL HULK #25 COLAN NEBRES HIDDEN GEM VAR (1/100) $ ???
IMMORTAL HULK #25 GREEN VAR (1/200) $ ???
IMMORTAL HULK #25 LIM VAR (1/50) $ ???
IMMORTAL HULK #25 MCGUINNESS VAR (1/10) $ ???
IMMORTAL HULK #25 SORRENTINO VAR (1/25) $ ???
IMMORTAL HULK DIRECTORS CUT #6 (OF 6) $ 4.99
INCREDIBLE HULK #1 FACSIMILE EDITION $ 3.99
JUSTICE LEAGUE DARK #16 VAR ED YOTV $ 3.99
JUSTICE LEAGUE DARK #16 YOTV $ 3.99
KING THOR #2 (OF 4) $ 3.99
LUMBERJANES #67 CVR A LEYH $ 3.99
MARAUDERS #1 DAUTERMAN RED QUEEN VAR DX $ 4.99
MARAUDERS #1 DX $ 4.99
MARAUDERS #1 KUDER YOUNG GUNS VAR DX $ 4.99
MARAUDERS #1 LEONARDI HIDDEN GEM VAR DX (1/100) $ ???
MARAUDERS #1 MULLER DESIGN VAR DX (1/10) $ ???
MARAUDERS #1 NAUCK VAR DX (1/50) $ ???
MARAUDERS #1 PHILIP TAN VAR DX (1/25) $ ???
MARTIAN MANHUNTER #9 (OF 12) $ 3.99
MARTIAN MANHUNTER #9 (OF 12) VAR ED $ 3.99
MARVEL ACTION SPIDER-MAN #10 MEYERS (1/10) $ ???
MARVEL ACTION SPIDER-MAN #10 CVR A TINTO $ 3.99
MIDDLEWEST #12 (MR) $ 3.99
MILES MORALES SPIDER-MAN #10 2ND PTG GARRON VAR $ 4.99
MONEY SHOT #1 CVR A ISAACS (MR) $ 3.99
MONEY SHOT #1 CVR B GOODEN (MR) $ 3.99
PELLUCIDAR WINGS OF DEATH #2 CVR A MARTINEZ $ 3.99
POWERS OF X #2 (OF 6) 4TH PTG SILVA VAR $ 4.99
POWERS OF X #3 (OF 6) 3RD PTG SHALVEY VAR $ 4.99
POWERS OF X #4 (OF 6) 3RD PTG SHALVEY VAR $ 4.99
POWERS OF X #5 (OF 6) 2ND PTG SILVA VAR $ 4.99
PRETTY VIOLENT #3 (MR) $ 3.99
PUNISHER KILL KREW #4 (OF 5) $ 3.99
RAT QUEENS #19 (MR) $ 3.99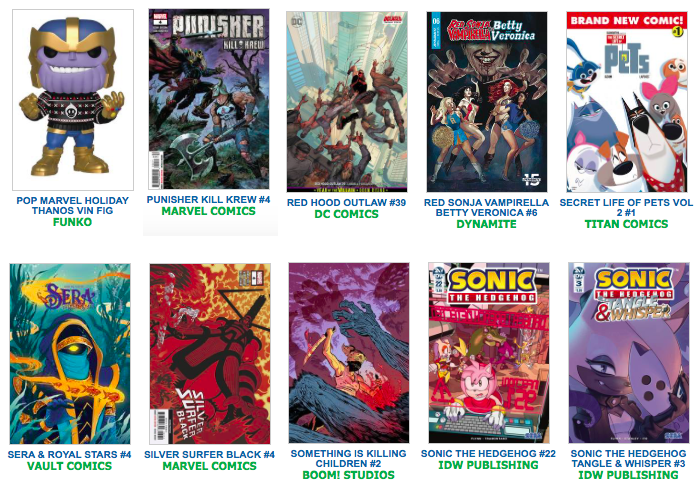 RED HOOD OUTLAW #39 VAR ED YOTV $ 3.99
RED HOOD OUTLAW #39 YOTV $ 3.99
RED SONJA VAMPIRELLA BETTY VERONICA #6 CVR B HACK $ 3.99
RED SONJA VAMPIRELLA BETTY VERONICA #6 CVR D PARENT $ 3.99
SAVAGE DRAGON #246 (MR) $ 3.99
SECOND COMING #3 (MR) $ 3.99
SECOND COMING #4 (MR) $ 3.99
SECRET LIFE OF PETS VOL 2 #1 $ 3.99
SERA & ROYAL STARS #4 $ 3.99
SHARKEY BOUNTY HUNTER #6 (OF 6) CVR A BIANCHI (MR) $ 3.99
SHOWS END #3 (OF 5) $ 3.99
SILVER SURFER BLACK #4 (OF 5) 2ND PTG MOORE VAR $ 3.99
SONIC THE HEDGEHOG #22 FOURDRAINE (1/10) $ ???
SONIC THE HEDGEHOG #22 CVR A JAMPOLE $ 3.99
SONIC THE HEDGEHOG #22 CVR B SKELLY $ 3.99
SONIC THE HEDGEHOG TANGLE & WHISPER #3 (OF 4) T (1/10) $ ???
SONIC THE HEDGEHOG TANGLE & WHISPER #3 (OF 4) CVR A STANLEY $ 3.99
SONIC THE HEDGEHOG TANGLE & WHISPER #3 (OF 4) CVR B FOURDRAI $ 3.99
SPIDER-MAN #1 (OF 5) 2ND PTG COIPEL VAR $ 4.99
SPIDER-MAN VELOCITY #3 (OF 5) $ 3.99
STEVEN UNIVERSE ONGOING #33 CVR A PENA $ 3.99
STEVEN UNIVERSE ONGOING #33 CVR B PREORDER VENDIVIL VAR (C: $ 3.99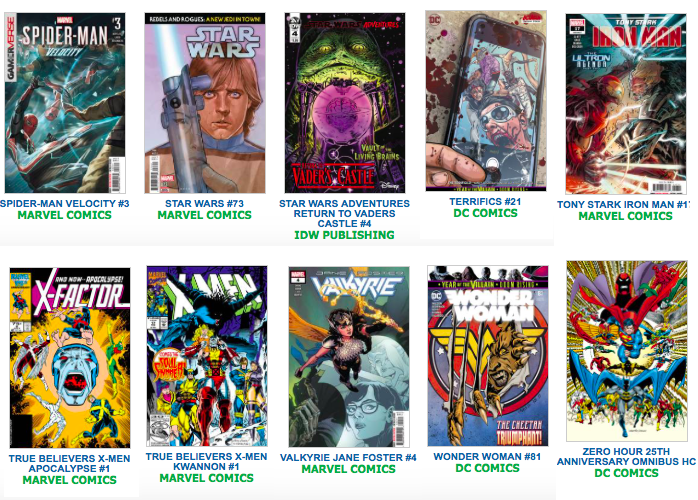 STRIKEFORCE #2 $ 3.99
STRIKEFORCE #2 SORRENTNO VAR (1/25) $ ???
SWAMP THING GIANT #1 $ 4.99
JOURNEY STAR WARS RISE SKYWALKER ALLEGIANCE #3 $ 3.99
JOURNEY STAR WARS RISE SKYWALKER ALLEGIANCE #3 MCKONE VAR $ 3.99
JOURNEY STAR WARS RISE SKYWALKER ALLEGIANCE #3 MOVIE VAR (1/10) $ ???
STAR WARS #73 $ 3.99
STAR WARS #73 CHRISTOPHER ACTION FIGURE VAR $ 3.99
STAR WARS #73 REIS GREATEST MOMENTS VAR $ 3.99
STAR WARS ADVENTURES RETURN TO VADERS CASTLE #4 (1/10) $ ???
STAR WARS ADVENTURES RETURN TO VADERS CASTLE #4 CVR A FRANCA $ 3.99
STAR WARS ADVENTURES RETURN TO VADERS CASTLE #4 CVR B BALDAR $ 3.99
TERRIFICS #21 VAR ED YOTV $ 3.99
TERRIFICS #21 YOTV $ 3.99
TOMMY GUN WIZARDS #3 (OF 4) CVR A WARD $ 3.99
TONY STARK IRON MAN #17 $ 3.99
TONY STARK IRON MAN #17 RAHZZAH MARY JANE VAR $ 3.99
TRUE BELIEVERS X-MEN APOCALYPSE #1 $ 1
TRUE BELIEVERS X-MEN KWANNON #1 $ 1
UNBOUND #1 (OF 5) CVR A VITORINO $ 3.99
VALKYRIE JANE FOSTER #4 $ 3.99
VALKYRIE JANE FOSTER #4 LUPACCHINO MARY JANE VAR $ 3.99
WONDER WOMAN #81 VAR ED YOTV $ 3.99
WONDER WOMAN #81 YOTV $ 3.99
YOU ARE OBSOLETE #2 $ 3.99

COMIC SHOP NEWS #1688 $ FREE (maybe next week?)

ADVENTURE TIME MARCELINE TP $ 9.99
AMAZING SPIDER-MAN BY NICK SPENCER TP VOL 05 BEHIND SCENES $ 19.99
AMERICAN CARNAGE TP (MR) $ 19.99
ASCENDER TP VOL 01 (MR) $ 9.99
BERSERK DELUXE EDITION HC VOL 03 (MR) $ 49.99
BLACK CANARY IGNITE TP DC ZOOM $ 9.99
CHARLIE BROWN ALL TIED UP TP $ 9.99
DAREDEVIL EPIC COLLECTION TP WOMAN CALLED WIDOW $ 39.99
DC SUPER HERO GIRLS AT METROPOLIS HIGH TP $ 9.99
DISNEY FROZEN 2 LITTLE GOLDEN BOOK $ 4.99
DOCTOR STRANGE EPIC COLLECTION TP TRIUMPH AND TORMENT $ 39.99
EVOLUTION TP VOL 03 (MR) $ 16.99
FANTASTIC FOUR BEHOLD GALACTUS MARVEL SELECT HC $ 24.99
HEX WIVES TP (MR) $ 16.99
I AM A HERO OMNIBUS TP VOL 11 $ 19.99
INVISIBLE KINGDOM TP VOL 01 (MR) $ 19.99
JIM HENSON POWER OF DARK CRYSTAL TP VOL 02 $ 16.99
MARVEL ACTION AVENGERS TP BOOK 02 RUBY EGRESS $ 9.99
MUTANT X COMPLETE COLLECTION TP VOL 02 $ 39.99
NAOMI SEASON ONE HC $ 19.99
SPIDER-MAN LIFE STORY TP $ 24.99
STAR WARS GALAXYS EDGE TP $ 15.99
STAR WARS RETURN OF JEDI GN ADAPTATION TP $ 9.99
SUPER SONS BOOK 02 THE FOXGLOVE MISSION TP DC ZOOM $ 9.99
TEEN TITANS TP VOL 02 TURN IT UP $ 16.99
TIMELYS GREATEST HC GOLDEN AGE SIMON & KIRBY OMNIBUS DM VAR $ 150
TOKYO GHOUL RE GN VOL 13 $ 12.99
WONDER WOMAN HC VOL 01 THE JUST WAR $ 24.99
WRITE YOUR OWN MARVEL TP $ 14.99
X-MEN MILESTONES TP X-CUTIONERS SONG $ 34.99
ZERO HOUR 25TH ANNIVERSARY OMNIBUS HC $ 150

TOPPS 2019 WWE SMACKDOWN T/C BOX $ ???

DC GALLERY DARKSEID COMIC DLX PVC FIGURE $ 69.99
GUNDAM WING 228 GUNDAM SANDROCK HGAC 1/144 MDL KIT $ ???
HARLEY QUINN RED WHITE & BLACK STATUE BY GREG HORN $ 79.99
HW SW COMMEMORATIVE SERIES DIE-CAST VEHICLE ASST $ ???
MY HERO ACADEMIA WCF 56PC BMB FIG ASST $ 671.44
POP DISNEY LITTLE MERMAID 10IN URSULA $ 24.99
POP HEROES DC BATWOMAN PX VIN FIG $ 11.99
POP MARVEL INTO SPIDERVERSE CASUAL MILES MORALES PX VIN FIG $ ???
SW BLACK SERIES 6IN AF ASST 201903 $ ???
SW VINTAGE 3-3/4IN AF ASST 201905 $ ???
TOKIDOKI CACTUS BUNNIES 16PC BMB DS $ 128
BATMAN COURT OF OWLS BOOK & MASK SET $ 29.99
BATMAN DARK KNIGHT RETURNS BOOK & MASK SET $ 39.99
BATMAN THE COURT OF OWLS COLORING BOOK TP $ 15.99
COLORING DC SUPERGIRL TP $ 15.99
COLORING DC TP VOL 01 BATMAN HUSH $ 15.99
COLORING DC WONDER WOMAN TP $ 15.99
DEATHSTROKE BOOK AND MASK SET $ 29.99
FLASH AN ADULT COLORING BOOK TP $ 15.99
HARLEY QUINN & SUICIDE SQUAD AN ADULT COLORING BOOK TP $ 15.99
JUSTICE LEAGUE AN ADULT COLORING BOOK TP $ 15.99