A-Less A-List of Comics on the Fifth Wednesday, October 30th, 2019
There is Absolutely no Carnage on the racks this week! Amazing! No Amazing, either. IN FACT, except that DC &/or Diamond have no clue how to name things properly, naming 1 comic Aquaman Giant and the other one  DC Ghosts Giant, there would be either Zero or Two comics that start with "A". That's it. Last week there were 28+. Who cares? I have no life and pick my entertainment where I can find it.
It's the 5th Wednesday, which often means a smaller week. I'll lead with Image! Chrononauts Futureshock #1 by Mark Millar and Kick-Ass. That's it. Other  pubs brought forth Rick and Morty, Fight Club, Power Rangers, MLPony, Transformers #99, and Roku.
DC is oversized with Harleen #2, and Joker Killer Smile in the DC Black Label (mature) Graphic Novel format, Sandman Special: Hellblazer, the "annuals" mentioned above, plus Outsiders, Batman, Nightwing, and Wonder Woman.
Marvel continues its X-blitz, with Excalibur #1 being the X-book of the week, along with Black Panther, Conan, Fantastic Four Grand Design #1, Friendly NHS, Invisible Woman, Red Goblin Red Death 
#1, Savage Avengers, Silver Surfer Black, 4 Star Wars comics , Venom and Marvel Zombies Resurrection (makes you think, dunnit?) #1.
If you missed the Labor Day Sale and want to know about the next one. . . Click here. Sign in here to get an email reminder for for ALL sales and other events.  Also, you can go to fb.fantasybooksandgames.com and you'll be taken to our Facebook page. We use our in-store 5-Star Rewards system to text similar announcements to your phone, but it pays to be covered, right?
Thanks to Comics on the Green for this week's images, which include many of the comics and a few of the books and other items we received today.
AMAZING SPIDER-MAN #30 2ND PTG OTTLEY VAR AC $ 3.99 (reprint to doesn't count)
AQUAMAN GIANT #1 $ 4.99 (should be called DC Aquaman…)
B & V FRIENDS JUMBO COMICS DIGEST #275 $ 7.99
BASKETFUL OF HEADS #1 (OF 6) (MR) $ 3.99
BASKETFUL OF HEADS #1 (OF 6) CARD STOCK VAR ED (MR) $ 4.99
BATMAN AND THE OUTSIDERS ANNUAL #1 $ 4.99
BATMAN ANNUAL #4 $ 4.99
BLACK PANTHER #17 $ 3.99
BLOODSHOT (2019) #2 CVR A SHALVEY $ 3.99
BLOODSHOT (2019) #2 CVR B JOHNSON $ 3.99
BLOODSHOT (2019) #2 CVR C BISLEY $ 3.99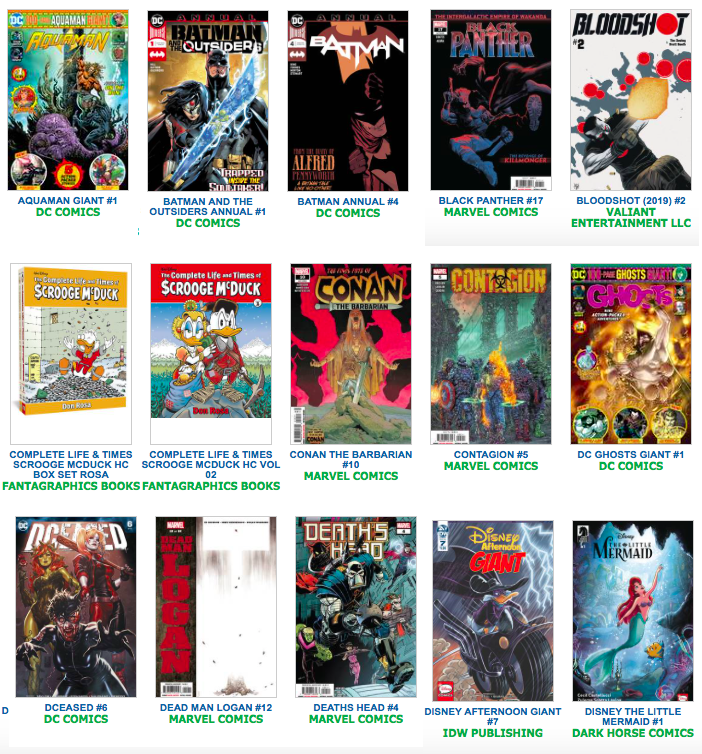 CHRONONAUTS FUTURESHOCK #1 (OF 4) CVR A FERRY (MR) $ 3.99
CHRONONAUTS FUTURESHOCK #1 (OF 4) CVR B FERRY (MR) $ 3.99
CHRONONAUTS FUTURESHOCK #1 (OF 4) CVR C CHAREST (MR) $ 3.99
CHRONONAUTS FUTURESHOCK #1 (OF 4) CVR D CANETE (MR) $ 3.99
CHRONONAUTS FUTURESHOCK #1 (OF 4) CVR E NOWLAN (MR) $ 3.99
CHRONONAUTS FUTURESHOCK #1 (OF 4) CVR F BLANK CVR (MR) $ 3.99
CHRONONAUTS FUTURESHOCK #1 (OF 4) CVR G MACUTAY (MR) $ 3.99
CHRONONAUTS FUTURESHOCK #2 (OF 4) CVR A FERRY (MR) $ 3.99
CHRONONAUTS FUTURESHOCK #3 (OF 4) CVR A FERRY (MR) $ 3.99
CHRONONAUTS FUTURESHOCK #4 (OF 4) CVR A FERRY (MR) $ 5.99
CONAN THE BARBARIAN #10 $ 3.99
DC GHOSTS GIANT #1 $ 4.99
DCEASED #6 (OF 6) $ 4.99
DCEASED #6 (OF 6) CARD STOCK HORROR VAR ED $ 5.99
DCEASED #6 (OF 6) CARD STOCK VAR ED $ 5.99
DEAD MAN LOGAN #12 (OF 12) $ 3.99
DEATHS HEAD #4 (OF 4) $ 3.99
DEATHS HEAD #4 (OF 4) MCCREA CONNECTING VAR $ 3.99
DISNEY AFTERNOON GIANT #7 CVR A MAGIC EYE STUDIOS $ 5.99
DISNEY THE LITTLE MERMAID #1 (OF 3) $ 3.99
DOCTOR STRANGE ANNUAL #1 $ 4.99
DOCTOR STRANGE ANNUAL #1 SKROCE VAR $ 4.99
DOLLAR COMICS SUPERMAN #75 $ 1
ETHER DISAPPEARANCE OF VIOLET BELL #2 (OF 5) CVR A RUBIN $ 3.99
FANTASTIC FOUR GRAND DESIGN #1 (OF 2) $ 5.99
FANTASTIC FOUR GRAND DESIGN #1 (OF 2) PISKOR VAR $ 5.99
FANTASTIC FOUR GRAND DESIGN #1 (OF 2) SCIOLI VAR $ 5.99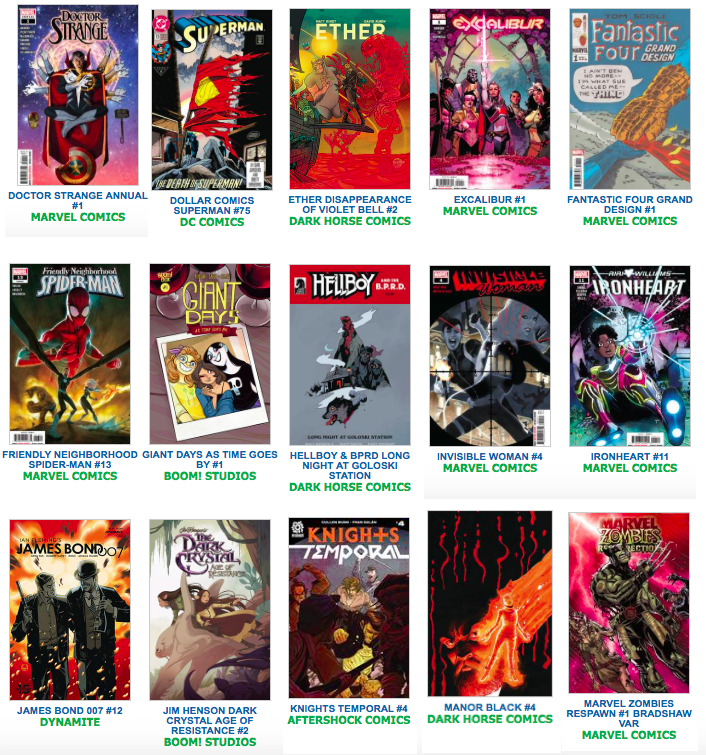 EXCALIBUR #1 ANKA VAR DX (1/25) $ ???
EXCALIBUR #1 BAGLEY EVERY MUTANT EVER VAR DX $ 4.99
EXCALIBUR #1 DAVIS HIDDEN GEM VAR DX (1/100) (Maybe next week?) $ ???
EXCALIBUR #1 DEL MUNDO YOUNG GUNS VAR DX $ 4.99
EXCALIBUR #1 DX $ 4.99
EXCALIBUR #1 MCKONE VAR DX (1/50) $ ???
EXCALIBUR #1 MULLER DESIGN VAR DX (1/10) $ ???
FIGHT CLUB 3 #10 CVR A MACK (MR) $ 3.99
FRIENDLY NEIGHBORHOOD SPIDER-MAN #13 $ 3.99
GIANT DAYS AS TIME GOES BY #1 CVR A SARIN $ 7.99
HARLEEN #2 (OF 3) (MR) $ 7.99
HARLEEN #2 (OF 3) VAR ED (MR) $ 7.99
HELLBOY & BPRD LONG NIGHT AT GOLOSKI STATION $ 3.99
INVISIBLE KINGDOM #6 (MR) $ 3.99
INVISIBLE WOMAN #4 (OF 5) $ 3.99
IRONHEART #11 $ 3.99
JAMES BOND 007 #12 CVR A JOHNSON $ 3.99
JIM HENSON DARK CRYSTAL AGE OF RESISTANCE #2 CVR A $ 3.99
JIM HENSON DARK CRYSTAL AGE OF RESISTANCE #2 FOC PETERSON VA $ 3.99
JIM HENSON DARK CRYSTAL AGE RESISTANCE #2 CVR B CONNECTING V $ 3.99
JOKER KILLER SMILE #1 (OF 3) (MR) $ 5.99
JOKER KILLER SMILE #1 (OF 3) VAR ED (MR) $ 5.99
KICK-ASS #18 CVR A FRUSIN (MR) $ 3.99
KICK-ASS #18 CVR B FRUSIN (MR) $ 3.99
KICK-ASS #18 CVR C WARD (MR) $ 3.99
KNIGHTS TEMPORAL #4 $ 3.99
LAST GOD #1 (MR) $ 4.99
LAST GOD #1 CARD STOCK VAR ED (MR) $ 4.99
MALL #3 (MR) $ 3.99
MARVEL PREVIEWS VOL 04 #28 NOVEMBER 2019 $ FREE*
PREVIEWS #374 NOVEMBER 2019 $ 3.99
MANOR BLACK #4 (OF 4) CVR A CROOK $ 3.99
MARVEL ZOMBIES RESURRECTION #1 $ 4.99
MARVEL ZOMBIES RESURRECTION #1 BRADSHAW VAR $ 4.99
MARVEL ZOMBIES RESURRECTION #1 JUNGGEUN YOON VAR $ 4.99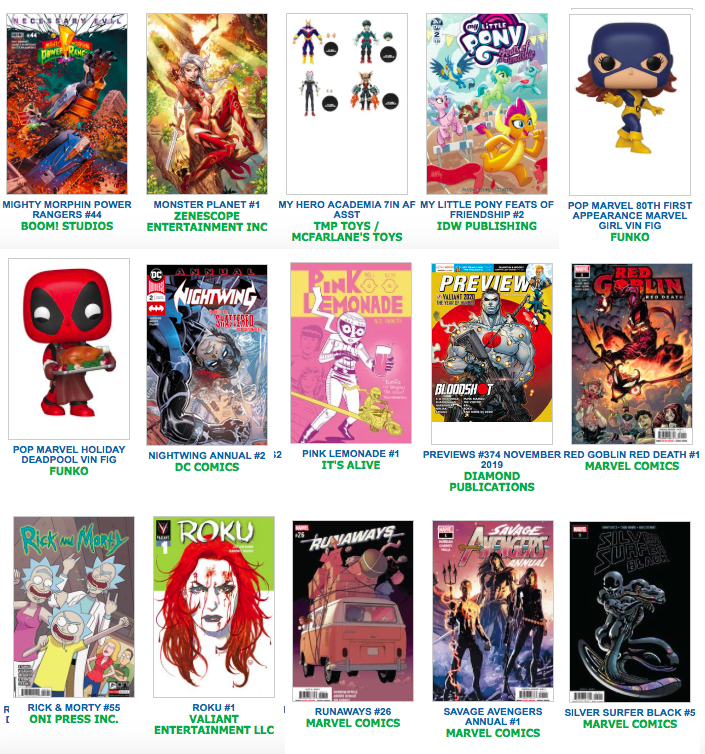 MIGHTY MORPHIN POWER RANGERS #44 CVR A CAMPBELL $ 3.99
MIGHTY MORPHIN POWER RANGERS #44 FOC MORA VAR $ 3.99
MIGHTY MORPHIN POWER RANGERS #44 FOIL MONTES VAR $ 4.99
MONSTER PLANET #1 (OF 5) CVR C ROYLE $ 3.99
MY LITTLE PONY FEATS OF FRIENDSHIP #2 ONEILL (1/10) $ ???
MY LITTLE PONY FEATS OF FRIENDSHIP #2 CVR A FLEECS $ 3.99
NIGHTWING ANNUAL #2 $ 4.99
NOMEN OMEN #1 (OF 15) 2ND PTG (MR) $ 3.99
PINK LEMONADE #1 CVR A NICK CAGNETTI $ 3.99
PLOT #1 2ND PTG (MR) $ 3.99
PLOT #2 (MR) $ 3.99
QUEEN OF BAD DREAMS #5 (OF 5) (MR) $ 3.99
RED GOBLIN RED DEATH #1 $ 4.99
RED GOBLIN RED DEATH #1 DAUGHTRY GARNEY WRPAD VAR $ 4.99
RED GOBLIN RED DEATH #1 LUBERA VAR $ 4.99
RED GOBLIN RED DEATH #1 RON LIM VAR $ 4.99
RED GOBLIN RED DEATH #1 WOODS VAR (1/25) $ 4.99
RED SONJA #9 COSPLAY VIRGIN FOC (1/15) (Maybe next week?) $ 3.99
RICK & MORTY #55 CVR A ELLERBY $ 3.99
RICK & MORTY #55 CVR B CALTSOUDAS $ 3.99
ROKU #1 (OF 4) CVR A JOHNSON $ 3.99
ROKU #1 (OF 4) CVR B KALVACHEV $ 3.99
RUNAWAYS #26 $ 3.99
SANDMAN UNIVERSE SPECIAL HELLBLAZER #1 (MR) $ 4.99
SANDMAN UNIVERSE SPECIAL HELLBLAZER #1 VAR ED (MR) $ 4.99
SAVAGE AVENGERS ANNUAL #1 $ 4.99
SAVAGE AVENGERS ANNUAL #1 GARNEY VAR $ 4.99
SFSX SAFE SEX #2 (MR) $ 3.99
SILVER SURFER BLACK #5 (OF 5) $ 3.99
SILVER SURFER BLACK #5 (OF 5) NAKAYAMA MARY JANE VAR $ 3.99
SILVER SURFER BLACK #5 (OF 5) RON LIM VAR $ 3.99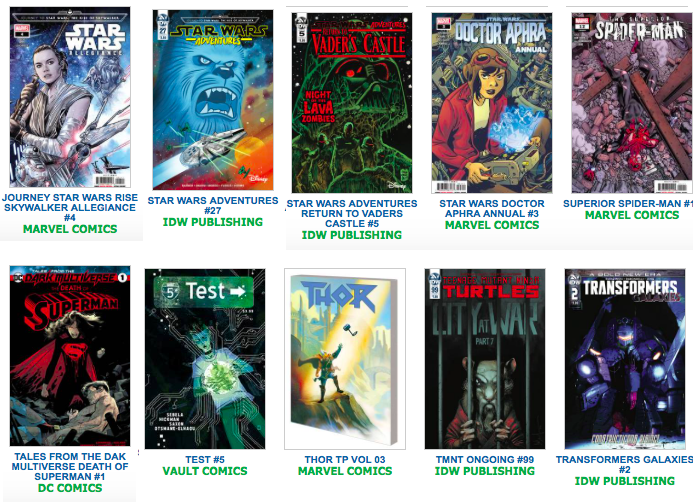 STAR PIG #4 (OF 4) CVR A RICHARD $ 3.99
STAR WARS ADVENTURES #27 BRACCHI (1/10) $ ???
STAR WARS ADVENTURES #27 CVR A CHARM $ 3.99
STAR WARS ADVENTURES #27 CVR B FLEECS $ 3.99
STAR WARS ADVENTURES RETURN TO VADERS CASTLE #5 VAR (1/10) $ ???
STAR WARS ADVENTURES RETURN TO VADERS CASTLE #5 CVR A FRANCA $ 3.99
STAR WARS ADVENTURES RETURN TO VADERS CASTLE #5 CVR B WILSON $ 3.99
JOURNEY STAR WARS RISE SKYWALKER ALLEGIANCE #4 $ 3.99
JOURNEY STAR WARS RISE SKYWALKER ALLEGIANCE #4 MOVIE VAR (1/10) $ ???
JOURNEY STAR WARS RISE SKYWALKER ALLEGIANCE #4 SLINEY VAR $ 3.99
STAR WARS DOCTOR APHRA ANNUAL #3 $ 4.99
STAR WARS DOCTOR APHRA ANNUAL #3 DORAN VAR (1/25) $ ???
STAR WARS DOCTOR APHRA ANNUAL #3 MCKONE GREATEST MOMENTS VAR $ 4.99
TALES FROM THE DARK MULTIVERSE DEATH OF SUPERMAN #1 $ 5.99
TEST #5 $ 3.99
TMNT ONGOING #99 SCHITI (1/10) $ ???
TMNT ONGOING #99 CVR A WACHTER $ 7.99
TMNT ONGOING #99 CVR B EASTMAN $ 7.99
TRANSFORMERS GALAXIES #2 GRIFFITH (1/10) $ ???
TRANSFORMERS GALAXIES #2 CVR A RAMONDELLI $ 3.99
TRANSFORMERS GALAXIES #2 CVR B MILNE $ 3.99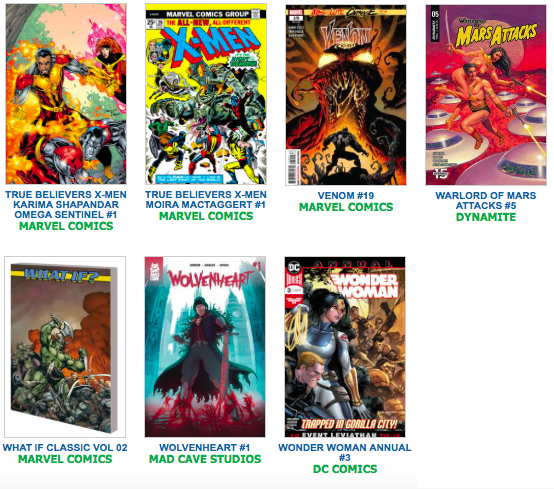 TRUE BELIEVERS X-MEN KARIMA SHAPANDAR OMEGA SENTINEL #1 $ 1
TRUE BELIEVERS X-MEN MOIRA MACTAGGERT #1 $ 1
VENOM #19 AC $ 3.99
VENOM #19 JEEHYUNG LEE MARY JANE VAR AC $ 3.99
VENOM #19 MOORE CODEX VAR AC (1/25) $ ???
WARLORD OF MARS ATTACKS #5 HILDEBRANDT VIRGIN VAR(1/40) $ ???
WARLORD OF MARS ATTACKS #5 CVR A HILDEBRANDT $ 3.99
WITCHBLADE #16 (MR) $ 3.99
WOLVENHEART #1 $ 3.99
WONDER WOMAN ANNUAL #3 $ 4.99

A MARVELOUS LIFE AMAZING STORY STAN LEE HC $ 29.99
AKAME GA KILL ZERO GN VOL 10 (MR) $ 13
AMBER BLAKE TP VOL 01 $ 17.99
BATMAN BY SNYDER & CAPULLO OMNIBUS HC VOL 01 $ 125
BERRYBROOK SCHOOL GN BOX SET AWKWARD BRAVE CRUSH $ 40
BLACK BUTLER GN VOL 28 $ 13
BLACK SCIENCE TP VOL 09 NO AUTHORITY BUT YOURSELF (MR) $ 16.99
COMPLETE LIFE & TIMES SCROOGE MCDUCK HC BOX SET ROSA $ 59.99
COMPLETE LIFE & TIMES SCROOGE MCDUCK HC VOL 02 ROSA $ 29.99
DEADPOOL BY SKOTTIE YOUNG TP VOL 03 WEASEL GOES TO HELL $ 15.99
GARFIELD SNACK PACK TP VOL 03 $ 14.99
HIT-GIRL TP VOL 05 (MR) $ 14.99
JIM HENSON STORYTELLER NOVEL SC $ 14.99
JOHNNY BOO HC VOL 10 MIDNIGHT MONSTERS $ 9.99
KOMI CANT COMMUNICATE GN VOL 03 $ 9.99
LUCIFER OMNIBUS HC VOL 01 (MR) $ 125
MARVEL ACTION SPIDER-MAN TP BOOK 02 SPIDER-CHASE $ 9.99
MARVEL ZOMBIES TP VOL 02 NEW PTG $ 15.99
MARVEL ZOMBIES TP VOL 03 NEW PTG $ 15.99
MARVEL-VERSE GN TP IRON MAN $ 9.99
MY LITTLE PONY TP SPIRIT OF THE FOREST $ 9.99
SPIDER-GWEN GN TP GWEN STACY $ 12.99
SYMBIOTE SPIDER-MAN TP $ 15.99
THESE SAVAGE SHORES TP VOL 01 (MR) (NOTE PRICE) $ 16.99
THOR TP VOL 03 WARS END $ 15.99
TONY STARK IRON MAN TP VOL 03 WAR OF REALMS $ 15.99
VAMPS THE COMPLETE COLLECTION TP (MR) $ 39.99
WAR OF REALMS TP UNCANNY X-MEN $ 15.99
WHAT IF CLASSIC COMPLETE COLLECTION TP VOL 02 $ 39.99
WILD STORM TP VOL 04 (RES) $ 16.99
X-MEN STARJAMMERS BY DAVE COCKRUM TP $ 39.99
X-MEN TRIAL OF JUGGERNAUT TP $ 34.99

TOPPS 2019 UPDATE SER BASEBALL T/C BOX $ ???
TOPPS 2019 UPDATE SER BASEBALL T/C JUMBO BOX $ ???

GUNDAM SEED GUNNER ZAKU WARRIOR LUNAMARIA HAWKE MG MDL KIT $ 52.99
MYSTERY MINIS STAR WARS E9 $ 8.99
NBX SERIES 1 D-FORMZ BMB PVC MINI-FIGURES $ 7.99
POP MARVEL HOLIDAY PEN TOPPERS Captain Snowman, Thanos, Rocket, Groot $ 31.2
STAR WARS BLACK SERIES CLONE COMMANDER GREE 6IN AF $ ???
UMBRELLA ACADEMY HOTEL OBLIVION KEYCHAIN $ 7.99
UMBRELLA ACADEMY KNIT HAT $ 12.99

COMIC SHOP NEWS #1689 $ FREE
MARVEL GRAPHIC COMIC BOXES GHOST RIDER $ 9.99