Black Hammer Justice League on Wednesday, November 13th, 2019
Wow, the big I. Not as outlandish as it could be. I guess. I have never actually read a Black Hammer, nor it's team-up with DC's JL. But somehow I read blah Hammer blah Justice and that old folk song I grew up with came to mind, After watching and listening  to hearings all day, it fit. 
DC presented us with Batman and Outsiders, Batman's Grave, Catwoman, DC Superhero Girls Giant, Detective, Flash, Harley Quinn and Poison Ivy, JL Odyssey, RWBY, Superman, and Wonder Woman and others.
Kind of a small Marvel Week, but still with 2 X-books, Fallen Angels #1 and X-Men #2, along with Guardians, Morbius, Star Wars. Jedi Fallen Order Dark Temple, and Target Vader. and more
Other pubs: Black Hammer Justice League, Buffy, Far Sector, GoGo Power Rangers, Hit-Girl  Season Two, Lady Mechanika, My Little Pony, TMNT, Unsacred, Usagi Yojimbo, and lots more.
POPS! Possibly a near record for new ones in one week. Fourteen new Star Wars, 8 new Harry Potter, 4 new Disenchantment, 5 new My Hero Academia, and 5 new Purge! Also Coca Cola Bear, Energizer Bunny, Morty, Drew Brees, and over 30 more!
If you missed the Labor Day Sale and want to know about the next one. . . Click here. Sign in here to get an email reminder for for ALL sales and other events.  Also, you can go to fb.fantasybooksandgames.com and you'll be taken to our Facebook page. We use our in-store 5-Star Rewards system to text similar announcements to your phone, but it pays to be covered, right?
Thanks to Comics on the Green for this week's images, which include many of the comics and a few of the books and other items we received today.  
AGE OF CONAN VALERIA #4 (OF 5) $ 3.99
AGENTS OF ATLAS #4 (OF 5) $ 3.99
ARCHIE JUMBO COMICS DIGEST #304 $ 7.99
BATMAN AND THE OUTSIDERS #7 VAR ED YOTV $ 3.99
BATMAN AND THE OUTSIDERS #7 YOTV ACETATE $ 3.99
BATMANS GRAVE #2 (OF 12) $ 3.99
BATMANS GRAVE #2 (OF 12) VAR ED $ 3.99
BATTLEPUG #3 CVR A NORTON & PASSALAQUA $ 3.99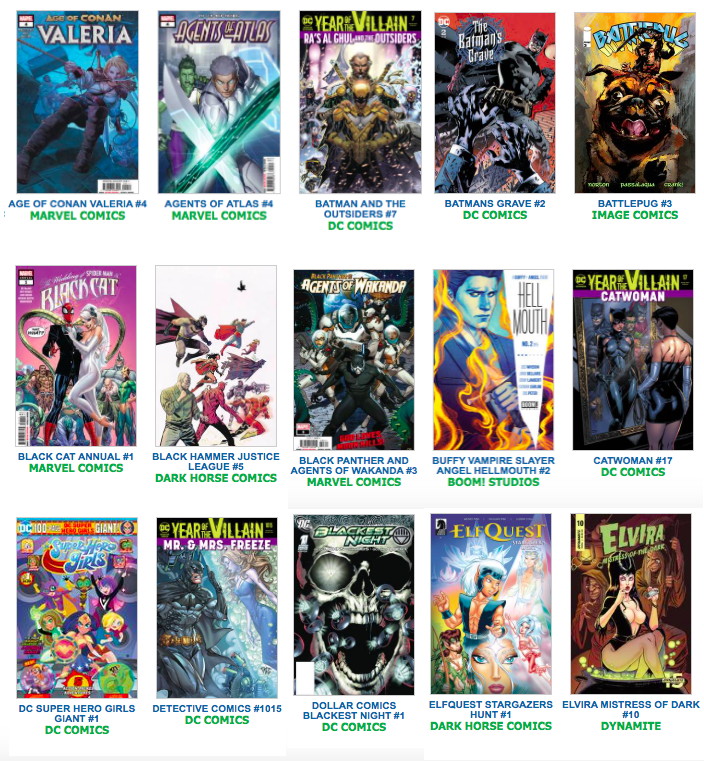 BIG HERO 6 THE SERIES #1 BALDARI (1/10) $ ???
BLACK CAT ANNUAL #1 $ 4.99
BLACK CAT ANNUAL #1 NAUCK VAR $ 4.99
BLACK CAT ANNUAL #1 SANDOVAL VAR (1/25) $ ???
BLACK HAMMER JUSTICE LEAGUE #5 (OF 5) CVR A WALSH $ 3.99
BLACK HAMMER JUSTICE LEAGUE #5 (OF 5) CVR B KINDT $ 3.99
BLACK HAMMER JUSTICE LEAGUE #5 (OF 5) CVR C CRYSTAL $ 3.99
BLACK HAMMER JUSTICE LEAGUE #5 (OF 5) CVR E DODSON $ 3.99
BLACK PANTHER AND AGENTS OF WAKANDA #3 $ 3.99
BLACK STARS ABOVE #1 CVR A CHA (MR) $ 3.99
BLACK STARS ABOVE #1 CVR B MILLER HOMAGE (MR) $ 3.99
BLADE RUNNER 2019 #1 SDCC 2019 VAR CVR (MR) $ ???
BUFFY VAMPIRE SLAYER ANGEL HELLMOUTH #2 CVR A FRISON $ 3.99
BUFFY VAMPIRE SLAYER ANGEL HELLMOUTH #2 CVR B CONNECTING MON $ 3.99
CATWOMAN #17 VAR ED YOTV $ 3.99
CATWOMAN #17 YOTV ACETATE $ 3.99
COLLAPSER #5 (OF 6) (MR) $ 3.99
DC SUPER HERO GIRLS GIANT #1 $ 4.99
DETECTIVE COMICS #1015 CARD STOCK VAR ED YOTV $ 4.99
DETECTIVE COMICS #1015 YOTV ACETATE $ 3.99
DOCTOR MIRAGE #4 (OF 5) CVR A TAN $ 3.99
DOLLAR COMICS BLACKEST NIGHT #1 $ 1
DOLLHOUSE FAMILY #1 (OF 6) (MR) $ 3.99
DOLLHOUSE FAMILY #1 (OF 6) CARD STOCK VAR ED (MR) $ 4.99
ELFQUEST STARGAZERS HUNT #1 (OF 6) $ 3.99
ELVIRA MISTRESS OF DARK #10 CVR A SEELEY $ 3.99
ELVIRA MISTRESS OF DARK #10 CVR D PHOTO $ 3.99
EVENT LEVIATHAN #6 (OF 6) $ 3.99
EVENT LEVIATHAN #6 (OF 6) VAR ED $ 3.99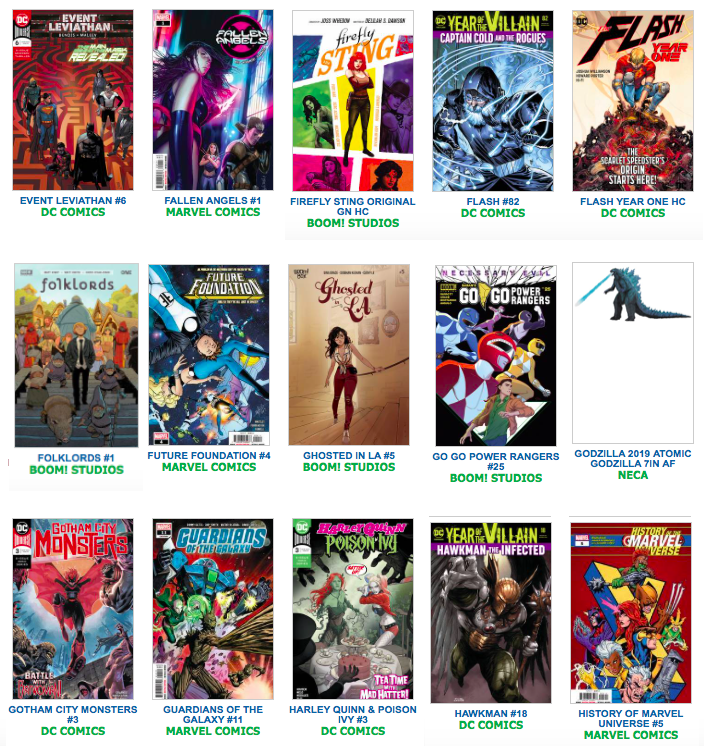 FALLEN ANGELS #1 BAGLEY EVERY MUTANT EVER VAR DX $ 4.99
FALLEN ANGELS #1 DELLOTTO VAR DX (1/50) $ ???
FALLEN ANGELS #1 DX $ 4.99
FALLEN ANGELS #1 LAND VAR DX (1/25) $ ???
FALLEN ANGELS #1 LARRAZ YOUNG GUNS VAR DX $ 4.99
FALLEN ANGELS #1 MULLER DESIGN VAR DX (1/10) $ ???
FAMILY TREE #1 (MR) $ 3.99
FAR SECTOR #1 (OF 12) (MR) $ 3.99
FAR SECTOR #1 (OF 12) MARTINBROUGH VAR ED (MR) $ 3.99
FAR SECTOR #1 (OF 12) MCKELVIE VAR ED (MR) $ 3.99
FLASH #82 VAR ED YOTV $ 3.99
FLASH #82 YOTV ACETATE $ 3.99
FOLKLORDS #1 (OF 5) CVR A SMITH $ 3.99
FUTURE FOUNDATION #4 $ 3.99
GHOSTED IN LA #5 CVR A KEENAN $ 3.99
GIDEON FALLS #18 CVR A SORRENTINO (MR) $ 3.99
GO GO POWER RANGERS #25 CVR A MAIN JLOU $ 3.99
GO GO POWER RANGERS #25 CVR B MERCADO VAR $ 3.99
GO GO POWER RANGERS #25 FOC MAD VAR $ 3.99
GOTHAM CITY MONSTERS #3 (OF 6) $ 3.99
GUARDIANS OF THE GALAXY #11 $ 3.99
GUARDIANS OF THE GALAXY #11 JOHNSON 2099 VAR $ 3.99
HARLEY QUINN & POISON IVY #3 (OF 6) $ 3.99
HARLEY QUINN & POISON IVY #3 (OF 6) CARD STOCK HARLEY VAR ED $ 4.99
HARLEY QUINN & POISON IVY #3 (OF 6) CARD STOCK IVY VAR ED $ 4.99
HAWKMAN #18 VAR ED YOTV $ 3.99
HAWKMAN #18 YOTV ACETATE $ 3.99
HISTORY OF MARVEL UNIVERSE #5 (OF 6) $ 4.99
HISTORY OF MARVEL UNIVERSE #5 (OF 6) RODRIGUEZ VAR $ 4.99
HIT-GIRL SEASON TWO #10 CVR A SHALVEY (MR) $ 3.99
HIT-GIRL SEASON TWO #10 CVR B SHALVEY (MR) $ 3.99
HIT-GIRL SEASON TWO #10 CVR C SAMPSON (MR) $ 3.99
HOUSE OF WHISPERS #15 (MR) $ 3.99
HOUSE OF X #1 (OF 6) 5TH PTG BROOKS VAR $ 5.99
HOUSE OF X #4 (OF 6) 3RD PTG SHALVEY VAR $ 4.99
HOUSE OF X #6 (OF 6) 2ND PTG LARRAZ VAR $ 4.99
INVADERS #11 $ 3.99
JUSTICE LEAGUE ODYSSEY #15 VAR ED YOTV $ 3.99
JUSTICE LEAGUE ODYSSEY #15 YOTV ACETATE $ 3.99
LADY MECHANIKA SANGRE #4 (OF 5) BENITEZ VAR CVR (1/10) $ ???
LADY MECHANIKA SANGRE #4 (OF 5) MAIN & MIX VAR CVRS $ 3.99
LIFE IS STRANGE #10 CVR A LEONARDI (MR) $ 3.99
MARVEL ACTION SPIDER-MAN #11 MEYERS (1/10) $ ???
MARVEL ACTION SPIDER-MAN #11 CVR A TINTO $ 3.99
MARVEL TALES DOCTOR STRANGE #1 $ 7.99
MOONSHINE #13 (MR) $ 3.99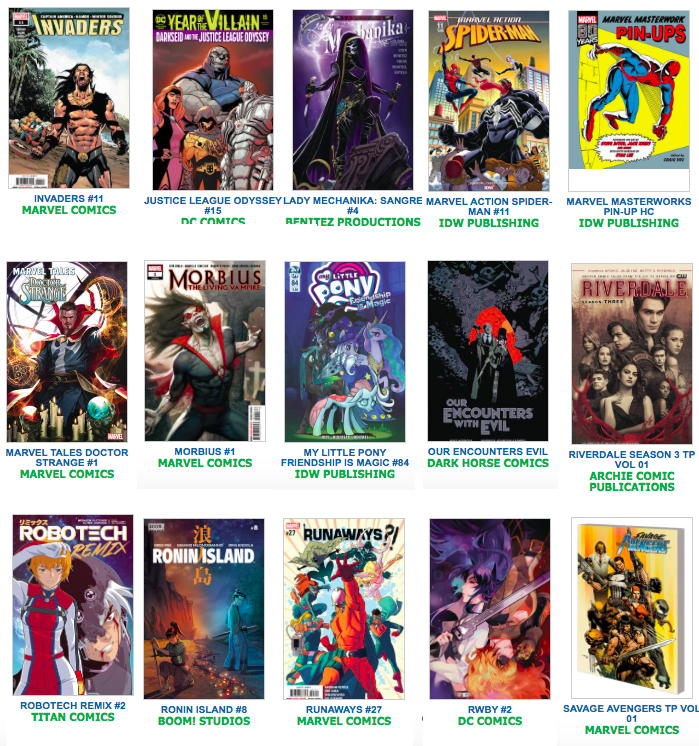 MORBIUS #1 $ 3.99
MORBIUS #1 $ 3.99
MORBIUS #1 HOTZ VAR $ 3.99
MORBIUS #1 INHYUK LEE VAR (1/50) $ ???
MORBIUS #1 LAND VAR (1/25) $ ???
MORBIUS #1 RYP CONNECTING VAR $ 3.99
MY LITTLE PONY FRIENDSHIP IS MAGIC #84 SOUVANNY (1/10) $ ???
MY LITTLE PONY FRIENDSHIP IS MAGIC #84 CVR A KUUSISTO $ 3.99
OBLIVION SONG BY KIRKMAN & DE FELICI #21 (MR) $ 3.99
POWERS OF X #1 (OF 6) 5TH PTG BROOKS VAR $ 5.99
PSI-LORDS #6 CVR A REIS $ 3.99
PUNISHER SOVIET #1 (OF 6) (MR) $ 3.99
PUNISHER SOVIET #1 (OF 6) CASANOVAS VAR (MR) $ 3.99
REAVER #5 (MR) $ 3.99
RONIN ISLAND #8 CVR A MILONOGIANNIS $ 3.99
RONIN ISLAND #8 CVR B PREORDER YOUNG VAR $ 3.99
RUNAWAYS #27 $ 3.99
RWBY #2 (OF 7) $ 3.99
RWBY #2 (OF 7) CARD STOCK VAR ED $ 4.99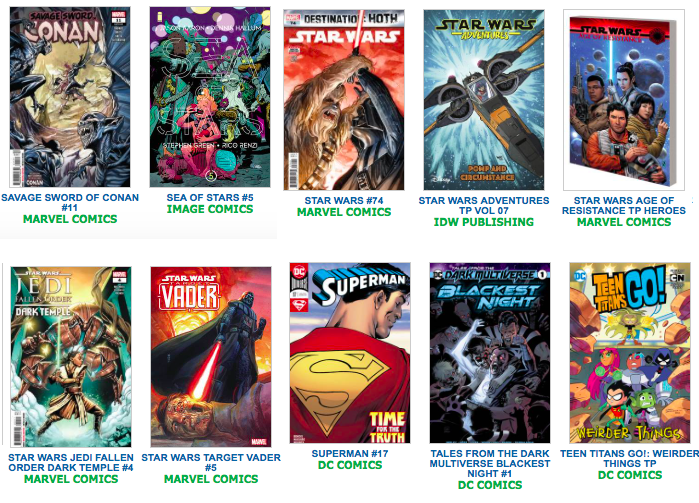 SAVAGE SWORD OF CONAN #11 $ 3.99
SEA OF STARS #5 $ 3.99
SOMETHING IS KILLING CHILDREN #2 (3RD PTG) $ 3.99
SPAWN #301 2ND PTG (MR) $ 4.99
SPIDER-VERSE #1 (OF 6) 2ND PTG FRIGERI VAR $ 3.99
STAR WARS #74 $ 3.99
STAR WARS #74 CHRISTOPHER ACTION FIGURE VAR $ 3.99
STAR WARS #74 VOSS GREATEST MOMENTS VAR $ 3.99
STAR WARS JEDI FALLEN ORDER DARK TEMPLE #4 (OF 5) $ 3.99
STAR WARS JEDI FALLEN ORDER DARK TEMPLE #4 (OF 5) VILLANELLI VAR (1/10) $ ???
STAR WARS TARGET VADER #5 (OF 6) $ 3.99
SUPERMAN #17 $ 3.99
SUPERMAN #17 VAR ED $ 3.99
TALES FROM THE DARK MULTIVERSE BLACKEST NIGHT #1 $ 5.99
TMNT ROAD TO 100 #0 (OF 4) BUNDLE OF 25 (NET) $ 5
TOMB OF DRACULA #10 FACSIMILE EDITION $ 3.99
TREES THREE FATES #3 (OF 5) (MR) $ 3.99
TRIAGE #3 (OF 5) CVR A SEVY $ 3.99
UNBEATABLE SQUIRREL GIRL #50 $ 3.99
UNBEATABLE SQUIRREL GIRL #50 RAHZZAH VAR $ 3.99
UNCLE SCROOGE #50 CVR A FRECCERO $ 5.99
UNSACRED #1 CVR A MIRKA ANDOLFO (MR) $ 3.99
UNSACRED #1 CVR B CHATZOUDIS (MR) $ 3.99
USAGI YOJIMBO 35TH ANNIV #6 DARROW (1/25) $ ???
USAGI YOJIMBO 35TH ANNIV #6 SAKAI $ 3.99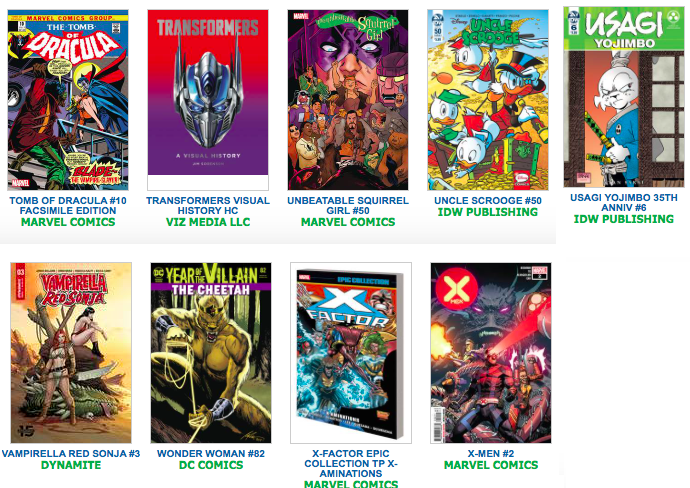 VAMPIRELLA RED SONJA #3 CVR A CHO & RICH $ 3.99
VAMPIRELLA RED SONJA #3 CVR E MOSS THEN NOW $ 3.99
WONDER WOMAN #82 VAR ED YOTV $ 3.99
WONDER WOMAN #82 YOTV ACETATE $ 3.99
X-MEN #2 DX $ 3.99 (Next Week!)
X-MEN #2 LIM 2099 VAR DX $ 3.99
X-MEN #2 MARTIN VAR DX (1/25) $ ???

ADVENTURE TIME SEASON 11 TP VOL 01 (RES) $ 19.99
BEN 10 ORIGINAL GN MECHA MADNESS $ 7.99
BLADE OF IMMORTAL OMNIBUS TP VOL 10 (MR) $ 21.99
BOYS OMNIBUS TP VOL 05 (MR) $ 29.99
DRAGON BALL VISUAL HISTORY HC ART AKIRA TORIYAMA $ 34.99
FIREFLY STING ORIGINAL GN HC $ 19.99
FLASH YEAR ONE HC $ 24.99
FRUITS BASKET ANOTHER GN VOL 03 $ 15
JIM HENSON DARK CRYSTAL CREATION MYTHS COMPLETE SC $ 29.99
JUSTICE LEAGUE TP VOL 04 THE SIXTH DIMENSION $ 24.99
LA VOZ DE MAYO RAMBO TP $ 16.99
LCSD 2019 THESE SAVAGE SHORES TP VOL 01 GOLD EDITION (MR) $ 19.99
LEGEND OF KORRA TP PART 02 RUINS OF EMPIRE $ 10.99
MARVEL MASTERWORKS PIN-UP HC $ 34.99
OUR ENCOUNTERS EVIL PROFESSOR MEINHARDT & KNOX HC $ 17.99
PLANTS VS ZOMBIES HC GARDEN WARFARE VOL 03 $ 9.99
RIVERDALE SEASON 3 TP VOL 01 $ 17.99
SAILOR MOON ETERNAL ED VOL 06 $ 27.99
SAVAGE AVENGERS TP VOL 01 CITY OF SICKLES $ 15.99
STAR WARS ADVENTURES TP VOL 07 POMP AND CIRCUMSTANCE $ 9.99
STAR WARS AGE OF RESISTANCE TP HEROES $ 17.99
STAR WARS LO ST STARS GN VOL 03 MANGA $ 13
TANGLED THE SERIES HAIR AND NOW TP $ 9.99
TEEN TITANS GO TP WEIRDER THINGS $ 12.99
TRANSFORMERS VISUAL HISTORY HC $ 49.99
TROPICAL FISH YEARNS FOR SNOW GN VOL 01 $ 9.99
ULTIMATE SKY DOLL HC (MR) $ 49.99
VISION COMPLETE COLLECTION TP $ 29.99
WONDER TWINS TP VOL 01 ACTIVATE $ 16.99
X-FACTOR EPIC COLLECTION TP X-AMINATIONS $ 39.99
X-MEN MILESTONES TP FATAL ATTRACTIONS $ 44.99

DISNEY CHRISTMAS 3D FOAM BAG CLIP 24PCS BMB DS $ 5.99
DC PRIME BATMAN ACTION FIGURE $ 125
GODZILLA 2019 ATOMIC GODZILLA 7IN AF $ 24.99
GUDETAMA LAZY EGG SERIES2 KEYCHAIN 24PC BMB DS zyx $5.99
MOBILE SUIT GUNDAM INTERNAL STRUCTURE RX-78-2 GUNDAM V1 FIG $ 24.99
MOBILE SUIT GUNDAM INTERNAL STRUCTURE RX-78-2 GUNDAM V2 FIG $ 24.99
TRANSFORMERS STUDIO SER DRIFT W/DINOBOTS AF CS $ 32.99