Absolute Carnage, Annihilation Scourge, Deadpool and other bedtime tales on Wednesday, November 20th, 2019
Marvel really has a thing for bombastic titles, don't they? Tony Stark, Amazing Mary Jane, and Star Wars. Batman #83 is here, along with B-Supes, and a fun-looking Giant #2. Speaking of fun, there is Canto, some Disneys, Tank Girl and Vampirella. The Whole list below…
We aren't really doing anything this Saturday for Local Comic Shop Day 2019, but we did buy some of the special limited editions, as seen below, but we will be abiding by the rules and not be selling them until we open at 11am on Saturday,. November 23, kay?
LCSD 2019 ABSOLUTE CARNAGE #5 (OF 5) ARTIST VAR $ ???
LCSD 2019 ABSOLUTE CARNAGE #5 (OF 5) VIRGIN VAR $ ???
LCSD 2019 HAZEL & CHA CHA SAVE CHRISTMAS TALES UMBRELLA ACAD $ ???
And we'll be Thanking the Giving Gods by closing for the only day of the year we close, and that's Thanksgiving, Thursday, a week from tomorrow. So there!
If you want to know about the next sale (there might be one on "Black Friday"). . . Click here. Sign in here to get an email reminder for for ALL sales and other events.  Also, you can go to fb.fantasybooksandgames.com and you'll be taken to our Facebook page. We use our in-store 5-Star Rewards system to text similar announcements to your phone, but it pays to be covered, right?
Thanks to Comics on the Green for this week's images, which include many of the comics and a few of the books and other items we received today.
2099 ALPHA #1 $ 4.99
2099 ALPHA #1 A ADAMS 8-PART CONNECTING VAR $ 4.99
2099 ALPHA #1 BOGDANOVIC VAR $ 4.99
ABSOLUTE CARNAGE #5 (OF 5) AC $ 4.99
ABSOLUTE CARNAGE #5 (OF 5) BAGLEY CULT OF CARNAGE VAR AC (1/25) $ ???
ABSOLUTE CARNAGE #5 (OF 5) CHRISTOPHER ACTION FIGURE VAR AC $ 4.99
ABSOLUTE CARNAGE #5 (OF 5) HOTZ CONNECTING VAR AC $ 4.99
ABSOLUTE CARNAGE #5 (OF 5) INHYUK LEE VAR AC (1/50) $ ???
ABSOLUTE CARNAGE #5 (OF 5) LAND VAR AC $ 4.99
ABSOLUTE CARNAGE #5 (OF 5) RIVERA CODEX VAR AC (1/25) $ ???
ABSOLUTE CARNAGE #5 (OF 5) RON LIM VAR AC $ 4.99
ABSOLUTE CARNAGE CAPTAIN MARVEL #1 AC $ 4.99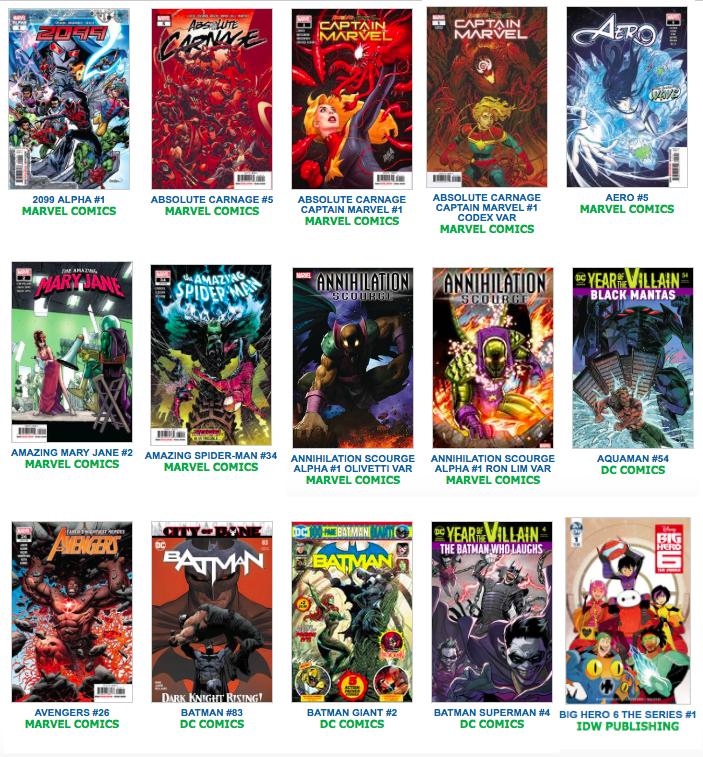 AERO #5 $ 3.99
AMAZING MARY JANE #2 $ 3.99
AMAZING MARY JANE #2 DODSON VAR (1/25) $ ???
AMAZING SPIDER-MAN #31 2ND PTG OTTLEY VAR AC $ 3.99
AMAZING SPIDER-MAN #34 2099 $ 3.99
AMAZING SPIDER-MAN #34 A ADAMS 8-PART CONNECTING VAR 2099 $ 3.99
AMAZING SPIDER-MAN #34 FERRY 2099 VAR 2099 $ 3.99
AMERICAN GODS MOMENT OF STORM #7 CVR A FABRY (MR $ 3.99
AMERICAN GODS MOMENT OF STORM #7 CVR B MACK (MR) $ 3.99
ANNIHILATION SCOURGE ALPHA #1 $ 4.99
ANNIHILATION SCOURGE ALPHA #1 OLIVETTI VAR $ 4.99
ANNIHILATION SCOURGE ALPHA #1 RON LIM VAR $ 4.99
AQUAMAN #54 CARD STOCK VAR ED YOTV $ 4.99
AQUAMAN #54 YOTV ACETATE $ 3.99
AVENGERS #26 $ 3.99
AVENGERS #26 ALEX ROSS MARVELS 25TH VAR $ 3.99
BATMAN #83 $ 3.99
BATMAN #83 CARD STOCK VAR ED $ 4.99
BATMAN GIANT #2 $ 4.99
BATMAN SUPERMAN #4 CARD STOCK VAR ED YOTV $ 4.99
BATMAN SUPERMAN #4 YOTV ACETATE $ 3.99
BATMAN WHITE KNIGHT PRESENTS VON FREEZE #1 $ 5.99
BATMAN WHITE KNIGHT PRESENTS VON FREEZE #1 VAR ED $ 5.99
BIG HERO 6 THE SERIES #1 CVR A GURIHIRU (RES) $ 3.99
BLOODSHOT (2019) #3 CVR A SHALVEY $ 3.99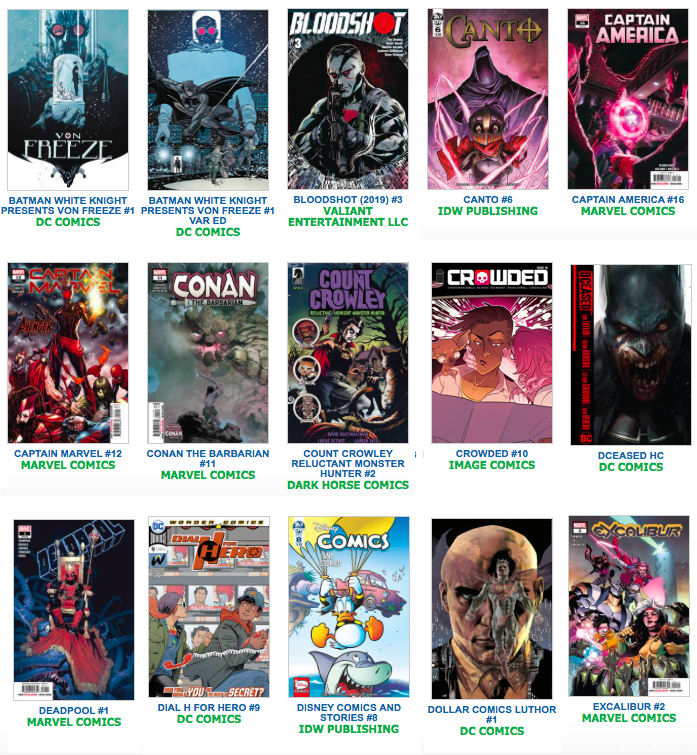 CANTO #6 (OF 6) INGRANATA & SAHADEWA (1/10) $ ???
CANTO #6 (OF 6) CVR A ZUCKER $ 3.99
CAPTAIN AMERICA #16 $ 3.99
CAPTAIN AMERICA #16 YOON 2099 VAR $ 3.99
CAPTAIN MARVEL #12 $ 3.99
CAPTAIN MARVEL #12 DODSON 2099 VAR $ 3.99
CAPTAIN MARVEL #12 INHYUK LEE CONNECTING VAR $ 3.99
CAPTAIN MARVEL #12 YOON VAR (1/25) $ 3.99
CHASTITY #3 CVR A NODET (MR) $ 3.99
CHASTITY #3 CVR B GARZA (MR) $ 3.99
CHASTITY #3 CVR C MAINE (MR) $ 3.99
CONAN THE BARBARIAN #11 $ 3.99
COUNT CROWLEY RELUCTANT MONSTER HUNTER #2 (OF 4) $ 3.99
CROWDED #10 CVR A STEIN BRANDT & FARRELL $ 3.99
DEADPOOL #1 $ 4.99
DEADPOOL #1 BALDEON VAR $ 4.99
DEADPOOL #1 BLANK VAR $ 4.99
DEADPOOL #1 CHRISTOPHER VAR $ 4.99
DEADPOOL #1 FINCH VAR $ 4.99
DEADPOOL #1 GOMEZ MARY JANE VAR $ 4.99
DEADPOOL #1 JUNGGEUN YOON VAR (1/50) $ ???
DEADPOOL #1 LAND VAR $ 4.99
DIAL H FOR HERO #9 (OF 12) $ 3.99
DISNEY COMICS AND STORIES #8 CVR A FRECCERO $ 5.99
DISNEY FROZEN TRUE TREASURE #1 (OF 3) CVR A KAWAII STUDIO $ 3.99
DISNEY FROZEN TRUE TREASURE #1 (OF 3) CVR B RENIERI $ 3.99
DOLLAR COMICS LUTHOR #1 $ 1
EXCALIBUR #2 DX $ 3.99
EXCALIBUR #2 MCKONE 2099 VAR DX $ 3.99
EXCALIBUR #2 SCHMIDT VAR DX (1/25) $ ???
FANTASTIC FOUR 2099 #1 $ 4.99
FANTASTIC FOUR 2099 #1 RON LIM VAR $ 4.99
FARMHAND #11 (MR) $ 3.99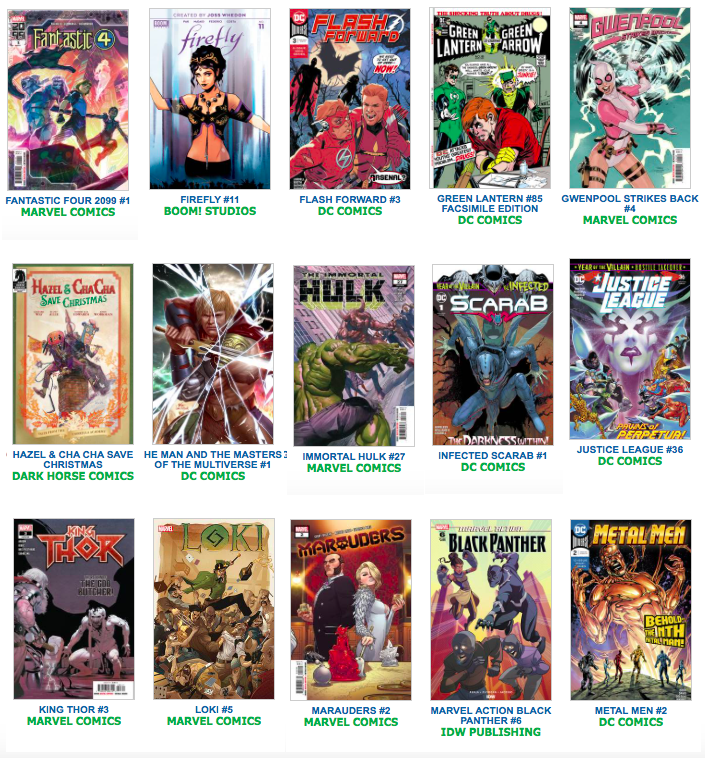 FIREFLY #11 DOE (1/15) $ ???
FIREFLY #11 CVR A MAIN GARBETT $ 3.99
FIREFLY #11 CVR B PREORDER QUINONES VAR $ 3.99
FIREFLY #11 FOC SLINEY VAR $ 3.99
FLASH FORWARD #3 (OF 6) $ 3.99
FLASH FORWARD #3 (OF 6) VAR ED $ 3.99
GFT 2019 ARMED FORCES APPRECIATION CVR B MCCOY $ 5.99
GREEN LANTERN #85 FACSIMILE EDITION $ 3.99
GWENPOOL STRIKES BACK #4 (OF 5) $ 3.99
HAZEL & CHA CHA SAVE CHRISTMAS TALES UMBRELLA ACADEMY CVR A $ 4.99
HAZEL & CHA CHA SAVE CHRISTMAS TALES UMBRELLA ACADEMY CVR B $ 4.99
HE MAN AND THE MASTERS OF THE MULTIVERSE #1 (OF 6) $ 3.99
HE MAN AND THE MASTERS OF THE MULTIVERSE #1 (OF 6) VAR ED $ 3.99
HEART ATTACK #1 (MR) $ 3.99
HEARTBEAT #1 (OF 5) CVR A LLOVET (MR) $ 3.99
HEARTBEAT #1 (OF 5) FOC ANDOLFO VAR (MR) $ 3.99
ICE CREAM MAN #16 CVR A MORAZZO & OHALLORAN (MR) $ 3.99
ICE CREAM MAN #16 CVR B RAE (MR) $ 3.99
IMMORTAL HULK #27 $ 3.99
IMMORTAL HULK #27 RANEY 2099 VAR $ 3.99
INFECTED SCARAB #1 $ 3.99
JUSTICE LEAGUE #36 $ 3.99
JUSTICE LEAGUE #36 VAR ED $ 3.99
KING THOR #3 (OF 4) $ 3.99
LOKI #5 $ 3.99
LOKI #5 NAUCK 2099 VAR $ 3.99
LUCIFER #14 (MR) $ 3.99
MARAUDERS #2 DX $ 3.99
MARAUDERS #2 MOORE VAR DX (1/25) $ ???
MARKED #1 2ND PTG (MR) $ 3.99
MARKED #2 CVR A HABERLIN & VAN DYKE (MR) $ 3.99
MARKED #2 CVR B HABERLIN & VAN DYKE (MR) $ 3.99
MARVEL ACTION BLACK PANTHER #6 CVR A FLOREAN $ 3.99
MASK I PLEDGE ALLEGIANCE TO THE MASK #2 (OF 4) CVR A REYNOLD $ 3.99
METAL MEN #2 (OF 12) $ 3.99
METAL MEN #2 (OF 12) VAR ED $ 3.99
MONEY SHOT #2 (MR) $ 3.99
MY LITTLE PONY FEATS OF FRIENDSHIP #3 ONEILL (1/10) $ ???
MY LITTLE PONY FEATS OF FRIENDSHIP #3 CVR A FLEECS $ 3.99
NIGHTWING #66 CARD STOCK VAR ED YOTV $ 4.99
NIGHTWING #66 YOTV ACETATE $ 3.99
OLYMPIA #1 (OF 5) CVR A DIOTTO & CUNNIFFE $ 3.99
OLYMPIA #1 (OF 5) CVR B WARD $ 3.99
ONCE & FUTURE #4 (OF 6) $ 3.99
OUTER DARKNESS #12 (MR) $ 3.99
PRETTY VIOLENT #4 (MR) $ 3.99
PUNISHER KILL KREW #5 (OF 5) $ 3.99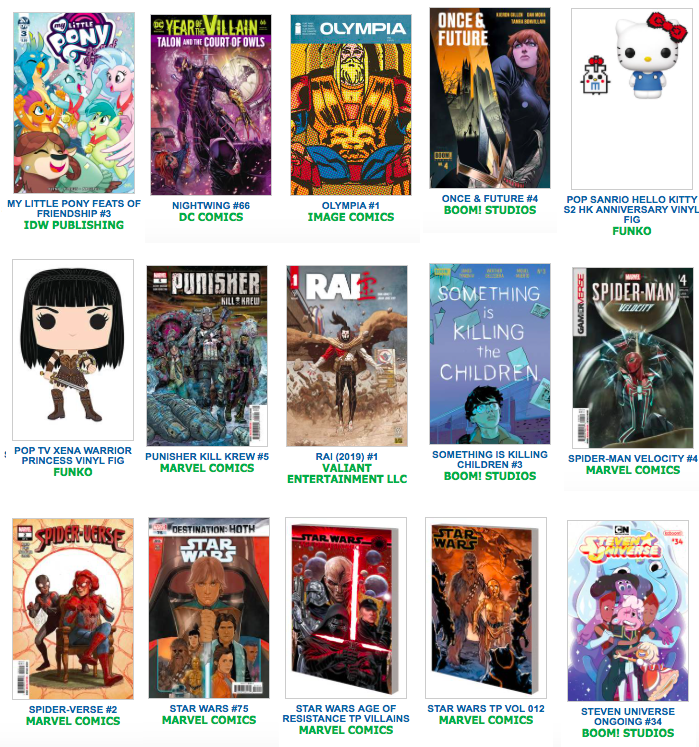 QUESTION THE DEATHS OF VIC SAGE #1 (OF 4) (MR) $ 6.99
QUESTION THE DEATHS OF VIC SAGE #1 (OF 4) VAR ED (MR) $ 6.99
RAI (2019) #1 CVR A RYP $ 3.99
ROKU #2 (OF 4) CVR A KALVACHEV $ 3.99
SFSX SAFE SEX #3 (MR) $ 3.99
SOMETHING IS KILLING CHILDREN #3 $ 3.99
SOMETHING IS KILLING CHILDREN #3 FOC MARTIN VAR $ 3.99
SPIDER-MAN #2 (OF 5) 2ND PTG PICHELLI VAR $ 3.99
SPIDER-MAN VELOCITY #4 (OF 5) $ 3.99
SPIDER-VERSE #2 (OF 6) $ 3.99
STAR WARS #75 $ 4.99
STAR WARS #75 CHRISTOPHER ACTION FIGURE VAR $ 4.99
STAR WARS #75 LAND VAR $ 4.99
STAR WARS #75 SPROUSE GREATEST MOMENTS VAR $ 4.99
STEEPLE #3 (OF 5) CVR A ALLISON $ 3.99
STEVEN UNIVERSE ONGOING #34 CVR A PENA $ 3.99
STRAYED #4 (OF 5) CVR A DOE $ 3.99
STRIKEFORCE #3 $ 3.99
SUPERGIRL #36 CARD STOCK VAR ED YOTV $ 4.99
SUPERGIRL #36 YOTV ACETATE $ 3.99
SUPERMAN UP IN THE SKY #5 (OF 6) $ 4.99
SUPERMANS PAL JIMMY OLSEN #5 (OF 12) $ 3.99
SUPERMANS PAL JIMMY OLSEN #5 (OF 12) VAR ED $ 3.99
TANK GIRL #8 CVR A PARSON $ 3.99
TANK GIRL #8 CVR B VIRGIN STAPLES $ 3.99
TANK GIRL #8 CVR C KANE $ 3.99
TEEN TITANS #36 VAR ED YOTV $ 3.99
TEEN TITANS #36 YOTV ACETATE $ 3.99
TITANS BURNING RAGE #4 (OF 7) $ 4.99
TMNT URBAN LEGENDS #19 CVR A FOSCO $ 3.99
TONY STARK IRON MAN #18 $ 3.99
TONY STARK IRON MAN #18 KERSCHL 2099 VAR $ 3.99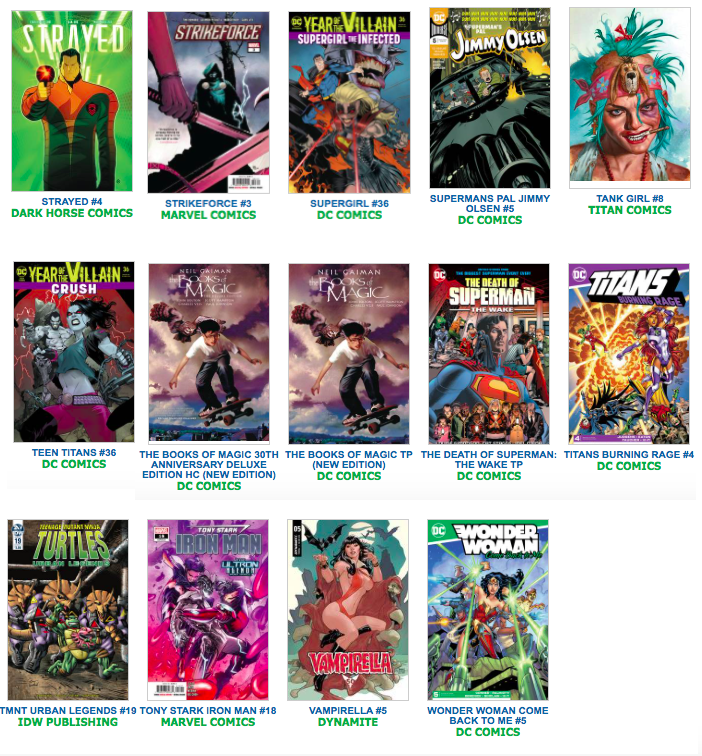 VAMPIRELLA #5 10 COPY ARTGERM SNEAK PEEK $ ???
VAMPIRELLA #5 11 COPY HETRICK VIRGIN FOC $ ???
VAMPIRELLA #5 15 COPY ARTGERM SNEAK PEEK CHARCOAL FOC $ ???
VAMPIRELLA #5 20 COPY DALTON B&W $ ???
VAMPIRELLA #5 CVR A DODSON $ 3.99
VAMPIRELLA #5 CVR B MARCH $ 3.99 (maybe next week?)
VAMPIRELLA #5 CVR E COSPLAY $ 3.99
VAMPIRELLA #5 HETRICK FOC BONUS VAR $ 3.99
WEATHERMAN VOL 2 #5 CVR A FOX (MR) $ 3.99
WEATHERMAN VOL 2 #5 CVR B ROBINSON (MR) $ 3.99
WEATHERMAN VOL 2 #5 CVR C JOHNSON (MR) $ 3.99
WONDER WOMAN COME BACK TO ME #5 (OF 6) $ 4.99
YOU ARE OBSOLETE #3 $ 3.99

COMIC SHOP NEWS #1692 $ FREE
NON SPORT UPDATE VOL 30 #5 $ 5.99

ABSOLUTE NEW FRONTIER 15 ANNIV ED HC $ 99.99
ADVENTURES OF THE SUPER SONS TP VOL 02 LITTLE MONSTERS $ 16.99
AFTER THE SPRING HC STORY OF TUNISIAN YOUTH $ 21.99
AMAZING SPIDER-MAN EPIC COLLECT TP COSMIC ADVENTURES NEW PTG $ 39.99
AMAZING SPIDER-MAN TP RED GOBLIN $ 24.99
ART OF STAR WARS JEDI FALLEN ORDER HC $ 39.99
AVENGERS ENDGAME ART OF MOVIE HC SLIPCASE $ 50
BLADE RUNNER 2019 TP VOL 01 WELCOME TO LOS ANGELES (MR) $ 16.99
BOOKS OF MAGIC 30TH ANNIVERSARY DLX ED HC $ 29.99
BOOKS OF MAGIC NEW EDITION TP $ 19.99
DCEASED HC $ 29.99
DEATH OF SUPERMAN THE WAKE TP $ 16.99
DISNEY FROZEN HERO WITHIN TP $ 10.99
DISNEY SNOW WHITE AND SEVEN DWARFS TP $ 12.99
DISSIDENT X TP $ 29.99
DOOM PATROL THE BRONZE AGE OMNIBUS HC $ 125
FAIRY TAIL 100 YEARS QUEST GN VOL 02 $ 10.99
GRASS KINGS TP VOL 02 $ 17.99
IMMORTAL HULK TP VOL 05 BREAKER OF WORLDS $ 15.99
INVADER ZIM TP VOL 08 $ 19.99
IRON MAN EPIC COLLECTION TP GOLDEN AVENGER NEW PTG $ 39.99
JOURNEY STAR WARS RISE SKYWALKER ALLEGIANCE TP VOL 01 DM A V $ 15.99 (maybe next week)
JOURNEY STAR WARS RISE SKYWALKER ALLEGIANCE TP VOL 01 DM B V $ 15.99
JOURNEY STAR WARS RISE SKYWALKER ALLEGIANCE TP VOL 01 DM C V $ 15.99
JUSTICE LEAGUE ODYSSEY TP VOL 02 DEATH OF THE DARK $ 16.99
KILL OR BE KILLED DLX ED HC (MR) $ 49.99
LITTLE BIRD FIGHT FOR ELDERS HOPE HC (MR) $ 29.99
LUMBERJANES ORIGINAL GN VOL 02 SHAPE FRIENDSHIP $ 14.99
MIDDLEWEST TP BOOK 02 (MR) $ 16.99
NEW TEEN TITANS OMNIBUS HC VOL 04 (RES) $ 99
POSTAL DELIVERANCE TP VOL 01 (MR) $ 14.99
POWER MAN AND IRON FIST EPIC COLLECTION TP DOOMBRINGER $ 39.99
PUNISHER TP VOL 03 STREET BY STREET BLOCK BY BLOCK $ 15.99
SABRINA TEENAGE WITCH TP VOL 01 $ 14.99
SILVER SURFER EPIC COLLECTION TP WHEN CALLS GALACTUS NEW PTG $ 39.99
STAR WARS AGE OF RESISTANCE TP VILLAINS $ 17.99
STAR WARS TP VOL 12 REBELS AND ROGUES $ 15.99
URUSEI YATSURA GN VOL 04 $ 19.99
USAGI YOJIMBO 35 YEARS OF COVERS HC $ 39.99
WITCHER OMNIBUS TP VOL 01 $ 24.99

TOPPS 2019 DYNASTY BASEBALL T/C BOX $ ???

DARK KNIGHTS METAL BATMAN THE RED DEATH STATUE $ 89.99
GAME OF THRONES VISERION DLX AF CS $ ???
GUNDAM BUILD DIVERS 01 EARTHREE GUNDAM 1/144 HGBD MDL KIT $ 16.99
KINGDOM HEARTS 3 GALLERY MALEFICENT PVC STATUE (GAMESTOP) $ 49.99
TRANSFORMERS GEN WFC LEADER AF ASST $ 59.99