Whoops-ing! Cough laid me out for 48 hours on Wednesday, November 11th, 2019
So I'm very late with this. I got home at 8 Wednesday and slept until 1 pm Thursday. Still groggy, coughing uncontrollably, I packed a couple of internet orders and dragged myself down to the PO and came back to bed, and completely forgot about this until a few minutes ago (Friday night). It's not really whooping cough, but it was pretty bad. I'm a lot better now, and hope to be semi-normal Saturday.
I just found out the schedule for the next 2 holidays, both on Wednesday! What does that mean? Well, Bob has always been open from 12-5 on Christmas Day (go figure) and it's going to be a very small week for comics. They will come in no later than Monday, and we're still trying to figure out if they have an on-sale date of Wednesday or Thursday. The next week's comics will also arrive early, whatever the rule is on Christmas will be the rule on 'New Year's Day. I'll post the final, official version with open hours next Wednesday. Promise!
It's a Santa's Bag full of comics as we have every single spot on the new rack full, and most are overlayed to squeeze even more in. Marvel's still on 2099 (with Spider-Man and Doom) and Annihilation Scourge  and there are five $1 Annihilation True Believers. But now Symbiote Spider-Man has an Alien Reality, and New Mutants and X-Force #3's came out this week. DC has Batman Curse or White Knight, Outsiders, and Batman's Grave, Dark Knight Returns Golden Child #1, Detective, HQ &PI, Supergirl & -man. The rest of the universes brought Buffy, Betti Page,  Dying is Easy #1, Hit-Girl.
If you want to know about the next sale (might be Christmas Day!) . . Click here. Sign in here to get an email reminder for for ALL sales and other events.  Also, you can go to fb.fantasybooksandgames.com and you'll be taken to our Facebook page. We also use our in-store 5-Star Rewards system to text similar announcements to your phone, but it pays to be covered, right?
Thanks to Comics on the Green for this week's images, which include many of the comics and a few of the books and other items we received today.  
ABSOLUTE CARNAGE #4 (OF 5) 2ND PTG STEGMAN VAR AC $ 4.99
AERO #6 $ 3.99
AGE OF CONAN VALERIA #5 (OF 5) $ 3.99
ALIENS VS PREDATOR THICKER THAN BLOOD #1 (OF 4) $ 3.99
AMAZING MARY JANE #3 $ 3.99
AMAZING MARY JANE #3 WU VAR $ 3.99
ANNIHILATION SCOURGE BETA RAY BILL #1 $ 4.99
ANNIHILATION SCOURGE BETA RAY BILL #1 ZIRCHER VAR $ 4.99
ANNIHILATION SCOURGE SILVER SURFER #1 $ 4.99
ANNIHILATION SCOURGE SILVER SURFER #1 YILDRIM VAR $ 4.99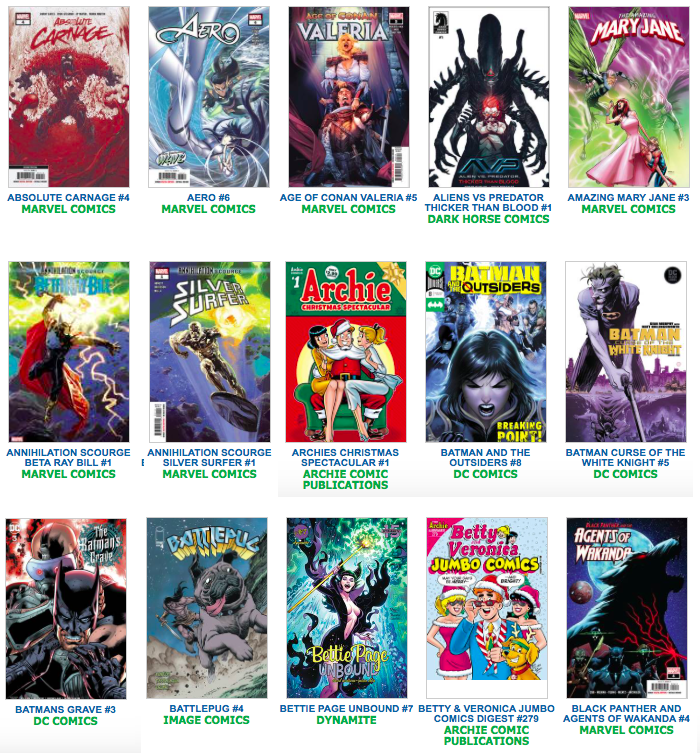 ARCHIES CHRISTMAS SPECTACULAR #1 $ 2.99
B B FREE #2 (OF 12) CVR A DUNLAP $ 3.99
BATMAN AND THE OUTSIDERS #8 $ 3.99
BATMAN AND THE OUTSIDERS #8 VAR ED $ 3.99
BATMAN CURSE OF THE WHITE KNIGHT #5 (OF 8) $ 4.99
BATMAN CURSE OF THE WHITE KNIGHT #5 (OF 8) VAR ED $ 4.99
BATMANS GRAVE #3 (OF 12) $ 3.99
BATMANS GRAVE #3 (OF 12) VAR ED $ 3.99
BATTLEPUG #4 CVR A NORTON & PASSALAQUA $ 3.99
BETTIE PAGE UNBOUND #7 PHOTO VIRGIN (1/10) $ ???
BETTIE PAGE UNBOUND #7 ROYLE VIRGIN FOC (1/21) $ ???
BETTIE PAGE UNBOUND #7 CVR A ROYLE $ 3.99
BETTIE PAGE UNBOUND #7 CVR E PHOTO $ 3.99
BETTY & VERONICA JUMBO COMICS DIGEST #279 $ 7.99
BLACK PANTHER AND AGENTS OF WAKANDA #4 $ 3.99
BLACK PANTHER AND AGENTS OF WAKANDA #4 FERRY 2020 VAR $ 3.99
BUFFY VAMPIRE SLAYER ANGEL HELLMOUTH #3 CVR A FRISON $ 3.99
BUFFY VAMPIRE SLAYER ANGEL HELLMOUTH #3 CVR B CONNECTING REB $ 3.99
CAPTAIN AMERICA #17 $ 3.99
CAPTAIN AMERICA #17 COELLO 2020 VAR $ 3.99
CAPTAIN MARVEL #13 $ 3.99
CAPTAIN MARVEL #13 ANKA 2020 VAR $ 3.99
CAPTAIN MARVEL #13 INHYUK LEE CONNECTING VAR $ 3.99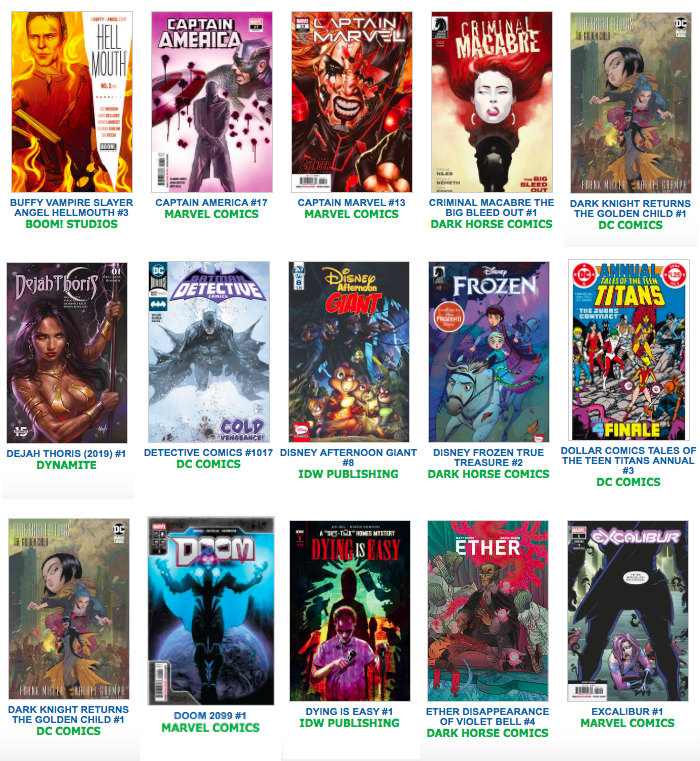 CRIMINAL MACABRE THE BIG BLEED OUT #1 (OF 4) $ 3.99
DARK KNIGHT RETURNS THE GOLDEN CHILD #1 $ 5.99
DARK KNIGHT RETURNS THE GOLDEN CHILD #1 1:10 VAR ED (1/10) $ ???
DARK KNIGHT RETURNS THE GOLDEN CHILD #1 1:25 VAR ED (1/25) $ ???
DARK KNIGHT RETURNS THE GOLDEN CHILD #1 RAFAEL GRAMPA VAR ED $ 5.99
DEADLY CLASS #42 CVR A CRAIG (MR) $ 3.99
DEADLY CLASS #42 CVR B SCALERA & DINISIO (MR) $ 3.99
DEJAH THORIS (2019) #1 CVR A PARRILLO $ 3.99
DEJAH THORIS (2019) #1 CVR B LINSNER $ 3.99
DEJAH THORIS (2019) #1 CVR C HUGHES $ 3.99
DETECTIVE COMICS #1017 $ 3.99
DETECTIVE COMICS #1017 CARD STOCK VAR ED $ 4.99
DISNEY AFTERNOON GIANT #8 $ 5.99
DISNEY FROZEN TRUE TREASURE #2 (OF 3) CVR A PETROVICH $ 3.99
DOCTOR MIRAGE #5 (OF 5) CVR A KANO $ 3.99
DOLLAR COMICS TALES OF THE TEEN TITANS ANNUAL #3 $ 1
DOLLHOUSE FAMILY #2 (OF 6) (MR) $ 3.99
DOLLHOUSE FAMILY #2 (OF 6) VAR ED (MR) $ 3.99
DOOM 2099 #1 $ 4.99
DOOM 2099 #1 RON LIM VAR $ 4.99
DOOM PATROL WEIGHT OF THE WORLDS #6 (MR) $ 3.99
DYING IS EASY #1 (OF 5) B&W RODRIGUEZ (1/10) $ ???
DYING IS EASY #1 (OF 5) CHARACTER WRAP (1/25) $ ???
DYING IS EASY #1 (OF 5) CVR A SIMMONDS $ 4.99
DYING IS EASY #1 (OF 5) CVR B RODRIGUEZ $ 4.99
ETHER DISAPPEARANCE OF VIOLET BELL #4 (OF 5) CVR A RUBIN $ 3.99
ETHER DISAPPEARANCE OF VIOLET BELL #4 (OF 5) CVR B BRERETON $ 3.99
EXCALIBUR #1 2ND PTG CAMUNCOLI VAR DX $ 4.99
FALLEN ANGELS #3 DX $ 3.99
FANTASTIC FOUR #17 $ 3.99
FANTASTIC FOUR #17 GOMEZ VENOM ISLAND VAR $ 3.99
FANTASTIC FOUR #17 PHAM 2020 VAR $ 3.99
FAR SECTOR #2 (OF 12) (MR) $ 3.99
FLASH #84 $ 3.99
FLASH #84 CARD STOCK VAR ED $ 4.99
FLASH GIANT #2 $ 4.99
FRIENDLY NEIGHBORHOOD SPIDER-MAN #14 $ 3.99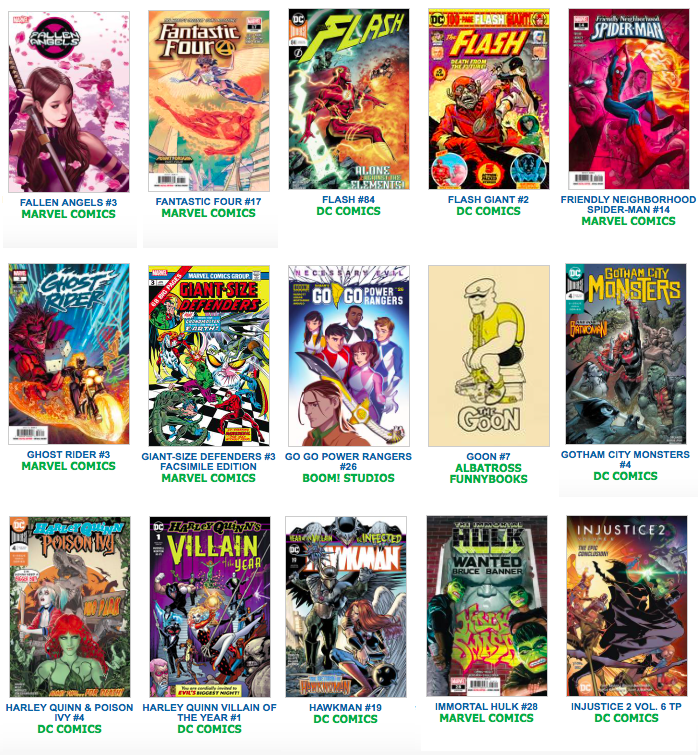 GHOST RIDER #3 $ 3.99
GIANT-SIZE DEFENDERS #3 FACSIMILE EDITION $ 4.99
GIDEON FALLS #19 CVR A SORRENTINO (MR) $ 3.99
GIDEON FALLS #19 CVR B MOON (MR) $ 3.99
GO GO POWER RANGERS #26 CVR A MAIN JLOU $ 3.99
GO GO POWER RANGERS #26 CVR B MERCADO VAR $ 3.99
GO GO POWER RANGERS #26 FOC VAR $ 3.99
GOON #7 CVR A POWELL $ 3.99
GOON #7 ROB JONES CARDSTOCK VAR CVR $ 5.99
GOTHAM CITY MONSTERS #4 (OF 6) $ 3.99
HACK SLASH 15TH ANNV CELEBRATION CVR A WALPOLE (ONE-SHOT) (M $ 5.99
HACK SLASH 15TH ANNV CELEBRATION CVR B SEELEY (ONE-SHOT) (MR $ 5.99
HARLEY QUINN & POISON IVY #4 (OF 6) $ 3.99
HARLEY QUINN & POISON IVY #4 (OF 6) CARD STOCK HARLEY VAR ED $ 4.99
HARLEY QUINN & POISON IVY #4 (OF 6) CARD STOCK POISON IVY VA $ 4.99
HARLEY QUINN VILLAIN OF THE YEAR #1 $ 4.99
HARLEY QUINN VILLAIN OF THE YEAR #1 BLANK VAR ED $ 4.99
HAWKMAN #19 $ 3.99
HAWKMAN #19 VAR ED $ 3.99
HIT-GIRL SEASON TWO #11 CVR A SHALVEY (MR) $ 3.99
HIT-GIRL SEASON TWO #11 CVR B SHALVEY (MR) $ 3.99
HIT-GIRL SEASON TWO #11 CVR C YILDIRIM (MR) $ 3.99
HOUSE OF WHISPERS #16 (MR) $ 3.99
IMMORTAL HULK #28 $ 3.99
IMMORTAL HULK #28 KEOWN 2020 VAR $ 3.99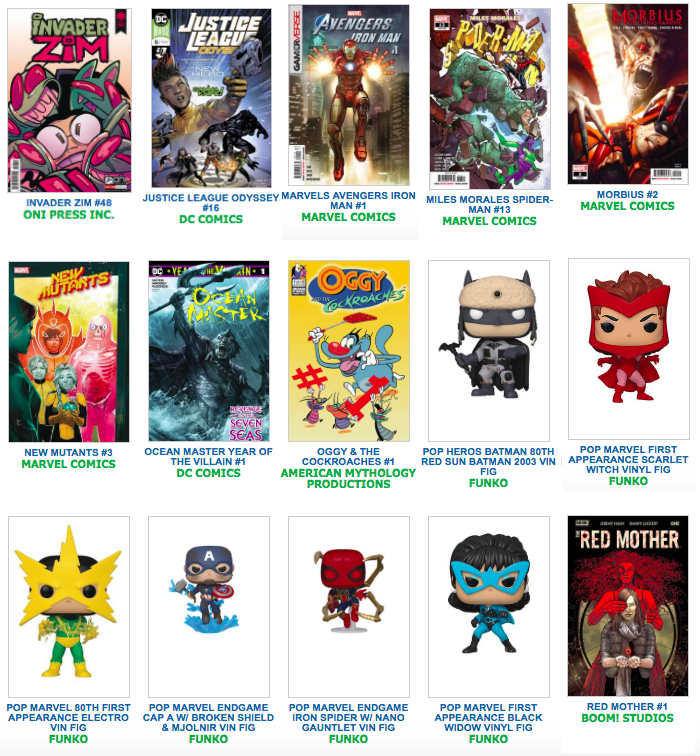 INVADER ZIM #48 CVR A C $ 3.99
INVADER ZIM #48 CVR B BONES $ 3.99
JUSTICE LEAGUE ODYSSEY #16 $ 3.99
JUSTICE LEAGUE ODYSSEY #16 VAR ED $ 3.99
LIFE IS STRANGE #11 CVR A LEONARDI (MR) $ 3.99
LUCY CLAIRE REDEMPTION #1 CVR A UPCHURCH (MR) $ 3.99
LUCY CLAIRE REDEMPTION #1 CVR B UPCHURCH (MR) $ 3.99
MAGICIANS #2 (OF 5) CVR A KHALIDAH (MR) $ 3.99
MAGICIANS #2 (OF 5) CVR B SHARPE (MR) $ 3.99
MARVELS AVENGERS IRON MAN #1 $ 3.99
MARVELS AVENGERS IRON MAN #1 GAME VAR $ 3.99
MARVELS AVENGERS IRON MAN #1 NAUCK DESIGN VAR $ 3.99
MARVELS AVENGERS IRON MAN #1 RON LIM VAR $ 3.99
MILES MORALES SPIDER-MAN #13 $ 3.99
MILES MORALES SPIDER-MAN #13 RAHZZAH 2020 VAR $ 3.99
MOONSHINE #14 (MR) $ 3.99
MORBIUS #2 $ 3.99
MORBIUS #2 GIST VAR (1/25) $ ???
MORBIUS #2 RYP CONNECTING VAR $ 3.99
NEW MUTANTS #1 2ND PTG CAMUNCOLI VAR DX $ 4.99
NEW MUTANTS #3 DX $ 3.99
OBLIVION SONG BY KIRKMAN & DE FELICI #22 (MR) $ 3.99
OCEAN MASTER YEAR OF THE VILLAIN #1 $ 4.99
OGGY & THE COCKROACHES #1 CVR A RANKINE $ 3.99
PRETTY DEADLY RAT #4 (OF 5) (MR) $ 3.99
PUNISHER SOVIET #2 (OF 6) (MR) $ 3.99
RAI (2019) #2 CVR A NGU $ 3.99
RAT QUEENS #20 (MR) $ 3.99
REAVER #6 (MR) $ 3.99
RED MOTHER #1 CVR HAUN $ 3.99
RED MOTHER #1 CVR LUCKERT $ 3.99
RED MOTHER #1 FOC VAR $ 3.99
RIVERS OF LONDON FEY & THE FURIOUS #2 (MR) $ 3.99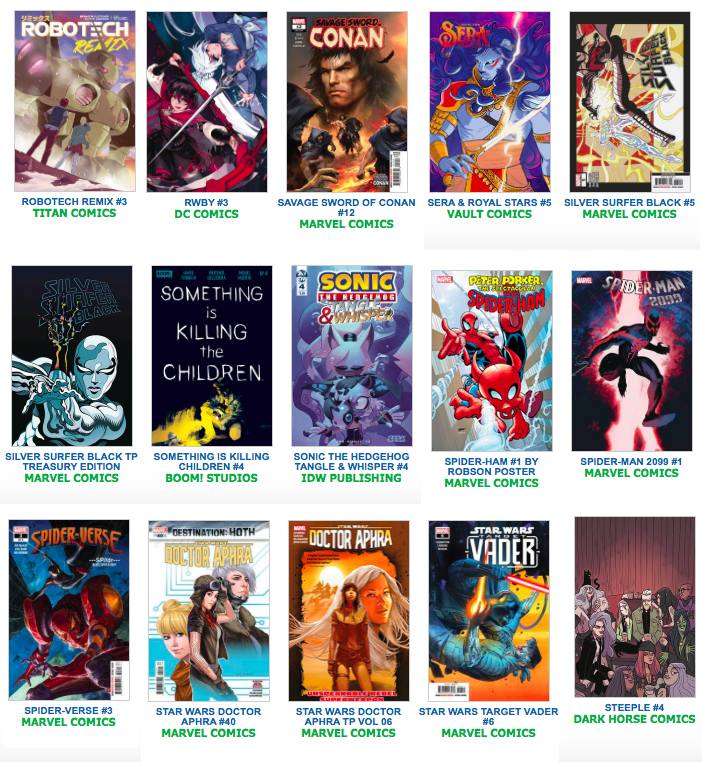 ROBOTECH REMIX #3 CVR A DAMASO $ 3.99
ROBOTECH REMIX #3 CVR B KARREON $ 3.99
ROBOTECH REMIX #3 CVR C RENZI $ 3.99
RWBY #3 (OF 7) $ 3.99
RWBY #3 (OF 7) CARD STOCK VAR ED $ 4.99
SAVAGE SWORD OF CONAN #12 $ 3.99
SERA & ROYAL STARS #5 $ 3.99
SILVER SURFER BLACK #5 (OF 5) 2ND PTG MOORE VAR $ 3.99
SOMETHING IS KILLING CHILDREN #4 $ 3.99
SOMETHING IS KILLING CHILDREN #4 FOC VAR $ 3.99
SONIC THE HEDGEHOG TANGLE & WHISPER #4 (OF 4) (1/10) $ ???
SONIC THE HEDGEHOG TANGLE & WHISPER #4 (OF 4) CVR A STANLEY $ 3.99
SONIC THE HEDGEHOG TANGLE & WHISPER #4 (OF 4) CVR B FOURDRAI $ 3.99
SPAWN #300 4TH PTG $ 7.99
SPAWN #301 3RD PTG (MR) $ 4.99
SPAWN #302 2ND PTG $ 2.99
SPIDER-MAN 2099 #1 $ 4.99
SPIDER-MAN 2099 #1 FOREMAN VAR (1/25) $ ???
SPIDER-MAN 2099 #1 RON LIM VAR $ 4.99
SPIDER-VERSE #3 (OF 6) $ 3.99
STAR WARS DOCTOR APHRA #40 $ 3.99
STAR WARS DOCTOR APHRA #40 DODSON GREATEST MOMENTS VAR $ 3.99
STAR WARS TARGET VADER #6 (OF 6) $ 3.99
STEEPLE #4 (OF 5) CVR A ALLISON $ 3.99
STEVEN UNIVERSE ONGOING #35 CVR A PENA $ 3.99
STRIKEFORCE #4 $ 3.99
SUPERGIRL #37 $ 3.99
SUPERGIRL #37 CARD STOCK VAR ED $ 4.99
SUPERMAN #18 $ 3.99
SUPERMAN #18 VAR ED $ 3.99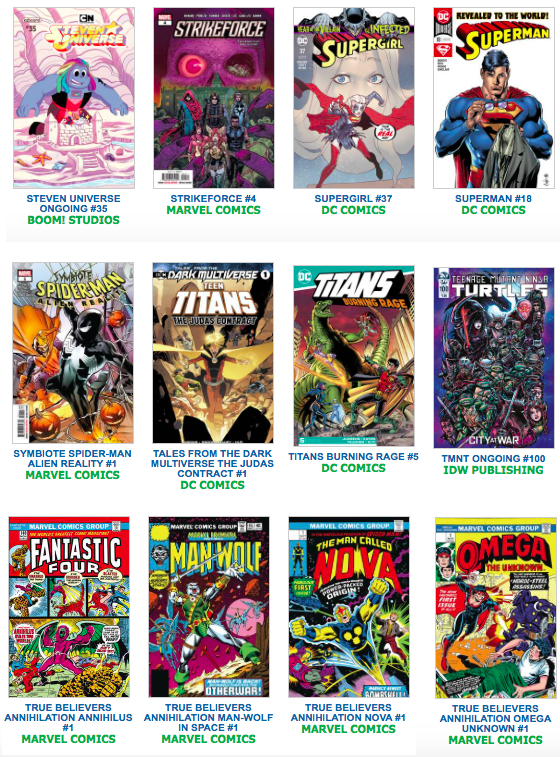 SYMBIOTE SPIDER-MAN ALIEN REALITY #1 (OF 5) $ 4.99
SYMBIOTE SPIDER-MAN ALIEN REALITY #1 (OF 5) ART ADAMS 8 PART $ 4.99
SYMBIOTE SPIDER-MAN ALIEN REALITY #1 (OF 5) BLACK BLANK VAR $ 4.99
SYMBIOTE SPIDER-MAN ALIEN REALITY #1 (OF 5) CHECCHETTO YOUNG $ 4.99
SYMBIOTE SPIDER-MAN ALIEN REALITY #1 (OF 5) DAUTERMAN YOUNG $ 4.99
SYMBIOTE SPIDER-MAN ALIEN REALITY #1 (OF 5) DEL MUNDO YOUNG $ 4.99
SYMBIOTE SPIDER-MAN ALIEN REALITY #1 (OF 5) GARRON YOUNG GUN $ 4.99
SYMBIOTE SPIDER-MAN ALIEN REALITY #1 (OF 5) KUDER YOUNG GUNS $ 4.99
SYMBIOTE SPIDER-MAN ALIEN REALITY #1 (OF 5) LARRAZ YOUNG GUN $ 4.99
SYMBIOTE SPIDER-MAN ALIEN REALITY #1 (OF 5) SAVIUK VAR (1/25) $ ???
TALES FROM THE DARK MULTIVERSE THE JUDAS CONTRACT #1 $ 5.99
TITANS BURNING RAGE #5 (OF 7) $ 4.99
TMNT ONGOING #100 SANTOLOUCO (1/10) $ ???
TMNT ONGOING #100 CVR A WACHTER $ 7.99
TMNT ONGOING #100 CVR B EASTMAN $ 7.99
TREES THREE FATES #4 (OF 5) (MR) $ 3.99
TRUE BELIEVERS ANNIHILATION ANNIHILUS #1 $ 1
TRUE BELIEVERS ANNIHILATION MAN-WOLF IN SPACE #1 $ 1
TRUE BELIEVERS ANNIHILATION NOVA #1 $ 1
TRUE BELIEVERS ANNIHILATION OMEGA UNKNOWN #1 $ 1
TRUE BELIEVERS ANNIHILATION QUASAR #1 $ 1
UNDISCOVERED COUNTRY #2 CVR A CAMUNCOLI (MR) $ 3.99
UNDISCOVERED COUNTRY #2 CVR B MANAPUL (MR) $ 3.99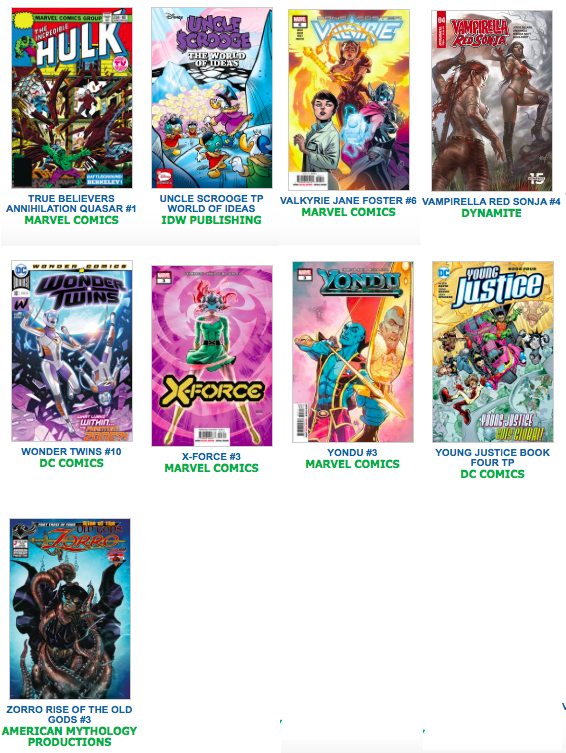 VALKYRIE JANE FOSTER #6 $ 3.99
VALKYRIE JANE FOSTER #6 NAKAYAMA 2020 VAR $ 3.99
VAMPIRELLA RED SONJA #4 CVR A TEDESCO $ 3.99
VAMPIRELLA RED SONJA #4 CVR B TARR $ 3.99
VAMPIRELLA RED SONJA #4 CVR C PARILLO $ 3.99
VENOM #19 2ND PTG COELLO VAR AC $ 3.99
WONDER TWINS #10 (OF 12) $ 3.99
X-FORCE #1 2ND PTG CAMUNCOLI VAR DX $ 4.99
X-FORCE #3 DX $ 3.99
YONDU #3 (OF 5) $ 3.99
YOU ARE OBSOLETE #4 $ 3.99
ZORRO RISE OF THE OLD GODS #3 CVR A CALZADA $ 3.99

COMIC SHOP NEWS #1695 $ FREE
COMIC SHOP NEWS WINTER 2019 PREVIEW $ FREE
NON SPORT UPDATE VOL 30 #6 $ 5.99

BLOODSHOT (2019) TP VOL 01 $ 9.99
BOYS OMNIBUS TP VOL 06 (MR) $ 29.99
DOG MAN GN VOL 08 FETCH $ 12.99
FIREFLY UNIFICATION WAR HC VOL 02 $ 19.99
GANTZ OMNIBUS TP VOL 04 $ 24.99
GHOST TREE TP $ 15.99
GREEN LANTERN REBIRTH DLX ED HC $ 39.99
GYO 2IN1 DLX ED HC JUNJI ITO $ 22.99
HARLEY QUINN & THE BIRDS OF PREY TP $ 12.99
HOUSE OF X POWERS OF X HC BROOKS DM VAR $ 60
INJUSTICE 2 TP VOL 06 $ 16.99
LUMBERJANES TP VOL 13 $ 14.99
MARVEL MONOGRAPH TP ART OF ED MCGUINNESS $ 19.99
MY LITTLE PONY TP VOL 13 STAR PUPIL $ 7.99
PEARL TP VOL 02 (MR) $ 16.99
QUEEN OF BAD DREAMS TP VOL 01 $ 17.99
RUMBLE TP VOL 06 LAST KNIGHT (MR) $ 19.99
SHARKEY BOUNTY HUNTER TP $ 19.99
SHE SAID DESTROY TP VOL 01 $ 17.99
SILVER SURFER BLACK TP TREASURY EDITION $ 29.99
SONS OF EL TOPO ORIGINAL GN HC VOL 02 ABEL $ 19.99
STAR WARS DOCTOR APHRA TP VOL 06 UNSPEAKABLE REBEL SUPERWEAP $ 15.99
SUPERMAN THE CITY OF TOMORROW TP VOL 01 $ 39.99
TIGRA COMPLETE COLLECTION TP $ 39.99
UNCLE SCROOGE TP WORLD OF IDEAS $ 12.99
X-FORCE EPIC COLLECTION TP X-CUTIONERS SONG $ 34.99
X-MEN HC SHATTERSHOT $ 75
X-MEN RELOAD BY CHRIS CLAREMONT TP VOL 02 HOUSE OF M $ 34.99
Y THE LAST MAN OMNIBUS HC (MR) $ 150
YOUNG JUSTICE TP BOOK 04 $ 34.99

YU GI OH TCG YUGIS LEGENDARY DECKS BOX $ 29.99

DISNEY NIGHTMARE BEFORE CHRISTMAS POSTER T/S SM-XL $ 20.99
DISNEY NIGHTMARE BEFORE CHRISTMAS POSTER T/S XXL $ 22.99

G GUNDAM GOD GUNDAM BANDAI SPIRITS RI-RES MDL KIT (NET) (C: $ 150
MARVEL GALLERY AVENGERS ENDGAME CAPTAIN AMERICA PVC FIG (C: $ 49.99
MARVEL GALLERY AVENGERS ENDGAME RESCUE PVC FIG $ 49.99
POP GOLF TIGER WOODS RED SHIRT VINYL FIGURE $ 10.99
TRANSFORMERS GEN WFC BATTLEMASTER AF ASST 201904 (NET) (C: 1 $ 7.99
X-MEN LEGENDS HAVOK/POLARIS 6IN AF 2PK CS (NET) $ 49.99

SPIDER-HAM #1 BY ROBSON POSTER $ 8.99
SYMBIOTE SPIDER-MAN #1 POSTER $ 8.99
VENOM #21 BY CRAIN POSTER $ 8.99