Merry Christmas and Happy New Year on Wednesday, December 25th, I mean Thursday, December 26th, 2019
Okay, here's the schedule for the next 2 holidays, both on Wednesday! We've always(?) been open from 12-5 on Christmas Day, AND it will be a Sale Day! But it won't be "New Comic Day". That will be Thursday because they have a national "street date" of 12/26. It's going to be a very small week for comics. – see list below. The next week's comics list will also be kind of small, and will also arrive early, but we have to sit on them only until Wednesday, Jan 1, so back to normal! If you want to know about the next sale (it WILL be Christmas Day!) . . Click here. Sign in here to get an email reminder for for ALL sales and other events.  Also, you can go to fb.fantasybooksandgames.com and you'll be taken to our Facebook page. We also use our in-store 5-Star Rewards system to text similar announcements to your phone, but it pays to be covered, right?
Thanks to Comics on the Green for this week's images, which include many of the comics and a few of the books and other items we received today.  
BETTIE PAGE UNBOUND #8 PHOTO VIRGIN (1/10) $ ???
BETTIE PAGE UNBOUND #8 CHANTLER VIRGIN (1/30) $ ???
BETTIE PAGE UNBOUND #8 CVR A ROYLE $ 3.99
BETTIE PAGE UNBOUND #8 CVR B CHANTLER $ 3.99
BETTIE PAGE UNBOUND #8 CVR E PHOTO $ 3.99
CRIMINAL #11 (MR) $ 3.99
DR STRANGE #1 $ 3.99
DR STRANGE #1 DELLOTTO VAR $ 3.99
DR STRANGE #1 INHYUK LEE VAR (1/50) $ ???
DR STRANGE #1 ZAFFINO VAR (1/25) $ ???
EAST OF WEST #45 (match to #44) $ 4.99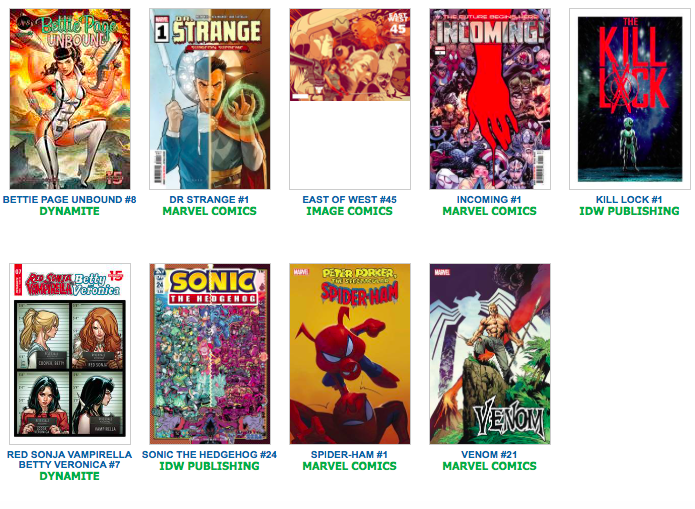 INCOMING #1 $ 9.99
INCOMING #1 GREENE VAR $ 9.99
INCOMING #1 WEAVER VAR $ 9.99
KILL LOCK #1 $ 3.99
MARKED #3 CVR A HABERLIN & VAN DYKE (MR) $ 3.99
MASK I PLEDGE ALLEGIANCE TO THE MASK #3 (OF 4) CVR A REYNOLD $ 3.99
OUTCAST BY KIRKMAN & AZACETA #43 (MR) $ 3.99
RED SONJA VAMPIRELLA BETTY VERONICA #7 SANAPO VIRGIN (1/30) $ ???
RED SONJA VAMPIRELLA BETTY VERONICA #7 CVR D PARENT $ 3.99
RED SONJA VAMPIRELLA BETTY VERONICA #7 CVR E SANAPO $ 3.99
SONIC THE HEDGEHOG #24 FOURDRAINE (1/10) $ ???
SONIC THE HEDGEHOG #24 CVR A GRAY & GRAHAM $ 3.99
SONIC THE HEDGEHOG #24 CVR B HAMMERSTROM $ 3.99
SPIDER-HAM #1 (OF 5) $ 3.99
SPIDER-HAM #1 (OF 5) $ 3.99
SPIDER-HAM #1 (OF 5) ART ADAMS 8 PART CONNECTING VAR $ 3.99
SPIDER-HAM #1 (OF 5) INHYUK LEE VAR (1/50) $ ???
SPIDER-HAM #1 (OF 5) ROBSON VAR (1/25) $ ???
SUPERGIRL TP VOL 02 SINS OF THE CIRCLE $ 16.99
VENOM #21 $ 3.99
VENOM #21 BAGLEY VAR (1/25) $ ???
VENOM #21 CRAIN TEASER VAR $ 3.99
VENOM #21 RANDOLPH 2020 VAR $ 3.99
VENOM #21 RIVERA VAR (1/50) $ ???

DIAL H FOR HERO TP VOL 01 ENTER THE HEROVERSE $ 16.99
FAITHLESS TP (MR) $ 17.99
HOUSE OF SECRETS THE BRONZE AGE OMNIBUS HC VOL 02 $ 125
PROMETHEA THE DELUXE EDITION HC VOL 02 $ 39.99

MARVEL 2020 CALENDAR $ FREE