Happy New Comics Year on Wednesday, January 1st, 2020
New comics on Wednesday again,for the foreseeable future. I guess the big news is from Marvel, as usual. Thor #1 and Star Wars #1, just in time to coincide with the last movie, and many covers for each. But that's not all! We also have Black Panther, Daredevil, Doctor Doom, Marauders, Mile Morales, Punisher Soviet, True Believers Bullseye and Green Goblin, Web of Black Widow, and X-Men.
DC starts with Action, Batgirl, Batman Beyond, Detective, Dial H, Flash, Harley Quinn, Joker Harley oversized, JL Dark, Lois Lane, Martian Manhunter, Red Hood, Superman Giant, and Terrifics.
Everyone else had a small week, with Killadelphia, Nomen Omen, Sword Daughter, and that's about it.
Pops are still pouring in, with new Fantastic Four, Marvel Firsts Kingpin, Disney's Hunchback, Duran Duran, and Def Leppard! And all the Pusheens are back in stock.
If you want to know about the next sale, click here. Sign in here to get an email reminder for for ALL sales and other events.  Also, you can go to fb.fantasybooksandgames.com and you'll be taken to our Facebook page. We also use our in-store 5-Star Rewards system to text similar announcements to your phone, but it pays to be covered, right?
Thanks to Comics on the Green for this week's images, which include many of the comics and a few of the books and other items we received today.  
ACTION COMICS #1018 $ 3.99
ACTION COMICS #1018 CARD STOCK VAR ED $ 4.99
ARCHIE MILESTONES DIGEST #6 $ 7.99
BATGIRL #42 $ 3.99
BATGIRL #42 VAR ED $ 3.99
BATMAN BEYOND #39 $ 3.99
BATMAN BEYOND #39 VAR ED $ 3.99
BLACK PANTHER AND AGENTS OF WAKANDA #5 $ 3.99
BLACK PANTHER AND AGENTS OF WAKANDA #5 SUAYAN MARVELS X VAR $ 3.99
BLADE RUNNER 2019 #5 CVR E BLANK SKETCH (MR) $ 3.99
BOOKS OF MAGIC #15 (MR) $ 3.99
CLASSIC PULP HORROR ONE SHOT $ 4
COPRA #4 $ 3.99
CRONE #3 (OF 5) $ 3.99
DAREDEVIL #16 $ 3.99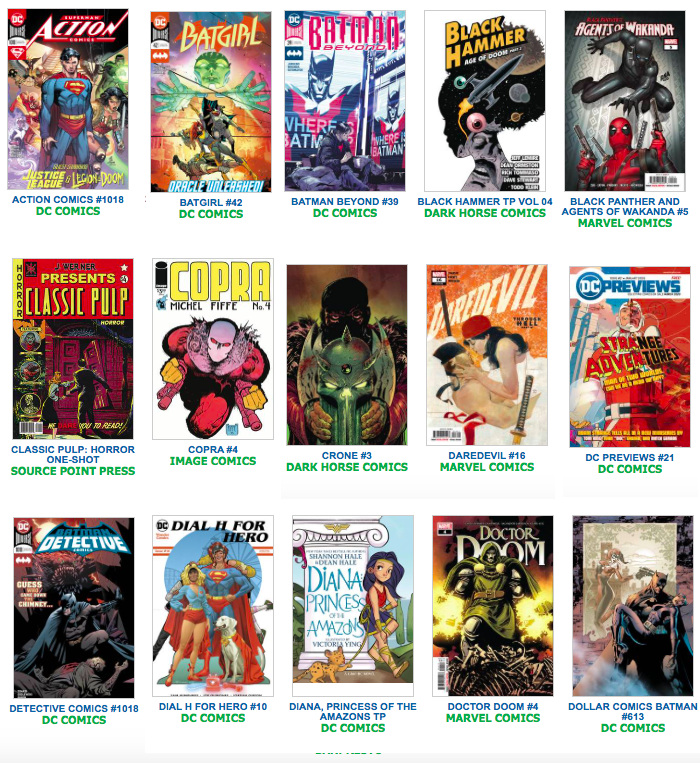 DAREDEVIL #16 BENJAMIN MARVELS X VAR $ 3.99
DEATH OR GLORY #8 CVR A BENGAL (MR) $ 3.99
DEATH OR GLORY #8 CVR B ASRAR (MR) $ 3.99
DETECTIVE COMICS #1018 $ 3.99
DETECTIVE COMICS #1018 VAR ED $ 3.99
DIAL H FOR HERO #10 (OF 12) $ 3.99
DOCTOR DOOM #4 $ 3.99
DOCTOR DOOM #4 SLINEY MARVELS X VAR $ 3.99
DOLLAR COMICS BATMAN #613 $ 1
DREAMING #17 (MR) $ 3.99
DUCKTALES FAIRES & SCARES #1 (OF 3) CVR A GHIGLIONE & STELLA $ 3.99
EVERYTHING #5 (MR) $ 3.99
FLASH #85 $ 3.99
FLASH #85 CARD STOCK VAR ED $ 4.99
GRIMM FAIRY TALES #34 CVR A COCCOLO $ 3.99
GRIMM FAIRY TALES #34 CVR B ABRERA $ 3.99
GRIMM FAIRY TALES #34 CVR C ZALDIVAR $ 3.99
GRIMM FAIRY TALES #34 CVR D VITORINO $ 3.99
HARLEY QUINN #69 $ 3.99
HARLEY QUINN #69 VAR ED $ 3.99
HAWKEYE FREEFALL #1 $ 3.99
HAWKEYE FREEFALL #1 SCHMIDT VAR $ 3.99
I CAN SELL YOU A BODY #1 $ 3.99
JOKER HARLEY CRIMINAL SANITY #2 (OF 9) (MR) $ 5.99
JOKER HARLEY CRIMINAL SANITY #2 (OF 9) VAR ED (MR) $ 5.99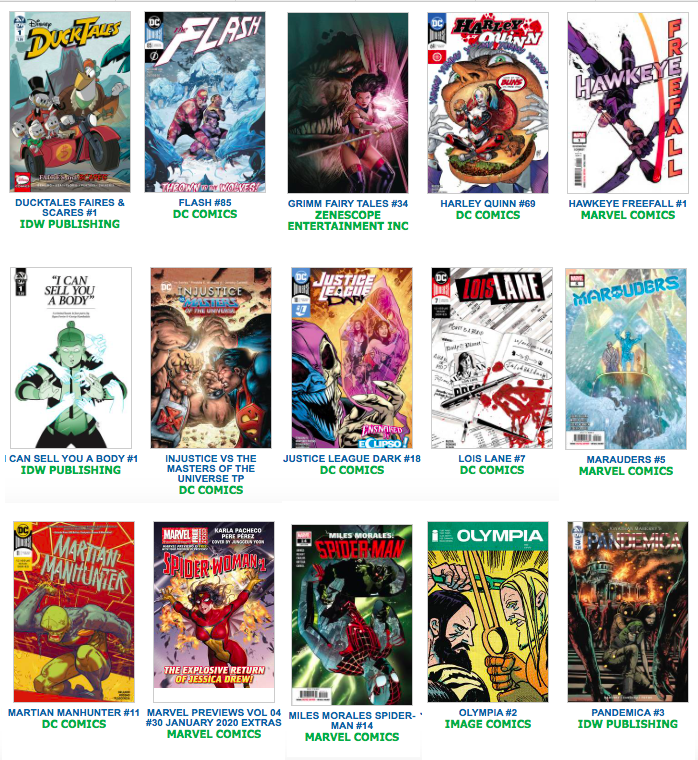 JUSTICE LEAGUE DARK #18 $ 3.99
JUSTICE LEAGUE DARK #18 VAR ED $ 3.99 (Maybe next week)
KILLADELPHIA #2 CVR A ALEXANDER (MR) $ 3.99
KILLADELPHIA #2 CVR B MAHFOOD (MR) $ 3.99
LOIS LANE #7 (OF 12) $ 3.99
LOIS LANE #7 (OF 12) VAR ED $ 3.99
MARAUDERS #5 DANIEL DARK PHOENIX 40TH VAR DX $ 3.99
MARAUDERS #5 DX $ 3.99
MARTIAN MANHUNTER #11 (OF 12) $ 3.99
MARTIAN MANHUNTER #11 (OF 12) VAR ED $ 3.99
MILES MORALES SPIDER-MAN #14 $ 3.99
MILES MORALES SPIDER-MAN #14 SHALVEY MARVELS X VAR $ 3.99
NOMEN OMEN #4 (OF 15) CVR A CAMAGNI (MR) $ 3.99
NOMEN OMEN #4 (OF 15) CVR B LOLLI (MR) $ 3.99
OLYMPIA #2 (OF 5) $ 3.99
PANDEMICA #3 (OF 5) SANCHEZ $ 3.99
STAR WARS #1 $ 4.99
STAR WARS #1 ART ADAMS VAR (1/25) $ ???
STAR WARS #1 ASRAR VADER VAR (1/50) $ ???
STAR WARS #1 BARTEL LEIA VAR (1/50) $ ???
STAR WARS #1 BLANK VAR $ 4.99
STAR WARS #1 MOVIE VAR (1/10) $ ???
STAR WARS #1 NOTO PARTY VAR $ 4.99
STAR WARS #1 SPROUSE EMPIRE STRIKES BACK VAR $ 4.99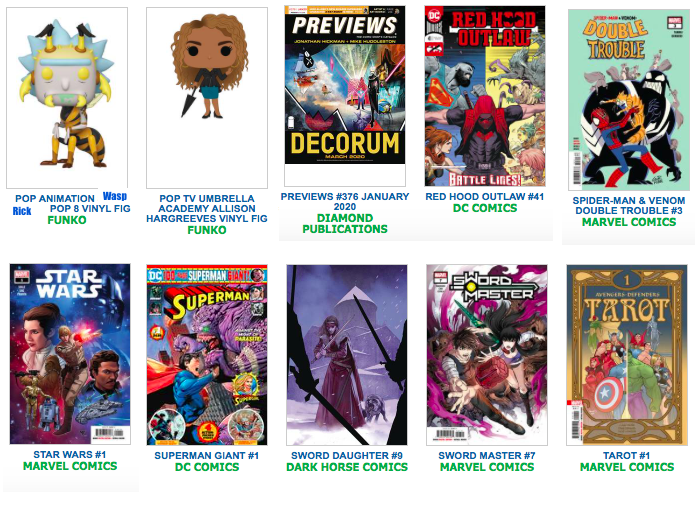 PUNISHER SOVIET #3 (OF 6) (MR) $ 3.99
RED HOOD OUTLAW #41 $ 3.99
RED HOOD OUTLAW #41 VAR ED $ 3.99
SPIDER-MAN & VENOM DOUBLE TROUBLE #3 (OF 4) $ 3.99
SUPERMAN GIANT #1 $ 4.99
SWORD DAUGHTER #9 CVR B CHATER $ 4.99
SWORD MASTER #7 $ 3.99
TAROT #1 $ 4.99
TAROT #1 DAVIS VAR $ 4.99
TERRIFICS #23 $ 3.99
TERRIFICS #23 VAR ED $ 3.99
THOR #1 $ 4.99
THOR #1 ANKA RAINBOW BRIDGE VAR $ 4.99
THOR #1 ART ADAMS VAR $ 4.99
THOR #1 ARTGERM VAR $ 4.99
THOR #1 BARTEL VAR $ 4.99
THOR #1 BLANK VAR $ 4.99
THOR #1 BROWN MARVELS X VAR $ 4.99
THOR #1 KIRBY HIDDEN GEM VAR (1/100) $ ???
THOR #1 KLEIN PARTY VAR $ 4.99
THOR #1 KLEIN SIF VAR $ 4.99
THOR #1 MR GARCIN COLLAGE VAR $ 4.99
THOR #1 RON LIM VAR $ 4.99
THOR #1 SCALERA VAR (1/25) $ ???
THOR #1 STEGMAN VAR (1/50) $ ???
THOR #1 WOO DAE SHIM VAR $ 4.99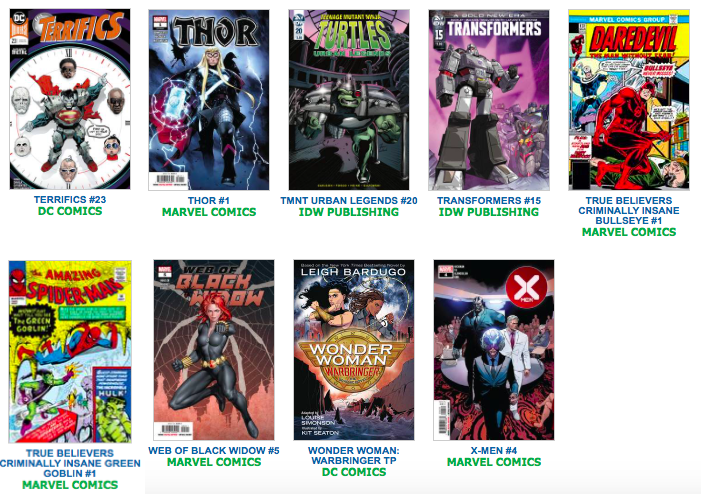 DC PREVIEWS #21 JANUARY 2020 EXTRAS $ FREE*
MARVEL PREVIEWS VOL 04 #30 JANUARY 2020 $ FREE*
PREVIEWS #376 JANUARY 2020 $ 2.4
TMNT URBAN LEGENDS #20 CVR A FOSCO $ 3.99
TRANSFORMERS #15 PIZZARI (1/10) $ ???
TRANSFORMERS #15 CVR A PEREZ $ 3.99
TRANSFORMERS #15 CVR B BURCHAM $ 3.99
TRUE BELIEVERS CRIMINALLY INSANE BULLSEYE #1 $ 1
TRUE BELIEVERS CRIMINALLY INSANE GREEN GOBLIN #1 $ 1
WEB OF BLACK WIDOW #5 (OF 5) $ 3.99
WEB OF BLACK WIDOW #5 (OF 5) BIANCHI VAR $ 3.99
X-MEN #4 DX $ 3.99
X-MEN #4 ORTEGA VENOM ISLAND VAR DX $ 3.99

COMIC SHOP NEWS #1698 $ FREE

ABSOLUTE DEATH HC NEW ED (MR) $ 99.99
BATMAN GOTHAM KNIGHTS TRANSFERENCE TP $ 29.99
BIRDS OF PREY HUNTRESS TP $ 19.99
BLACK BOLT HC $ 34.99
BLACK CAT TP VOL 01 GRAND THEFT MARVEL $ 15.99
BLACK HAMMER TP VOL 04 AGE OF DOOM PART II $ 19.99
CONAN CHRONICLES EPIC COLLECTION TP BATTLE SHAMLA PASS $ 44.99
CONAN TP HOUR OF DRAGON $ 34.99
CURSE WORDS TP VOL 05 (MR) $ 16.99
DIANA PRINCESS OF THE AMAZONS TP $ 9.99
DRIFTING DRAGONS GN VOL 01 $ 12.99
INJUSTICE VS THE MASTERS OF THE UNIVERSE TP $ 16.99
KABUKI OMNIBUS TP VOL 01 $ 29.99
MIGHTY ELVIS A GRAPHIC BIOGRAPHY HC GN $ 19.99
MILES MORALES TP VOL 02 BRING ON BAD GUYS $ 15.99
MOON GIRL AND DEVIL DINOSAUR GN TP FULL MOON $ 12.99
NATHAN HALES HAZARDOUS TALES HC VOL 09 MAJOR IMPOSSIBLE $ 13.99
NEW MUTANTS EPIC COLL TP DEMON BEAR SAGA DM VAR NEW PTG $ 39.99
TOMB RAIDER OMNIBUS TP VOL 02 $ 29.99
UNBEATABLE SQUIRREL GIRL GN TP POWERS OF A SQUIRREL $ 12.99
WONDER WOMAN WARBRINGER TP $ 16.99

TOPPS 2019 STRANGER THINGS UPSIDE DOWN T/C BOX $ ???

BATMAN THE ANIMATED SER BANE AF $ 27.99
FANTASTIC FOUR LEGENDS 6IN AF $ 26.99
GUNDAM BUILD DIVERS 05 VALKYLANDER 1/144 HGBD MDL KIT $ 15.99
GUNDAM BUILD DIVERS 06 NU-ZEON GUNDAM 1/144 HGBD MDL KIT $ 37.99
GUNDAM BUILD DIVERS 08 REAL CORE GUNDAM 1/144 HGBD MDL KIT $ 16.99
GUNDAM IBO GUNDAM BARBATOS 1/100 MG MDL KIT $ 52.99
MARIO KART COLLECTOR ENAMEL PIN 24PC ASST DS $ 7.99
MARVEL LEGENDS WAR MACHINE VARIANT 6IN AF CS $ 26.99
POCKET POP HARRY POTTER GINNY YULE BALL FIG KEYCHAIN $ 5.99
POCKET POP HARRY POTTER HARRY YULE BALL FIG KEYCHAIN $ 5.99
POP GAMES PIKACHU VINYL FIGURE $ 11.99
SUPER MARIO COLLECTOR ENAMEL PIN 24PC ASST DS $ 7.99
SW BLACK CON EXC LUKE SKYWALKER CELEBRATION 6IN AF CS $ ???
TRANSFORMERS GEN WFC BATTLEMASTER AF $ 7.99
TRANSFORMERS GEN WFC MICROMASTER AF $ 12.99
TRANSFORMERS GEN WFC MICROMASTER AF ASST $ 12.99
TRANSFORMERS GEN WFC VOYAGER AF $ 37.99