No War Yet – Everything's Under Control on Wednesday, January 8th, 2020
I'm just going to list almost everything, and then list everything.
Batman, & the Outsiders, Aquaman Giant, Catwoman, Daphne Byrne (Hill House),  Doll House, Dollar Comics Brave & Bold, Harley Quinn & Poison Ivy, Hawkman, Supergirl, and Young Justice.
Amazing Mary Jane, Amazing Spider-Man, Black Cat, Conan Serpent War, Deadpool, Excalibur, Fallen Angels, Ghost Rider, Ghost Spider,  Immortal Hulk, Mag. Ms. Marvel, Marvels X, Miles, Morbius, New Mutants, Ruins of Ravencroft, Scream, Star #1, Star Wars Rise of Kylo Ren, Symbiote Spider-Man, True Believers, Venom, and X-Force.
Battlepug, Buffy, Dying is Easy, Elfquest, Elvira, Firefly Outlaw Ma Reynolds, Magicians, MLP, Power Rangers/TMNT, Red Agent, Robotech Remix, Ronin Island, Stranger Things Into the Fire #1, Tank Girl, TMNT, Trees, Uncle Scrooge, and Vengeance of Vampirella.
If you want to know about the next sale, click here. Sign in here to get an email reminder for for ALL sales and other events.  Also, you can go to fb.fantasybooksandgames.com and you'll be taken to our Facebook page. We also use our in-store 5-Star Rewards system to text similar announcements to your phone, but it pays to be covered, right?
Thanks to Comics on the Green for this week's images, which include many of the comics and a few of the books and other items we received today.  
20XX #2 (MR) $ 3.99
AERO #7 $ 3.99
AMAZING MARY JANE #4 $ 3.99
AMAZING MARY JANE #4 GONZALES VAR $ 3.99
AMAZING SPIDER-MAN #37 $ 3.99
AMAZING SPIDER-MAN #37 CAMUNCOLI MARVELS X VAR $ 3.99
AQUAMAN GIANT #2 $ 4.99
ASCENDER #8 (MR) $ 3.99
B & V FRIENDS JUMBO COMICS DIGEST #277 $ 7.99
BATMAN #86 $ 3.99
BATMAN #86 CARD STOCK VAR ED $ 4.99
BATMAN AND THE OUTSIDERS #9 $ 3.99
BATMAN AND THE OUTSIDERS #9 VAR ED $ 3.99
BATTLEPUG #5 CVR A NORTON & PASSALAQUA $ 3.99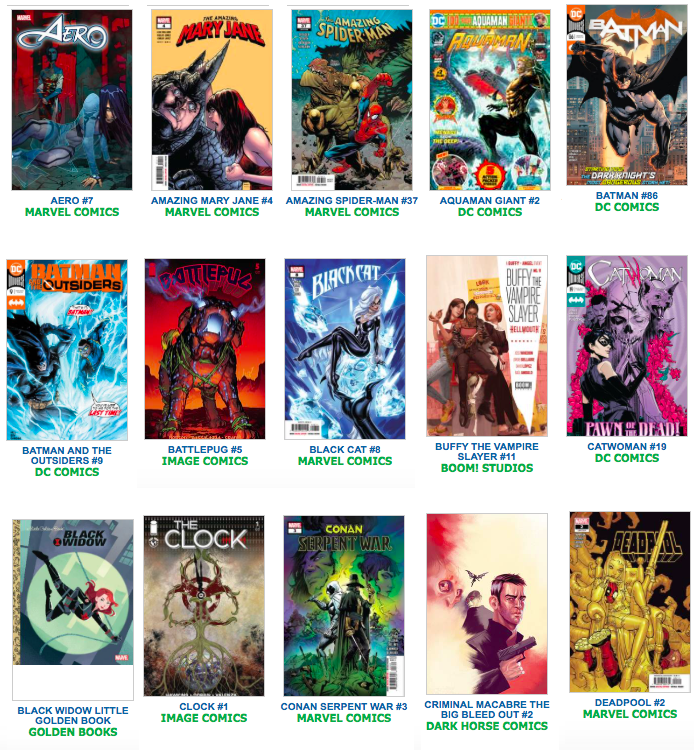 BLACK CAT #8 $ 3.99
BLACK CAT #8 ANACLETO MARVELS X VAR $ 3.99
BUFFY THE VAMPIRE SLAYER #11 CVR A MAIN ASPINALL $ 3.99
BUFFY THE VAMPIRE SLAYER #11 CVR B WADA $ 3.99
BUFFY THE VAMPIRE SLAYER #11 CVR C CONNECTING MORRIS VAR $ 3.99
BUFFY THE VAMPIRE SLAYER #11 CVR D PREORDER INZANA VAR $ 3.99
BUFFY THE VAMPIRE SLAYER #11 FOC SLAYER VAR $ 3.99
BUTCHER OF PARIS #2 (OF 5) (MR) $ 3.99
CAPTAIN MARVEL #12 2ND PTG SORRENTINO VAR $ 3.99
CATWOMAN #19 $ 3.99
CATWOMAN #19 CARD STOCK VAR ED $ 4.99
CLOCK #1 $ 3.99
CONAN SERPENT WAR #3 (OF 4) $ 3.99
CONAN SERPENT WAR #3 (OF 4) CAMUNCOLI CONNECTING VAR $ 3.99
CRIMINAL MACABRE THE BIG BLEED OUT #2 (OF 4) $ 3.99
DAPHNE BYRNE #1 (OF 6) (MR) $ 3.99
DAPHNE BYRNE #1 (OF 6) CARD STOCK VAR ED (MR) $ 4.99
DEADPOOL #2 $ 3.99
DOLLAR COMICS THE BRAVE AND THE BOLD #197 $ 1
DOLLHOUSE FAMILY #3 (OF 6) (MR) $ 3.99
DOLLHOUSE FAMILY #3 (OF 6) VAR ED (MR) $ 3.99
DYING IS EASY #2 (OF 5) CVR A SIMMONDS $ 3.99
DYING IS EASY #2 (OF 5) CVR B RODRIGUEZ $ 3.99
ELFQUEST STARGAZERS HUNT #2 (OF 6) $ 3.99
ELVIRA MISTRESS OF DARK #11 CVR A SEELEY $ 3.99
ELVIRA MISTRESS OF DARK #11 CVR C ROYLE $ 3.99
ELVIRA MISTRESS OF DARK #11 CVR D PHOTO $ 3.99
EXCALIBUR #5 DX $ 3.99
EXCALIBUR #5 SLINEY MARVELS X VAR DX $ 3.99
EXCALIBUR #5 TAN DARK PHOENIX 40TH VAR DX $ 3.99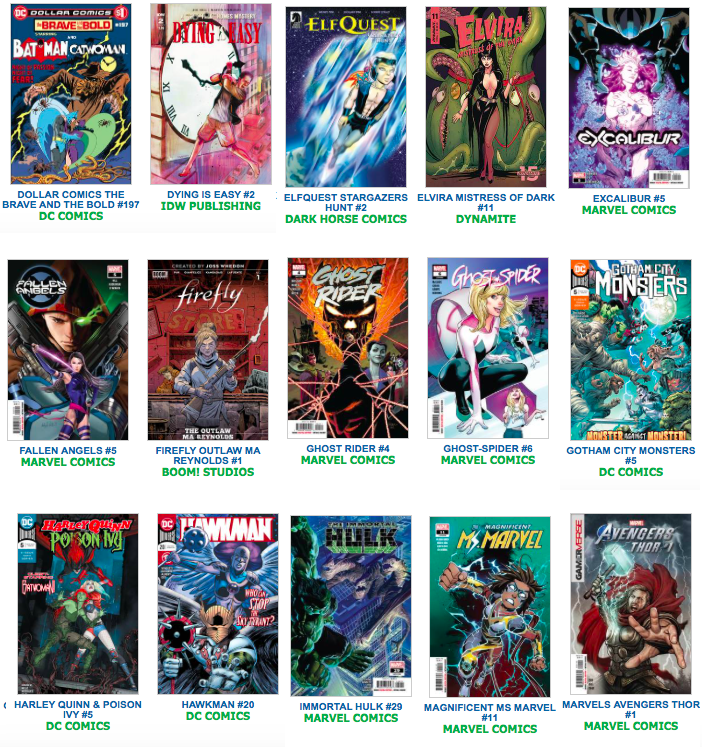 FALLEN ANGELS #2 2ND PTG VAR DX $ 3.99
FALLEN ANGELS #5 DX $ 3.99
FALLEN ANGELS #5 WILLIAMS DARK PHOENIX 40TH VAR DX $ 3.99
FIREFLY OUTLAW MA REYNOLDS #1 CVR A YOUNG $ 7.99
FIREFLY OUTLAW MA REYNOLDS #1 CVR B WALSH $ 7.99
GHOST RIDER #4 $ 3.99
GHOST-SPIDER #6 $ 3.99
GIDEON FALLS #20 CVR A SORRENTINO (MR) $ 3.99
GIDEON FALLS #20 CVR B BA (MR) $ 3.99
GOTHAM CITY MONSTERS #5 (OF 6) $ 3.99
HARLEY QUINN & POISON IVY #5 (OF 6) $ 3.99
HARLEY QUINN & POISON IVY #5 (OF 6) CARD STOCK HARLEY VAR ED $ 4.99
HARLEY QUINN & POISON IVY #5 (OF 6) CARD STOCK POISON IVY VA $ 4.99
HAWKMAN #20 $ 3.99
HAWKMAN #20 VAR ED $ 3.99
HOUSE OF WHISPERS #17 (MR) $ 3.99
IMMORTAL HULK #26 2ND PTG ALEX ROSS VAR $ 3.99
IMMORTAL HULK #27 2ND PTG ALEX ROSS VAR $ 3.99
IMMORTAL HULK #29 $ 3.99
IMMORTAL HULK #29 BRADSHAW MARVELS X VAR $ 3.99
KILL WHITEY DONOVAN #2 (OF 5) CVR A PEARSON (MR) $ 3.99
KILL WHITEY DONOVAN #2 (OF 5) CVR B BARAHONA (MR) $ 3.99
MAGICIANS #3 (OF 5) CVR A KHALIDAH (MR) $ 3.99
MAGICIANS #3 (OF 5) CVR B SHARPE (MR) $ 3.99
MAGNIFICENT MS MARVEL #11 $ 3.99
MANIFEST DESTINY #40 (MR) $ 3.99 (Maybe next week)
MARAUDERS #2 2ND PTG DAUTERMAN VAR DX $ 3.99
MARVELS AVENGERS THOR #1 $ 3.99
MARVELS AVENGERS THOR #1 RON LIM VAR $ 3.99
MARVELS X #1 (OF 6) $ 4.99
MARVELS X #1 (OF 6) LEON PARTY VAR $ 4.99
MILES MORALES THE END #1 $ 4.99
MILES MORALES THE END #1 SCOTT VAR $ 4.99
MOONSHINE #15 (MR) $ 3.99
MORBIUS #3 $ 3.99
MORBIUS #3 RYP CONNECTING VAR $ 3.99
MY LITTLE PONY FRIENDSHIP IS MAGIC #85 CVR A COLLER $ 3.99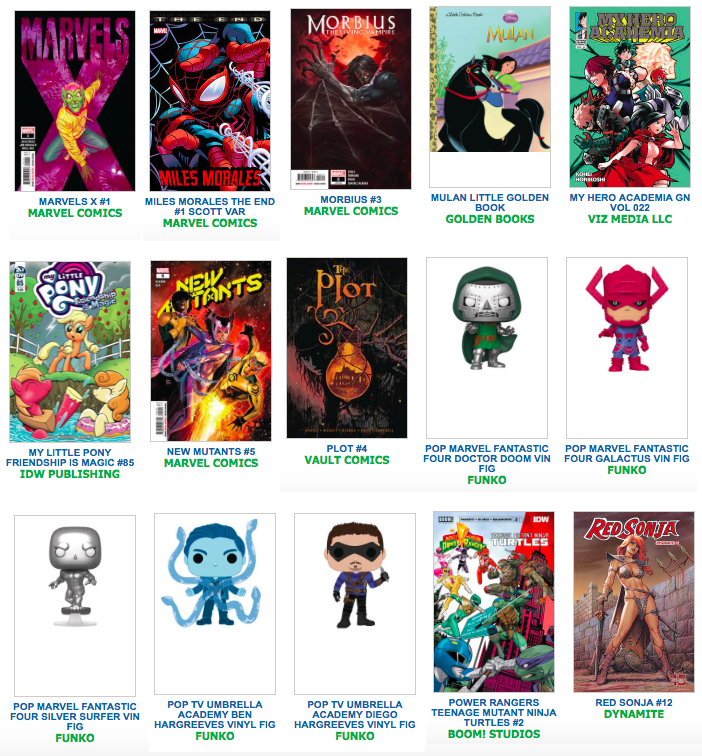 NEW MUTANTS #2 2ND PTG VAR DX $ 3.99
NEW MUTANTS #5 DX $ 3.99
NEW MUTANTS #5 RYP DARK PHOENIX 40TH VAR DX $ 3.99
OBLIVION SONG BY KIRKMAN & DE FELICI #23 (MR) $ 3.99
PINK LEMONADE HOLIDAY GRAB BAG ONE SHOT CAGNETTI CVR $ 5.99
PLOT #4 $ 3.99
POSTAL DELIVERANCE #6 (MR) $ 3.99
POWER RANGERS TEENAGE MUTANT NINJA TURTLES #2 ( 1/25) $ ???
POWER RANGERS TEENAGE MUTANT NINJA TURTLES #2 ( 1/50) $ ???
POWER RANGERS TEENAGE MUTANT NINJA TURTLES #2 CVR A MORA $ 3.99
POWER RANGERS TEENAGE MUTANT NINJA TURTLES #2 DON MONTES $ 3.99
POWER RANGERS TEENAGE MUTANT NINJA TURTLES #2 FOC VAR $ 3.99
POWER RANGERS TEENAGE MUTANT NINJA TURTLES #2 LEO MONTES $ 3.99
POWER RANGERS TEENAGE MUTANT NINJA TURTLES #2 MIKE MONTES $ 3.99
POWER RANGERS TEENAGE MUTANT NINJA TURTLES #2 RAPH MONTES $ 3.99
POWERS OF X #6 (OF 6) 2ND PTG SILVA VAR $ 5.99
PRETTY DEADLY RAT #5 (OF 5) (MR) $ 3.99
PSI-LORDS #8 CVR A KANO $ 3.99
RED AGENT ISLAND OF DR MOREAU #1 (OF 5) CVR A VITORINO $ 3.99
RED AGENT ISLAND OF DR MOREAU #1 (OF 5) CVR B BURNS $ 3.99
RED AGENT ISLAND OF DR MOREAU #1 (OF 5) CVR C GARVEY $ 3.99
RED SONJA #12 PEPOY SEDUCTION (1/10) $ ???
RED SONJA #12 CVR A CONNER $ 3.99
RED SONJA #12 CVR B LINSNER $ 3.99
RED SONJA #12 CVR E COSPLAY $ 3.99
RIVERS OF LONDON FEY & THE FURIOUS #3 (MR) $ 3.99
ROBOTECH REMIX #4 CVR A DAMASO $ 3.99
ROBOTECH REMIX #4 CVR B NICUOLO $ 3.99
ROBOTECH REMIX #4 CVR C RENZI $ 3.99
RONIN ISLAND #9 CVR A MILONOGIANNIS $ 3.99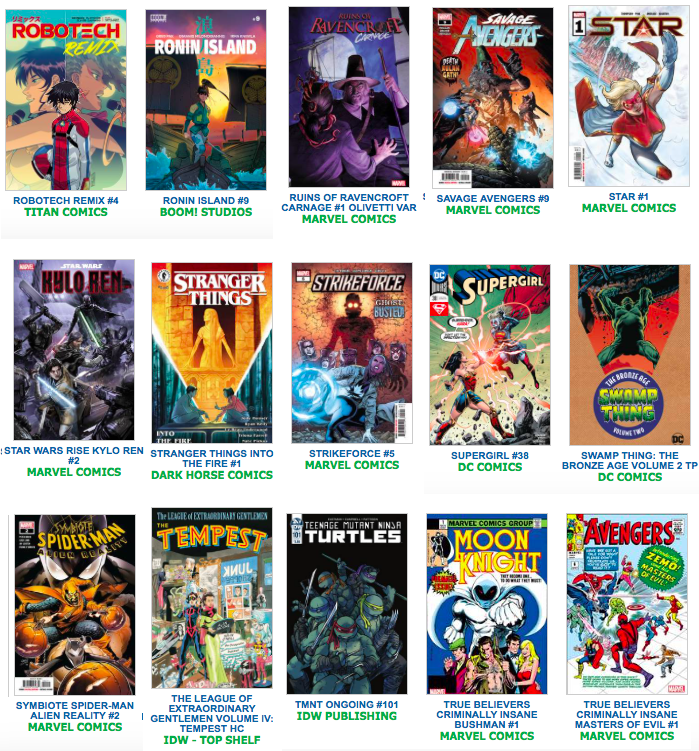 RUINS OF RAVENCROFT CARNAGE #1 $ 4.99
RUINS OF RAVENCROFT CARNAGE #1 OLIVETTI VAR $ 4.99
SAVAGE AVENGERS #9 $ 3.99
SCREAM CURSE OF CARNAGE #1 2ND PTG MOONEYHAM VAR $ 4.99
SONATA #7 CVR A HABERLIN & VAN DYKE (MR) $ 3.99
SPAWN #302 2ND PTG $ 2.99
STAR #1 (OF 5) $ 3.99
STAR #1 (OF 5) JEEHYUNG LEE VAR (1/100) $ ???
STAR #1 (OF 5) JS CAMPBELL VAR $ 3.99
STAR #1 (OF 5) LARRAZ VAR (1/50) $ ???
STAR #1 (OF 5) REMENAR VAR (1/25) $ ???
STAR WARS RISE KYLO REN #2 (OF 4) $ 3.99
STAR WARS RISE KYLO REN #2 (OF 4) MUIR VAR (1/25) $ ???
STRANGE SKIES OVER EAST BERLIN #4 $ 3.99
STRANGER THINGS INTO THE FIRE #1 (OF 4) CVR A KALACHEV $ 3.99
STRANGER THINGS INTO THE FIRE #1 (OF 4) CVR B LAMBERT $ 3.99
STRANGER THINGS INTO THE FIRE #1 (OF 4) CVR C WILSON $ 3.99
STRIKEFORCE #5 $ 3.99
SUPERGIRL #38 $ 3.99
SUPERGIRL #38 CARD STOCK VAR ED $ 4.99
SYMBIOTE SPIDER-MAN ALIEN REALITY #2 (OF 5) $ 3.99
SYMBIOTE SPIDER-MAN ALIEN REALITY #2 (OF 5) BAGLEY VAR $ 3.99
SYMBIOTE SPIDER-MAN ALIEN REALITY #2 (OF 5) RON LIM VAR $ 3.99
TANK GIRL FULL COLOR CLASSICS 1993-1994 CVR A HEWLETT (MR) $ 6.99
TANK GIRL FULL COLOR CLASSICS 1993-1994 CVR B HEWLETT (MR) $ 6.99
TMNT ONGOING #101 WEAVER (1/10) $ ???
TMNT ONGOING #101 CVR A CAMPBELL $ 3.99
TMNT ONGOING #101 CVR B EASTMAN $ 3.99
TREES THREE FATES #5 (OF 5) (MR) $ 3.99
TRUE BELIEVERS CRIMINALLY INSANE BUSHMAN #1 $ 1
TRUE BELIEVERS CRIMINALLY INSANE MASTERS OF EVIL #1 $ 1
UNCLE SCROOGE #52 CVR A MAZZARELLO $ 4.99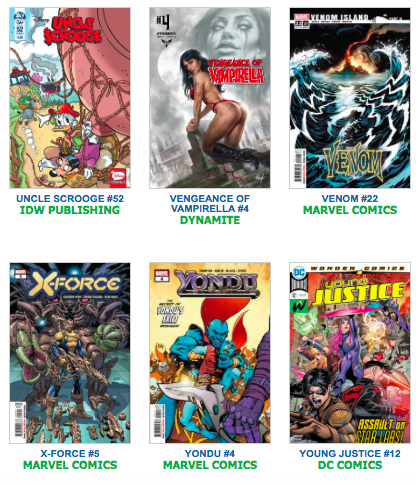 VENGEANCE OF VAMPIRELLA #4 PARRILLO B&W FOC (1/11) $ ???
VENGEANCE OF VAMPIRELLA #4 CVR A PARILLO $ 3.99
VENGEANCE OF VAMPIRELLA #4 CVR B OLIVER $ 3.99
VENGEANCE OF VAMPIRELLA #4 CVR C SEGOVIA $ 3.99
VENGEANCE OF VAMPIRELLA #4 CVR D COSPLAY $ 3.99
VENOM #22 $ 3.99
VENOM #22 CHRISTOPHER MARVELS X VAR $ 3.99
X-FORCE #5 DAUTERMAN DARK PHOENIX 40TH VAR DX $ 3.99
X-FORCE #5 DX $ 3.99
X-FORCE #5 LAND MARVELS X VAR DX $ 3.99
X-MEN #2 2ND PTG YU VAR DX $ 3.99
YONDU #4 (OF 5) $ 3.99
YOUNG JUSTICE #12 $ 3.99
YOUNG JUSTICE #12 CARD STOCK VAR ED $ 4.99

COMIC SHOP NEWS #1699 $ FREE

ABSOLUTE CARNAGE TP $ 29.99
ABSOLUTE CARNAGE VS DEADPOOL TP $ 15.99
ALBERT EINSTEIN & THEORY OF RELATIVITY YA GN $ 8.99
AMAZING SPIDER-MAN BY NICK SPENCER TP VOL 06 ABSOLUTE CARNAGE $ 17.99
BATMAN ARKHAM BLACK MASK TP $ 19.99
BATMAN BY NEAL ADAMS TP BOOK 03 $ 24.99
BLACK CLOVER GN VOL 19 $ 9.99
BLACK PANTHER TP BOOK 08 INTERG EMPIRE WAKANDA PT 03 $ 17.99
BLACK WIDOW TP WELCOME TO THE GAME $ 34.99
BOWIE STARDUST RAYGUNS & MOONAGE DAYDREAMS HC GN $ 39.99
BOWIE STARDUST RAYGUNS & MOONAGE DAYDREAMS PX HC GN $ 39.99
CAPTAIN MARVEL TP VOL 02 FALLING STAR $ 17.99
DEMON SLAYER KIMETSU NO YAIBA GN VOL 10 $ 9.99
DOCTOR STRANGE BY MARK WAID TP VOL 04 CHOICE $ 15.99
DR STONE GN VOL 09 $ 9.99
DREAMING TP VOL 02 EMPTY SHELLS (MR) $ 16.99
INJUSTICE GODS AMONG US YEAR FIVE COMPLETE COLL TP $ 34.99
ISAAC NEWTON & LAWS OF MOTION YA GN $ 8.99
JUNKO MIZUNO PURE TRANCE HC (MR) $ 24.95
KOMI CANT COMMUNICATE GN VOL 04 $ 9.99
LOEG VOL IV TEMPEST HC $ 29.99
LOKI TP $ 17.99
MARVEL MONOGRAPH TP ART OF DECLAN SHALVEY $ 19.99
ONE PUNCH MAN GN VOL 18 $ 9.99
PROMISED NEVERLAND GN VOL 13 $ 9.99
SNOW WHITE WITH RED HAIR GN VOL 05 $ 9.99
SWAMP THING THE BRONZE AGE TP VOL 02 $ 39.99
TOKYO GHOUL RE GN VOL 14 $ 12.99

BOWMAN 2019 BEST BASEBALL T/C MASTER BOX $ ???

SUPERMAN CORE SYMBOL T/S LG $ 19.99
SUPERMAN CORE SYMBOL T/S MED $ 19.99
SUPERMAN CORE SYMBOL T/S SM $ 19.99
SUPERMAN CORE SYMBOL T/S XL $ 19.99
SUPERMAN CORE SYMBOL T/S XXL $ 22.99 (maybe next week)

AVATAR LAST AIRBENDER FIGURE ASST $ 19.99
HARRY POTTER HUNGARIAN HORNTAIL DLX FIG CS $ 31.99
MARVEL GALLERY AVENGERS ENDGAME WAR MACHINE PVC FIG $ 49.99
MOTHRA VS GODZILLA GODZILLA 1964 12-IN LONG AF $ 24.99
MYSTERY MINIS FANTASTIC FOUR 12PC BMB DISP $ 8.99
STAR WARS SERIES1 3D FOAM BAG CLIP 24PCS BMB DISP $ 6.99