New Comics and other Articles on Wednesday, January 15th, 2020
I have to deliver some articles to the other side of the building so I don't have time to comment. Just look at the list below. 
If you want to know about the next sale, click here. Sign in here to get an email reminder for for ALL sales and other events.  Also, you can go to fb.fantasybooksandgames.com and you'll be taken to our Facebook page. We also use our in-store 5-Star Rewards system to text similar announcements to your phone, but it pays to be covered, right?
Thanks to Comics on the Green for this week's images, which include many of the comics and a few of the books and other items we received today.  
ALIENS VS PREDATOR THICKER THAN BLOOD #2 (OF 4) $ 3.99
AQUAMAN #56 $ 3.99
AQUAMAN #56 VAR ED $ 3.99
ARCHIE #710 (ARCHIE & KATY KEENE PT1) CVR A BRAGA $ 3.99
ARCHIE #710 (ARCHIE & KATY KEENE PT1) CVR B FRANCAVILLA $ 3.99
ARCHIE #710 (ARCHIE & KATY KEENE PT1) CVR C LUPACCHINO $ 3.99
AVENGERS #29 $ 3.99
AVENGERS #29 LUPACCHINO MARVELS X VAR $ 3.99
BATMANS GRAVE #4 (OF 12) $ 3.99
BATMANS GRAVE #4 (OF 12) VAR ED $ 3.99
BETTIE PAGE UNBOUND #9 CVR A ROYLE $ 3.99
BETTIE PAGE UNBOUND #9 CVR B CHANTLER $ 3.99
BETTIE PAGE UNBOUND #9 CVR C MOORE $ 3.99
BETTIE PAGE UNBOUND #9 CVR E PHOTO $ 3.99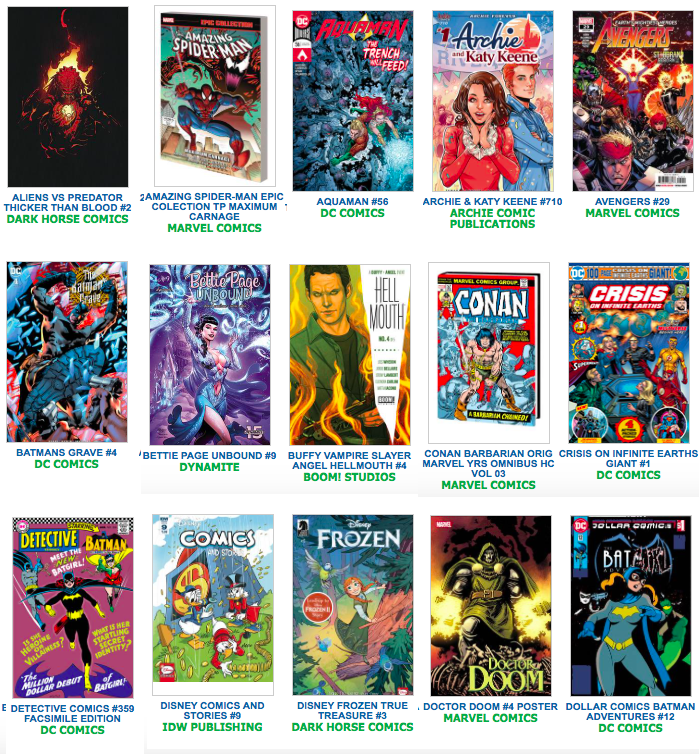 BLOODSHOT (2019) #5 CVR A SHALVEY $ 3.99
BLOODSHOT (2019) #5 CVR B TUCCI $ 3.99
BUFFY VAMPIRE SLAYER ANGEL HELLMOUTH #4 CVR A FRISON $ 3.99
BUFFY VAMPIRE SLAYER ANGEL HELLMOUTH #4 CVR B CONNECTING MOR $ 3.99
CRISIS ON INFINITE EARTHS GIANT #1 $ 4.99
DEAD EYES #4 CVR A MCCREA (MR) $ 3.99
DETECTIVE COMICS #359 FACSIMILE EDITION $ 3.99
DISNEY COMICS AND STORIES #9 CVR A MAZZARELLO $ 5.99
DISNEY FROZEN TRUE TREASURE #3 (OF 3) CVR A PETROVICH- $ 3.99
DOLLAR COMICS BATMAN ADVENTURES #12 $ 1
DUCKTALES FAIRES & SCARES #2 (OF 3) CVR A VARIOUS $ 3.99
FLASH #86 $ 3.99
FLASH #86 CARD STOCK VAR ED $ 4.99
FLASH FORWARD #5 (OF 6) $ 3.99
FLASH FORWARD #5 (OF 6) VAR ED $ 3.99
FREEDOM FIGHTERS #12 (OF 12) $ 3.99
GHOSTED IN LA #7 CVR A KEENAN $ 3.99
GHOSTED IN LA #7 CVR B GRACE VAR $ 3.99
GO GO POWER RANGERS #27 CVR A MAIN CARLINI $ 3.99
GO GO POWER RANGERS #27 CVR B MERCADO VAR $ 3.99
GO GO POWER RANGERS #27 MCDAID VAR $ 3.99
HE MAN AND THE MASTERS OF THE MULTIVERSE #3 (OF 6) $ 3.99
HELLBOY WINTER SPECIAL 2019 $ 3.99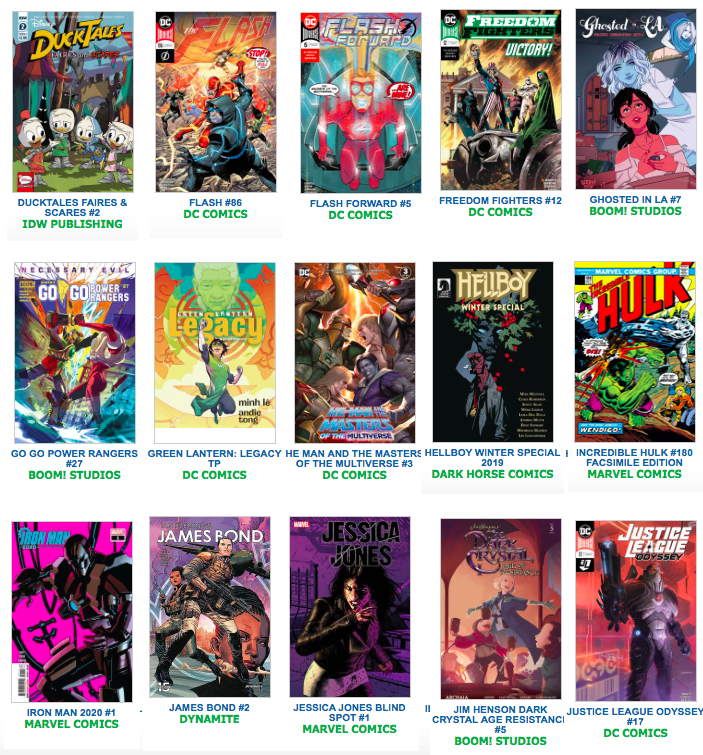 HIT-GIRL SEASON TWO #12 CVR A SHALVEY (MR) $ 3.99
HIT-GIRL SEASON TWO #12 CVR B SHALVEY (MR) $ 3.99
HIT-GIRL SEASON TWO #12 CVR C ROMAN (MR) $ 3.99
INCREDIBLE HULK #180 FACSIMILE EDITION $ 3.99
IRON MAN 2020 #1 (OF 6) $ 4.99
IRON MAN 2020 #1 (OF 6) BIANCHI CONNECTING VAR $ 4.99
IRON MAN 2020 #1 (OF 6) RON LIM VAR $ 4.99
IRON MAN 2020 #1 (OF 6) SUPERLOG HEADS VAR $ 4.99
IRON MAN 2020 #1 (OF 6) WARD MARVELS X VAR $ 4.99
JAMES BOND #2 $ 3.99
JESSICA JONES BLIND SPOT #1 (OF 6) $ 3.99
JESSICA JONES BLIND SPOT #1 (OF 6) SIMMONDS VAR $ 3.99
JIM HENSON DARK CRYSTAL AGE RESISTANCE #5 CVR A FINDEN $ 3.99
JIM HENSON DARK CRYSTAL AGE RESISTANCE #5 CVR B MATTHEWS $ 3.99
JIM HENSON DARK CRYSTAL AGE RESISTANCE #5 WARD VAR $ 3.99
JUSTICE LEAGUE ODYSSEY #17 $ 3.99
JUSTICE LEAGUE ODYSSEY #17 VAR ED $ 3.99
LEGION OF SUPER HEROES #3 $ 3.99
LEGION OF SUPER HEROES #3 CARD STOCK VAR ED $ 4.99
LIFE IS STRANGE #12 CVR A LEONARDI (MR) $ 3.99
LOW LOW WOODS #2 (OF 6) (MR) $ 3.99
LOW LOW WOODS #2 (OF 6) VAR ED (MR) $ 3.99
LUCIFER #16 (MR) $ 3.99
LUCY CLAIRE REDEMPTION #2 CVR A UPCHURCH (MR) $ 3.99
LUCY CLAIRE REDEMPTION #2 CVR B UPCHURCH (MR) $ 3.99
MARVEL ACTION AVENGERS #9 SOMMARIVA $ 3.99
MARVEL TALES RAVENCROFT #1 $ 7.99
MARVELS BLACK WIDOW PRELUDE #1 (OF 2) $ 3.99
MARVELS SPIDER-MAN BLACK CAT STRIKES #1 (OF 5) $ 3.99
MARVELS SPIDER-MAN BLACK CAT STRIKES #1 (OF 5) NAUCK VAR $ 3.99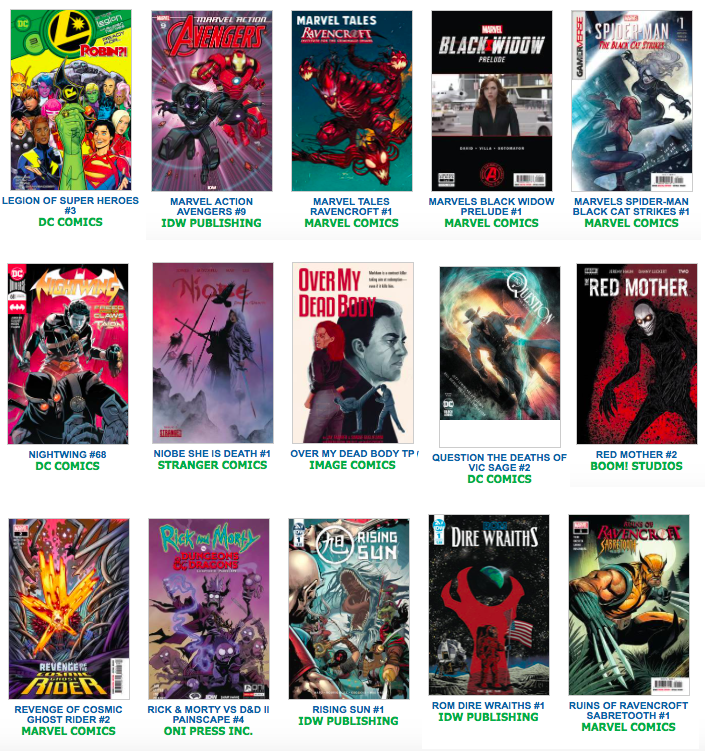 NIGHTWING #68 $ 3.99
NIGHTWING #68 VAR ED $ 3.99
NIOBE SHE IS DEATH #1 2ND PTG $ 3.99
NIOBE SHE IS DEATH #2 CVR A NAM $ 3.99
NIOBE SHE IS DEATH #2 CVR B JAE LEE $ 3.99
NIOBE SHE IS DEATH #2 CVR C JAE LEE VIRGIN (1/10) $ ???
PRETTY VIOLENT #6 (MR) $ 3.99
QUESTION THE DEATHS OF VIC SAGE #2 (OF 4) $ 6.99
QUESTION THE DEATHS OF VIC SAGE #2 (OF 4) VAR ED $ 6.99
RAI (2019) #3 CVR A ALLEN $ 3.99
RED MOTHER #2 CVR HAUN $ 3.99
RED MOTHER #2 INFANTE VAR $ 3.99
REVENGE OF COSMIC GHOST RIDER #2 (OF 5) $ 3.99
REVENGE OF COSMIC GHOST RIDER #2 (OF 5) LUBERA VAR $ 3.99
REVENGE OF COSMIC GHOST RIDER #2 (OF 5) RON LIM VAR $ 3.99
RICK & MORTY VS D&D II PAINSCAPE #4 CVR A LITTLE $ 3.99
RICK & MORTY VS D&D II PAINSCAPE #4 CVR B WELLS $ 3.99
RICK & MORTY VS D&D II PAINSCAPE #4 CVR C CHAR SHEET $ 3.99
RISING SUN #1 $ 4.99
RISING SUN #1 YU (1/10) $ ???
ROBYN HOOD VIGILANTE #3 CVR A JOHNSON $ 3.99
ROCKY & BULLWINKLE SEEN ON TV #2 MAIN GALLANT CVR $ 3.99
ROM DIRE WRAITHS #1 (OF 3) CVR A PIZARRI $ 4.99
ROM DIRE WRAITHS #1 (OF 3) CVR B HOWELL $ 4.99
RUINS OF RAVENCROFT SABRETOOTH #1 $ 4.99
RUINS OF RAVENCROFT SABRETOOTH #1 SUAYAN VAR $ 4.99
RUNAWAYS #29 $ 3.99
RWBY #4 (OF 7) $ 3.99
RWBY #4 (OF 7) CARD STOCK VAR ED $ 4.99
SECOND COMING #6 (OF 6) (MR) $ 3.99
SFSX SAFE SEX #5 (MR) $ 3.99
SHERLOCK SCANDAL IN BELGRAVIA #2 CVR B PHOTO $ 4.99
SKULLDIGGER & SKELETON BOY #2 (OF 6) CVR A ZONJIC $ 3.99
SKULLDIGGER & SKELETON BOY #2 (OF 6) CVR B HARREN $ 3.99
SPAWN #304 CVR A MATTINA $ 2.99
SPAWN #304 CVR B MCFARLANE $ 2.99
SPAWN #304 CVR C B&W MCFARLANE $ 2.99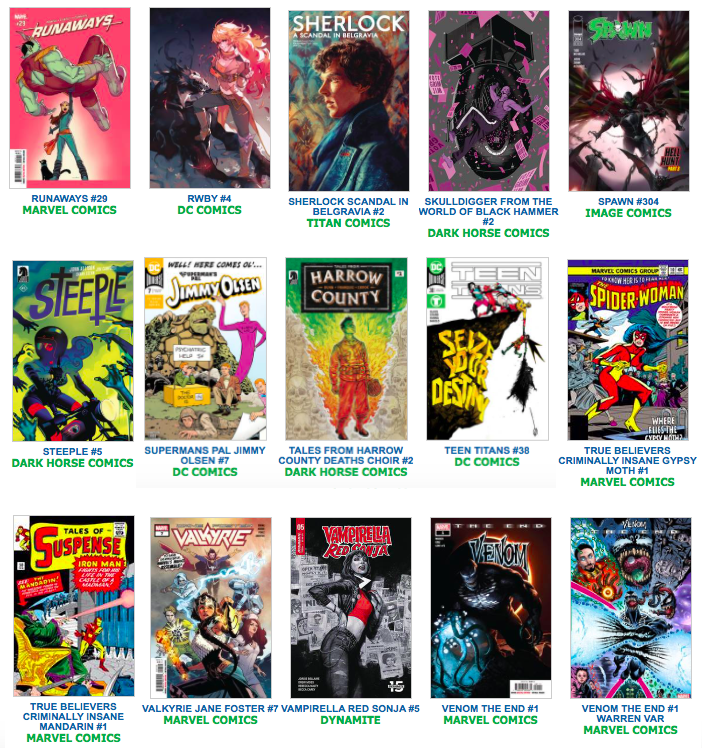 STEEPLE #5 (OF 5) CVR A ALLISON $ 3.99
SUPERMANS PAL JIMMY OLSEN #7 (OF 12) $ 3.99
SUPERMANS PAL JIMMY OLSEN #7 (OF 12) VAR ED $ 3.99
TALES FROM HARROW COUNTY DEATHS CHOIR #2 (OF 4) CVR A FRANQU $ 3.99
TALES FROM HARROW COUNTY DEATHS CHOIR #2 (OF 4) CVR B CROOK $ 3.99
TEEN TITANS #38 $ 3.99
TEEN TITANS #38 VAR ED $ 3.99
TRUE BELIEVERS CRIMINALLY INSANE GYPSY MOTH #1 $ 1
TRUE BELIEVERS CRIMINALLY INSANE MANDARIN #1 $ 1
UNDISCOVERED COUNTRY #3 CVR A CAMUNCOLLI (MR) $ 3.99
UNDISCOVERED COUNTRY #3 CVR B CAPULLO (MR) $ 3.99
VALKYRIE JANE FOSTER #7 $ 3.99
VALKYRIE JANE FOSTER #7 ANKA MARVELS X VAR $ 3.99
VAMPIRELLA RED SONJA #5 MOSS B&W VIRGIN (1/11) $ ???
VAMPIRELLA RED SONJA #5 CVR A TEDESCO $ 3.99
VAMPIRELLA RED SONJA #5 CVR B TARR $ 3.99
VAMPIRELLA RED SONJA #5 CVR C OLIVER $ 3.99
VAMPIRELLA RED SONJA #5 CVR E COSPLAY $ 3.99
VENOM THE END #1 $ 4.99
VENOM THE END #1 WARREN VAR $ 4.99

COMIC SHOP NEWS #1700 $ FREE

ABSOLUTE CARNAGE IMMORTAL HULK & OTHER TALES TP $ 15.99
ABSOLUTE CARNAGE LETHAL PROTECTORS TP $ 15.99
ABSOLUTE CARNAGE MILES MORALES TP $ 15.99
ABSOLUTE CARNAGE SCREAM TP $ 15.99
ACTS OF EVIL TP $ 34.99
AMAZING SPIDER-MAN EPIC COLLECTION TP MAXIMUM CARNAGE $ 39.99
BATMAN THE GOLDEN AGE TP VOL 06 $ 39.99
BIRDS OF PREY BLACK CANARY TP $ 19.99
CASE CLOSED GN VOL 73 $ 9.99
CONAN BARBARIAN ORIG MARVEL YRS OMNIBUS HC VOL 03 DM VAR $ 125
CONTAGION TP $ 15.99
CRAZY TP $ 19.99
DRAGON BALL SUPER GN VOL 07 $ 9.99
GREEN LANTERN LEGACY TP $ 9.99
HELLBLAZER TP VOL 22 REGENERATION (MR) $ 29.99
I AM ANNA LITTLE GOLDEN BOOK $ 4.99
I AM ELSA LITTLE GOLDEN BOOK $ 4.99
INCREDIBLE HULK BY PETER DAVID OMNIBUS HC VOL 01 DM VAR $ 125
JUJUTSU KAISEN GN VOL 01 $ 9.99
LAZARUS TP VOL 06 (MR) $ 16.99
LEGEND OF ZELDA TWILIGHT PRINCESS GN VOL 06 $ 9.99
MAUS SURVIVORS TALE COMPLETE HC $ 35
MY HERO ACADEMIA GN VOL 22 $ 9.99
NIGHTWING BY PETER J TOMASI TP $ 29.99
OUTPOST ZERO TP VOL 03 $ 14.99
OVER MY DEAD BODY TP $ 16.99
OZ COMPLETE COLLECTION GN TP VOL 01 WONDERFUL WIZARD MARVELO $ 15.99
SAVAGE SWORD OF CONAN TP CONAN GAMBLER $ 19.99
SPLATOON MANGA GN VOL 08 $ 9.99
STAR WARS ORIGINAL TRILOGY MOVIE ADAPTATIONS TP $ 34.99

UMBRELLA ACADEMY HAZEL & CHA CHA MUG $ 12.99

MY HERO ACADEMIA PLUS ULTRA BLK T-SHIRT SM, LG, XL $ 18.99

POP NBA BULLS MICHAEL JORDAN (RED JERSEY) 10IN FIG $ 39.99
SW VINTAGE 3-3/4IN AF ASST $ ???
TRANSFORMERS MASTERPIECE MP47 HOUND AF $ 150
X-MEN LEGENDS WOLVERINE/JEAN/CYCLOPS 6IN AF 3PK $74.99

DOCTOR DOOM #4 POSTER $ 8.99
SYMBIOTE SPIDER-MAN #1 POSTER $ 8.99