You Should Give Some of These New Comics a Fair Trial on Wednesday, January 22nd, 2020
Before I get into this week, there's something else I was going to say…
49ers are in the Superbowl!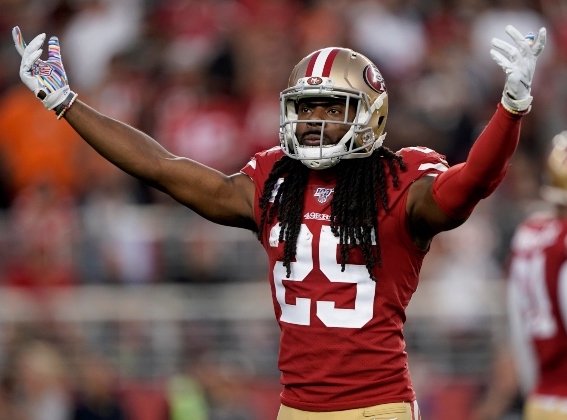 And did they look Super the last 2, 3, or 4 games?! Even I'm excited. KC is great, and this could be one of the best ever.
Getting back to more serious matters, I'm offering to testify under oath that some of these comics might appeal to you, and you should have the right to inspect the evidence yourself. It's only the third Wednesday, but it feels like the 5th, what with the small number of titles (last week did, too.) Here are some of the highlights:  
Wonder Woman #750 gets the DC-1000 treatment 250 issues early. I guess she never went weekly, and in fact was bimonthly for a long while. Anyhoo, there is a different cover for every decade starting with the 40's, plus the "real" one, which could be for the 2020's, AND a blank, all with a lot of pages for $9.99. Lotsa Bat's – ..Girl, ..Man, ..Beyond, ..Superman, Curse of White Knight, and Detective.  Plus Birds of Prey Giant, Metal Men, Red Hood, Shazam and Superman, too!
Marvel leads with a new Guardians of the Galaxy #1, and follows with Amazing Spider-Man, Atlantis Attacks, Black Panther, Captain Marvel, Excalibur, Fantastic Four, Marauders, Ravencroft, and 2 True Believers.
The rest of comics include Firefly, TMNTurtles, MLPony, Lumberjanes, Sonja, Dejah, Vampirella, and Vamperonica. And more! Complete list is found below.
If you want to know about the next sale, click here. Sign in here to get an email reminder for for ALL sales and other events.  Also, you can go to fb.fantasybooksandgames.com and you'll be taken to our Facebook page. We also use our in-store 5-Star Rewards system to text similar announcements to your phone. 
Thanks to Comics on the Green for this week's images, which include many of the comics and a few of the books and other items we received today.  
AMAZING SPIDER-MAN #38 $ 3.99
AMAZING SPIDER-MAN #38 NOTO MARVELS X VAR (Maybe next week?) $ 3.99
AMERICAN GODS MOMENT OF STORM #9 CVR A FABRY (MR $ 3.99
AMERICAN GODS MOMENT OF STORM #9 CVR B MACK (MR) $ 3.99
AMERICAN JESUS NEW MESSIAH #2 CVR A TOP SECRET (MR) $ 3.99
AMERICAN JESUS NEW MESSIAH #2 CVR B SCALERA (MR) $ 3.99
ARCHIE JUMBO COMICS DIGEST #306 $ 7.99
ARCHIE VS PREDATOR 2 #5 (OF 5) CVR A HACK $ 3.99
ARCHIE VS PREDATOR 2 #5 (OF 5) CVR E SHULTZ $ 3.99
ATLANTIS ATTACKS #1 (OF 5) $ 3.99
ATLANTIS ATTACKS #1 (OF 5) EVERETT HIDDEN GEM VAR (1/25) $ ???
ATLANTIS ATTACKS #1 (OF 5) RON LIM VAR $ 3.99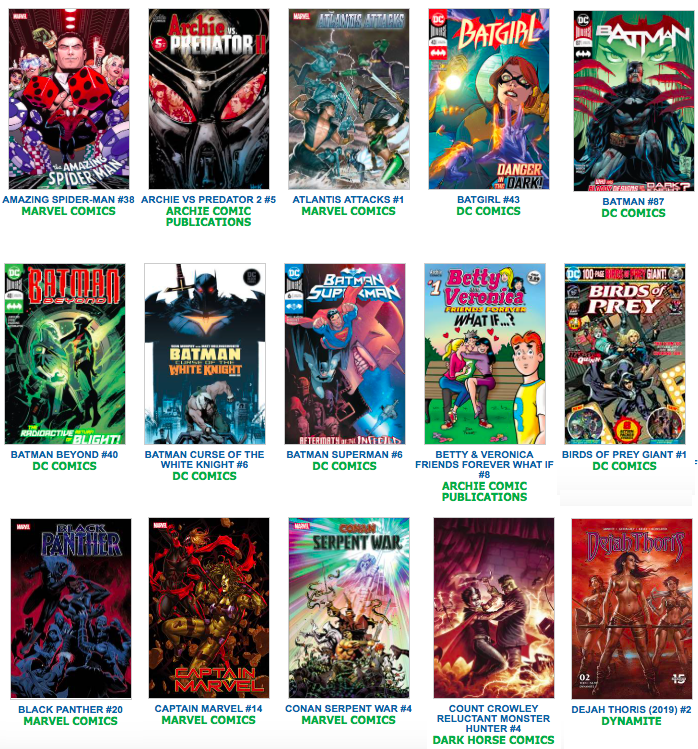 BASKETFUL OF HEADS #4 (OF 7) (MR) $ 3.99
BASKETFUL OF HEADS #4 (OF 7) VAR ED (MR) $ 3.99
BATGIRL #43 $ 3.99
BATGIRL #43 VAR ED $ 3.99
BATMAN #87 $ 3.99
BATMAN #87 CARD STOCK VAR ED $ 4.99
BATMAN BEYOND #40 $ 3.99
BATMAN BEYOND #40 VAR ED $ 3.99
BATMAN CURSE OF THE WHITE KNIGHT #6 (OF 8) $ 4.99
BATMAN CURSE OF THE WHITE KNIGHT #6 (OF 8) CARD STOCK VAR ED $ 4.99
BATMAN SUPERMAN #6 $ 3.99
BATMAN SUPERMAN #6 CARD STOCK VAR ED $ 4.99
BETTY & VERONICA FRIENDS FOREVER WHAT IF #1 $ 2.99
BETTY & VERONICA JUMBO COMICS DIGEST #280 $ 7.99
BIRDS OF PREY GIANT #1 $ 4.99
BLACK PANTHER #20 $ 3.99
BLACK PANTHER #20 MICHAEL CHO VAR $ 3.99
BOOKS OF MAGIC #16 (MR) $ 3.99
CAPTAIN MARVEL #14 $ 3.99
CAPTAIN MARVEL #14 GARNER MARVELS X VAR $ 3.99
CAPTAIN MARVEL #14 INHYUK LEE CONNECTING VAR $ 3.99
CASPER PRESENTS HOTSTUFF SIZZLERS #1 CVR A $ 3.99
CONAN SERPENT WAR #4 (OF 4) $ 4.99
CONAN SERPENT WAR #4 (OF 4) CAMUNCOLI CONNECTING VAR $ 4.99
COUNT CROWLEY RELUCTANT MONSTER HUNTER #4 (OF 4) $ 3.99
DEJAH THORIS (2019) #2 CVR A PARRILLO $ 3.99
DEJAH THORIS (2019) #2 CVR B CONNER $ 3.99
DEJAH THORIS (2019) #2 CVR C LINSNER $ 3.99
DEJAH THORIS (2019) #2 CVR E COSPLAY $ 3.99
DETECTIVE COMICS #1019 $ 3.99
DETECTIVE COMICS #1019 CARD STOCK VAR ED $ 4.99
DOLLAR COMICS BATMAN HUNTRESS CRY FOR BLOOD #1 $ 1
ETHER DISAPPEARANCE OF VIOLET BELL #5 (OF 5) CVR B DALRYMPLE $ 3.99
EXCALIBUR #6 COKER DARK PHOENIX 40TH VAR DX $ 3.99
EXCALIBUR #6 DX $ 3.99
EXCALIBUR #6 MCKONE MARVELS X VAR DX $ 3.99
FAMILY TREE #3 (MR) $ 3.99
FANTASTIC FOUR #18 $ 3.99
FANTASTIC FOUR #18 SMALLWOOD MARVELS X VAR $ 3.99
FAR SECTOR #3 (OF 12) (MR) $ 3.99
FIREFLY #13 CVR A MAIN ASPINALL $ 3.99
FIREFLY #13 CVR B PREORDER CALDWELL VAR $ 3.99
FIREFLY #13 FOC VAR $ 3.99
FOLKLORDS #3 (OF 5) CVR A SMITH $ 3.99
FOLKLORDS #3 (OF 5) FOC NGUYEN VAR $ 3.99
GHOSTBUSTERS YEAR ONE #1 (OF 4) LATTIE (1/10) $ ???
GHOSTBUSTERS YEAR ONE #1 (OF 4) CVR A SHOENING $ 3.99
GHOSTBUSTERS YEAR ONE #1 (OF 4) CVR B SCHOENING $ 3.99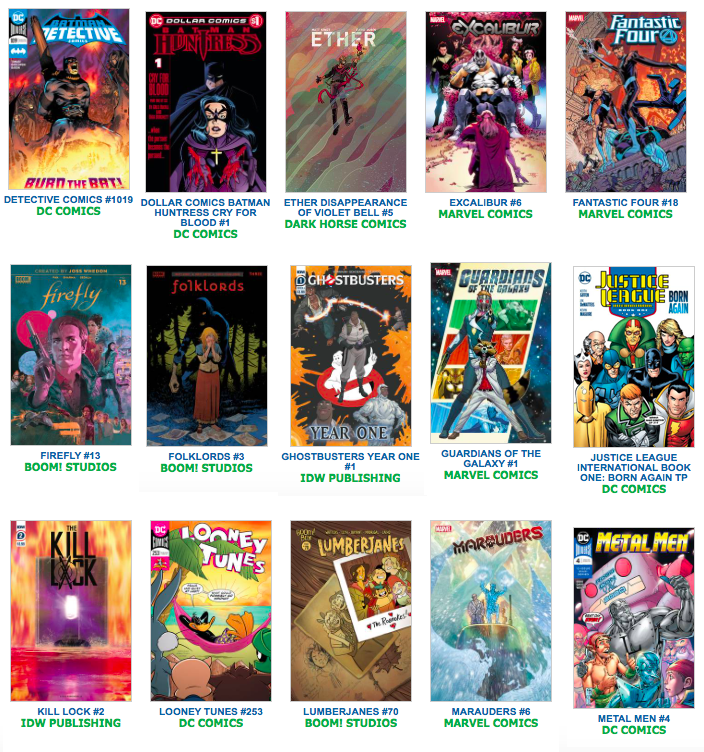 GUARDIANS OF THE GALAXY #1 $ 4.99
GUARDIANS OF THE GALAXY #1 BLANK VAR $ 4.99
GUARDIANS OF THE GALAXY #1 LARRAZ PARTY VAR $ 4.99
GUARDIANS OF THE GALAXY #1 ORTEGA VAR (1/25) $ ???
GUARDIANS OF THE GALAXY #1 RON LIM VAR $ 4.99
GUARDIANS OF THE GALAXY #1 SHAVRIN VAR $ 4.99
GUARDIANS OF THE GALAXY #1 SKAN MARVELS X VAR $ 4.99
HARDCORE RELOADED #2 (OF 5) (MR) $ 3.99
HEART ATTACK #3 (MR) $ 3.99
HEARTBEAT #3 (OF 5) CVR A LLOVET (MR) $ 3.99
HEARTBEAT #3 (OF 5) FOC BARTEL VAR (MR) $ 3.99
I CAN SELL YOU A BODY #2 (OF 4) $ 3.99
JOHN CONSTANTINE HELLBLAZER #3 (MR) $ 3.99
KILL LOCK #2 (OF 6) $ 3.99
LOONEY TUNES #253 $ 2.99
LUMBERJANES #70 CVR A LEYH $ 3.99
LUMBERJANES #70 CVR B PREORDER YEE VAR $ 3.99
MARAUDERS #6 DAVIS DARK PHOENIX 40TH VAR DX $ 3.99
MARAUDERS #6 DX $ 3.99
MASK I PLEDGE ALLEGIANCE TO THE MASK #4 (OF 4) CVR A REYNOLD $ 3.99
METAL MEN #4 (OF 12) $ 3.99
METAL MEN #4 (OF 12) JIM STARLIN VAR ED $ 3.99
MIDDLEWEST #14 (MR) $ 3.99
MIGHTY MORPHIN POWER RANGERS #47 CVR A CAMPBELL $ 3.99
MIGHTY MORPHIN POWER RANGERS #47 FOC MORA VAR $ 3.99
MIGHTY MORPHIN POWER RANGERS #47 FOIL MONTES VAR $ 4.99
MONSTER PLANET #3 (OF 5) CVR A VITORINO $ 3.99
MY LITTLE PONY FRIENDSHIP IS MAGIC #86 HUGHES (1/10) $ ???
MY LITTLE PONY FRIENDSHIP IS MAGIC #86 CVR A SHERRON $ 3.99
OLD GUARD FORCE MULTIPLIED #2 (OF 5) (MR) $ 3.99
ONCE & FUTURE #6 (OF 6) $ 3.99
RED HOOD OUTLAW #42 $ 3.99
RED HOOD OUTLAW #42 VAR ED $ 3.99
RED SONJA AGE OF CHAOS #1 CHATZOUDIS FOC BONUS VAR $ 3.99
RED SONJA AGE OF CHAOS #1 CVR E COSPLAY $ 3.99
ROKU #4 (OF 4) CVR A KIRKHAM $ 3.99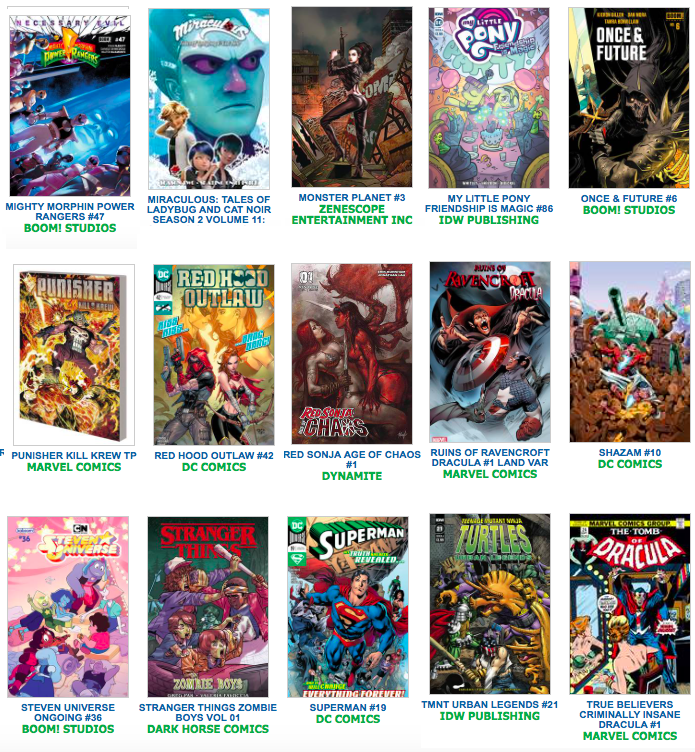 RUINS OF RAVENCROFT DRACULA #1 $ 4.99
RUINS OF RAVENCROFT DRACULA #1 LAND VAR $ 4.99
SHAZAM #10 (RES) $ 3.99
SHAZAM #10 VAR ED (RES) $ 3.99
STEVEN UNIVERSE ONGOING #36 CVR A PENA $ 3.99
STEVEN UNIVERSE ONGOING #36 CVR B PREORDER NG VAR $ 3.99
SUPERMAN #19 $ 3.99
SUPERMAN #19 VAR ED $ 3.99
TMNT URBAN LEGENDS #21 CVR A FOSCO $ 3.99
TMNT URBAN LEGENDS #21 CVR B FOSCO & LARSEN $ 3.99
TRUE BELIEVERS CRIMINALLY INSANE DRACULA #1 $ 1
TRUE BELIEVERS CRIMINALLY INSANE PURPLE MAN #1 $ 1
UNCLE SCROOGE #53 CVR A MAZZARELLO $ 4.99
UNSACRED #3 CVR A MIRKA ANDOLFO (MR) $ 3.99
VAMPIRELLA #7 CVR E COSPLAY $ 3.99
VAMPIRONICA NEW BLOOD #2 CVR A MOK $ 3.99
VAMPIRONICA NEW BLOOD #2 CVR C SMALLWOOD $ 3.99
VISITOR #2 (OF 6) CVR A PINNA $ 3.99
WEB OF VENOM GOOD SON #1 $ 4.99
WELLINGTON #2 (OF 5) CVR A KOWALSKI $ 3.99
WONDER TWINS #11 (OF 12) $ 3.99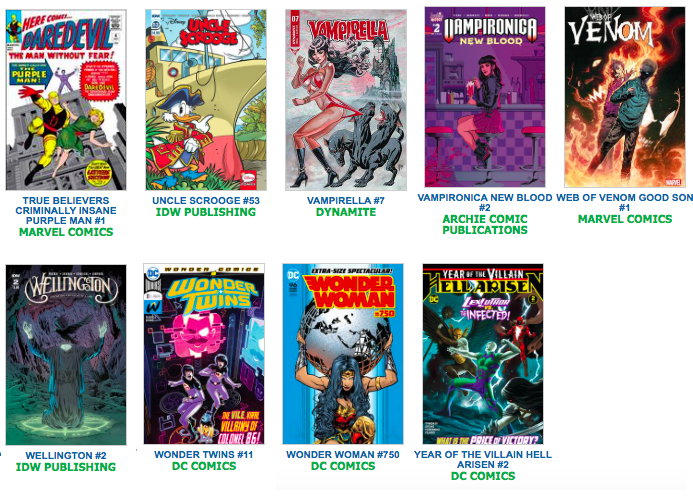 WONDER WOMAN #750 $ 9.99
WONDER WOMAN #750 1940S VAR ED $ 9.99
WONDER WOMAN #750 1950S VAR ED $ 9.99
WONDER WOMAN #750 1960S VAR ED $ 9.99
WONDER WOMAN #750 1970S VAR ED $ 9.99
WONDER WOMAN #750 1980S VAR ED $ 9.99
WONDER WOMAN #750 1990S VAR ED $ 9.99
WONDER WOMAN #750 2000S VAR ED $ 9.99
WONDER WOMAN #750 2010S VAR ED $ 9.99
WONDER WOMAN #750 BLANK VAR ED $ 9.99
YEAR OF THE VILLAIN HELL ARISEN #2 (OF 4) $ 4.99
YEAR OF THE VILLAIN HELL ARISEN #2 (OF 4) VAR ED $ 4.99

COMIC SHOP NEWS #1701 $ FREE

AGENTS OF ATLAS COMPLETE COLLECTION TP VOL 02 $ 39.99
BATMAN AND THE OUTSIDERS TP VOL 01 LESSER GODS $ 17.99
BATMAN BLACK & WHITE OMNIBUS HC $ 125
BIRDS OF PREY HARLEY QUINN TP $ 19.99
BOB MARLEY IN COMICS HC $ 27.99
CAPTAIN AMERICA SAM WILSON COMPLETE COLLECTION TP VOL 01 $ 39.99
GUDETAMA LOVE FOR THE LAZY HC $ 9.99
HUNTRESS ORIGINS TP $ 19.99
INVISIBLE WOMAN TP $ 15.99
IRONHEART TP VOL 02 TEN RINGS $ 17.99
JUSTICE LEAGUE INTERNATIONAL TP BOOK 01 BORN AGAIN $ 39.99
LUCIFER TP VOL 02 THE DIVINE TRAGEDY (MR) $ 16.99
MARIE CURIE & RADIOACTIVITY YA GN $ 8.99
MIRACULOUS TALES LADYBUG CAT NOIR TP S2 VOL 11 SKATING ICE $ 8.99
PUNISHER KILL KREW TP $ 17.99
ROSE OF VERSAILLES GN VOL 01 $ 38.99
SAILOR MOON ETERNAL ED VOL 07 $ 27.99
SCOOBY DOO TEAM UP ITS SCOOBY TIME TP $ 12.99
SERA & ROYAL STARS TP VOL 01 $ 17.99
STAR WARS LEGENDS TP FOREVER CRIMSON $ 19.99
STRANGER THINGS ZOMBIE BOYS VOL 01 $ 10.99
VALKYRIE JANE FOSTER TP VOL 01 $ 17.99
WAY OF THE HOUSEHUSBAND GN VOL 02 $ 12.99
X-MEN MILESTONES TP ONSLAUGHT $ 39.99
X-STATIX COMPLETE COLLECTION TP VOL 01 $ 39.99

MY HERO ACADEMIA PLUS ULTRA BLK T/S MED $ 18.99
SUPERMAN CORE SYMBOL T/S LG $ 19.99
SUPERMAN CORE SYMBOL T/S XXL $ 22.99

DC DESIGNER SER BATMAN BY RAFAEL GRAMPA STATUE $ 155
GUNDAM BUILD DIVERS 11 ZAKRELLO HARO BANDAI SPIRITS FIG (NET $ 10.99
MYSTERY MINIS TROLLS CLASSIC 12PC BMB DISP $ 8.99
SPIDER-MAN LEGENDS 6IN AF ASST 202001 (NET) $ 26.99