We Got a Bunch of New Comics on Wednesday, January 29th, 2020
Okay, I know I should come up with a new headline that's relevant, clever, or helpful. But work and life keep getting in the way and I'm really pressed for time right now. But the
49ers are STILL going to the Superbowl!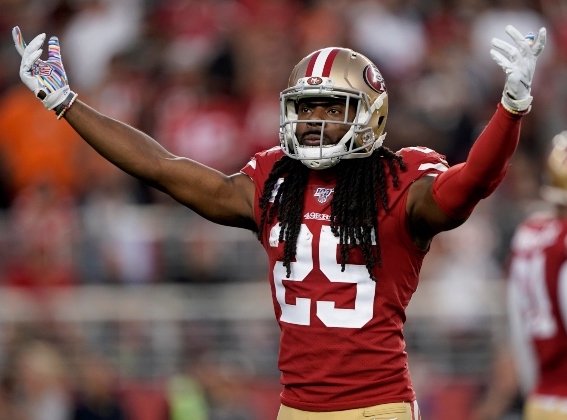 Only 3 days of hype left.
I don't even have time to find a new picture. IF you want, you can read the list below and make a checklist before you come in. See you next week.
If you want to know about the next sale, click here. Sign in here to get an email reminder for for ALL sales and other events.  Also, you can go to fb.fantasybooksandgames.com and you'll be taken to our Facebook page. We also use our in-store 5-Star Rewards system to text similar announcements to your phone.
Thanks to Comics on the Green for this week's images, which include many of the comics and a few of the books and other items we received today.
ACTION COMICS #1019 $ 3.99
ACTION COMICS #1019 CARD STOCK VAR ED $ 4.99
AIRBOY #51 CVR B STERANKO $ 9.99
AMAZING SPIDER-MAN #347 FACSIMILE EDITION $ 3.99
AMAZING SPIDER-MAN DAILY BUGLE #1 (OF 5) $ 3.99
AMAZING SPIDER-MAN DAILY BUGLE #1 (OF 5) LUBERA VAR $ 3.99
ANIMOSITY #26 (MR) $ 3.99
AVENGERS #30 $ 3.99
AVENGERS #30 PHAM MARVEL X VAR $ 3.99
AVENGERS OF THE WASTELANDS #1 (OF 5) $ 3.99
AVENGERS OF THE WASTELANDS #1 (OF 5) GARRY BROWN VAR $ 3.99
BATMAN #86 2ND PTG $ 3.99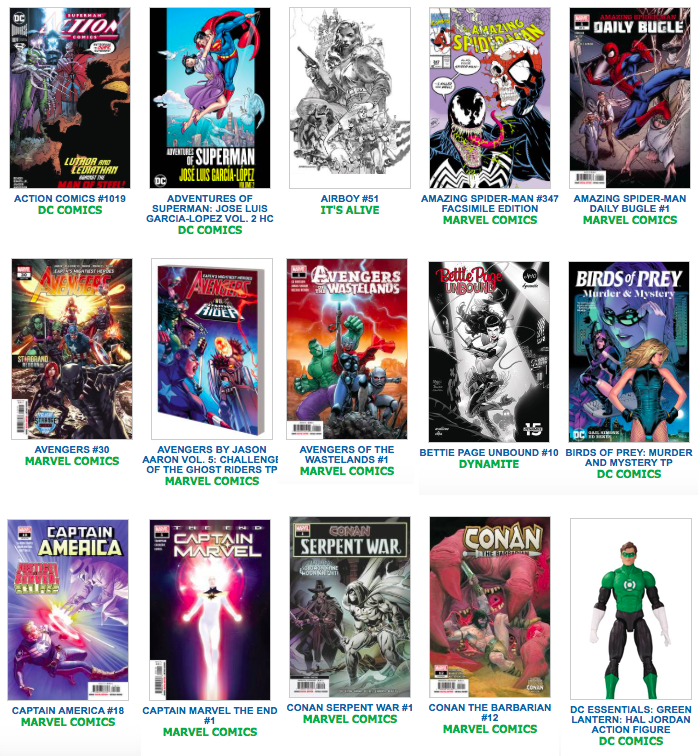 BETTIE PAGE UNBOUND #10 PHOTO VIRGIN (1/10) $ ???
BETTIE PAGE UNBOUND #10 SHANNON VIRGIN (1/20) $ ???
BETTIE PAGE UNBOUND #10 ROYLE COLOR (1/21) $ ???
BETTIE PAGE UNBOUND #10 CVR B MARQUES $ 3.99
BETTIE PAGE UNBOUND #10 CVR D OHTA $ 3.99
BETTIE PAGE UNBOUND #10 CVR E PHOTO $ 3.99
CAPTAIN AMERICA #18 $ 3.99
CAPTAIN AMERICA #18 KUBERT MARVELS X VAR $ 3.99
CAPTAIN MARVEL THE END #1 $ 4.99
CAPTAIN MARVEL THE END #1 MOMOKO VAR $ 4.99
CASPER PRESENTS WENDY & WITCH WIDOW $ 3.99
CONAN THE BARBARIAN #12 $ 3.99
CRIMINAL #12 (MR) $ 3.99
DC SUPER HERO GIRLS GIANT #2 (RES) $ 4.99
DEADPOOL THE END #1 $ 4.99
DEADPOOL THE END #1 ESPIN VAR $ 4.99
DETECTIVE COMICS ANNUAL #3 $ 4.99
DIAL H FOR HERO #11 (OF 12) $ 3.99
DOCTOR STRANGE THE END #1 $ 4.99
DOCTOR STRANGE THE END #1 ANDRADE VAR $ 4.99
DR STRANGE #2 $ 3.99
DR STRANGE #2 VATINE MARVELS X VAR $ 3.99
DOLLAR COMICS DETECTIVE COMICS #554 $ 1
EXCALIBUR #3 2ND PTG ASRAR VAR DX $ 3.99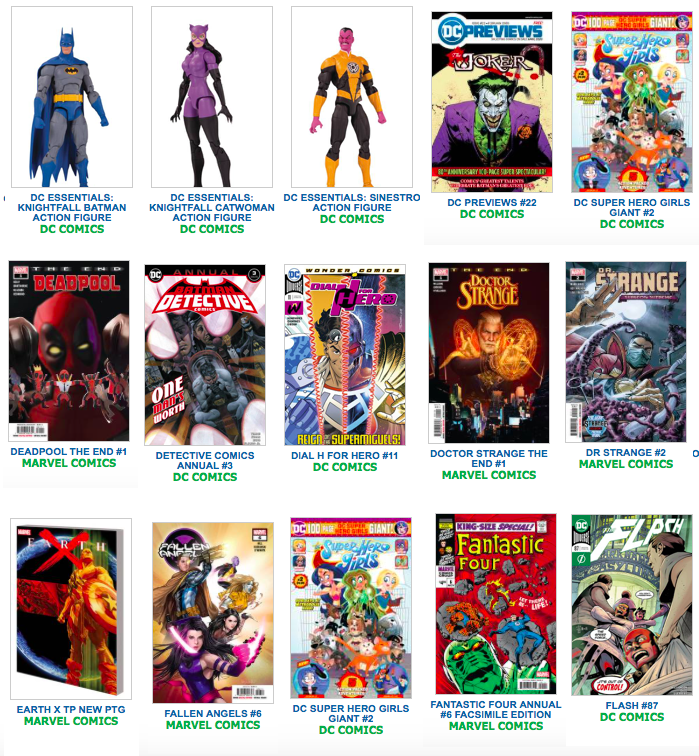 FALLEN ANGELS #3 2ND PTG WITTER VAR DX $ 3.99
FALLEN ANGELS #4 2ND PTG NAKAYAMA VAR DX $ 3.99
FALLEN ANGELS #6 DX $ 3.99
FALLEN ANGELS #6 YOON DARK PHOENIX 40TH VAR DX $ 3.99
FANTASTIC FOUR ANNUAL #6 FACSIMILE EDITION $ 4.99
FARMHAND #13 (MR) $ 3.99
FLASH #87 $ 3.99
FLASH #87 VAR ED $ 3.99
FRANKENSTEIN UNDONE #1 (OF 5) CVR A STENBECK $ 3.99
FRANKENSTEIN UNDONE #1 (OF 5) CVR B MIGNOLA $ 3.99
GEORGE RR MARTIN A CLASH OF KINGS #1 CVR A MILLER (MR) $ 3.99
GEORGE RR MARTIN A CLASH OF KINGS #1 CVR B RUBI (MR) $ 3.99
GEORGE RR MARTIN A CLASH OF KINGS #1 CVR C SEGOVIA (MR) $ 3.99
GEORGE RR MARTIN A CLASH OF KINGS #1 CVR D GUICE (MR) $ 3.99
GO GO POWER RANGERS #28 CVR A CARLINI $ 3.99
GO GO POWER RANGERS #28 CVR B MERCADO VAR $ 3.99
GO GO POWER RANGERS #28 FOC MAD VAR $ 3.99
GREEN LANTERN BLACKSTARS #3 (OF 3) $ 3.99
GREEN LANTERN BLACKSTARS #3 (OF 3) VAR ED $ 3.99
HAWKEYE FREE FALL #2 $ 3.99
ICE CREAM MAN #17 CVR A MORAZZO & OHALLORAN (MR) $ 3.99
ICE CREAM MAN #17 CVR B WALSH (MR) $ 3.99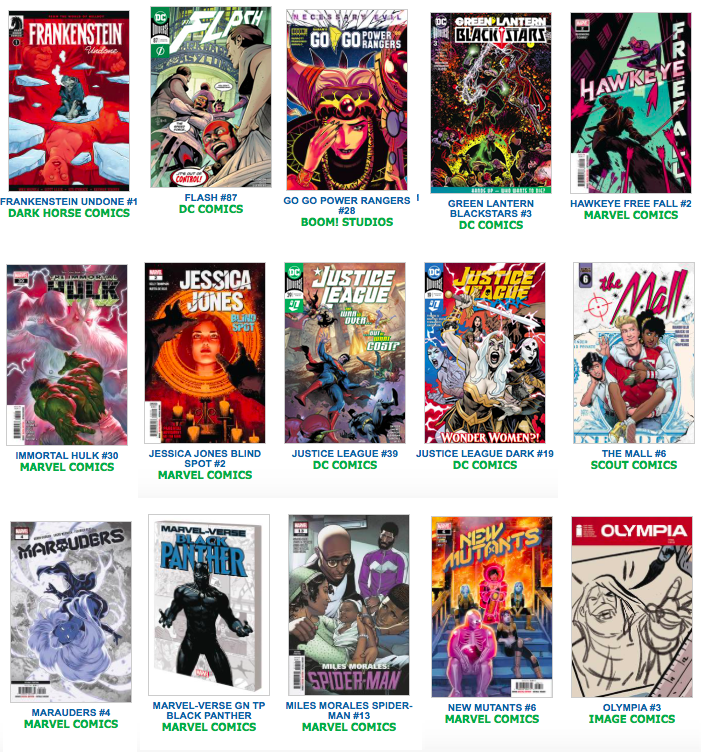 IMMORTAL HULK #30 $ 3.99
IMMORTAL HULK #30 DEL MUNDO MARVELS X VAR $ 3.99
INVISIBLE KINGDOM #9 (MR) $ 3.99
JESSICA JONES BLIND SPOT #2 (OF 6) $ 3.99
JESSICA JONES BLIND SPOT #2 (OF 6) SIMMONDS VAR $ 3.99
JUSTICE LEAGUE #39 $ 3.99
JUSTICE LEAGUE #39 VAR ED $ 3.99
JUSTICE LEAGUE DARK #19 $ 3.99
JUSTICE LEAGUE DARK #19 VAR ED $ 3.99
DC PREVIEWS #22 FEBRUARY 2020 $ FREE*
MARVEL PREVIEWS VOL 04 #31 FEBRUARY 2020 $ FREE*
PREVIEWS #377 FEBRUARY 2020 $ 3.99
PREVIEWS #377 FEBRUARY 2020 CUSTOMER ORDER FORM $ FREE*
KILLADELPHIA #3 CVR A ALEXANDER (MR) $ 3.99
KILLADELPHIA #3 CVR B SCALERA (MR) $ 3.99
LAST GOD #4 (MR) $ 4.99
MAGNIFICENT MS MARVEL #10 2ND PTG JUNG VAR $ 3.99
MAGNIFICENT MS MARVEL #7 2ND PTG VECCHIO VAR $ 3.99
MAGNIFICENT MS MARVEL #8 2ND PTG VECCHIO VAR $ 3.99
MAGNIFICENT MS MARVEL #9 2ND PTG VECCHIO VAR $ 3.99
MALL #5 (MR) $ 3.99
MARAUDERS #3 2ND PTG DAUTERMAN VAR DX $ 3.99
MARAUDERS #4 2ND PTG DAUTERMAN VAR DX $ 3.99
MILES MORALES SPIDER-MAN #13 2ND PTG GARRON VAR $ 3.99
MONSTRESS #25 (MR) $ 3.99
NEW MUTANTS #6 DX $ 3.99
NEW MUTANTS #6 GRANOV DARK PHOENIX 40TH VAR DX $ 3.99
OLYMPIA #3 (OF 5) $ 3.99
OUTCAST BY KIRKMAN & AZACETA #44 (MR) $ 3.99
POWER RANGERS TEENAGE MUTANT NINJA TURTLES #1 UNLOCK B&W ED $ 4.99
QUANTUM & WOODY (2020) #1 (OF 5) CVR A NAKAYAMA $ 3.99
RAVENCROFT #1 (OF 5) $ 3.99
RAVENCROFT #1 (OF 5) JACINTO VAR $ 3.99
READ ONLY MEMORIES #2 (OF 4) CVR A SIMEONE $ 4.99
READ ONLY MEMORIES #2 (OF 4) CVR B NEOFOTISTOU $ 4.99
RED SONJA VAMPIRELLA BETTY VERONICA #8 PARENT B&W VIRGIN (1/11) $ ???
RED SONJA VAMPIRELLA BETTY VERONICA #8 CVR A DALTON $ 3.99
RED SONJA VAMPIRELLA BETTY VERONICA #8 CVR B HACK $ 3.99
RED SONJA VAMPIRELLA BETTY VERONICA #8 CVR C BRAGA $ 3.99
RED SONJA VAMPIRELLA BETTY VERONICA #8 CVR D PARENT $ 3.99
REDNECK #25 (MR) $ 3.99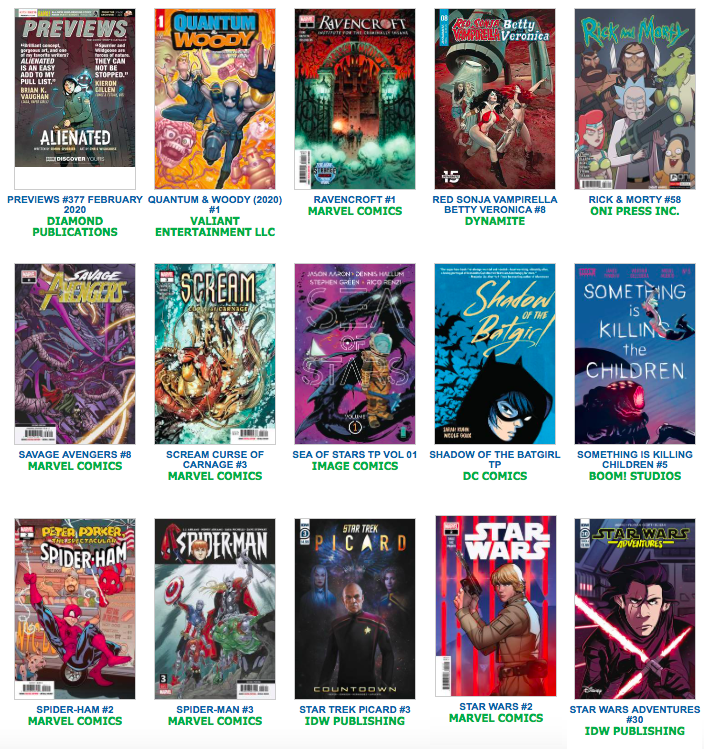 RICK & MORTY #58 CVR A ELLERBY $ 3.99
RICK & MORTY #58 CVR B SPANO $ 3.99
SAVAGE AVENGERS #8 2ND PTG ZIRCHER VAR $ 3.99
SCREAM CURSE OF CARNAGE #3 $ 3.99
SEX CRIMINALS #26 (MR) $ 3.99
SEX CRIMINALS #26 XXX LATOUR VAR (MR) $ 4.69
SOMETHING IS KILLING CHILDREN #5 $ 3.99
SOMETHING IS KILLING CHILDREN #5 FOC VAR $ 3.99
SPIDER-HAM #2 (OF 5) $ 3.99
SPIDER-HAM #2 (OF 5) BRADSHAW VAR $ 3.99
SPIDER-MAN #3 (OF 5) 2ND PTG VAR $ 3.99
SPIDER-VERSE #4 (OF 6) $ 3.99
STAR TREK PICARD #3 (OF 3) CVR A PITRE-DUROCHER $ 4.99
STAR WARS #2 $ 3.99
STAR WARS #2 OLIVER VAR (1/25) $ ???
STAR WARS #2 SPROUSE EMPIRE STRIKES BACK VAR $ 3.99
STAR WARS ADVENTURES #30 CHARM (1/10) $ ???
STAR WARS ADVENTURES #30 CVR A FLOREAN $ 3.99
STAR WARS ADVENTURES #30 CVR B BUISAN $ 3.99
STAR WARS RISE KYLO REN #1 (OF 4) 2ND PTG CRAIN SPOT COLOR V $ 4.99
SUICIDE SQUAD #2 $ 3.99
SUICIDE SQUAD #2 CARD STOCK VAR ED $ 4.99
TAROT #2 (OF 4) $ 4.99
TAROT #2 (OF 4) DAVIS VAR $ 4.99
TERRIFICS #24 $ 3.99
TERRIFICS #24 VAR ED $ 3.99
THOR #2 $ 3.99
THOR #2 INHYUK LEE VAR (1/25) $ ???
THOR #2 KLEIN DESIGN VAR $ 3.99
TITANS BURNING RAGE #6 (OF 7) $ 4.99
TMNT ONGOING #102 ROBERTS VAR (1/10) $ ???
TMNT ONGOING #102 CVR A CAMPBELL $ 3.99
TMNT ONGOING #102 CVR B EASTMAN $ 3.99
TONY STARK IRON MAN #19 2ND PTG LOZANO VAR $ 3.99
TRANSFORMERS #16 BECKER (1/10) $ ???
TRANSFORMERS #16 CVR A HOWELL $ 3.99
TRANSFORMERS #16 CVR B LAREN $ 3.99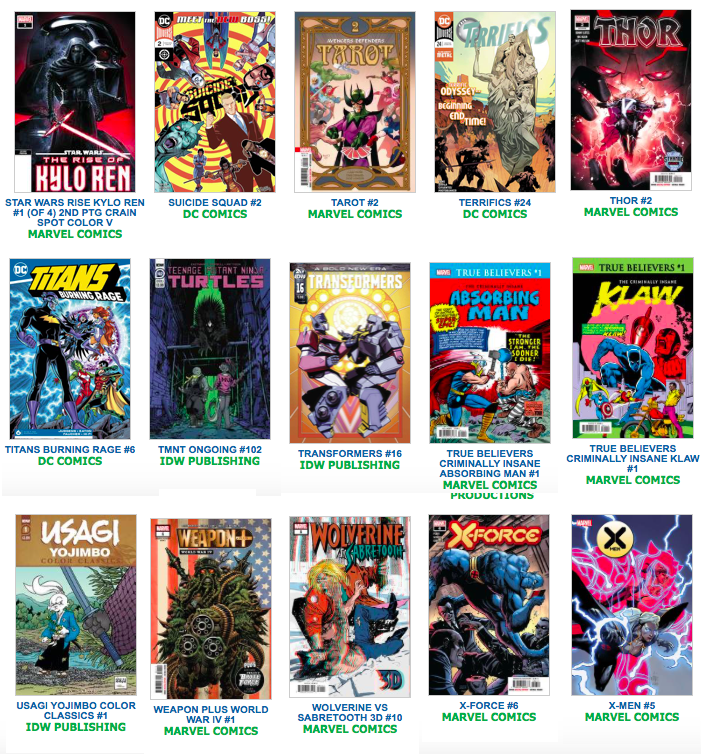 TRUE BELIEVERS CRIMINALLY INSANE ABSORBING MAN #1 $ 1
TRUE BELIEVERS CRIMINALLY INSANE KLAW #1 $ 1
UNSACRED #3 CVR C EJIKURE (MR) $ 3.99
USAGI YOJIMBO COLOR CLASSICS #1 $ 3.99
WEAPON PLUS WORLD WAR IV $ 4.99
WEAPON PLUS WORLD WAR IV SKAN VAR $ 4.99
WEATHERMAN VOL 2 #6 CVR A FOX (MR) $ 3.99
WEATHERMAN VOL 2 #6 CVR B ROBINSON (MR) $ 3.99
WEATHERMAN VOL 2 #6 CVR C LADRONN (MR) $ 3.99
WOLVERINE VS SABRETOOTH 3D #1 $ 7.99
WORLD OF ARCHIE JUMBO COMICS DIGEST #96 $ 7.99
X-FORCE #3 2ND PTG WEAVER VAR DX $ 3.99
X-FORCE #4 2ND PTG WEAVER VAR DX $ 3.99
X-FORCE #6 DX $ 3.99
X-MEN #3 2ND PTG YU VAR DX $ 3.99
X-MEN #5 DX $ 3.99
ZORRO RISE OF THE OLD GODS #4 CVR A CALZADA $ 3.99

COMIC SHOP NEWS #1702 $ FREE

ACTS OF VENGEANCE TP AVENGERS $ 39.99
ADVENTURES OF SUPERMAN JOSE LUIS GARCIA LOPEZ HC VOL 02 $ 49.99
ALBERT EINSTEIN & THEORY OF RELATIVITY YA GN $ 8.99
ALIENS RESCUE TP $ 19.99
ALMOST AMERICAN GIRL GN $ 12.99
AVENGERS BY JASON AARON TP VOL 05 CHALLENGE OF GHOST RIDERS $ 15.99
BAT AND THE CAT 80 YEARS OF ROMANCE HC $ 39.99
BATMAN BEYOND TP VOL 06 DIVIDE CONQUER AND KILL $ 16.99
BIRDS OF PREY MURDER AND MYSTERY TP $ 29.99
BLACK WIDOW TP WIDOWMAKER $ 39.99
CHARLES DARWIN & THEORY OF EVOLUTION YA GN $ 8.99
DUCKTALES TP VOL 07 IMPOSTERS & INTERNS $ 9.99
EARTH X TP NEW PTG $ 29.99
FANTASTIC FOUR EPIC COLLECTION COMING GALACTUS TP NEW PTG $ 39.99
FRIENDLY NEIGHBORHOOD SPIDER-MAN TP VOL 02 HOSTILE TAKEOVERS $ 17.99
ISAAC NEWTON & LAWS OF MOTION YA GN $ 8.99
MARVELS SPIDER-MAN SCRIPT BOOK HC $ 50
MARVEL-VERSE GN TP BLACK PANTHER $ 9.99
MIGHTY MORPHIN POWER RANGERS TP VOL 10 $ 16.99
PINOCCHIO LITTLE GOLDEN BOARD BOOK $ 7.99
SEA OF STARS TP VOL 01 $ 14.99
SHADOW OF THE BATGIRL TP $ 16.99
THOR BY JASON AARON COMPLETE COLLECTION TP VOL 02 $ 39.99
WHAT IF CLASSIC COMPLETE COLLECTION TP VOL 03 $ 39.99
WOLVERINE TP THE END NEW PTG $ 15.99

CHARS COUNTERATTACK NU GUNDAM FIN FUNNEL 1/144 MDL KIT $ 74.99
DC ESSENTIALS HAL JORDAN AF $ 27.99
DC ESSENTIALS KNIGHTFALL BATMAN AF $ 27.99
DC ESSENTIALS KNIGHTFALL CATWOMAN AF $ 27.99
DC ESSENTIALS SINESTRO AF $ 27.99
FROZEN MINI FIGURINE 18PC BMB DS $ 4.99
GUNDAM BUILD DIVERS 10 INJUSTICE WEAPONS 1/144 HGBD MDL KIT $ 10.99
GUNDAM BUILD DIVERS 9 GUNDAM SELTSAM 1/144 HGBD MDL KIT $ 27.99
IT 1990 PENNYWISE 8IN RETRO AF $ 39.99
KINGDOM HEARTS 3 VALOR FORM TOY STORY SORA FIGURE $ 19.99
KINGDOM HEARTS 3 WISDOM FORM TOY STORY SORA FIGURE $ 19.99
MARVEL SELECT AVENGERS ENDGAME HERO SUIT HULK AF $ 29.99
MYSTERY MINIS BIRDS OF PREY 12PC BMB DISP DISP $ 8.99
POCKET POP RICK & MORTY S2 FLOATING DEATH CRYSTAL MORTY KEY $ 5.99
POCKET POP RICK & MORTY S2 HOLOGRAM RICK ONE KEYCHAIN $ 5.99
POCKET POP RICK & MORTY S2 KIRKLAND MEESEEKS KEYCHAIN $ 5.99
POCKET POP RICK & MORTY S2 TEDDY RICK KEYCHAIN $ 5.99
POP & BUDDY BIRDS OF PREY HARLEY QUINN W/ BEAVER VIN FIG $ 11.99
ROCKETEER GALLERY PVC STATUE $ 49.99
SANRIO HELLO KITTY FIGURAL FOAM BAG CLIPS 24PC BMB DS $ 6.99